National Gallery of Art's new dean talks diversity, COVID
Nelson left Los Angeles for D.C. just as lockdowns began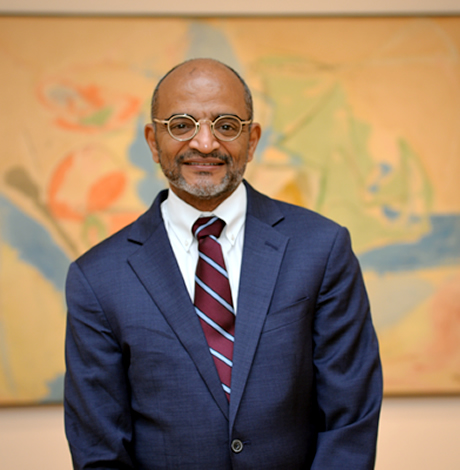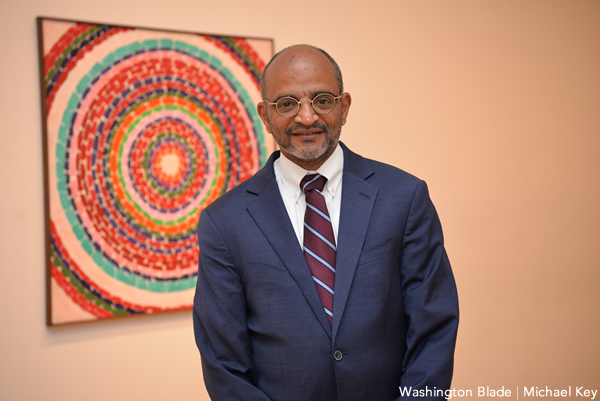 While most of us were just trying to get by during recent COVID quarantines, Steven Nelson accepted a new high-profile job and moved cross country amid the pandemic.
After more than 20 years in academia, multiple publications, awards and speakerships, Nelson was appointed as the new dean of the National Gallery of Art's research institute that promotes the studies of the production, use, and cultural meaning of art.
In this position at the Center for Advanced Study in the Visual Arts, Nelson will focus on fundraising, leadership and scholarship work to advance the center's mission and impact. The research center, which was founded in 1979, has been the epicenter of scholarly work on a variety of topics and art mediums.
In July, Nelson retired from UCLA where he was a professor for 20 years and taught subjects ranging from African art, Black power in art and African architecture. He was also the director of the UCLA African Studies Center and an adviser to UCLA leadership on diversity and inclusion strategic planning.
Nelson first joined the National Gallery as the Andrew W. Mellon professor at the Center for Advanced Study in the Visual Arts. In that professorship, he wrote two manuscripts for upcoming books titled "Structural Adjustment: Mapping, Geography, and the Visual Cultures of Blackness" and "On the Underground Railroad."
In addition, he is co-editing a project titled "The Black Modernisms Seminars," which is a research volume that is part of the center's initiative on African-American art. The project will be published in 2021.
New role during pandemic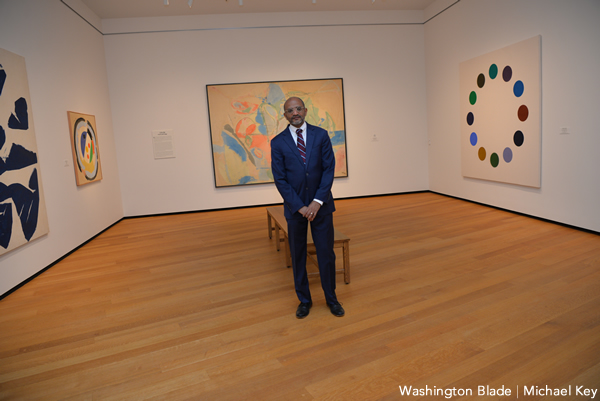 Despite not yet having a solidified housing plan and working remotely, Nelson said his transition to a new leadership role has been smooth.
"Moving in a pandemic has been really interesting and complicated to assess, however, it's been weirdly more seamless than I thought it would be," he said.
Nelson said the move also acted as a distraction from "all the really terrible things that were happening in the world."
The announcement of Nelson's new role came on March 6, early in the spread of the coronavirus. Nelson had been working in Washington for his previous role but had to return to Los Angeles to pack for permanent relocation.
When not in meetings or writing policy proposals, Nelson said he enjoys learning more about Washington with his husband and says he likes the setup and walkability of the city. When the concerns of the pandemic lessen, he said he hopes to explore local museums in his free time.
Like any new position, getting acclimated to new colleagues and processes is to be expected, he said. Also, Nelson has been in the building since 2018 as the Andrew W. Mellon professor, which made the transition even more seamless, he said.
Nelson also said he is enjoying working with others more directly as a dean. He described his past academic work as isolating, saying research and writing can be more of a lonely process.
"Being part of a larger leadership team has been really energetic," he said. "I'm a social animal and I really enjoy being part of a team that charts a course forward for an institution."
When editing applications for Ph.D. programs in the late '90s, Nelson said he seldom included his gay identity in his admission materials, while his Black identity was noted in all of them.
"A friend of mine said, 'Why wouldn't you be out on all of these applications? If you're not going to be out, why would you go to xyz institutions?' I took that to heart and decided to be open," he said.
Since then, Nelson said that he has always been open about his sexual orientation and that it has impacted the ways he researches, approaches the world and works. He is also planning on promoting inclusion and diversity at all levels at the gallery.
"As a person who is black, gay and left-handed, this is important to me. My biggest hope is that the museum not only diversifies but also is a leader in opening up pathways," he said. "We're working on ways to do that."
Identity has impacted the work Nelson has done in the past, and he said he hopes to "move the needle" for others. He also said his experiences as being the only African American in the room at many times in his life has impacted him greatly, and he said he is looking forward to promoting inclusion and diversity at the gallery to make that reality less common in the future.
Nelson is currently forming a new strategic plan for the Center for Advanced Study in the Visual Arts, and finding ways for the center to be at the forefront of the entire gallery.
He is also looking at diversity and inclusion actions to take to make several aspects of the museum more inclusive, including making attendants and staff feel more accepted.
In accordance with the rest of the gallery, he said he hopes to "create an institution that fosters excellence in scholarship, that is accessible and that is part of a larger creation of pathways into the profession for younger people.
With ever-changing health and safety guidelines, Nelson said the future of museums is going to look different. He said he sees more digital programming coming up and less focus on physical spaces. New museums and galleries are less likely to emerge, he said.
Following this vision, the National Gallery of Art has already provided programs online, such as lectures, screenings and blogs. The gallery also partially reopened in mid-July to the public, allowing people to observe the ground floor exhibit with timed entries, face coverings and social distancing.
For the Center for Advanced Study in the Visual Arts, Nelson said digital events have been at the forefront of programming for years — the circumstances of the pandemic have not made a significant difference. He plans to continue these events for years to come.
Nelson said his favorite aspect of teaching at UCLA was the students. The art history and African-American studies programs at UCLA are also very diverse, with students coming from a myriad of backgrounds and experiences, he said.
While Nelson said he is excited for the next steps ahead, he will miss teaching students.
While completing his Ph.D. at Harvard University, Nelson focused his dissertation on African art. He was originally interested in studying modern art, but learning about African art changed his research path.
In 1993, Nelson traveled to Cameroon for a year to research his dissertation on an Africanist art historian, which inspired him to delve into African art research and to continue visiting the continent. Now, he has visited Senegal and other countries.
He also wrote the book "From Cameroon to Paris: Mousgoum Architecture In and Out of Africa," which analyzes the residential architecture of the populations in far-north Cameroon.
Netflix resurrects Dahmer, triggering criticism
Milwaukee gay activist says series re-traumatizes victims' families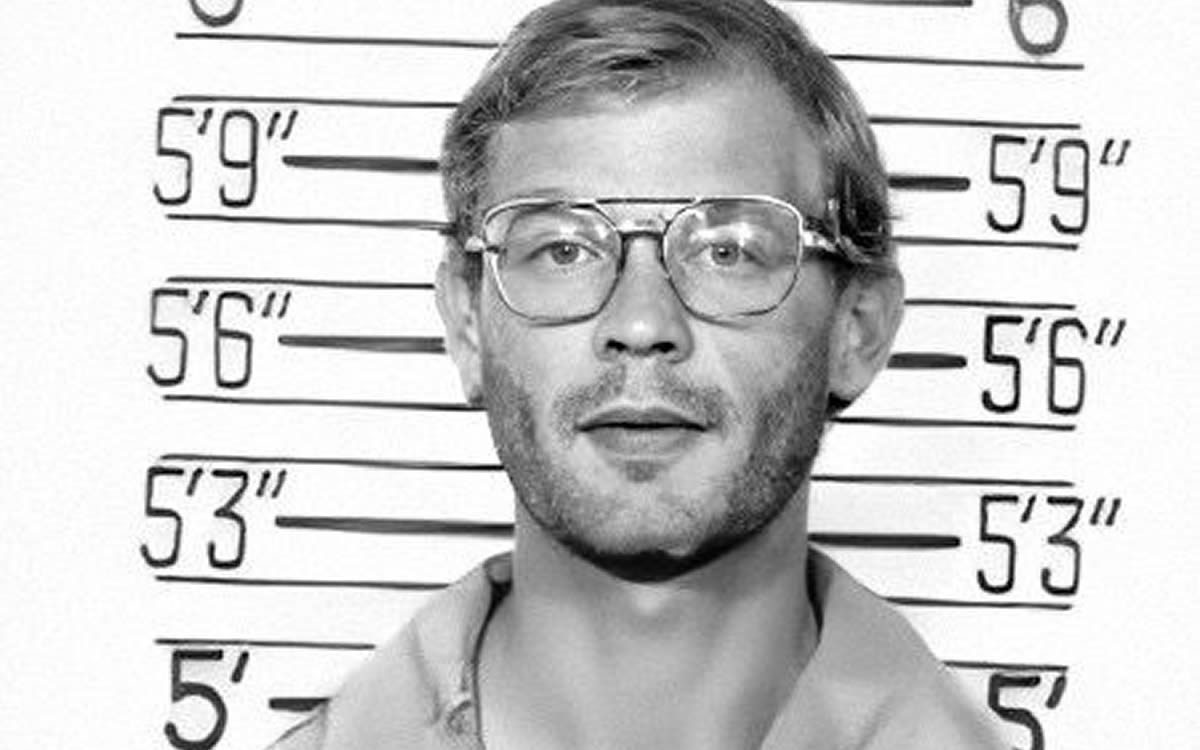 A 10-episode series on gay serial killer Jeffrey Dahmer released by Netflix on Sept. 21 captures in chilling detail Dahmer's 13-year murder spree that took place mostly in Milwaukee between 1978 and 1991 in which 17 young mostly gay men, 11 of whom were Black, lost their lives.
The dramatized series, with actor Evan Peters playing the lead role of Dahmer, shows how Dahmer met many of his victims in Milwaukee gay bars, lured them to his apartment by promising to pay them to pose for nude photographs, and drugged and strangled them to death before mutilating and sometimes cannibalizing their bodies.
The series, called "Monster: The Jeffrey Dahmer Story," has set a record for being the most watched first week release of any Netflix streaming series, according to media reports.
But one viewer who said he stopped watching the series after the first two episodes is longtime Milwaukee gay activist Scott Gunkel, who worked as a bartender at one of the gay bars where Dahmer met at least two of the young men he murdered.
Gunkel, 62, told the Blade he and others of his generation who lived through the trauma of the Dahmer murder spree view the Netflix series as yet another movie rehashing a troubling and painful occurrence.
"It really won't, I don't think, aid anybody," he said. "I don't think the victims' families and friends will want to watch and hear this. So, this is just re-victimizing the people that went through this personally."
Added Gunkel, "I knew a couple of the people he killed – patrons of the bar. They weren't close friends. I just happened to know that they came to my bar, and I served them drinks."
"There has been a big effort to have people boycott Netflix over this," Gunkel said. "And I'm like, OK, it is a macabre story. I don't know if you need to go quite that far with a boycott. Just don't watch it," he said.
Netflix has said the series is respectful to the victims and their families and its aim is to tell the story of how and why Dahmer became one of America's most notorious serial murderers "as authentically as we could," according to a statement by Peters in a promotional video posted on Twitter.
Gunkel and others familiar with the Dahmer case point out that few if anyone in Milwaukee or elsewhere knew a serial killer was on the loose in their community until the time of Dahmer's arrest on July 22, 1991, after his 18th potential victim escaped and contacted police.
Police and prosecutors at that time revealed the discovery of body parts and other evidence found in Dahmer's apartment, including multiple photos that Dahmer had taken of the corpses and body parts of his victims. Dahmer a short time later confessed to having committed 17 murders, the first in Ohio and the others in Wisconsin, with most taking place in Milwaukee where he lived. He provided prosecutors with the full gruesome details of how he carried out those murders.
Media reports show Dahmer pleaded guilty to 15 of the 17 murders on grounds of insanity, which resulted in a two-week trial to determine whether he was legally sane when he committed the murders. In February 1992, the jury found him sane in each of the murders. A judge then sentenced him to 15 consecutive sentences to life in prison.
Two years later, at the age of 34, Dahmer was beaten to death at Wisconsin's Columbia Correctional Institution by an inmate who told authorities that God told him to kill Dahmer.
Gunkel said some in the Milwaukee gay community and the African-American community reached out to each other when the list of Dahmer's victims released by police shortly after his arrest showed most were Black gay men.
Gunkel said he remembers the news reports of several Black women who lived near the apartment building in the mostly Black neighborhood saying they tried to alert police to what they suspected was criminal activity by Dahmer.
One of the reports that triggered widespread criticism of how the police allegedly mishandled the Dahmer case involved a Black woman who called police when she saw someone she described as an Asian boy standing outside the apartment building where Dahmer lived naked and bleeding with just a towel wrapped around him.
It later became known that the person the woman saw was Konerak Sinthasomphone, a 14-year-old Laotian immigrant, who Dahmer met on the street, lured to his apartment, and drugged. Reports show the youth escaped from the apartment after Dahmer left to go to a store to replenish his own supply of liquor.
When Dahmer returned, he saw police talking to Konerak and the woman outside the apartment building and quickly told one of the officers that the youth was 19 years old and was in a gay relationship with him and the two had a lover's quarrel.
To the amazement of members of the LGBTQ and African-American communities, who later learned of this development, the police allowed Dahmer to take the youth back to his apartment. One of the officers reportedly made a homophobic remark about his interaction with Dahmer and the youth in a recorded comment to a police dispatcher. Dahmer later killed Konerak, police reports show.
Community activists, including Gunkel, who at the time was president of the Milwaukee gay rights group Lambda Rights Network, said the police disregard for the concern raised by the Black woman, who believed Konerak was in danger, was an example of how racial bias on the part of at least some in the Milwaukee police department may have enabled Dahmer to continue his killing spree.
In the weeks following sometimes sensational media reports and statements by police about Dahmer's role as a confessed gay mass murderer, LGBTQ activists in Milwaukee reported a sharp rise in anti-gay harassment and threats, including harassment targeting gay bar patrons.
"Although gay people were among Dahmer's victims, biased statements on the part of the police and some media have linked his murderous behavior to all gay and lesbian people," the then National Gay and Lesbian Task Force said in a statement.
An August 1991 story in the Washington Blade reports that Gunkel expressed strong concern that a police investigator used the term "homosexual overkill" to describe Dahmer's action. Gunkel and other activists also pointed to police statements that Dahmer confessed to having engaged in sex with some of his victims and most of the victims were Black. But the police and media reports at the time did not also report that nearly all the victims were also gay.
Rather than being seen as victims, Gunkel said, gays were being portrayed as predators through a "prism" of longtime stereotypes. "We look at this as a hate crime," said Gunkel in his 1991 comment reported in the Blade. "His patronizing of gay bars shows he was stalking gays. The bars were his feeding grounds."
Gunkel told the Blade in a phone interview last week, 31 years after Dahmer's arrest and the revelations of the scope of his murder spree, gay bar patrons at the time the killings were taking place did not equate the disappearance of bar patrons with anything particularly unusual.
He noted that at the time, the AIDS epidemic was still going strong and he and others at the bars sometimes thought a regular customer who suddenly stopped coming to the bar may have gotten sick.
"So, a lot of people stopped going out when they started getting sick," he said, "And other people would get into relationships and stop going out," Gunkel told the Blade. "And when they didn't show up people just kind of blew it off as somebody who's not around anymore."
According to Gunkel, the sensational revelations of Dahmer's killing spree and the fact that he met many of his victims in Milwaukee gay bars prompted many in the LGBTQ community to stop going to bars and gay meeting places. But he said that didn't last very long.
Gunkel said that like others who lived through what he calls the macabre time that Dahmer's actions became known, the Netflix series brought back his own memories of interacting with Dahmer at Club 219, the Milwaukee gay bar where he worked as a bartender.
"The few times that I saw him at the bar I refused to serve him because he was drunk," Gunkel said. "And I thought, you know, I'm not going to serve this person. He's already pretty smashed."
Tagg turns 10
D.C. magazine thriving post-pandemic with focus on queer women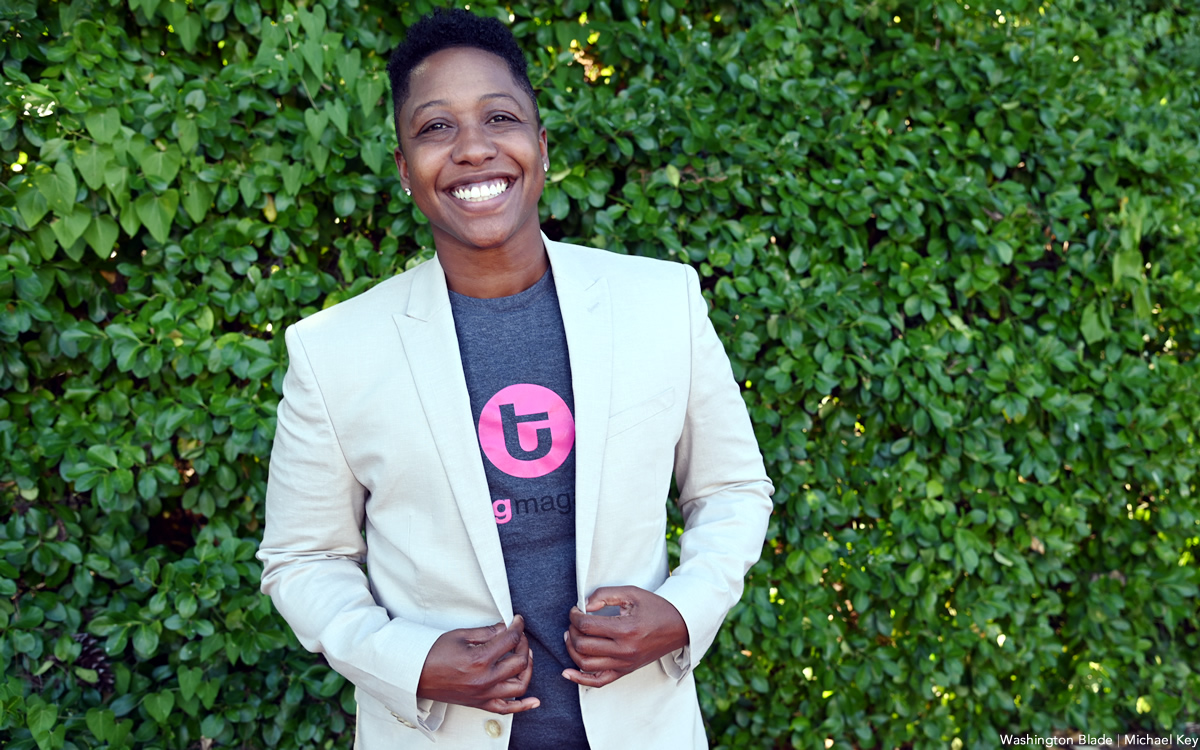 In a 10-year-old YouTube video, owner and editor of Tagg magazine, Eboné Bell, — clad in a white cotton T-shirt, gray vest and matching gray fedora — smiled with all her pearly whites as a correspondent for the magazine interviewed her outside now-closed Cobalt, a gay club in downtown D.C. that hosted the magazine's official launch in the fall of 2012.
"I want to make sure that people know that this is a community publication," Bell said in the video. "It's about the women in this community and we wanted to make sure that they knew that 'This is your magazine.'"
As one of just two queer womxn's magazines in the country, Tagg has established itself as one of the nation's leading and forthright LGBTQ publications that focuses on lesbian and queer culture, news, and events. The magazine is celebrating its 10th anniversary this month.
Among the many beats Tagg covers, it has recently produced work on wide-ranging political issues such as the introduction of the LGBTQ+ History Education Act in the U.S. House of Representatives and the Supreme Court's assault on reproductive rights through a reversal of its landmark Roe v. Wade ruling; and also attracted the attention of international queer celebrities, including Emmy-nominated actress Dominique Jackson through fundraisers.
"Tagg is a form of resistance," Bell said in a Zoom interview with the Washington Blade. "I always say the best form of activism is visibility and we're out there authentically us."
Although the magazine was created to focus on lifestyle, pressing political issues that affect LGBTQ individuals pushed it to dive deeper into political coverage in efforts to bring visibility to LGBTQ issues that specifically affect queer femme individuals.
"We know the majority of our readers are queer women,' said Bell. "[So] we always ask ourselves, 'How does this affect our community?' We are intentional and deliberate about it."
Rebecca Damante, a contributing writer to the magazine echoed Bell's sentiments.
"The movement can sometimes err toward gay white men and it's good that we get to represent other groups," said Damante. "I feel really lucky that a magazine like Tagg exists because it's given me the chance to polish my writing skills and talk about queer representation in media and politics."
Tagg's coverage has attracted younger readers who visit the magazine's website in search of community and belonging. Most readers range between the ages of 25 and 30, Bell said.
"[The magazine] honestly just took on a life of its own," said Bell. "It's like they came to us [and] it makes perfect sense."
Prior to the magazine becoming subscription-based and completely online, it was a free publication that readers could pick up in coffee shops and distribution boxes around D.C., Maryland, and Virginia.
Battling the pandemic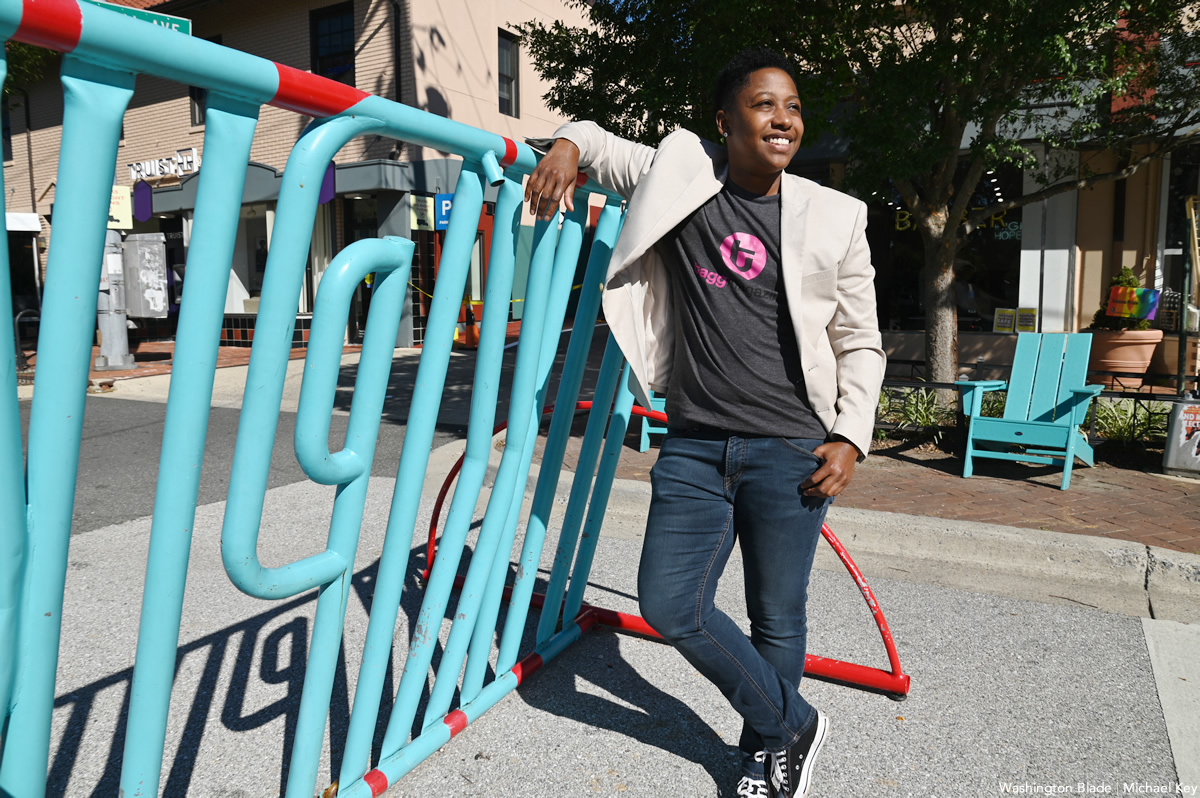 When the COVID-19 pandemic struck in 2020, newsrooms across the world were forced to function virtually. Additionally, economic strife forced many publications to downsize staffs and — in some cases — cancel entire beats as ad revenue decreased, forcing them to find alternative ways to self-sustain financially. Tagg was no exception.
"We didn't fly unscathed," said Bell. "[The pandemic] took a huge emotional toll on me because I thought we were going to close. I thought we were going to fail."
However, the magazine was able to stand firm after a fundraiser titled "Save Tagg Magazine" yielded about $30,000 in donations from the community.
The fundraiser involved a storefront on Tagg's website where donations of LGBTQ merchandise were sold, including a book donated by soccer superstar Megan Rapinoe.
There was also a virtual "Queerantine Con" — an event that was the brainchild of Dana Piccoli, editor of News Is Out— where prominent LGBTQ celebrities such as Rosie O'Donnell, Lea DeLaria and Kate Burrell, gave appearances to help raise money that eventually sustained the publication.
"There was a time where I was ready to be like 'I have to be OK that [Tagg] might not happen anymore," said Bell. "But because of love and support, I'm here."
While the outpouring of love from community members who donated to the magazine helped keep the magazine alive, it was also a stark reminder that smaller publications, led by women of color, have access to fewer resources than mainstream outlets.
"It's statistically known that Black women-owned businesses get significantly less support, venture capital investments, things like that," said Bell. "I saw similar outlets such as Tagg with white people making $100,000 a month."
Bell added that Tagg had to work "10 times harder" to survive, and although the magazine didn't cut back on the people who worked for it, it ended free access to the magazine in the DMV especially as the places that housed the magazine were no longer in business. The publication also moved to a subscription-based model that allowed it to ameliorate printing costs.
Despite the challenges brought about by the pandemic, Tagg remains steadfast in its service to the LGBTQ community. The magazine hired an assistant editor in 2021 and has maintained a team of graphic designers, photographers, writers and an ad sales team who work to ensure fresh content is delivered to readers on a regular basis.
For Bell, Tagg mirrors an important life experience — the moment she discovered Ladders, a lesbian magazine published throughout the 1950s, 1960s and early 1970s.
"To that young person coming up, I want you to see all the things that happened before them, all the people that came before them, all the stories that were being told" she said.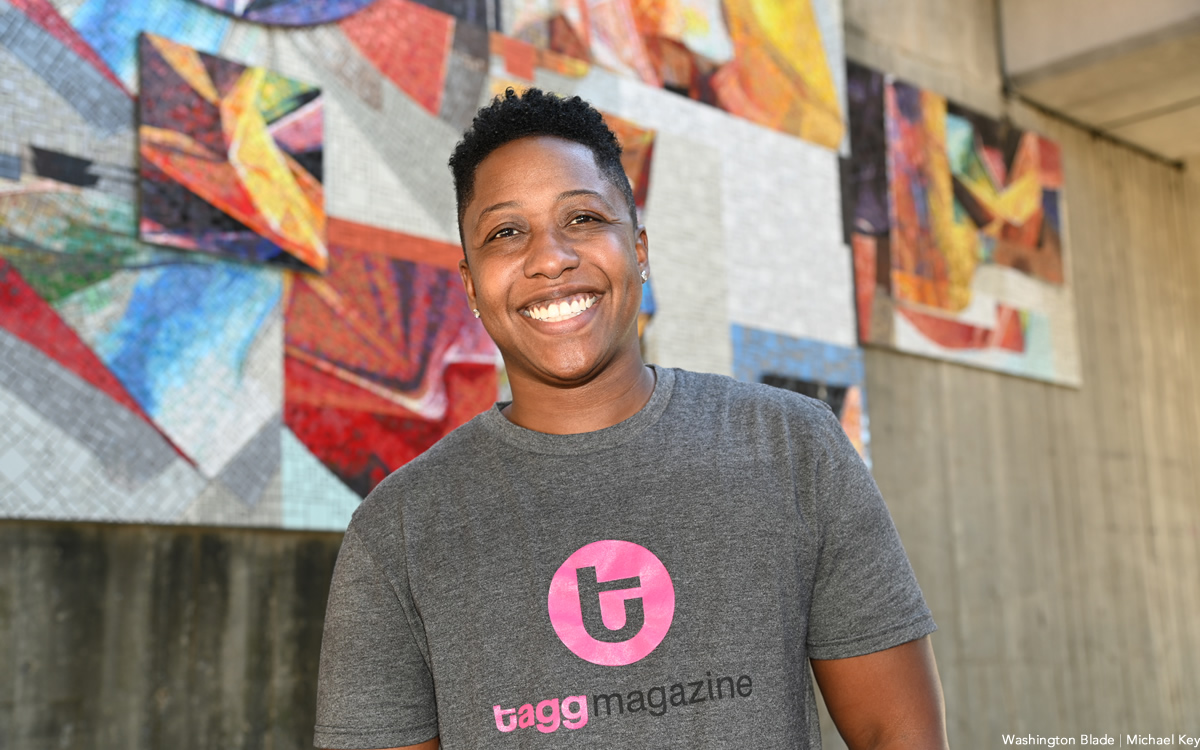 Daisy Edgar-Jones knows why 'the Crawdads sing'
Actress on process, perfecting a southern accent, and her queer following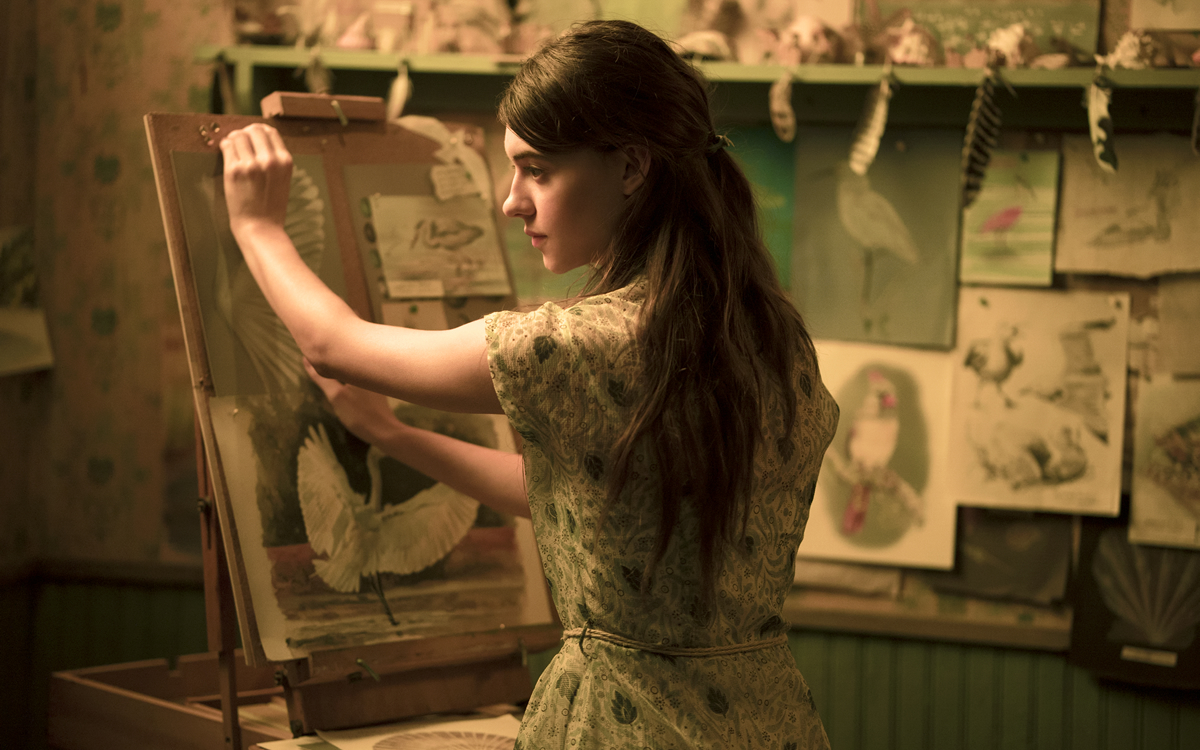 Daisy Edgar-Jones is an actor whose career is blossoming like her namesake. In recent years, she seems to be everywhere. LGBTQ viewers may recognize Edgar-Jones from her role as Delia Rawson in the recently canceled queer HBO series "Gentleman Jack." She also played memorable parts in a pair of popular Hulu series, "Normal People" and "Under the Banner of Heaven." Earlier this year, Edgar-Jones was seen as Noa in the black comedy/horror flick "Fresh" alongside Sebastian Stan.
With her new movie, "Where the Crawdads Sing" (Sony/Columbia), she officially becomes a lead actress. Based on Delia Owens' popular book club title of the same name, the movie spans a considerable period of time, part murder mystery, part courtroom drama. She was kind enough to answer a few questions for the Blade.
BLADE: Daisy, had you read Delia Owens's novel "Where the Crawdads Sing" before signing on to play Kya?
DAISY EDGAR-JONES: I read it during my audition process, as I was auditioning for the part. So, the two went hand in hand.
BLADE: What was it about the character of Kya that appealed to you as an actress?
EDGAR-JONES: There was so much about her that appealed to me. I think the fact that she is a very complicated woman. She's a mixture of things. She's gentle and she's curious. She's strong and she's resilient. She felt like a real person. I love real character studies and it felt like a character I haven't had a chance to delve into. It felt different from anyone I've played before. Her resilience was one that I really admired. So, I really wanted to spend some time with her.
BLADE: While Kya is in jail, accused of killing the character Chase, she is visited by a cat in her cell. Are you a cat person or do you prefer dogs?
EDGAR-JONES: I like both! I think I like the fact that dogs unconditionally love you. While a cat's love can feel a bit conditional. I do think both are very cute. Probably, if I had to choose, it would be dogs.
BLADE: I'm a dog person, so I'm glad you said that.
EDGAR-JONES: [Laughs]
BLADE: Kya lives on the marsh and spends a lot of time on and in the water. Are you a swimmer or do you prefer to be on dry land?
EDGAR-JONES: I like swimming, I do. I grew up swimming a lot. If I'm ever on holidays, I like it to be by the sea or by a nice pool.
BLADE: Kya is also a gifted artist, and it is the thing that brings her great joy. Do you draw or paint?
EDGAR-JONES: I always doodle. I'm an avid doodler. I do love to draw and paint. I loved it at school. I wouldn't say I was anywhere near as skilled as Kya. But I do love drawing if I get the chance to do it.
BLADE: Kya was born and raised in North Carolina. What can you tell me about your process when it comes to doing a southern accent or an American accent in general?
EDGAR-JONES: It's obviously quite different from mine. I've been lucky that I've spent a lot of time working on various accents for different parts for a few years now, so I feel like I'm developed an ear for, I guess, the difference in tone and vowel sounds [laughs]. When it came to this, it was really important to get it right, of course. Kya has a very lyrical, gentle voice, which I think that North Carolina kind of sound really helped me to access. I worked with a brilliant accent coach who helped me out and I just listened and listened.
BLADE: While I was watching "Where the Crawdads Sing" I thought about how Kya could easily be a character from the LGBTQ community because she is considered an outsider, is shunned and ridiculed, and experiences physical and emotional harm. Do you also see the parallels?
EDGAR-JONES: I certainly do. I think that aspect of being an outsider is there, and this film does a really good job of showing how important it is to be kind to everyone. I think this film celebrates the goodness you can give to each other if you choose to be kind. Yes, I definitely see the parallels.
BLADE: Do you have an awareness of an LGBTQ following for your acting career?
EDGAR-JONES: I tend to stay off social media and am honestly not really aware of who follows me, but I do really hope the projects I've worked on resonate with everyone.
BLADE: Are there any upcoming acting projects that you'd like to mention?
EDGAR-JONES: None that I can talk of quite yet. But there are a few things that are coming up next year, so I'm really excited.