August 13, 2020 at 9:31 am EDT | by Kathi Wolfe
'A Star is Bored' a delicious work of fiction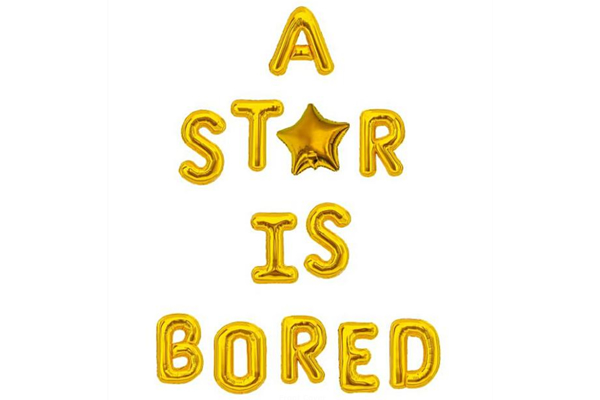 'A Star Is Bored'

By Byron Lane

Henry Holt and Co.

$26.99/352 pages
"If my life wasn't funny, it would just be true," the late actress, writer, screenwriter and gay icon Carrie Fisher wrote in "Wishful Drinking," her memoir, which she performed in a one-woman show.
I miss Fisher! She was loved by her legions of fans for her indelible portrayal of Princess Leia in the "Stars Wars" franchise and other performances — from Marie in "When Harry Met Sally," to her cameo in a "Sex and the City" episode. Fisher, the daughter of Eddie Fisher and queer icon Debbie Reynolds, had bi-polar disorder and struggled with substance abuse. In "Postcards from the Edge" and other novels and memoirs, she wrote with wry humor about alcoholism, drug addiction, mental illness and life as Hollywood royalty.
Byron Lane, author of "A Star Is Bored," was Fisher's personal assistant for several years. This irreverent, yet poignant debut novel is the fictional story of 29-year-old Charlie Besson's life as the personal assistant to the queer icon, actress and writer Kathi Kannon. Kannon, aged 59, renowned for starring as Princess Talara in the blockbuster film "Nova Quest," is bi-polar and struggles with alcohol abuse and drug addiction. As with the case with Carrie Fisher and Debbie Reynolds, Gracie Gold (Miss Gracie) lives next door to Kathi.
From the get-go, Lane says the book isn't an account of his experience as Fisher's personal assistant. He isn't Charlie and Kathi isn't Fisher.
You'll know you're in for a fun ride when you read Lane's disclaimer. "This is a work of fiction…" Lane, the partner of novelist Steven Rowley, writes, "Any resemblance to reality is purely coincidental, including, names, places, weapons and sexual acts."
"A Star Is Bored" is a coming-of-age novel. Charlie, who's gay, grew up in Louisiana. When he's 12, his loving mother dies. She didn't mind that Charlie didn't play sports as the other boys did. Knowing that he worshiped Princess Talara, she gave him a Princess Talara action figure.
His father was another story. He's abusive and homophobic. As a child, Charlie loved Oreos (but only for their filling). One day, after he realized that Charlie had thrown the chocolate part of the cookies into the trash, his Dad made him eat the cookie remnants out of the garbage.
His father was no fan of the Princess Talara action figure! "He thought female action figures were the reason I 'ran like a girl,'" Lane writes.
Even when he's grown up and Kathi is interviewing him for the assistant job, Lane writes, Charlie says his father's "masculine voice is still screaming at me, in my head…even while here, auditioning for a new role in Hollywood's royal court."
It's no wonder that on his way to his job interview with Kathi, Charlie, who's been working the graveyard shift for a local news station, says his life "feels like rot."
It's not surprising that his therapist says Charlie engages in "passive suicidal behavior" or that Charlie's love life sucks. Hope enters his world when he becomes assistant to Kathy, who Charlie says is the "heroine of film, television, maybe my life."
Working for his idol, though life-changing, is far from easy. Kathi lives in a mansion that "looks like a carnival," Lane writes, "like an acid trip…like heaven."
Kathi is friends with Meg Ryan and other celebs. She gives Charlie not only a gorgeous sweater and other swag but the inimitable nicknames "cockring" and "stepson." She has, Lane writes, a moose head who "once saw Jack Nicholson nude."
Yet, Kathi is demanding – wanting Charlie to answer ASAP, 24/7 questions like, "Where's that website with those things I hate in that store I love?"
Kathi's demands and sallies are often laugh-out-loud funny. But, there's sadness in her story for us and for Charlie. She struggled with drug addiction and often resists taking her bi-polar meds.
Despite these challenges, Charlie learns how to change his life as he works for Kathi. You'll root for him as he looks for sex and romance – while knowing that the bond forged between Charlie and Kathi is its own love story.
If you want to forget the pandemic, check out "A Star Is Bored." It's a scene-stealing read.