September 3, 2020 at 12:02 pm EDT | by Peter Rosenstein
Continued violence means Trump wins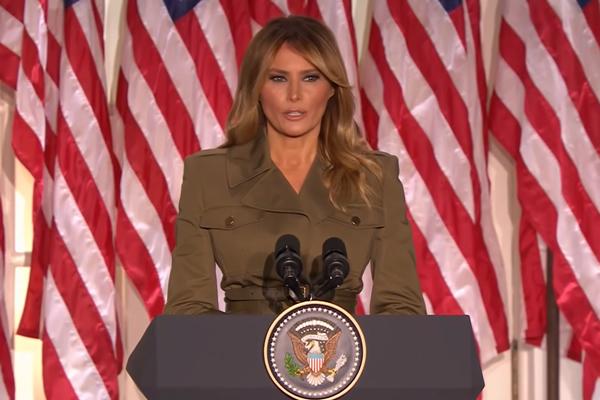 Donald Trump is fomenting violence and blaming it on peaceful #blacklivesmatter protesters. We must not take the bait. He is urging his supporters to do counter protests and they arrive with guns, even AK47s. They shoot paintballs into a crowd and a few among the peaceful protesters respond by setting fires and throwing things at police. Trump loves this as it helps his election. Don't take the bait.
Those who live in Trump's world are in an alternate universe where alternative facts are the reality. They listened to Melania Trump, maybe on Fox News, deliver her convention speech speaking about her husband and his administration and actually believed she was talking about the Donald Trump we all know. With due credit to her very good speech writers it was a herculean effort to portray a world that doesn't exist. I was left to wonder if she had another husband hidden somewhere. Many speakers at the convention tried to do what Melania did and reality only occasionally slipped in. One dose of that was Kimberly Guilfoyle's speech. She went off message and seemed to be yelling at the audience spouting more of the garbage we hear from Trump himself. Like Trump, who often doesn't know simple facts, she didn't seem to know those born in Puerto Rico and moving to the mainland aren't immigrants but rather U.S. citizens.
White House Press Secretary Kayleigh McEnany, who lies to the American people daily from her podium, continued the tradition with her convention speech discussing her mastectomy and breast cancer scare. She said, "This president stands with Americans who have pre-existing conditions." This while it's clear, "The president has actively sought to dismantle the Affordable Care Act of which a crucial component prevents health providers from denying coverage to people with pre-existing conditions. He has not offered a replacement, should the U.S. Supreme Court rule against the law, which has insured millions of people."
It seems the president's message of law and order is effective with Republicans. According to polling, support for the BLM protests has gone down a little across the board. Will it make a difference to those who support Biden? We will learn more in a couple of weeks how effective the Trump people were in confusing voters when a broader section of new swing state polls comes out. Hopefully not based on the new ABC poll. The question for an undecided voter is: "What is it you are undecided about?" After nearly four years of Trump we know exactly what he stands for, what he thinks is important and what he has done and said. Either you are for those things or not. It is clear he won't change so what is it you are undecided about?
I understand a 2016 Trump voter may not be in love with Joe Biden. You may have bought into Trump's being a great businessman who will bring back your manufacturing job. Who will build that wall Mexico will pay for; create new high-paying jobs; give you better healthcare. But now you know he has done none of that.
So look at Joe Biden, one of the most decent people you will ever meet. He is basically a moderate with a strong record of moving the country forward without the constant sturm and drang Trump creates. Without the racism, sexism and homophobia. Biden believes Americans are tired of waking up each morning to another crisis, another set of disgusting tweets, another tirade from Trump against someone who didn't kiss his ass the day before.
Biden has been clear: He believes Americans are ready for some peace and quiet and honest, rational leadership focusing on the issues we talk about around our kitchen table. He will ensure we have affordable healthcare covering pre-existing conditions; can send our kids to a good local school; afford to send them to college; and get back to work after the COVID-19 pandemic ends and make a decent wage for our hard work. He has promised families won't have to worry each day whether Social Security and Medicare will be there for them when they are ready to retire. He knows climate change is not a hoax.
So stay calm, continue to protest and speak out peacefully, and make sure you and everyone you know votes on Nov. 3 and we will win.
Peter Rosenstein is a longtime LGBTQ rights and Democratic Party activist. He writes regularly for the Blade.