September 10, 2020 at 8:54 am EDT | by Kevin Naff
Vote for Biden (duh)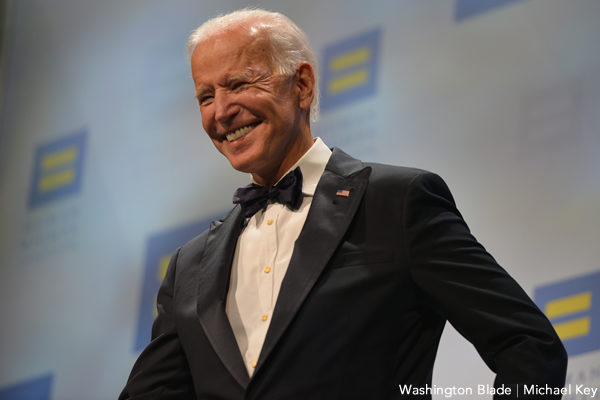 The list of Donald Trump's affronts is long. The unlikely evangelical darling operated casinos, paid off porn stars, bragged of grabbing women by the "pussy," mocked a disabled reporter, praised white supremacists, insulted a Gold Star family, attacked a revered POW, flirted with his own daughter, tweeted support for a murderer, and bullied foreign leaders into helping him steal the election.
And those are just some of the most infamous of Trump's transgressions.
There's no reason for any informed American voter to grant Trump another four years. There's even less reason for LGBTQ voters to support him, no matter what the hypocrites at Log Cabin tell you.
His botched COVID response has needlessly cost tens of thousands of lives. Rather than model commonsense mask use, Trump mocked those like Joe Biden for wearing them. Rather than level with the American people back in February and March about the severity of what was coming our way, he downplayed coronavirus, called it a "hoax" and ridiculously said it would "go away like a miracle." Even as we watched heartbreaking and frightening YouTube clips of Italians suffering in quarantine as bodies piled up in morgues, Trump held firm that it was not a threat to us. He was dead wrong. When we sought answers and comfort from leading infectious disease expert Dr. Anthony Fauci — well known to the gay community from his days fighting AIDS in the 1980s — Trump turned on him too, unleashing opposition research to undermine his credibility.
The resulting chaos has left nearly 200,000 Americans dead and the economy in shambles. When everyday Americans and small business owners needed another relief package, Speaker Nancy Pelosi's House responded swiftly with a bill and passed it, while Senate Majority Leader and Trump loyalist Mitch McConnell let his colleagues go home for an August vacation. I don't know any small business owners who took a vacation this summer; we are all struggling to stay afloat without any communication or direction from the federal government.
This sad performance alone on coronavirus should be enough reason to vote Trump out in November, but, of course, there is more.
The parallel crisis of police brutality against Black Americans has reminded us yet again of the stubborn entrenchment of systemic racism. George Floyd, Breonna Taylor, and Jacob Blake joined the unending list of Black victims of police abuse. As protests flared around the country, Trump gassed peaceful demonstrators at the White House so he could stage a clumsy photo op with an upside-down Bible, a book he has never read and cares nothing about. When 17-year-old Kyle Rittenhouse, armed with an AR-15, shot and killed two protesters in Kenosha, Wis., Trump defended him. Trump adviser Kellyanne Conway later admitted what the rest of us already knew: that Trump believes violence in American cities benefits his campaign. He's encouraging his armed supporters to show up at Black Lives Matter protests to intimidate and taunt peaceful demonstrators. It's unconscionable and people are dead as a result. More blood on Trump's hands and his Republican enablers in Congress, on state propaganda Fox News, and online invoke inane conspiracy theories to justify his reckless assault on our democracy.
Make no mistake that this election will determine whether the great American experiment continues or it unravels. Trump's admiration for dictators like the murderers Vladimir Putin and Kim Jong-un; his attacks on our allies like Germany, France, and the Kurds; and his backing out of the Paris climate accord and rolling back myriad environmental protections in deference to his corporate golfing buddies further illustrate just how unfit Trump is for office. Make no mistake that all of this chaos is by design — the plan all along was to gut and cripple the federal government. We've seen it agency by agency, from the Education Department's efforts to promote the privatization of public schools through vouchers, to the Interior Department being coopted to host Trump campaign events on federal lands, to even the Postal Service being undermined to thwart mail-in voting, no agency has been unaffected. Let's not forget Trump was impeached for his efforts to undermine our democracy and he presided over the longest U.S. government shutdown in our history.
What about Trump's record on LGBTQ issues? It's the disaster many of us predicted it would be. In a 2016 endorsement of Hillary Clinton for president, I wrote: "the Republicans have turned their party over to a racist, sexist bully with zero experience in elected office. … The LGBT community cannot risk a Trump presidency." I was right. From Trump's very first day in office, when LGBTQ issues were deleted from the White House website, right up to today, when his State Department is denying citizenship to children of same-sex couples born via surrogacy overseas, the attacks have been constant and sometimes cruel.
Trump's tweet banning transgender patriots from serving their country in the military "in any capacity" is perhaps the most egregious and blatant of those attacks, but there are countless others. The blame for a nationwide dramatic rise in hate crimes, which disproportionately impact the LGBTQ community, lies at Trump's feet. Previously, Americans who held bigoted views felt at least some pressure to keep those opinions to themselves. But under Trump, those views are validated and encouraged, motivating scores of "deplorables" to come out and express their hatred openly, as we saw in Charlottesville, and sometimes violently as seen in the FBI's report noting that attacks motivated by bias or prejudice reached a 16-year high in 2018. The Trump administration has allowed discrimination under the guise of "religious freedom" across the board, from adoption agencies to faith-based schools. This administration has worked overtime to render us invisible, removing "sexual orientation" and "gender identity" from the list of categories the Education Department tracks in compiling data on bullying and canceling plans to include us in the Census. The administration has filed a long series of court briefs attacking LGBTQ rights, from seeking to block workplace protections for trans workers to allowing discrimination against same-sex couples seeking to foster children.
Attacks on the trans community are particularly acute and nasty, including allowing homeless shelters to discriminate against transgender people and rescinding Obama-era guidance that allowed trans students to use facilities that correspond to their gender identity.
He opposes the Equality Act, despite originally supporting it. He named notorious homophobe Mike Pence as his vice president, who famously signed a bill as Indiana governor allowing businesses to discriminate against LGBTQ customers. He has named scores of judges hostile to LGBTQ equality to the federal bench, jeopardizing our community's gains for years to come. He surrounds himself with bigots and homophobes, like Tony Perkins, Gini Thomas, Brent Bozell, Franklin Graham and Jerry Falwell, Jr.
I could go on for pages, but you get the point. The Blade's archives over the last four years are filled with reasons for queer voters to reject Trump.
So, why vote for Joe Biden and not just against Trump? Again, the list is long.
Biden has vowed to make the Equality Act his top legislative priority in his first 100 days. This is an important step, as the historic Bostock ruling can be undermined by other lawsuits seeking "religious freedom" carveouts to legalize discrimination and by interpreting the ruling narrowly to allow discrimination in other areas outside of the workplace.
Back in March, Biden unveiled a comprehensive plan to advance LGBTQ rights. In addition to the Equality Act, he pledges to support international LGBTQ human rights and to ban harmful, discredited conversion therapy nationwide. He vows to reappoint a special envoy to advance international LGBTQ rights, form a coalition of countries to advance international LGBTQ rights and guide the GLOBE Act into passage, as the Blade reported. Further, Biden will work to end the HIV/AIDS epidemic by 2025 and expand PEPFAR.
"As president, Biden will stand with the LGBTQ+ community to ensure America finally lives up to the promise on which it was founded: equality for all," the plan says. "He will provide the moral leadership to champion equal rights for all LGBTQ+ people, fight to ensure our laws and institutions protect and enforce their rights, and advance LGBTQ+ equality globally."
The 17-page plan is detailed and thoughtful and offers a clear vision of how he will work for LGBTQ equality.
Biden praised the historic June Supreme Court ruling in Bostock that the U.S. Civil Rights Act of 1964 includes LGBT people in its prohibition on employment discrimination based on gender or sex.
"Today, by affirming that sexual orientation and gender identity discrimination are prohibited under Title VII of the Civil Rights Act, the Supreme Court has confirmed the simple but profoundly American idea that every human being should be treated with respect and dignity." Biden said. "That everyone should be able to live openly, proudly, as their true selves without fear."
In other words, Biden will use the bully pulpit for good and to inspire others, rather than to foment division and hurl juvenile insults.
Biden endorsed marriage equality in 2012, beating his boss President Obama to the punch. Make no mistake that the bully pulpit is powerful; when the president of the United States speaks, the world listens. When Biden and days later Obama endorsed marriage equality, the floodgates were opened and a slew of celebrities, politicians, and everyday Americans followed, eventually aiding the Supreme Court's 2015 marriage equality ruling. Imagine a president using that awesome power again for good rather than for exacting petty revenge on real and imagined enemies.
Trump and his toadies like Ric Grenell — who likes to boast of being the first gay Cabinet member, even though he was not Senate confirmed and lacked qualifications for the job — have foolishly tried to paint Biden as anti-gay, citing 1970s era comments about gay federal workers. If Trump wants to talk about the 70s, let's do that. At that time, Trump's mentor was Roy Cohn, the notorious closet case who died alone of AIDS after devoting his career to ridding the federal government of gay employees in the Lavender Scare era. Also in the 1970s, Trump was investigated for discriminating against Black renters seeking to live in his apartment buildings. The Justice Department filed a civil rights case against the Trump firm, accusing the company of violating the Fair Housing Act of 1968. The case was eventually settled after a protracted court battle. Trump should be careful about re-litigating the 1970s with Biden.
And if you needed more reason to vote for Biden, think of the Supreme Court. Trump has already had two conservative picks, but in a second term he could get at least two more. Ruth Bader Ginsberg is 87 years old with recent health scares, and Justice Stephen Breyer is 82. That's two of the court's remaining four liberal justices in their 80s. A second Trump term could mean a solid 7-2 conservative majority for years to come. In that case, Roe v. Wade, Obergefell and Bostock would all be in jeopardy. That's not hyperbole. Challenges to those rulings continue and will only intensify under a second Trump term. Last year, nine states passed bills restricting abortion rights. Undermining and overturning Roe remains the #1 goal of the right, and marriage equality is next on their target list.
Whatever you think of Biden's policies, there's no disputing he is a decent man, an honorable father and husband who has dedicated his life to public service. His first big decision as the presumptive nominee was to pick Sen. Kamala Harris as his running mate, a historic and stellar choice. The California senator is a longtime LGBTQ ally who will work with Biden to reverse Trump's attacks on our community and to advance an equality agenda.
Joe Biden will work to advance LGBTQ equality. He will restore America's reputation around the world as an ally in the struggle to protect and expand human rights. His administration will look like America and we could finally see an openly LGBTQ Cabinet member and a roster of senior government officials that showcases our great diversity. Once again, it will take a Democratic president and Congress to fix the economic mess created by the outgoing Republican administration. Biden will ensure that science wins the day and procure and distribute a coronavirus vaccine that is proven safe and effective. He will embrace an overdue dialogue on race and enact new policies to address systemic racism. He will stand up to our enemies like Putin and aid our allies. And he will use the bully pulpit to inspire all Americans to achieve their full potential.
There is only one rational choice for president this year. Joe Biden has the experience, the wisdom, and the compassion to restore sanity to government and stability to the world.
Kevin Naff is editor of the Washington Blade. Reach him at knaff@washblade.com.