September 10, 2020 at 9:48 am EDT | by Peter Rosenstein
My Dad served in WWII — he was a hero, not a loser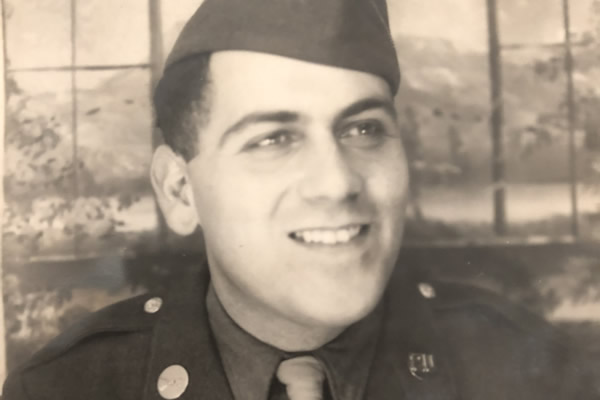 Jeffrey Goldberg wrote in The Atlantic, "Trump said Americans who died in war are 'losers' and 'suckers.'" He went on to write, "The president has repeatedly disparaged the intelligence of service members, and asked that wounded veterans be kept out of military parades, multiple sources tell The Atlantic." Trump now calls this fake news yet much of it has been corroborated by Fox News, his favorite outlet.
While this story is percolating and resonating with veterans, military families, their friends and all decent people, another headline in the Washington Post screams Trump's latest move: "White House directs federal agencies to cancel race-related training sessions it calls 'un-American propaganda.'" This story is about how the White House thinks diversity training and discussion of 'White Privilege' and 'Critical Race Theory' is simply un-American propaganda. They report OMB Director Russell Vought said, "The president has directed me to ensure that federal agencies cease and desist from using taxpayer dollars to fund these divisive, un-American propaganda training sessions."
Trump is perhaps the most glaring example of 'white privilege' in the nation. A total moron who screws up even with inherited wealth, while blustering through life knowing nothing. He lies, buys his way out of military service with a doctor's note, and then badmouths those who chose to serve. My Dad chose to serve and he definitely wasn't a loser. He was a hero. He escaped from Nazi Germany while his parents were rounded up and gassed in Auschwitz. Shortly after arriving in the United States, he volunteered to join the Army and went back and fought in Europe. He understood what fascism means and what the Nazis stood for. Trump says there are good Nazis and good white supremacists. He has no idea what the brave men and women who have fought and even died in war for our country, and those in the military today protecting our freedoms, stand for.
It must strike at the heart of every member of the military after hearing his comments to know they have to salute the pig who is their commander in chief. It is up to the rest of us to make sure after Jan. 20, 2021 they will never have to do that again.
There have been presidential scandals before like Teapot Dome in the Harding administration. But those will pale compared to what we will find about Trump's family after he is out of office. Like the Mafia Dons of old, they will be brought down by the IRS for their financial crimes. As to Trump calling every story he doesn't like by the media 'fake news' we learned from my friend Harold Holzer's recently published and positively reviewed book "The Presidents vs. the Press," which details other presidents who had either a too-close relationship with, or disparaged the media, Trump is not alone in his treatment of the press. My take is while Trump may not be worse than those others, with the proliferation of social media today the fight Trump is having with the media, calling everything they say he doesn't like a hoax or fake news, is resonating more, especially with his cult. Yes even good reporters get stories wrong occasionally and we must not believe everything we read in the press. But what is crystal clear is our democracy won't continue to exist unless we have a free press and we need to learn to be good consumers of the news.
When accepting her nomination as Biden's vice presidential nominee, Kamala Harris said, "We're at an inflexion point. Right now we have a president who turns our tragedies into political weapons. Constant chaos leaves us adrift. The incompetence makes us feel afraid. The callousness makes us feel alone. It's a lot. And here's the thing – we can do better and deserve so much more."
My Dad served in WWII — he was a hero, not a loser. Every American citizen has the chance on Nov. 3 to weigh in on the direction our nation will take in the coming years. Your vote is your voice. I hope Americans will use their combined voices to speak out loud and clear on the direction they want our country to take and that decent people will reject the stink he is leaving on our nation and say, "we reject your cowardice, your racism, your homophobia, and your sexism. We vote to again have Americans welcomed around the world instead of facing signs saying, "Americans cannot enter."
Peter Rosenstein is a longtime LGBTQ rights and Democratic Party activist. He writes regularly for the Blade.