September 9, 2020 at 8:34 pm EDT | by Mike Silverstein
A California mountain community loses its heart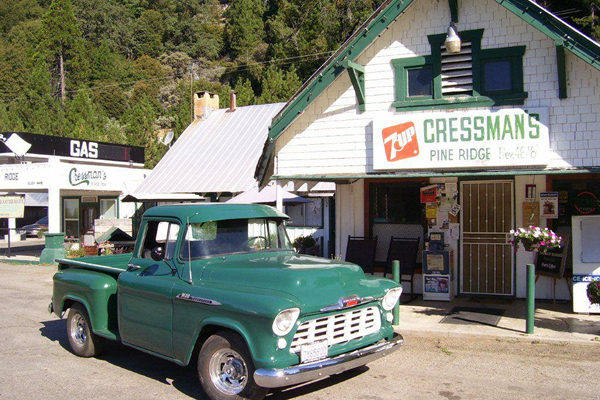 The Creek Fire racing through the Sierra National Forest, fueled by dead trees and undergrowth has consumed 143,000 acres so far and destroyed an estimated 60 homes, but it also destroyed an institution, a legacy, and the heart of a mountain community. Former ABC News Radio editor and newswriter Mike Silverstein reports:
PINE RIDGE — The Creek Fire continues to make national headlines. Military chopper pilots and crews have rescued another 78 people who had been trapped on the mountain amid the flames. They have battled thick smoke and hellish terrain, often trying again and again to land safely. Some of those rescued have sought safety wading into lakes and reservoirs. There are still more waiting and praying for rescue.
What's happening is an enormous tragedy, worthy of headline coverage, but within it are thousands of personal and family tragedies.
Our family had to evacuate our home yesterday. More on that later. I'm still trying to process the loss of a little general store that's been a part of the area for more than a century, and means a lot to me personally.
We lost Cressman's General Store to the fire last night.
Cressman's was located in Pine Ridge, at the 4,000-foot level, midway from the bottom of the four lane road to Shaver Lake. It had been there since 1904, back when logging was king. Before Shaver and China Peak/Sierra Summit were resorts, and before PG&E built generating stuff at Shaver and Huntington and Edison Lakes, Cressman's was there.
Eight or 10 years ago, Cressman's was under new ownership.
"You've got to meet Keith and Vince," my cousin Bobbi excitedly told me. "They are the nicest couple."
Keith Davis had been a buyer for the Gottschalk's Department store chain, and, after Gottschalk's went belly-up in 2009, he and his partner Vince Wiggins — who was a local high school teacher — decided to pursue their dream and they bought the little old general store halfway up the mountain.
They lowered the price of gasoline, charging less than the station at the bottom of the mountain and less than the stations up in Shaver. They dramatically upgraded food choices and quality, offering local favorites like beerocks and breakfast burritos, as well as really good pizza. You could buy pizza by the slice, by the whole pizza, or — most popular — as a take-and-bake. And they also offered entrees for take-and-bake. And sandwiches. And coffee. And wonderful baked goods.
Families on their way to the lake or the ski resorts would stop and fill up and buy a pizza or entrees to bake — or to heat up at their vacation place. The little general store became a must stop on the way to the mountaintop resorts.
When Tom and I first met Keith and Vince, we were intrigued that an openly gay couple would buy a business halfway up the mountain, where folks were politically quite conservative, to put it mildly.
Keith, the former department store executive, said he knew the market and knew what the people wanted. And Vince, who grew up in the area, said he knew his neighbors.
The combination of cheaper gasoline, really good food, fair prices, and friendly service caught on in a hurry. Cressman's became the social hub of the neighborhood.
They fixed up the barn and opened it up to area artists. On Trade Days, my cousins would sell their pottery to tourists, while other artisans would sell paintings, woodworking, and other objets d'art.
The guys hired local folks to help cook, bake, and run the store.
Keith and Vince would take their RV and head off on vacations, and to visit friends. And their local partners would run the store when the guys were gone.
Everyone in the community knew that Keith and Vince were gay, and were a couple, but they were respected and embraced and very much at the center of this very conservative mountain community. I'll never know how many hearts and minds they opened by being themselves and setting an example. And, most important, how important that example was to young people up there, especially those trying to figure out who they are and whether there's a place for them in the world.
When Vince hit the magic age, he was able to retire from his career as a high school teacher. Two years ago, the guys found a buyer for the general store.
Ty and Tara were a local couple with two kids who loved Cressman's and didn't want to change a thing. Nor did any of the neighbors. The sale went seamlessly, and Keith and Vince stuck around long enough to make sure everything went right.
And it did, until the fire.
Ty stayed open this weekend as long as he could, staying to provide gasoline and provisions for firefighters.
The store, the barn, and the other structures were consumed by the fire Monday night. Ty and Tara lost their home as well.
We haven't heard from Keith and Vince, but they often spent Labor Day weekend on the road in their RV, and we hope that's the case.
The loss of Cressman's was on the front of the Fresno Bee website this afternoon. Yet another terrible loss in this worst of all years.
Cressman's was the first thing my cousins told me about when I called them this morning. Even before their own situation.
They had to evacuate our home yesterday afternoon.
Even though there are 800 firefighters working out of a command center at Sierra High School — practically across the street from our place, it was smoke that forced them out, not the approaching fire. Al was starting to have trouble breathing and his complexion seemed to be turning ashen. It was time to get out of Dodge.
Living in fire country, you always keep the valuable papers and family memorabilia together and organized, just in case. They were able to gather what they needed and take it with them.
Soon after they left, a mandatory evacuation order went into effect.
The three daughters are in three different locations, the two youngest grandsons are staying with their father 200 miles away. And the three college age grandkids are staying with friends in Fresno.
Al and Bobbi are at a hotel in Fresno.
When they checked in late yesterday afternoon, they were told the hotel's coffee shop and dining area was closed due to COVID. And all the restaurants in the area were offering only outdoor dining and take-out due to COVID. But with all the smoke in the air, nobody was eating outside.
So they ordered take-out, went back to the hotel to eat, and turned on the portable air purifiers they brought from home. The hotel management was kind enough to bring them a small refrigerator, so they could store snacks and beverages.
The Creek fire still has zero containment. And the winds are expected to change direction tomorrow and pick up speed heading toward Fresno and Clovis.
Al and Bobbi don't know if they'll have a home to go back to. If the winds pick up as much as expected, chances are they won't.
But everyone is safe for now. Everyone has shelter for now. We have our valuables. And we have insurance.
That makes us better off than many of our friends and neighbors.
Mike Silverstein is a former news editor and newswriter for ABC News Radio Washington Bureau. He's retired, and serves as an elected Advisory Neighborhood Commissioner in Washington, D.C.