September 16, 2020 at 10:00 am EDT | by Brian T. Carney
'Antebellum' explores truths of our ugly past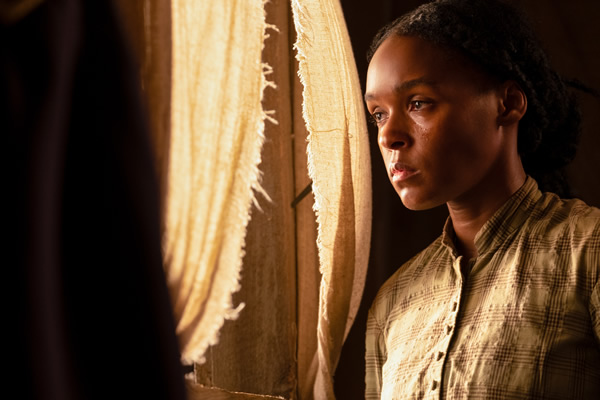 It seems appropriate that "Antebellum," the new thriller about the ongoing impact of racial injustice in America, literally started as a nightmare.
According to Gerard Bush, who co-wrote and co-directed the movie with his husband Christopher Renz, he dreamed that a desperate woman was trying to reach out across the dimensions for help. Bush says, "it was the most visceral experience I have ever had in a sleep state. When I woke up, I wrote down all of the points in the Notes section on my phone. The next day Christopher and I discussed it and started writing the short story that became the screenplay."
"Antebellum" stars Janelle Monáe as best-selling author Veronica Henley. The powerhouse cast also includes Kiersey Clemons, Jena Malone, Lily Cowles and Gabourey Sidibe.
Bush describes Henley as "this incredibly accomplished modern young Black woman: a mother, wife, a pillar of the community, a thought leader and an activist."
Based on the memories of his dream, Bush says "Veronica is plucked from her beautiful life and thrust into the open-air haunted house of the antebellum South where she has to solve the mystery of what is happening to her before it is too late."
Renz says that he and Bush wrote the script in shifts. "We don't actually come together at the same table until the script is complete. I'm more of a night person so I'll write from 10 p.m. to 4 a.m. and then Gerard will look at my pages. He'll read and edit them and then write his pages in the morning. We go back and forth like that and write the story."
Bush adds, "I need my space to write alone. As writers, we both require absolute solitude. But we have a way of making art together that really works. We have this telepathic shorthand."
He also notes that, "as a directing duo it works very well that we're a writing duo. We're able to build the script in our own home by ourselves. We can have these knock-down drag-out creative fights when we disagree. By the time we get to set, we have the same vision and we know exactly what we want."
Renz says that when they are on the set, they are physically together 99.95 percent of the time.
The couple met 12 years ago at a rooftop party in Miami. On their fourth date, they wrote a story about aliens together. They started an advertising agency that focused on the luxury fashion world, but after the murder of Trayvon Martin they decided to move into the social justice space. They started working with partners like Amnesty International, Harry Belafonte and Jay Z and ultimately decided to move to Los Angeles to pursue their particular brand of storytelling.
"Antebellum" was originally scheduled for an April release, but it was delayed in the wake of the coronavirus. Bush and Renz are both excited to see how the world receives their movie.
They say, "our ardent hope is that the film drives an urgent conversation around the need to confront the truth of our past in all of its ugliness so that we can stop being haunted by that past in our present and prevent ourselves from being robbed of our future."
"As artists," Bush notes, "we have to tell the stories that force people to confront the truth."
"Antebellum" is available on VOD platforms now.