September 17, 2020 at 11:01 am EDT | by Washington Regional Transplant Community
A Welcome Lifeline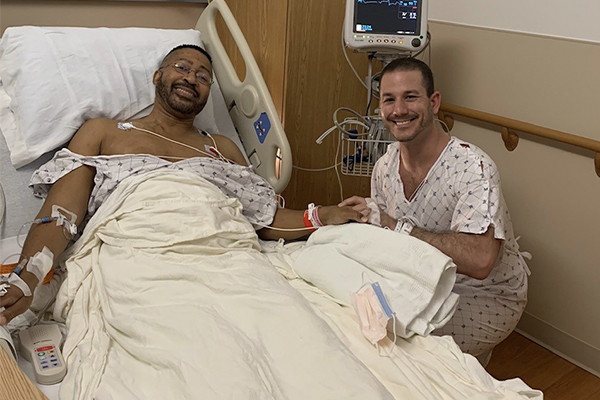 Paul Johnson went on a mini-vacation to Puerto Rico in April 2017. But his r&r was interrupted when his then-boyfriend noticed Paul's feet, calves and thighs were extremely swollen. His feet barely fit in his shoes on the return flight to D.C.
In the next few months, Paul underwent several medical tests to determine what was wrong. Ultimately, he was diagnosed with a rare genetic autoimmune disorder. The news was bleak—Paul would need a kidney transplant if he had any chance of living a long life.
Paul, who rapidly gained 42 pounds of fluid and could hardly breathe at times, would receive overnight dialysis treatment several times a week so a machine could filter his blood to keep him alive. Despite his condition, Paul maintained his social life to stave off the depression. Unbeknownst to him, there was someone in his circle of friends paying extra close attention to Paul.

It was 2011 when Paul first met Ryan Maddock playing on opposing Stonewall Kickball teams. "There are certain people you meet, and right away you can tell they have a good heart. Ryan was one of those people," said Paul.
When Paul grew ill, Ryan, a hospital social worker, knew something was up. During the next year or so, Ryan would check in with Paul and ask about his condition. "He didn't just scratch the surface. Instead, he asked meaningful questions that brought me comfort. He was my lifeline."
One day when the two were chatting on the sidelines, Ryan offered to be Paul's kidney donor. Paul brushed him off because several friends had already started the process to see if they could be his donor, but each backed out. Paul figured Ryan would be no different.
In August 2019, Ryan pulled Paul aside for the fifth time and said, "I want to give you a kidney. I want to do this for you."
Paul finally realized Ryan was serious and with his blessing, Ryan began the process to determine if his kidney was a match for Paul. Both were disappointed to learn that they were not a match. However, Ryan was determined to save Paul's life so the two signed up to participate in a kidney swap. This meant Ryan would donate a kidney to someone else whom he matched with and in exchange Paul would receive a kidney from a matching donor.
On July 14, Paul and Ryan both went into surgery at Medstar Georgetown Transplant Institute. That morning, Ryan donated his kidney to an anonymous recipient in Boston. By evening, Paul received a new kidney from an anonymous donor in Cincinnati.
After Paul woke up from surgery, he had a visitor. It was Ryan, who needed to see for himself the relief on Paul's face. "We are two good friends doing something extraordinary. We were always in this together."
Both are recovering well after their surgeries and are already back to work. Paul plans to write a letter to show his gratitude to his kidney donor and hopes they can all meet someday.
"I don't think there are words that are big enough to express my appreciation. This gift extended my life and changed everything for the better."

Everyone can register to be an organ donor. Get the facts and register at BeADonor.org.