September 17, 2020 at 8:00 am EDT | by Brody Levesque
Tribute to my American heroes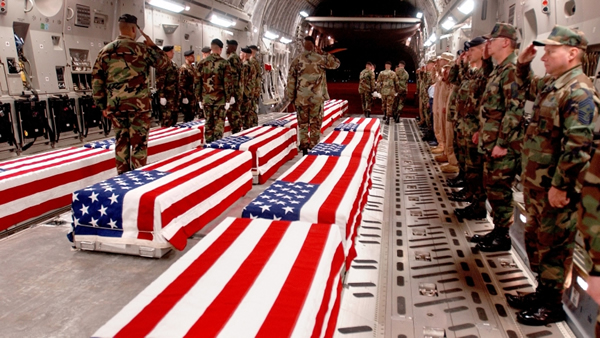 LOS ANGELES – As a journalist I have been present at Dover AFB Delaware oft times in the middle of the night as the massive C-17 Cargo Jets bearing their precious cargo of the bodies of American soldiers, airmen and women, sailors, Marines, and Coast Guard members killed in service to their country arrive.
Unwittingly, I have undoubtedly been present for the scenario as described by Charlotte Clymer, trans activist, writer, and U.S. Army veteran in the following thread below that I urge you to please read.
The most important duty of a president of the United States is in the role of commander-in-chief. Trump has failed miserably sinking to the depths of abject depravity to denigrate those young men and women who wear or have worn the uniform(s) of the United States military services. Trump's remarks as initially reported on by my journalistic colleague Jeffery Goldberg at The Atlantic magazine this week on Thursday and since verified unexpectedly by, of all media organizations, Fox News, are beyond inexcusable.
Although I'm now living in California, I've spent countless hours while living and working in Washington, D.C. strolling the grounds of Arlington National Cemetery, and I attended nearly every Memorial Day ceremony as well over those two decades.
I have spent time with the families of those killed in service in the recent wars in the Middle East buried in Section 60 and on Sept. 11, 2001, I was present in the Pentagon and witnessed yet again the heroism and humanity of those who are members of the military.
There is no defense of this slimy behavior period. Any person who can still support this man is not a decent human being, period. They are simply a boil on the rectum of humanity and should be treated as such.
For every Gold Star parent who has lost their child, for every Blue Star family, for every veteran, active duty, reservist, and Guard member, know this: This proud Canadian has benefited personally from the service of your loved ones, and thanks you deeply for your service and the truth of what it means to be an American hero.
Donald Trump and his offspring are dishonorable rubbish and have no humanity. They are the poster children for evil at its core and as such, need to be treated with contempt.
Here's the link to Charlotte's thread and again I urge you to read it please.
Brody Levesque is editor at large of the Los Angeles Blade.