September 16, 2020 at 7:00 am EDT | by Peter Rosenstein
Liar, racist, sexist, homophobe, and president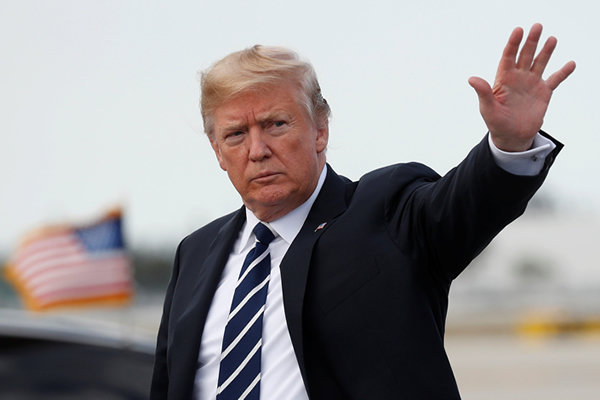 What is wrong with this headline? What does it say about our country when with absolute certainty there is proof of who Trump is in his own words? It often appears he is proud of being a liar, racist, sexist, and homophobe. He believes it strengthens him with his base or, as I call it, his cult.
Just as important is what this says to the world about the United States when this insufferable psychotic moron up for reelection will certainly get at least 40 percent of the vote. People across the globe see Americans flocking to his rallies, cheering him and looking at him adoringly like Vice President Pence looks at him. The Cult of Trump lionizes him without regard for the state of the nation or even the state of their own lives. I watched some of his rallies and think of cult leader Jim Jones. He conspired to direct a mass murder-suicide of himself and his followers in his jungle commune at Jonestown, Guyana. You have to believe if Trump were to ask some of his followers to take their own lives in support of his campaign many appear willing to do it for him.
The United States is a country in which nearly 30 million people are out of work. A country that has lost 200,000 people to a virus the president called a hoax and still says will miraculously disappear. Today we know from a conversation Bob Woodward taped with him that as early as January, Trump knew how serious this virus was and outright lied to the American people about it. He did nothing then to try to keep it from getting to the stage it has today. Nothing! Through his inaction and lying he has turned the United States into a pariah to much of the world. Today Americans are banned from traveling in much of the world. Yet over 40 percent of the people say they will still vote for him.
The attendees at his rallies appear to be overwhelmingly white and working class without college education. Now don't get me wrong there are many successful people with only a high school education and I believe not everyone has to go to college. But these attendees, Trump's cult members, clearly don't understand science or even want to. They would rather believe every word that comes out of the mouth of their cult leader and repeated to them on Fox News and a number of right-wing news outlets such as Rush Limbaugh's show. They don't think twice even after hearing the words come out of his own mouth prove their cult leader is a liar. They won't believe what Trump's own family, his niece and older sister, say about him.
As we move closer to the election the rest of the world is watching us and either feeling sad for us or laughing at us. We were once a great power they could rely on and today Trump has turned us into a second-rate government and is a toady of Vladimir Putin who seems to hold something over Trump's head. Recently Trump offered to help Putin with the fires in Siberia. "President Putin expressed his sincere gratitude for such an attentive attitude and for the offer of help and support." This when Trump told the governor of California and the citizens in the West who are fighting the worst forest fires in their history that they should have raked their leaves.
The results of a recent 2020 poll of 11,000 respondents "across nine European countries, commissioned by the European Council on Foreign Relations (ECFR), showed that in almost every country surveyed, there was an increasingly negative perception of the U.S." The poll found "In a frightening world, one looks around for friends. But Europeans are uncertain who they can rely on. … Now, Europeans' trust in Trump's America is gone."
The world is waiting to see if American voters reject Trump on Nov. 3. Those of us who care about our country and who have any sense of decency and care about our planet sure hope they will.
Peter Rosenstein is a longtime LGBTQ rights and Democratic Party activist. He writes regularly for the Blade.