September 24, 2020 at 6:52 pm EDT | by Patrick Folliard
Non-binary actor wins Helen Hayes Award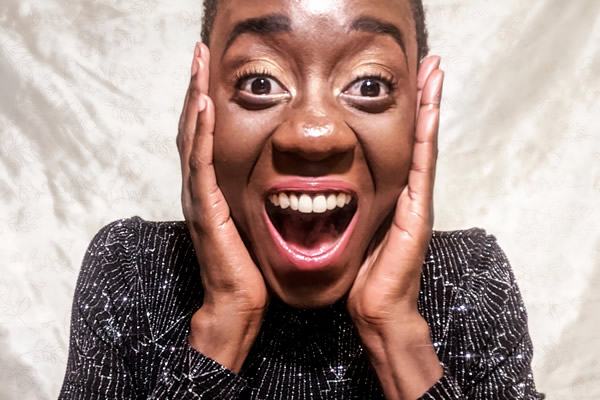 This time last year, non-binary actor Temídayo Amay was delighting audiences as Gifty, in Round House Theatre's production of Jocelyn Bioh's "School Girls; or, the African Mean Girls Play."
The rangy actor gave a terrific comedic turn as a minion to the top girl at a boarding school in Ghana in 1986 where cliques, beauty pageants and skin tone were the chatter of the day.
For their efforts, Amay won a Helen Hayes Award for Outstanding Supporting Performer in a Play—the honor was presented via Zoom earlier this month (postposed from May because of Covid-19). Although this year's awards were adjudicated through a binary lens, they were presented through a gender inclusive format. Next year will be different.
Washington-based Amay, 26, grew up in suburban Maryland, earned a BA in theater from the University of Maryland, and soon after began her career. In addition to working at Round House, their crowded bio boasts gigs at the Kennedy Center, Studio Theatre and Woolly Mammoth Theatre Company to name a few.
In a recent interview, Amay expresses gratitude and a hopeful yet savvy look forward in uncertain times.
WASHINGTON BLADE: Congrats on your Helen Hayes Award.
TEMÍDAYO AMAY: Thanks, I've been riding a wave of good energy since I got it. Basking in the memory, the moment, and excited to see what's ahead.
BLADE: Your acceptance speech stood out as particularly heartfelt and poignant.
AMAY: Actually, I misplaced my prepared speech not long before my name was announced, so I spoke from the heart. I'm grateful for the global embrace of black queer, trans, and gender expansive people that is happening right now. Specifically, what's happening in the entertainment industry. It means a lot to me and I'm very grateful to be a part of it—a lot of people have laid the groundwork over many, many years. I wanted to use that moment to encourage people to support the projects of these storytellers.
BLADE: Tell us about Gifty.
AMAY: The part came at a rough time for me. I'd just officially come out as nonbinary and was finding out what that meant and what it would look like career wise. When I was cast as Gifty and things began to come together.
BLADE: Has coming out as nonbinary affected how you're cast?
AMAY: I'm grateful to continue to be cast in roles for ciswomen as well as parts specifically written for non-binary and gender expansive actors.
The parts are out there, more every day. As people are finding the space to understand the nonbinary experience, it's being increasingly explored. Also, there's some reimagining of characters from existing plays, offering more insight into the character and the depth of that human being.
I've been asked to audition for traditionally male roles, Puck from "A Midsummer Night's Dream" for instance, but I'm more of a Helena or Hermia.
BLADE: When did you first want to act?
AMAY: There was a never a time I didn't like performing. I was always entertaining family and friends in the living room or at mosque, but I got my first real part in the sixth grade at middle school. Then just two weeks before the performance date, the director replaced me. It was heart shattering. I vowed then to one day show the director what a mistake he'd made.
BLADE: Has the pandemic stalled your career?
AMAY: Quarantine gave me time reevaluate what I wanted to do. It gave me time to re-open to film and music, to remember myself as the kid sitting in front of the TV and watching "The Mask" with Jim Carrey. I've also been writing songs, and recorded my first music video—it's Afro-house sound and is set to launch next month.
BLADE: And other immediate plans?
AMAY: Besides doing my part to help flatten the curve—I wear a mask and social distance—I'm writing a series about Ope, a young non-binary character who is exploring issues of intimacy. It's an opportunity to talk about things that most audiences haven't seen.
The Helen Hayes Awards finale ceremony, presented and produced by theatreWashington, will be celebrated virtually Friday, Sept. 25, and afterward at theatreWashington.org.