A vote for eco-friendly rides
Two fine green machines in the Escape, Leaf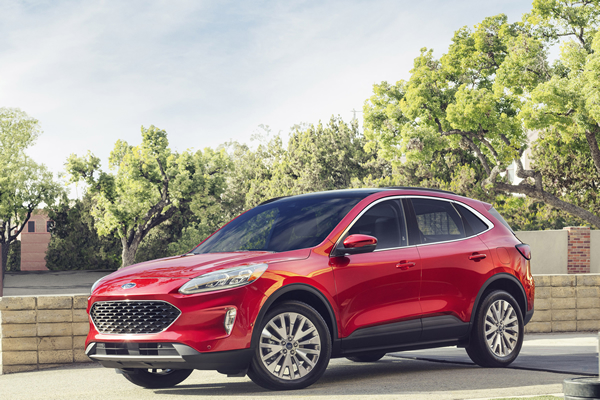 While it's important this year to work with family and friends to help get out the vote, I've also needed the occasional distraction. That's why test-driving cars has been a welcome reprieve. Luckily, the two green machines below turned out to be fine diversions.
FORD ESCAPE HYBRID
$29,000
Mpg: 43 city/37 highway
0 to 60 mph: 8.7 seconds
What better way to escape all the political pandemonium than, well, in a Ford Escape? This year marks the return of the hybrid version, as well as the debut of a plug-in hybrid. What's more, this compact crossover has been fully redesigned, with all the poise and pluck of a Porsche Macan. While the Macan may be twice as fast—and twice the price—the Escape Hybrid has a 200-hp engine that is still fairly quick. Precise steering is a plus, as is the sturdy suspension that translates into almost no body roll. Inside, the front seats are comfortable but not exactly snug.
Tasteful gauges and controls are easy to use, including an 8.0-inch touchscreen and 12.3-inch digital instrument cluster. As for cargo capacity, a small lithium-ion battery pack takes up a bit of rear-seat legroom but still leaves plenty of space. While it does take a few jujitsu-like maneuvers to fold the rear seats completely flat, this is a minor quibble. Two trim levels are available, both with keyless entry, push-button start, heated seats and smartphone integration. For a $5,000 premium, the high-end Titanium level adds lots of extras: ambient lighting, hands-free liftgate, 10-speaker Band & Olufsen stereo, rain-sensing windshield wipers and more. You can even splurge on a panoramic sunroof and head-up display, though the price tag will start to hit $40,000. But at least those hybrid fuel savings will help offset some of the cost.
NISSAN LEAF
$32,000
Range: 150 to 226 miles
0 to 60 mph: 8.4 seconds
With all the hoopla surrounding flashy high-end electric vehicles like the Audi e-Tron, Jaguar I-Pace or any Tesla model, it's easy to underestimate the Nissan Leaf. Yet this subcompact has been a tough competitor ever since it was introduced 10 years ago. Back then, the paltry 73-mile range caused battery anxiety every time I slid behind the steering wheel. But the range on this EV has been doubled, thanks to improved technology and a more aerodynamic design—including sculpted headlights that deflect wind from the side mirrors. With the new Leaf Plus model, there's an even more powerful motor and larger battery pack to extend the range to an impressive 226 miles. While the Leaf Plus adds $6,550 to the sticker price, it also comes with a fast-charging port and upgraded stereo, nav system and adaptive cruise control. But even a base-model Leaf comes with Apple CarPlay and Android Auto, as well as safety features like lane-keeping assist, blind-spot monitor and collision warning with emergency braking.
Options include LED headlights, surround-view camera, heated seats and heated steering wheel. Sadly, the back seats don't fold flat, and there's no telescoping steering wheel. Some EV contenders also offer more features and a longer range, though often for a price. Overall, the Leaf seems like something George Jetson would drive, from the almost cartoonish styling to the high-pitched whirring motor. There's also a geeky e-Pedal driving system, which allows the driver to speed up, slow down and even stop the vehicle using only the accelerator pedal. This makes for a rad ride, especially when tackling twisty switchbacks or weaving through commuter traffic. Then there's the ProPilot semi-autonomous feature, which keeps the car centered in its own lane and automatically brakes/restarts in any kind of gridlock. There are other practical reasons to buy a Leaf, such as Nissan's renowned reliability and a warranty that covers the battery for up to eight years or 100,000 miles. But as far as EVs go, the Leaf gets my vote because it's fun and playful.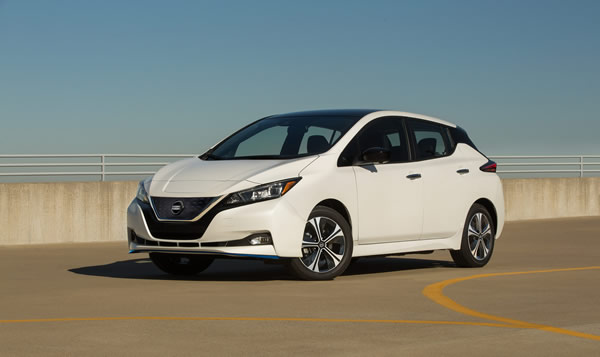 Sport sedans make spirited return
Forget crossovers, these models are a thrill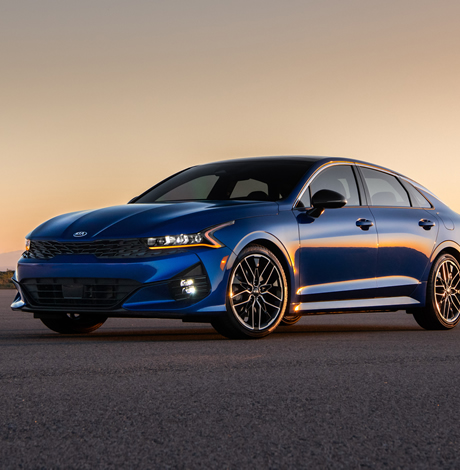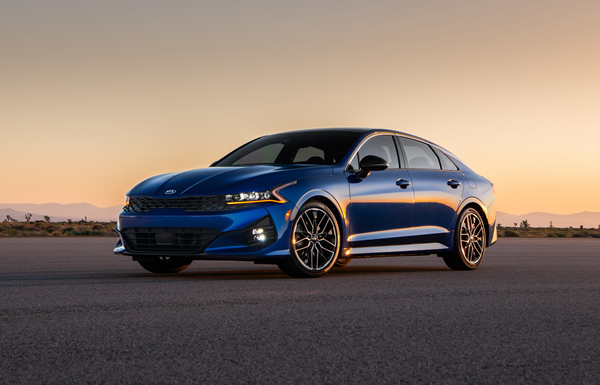 Remember four-door sedans? Once upon a time, they ruled the road. But today the buzz is all about crossovers and SUVs. Last year Ford phased out most of its sedans, and cars were only 8% of GM's retail sales. Case closed, or so it seemed. After recently testing the all-new Kia K5 and a restyled Mercedes E 450 for a week, I was blown away with how a true sport sedan—done just right—is still a thrill ride. Perhaps Nietzsche said it best: What doesn't kill you makes you stronger.
KIA K5
$24,000
Mpg: 29 city/38 highway
0 to 60 mph: 5.8 seconds
Gay magician Michael Carbonaro would feel right at home at Kia. The automaker keeps pulling rabbits out of the hat with dazzling vehicles at affordable prices. Such is the case with the all-new K5, which replaces the once-formidable Optima midsize sedan. Optima sales slid some 40% the past few years as consumers gobbled up crossovers, so Kia sprinkled pixie dust on the sheet metal to come up with styling that borrows heavily from the high-test Stinger muscle sedan. The result is a snotty-nosed grille on the K5, along with zig-zag headlights and a cascading rear that evokes a sexy fastback coupe.
Yet the base price is $10,000 less than a Stinger. The K5 also gets better gas mileage and comes with more standard safety gear, including automatic emergency braking, forward collision warning, driver attention warning, pedestrian detection and other goodies. There's even a rear-occupant alert—an audible reminder to check the backseat when exiting the vehicle—and a safe-exit system to prevent rear passengers from opening doors into vehicles approaching from behind. The base four-cylinder turbo is dandy, especially for daily commutes. But to unleash your inner speed demon, the GT model boasts a lustier engine, bigger brakes, sportier suspension and wider tires. No, this isn't a BMW 5 Series sedan, but the GT's ride and handling are close. The interior on all trim levels looks chic, with a sculpted dash full of user-friendly knobs and switches, tasteful wood trim and smartphone integration. Among the many options: all-wheel drive, heated/ventilated seats, ambient lighting, panoramic sunroof and a 10.25-inch touchscreen. I also enjoyed bopping to tunes on the premium 12-speaker Bose stereo, which benefited from an acoustic-laminated windshield that muffles outside noise.
MERCEDES E 450 4MATIC
$64,000
Mpg: 23 city/31 highway
0 to 60 mph: 4.3 seconds
If your queer eye craves lots of glitz and glamour, there's the Mercedes E 450. At almost three times the price of a Kia K5, this swanky sport sedan has a split personality: sportster wannabe versus luxe-like land yacht. Yet the vibe works, combining jazzier-than-expected styling with a boatload of amenities.
The effortless acceleration and engaging steering are sublime, especially when dodging potholes and wayward delivery trucks. And the richly appointed cabin brought miles of smiles during my first weekend getaway in over a year. A wraparound dash has two ginormous 12.3-inch screens: one for the digital instrument cluster and another for all the infotainment gizmos. You can even add augmented reality navigation, with turn-by-turn directions ala Waze. Other options include rapid-heat front seats, heated armrests and heated front center console, as well as a 360-degree bird's-eye camera, rear sunshade and Burmester surround-sound stereo with 23 speakers. The finely crafted seats are exquisite—and slightly erotic, with deep-massage functions that caressed and stimulated me in sinful ways.
Alas, some of the creature comforts are almost too high tech, like the touchy steering-wheel audio controls and numerous options for accessing and updating channels and presets. I finally got the hang of it after a few days, but it would have been nice if the infotainment system was more intuitive from the get-go. Still, such quibbles turned out to be minor. As with the Kia K5, the Mercedes E 450 was a real pleasure to drive. Despite—or because of—fewer sedans on the road these days, both rides were also turning a lot of heads. That's the power of retro rides, when everything old becomes new again.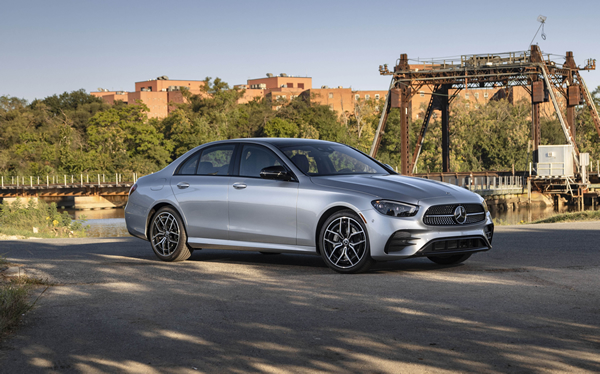 Driving away the winter blues
Nifty features, pleasant surprises in three crossovers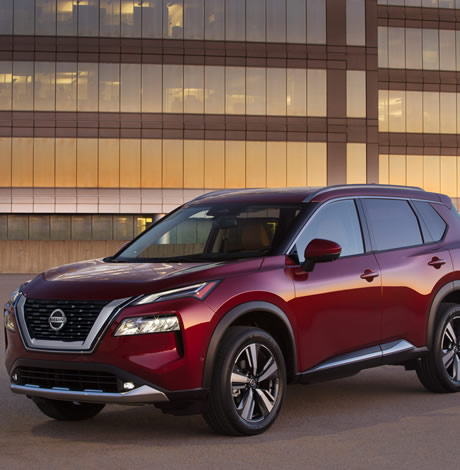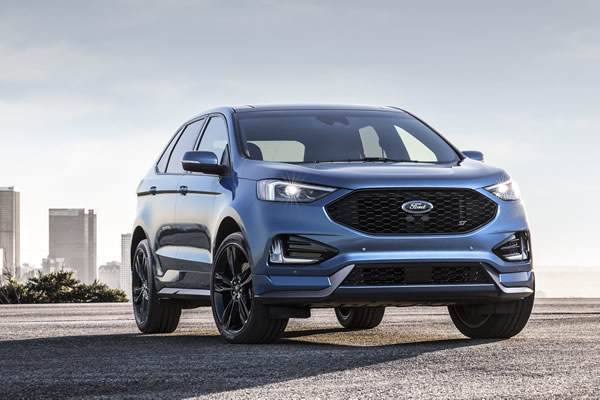 To help keep the winter doldrums at bay, I recently test drove three fun crossovers. All had plenty of nifty features, as well as a few pleasant surprises.
FORD EDGE
$32,000
Mpg: 21 city/29 highway
0 to 60 mph: 7.6 seconds
During these uncertain times, it's nice to know a Ford Edge offers steady reassurance. This five-seat mid-sizer is surprisingly quiet, with a comfy ride and precise steering. A base four-cylinder turbo is peppy enough, especially for in-town driving. But for more gusto, the sporty ST model—with a potent V6 engine, larger tires and firmer suspension—scoots from 0 to 60 mph in less than 6 seconds.
A major redesign a few years ago gave the Edge the snazzy exterior styling of an upscale Lexus RX. This year the updates are on the inside: 12-inch vertical touchscreen (the largest in its class) with smartphone compatibility, Wi-Fi hotspot, improved voice-recognition system and over-the-air software updates. Top safety scores are a plus, as is the adaptive cruise control, semiautonomous parking and 180-degree front-end camera. I loved the long list of options, even if they can be a bit pricey: all-wheel drive, heated/ventilated seats, heated side mirrors, power liftgate, panoramic roof and 12-speaker Bang & Olufsen premium stereo. For anyone needing a weekend away from the Washington scene, the Edge can tow up to 3,500 pounds—perfect for small campers and such.
KIA SELTOS
$24,000
Mpg: 29 city/34 highway
0 to 60 mph: 7.3 seconds
Looking for totally new versus tried and true? This year the Kia Seltos makes its grand debut, with "crown jewel" headlights, a tiger nose grille and a front end with vertical chrome lines inspired by—OK, wait for it—buffalo horns. At least that's how Kia designers describe the look of this funky subcompact crossover. Entering what is an already crowded market segment, the Seltos is based on the same refined platform as the popular Hyundai Kona. Both provide a composed ride and high-quality cabin at an affordable price. But while the Seltos has the same sure handling, it's also taller and roomier.
The base four-cylinder is certainly capable, but I was enamored with the extra oomph from the optional turbo engine. Gas mileage is almost the same anyway, and a top-of-the-line SX Turbo—fully loaded—is just $28,000. Keyless entry, tinted rear glass and smartphone integration are standard on all models. And depending on trim level, the long list of amenities includes heated seats, automatic high beams, sunroof, premium Bose audio and more, as well as the latest safety features. For me, the Seltos seemed to be a nice mix of style and substance, with a refreshing bit of whimsy.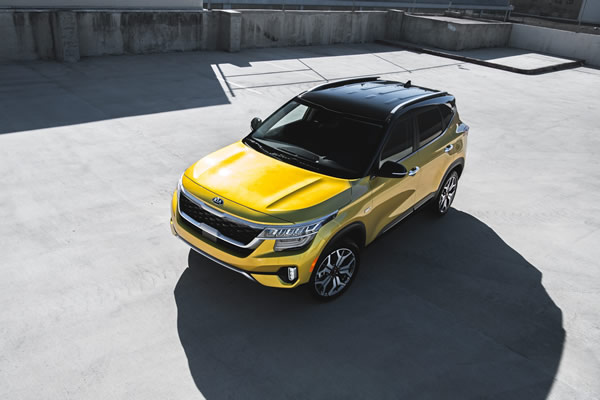 NISSAN ROGUE
$26,000
Mpg: 27 city/35 highway
0 to 60 mph: 8.1 seconds
It's been seven years since the Nissan Rogue was updated. That's an eternity in the auto biz. But this year the automaker's most popular vehicle gets an extreme makeover, with a glitzy new profile, freakishly thin headlights and racy rear spoiler.
With the ongoing hullabaloo about former Nissan Chairman Carlos Ghosn skipping out of Japan to avoid facing criminal charges, it's easy to forget that this company churns out very impressive and reliable vehicles. This includes the updated Rogue, with its zippy engine—tweaked for a bit more horsepower this year—and extremely smooth suspension. Those Zero Gravity seats were a pleasant surprise, as was the minimal body roll and solid braking. Inside, the cabin is now more upscale, with an almost BMW-like dash and acoustic glass in the windshield for a quiet ride. Standard gear includes remote keyless entry and rear parking sensors, as well as automatic braking, blind-spot monitor and lane-departure warning. Despite being 1.5 inches shorter than before, the updated Rogue has more rear-seat legroom.
Options include tri-zone climate control, large head-up display, floating 9.0-inch touchscreen and 12.3-inch digital gauge cluster. There's also wireless charging, Wi-Fi hotspot, front/rear heated seats and a panoramic moonroof. As for those rear-window sunshades, you likely won't find them on competing models—at least not in this price range.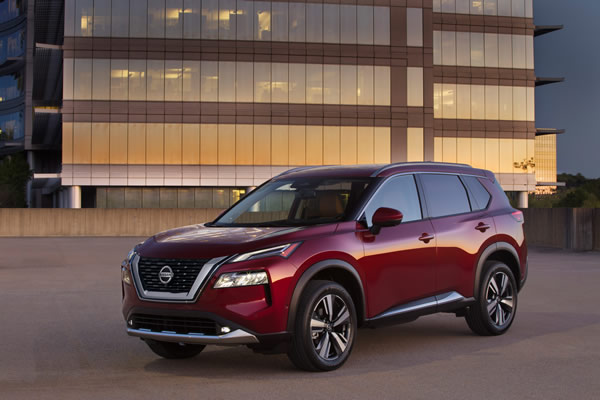 Top rides for 2021
Sorento, Bronco, BMW 530e all impress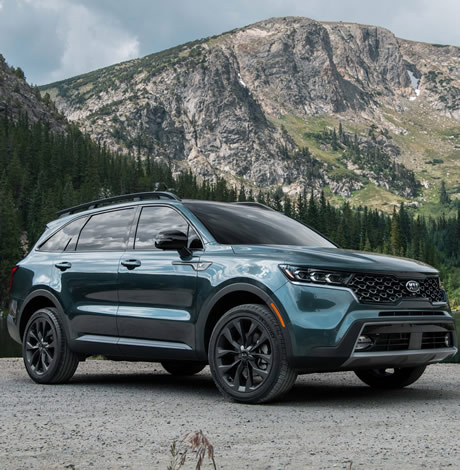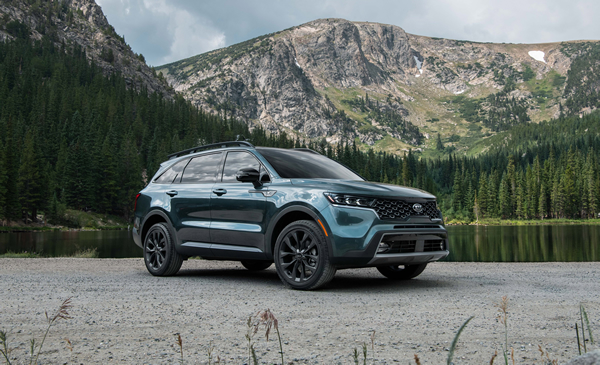 It's hard to think about cars at a time when our health, our city, and our country is under siege. But for me, writing a car column is a respite from so many gut-wrenching events, from the political to the pandemic. When I eventually do tap back into my newsfeed, I'm more energized and can focus on trying to move forward. I hope reading about cars does the same for you. 
MIDSIZED CROSSOVER: KIA SORENTO
$30,000
Mpg: 24 city/29 highway
0 to 60 mph: 6.5 seconds
A new year usually signals the start of auto show season. But the pandemic caused many 2020 shows to be cancelled, and now some of them—like the one in D.C. usually held in January—have been rescheduled for later in 2021.
While local gearheads will have to wait at least until spring for our show, there are already plenty of head-turning vehicles rolling onto dealer lots. This includes the radically redesigned Kia Sorento, a midsize crossover that blends the burly styling of a full-size Telluride with the cheeky curves of a compact Sportage. All three Kias are pleasant to drive, with decent gas mileage and sharp handling. But the Sorento works especially well in the city, offering ample cargo space and an ability to fit almost anywhere. Unlike most competitors, this mid-sizer comes with a third row and a surprising amount of legroom. There's a choice of four engines, including a traditional hybrid and plug-in hybrid. Base models boast LED headlights, heated outside mirrors and smartphone compatibility.
Safety gear includes forward-collision braking, driver-attention sensors, lane-departure warning and 360-degree parking camera. When you change lanes, cameras also display live footage of the blind spot on the instrument panel—which has a large, digital-gauge cluster that looks like something from an Xbox game. Other niceties include push-button start, panoramic sunroof, 10.25-inch infotainment touchscreen and 12-speaker Bose stereo. But sometimes the coolest features are the simplest ones: netted pockets on the sides of the seats that can hold your smartphones.
HAUTE HAULER: FORD BRONCO
$30,000
Mpg: 21 city/26 highway
0 to 60 mph: 5.9 seconds
After a 24-year hiatus, the Ford Bronco is back. But forget the rounded edges and slanted rear windows from 1996 when production ceased. Instead, the boxy retro styling evokes the 1966 original: bold and brawny. This new Bronco targets the Jeep Wrangler, duking it out for off-road bragging rights. Ground clearance is higher on the Bronco, and it can make sharper turns. There's also one-pedal driving, which automatically applies the brakes just by lifting your foot off the accelerator. Ford decided to attach the side-view mirrors to the vehicle frame, not the doors. This way the mirrors stay in place when you remove the doors. As if this wasn't enough for off-road enthusiasts, a Sasquatch package offers 35-inch monster tires, stiff shocks, a suspension-lift kit and other goodies for trail seekers. The optional manual transmission is a nice touch, as are marine-grade vinyl seats that can be hosed off after a day of play. Choice of two removable hard-top roofs, or you can simply opt for a soft top that can be pulled back to let the sunshine in. Underneath the rough-and-tumble exterior is a spartan yet chic cabin. The 12-inch touchscreen is the largest in this class, and the hard-plastic surfaces and rubberized switch gear make things easy to clean. There's even a clever slide-out tailgate you can use as a table.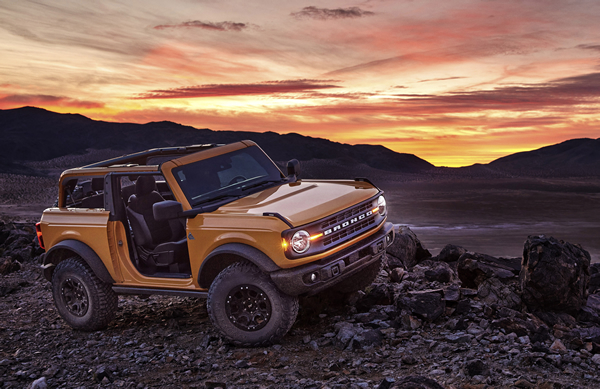 GREEN MACHINE: BMW 530e
$58,000
Range: 350 miles
0 to 60 mph: 5.7 seconds
Facelifts can do wonders. Just look at the latest BMW 530e, with its sleeker headlights, stretched grille, and spiffy nips and tucks to the sheet metal. Available in rear-wheel or all-wheel drive, this plug-in hybrid has a new electric motor to boost overall power. Slip behind the wheel and be prepared to be swathed in luxury. The cabin is whisper quiet, and the standard faux-leather trim is just as supple as the real thing. There's also enough tech gear to rival a space shuttle, including a 12.3-inch digital driver's display, 12.3-inch infotainment touchscreen, cloud-based maps and smartphone integration. Among all the safety features, there are a few shout-outs: front and rear cross-traffic alert, and a traffic-jam-assist option. Recharging takes seven hours using a standard outlet, and the 530e can travel 21 miles on battery power alone. The first 5-Series sedan rolled off the production line in 1972, just three years after Stonewall. We should all look so good as we approach 50.