A vote for eco-friendly rides
Two fine green machines in the Escape, Leaf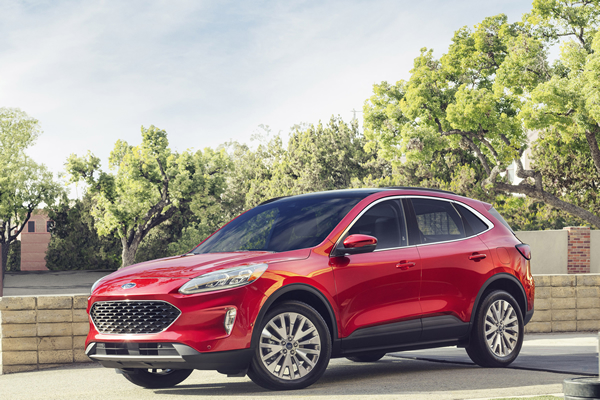 While it's important this year to work with family and friends to help get out the vote, I've also needed the occasional distraction. That's why test-driving cars has been a welcome reprieve. Luckily, the two green machines below turned out to be fine diversions.
FORD ESCAPE HYBRID
$29,000
Mpg: 43 city/37 highway
0 to 60 mph: 8.7 seconds
What better way to escape all the political pandemonium than, well, in a Ford Escape? This year marks the return of the hybrid version, as well as the debut of a plug-in hybrid. What's more, this compact crossover has been fully redesigned, with all the poise and pluck of a Porsche Macan. While the Macan may be twice as fast—and twice the price—the Escape Hybrid has a 200-hp engine that is still fairly quick. Precise steering is a plus, as is the sturdy suspension that translates into almost no body roll. Inside, the front seats are comfortable but not exactly snug.
Tasteful gauges and controls are easy to use, including an 8.0-inch touchscreen and 12.3-inch digital instrument cluster. As for cargo capacity, a small lithium-ion battery pack takes up a bit of rear-seat legroom but still leaves plenty of space. While it does take a few jujitsu-like maneuvers to fold the rear seats completely flat, this is a minor quibble. Two trim levels are available, both with keyless entry, push-button start, heated seats and smartphone integration. For a $5,000 premium, the high-end Titanium level adds lots of extras: ambient lighting, hands-free liftgate, 10-speaker Band & Olufsen stereo, rain-sensing windshield wipers and more. You can even splurge on a panoramic sunroof and head-up display, though the price tag will start to hit $40,000. But at least those hybrid fuel savings will help offset some of the cost.
NISSAN LEAF
$32,000
Range: 150 to 226 miles
0 to 60 mph: 8.4 seconds
With all the hoopla surrounding flashy high-end electric vehicles like the Audi e-Tron, Jaguar I-Pace or any Tesla model, it's easy to underestimate the Nissan Leaf. Yet this subcompact has been a tough competitor ever since it was introduced 10 years ago. Back then, the paltry 73-mile range caused battery anxiety every time I slid behind the steering wheel. But the range on this EV has been doubled, thanks to improved technology and a more aerodynamic design—including sculpted headlights that deflect wind from the side mirrors. With the new Leaf Plus model, there's an even more powerful motor and larger battery pack to extend the range to an impressive 226 miles. While the Leaf Plus adds $6,550 to the sticker price, it also comes with a fast-charging port and upgraded stereo, nav system and adaptive cruise control. But even a base-model Leaf comes with Apple CarPlay and Android Auto, as well as safety features like lane-keeping assist, blind-spot monitor and collision warning with emergency braking.
Options include LED headlights, surround-view camera, heated seats and heated steering wheel. Sadly, the back seats don't fold flat, and there's no telescoping steering wheel. Some EV contenders also offer more features and a longer range, though often for a price. Overall, the Leaf seems like something George Jetson would drive, from the almost cartoonish styling to the high-pitched whirring motor. There's also a geeky e-Pedal driving system, which allows the driver to speed up, slow down and even stop the vehicle using only the accelerator pedal. This makes for a rad ride, especially when tackling twisty switchbacks or weaving through commuter traffic. Then there's the ProPilot semi-autonomous feature, which keeps the car centered in its own lane and automatically brakes/restarts in any kind of gridlock. There are other practical reasons to buy a Leaf, such as Nissan's renowned reliability and a warranty that covers the battery for up to eight years or 100,000 miles. But as far as EVs go, the Leaf gets my vote because it's fun and playful.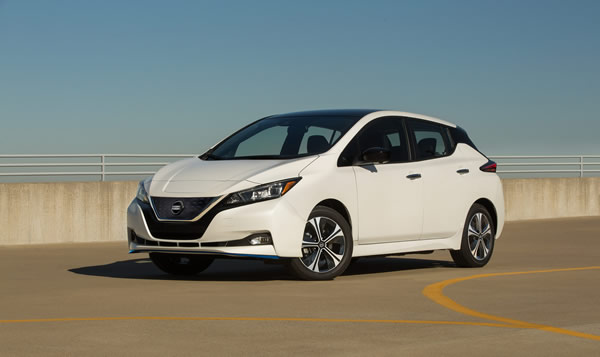 BMW speed demons
Two fun, flashy high-performance rides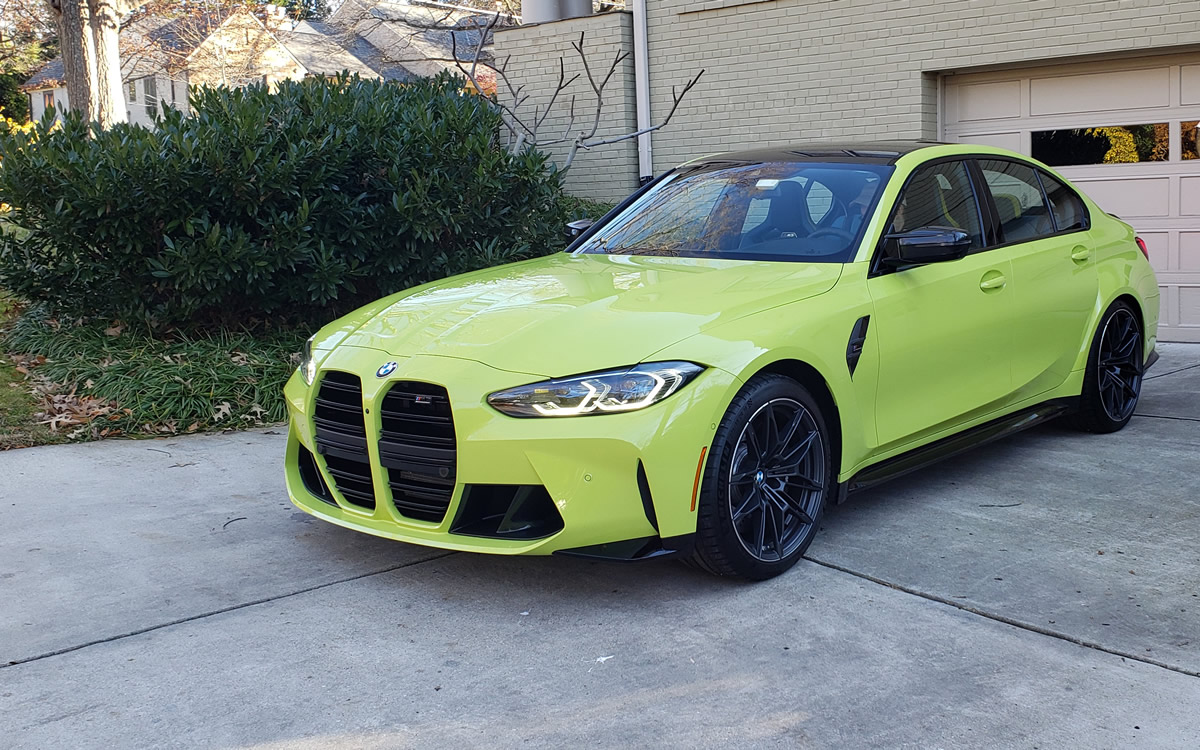 Just in time for Pride month, two BMW sport sedans celebrate just how fun, fast and flashy a true high-performance ride can be.
BMW M3 COMPETITION xDRIVE
$78,000
Mpg: 16 city/22 highway
0 to 60 mph: 3.2 seconds
Talk about a pocket rocket, it's hard to beat the thrill of the BMW M3 Competition xDrive sport sedan. This 503-horsepower speed demon streaks from 0 to 60 mph as fast as many premium sportsters, including the glitzy new 621-horsepower Maserati MC20 super coupe — which costs a whopping $215,000. Along with the lower price tag, the M3 has room for twice as many passengers and boasts three times as much rear cargo space as that two-person Maserati.
While this high-test BMW may be classified as a compact car, there's ample legroom, decent headroom and a sharply angled dashboard for improved driver visibility. My test car had optional carbon-fiber racing bucket seats, trimmed in snazzy aqua blue and lemon yellow and backlit with illuminated M logos. While the futuristic design is truly a piece of art, scooching in and out of those sci-fi seats — which sit lower than standard seats and have sharply angled side bolsters—was quite a challenge. And, hello, it didn't help that a "thigh separator" (a raised, hard-padded object stuck in the middle of the bottom cushion) protruded oh-so-close to my scrotum. Let's just say I got more than my fill of butt-clenching exercises during the week-long test drive.
But once situated comfortably behind the sculpted steering wheel, all was forgiven. The M3 cabin is superbly sleek, with modish armrests and a duo of sweeping digital display screens. The eight-speed automatic transmission is wicked smooth, making it practically unnoticeable as the car shifts through gears. And the overall handling is rousing yet controlled, especially with the all-wheel drive. When not grooving to the guttural exhaust growl, I enjoyed jamming to a sparkling 16-speaker Harman Kardon stereo. There are plenty of other creature comforts, such as smartphone integration, wireless charging pad and Wi-Fi hotspot. Driving aids include blind-spot monitor, head-up display, collision alert and pedestrian detection. There's even a system to automatically pull the car over if the driver falls asleep at the wheel. As you could tell, I didn't have to worry about that happening.
BMW M440i GRAN COUPE xDRIVE
$60,000
Mpg: 22 city/29 highway
0 to 60 mph: 4.5 seconds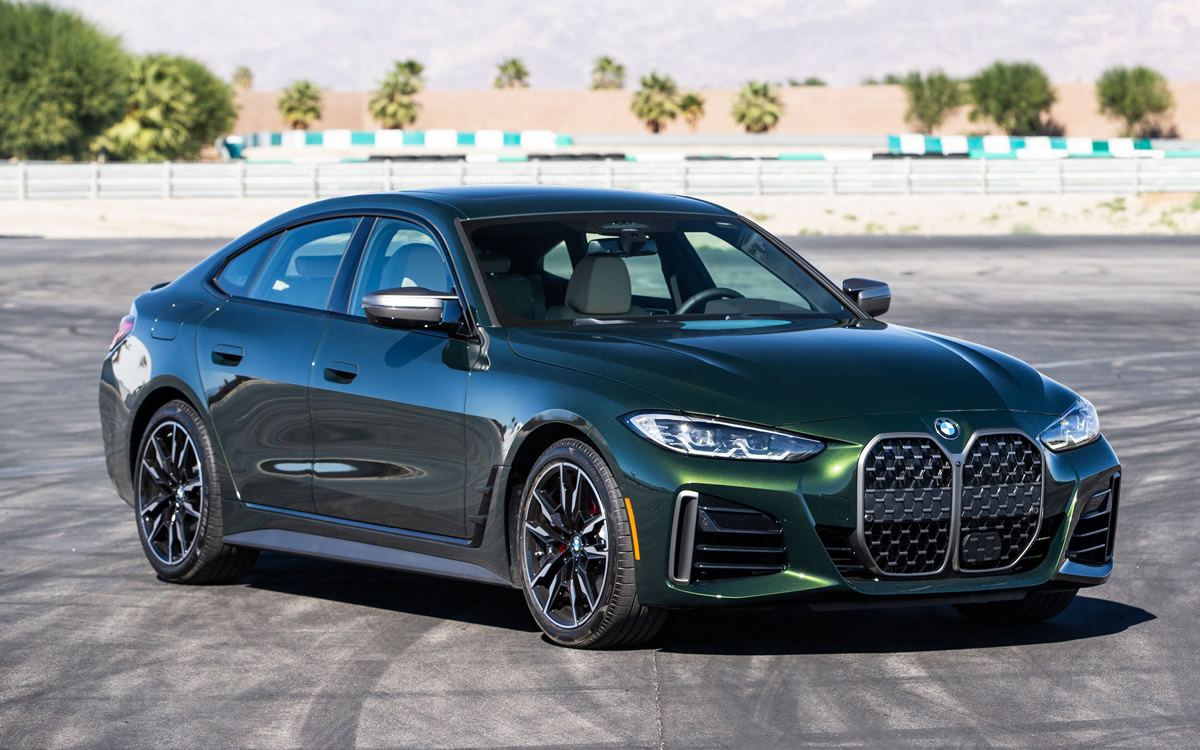 If the BMW M3 Competition xDrive is a badass sport sedan, then the M440i Gran Coupe xDrive is more buttoned-down — but only to a point. The M Sport trim level on both vehicles includes sturdier brakes, suspension, and stability control. And each car can be ordered with all-wheel drive, a big plus considering the number of downpours and icy road conditions in this part of the country.
But the M3 is extra taut, tight and tuned — a race car enthusiast's dream — whereas the M440i feels as suave as an Aston Martin. Think of it as trading flash for finesse. Styling is just as sharp, though the body cladding, side air vents and rear spoiler are all less pronounced on the 4 Series. It's also wider and sits higher off the ground. And instead of having a trunk lid, the M440i is a hatchback with a more swoopy profile and easier access to the cargo area. Despite smaller wheels and about two-thirds the horsepower of an M3, the M440i is still plucky and a delight to drive.
And safety features and optional amenities are comparable. Inside, the cabin exudes refined BMW luxury but loses the Jedi spaceship vibe so noticeable on the M3. Gauges and the infotainment layout are the same, with similar but fewer performance-oriented readouts on the digital screens. I still found the M440i cabin to be plenty sporty, with premium fit and finish. And there's beaucoup insulation to block annoying road noise. Perhaps most important, my tush welcomed the return to more traditional seats.
Rides in all sizes
With sky-high gas prices, how much car do you really need?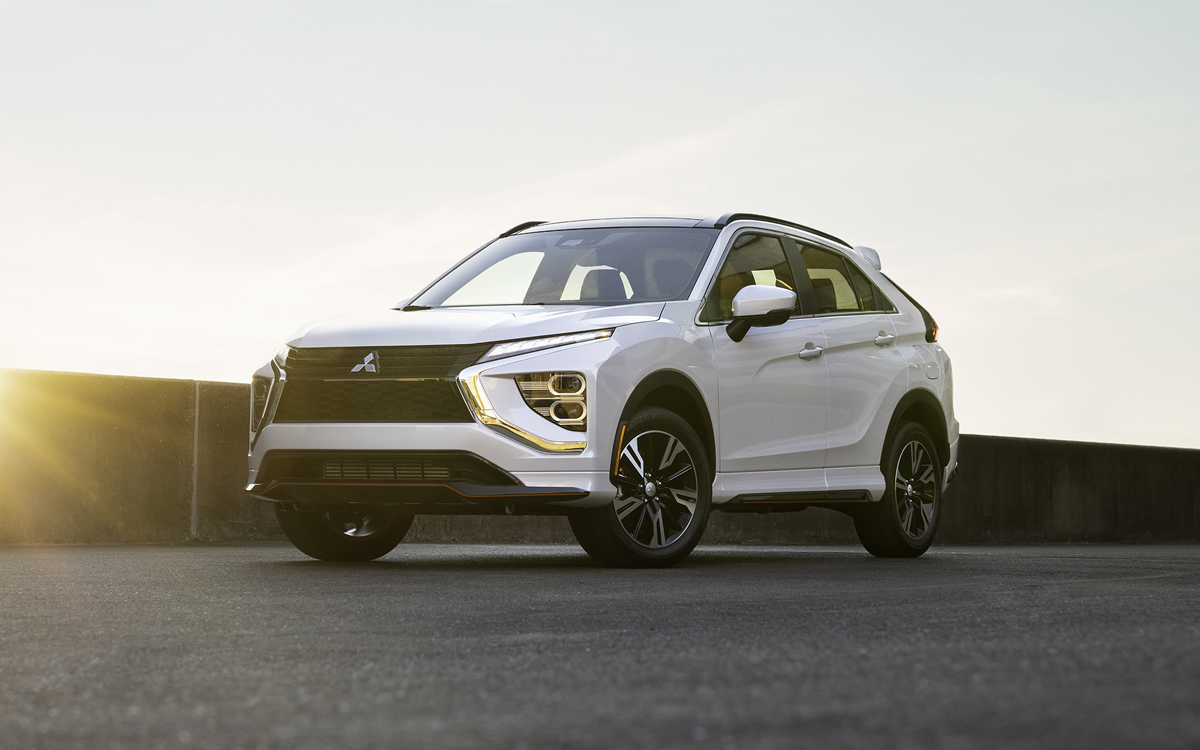 With the current surge in gas prices, many potential buyers are taking a hard look at just how much vehicle they really need. Here's a look at three choice rides in various sizes: small, medium, and large.
SMALL: MITSUBISHI ECLIPSE CROSS
$24,000
Mpg: 26 city/29 highway
0 to 60 mph: 8.6 seconds 
Introduced in 2018, the Mitsubishi Eclipse Cross channels plenty of excitement for those of us still pining for the sporty Eclipse coupe produced between 1989 and 2011. This affordable compact crossover offers similar cocky styling, including a futuristic fascia and tony Lexus-like tush.
But despite the rakish good looks, the acceleration from the four-cylinder turbo is more practical than powerful. And the composed suspension is more amiable than arousing. But the nimble steering and taut cornering are perfect for quick maneuvers during rush-hour congestion and for squeezing into tight parking spaces. The straightforward cabin design comes with faux-aluminum trim and fairly comfortable cloth seats—though the lack of an adjustable lumbar support to cushion my back was a bummer. Some of the many standard features include 7-inch touchscreen, four-speaker stereo, Bluetooth and lots of safety gear: automatic emergency braking, forward collision warning, pedestrian detection, lane-departure warning and rearview camera.
Step up to any of the three other trim levels to add heated seats, smartphone integration, synthetic suede upholstery, power panoramic sunroof, head-up display, additional safety gizmos and more. In other words, despite its budget-pleasing price, the Eclipse Cross boasts plenty of amenities.
MEDIUM: JEEP GRAND CHEROKEE
$41,000
Mpg: 19 city/26 highway
0 to 60 mph: 7.4 seconds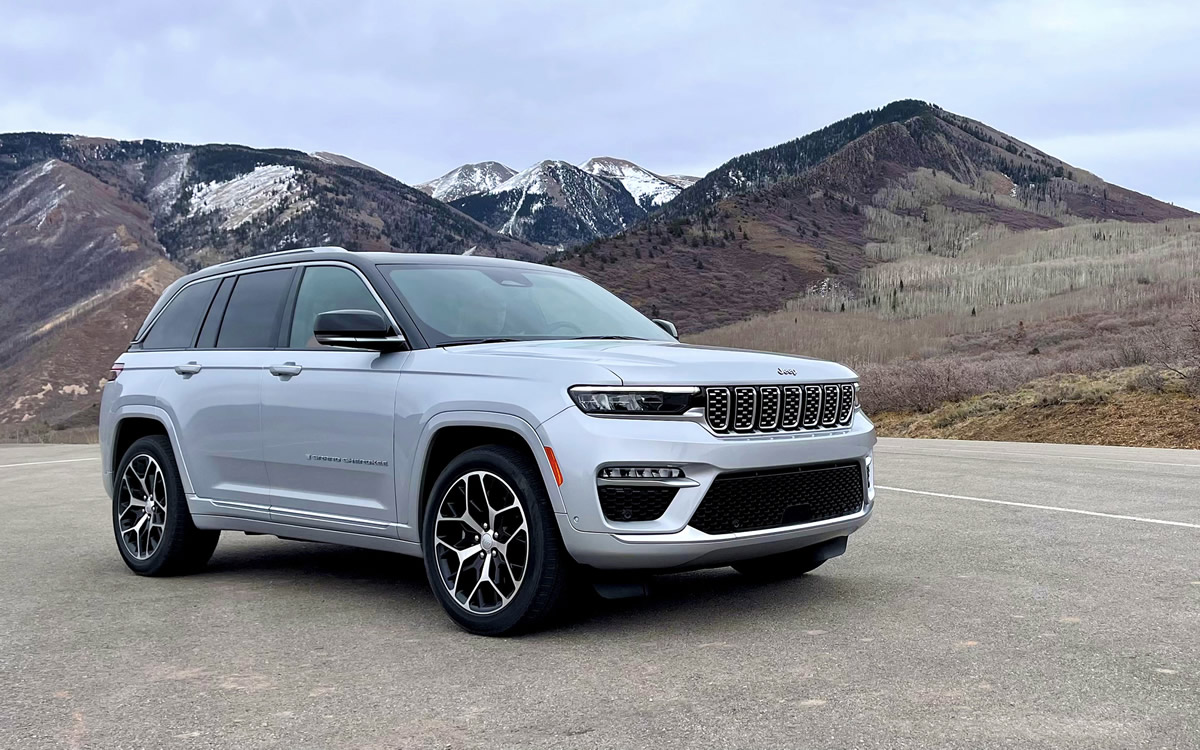 Completely redesigned this year, the Jeep Grand Cherokee now looks more luxe-like than rugged. This could have been a disaster, considering the automaker's reputation for churning out rough-and-tumble rides. Yet despite what is essentially a nod to Land Rover's boxy yet soft-edged styling, this midsizer still retains its true Jeep DNA.
This is evident in the seamless mix of smooth on-road handling with stellar off-road capability. There are more than a dozen trim levels, from the $41,000 base-model Laredo all the way up to the Summit Reserve 4xe PHEV at $77,000. While that's quite a price difference, it shows Jeep's commitment to offering a Grand Cherokee for every buyer personality. Sure, offering so many configurations can be confusing, but it gives drivers the chance to really customize their rides. This includes choice of three powertrains: standard V6, robust Hemi V8 and the fuel-friendly 4xe plug-in hybrid that can travel up to 25 miles on battery power alone.
Inside, there's so much glam you might think this was a high-end Mercedes. Depending on trim level, you can deck out the interior with quilted upholstery, open-pore wood, dual-pane panoramic sunroof, quad-zone climate control, second-row shades and other goodies. For techies, there's a Wi-Fi hot spot, various USB ports, smartphone integration, 10.10-inch infotainment touchscreen and 10.25-inch digital gauge cluster. Call me a hedonist, but I especially liked the massaging seats, premium 19-speaker McIntosh stereo and a rear-seat entertainment system that adds dual hi-def screens with built-in Amazon Fire TV.
LARGE: CADILLAC ESCALADE
$78,000
Mpg: 14 city/19 highway
0 to 60 mph: 5.9 seconds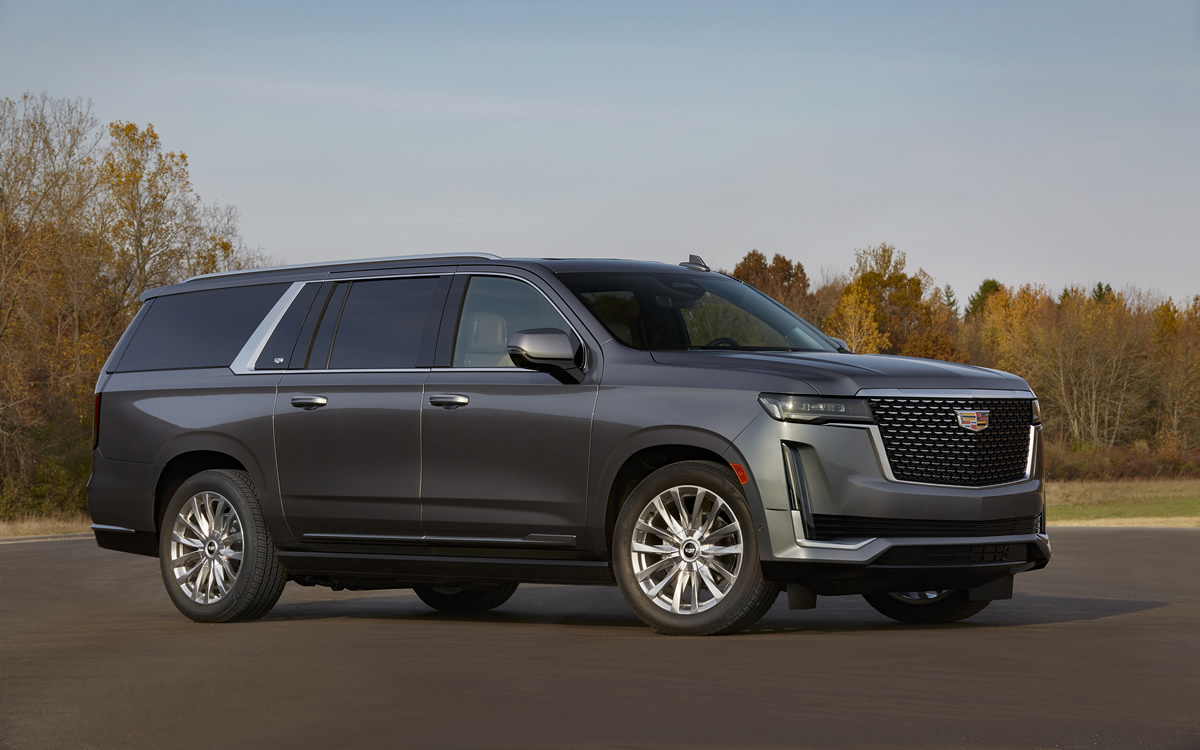 Introduced in 1999, the Cadillac Escalade received a complete makeover last year. The head-turning styling is daring and dramatic, with a massive prow-like hood, severely creased sheet metal, and bold, vertical lighting treatments that would make Thor proud. This colossus is 6 feet, 4 inches tall and tips the scale at a hulking 5,700 pounds—twice the weight of a Mini Cooper.
Yet it's surprisingly spry, outpacing the Mini Cooper by 0.3 seconds when accelerating from 0 to 60 mph. While power comes from a thirsty V8, half of the cylinders are automatically deactivated at cruising speed to reduce gas consumption. A more eco-friendly option is the diesel engine, which gets 50% better fuel economy. (And earlier this month, Cadillac announced its all-electric Escalade is expected by 2024.) I test drove one of the top-of-the-line Platinum models, with a hefty price tag of $105,000. To say this large SUV was oozing luxury is an understatement, with high-end finishes everywhere, adjustable ambient lighting, center console refrigerator, night-vision camera, 36-speaker stereo and rear-seat captain's chairs. Perhaps even more impressive: The front dash has a staggering 38 inches of curved OLED screens, combining the digital gauge cluster, infotainment display and surround-view camera.
Plug-ins with pizzazz
BMW 330e, Wrangler 4xe offer fuel-friendly surprises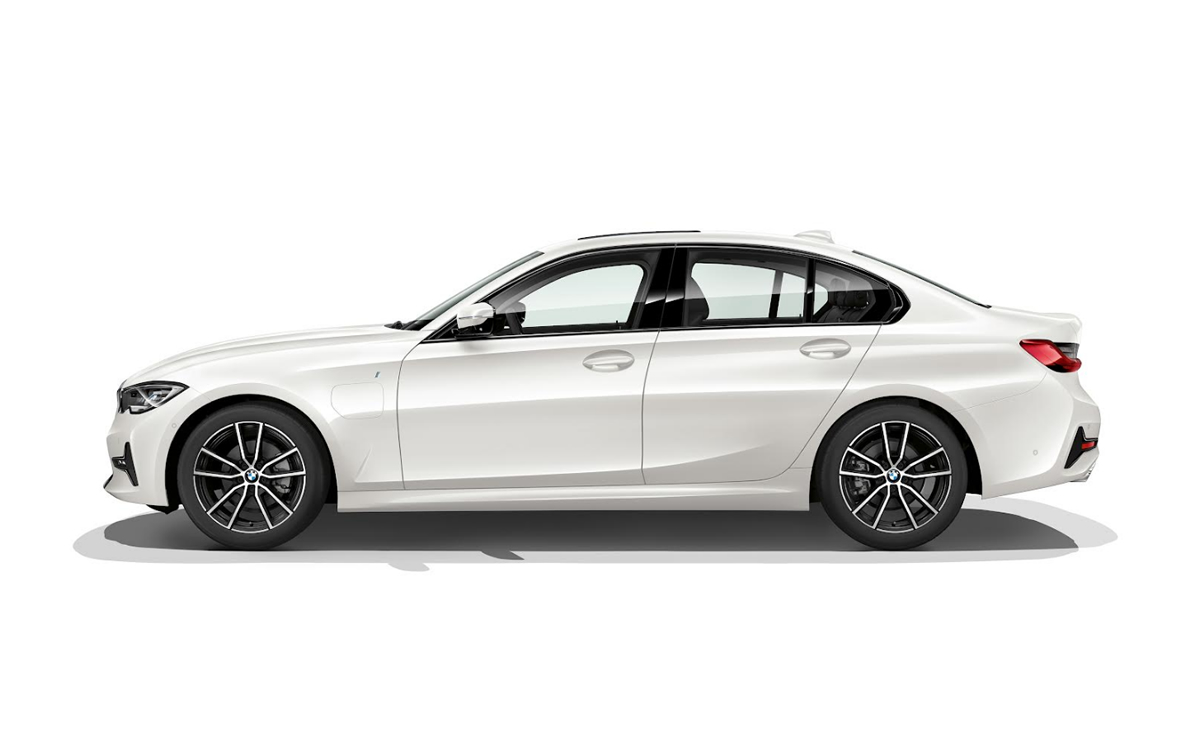 The semiconductor shortage continues to wreak havoc on global vehicle production, so don't expect dealer showrooms to fill up until later this year—or even into 2023. But there is one upside: Many prospective new-car buyers—including me—are using the delay to fully research and narrow down the choice of potential rides. Recently, I test drove two plug-in hybrids at the top of my shopping list. Both turned out to be fun, fuel-friendly and full of surprises.
BMW 330e
$43,000
Mpg: 75 MPGe (electric/gas), 28 mpg (gas only)
0 to 60 mph: 5.6 seconds
BMW—long the gold standard of luxury sport sedans—updated the 330e plug-in hybrid just last year. This compact Bimmer can travel up to 23 miles on electric power alone (20 miles with the all-wheel-drive version), which is about the average number of daily miles driven in our metro area. After that, the gas engine kicks in for a respectable 28 mpg. But two trends are at odds with buying this gas-sipper.
First, everyone seems more charged up about electric vehicles than tried-and-true hybrids. Yet if you've ever had range anxiety (the fear that an EV will poop out before reaching its destination), plug-in hybrids offer the assurance you won't get stranded driving home on some dark, stormy night.
Second, automakers have been quitting sedans as drivers shift toward SUVs. But many of us still appreciate the benefits of sedans: lower ground clearance for tight cornering, reduced weight for nimble handling, and thinner roof pillars for better rear-view visibility. This was true in the 330e, which is every bit as fun to drive as its stellar 300i gas-only sibling. I found the lickety-split acceleration and taut ride to be exhilarating. Gearheads will wish there was a manual transmission for even more of a rush. Inside, the cabin boasts beaucoup features: sleek moonroof, tasteful ambient lighting, impressive faux-leather upholstery, 10.25-inch touchscreen and large 12.3-inch digital instrument cluster. While I liked the voice-command feature, the optional gesture control for the infotainment system could be a bit touchy—especially for those of us prone to talking with our hands.
More than once, my hand gestures accidently cut off the phone in the middle of a call or interfered with the stereo. Still, being able to change the audio volume simply by twirling my fingers was pretty cool. As for parking, the 330e is easy to fit in the tiniest of spaces—much to the delight of my partner Robert but not to the testy pickup driver who I outmaneuvered for a primo spot. I also liked how the 330e can be fully recharged in less than an hour using a 240-volt charger. But the biggest plus appeals to my penny-pinching DNA: This BMW not only saves money at the gas pump, but it's also priced less than most other plug-in hybrids.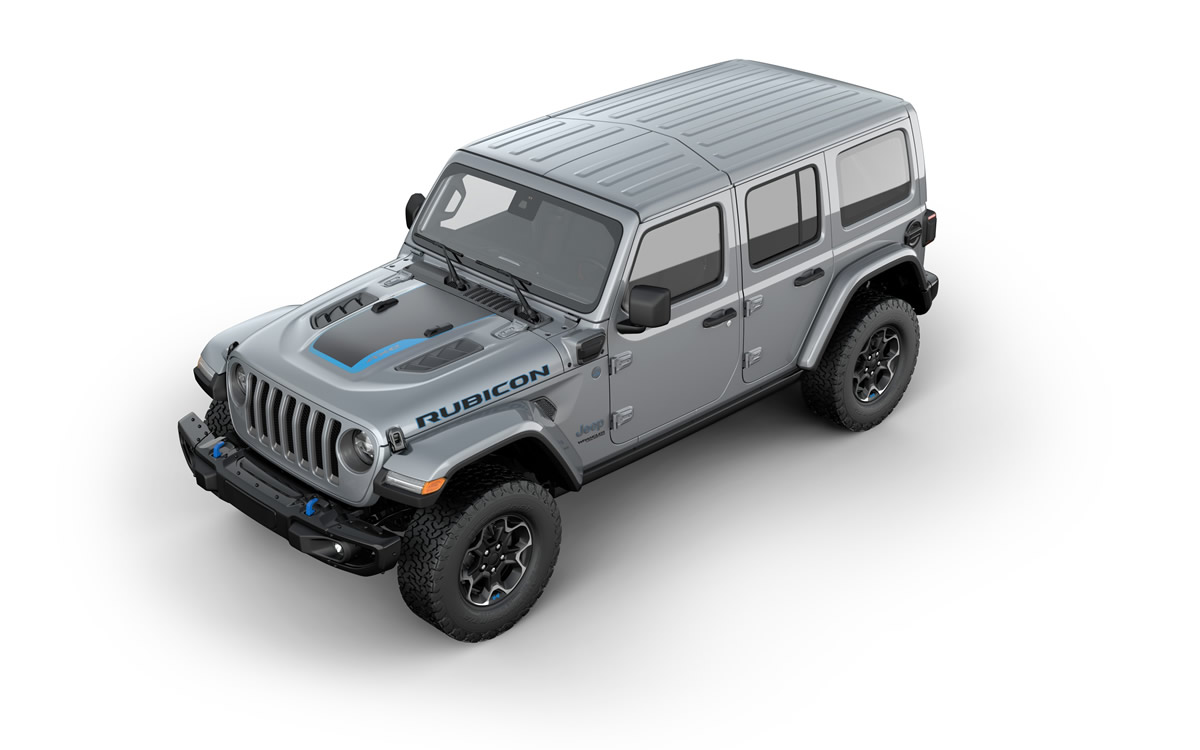 JEEP WRANGLER 4xe
$54,000
MPG: 49 MPGe (electric/gas), 20 mpg (gas only)
0 to 60 mph: 6.5 seconds
Talk about gay icons, the Jeep Wrangler has been a popular vehicle with LGBTQ drivers for decades. Yes, there's the rugged butch factor. But the automaker also has been a strong ally of our community. At last year's Motor City Pride parade in Detroit, for example, the grand marshal rode in an all-new Jeep Wrangler 4xe decked out in rainbow colors and messages of hope written on the body panels. Alas, my test vehicle wasn't quite so festive, but it still turned heads.
That's because this four-door Wrangler is Jeep's first plug-in hybrid, with a gutsy four-cylinder engine and efficient electric motor that together crank out 375 horsepower. That's more oomph than in most Jeeps, except those with pricey gas-guzzling Hemi engines. The 4xe has an all-electric range of 22 miles, after which it gets 20 mpg. City driving is surprisingly smooth and delightful, with my keister thankful for the gentler-than-expected suspension when tackling potholes.
For an experience that's more au naturel, you can remove all the doors and part or all of the top. Most times, I just removed the two roof panels over the driver and passenger seats, then stowed them in the back. The interior looks like any other Wrangler, which today is much more comfortable and amenity-laden than any of its forebears. But insulation is barebones, which means the cabin's decibel rating is definitely not in the whisper-quiet category. As for the lithium-ion battery pack, it's mostly hidden beneath the rear seats but also cannibalizes a few inches of the cargo compartment. Despite costing some $9,000 more than a traditional gas-engine Wrangler, the 4xe qualifies for a $7,500 federal tax break and certain state tax credits that ultimately may help you break even. That's another reason to appreciate this refined macho-mobile: It's easy on the eyes, the environment and your wallet.