Fluker joins Woolly Mammoth board
'A place where I can bring my whole self'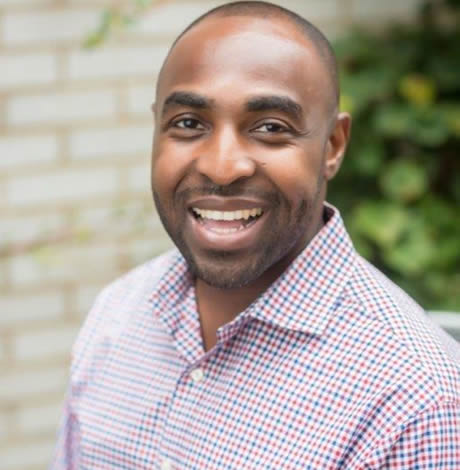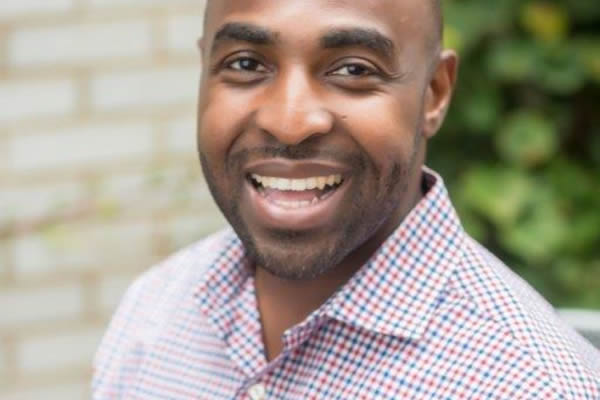 In what's an indisputably challenging time for the arts, Clarence J. Fluker, a public affairs strategist, organizational change leader and equity and inclusion advocate, is upping his profile on the local theater scene. In September, Fluker was voted on to the board of directors at Woolly Mammoth Theatre Company, a respected D.C. company best known for original productions.
"It's not the most normal time to be doing this," he easily concedes, yet Fluker remains undaunted. In fact, he's thrilled to join Woolly's diverse, 26-person board.
"It's a place where I can bring my 'whole self.' As a gay, African-American man with background in theater, LGBTQ activism, and wide-ranging experience working with nonprofits and governments, I come with a lot of relationships and ideas," says Fluker, 41.
Away from Woolly, Fluker is director of community engagement at the Association of American Medical Colleges. Prior experience includes public engagement and communications roles in the Obama administration at the White House Council on Environmental Quality, and the U.S. Department of the Interior. Clarence also served as external affairs lead for Serve DC – The Mayor's Office on Volunteerism.
Still, he doesn't take his nonpaying board position any less seriously.
"As a board member you have a responsibility to an organization to ensure that it's moving toward its North Star. And that responsibility to keep it moving is fiduciary, moral, and a strong belief in its mission.
"And currently, the responsibility is of a larger scope – it includes the role of art, theater and culture. And to make sure that art is accessible, equitable, and representative of the people. It's a time of change."
He's not the only one who's excited about the new gig, so is his mother. She loves theater, and he has taken her to plays at Woolly when she visits from Cleveland, Fluker's home town.
"She introduced me to the arts," he explains. Fluker began his exploration of theater as a preschooler at Karamu House on the east side of Cleveland, the oldest African-American theater in the United States. He pursued more acting at theater camp and community theater. As an undergrad majoring in speech communication at Morgan State University in Baltimore, he did some acting, and helped with marketing college productions. "I may not be the best actor, but I can write a great press release," he says.
A longtime resident of D.C.'s Eckington neighborhood, he first came to D.C. in 2001 to pursue a graduate degree in public communication from American University, and remained. Over the years, he's enjoyed many local productions, but notes that Woolly's offerings are his favorites: "I can go to Woolly and see things and people that I can relate to, things I won't see elsewhere. Woolly pushes things to the next level of introspection."
And before becoming a board member, he was part of Woolly's Ambassador Program. As an ambassador, Fluker helped in deepening the company's ties to local entities including LGBTQ organizations. And on a personal note, he introduced his mentee, a 20-something African-American graduate student to theater. "He'd never been to a play, so three years ago I took him to Woolly's production of 'The Arsonists.' It was a meaningful experience. Afterward he began taking his girlfriend on theater dates."
Looking forward to late November, Fluker is eager to see Woolly's upcoming production of Amir Nizar Zuabi's "This Is Who I Am," a new two-hander about a father in Ramallah, West Bank, and his son in New York City hashing out old grudges and even older recipes. The actors will be performing and cooking in real-time via Zoom.
"It's a play commissioned and written during the pandemic. It's exciting and different, but you wouldn't expect less from Woolly," Fluker adds.
Theater that starts uncomfortable conversations
Theater Alliance director on 'City in Transition' — 4 plays about D.C.'s quadrants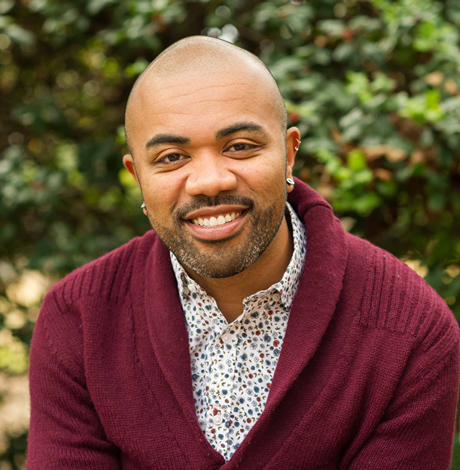 'City in Transition: The Quadrant Series'
Streaming from April 24-May 24
Theater Alliance
Recently, a Facebook post asked "Are there any activist theaters in D.C.?" A local actor quickly replied. "There's only one," she wrote. "It's Theater Alliance."
During a phone interview from his home in Anacostia last week, Theater Alliance's producing artistic director Raymond O. Caldwell, addressed the social media query: "We keep our heads down and do the work. Well before the pandemic, we were trying to have conversations about race in America. Then it seemed niche work. Now that work is in vogue. There might come a time when it's no longer stylish. But that's OK, we're ultimately doing it to transform people's lives and start conversations.
"Our plays won't change the world. Straight up. But we can start conversations that are uncomfortable and don't have easy answers. And by partnering our productions with various nonprofits, we're able to involve people in the movement whether it's on the front line or stuffing envelopes."
In residence at Anacostia Playhouse, Theater Alliance's mission is to illuminate the experiences, philosophies, and interests of D.C.'s diverse population. When Caldwell, who is gay, took helm of the company in January 2019, the organization was already steeped in diversity. He's worked to continue and expand on that, creating a cultural institution that's invited in the surrounding, mostly Black community.
The company kicked off its virtual season in December with eight pieces about protest centered around the demands of the Black Lives Matter movement. Having started off nationally, they're now moving locally with "City in Transition: The Quadrant Series," a 90-minute intersection of theater and film directed by Caldwell.
Part of the multi-Helen Hayes Award-winning company's Hothouse new play development series, "City in Transition" consists of four filmed plays about Washington's quadrants, SE, SW, NE, and NW written by local black playwrights Khadijah Z. Ali-Coleman, Avery Collins, Shalom Omo-Osagie, and Leslie Scott-Jones.
The not long pieces are set in the present, past, and future. Topics include Black nonprofits battling to get funding via a game show; the meeting of hip-hop artists and violence set against the gentrified waterfront; a wealthy Black family debating whether to transform its landmark Black property into a trendy lounge for whites; and a white census taker discussing the changing city and current protests with a Black Washington native.
"Almost 13 years ago, I came to D.C. to be in Chocolate City but to my surprise, it wasn't here," says Caldwell, 37.
"When I think about a city changing and moving through gentrification, what concerns me is the loss of history, the stories of the folks who once lived here disappear.
"And interestingly, as D.C. gentrifies, we start noticing an uptick of murals and Black aesthetic of the city. It allows liberal yuppies to feel they're in an urban environment but forgetting the rich history particularly for Black people in DC."
He initially came to Washington for a six-month fellowship but stayed on. After six years at
Arena Stage, desirous to work outside of a white space, he began teaching at Howard University.
At Howard, his work centered on the universality of storytelling. "I pitched what folks would consider white work like Lillian Hellman's provocatively lesbian-themed play, 'The Children's Hour.'"
"I'd ask my predominantly Black audience to imagine ourselves there as well, and they would.
The audience left thinking the play was written by a Black woman. It was additionally powerful because we in the Black community have trouble talking about homosexuality."
As gay, Black, and Asian, Caldwell sometimes refers to himself as third culture: "Being who I am allows more space for me to see biases. I go into work asking myself what are the opportunities for transformation within me and the ensemble of artists I'll be working with?"
Born in Germany to a German-Filipino mother and African-American father, he mostly grew up in Germany but spent summers with his father in the U.S. At 13, he went to live with his father.
"He thought I'd had enough of the European experience and wanted to teach me what it was to be a Black man in the world. And interestingly, that became the center of my activism."
Caldwell's American grandmother described him like this: "That boy can't help but livin'."
It's true, he keeps busy, says Caldwell. He doesn't turn down too many projects. "I'm honored to be creating art. There are so many ideas I want to push and propagate and now having a space and platform makes it especially hard to say no. It's a good place to be."
'Aunt Julia and the Scriptwriter' a raucous, transgressive romance
GALA Hispanic Theatre debuts second live performance since COVID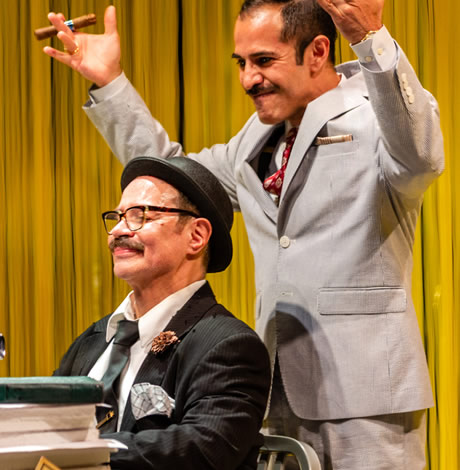 'Tía Julia y el escribidor' / 'Aunt Julia and the Scriptwriter'
In person April 22-May 9 ($45)
Online starting May 5 ($25)
GALA Hispanic Theatre
3333 14th St., NW
Galatheatre.org
When GALA Hispanic Theatre reopened its doors in the fall, the actors performed in a giant plexiglass box. And now, for the Columbia Heights company's second live performance production, what looks like "a giant sneeze guard" separates the action on stage from the audience.
Opening next week, Caridad Svich's eponymous adaptation of Nobel Prize-winning writer Mario Vargas Llosa's autobiographical coming-of-age novel "Tía Julia y el escribidor, or "Aunt Julia and the Scriptwriter," is a raucously funny, transgressive yet tender romance.
A fun workplace story set against the radio-novela focused world of 1950s Lima, it's the story of Mario, an aspiring young writer who embarks on an ardent affair with Julia, his alluring, older aunt by marriage.
The production's out director José Zayas knows the story well.
He first encountered this peek into Vargas Llosa's youth with "Tune in Tomorrow," an Americanized 1990 screen adaptation (relocated to New Orleans) starring Keanu Reeves and Barbara Hershey. Smitten with the film, Zayas promptly sought out the source material: "It's an especially autobiographical, genuine Latin American comedy. Truly a delightful work to encounter."
When tapped to direct something for Repertorio Español's 2015 season, Zayas requested that longtime collaborator Svich adapt "Tía Julia." Both she and the esteemed New York theater agreed.
"We're very simpatico," he says. Zayas and Svich are equally adroit in Spanish and English, and together they share a passion for classic Hollywood screwball comedies like "The Frontpage," "Twentieth Century," and "His Girl Friday," and their love for the genre is evident all over the play and production.
"It's an especially unique adaptation with different influences coming into play," says Zayas, a Harvard grad who was born in Puerto Rico, grew up in the U.S. Virgin Islands, and now lives in New York. "It's one of the interesting things that happens when you adapt in the United States and you're working in Spanish – the rhythms are different.
"And while there's nothing explicitly LGBTQ about the play, besides me and some of the cast," he adds, "it has a feel — the fascination with the comedies of the period — the strong women of the time like Rosalind Russell, the style, and form of it. It's all there, maybe coded, but there."
Already in rehearsal at GALA when COVID hit in March 2020, the presented in Spanish with English surtitles production was postponed until now. Resuming rehearsals after a long break means hearing the play in new voices, new ideas, new textures, and in some cases new cast members, says Zayas. Fortunately, out actor Carlos Castillo, a talented GALA vet, remains in the role of young Mario's mentor, the exceedingly eccentric scriptwriter Pedro Camacho.
Zayas adds, "Before the show was cast, I immediately saw Carlos as Pedro. He's biting into the part and loving it."
Zayas also staged GALA's reopening in October with "El Perro del Hortelano" ("The Dog in the Manger"), a classic Spanish comedy. Part of a pilot program, the show observed myriad safety protocols including masks, socially distanced seating, and a dramatically improved air filtration system. Zayas conferred with out set designer Clifton Chadick on a contained terrarium like set that addressed the concerns of COVID-19 while telling the story in a modern light.
For "Tía Julia," safety measures are again in place (though now there will be 50 rather than 25 seats available per performance in the 364-seat house). Moreover, Zayas and Chadick are reunited. "This time," Zayas says "there's a giant sneeze guard between the stage and the house. In the context of the play, it feels like the audience is in the radio studio watching through glass. It makes sense. I think we came up with a fun way of doing it. "
Much of Zayas' career has been making theater for Spanish speaking and Latinx audiences. "It's tricky. While you want to get as broad a base as possible, I find it edifying to have these conversations with Spanish speakers. But I like to invite others to join in too. See, it's a little complicated."
"But ultimately, theater is about experience and connection. Being an adventurous theatergoer is really exciting. It makes you a better listener and a better person – you become more empathetic, attuned to language, and different behaviors. And this is one more connection."
Virtual Latinx play features gender diverse actors
Reading and discussion presented by Rorschach Theatre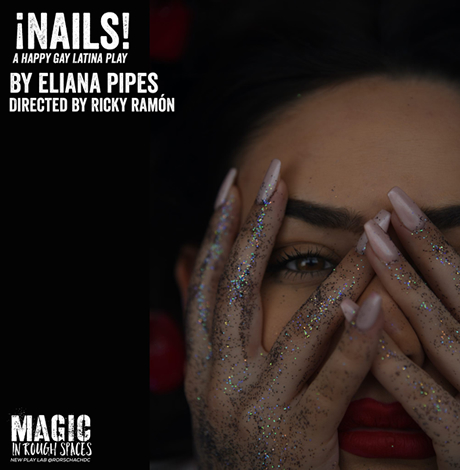 "¡NAILS!," a play about a young Latina lesbian who is mortified by her quickly growing nails, is presented in a virtual reading and discussion presented by Rorschach Theatre on Wednesday, April 21 at 7 p.m. via Facebook.
In this queer play, Catalina wants to ask her crush Serena out but her fingernails are growing at a magical pace. Her deep concern explores cultural clashes for queer people of color using the genre conventions of Latinx magical realism, queer camp and comedy.
The enhanced stage reading features multiple gender diverse actors, including Savina Barini (they/them), Scott Whalen (he/they), Graciela Rey (she/her), Jordyn Stroman (he/his), Jesús I. Valles (they/them) & Malachi Sauls (he/they).
Following the reading, playwright Eliana Pipes and others on the production team will discuss how to transform this work in progress into a musical.
For more information, visit the Facebook event page and elianapipes.com.