November 18, 2020 at 5:59 am EST | by John Paul King
HBO Max's 'Veneno' a triumph of trans storytelling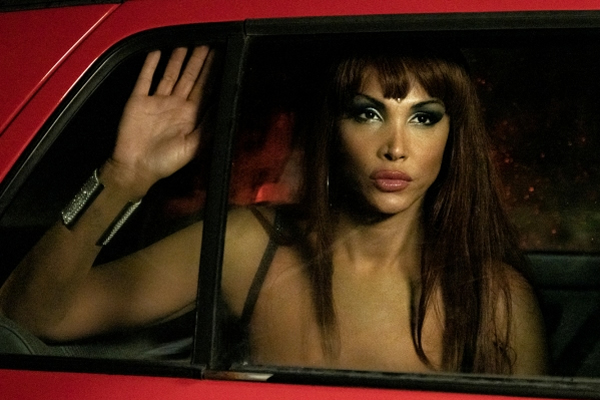 November, among other things, is Trans Awareness Month and it probably goes without saying, unfortunately, that anybody who wanted to celebrate that by watching trans stories would have a hard time finding more than a handful of them.
Despite an increase in trans inclusion on television through shows like "Pose," "9-1-1: Lone Star," and even genre series like "The Chilling Adventures of Sabrina," narratives that explore trans experience are still fairly few and far between, and if you're looking for those that do it with an eye toward authenticity – by using actual trans talent, both in front of and behind the cameras, for instance – the list gets even shorter.
Fortunately for everyone, the folks at HBO Max are doing their part to help change that reality. The new streaming giant's big LGBTQ docu-series from last month, "Equal," devoted considerable screen time to real-life trans icons like Christine Jorgensen and Sylvia Rivera, and included among their many other offerings are trans-inclusive shows from HBO like "Euphoria" and the new documentary, "Transhood."
Now, the platform has brought us what may be the most authentic, engrossing, moving, and yes, entertaining show of the entire crop – and it's a reason to rejoice not only for trans people and their allies, but for anyone who loves good television.
"Veneno," available on HBO Max starting Nov. 19 (the final day of Trans Awareness Week and the eve of the annual Trans Day of Remembrance), is an import from Spain, where it aired earlier this year on the streaming service Atresmedia Premium, and tells the story of Cristina Ortiz Rodríguez, a real-life trans pioneer better known by the name La Veneno (Poison).
La Veneno skyrocketed to fame in 1996 when a reporter from a popular late-night talk show plucked her from the streets of Madrid to appear in a segment about prostitution. Bold, brash, funny, and fabulous, her unapologetic no-holds-barred persona made her an instant celebrity in an era when the deeply ingrained cultural stigma around trans people was even more oppressive than it is today, and she parlayed her status as a TV personality into a successful career as a nightclub performer, a model, an actress (including both "legit" work and porn), and even a singer with two hit singles under her belt.
Like many trans stories from that era (or any other, for that matter), La Veneno's was fraught with hardship, and her time in the spotlight did not mean that those struggles had come to an end. Convicted of arson and fraud in 2003, she spent three years in an all-male prison, thanks to having never changed her gender on her official identity documents; despite a brief comeback following her release, she subsequently struggled with anxiety, depression, and bulimia due to the weight gain she had incurred during her incarceration. She would eventually return to prison again for eight months in 2014, and in 2016 – less than a month after the publication of her memoir, "Ni Puta, Ni Santa (Las Memorias de La Veneno)" – she died after sustaining a traumatic brain injury in a fall at her home. The death was ruled to have been accidental, but she had allegedly received threats due to revelations she had made about well-known figures in the book, and not-unreasonable speculation abounded that she, like so many other trans women, had fallen victim to murder.
It's a tale with its fair share of both triumph and tragedy, to be sure, with plenty enough of each to ensure all eight episodes of "Veneno" are packed with memorable moments. But one of the many things that makes the new show stand out above so many other biographical dramas is that it is not content to simply show us how things were – it goes a step further, tying its La Veneno's story to that of Valeria Vegas, co-author of her memoirs and another real-life trans woman, drawing the parallels between their individual journeys and thereby tracing a line between past and present that not only reminds us of how much we owe to the legacies of those queer elders who came before us, but of how their struggles are given meaning by the benefits they have bestowed upon the generations to follow.
As envisioned by series creators Javier Calvo and Javier Ambrossi, "Veneno" unfolds in a style that is equal parts flight of fancy and gritty realism, exploding with color, passion, and humor. This fluid style, which is set up by the show from the start with an opening disclaimer pointing out that, like all stories from memory, it's a blend of fact and fiction, also allows for a considerable number of creative, cinematic conceits in the series' editing and narrative approach, ensuring that it remains a thrillingly wild ride from start to finish.
It's also a show that, true to the spirit of La Veneno herself, delights in its own over-the-top, boundary-pushing excesses. Thanks at least in part to its Spanish origins, "Veneno" loves to titillate us with nudity and sex, often presented with a kind of feigned nonchalance that only serves to surprise and shock us more; but instead of seeming exploitative, this approach instead translates as sex-positivity at its fiercest, and it's just one of many ways in which the series authentically captures the lifestyle and attitudes of the trans characters it presents.
The thing that brings the greatest measure of authenticity to "Veneno," of course, is its cast. Portraying La Veneno herself are three genuine trans actresses – Jedet, Daniela Santiago, and Isabel Torres – who each give dazzlingly honest performances; Jedet, who plays the youngest adult version of the character, even went through the process of transitioning during the making of the series. In addition, real-life trans actress, model and activist Lola Rodríguez delivers a sensitive, endearing portrayal of Vargas, whose own transition is informed by the process of writing La Veneno's life story.
The real Vegas, incidentally, was part of the creative team on "Veneno," bringing a pedigree to the show that can only come with direct lineage from its inspiration. It's icing on the cake, really, since the show is so skillfully – and lovingly – executed that it earns its laurels firmly on its own merits.
"Veneno" is a limited series – only eight episodes – but it has the potential for making a far more lasting impact than most shows running 10 times that long. After all, as La Veneno's own story proves (and as the series itself explores in considerable depth), the media have vast power in shaping the thoughts, beliefs, and opinions of an entire culture, and the story this proud Spanish import tells is full of the kind of "warts-and-all" human truth that can help to sway hearts and minds in the direction of empathy in a way that a thousand impassioned speeches cannot.