GLAAD TV report reminds us that representation still matters
Decline in LGBTQ characters blamed partly on pandemic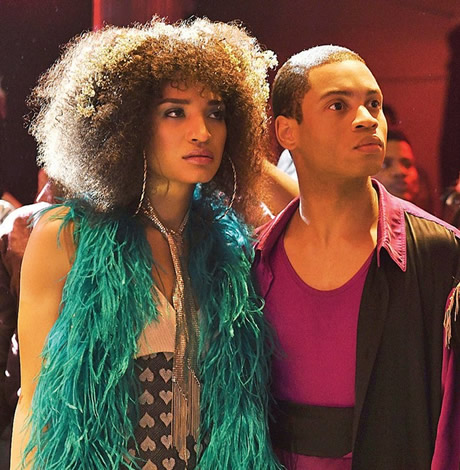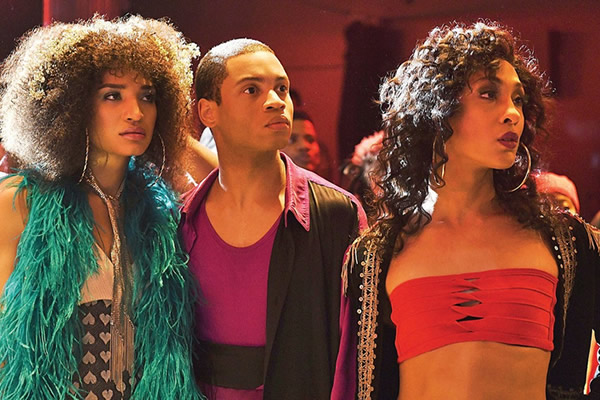 In today's upgraded entertainment culture, it's almost possible to forget there was once a time, not long ago, when the queer presence on television was essentially non-existent. Not only do LGBTQ characters now appear regularly across a wide variety of viewing platforms, they are a far cry from the "coded" stereotypes that occasionally flitted across our screens in the old days.
It's such a comparative embarrassment of riches that it's easy to see why there are many, even within the queer community itself, that assume we've "arrived" and there's no need to be concerned about representation at all.
One look at GLAAD's latest "Where We Are On TV" report, which was released on Jan. 14, is enough to shake that illusion.
In 2020's edition, the findings reached a record point in the survey's 25-year history, with 10.2 percent of characters appearing on primetime scripted broadcast TV being LGBTQ. That figure doesn't tell the whole story, of course; it can be broken down into more specific data, like how many characters were gay, lesbian, bi, trans, etc., or how many of them were people of color. Still, it doesn't take much analysis to recognize enormous progress from the days when the only queer representation you could be sure of getting on TV was from Paul Lynde on "The Hollywood Squares."
At the same time, it's also not hard to see that, despite making big strides, the LGBTQ presence on television still has room to grow before the industry can afford to stop and pat itself on the back – especially in a culture still reeling from four years of Trump-ism. That's why many shrewd observers have looked to this year's report to provide a particularly important gauge.
On the face of it, the news is more good than bad.
This year's study found that of the 773 series regular characters on broadcast television this season, 70 of them are LGBTQ. That's 9.1 percent, but though it's a smaller number than last year (and the first decrease since 2014), it's a drop that was expected due to the impact of COVID-19; with many shows halting production and development delayed on new ones, the smaller percentage reflects a decrease in the total number of scripted shows overall.
When we look at the nuances revealed by further data, however, the picture is a little less rosy.
On primetime scripted cable, GLAAD reports that representation has consistently decreased year after year. This season, the total number of LGBTQ characters appearing on that platform has decreased from 215 to 118. Streaming networks have also fallen short of last year's total, dropping to 141 queer characters from 153. Again, these numbers are impacted by the pandemic; among the shows out of the running this season due to shutdowns were "The L Word: Generation Q," "Euphoria," "Killing Eve," and many more of the titles that feature LGBTQ characters and storylines.
A more concerning trend can be found around the representation of LGBTQ people living with HIV. In another 2020 report, "The State of HIV Stigma" survey, GLAAD found that nearly 9 in 10 Americans believe "stigma around HIV" is keeping progress back. With only three HIV-positive characters on TV (all of them on the same show, "Pose"), down from only nine last year, it's clear there's a need for television creatives to fill the gap. In response, GLAAD has issued a new challenge to the industry, setting a goal to introduce no fewer than three new regular or recurring LGBTQ characters living with HIV each year in the scripted shows tracked for the survey.
The full burden of HIV representation falling on the shoulders of "Pose" underscores another eyebrow-raising statistic revealed by this year's report. Of all LGBTQ characters on television, 17% of them are in shows from just four creatives: Greg Berlanti, Lena Waithe, Ryan Murphy, and Shonda Rhimes. That's nearly one in every five, a severely disproportionate tally that becomes even more glaring with the knowledge that they account for only 16 of the series included in this year's study.
Additional findings include:
Streaming was the only platform where white LGBTQ characters outnumber non-white LGBTQ characters, though racial diversity of LGBTQ characters on streaming did improve by six percentage points (46 percent of LGBTQ characters also being people of color).
For the fourth year in a row, lesbian representation decreased on streaming (28 percent of LGBTQ characters).
Across streaming television, Netflix's "Special" was the only show featuring an LGBTQ character confirmed with a disability. The percentage of series regular characters with a disability on all TV went up to 3.5 percent from last year's 3.1 – still a severe underrepresentation.
29 regular and recurring transgender characters (15 trans women, 12 trans men, 2 non-binary trans characters occur across all platforms.
There was only one asexual character on television (in the show "BoJack Horseman," which has since been cancelled). One lesbian asexual character is expected in the upcoming season (in a scripted primetime show on the Freeform cable network).
In the 2020-21 season, bisexual+ characters account for 28 percent of all LGBTQ characters on all three platforms, up 2 percent from last year. 65 of them are women, 33 men, and one is non-binary.
Of the 773 series regulars counted on broadcast television, 46 percent (354) of characters are people of color, a one percentage-point decrease from the previous year's record high of 47 percent. The racial diversity of LGBTQ characters on all platforms increased.
There are obviously a lot of moving parts included in all this data, but the simple takeaway seems to be that even if we haven't really rolled backward, we haven't really rolled forward, either – and in the context of an ongoing pandemic, even that conclusion is a little unclear.
What isn't unclear is the need to keep the pressure on as we push toward the path ahead. As GLAAD Director of Entertainment Research & Analysis Megan Townsend sums up, "With LGBTQ inclusion in the industry still being led by a concentrated number of creatives and several inclusive series ending in this year's study, networks and streaming services need to be taking note of the value of this dedicated audience. It must be a priority to introduce nuanced and diverse LGBTQ characters in 2021 and beyond, ensuring that this year's decreases do not become reverse progress as the industry continues to evolve and adjust to this unique era's challenges."
As for Sarah Kate Ellis, GLAAD's seemingly tireless president and CEO, her statement about the report reminds us why keeping tabs on the way LGBTQ people are portrayed is possibly more important than ever.
"In the midst of a destructive pandemic, a long overdue cultural reckoning with racial injustice, and a transition into a new political era for this country, representation matters more than ever as people turn to entertainment storytelling for connection and escape."
You can read the full report on GLAAD's website, at glaad.org/whereweareontv.
Check out final season of 'Grace and Frankie' — it ends well 
Groundbreaking show highlights queer, straight elders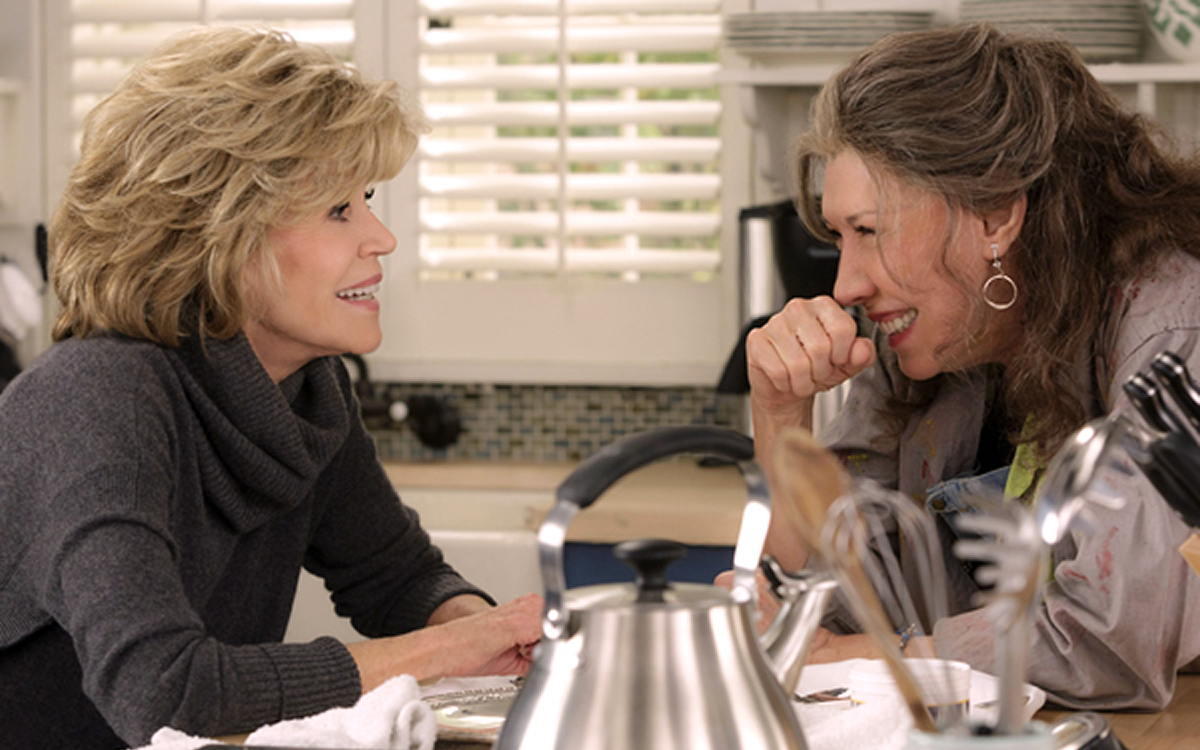 They make up a fake Jewish holiday (M'Challah) to avoid seeing their friends, lie to their kids about killing their bunny, obsess over playing John Adams in a (very gay) community theater production of the musical "1776" and create vibrators that glow in the dark. Their children sell their house out from under them and make them wear panic alerts.
These people might well creep you out in real life.
But, thankfully, they're the funny and engaging characters on "Grace and Frankie," the series, whose seventh and final season has recently dropped on Netflix.
The show, starring Lily Tomlin, 82, (Frankie) and Jane Fonda, 84, (Grace) as two hetero elders whose husbands (Martin Sheen, 81 as Robert and Sam Waterston, 81, as Sol) leave them to marry each other, is, deservedly, Netflix's longest-running series.
In 2019, there were 54.1 million people in the United States over 65, according to a Administration for Community Living of the U.S. Department of Human Services report. Elders, the study says, are expected to make up 2l.6 percent of this country's population by 2040.
There are nearly three million (2.7 million) LGBTQ people over aged 50 in the U.S. and 1.1 million queer elders 65 and older in this country, according to a 2017 Movement Advancement Project and SAGE report.
Yet aside from "Transparent," few TV series (broadcast, cable or streaming) have featured, let alone, been centered around, older queers.
"Grace and Frankie" is the rare series that's focused on the lives of elders (hetero and queer). Unlike some shows that showcase older people, it's been mostly entertaining, even thought provoking, rather than dull or didactic throughout its run.
Set in San Diego, "Grace and Frankie" throughout its seasons has told the story of how Frankie and Grace have created a life of their own as Robert and Sol have entered a new chapter of their lives as a same-sex couple.
Frankie, Grace, Robert and Sol, who are in their 70s, are affluent. Robert and Sol are successful divorce lawyers. Grace has run a flourishing cosmetics company. Frankie is a new-agey artist who teaches art to ex-convicts.
When Robert and Sol say that they're leaving them to wed each other because same-sex marriage has become legal in California, Frankie says she's done a fundraiser for that.
The beach house where Grace and Frankie live is breathtakingly gorgeous. Yet these characters encounter the indignities and dilemmas of aging from learning about social media to coming out in late life to memory loss to end-of-life decisions.
Grace and Frankie run up against the condescension that older women often face. Yet though these are serious concerns, "Grace and Frankie" hasn't been a downer.
In one episode, as I've written before in the Blade, Grace and Frankie, though they're practically jumping in front of his face, can't get a store's sales clerk to notice them. Because he's paying so much attention to a young woman. Frankie gives up and steals a pack of cigarettes. If "you can't see me," Frankie says, "you can't stop me."
In season two, their friend Babe (Estelle Parsons), who is terminally ill, tells Frankie and Grace that she wants them to help her end her life. Though it's difficult emotionally for them, the women give their friend Babe a good-bye party that's joyous without being maudlin.
Robert and Sol deal with Robert being in the early stages of dementia. This narrative is touching, but not sappy. Though you should have a tissue in hand for Robert and Sol's elevator moment in the show's finale.
Like many old people, the characters have their ups and downs in relating to their adult children. These off-spring from Brianna (June Diane Raphael), a 21st century Cruella de Vil, to Bud (Baron Vaughn), the often wrong-headed "good son," would try any elder's soul.
The main pleasure of "Grace and Frankie" is watching Tomlin and Fonda. The two forces of nature, friends since their "9 to 5″ days, make you laugh and cry with the BFFs Grace and Frankie.
TV series, like everything, have to end. Check out "Grace and Frankie." It ends well.
Netflix scores queer triumph with 'Heartstopper'
Series adapted from popular YA webcomic about teen boys who fall in love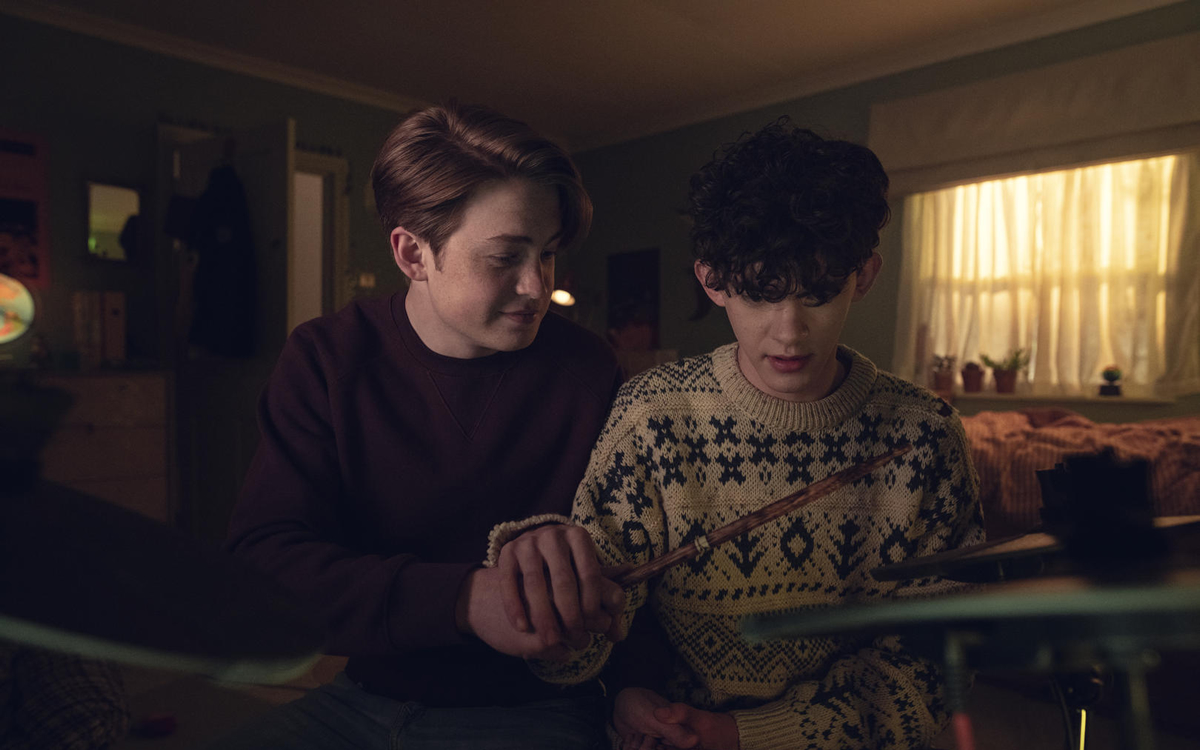 If we were only able to choose one word to describe "Heartstopper," the new Netflix series adapted from Alice Oseman's wildly popular 2017 YA webcomic about two teenage boys who fall in love, that word would have to be "adorable" — and it would be more than enough justification for an enthusiastic recommendation to start streaming it right now.
Fortunately, we don't have to choose, and just in case there are some curmudgeons among our readers who avoid "adorable" content as a matter of principle, we can add quite a few more words just to make it clear that this is a show to win the heart of even the most cynical viewer and have them ready to binge it straight to the end after watching only the first five minutes.
For readers of Oseman's original comic, no explanation is needed to convey the infectious blend of emotions that makes its simple love story so irresistible; with more than 52 million views to date and the bestselling print publication of four volumes so far, its quick and widespread popularity is proof enough of the story's universal – and multi-intersectional – appeal. "Heartstoppers" is the story of Charlie and Nick, a pair of students at an English boys' school with widely differing places in the school's pecking order; Charlie, gentle and shy, has been bullied after being inadvertently outed as gay the previous year, and spends most of his time with a handful of other social misfits, while Nick, athletic and popular, is a rugby player who hangs out with his equally athletic and popular teammates. Yet when they end up sitting together in a class they share, the two become friends – much to the surprise of Charlie, who finds himself crushing on Nick despite assuming, along with everyone else, that he is straight. It's not hard to see where things are going to go from there, even without spoilers, but that predictability does nothing to dampen the delight of following these two young and tender hearts as they negotiate the pangs and pressures of first love while navigating their school's deeply ingrained social hierarchy.
With Oseman herself writing the adaptation, the series had an advantage right out of the gate when it came to translating that into a live-action format, and her fans have been eagerly awaiting it ever since Netflix announced it was happening in January of 2021. The resulting series – an all-too-brief season of eight half-hour episodes directed by BAFTA-winning "Doctor Who" and "Sherlock" veteran Euros Lyn – will almost certainly lead millions of others to join their ranks.
The most important factor in bringing the story's appeal to the screen is undoubtedly the casting of its two leading characters, and with newcomer Joe Locke as Charlie joining Kit Connor ("Rocketman," "His Dark Materials") as Nick, it's hard to imagine how the show's creators could have done better. Locke, with his soulful eyes and curly mop of hair, perfectly captures the look of the character as drawn, as does the cherubic, handsome Connor – but they bring much more than an apt appearance to their roles.
In a story that requires them to delicately tread through a potentially fraught emotional landscape, facing scenarios with consequences ranging from the socially awkward to the deeply traumatic, they not only fulfill that duty effortlessly, but do so while meeting every moment with enough intelligence, sensitivity, and authenticity to make the already-relatable nuances of their young relationship resonate even more tangibly. Most essential of all, the tender chemistry they share is strong enough – and believable enough – to ensure that the almost unbearable sweetness of their blossoming romance never once feels sappy or insincere. It's a fragile and difficult balance to maintain, but these two young actors pull it off with such unforced buoyancy that we are too busy floating on their cloud with them to even notice.
As right-on-target as the show's portrayal of Nick and Charlie's journey together may be, they are not the only LGBTQ+ characters in the mix. There's Elle (Yasmin Finney), a member of Charlie's circle until being transferred to the neighboring girls' school after coming out as transgender, who is nervous about being accepted in her new environment. Also at the girls' school is Tara (Corinna Brown), who once shared a kiss with Nick but is now on the verge of coming out and going public about her relationship with girlfriend Darcy (Kizzy Edgell). Finally, there's Tao (William Gao), a protective friend and ally to them all (though his protective nature leads him to mistrust Nick's intentions), who is beginning to recognize the stirrings of more than friendship with Elle.
Simply reading that roster might lead one to presume the show is trying to up the ante on inclusion by including as many colors in the rainbow as possible – and it's worth mentioning that the cast of characters is made up of a diverse blend of ethnicities, too. Neither of these elements feel forced; those of us who know about life from more than just television surely recognize that seeing so many LGBTQ+ people and people of color mixed into one blended community together is not a stretch – it's an accurate reflection of the real world. Even if that were not the case, the show asserts its sincerity by treating each of these characters and their stories with the same amount of kindness it affords Nick and Charlie; it even leaves room for us to pity characters like Ben (Sebastian Croft), a closeted boy who carries on a secret relationship with Charlie while refusing to acknowledge him in the halls, or Harry (Cormac Hyde-Corrin) a teammate of Nick's who delights in tormenting anyone who doesn't fit in, who are on hand to remind us that – increased acceptance notwithstanding – homophobia still exerts a toxic enough effect to make coming out a difficult path to undertake alone.
In answer to that, the show takes ample opportunity to explore the theme of chosen family; the way these friends help each other along the way, even as they themselves are trying not to stumble, serves as both an inspiration and a reminder to the countless viewers, whether LGBTQ or not, who know first-hand the bonds that grow from such experience. As for "real" families, they're not left out of the picture, either: both Nick and Charlie have supportive (if not always helpful) parents in their lives, and Charlie's older sister Tori (Jenny Walser) emerges every so often from her room like a denizen of the underworld rising to taunt him – lovingly, of course – with a truth or two.
By now, it feels like we're gushing. After all, haven't the last few years have seen any number of LGBTQ teen love stories coming to our screens? And hasn't each of them been hailed as a milestone of representation? Haven't queer elders remarked, each time, what a difference it would have made if they had seen such a film when they were growing up?
The thing is, though, that it's been true each time — and sometimes, as it does with "Heartstopper" — it feels a little more true than usual.
Grindr's first series is as shallow as you'd expect
Instantly forgettable, just like a typical hook-up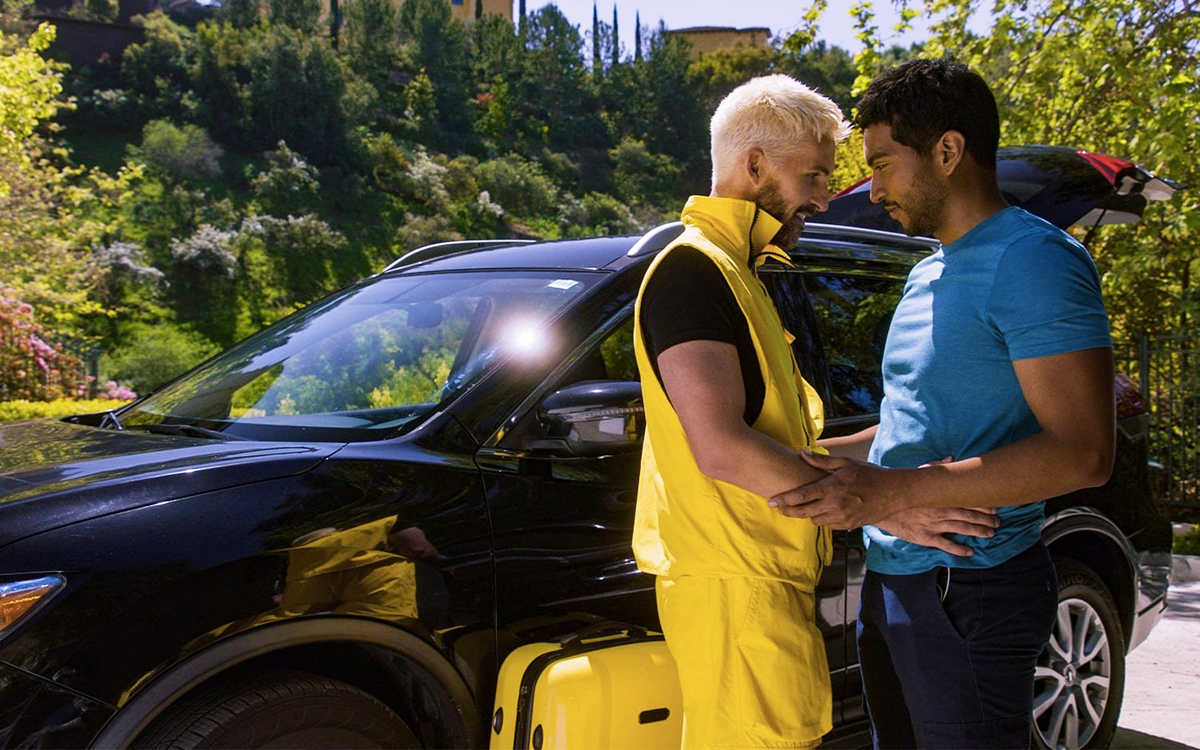 When Grindr announced it was dropping its first-ever original series on April Fools' Day, many people assumed it was a joke.
That's perfectly forgivable; even without the seasonal timing, most people would never expect the notorious "dating" app to jump into the streaming entertainment market. It just seems, well, absurd. But whether or not Grindr chose the release date as a bit of self-deprecating fun, "Bridesman" – a limited comedy series consisting of six 7-10 minute webisodes and focusing on the misadventures of a gay scenester as his female BFF prepares for her wedding – is not a joke. It really exists.
Unfortunately.
The series, created by John Onieal and co-written by Onieal and Frank Spiro, debuted on Grindr for its first weekend, but is now available to stream on the app's YouTube channel. It stars Jimmy Fowlie as Terry, described in the official synopsis as an "awful gay," who is asked by his best friend Judith (Sydnee Washington) to fulfill bridesmaid duties at her upcoming nuptials. Terry, aside from his disdain for marriage as a heteronormative construct, feels betrayed that the person who once claimed to be his "forever partner" has chosen to commit herself to another man, and to make matters worse, he feels an "electric" sexual connection with Wyatt (David Mudge), her literally myopic groom-to-be. Rather than see his BFF lost to the horrors of a traditional marriage, he resolves to save her from that fate by doing his best to tank the wedding – especially since it also means sticking it to the control-obsessed Muriel (Shannon DeVido), chosen over him to be Judith's Maid-of-Honor and therefore an object of his particular disdain.
What follows is (again, according to the official synopsis) "an irreverent, fast-paced satire of modern wedding culture and the 'old fashioned trend' of monogamy," in which Terry goes on a slash-and-burn campaign to ruin his best friend's big day, doing his best to sabotage everything from the sexy bridal boudoir photo shoot to the bachelorette party, and steamrolling his way through a tangled web that involves detectives, a secret agent, a relationship counselor moonlighting as a stripper, and a demon from hell. Along the way, though, he still finds time to hook up with a sexy Uber driver (Calvin Seabrooks) whenever he feels like going for a ride.
It seems like a lot to pack into a story that, in total, runs just shy of an hour, but the show's self-description of "fast-paced" is accurate, and director Julian Buchan never allows things to drag. Indeed, the story moves so fast it doesn't even give all its jokes time to land – an approach that works well with a script that throws them out like a pitching machine on a batting range – and trusts its audience to keep up.
That's probably not a miscalculation, either; the target demographic here has become well-accustomed to absorbing a lot of information in a short space of time, thanks to the rise of YouTube, TikTok, and all the other digital sources of entertainment for those with a short attention span. Furthermore, since the characters on the screen belong definitively to that same generation, they have no problem sticking to a rapid pace, and they plow ahead with confidence as if they're in a race with the cameras to get to the end of the show first.
In fact, it's the cast – an admirably diverse and inclusive one, thankfully – that makes it all come together, and which provides us with most of the show's entertainment value. They embrace their exaggerated characters – most of whom are vapid, narcissistic, aggressively pretentious, or some toxic combination of the three – with glee and abandon, committing completely to the absurdities the story necessitates them to enact. It's infectious, and it almost allows "Bridesman" to live up to its aspirations of satire.
As to that, the show sets its sights not just on "modern wedding culture," as it declares in its synopsis, but on the broader target of modern culture in general, with its emphasis on the shallow and ephemeral and its obsession with self. It aims for a similar tone, perhaps, as "The Other Two" (the runaway comedic hit that began life on Comedy Central before being picked up by HBO for its second season), a show that deftly skewers the self-serving, attention-seeking mentality that drives our pop culture as it barrels through its never-ending cycle of "new, now, next" distractions. Its two lead characters – the older sister and gay brother of a teen YouTube star who are trying to levy their proximity to him into fame and fortune for themselves – are flat out horrible people, or at least behave like them, as are most of the characters that surround them, and watching them fail repeatedly in their efforts to manipulate their way into the fickle spotlight of "the moment" is just part of the fun provided by the series' merciless send-up of the trends, tropes, and twaddle that surround so much of what we see on our plethora of screens today.
The characters in "Bridesman," for the most part, are horrible people, too, though in some cases they might just be regular people caught up in a horrible mindset. Most horrible of all, of course, is Terry, who essentially embodies everything that gay youth culture loves to hate about itself; vain, judgmental, driven by libido, and completely unconcerned with anyone's feelings but his own, he lives to create drama yet seems to love nothing better than to stand aside from it and roll his eyes in withering disapproval. Portrayed with dead-on accuracy by Fowlie (who is, coincidentally, probably best known to viewers for a recurring role as a super-gay influencer on "The Other Two"), he embodies the kind of jaded queer socialite whose posturing and self-promotion only prove just how "basic" he really is.
Yet the reason we are really amused by "The Other Two" and other shows that successfully lampoon the foibles and pretensions of our own society is not just because they put them on display. We laugh because we recognize something of ourselves in the people we see on the screen; because the horribleness is contrasted with the human, or at least tempered by good intentions; because there's a flicker of something genuine underneath all the pretense reminding us that, no matter how far we allow ourselves to be carried away by our own ego, there is always a thread we can follow back to reality. Without that factor, the comedy can easily become hollow, even cruel, and amounts to ridiculing something just for the sake of ridiculing it.
"Bridesman" has no such tempering influence. Though its satire is savage and even smart, there's little self-awareness to suggest that it has any purpose except to become the "next big thing" and enjoy its five minutes in pop culture's center ring. Like the people who inhabit it, it might be fun to hang around with for a while, but in the end its lack of substance makes it instantly forgettable.
You know, just like a typical Grindr hook-up.