February 19, 2021 at 9:53 am EST | by Khelil Bouarrouj
Anti-BDS laws an affront to free speech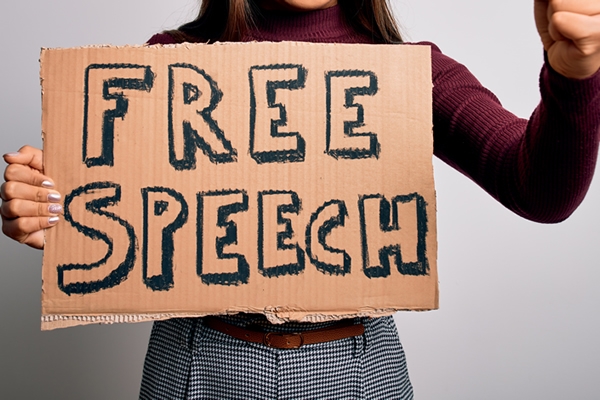 There's a lot of chatter today about cancel culture in America but cancel culture is nothing new. Who can forget what happened to the Dixie Chicks after their anti-Bush comments? The Christian Right has long boycotted anyone who associated with the LGBTQ community, such as a 2005 campaign against Ford Motors that forced the automaker to cancel its ads in gay magazines.
In 2003, CBS canceled a series on former President Ronald Reagan after conservatives alleged that the Republican hero was unflatteringly portrayed. The Republican suburban housewife might be the most prolific canceler in American history but the housewives are not alone. What we now call cancel culture is the contentious nature of a free society wrestling with the respectable parameters of public speech. And if we object to those parameters, we can create a countervailing force and rally behind those being unfairly silenced. This is the battle of wills that will interminably define our public debates. But what happens when the state gets involved in cancel culture?
Free society-canceling gets most of the attention, but the state-sanctioned kind is far scarier, and it's what pro-Palestinian solidarity activists are up against. No cancel culture is more prevalent in American society than the anti-Palestinian variety. Anything remotely critical of Israel and sympathetic toward the Palestinians, no matter how apolitical the sympathy, is often falsely maligned as anti-Jewish hate speech from an Oakland museum's exhibition to a restaurant serving Palestinian food and a play at the Washington, D.C. Jewish Community Center.
Pro-Israel partisans are within their rights to be irritated by the mere visibility of Palestinians, but what's unacceptable is their attempt to enlist the state in their canceling. That's what happening right now. More than 30 state legislatures (often with the help of the right-wing group ALEC) have passed laws targeting the pro-Palestinian Boycott, Divestment, and Sanctions (BDS) movement to pressure Israel to end its occupation of Palestinian lands and respect the Palestinian refugees' right-of-return.
BDS is modeled on the successful boycott campaign that targeted Apartheid South Africa. Its supporters, inter alia, pressure American companies to end their complicity with Israeli apartheid by ceasing operations on occupied land. While the Republican-led U.S. Senate passed a bill proposing fines for BDS supporters and the Democratic-led U.S. House passed a resolution condemning it, it's at the state level where official sanctions — the withholding of state funds — against proponents of BDS have been enacted. In some states, even withholding an opinion on BDS comes with consequences. Texas's anti-BDS law, for instance, requires individuals to explicitly disavow BDS before assuming the position of a public school teacher or receiving Hurricane relief aid. Anti-BDS actors term their strategy "boycotting the boycotters." As individuals, they're free to boycott whomever they want, but it's unconstitutional and un-American for the government to take an arbitrary stance on an issue and proceed to impose a litmus test prior to disbursing public aid whose allocation should be non-discriminatory.
Imagine if these anti-BDS laws were applied to any other issue. Tomorrow, for instance, Texas might require denunciation of Black Lives Matter before doling out public scholarships. Conversely, California might require state contractors to affirm support for abortion rights. The basic issue at hand isn't whether BDS, or any other cause, is right or wrong, but whether the government should have the right to enforce political beliefs on its citizens. It does not have that right. Freedom of speech and association is reserved for Americans and not the state.
In 1982, the U.S. Supreme Court unanimously ruled in NAACP v. Claiborne Hardware Co. — after the civil rights organization promoted a boycott of white-owned businesses in support of equal treatment — that "one of the foundations of our society is the right of individuals to combine with other persons in pursuit of a common goal by lawful means" and that states could "not justify a complete prohibition against a nonviolent, politically motivated boycott designed to force governmental and economic change." The clear language of the court strikes at the heart of the anti-BDS laws, which are facing ongoing court challenges.
Cancel culture is as American as apple pie from the Boston Tea Party and the Montgomery Bus Boycott. As Americans, we will never agree on the red lines but we should be able to agree that governments need to stay out of it and leave the canceling for the people to settle. It's time to strike down the anti-BDS laws.
Khelil Bouarrouj is an activist who writes about LGBTQ issues.