February 26, 2021 at 12:33 pm EST | by Brock Thompson
'It's a Sin' — and at just the right time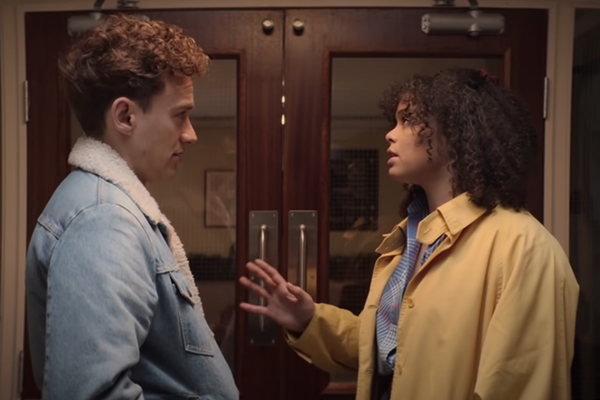 Last weekend, following that ice storm, I binged Russell T. Davies's new five-part miniseries, "It's a Sin," from England's Channel 4 and now available for streaming on HBO Max. I meant to ration it out, one episode a day, five days. But a fireplace, take out, and some comforting blankets made that impossible. And I know what some of you might be thinking. It happens when I talk about a new movie, or novel, or whatever fictionalized account of the AIDS crisis that has come along. "I can't do AIDS right now," I'll hear. "That's just too much for me." 
And I can completely understand. Any story of AIDS you pick up, especially one that begins in 1981 as "It's a Sin" does, you know that whatever characters you fall in love with, the chances of them making it until the end of the story are not good.
But what's strikingly different with "It's a Sin," of course there is tragedy, but the story is also hilarious, joyous, and at times, just fun. And that's where we meet up with the series' main characters —Roscoe, Ritchie, Jill, and Colin — in a London gay dive bar they've all taken their form of refuge in.
Again, just speaking to the first episode here to avoid any dreaded spoilers, you'll cackle as I did at Ritchie's stumble into the gay world (. . .you need a good wash. . .down there. . .) And later watch as he then explodes into the gay London scene, seen through a hilarious gay sex montage. I guess we can all remember those days, either from our queer youths or just simply pre-pandemic of entering into a gay club, having that one important thing in common with every man in the room. Everyone was a possibility.
The series stretches from 1981 to 1991, and we watch these characters navigate gay life amid the crippling pandemic as best they can. And it's all set to one of the best soundtracks I've heard in a while. Enjoy as Davies seems to pick out the perfect song for each moment.
You can draw plenty of parallels to modern day. Given the need for information, and the pitfalls of misinformation, Jill becomes so desperate to help her friends she's starved for whatever she can find on the emerging virus. Ritchie, on the other hand, is terrified by the test and won't even go back for his results, instead buying into whatever rumored cures he can get his hands on. Inevitably there's the one person in the room who knew exactly what is happening — here an aging drag queen alone at a kitchen table — but these characters are treated like Cassandra, blessed with foresight but cursed that no one will believe them. And who wanted to believe them, that something as joyous as sex could also be killing us?
Again, without giving away too much here, "It's a Sin" does offer something a bit different but asking whose sin was it here. Why did it all happen? How did it all happen? Is it possible to assign fault to something so large as AIDS? Watch the powerful final few scenes and you'll see what I mean.
Looping back to the theme of music, the series is called "It's a Sin," after a favorite Pet Shop Boys tune of mine (side note, find a very moving cover of this by Olly Alexander's group Years & Years as part of the overall soundtrack). Alexander, who plays Ritchie here, gives a surprisingly in-depth performance. Watch too for pithy and entertaining bit roles from Neil Patrick Harris and Stephen Fry.
It's been a year since the present day pandemic has thrown us out of our beloved clubs and bars. Icy days and shutdowns have returned the shared experience idea back to Americans. And people trade binge-worthy programming suggestions like kids with baseball cards. Share this show with a friend. Enjoy this fresh take on a sad chapter of gay history. And allow yourself to laugh; it's part of it. And if it takes a fresh approach to make us all realize how AIDS is a central part of our collective history, then so be it. It's just a sin it took so long. 
Brock Thompson is a D.C.-based writer. He contributes regularly to the Blade.