Fears over women's safety made wedge issue in Equality Act hearing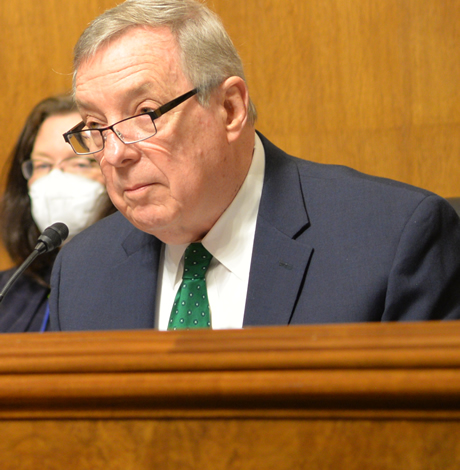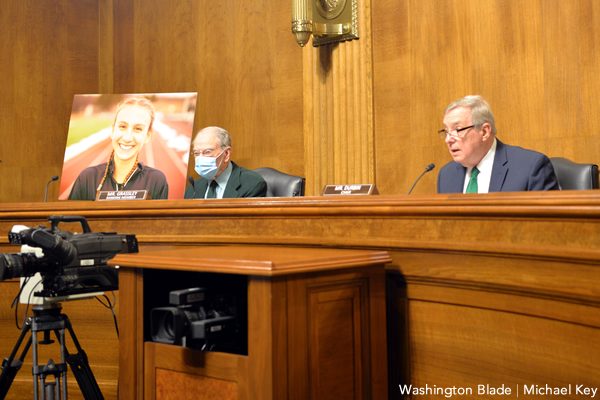 A Senate hearing on the Equality Act, which would expand the prohibition on discrimination under federal law, put on full display Wednesday the use of fear mongering about women's safety and the integrity of women's sports as a tool to thwart attempted progress on LGBTQ rights, although more traditional objections based on religious liberty also played a role.
Sen. John Kennedy (R-La.) pulled no punches during the Senate Judiciary Committee hearing — the first-ever hearing for the Equality Act in the U.S. Senate — in heightening fears about threats to women in sex-segregated spaces.
When Abigail Shrier, a journalist who has built a career campaigning against gender transitioning for youth, was presenting testimony as an expert witness, Kennedy went straight to the locker rooms.
"Would this bill prohibit the boy with gender dysphoria from exposing his penis to the girls?" Kennedy asked.
The questioning put Shrier, who was testifying against the Equality Act, in a bind. The Equality Act does prohibit discrimination on the basis of gender identity in locker rooms, but says nothing about that particular issue and laws against lewd conduct are in place. "I'm sorry would it prohibit that?"
When Kennedy repeated the questions, Shrier replied, "I don't believe the bill addresses genitalia." Kennedy went to ask her if it prohibits them from dressing together. "No," Shrier replied. "Would this bill prohibit them from showering together?" "No." Kennedy then asked about boys being able to access girls' sports.
"He wouldn't have to have gender dysphoria," Shrier said. "Anyone who says they're a girl at any time under this bill, they don't have to be transgender-identified, they don't have to have gender dysphoria."
Kennedy said he had intended to get to that point and asked her if the Equality Act would require schools to allow boys with gender dysphoria to compete in girls' sports. Shrier replied, "Yes, anyone who identifies as a woman."
Sen. Charles Grassley (R-Iowa), top Republican on the committee, brought up a specific incident in Connecticut where transgender girls were allowed to compete in a girls track event. Grassley named one of the girls who filed a complaint over the situation, Chelsea Mitchell, as he displayed images of three girls involved behind him.
"Many women and girls before her fought for legal protections under Title IX, which recognizes that sex specific distinctions are appropriate in some instances," Grassley said. "As a father, grandfather and husband, I have celebrated the athletic successes of talented young women in my own family, so I am deeply concerned about this act's potential negative implications for all girls and women in sports."
The Equality Act says nothing about sports, but would prohibit discrimination against transgender people in education and federally funded programs. It should be noted the ruling last year from the U.S. Supreme Court in Bostock v. Clayton County, which found anti-LGBTQ discrimination is an illegal form of sex discrimination, has broad applications, including for Title IX of the Education Amendment of 1972, which bars discrimination on the basis of sex in sports. As a result, refusing to allow transgender kids in sports would likely already be illegal.
Fears of the impact of LGBTQ rights advances on religious practices also came up during the hearing. Sen. Mike Lee (R-Utah), for example, raised a question about whether churches that conduct services with members of the congregation divided by sex would be liable as a public accommodation under the Equality Act.
Mary Rice Hasson, a fellow in Catholic Studies at the Ethics & Public Policy Center, served as a Republican witness and maintained churches could be held liable under the Equality Act "by expanding public accommodations to mean wherever Americans gather, even virtually."
"Compromise your religious beliefs or risk endless litigation," Hasson said. "Recipients of federal funds are also targeted, even for the simple act of maintaining sex segregated bathrooms."
HRC President Alphonso David, responding to an earlier question from Sen. Richard Durbin (D-Ill.), contested the idea that churches would be liable, which would be consistent with the religious exemption the Equality Act would retain under the Civil Rights Act of 1964.
"The Equality Act does not affect how religious institutions function," David said. "That is very different than institutions that actually provide public accommodations, institutions that are open to the public and are providing goods and services to the public."
A major issue of contention was a provision of the Equality Act that would preclude the use of the 1993 Religious Freedom Restoration Act, a law intended to protect religious minorities, as a potential legal defense in cases of discrimination. Scolding Republican critics who indicated the Equality Act would gut RFRA, Sen. Richard Blumenthal (D-Conn.) said the bill does nothing of the sort, but Sen. Josh Hawley (R-Mo.) shot back there was "an explicit carve out in the Equality Act for RFRA."
"I'm aware of no other law that seeks to shred RFRA in this way, and the effect of it basically is that churches, religious ministries, Christian colleges and universities, they'll be unable to pursue their missions, particularly if they involve service to the poor, service to the needy," Hawley said.
During a hearing in which Democratic members of the committee largely focused on their witnesses and Republicans stuck with theirs, Kennedy was an exception and asked David if there are more than two sexes. David initially deferred to medical experts and noted sex and gender can be different concepts, but then concluded "it's not limited to two," citing for example people who are intersex.
Shrier made an attempt during the hearing to qualify her opposition to the Equality Act, saying her opposition is based on potential consequences of the bill on women's safety.
"If S. 393 merely proposed to extend employment, and public housing rights to gay and transgender Americans, I would be supporting this bill, instead of testifying against it," Shrier said. "I am here today because the bill does much more, and no one who wrote it appears to have thoughtfully considered what it would mean for women and girls."
Tillis open to 'compromise' on LGBTQ rights
Despite the issues raised by Republicans, one key moment came when Sen. Thom Tillis (R-N.C.), whose vote would be key to reaching the 60-vote threshold to end a Senate filibuster on the Equality Act, appeared to make a good faith effort to reach across the aisle.
"On the one hand, we have the fact that even in 2021, our LGBTQ friends, family, neighbors, still face discrimination from employment to healthcare to housing to homelessness among LGBTQ youth is a very real problem with discrimination," Tillis said. "I think it's wrong, in any aspect. But on the other hand, we have millions of Americans who are people of faith who have serious and legitimate issues of conscience."
Although Tillis said the Equality Act "falls short of the goal" he seeks in addressing both sides, he added he's "open to finding a compromise." The last committee member to ask questions during the hearing, Tillis also lamented members of the committee "were talking past one another" about their concerns without coming closer to an ultimate conclusion.
Two issues that appeared to concern Tillis were the provision in the Equality Act against use of RFRA in cases of discrimination and whether the Equality Act's ban on LGBTQ discrimination in federally funded programs would require prisons to house transgender women consistent with their gender identity. Tillis posed a question on whether a male serial rapist could say he identified as a woman and be allowed in women's prisons; Shrier said that "absolutely" would be the case.
Meanwhile, proponents of the Equality Act continued to make their case for the bill based on its general objectives, to ban anti-LGBTQ discrimination in all aspects of public life.
Durbin, kicking off the committee hearing, displayed a video highlighting milestones in the LGBTQ movement, including the election of Harvey Milk and the swearing-in of Pete Buttigieg, as well as media coverage on passage in the U.S. House of the Equality Act.
"Unfortunately, some opponents have chosen to make exaggerated claims about what the Equality Act would do," Durbin said. "Let me be clear, those of us working to pass this legislation are open to good faith constructive suggestions on further improvement and strengthening the bill. In fact, that's why we're having this hearing, but many of the texts on this bill are nothing more than the latest in a long, long, long line of fear mongering targeting the LGBTQ community."
Stella Keating, a 16-year-old student from Tacoma, Wash., made the case for the Equality Act as a witness in the simplest way possible: Introducing herself as a transgender person.
"Hi, I'm Stella, and I'm transgender," Keating said, "I'm here before you today, representing the hundreds of thousands of kids, just like me who are supported and loved by their family, friends, and communities across the country."
White House: 'We have made clear' Brittney Griner is being 'unjustly detained'
Biden officials spoke to basketball player 'in the last few days'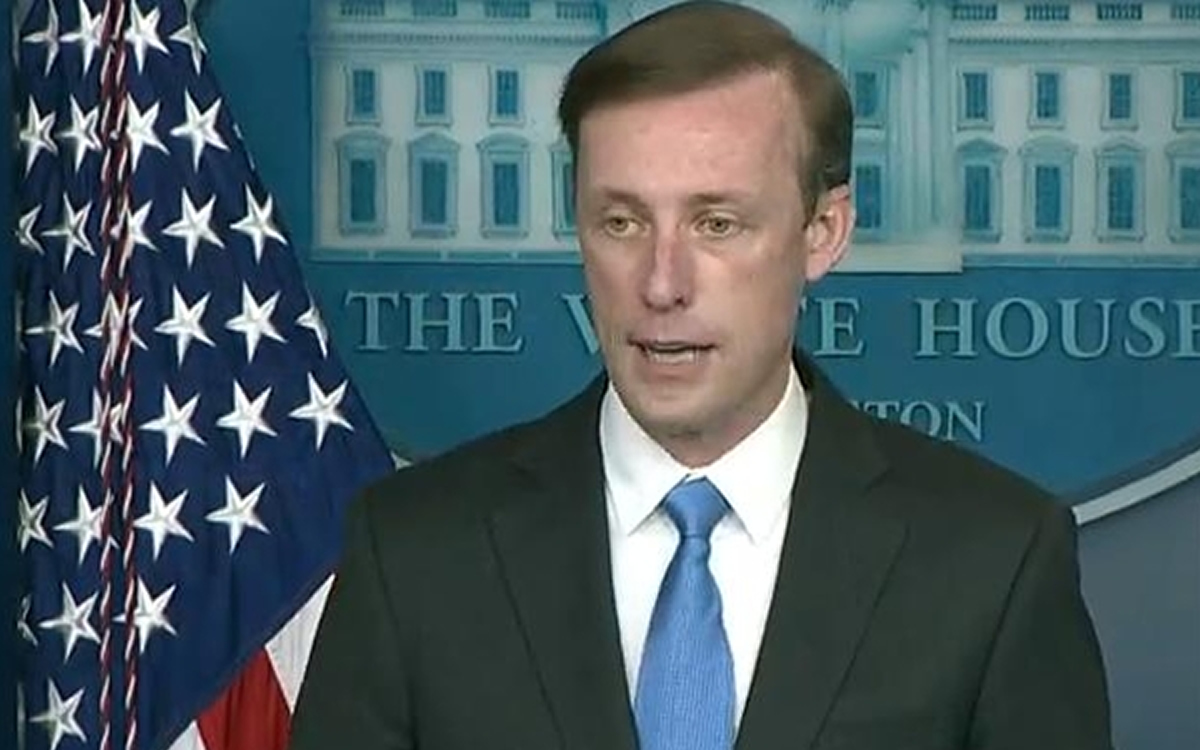 White House National Security Adviser Jake Sullivan said Tuesday he has spoken in the last few days with the wife of Brittney Griner as part of a larger effort within the Biden administration to secure the release of the lesbian basketball player in Russia whom supporters say is being unlawfully detained.
Sullivan made the comments speaking with reporters aboard Air Force One during President Biden's trip to Europe in response to a question about efforts within the Biden administration to bring Griner home ahead of her expected trial in Russia.
"So first, Brittney Griner is wrongfully detained, unjustly detained, and we have made that clear as an official determination of the U.S. government," Sullivan said. "Second, the Russian government should release her and allow her to be returned and reunited with her family and come home safe and sound."
Sullivan added he — as well as Secretary of State Antony Blinken — have spoken with Griner's wife Cherelle, to "convey our very deep sympathy, to convey that, you know, we just can't even begin to imagine what the family must be going through, what Brittney — what Brittney must be going through."
Griner, a professional basketball player for the Phoenix Mercury within the Women's National Basketball Association, was detained in February by Russian Customs on allegations that cartridges of hashish oil were found in her luggage. Griner had gone to Russia to play with the Russian Premier League during the WNBA off-season.
Sullivan said the U.S. government "is actively engaged in trying to resolve this case and get Brittney home," but added he's constrained in what he could say because of confidentiality about the sensitive issue.
"But I will tell you it has the fullest attention of the president and every senior member of his national security and diplomatic team," Sullivan said. "And we are actively working to find a resolution to this case, and will continue to do so without rest until we get Brittney safely home."
The Biden administration, Sullivan added, is additionally working to return all unjustly detained Americans and hostages being held overseas," including detainees in Iran, Afghanistan, Russia, Venezuela, and China.
The Washington Blade has placed a request with the State Department for a readout on Blinken's role in the Biden administration's talks with Griner.
D.C. house with rainbow Pride flag set on fire
Investigators seeking help from public in search for suspect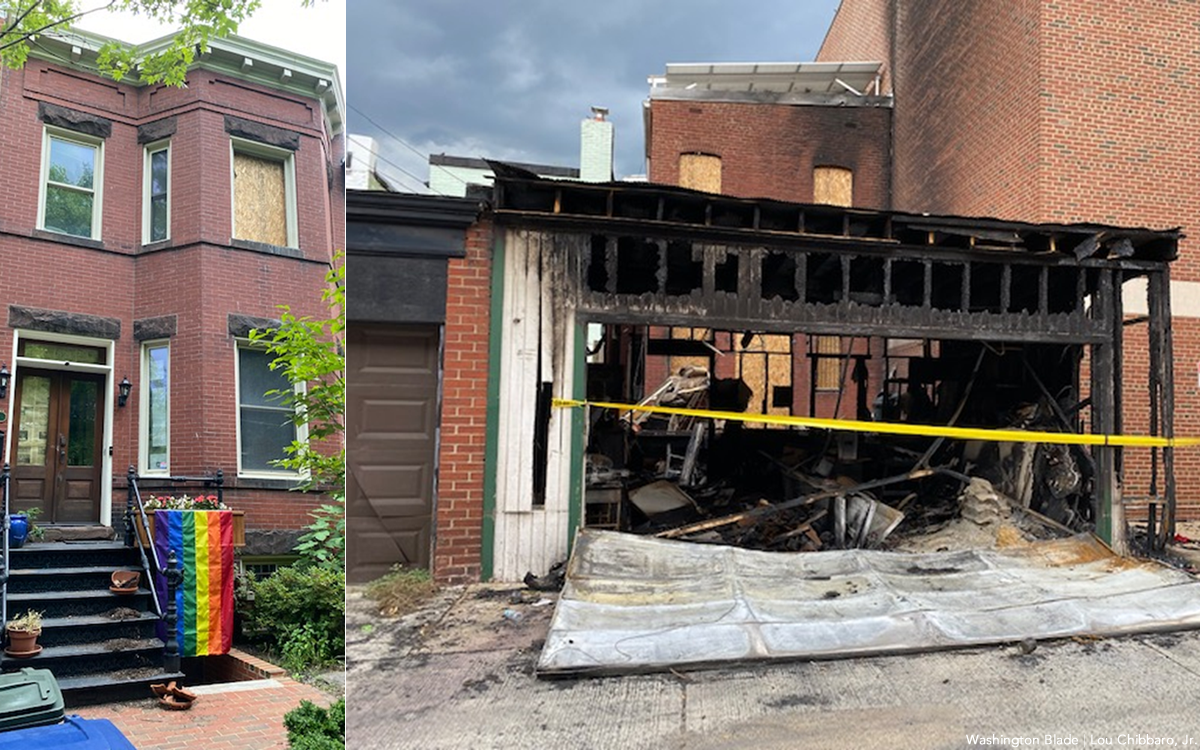 The D.C. Fire and Emergency Medical Services Department has classified as arson a June 19 fire at a two-story row house on the 1800 block of 8th Street, N.W. in the city's Shaw neighborhood that had an LGBTQ rainbow Pride flag prominently displayed on the front of the house.
A Fire & EMS Department spokesperson said the fire was ignited in a detached wooden garage in the rear of the house accessible only through an alley, and fire investigators have yet to identify a suspect or a motive for what evidence shows was an intentionally set fire.
Although the front of the brick rowhouse where the Pride flag was displayed was not damaged, the fire in the garage spread to the rear of the house, destroying a wooden outdoor deck, and caused extensive damage to the kitchen, bathroom, and second floor bedroom. Fire investigators have sealed the house, requiring its three occupants to find a temporary residence as the investigation continues.
One of the three occupants of the house, who was the only one at home when the fire started at about 2 a.m., escaped without injury, according to sources who know the occupants.
"The Pride flag on the front of the house was present at the time of the fire," Jennifer Donelan, director of communications for the Fire & EMS Department, told the Washington Blade. "We do not have any information, at this time, that suggests the arson was related to the presence of the flag, however we are still working on the case," she said.
"We are aggressively working to identify a suspect and a motive," Donelan said. "Until such time, we won't be able to make a determination as to whether or not this was a hate crime."
She said the Fire & EMS Department is seeking help from the public in its effort to identify one or more suspects responsible for the fire. Anyone with information that could be helpful to the investigation is asked to call fire investigators at 202-673-2776.
The fire at the D.C. house with the Pride flag took place less than a week after Baltimore police said a house in that city's Waverly neighborhood on which "Pride décor" was displayed was set on fire on June 15, causing extensive damage to the house and nearby houses.
Baltimore police and fire department officials said a Pride flag on a house across the street from the house set on fire was also ablaze when firefighters arrived on the scene. Two men were hospitalized in critical condition and a woman was listed in serious condition because of the fire ignited in the house.
Baltimore Mayor Brandon Scott released a statement saying fire department officials had yet to determine a motive for the fire.
"At this point, we cannot confirm that this was a hate crime," Scott said. "However, my agencies will bring every appropriate resource to bear to get to the bottom of this tragic event," he said. "I continue to stand in solidarity with our LGBTQ+ community."
Turkish police arrest hundreds over banned Pride parade
Istanbul officials sought to prevent event from happening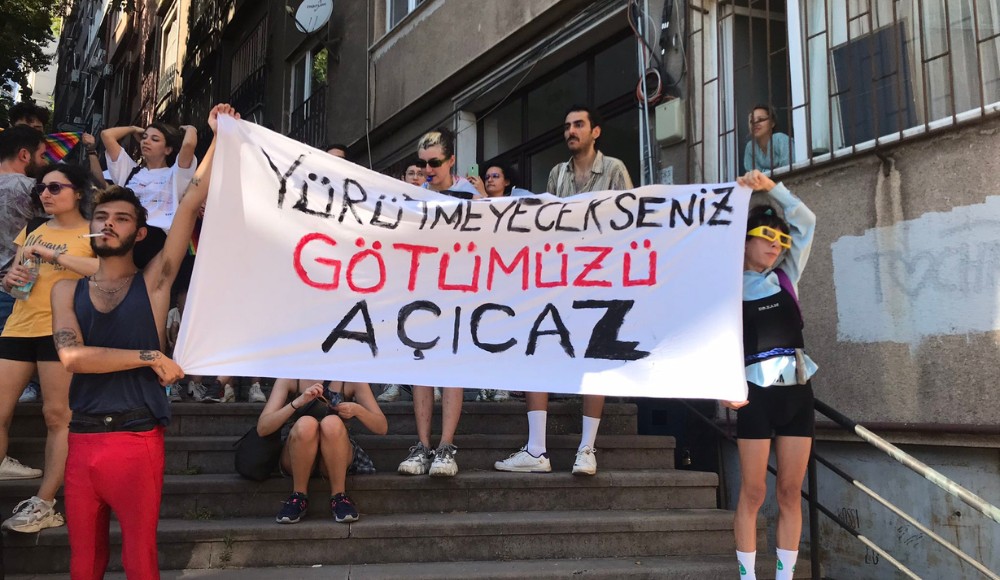 Hundreds of LGBTQ people, allies and supporters took to the streets of Istanbul Sunday in defiance of the country's government's ongoing 2014 ban of Pride parades and Pride Month festivities.
Protestors violently clashed repeatedly with police and security forces in various neighborhoods located around the Bol Ahenk Sokak (Pedestrian Plaza) and other sections of the central downtown area.
Authorities had shut down the city's transit systems hours prior to the influx of LGBTQ activists and demonstrators and flooded streets with police in riot gear who made hundreds of arrests, in some cases tear gassing participants and attacking them with clubs.
Government security forces arrested over 373 people including Agence France-Presse journalist and chief photographer Bülent Kılıç. Detainees were taken by bus to a central holding facility for processing. Photojournalist Mehmet Demirci documented the arrest of Kılıç in a Twitter post.
My photojournalist friend Bülent Kılıç has been taken into police custody while covering the #İstanbulPride. His hands were cuffed behind his back.@Kilicbil Kilicbil pic.twitter.com/sDYNoVe13L #journalismnotcrime

— mehmet demirci (@mehmet_demirci_) June 26, 2022
Ankara-based Kaos GL, the largest Turkish LGBTQ activist group, documented the arrests and clashes which occurred prior to the 5 p.m. planned parade kick-off in a series of Twitter posts.
İzmir'de polis zor kullanarak LGBTİ+'ları alandan çıkarmaya çalışıyor!#OnurYürüyüşü #Pride2022 pic.twitter.com/jlJ7H2eOWU

— Kaos GL (@KaosGL) June 26, 2022
KAOS GL in a press release on Monday noted that "the detentions experienced during the march, was among 'firsts' for this year. Totally 373 LGBTIs and LGBTI+ right defenders were taken into custody on the day of march! This number is a record both in the history of Pride marches and the other public demonstrations."
The group also recorded the scope of anti-LGBTQ Pride Month bans and pressure by Turkey's governmental bodies across the country.
"There were 10 ban decisions announced within the scope of Pride Month events. These ban decisions were taken by Boğaziçi University Rectorate, METU Rectorate, Gaziantep Governorship, Çanakkale Governorship, Datça District Governorship, Beyoğlu District Governorship, Kadıköy District Governorship, Eskişehir Governorship and İzmir Governorship.
The detentions began with 70 people at ninth Boğaziçi Pride March on May 20, increasingly went on till June 26. 373 people were taken into custody in Istanbul on June 26. This number is among the highest detentions within the context of the public demonstrations in İstanbul recent years. Totally 530 LGBTI+s and LGBTI+ right defenders were detained in 37 days."