Biden administration announces global LGBTQ rights priorities
Homosexuality remains criminalized in upwards of 70 countries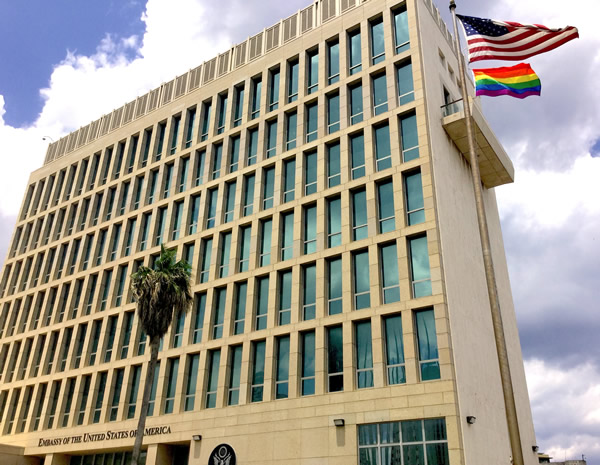 State Department spokesperson Ned Price on May 14 said the decriminalization of consensual same-sex sexual relations is one of the five priorities for the Biden administration in its efforts to promote LGBTQ rights abroad.
"The United States over the course of years has made some progress, but neither I, nor I think any objective observer should be satisfied with where we are," Price told the Washington Blade during a telephone interview. "There's a lot more work to do."
President Biden in February signed a memorandum that committed the U.S. to promoting LGBTQ rights abroad. Price told the Blade the decriminalization of homosexuality is "one of the many reasons why" the White House issued it.
"It is one of the many reasons why Secretary Blinken is so focused on this issue as well," said Price.
Homosexuality remains criminalized in nearly 70 countries around the world.
Saudi Arabia and Iran are among the handful of countries that impose the death penalty upon anyone found guilty of engaging in consensual same-sex sexual relations. Bhutan and Gabon are among the nations that have decriminalized homosexuality in recent years.
The Trump administration in 2019 tapped then-U.S. Ambassador to Germany Richard Grenell to lead a decriminalization initiative. Price declined to tell the Blade whether he feels the campaign was effective.
"Across the board I generally have a posture of not characterizing the last administration," said Price. "I'll leave them to speak to their record."
Migration mitigation efforts must be 'holistic'
Price told the Blade the Biden administration will also work to protect LGBTQ migrants and asylum seekers.
"When it comes to the (issue of) irregular migration, this is not just a challenge at our border," he said. "This is fundamentally a challenge that starts in the region and if we are to address the migrant flows that reach our borders, we're going to have to start in the region and that's precisely what we're doing."
Activists in Honduras, El Salvador, Guatemala and other countries with whom the Blade has spoken say violence and discrimination based on gender identity and sexual orientation are among the factors that prompt LGBTQ people to flee their homes and travel to the U.S.
Price did not say whether any of the $4 billion in aid the Biden administration has pledged to spend in order to help mitigate the causes of migration from Central America's Northern Triangle will specifically go to LGBTQ rights groups or HIV/AIDS service organizations. Vice President Kamala Harris late last month announced an additional $310 million in aid to "address" what Price described as "the root causes of irregular migration and to provide people with the confidence that they need not undertake the very dangerous journey north to the United States and that they can be confident in their lives in their home countries."
"Oftentimes that is about economic opportunity, but there are cases in which it has more to do with discrimination and persecution," Price told the Blade. "And so, we recognize that our approach to addressing those underlying drivers has to be holistic, given there are a range of factors and that's why we're working with a variety of groups on the ground and also understanding that marginalized communities, including the LGBTQI community, in the region, that there needs to be meaningful partnership there as well."
"USAID (U.S. Agency for International Development) is deeply engaged in this work, the State Department is engaged in this work as well and will continue to be, knowing that if we're going to make progress, if we're going to address the underlying root causes of irregular migration, we need to attempt to address all of them," he added.
Price told the Blade the administration's three other global LGBTQ rights priorities are funding efforts "to protect human rights and to advance nondiscrimination around the world," respond to anti-LGBTQ human rights abuses and "building coalitions and engaging international organizations in the fight against this discrimination."
"We have said across the board that one of the pillars of our foreign policy is the recognition that, yes, the United States is the most powerful country on the face of the Earth," said Price. "We have tremendous sway and influence the world over, but we also recognize that in every challenge in virtually every arena, we will be able to do more, we will be able to be more effective, we'll be able to be more persuasive and act more decisively when we bring our allies and partners along with us and this administration has put a great deal of emphasis on our alliances, our partnerships, but also those like-minded, as we call them, partners."
Price added the U.S. recognizes "the values we share with our closest partners in the world are incredibly important."
"They provide us with a similar framework and a set of priorities on which to act and of course working together to protect, but also to promote the rights of LGBTQ populations around the world," he told the Blade. "It is a core tenet of what we share with our like-minded allies and partners. You will see us doing this on a bilateral basis. You will see us doing this on a multilateral basis, within blocks and groupings, and also at the U.N. as well. We will seek to press this case in all of those contexts."
Blinken issues IDAHOBiT statement
Price spoke with the Blade three days before the International Day Against Homophobia, Biphobia and Transphobia, which commemorates the World Health Organization's 1990 decision to declassify homosexuality as a mental disorder. Blinken on Sunday in a statement acknowledged IDAHOBiT.
"The message of 'Together: Resisting, Supporting, Healing!' is especially poignant as this year's IDAHOTB theme," said Blinken. "Ending hatred and violence against LGBTQI+ persons requires collaborative action from us all."
"The United States is doing its part," he added. "Within the first weeks of his administration, President Biden issued a memorandum instructing all U.S. federal agencies working abroad to 'ensure that U.S. diplomatic efforts and foreign assistance promote and protect the human rights of LGBTQI+ persons.' And that important work is well underway."
Blinken in his IDAHOBiT statement also referenced the same five priorities that Price discussed with the Blade.
"Working together, we can create a world that respects and celebrates the dignity of all individuals," said Blinken. "It is in partnership that we will achieve our goal of a rights-respecting, inclusive society where no one lives in fear because of who they are or whom they love."
Blinken in March announced the State Department has disbanded the Commission on Unalienable Rights, a human rights advisory committee his predecessor created that LGBTQ activists sharply criticized.
He announced last month the State Department will once again allow U.S. diplomatic installations to fly the Pride flag. The position of special U.S. envoy for the promotion of LGBTQ rights abroad within the State Department's Bureau of Democracy, Human Rights and Labor has remained vacant since 2017, but Blinken has pledged to make it an ambassador level post.
The Trump administration in 2018 withdrew from the U.N. Human Rights Council, which in recent years has emerged as a vocal champion of LGBTQ rights around the world. Blinken in February announced the U.S. will "reengage" with it.
Price is the first openly gay State Department spokesperson.
"I know that every time I say something I am speaking on behalf of the Department of State, on behalf of Secretary Blinken, on behalf of the U.S. government, sometimes on behalf of President Biden," he told the Blade. "I'm not sure what I fully appreciated before actually coming into this job is that I'm actually speaking to the LGBTQ community around the world."
Price said he received emails and tweets from around the world after the Biden transition team announced his appointment. Price told the Blade that some people were "seemingly in shock," while others had "some degree of delight that a member of the LGBTQ community would be put in such a public facing role in an American administration."
"I understand this work is not about me," Price told the Blade. "I'm never offering my personal opinion, but I think that I've come to understand that there is meaning in having an openly gay man in a role like this. There is meaning for the LGBTQ community at home, but especially in this role there is meaning and value attached to having that be the case around the world, and especially around the world where members of the community are routinely and often times systematically persecuted."
Attorney details the harms of waiving anti-discrimination rules for religious universities
Incentives aligned for continuation of anti-LGBTQ discrimination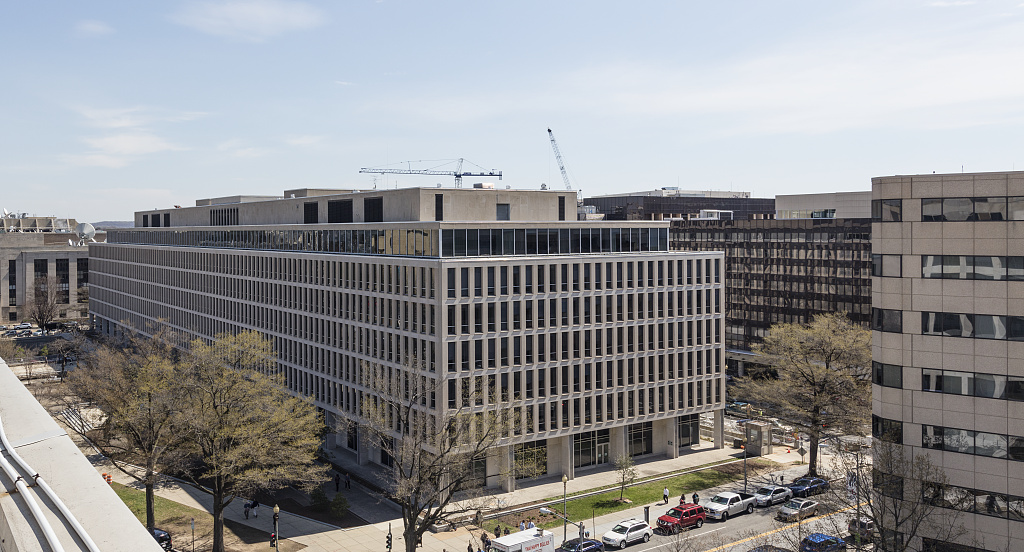 Democratic lawmakers re-introduced the Tyler Clementi Higher Education Anti-Harassment Act on Friday, which marked the 13th anniversary of the 18-year-old New Jersey college student's death by suicide after he was targeted with homophobic harassment by his peers.
The bill, which establishes cyberbullying as a form of harassment, directing colleges and universities to share anti-harassment policies to current and prospective students and employees, was introduced by U.S. Senators Tammy Baldwin (Wis.) and Patty Murray (Wash.), along with U.S. Rep. Mark Pocan (Wis.), Chair of the Congressional Equality Caucus.
Advocacy groups including the Tyler Clementi Foundation, the American Foundation for Suicide Prevention, and The Trevor Project have endorsed the legislation, which comes as issues concerning anti-LGBTQ harassment in institutions of higher education have earned renewed scrutiny on Capitol Hill and beyond.
Earlier this month, the Washington Blade connected with an expert to discuss these and other subjects: Paul Southwick, a Portland, Oregon-based litigation attorney who leads a legal advocacy group focused on religious institutions of higher education and their treatment of LGBTQ and other marginalized communities.
On Tuesday, he shared a statement responding to Friday's reintroduction of the Tyler Clementi bill, stressing the need for equal enforcement of its provisions in light of efforts by conservative Christian schools to avoid oversight and legal liability for certain federal civil rights regulations:
"We are still evaluating the bill regarding how the bill would interact with the religious exemption in Title IX," Southwick said. "We fully support the expansion of anti-harassment protections for students and corresponding requirements for educational institutions."
He added, "We also believe that such protections and requirements should extend to students at taxpayer funded, religiously affiliated educational institutions, regardless of whether those institutions claim, or receive, an assurance of religious exemption from Title IX regulations" through the U.S. Department of Education's Office of Civil Rights.
Baylor University's unprecedented Title IX exemption
In response to a request from Baylor University, a conservative Baptist college located in Waco, Texas, the Education Department in July granted a first of its kind religious-based exemption from federal regulations governing harassment, a form of sex-based discrimination proscribed under Title IX.
Southwick explained that during the Obama administration, the federal government began to understand and recognize discrimination based on sexual orientation and gender identity as forms of sex-based discrimination covered by the statute. The Biden-Harris administration issued a directive for the Education Department to formalize the LGBTQ inclusive definitions under Title IX, with a Notice of Proposed Rulemaking that is now underway at the agency.
Beginning with the Department's 2010 "dear colleague" letter clarifying the administration's view that discrimination against LGBTQ people constitutes sex-based discrimination under the law, Southwick said the pushback from religious schools was immediate. In the years since, many have successfully petitioned the Education Department for "exemptions so they can discriminate against queer, trans and non-binary people," but these carveouts were limited "to things like admissions, housing, athletics."
No one had argued that "federally funded educational institutions [should] have no regulation by the federal government as to whether they're protecting their students from harassment," he remarked – at least not until the Baylor case.
Addressing the unprecedented move in a letter to the Department on September 5, U.S. Reps. Mark Takano (D-Calif.), Adam Schiff (D-Calif.), Greg Casar (D-Texas), Joaquin Castro (D-Texas), and Veronica Escobar (D-Texas) urged the agency to "clarify the narrow scope of this exemption and assure students at religious institutions that they continue to have protections against sex-based harassment."
Southwick told the Blade other members of Congress have expressed an interest in the matter, as have some progressive nonprofit groups.
Asked for comment, a spokesperson for the Department confirmed receipt of the lawmakers' letter and said the agency will respond to the members.
The Department's issuance of the exemption to Baylor came despite an open investigation into the university by its Office of Civil Rights over a Title IX complaint brought in 2021 by Southwick's organization, the Religious Exemption Accountability Project (REAP), on behalf of a queer student who claimed she was subjected to homophobic abuse from other students while university officials to whom she reported the harassment failed to intervene.
It is not yet clear whether the agency will close its investigation as a result of its decision to exempt Baylor from Title IX's harassment rules.
Veronica Bonifacio Penales, the student behind the complaint against Baylor, is also a plaintiff in REAP's separate class action lawsuit challenging the Education Department's practice of waving Title IX rules for faith-based colleges and universities – which, the plaintiffs argue, facilitates anti-LGBTQ discrimination in violation of the 14th Amendment's equal protection clause.
The case, Hunter v. U.S. Department of Education, is on appeal before the U.S. Court of Appeals for the 9th Circuit.
Other religious schools are likely to follow Baylor's lead
Southwick said the agency's decision in the Baylor case "puts students at risk of harassment without a civil remedy against their school's failures to properly address harassment," adding, "Taxpayer funded educational institutions, whether religious or secular, should never be permitted to escape oversight from OCR in how they handle anti-harassment claims from LGBTQIA+ or other students protected by federal non-discrimination law."
Buoyed by Baylor's successful effort, requesting exemptions to Title IX rules for purposes of allowing the harassment of LGBTQ students, faculty, and staff is likely to become routine practice for many of America's conservative institutions of higher education, Southwick said.
The nonprofit group Campus Pride maintains a list of America's "absolute worst, most unsafe campuses for LGBTQ youth," schools that "received and/or applied for a Title IX exemption to discriminate against LGBTQ youth, and/or demonstrated past history and track record of anti-LGBTQ actions, programs and practices."
193 colleges and universities have met the criteria.
Many of the thousands of LGBTQ students enrolled in these institutions often have insufficient support, Southwick said, in part because "a lot of the larger civil rights organizations and queer rights organizations are very occupied, and rightly so, with pushing back against anti-trans legislation in the public sphere."
Regardless, even in America's most conservative schools like Bob Jones University in Greenville, South Carolina, Liberty University in Lynchburg, Virginia, and Hillsdale College in Hillsdale, Michigan, Southwick noted that pro-equality students, faculty, and staff have pushed for change.
He added that while there are, no doubt, young people who harbor anti-LGBTQ views, "they often become much more progressive the longer they're in school, because there's just queer people coming out everywhere, you know, and it's hard to hate people who are your friends."
The powerful influence and role of financial incentives  
Southwick said meaningful reform at the institutional level is made more difficult by the reality that "financial incentives from the government and from the market are aligned to favor the continuation of discrimination."
"Once the money stops flowing, they will almost all instantly change their policies and start protecting queer students," he said, but added that colleges and universities have little reason to change without the risk that discriminatory policies and practices will incur meaningful consequences, like the loss of government funding and accreditation.
Another challenge, Southwick said, is the tendency of institutions of higher education to often prioritize the wishes and interests of moneyed alumni networks, boards of trustees, and donors, groups that generally skew older and tend to be more conservative.
Southwick said when he and his colleagues at REAP discuss proposed pro-LGBTQ reforms with contacts at conservative religious universities, they are warned "over and over again," that "donors will be angry."
Following the establishment of nationwide prohibitions against segregation and other forms of racial discrimination with passage of the federal 1964 Civil Rights Act and the U.S. Supreme Court's decisions in Brown v. Board of Education (1954), which applied to public schools, and Runyon v. McCrary (1976), which covered private schools, Southwick noted that "A lot of Christian schools and college colleges continued to deny admission to black students."
One by one, however, the so-called "segregation academies" would permanently close their doors or agree to racial integration, Southwick said – buckling under pressure from the U.S. government's categorical denial of federal funding to these institutions, coupled with other factors like the decision of many professional associations to deny membership to their professors and academics.
Another important distinction, Southwick added: unlike Title IX, the Civil Rights Act of 1964 "does not have a religious exemption."
South African police arrest seven men linked to kidnapping of Grindr users
Advocacy groups welcomed arrests, urged authorities to investigate other cases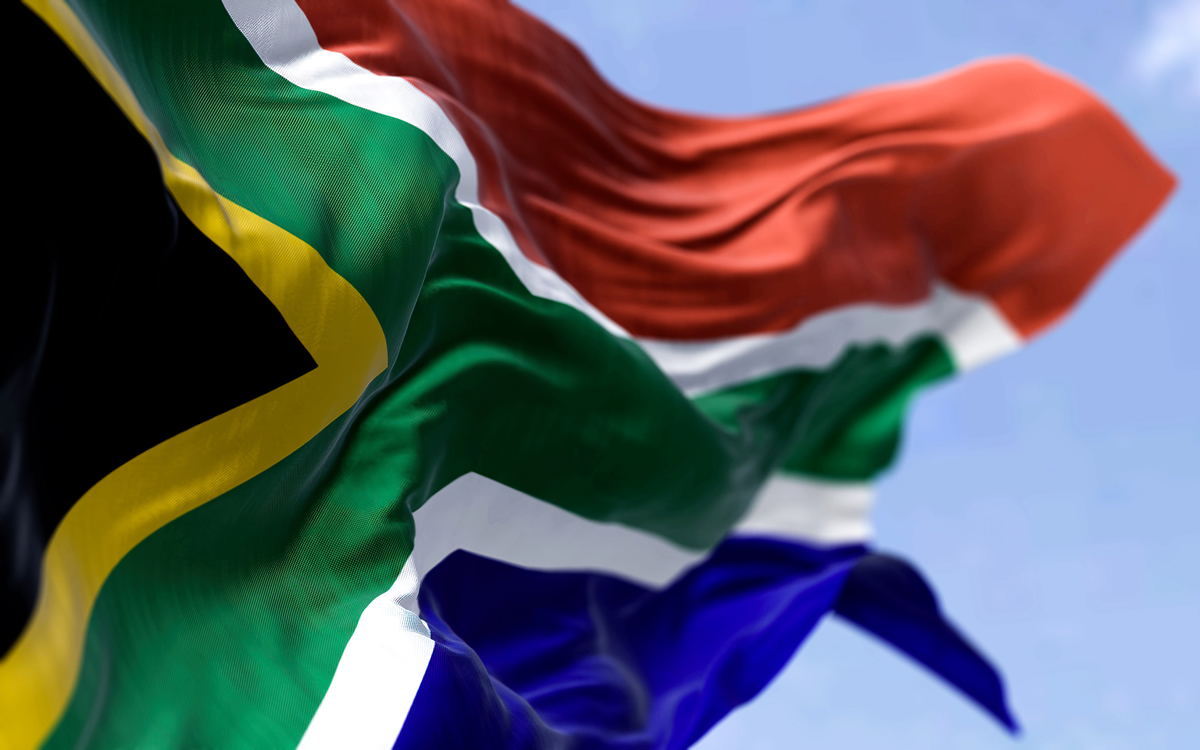 South African LGBTQ organizations have welcomed the arrest of seven suspects linked to a series of kidnappings liked to Grindr.
Several Grindr users in South Africa in recent months have been kidnapped for ransom through the dating app.
The South African Police Service said the seven suspects were arrested following an investigation into the kidnapping of an 18-year-old Wits University student on Sept. 19.
SAPS said suspects demanded $1,500 for the student's release. Authorities set up a sting operation and a breakthrough came on Sept. 20 when they identified an ATM where one of the suspects was expected to withdraw the ransom money. Officers placed one of the suspects under arrest as soon as he arrived, and he agreed to show them where the victim was being held captive.
"The student was reported missing the same day by his roommate. It is reported that he was lured to the suspects through a dating site called Grindr," said SAPS spokesperson Brenda Muridili. "Afterwards, the police conducted surveillance and arrested one suspect as soon as he arrived. He then led the authorities to the Denver Men's Hostel (in Johannesburg), where they discovered the 18-year-old victim bound and unconscious. Six additional suspects were apprehended, and the victim was rushed to the hospital for medical attention."
Muridili also said there is a high possibility that the suspects are further linked to 86 similar Grindr-related cases.
"We cannot rule out the possibility because this is not the first case of its kind," said Muridili. "We have several cases that are being investigated."
Access Chapter 2 Media Liaison Officer Mpho Buntse said the organization welcomed the arrest, but it still worried about why such incidents continue to take place.
"We congratulate SAPS in Johannesburg for acting swiftly in arresting seven homophobes who have been using Grindr, to terrorize and torture their victims. We believe that this arrest is a firm demonstration of the force's commitment to confront crimes of this nature. As an organization, we have been vocal in calling for swift action, as many of these cases have been reported to the organization," said Buntse. "However, we are deeply concerned at the sporadic nature of these syndicates. Not so long ago, we celebrated the arrest of the initial Grindr kidnapping and extortion group in the area of Johannesburg, which gave rise to this newly arrested group. It raises a sharp concern as to why these groups keep emerging."
Gauteng Police in February arrested four men who they say used Grindr to extort and victimize LGBTQ people.
"We continue to call upon members of the community, gay men in particular to limit the use of the application where it poses threats, we further acknowledge the erotic justice due to queer persons and the freedom to associate without fear and prejudice," said Buntse. "We also commend Grindr for listening to the call to strengthen the safety of the app."
Out Human Rights Coordinator Sibonelo Ncanana echoed Buntse, but questioned why the police are not actively investigating similar cases in other provinces.
"We are happy that seven suspects have been arrested but we need that same swiftness that happened in Gauteng to also transpire in other provinces because there are other similar cases that have not been solved or investigated that involve Grindr," said Ncanana. "This worries us a lot but we are grateful and appreciate the swift response of the police hopefully it will extend to other provinces." 
Ruth Maseko of the Triangle Project said LGBTQ people continue to be targeted because of their place in society, even though Grindr and other dating apps have issued warnings to their users.
"Although no dating app is necessarily safe, LGBTIQ persons can be viewed by prospective suspects as easy targets because of the stigma surrounding orientation and identity," said Maseko. "This means that it may be the thinking of perpetrators that LGBTIQ people will not report these incidents and give in to extortion."
New campaign challenges Va. guidelines for transgender, nonbinary students
Students4Trans planning rallies, walkouts across the state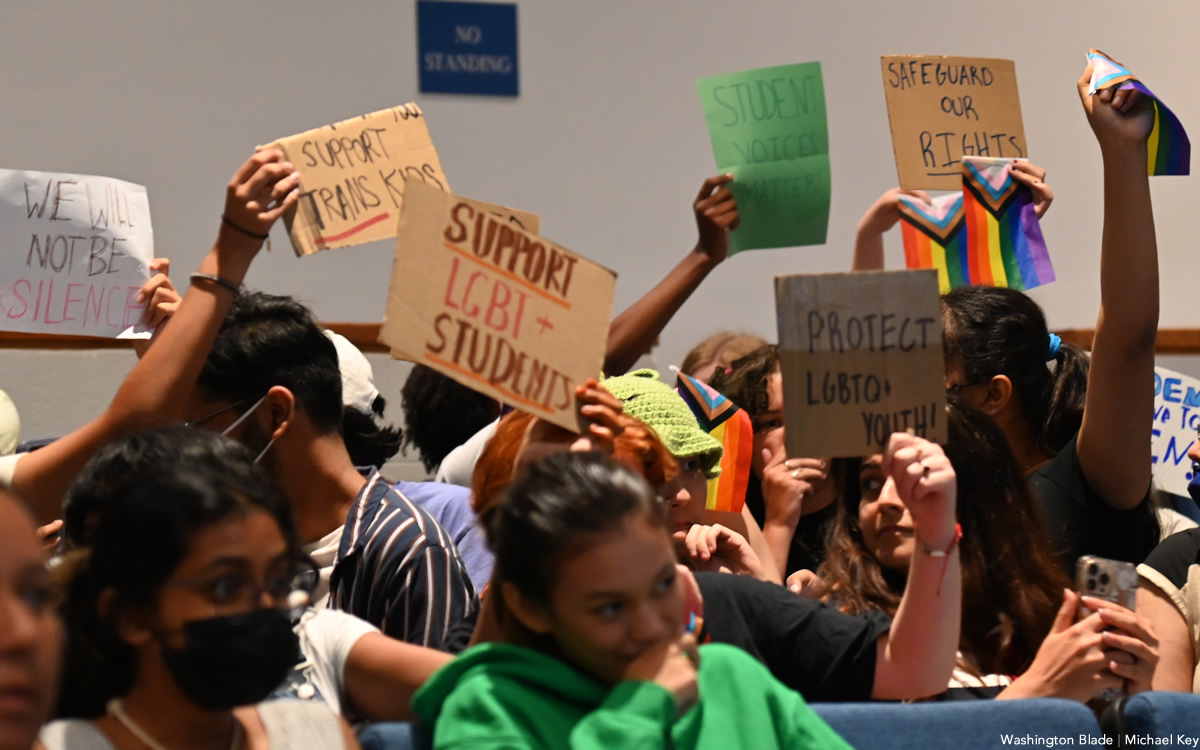 A group of Virginia students have launched a campaign that challenges the state's new guidelines for transgender and nonbinary students.
The Pride Liberation Project on Sept. 20 announced the formation of Students4Trans.
Students4Trans held a rally outside the Virginia Department of Education in Richmond on Sept. 22. Another rally will take place during the Virginia Beach School Board meeting on Tuesday.
The Virginia Department of Education in July announced the new guidelines for which Republican Gov. Glenn Youngkin asked. The regulations, among other things, require parents to be informed of a student's name and pronoun change, with the exception of "imminent risk of suicide related to parental abuse or neglect."
Arlington County Public Schools, Fairfax County Public Schools and Prince William County Schools are among the school districts that have refused to implement the guidelines.
The Spotsylvania County School Board announced last month that students are required to use the bathroom that aligs with their assigned sex, and parents could choose the names and pronouns their children use at school. Two parents in Virginia Beach have filed a lawsuit that seeks to force the city's school district to implement the new guidelines for transgender and nonbinary students.
Students4Trans has organized a student walkout on Friday to protest the Spotsylvania County School Board's new policies.
Michael K. Lavers contributed to this story.