Opinion | Pink triangle: reclaiming a symbol of hate
Don't overlook historical significance of Nazi imagery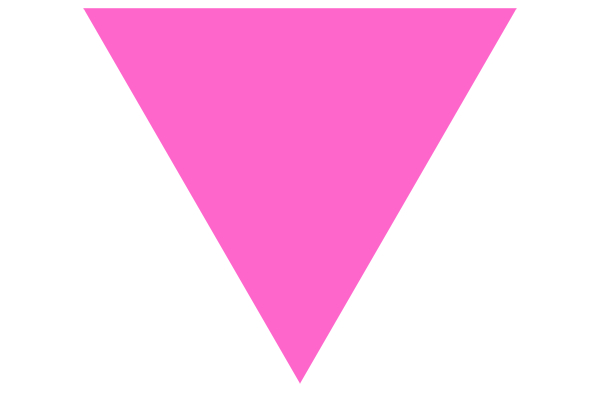 Humans have used symbols and iconography to communicate and identify things going back to when cave people made the first drawings on the cave walls. This use pre-dates language and the written word, but symbols have remained in use even after language became commonplace.
This use includes symbols and icons used to identify, segregate, promote intolerance and hate for groups of people. This use was especially true when it came to the persecution and systematic targeting by the Nazis under Hitler. The SS created a unique classification system to identify Jews who had to wear a yellow star formed by two triangles and criminals, Jehovah's Witnesses, and anyone deemed nonconformist, including homosexuals who wore the pink triangle.
As with other groups, the Nazis forced anyone known or suspected to be engaged in homosexual behavior to don the Pink Triangle, proven or not. This behavior included bi-sexuality and those who were transgender men. Typically, this did not include lesbians and transgender women.
It is important to note that early on, we were not singled out for who we were but instead lumped in with criminals or political prisoners and made to wear a colored triangle representing that group of individuals, perhaps giving us more "cover." Later, the Pink Triangle became one of many colored triangles used to identify individuals and were often combined to show those belonging to more than one group.
It is no wonder that Hitler would target our community given the prominent and visible gay and lesbian culture in Berlin at the time. Even though homosexuality was technically illegal before the rise of Hitler under the Paragraph 175 statute, it was rarely enforced. As was true of so many groups of people, Hitler saw us as a threat to his creation of the perfect race. Similar in many ways to what we continue to face politically and socially today, Hitler was afraid of us. As a result of that fear, he used hate and fear as his weapon and the Pink Triangle as a way to identify, shame, and target us.
Like others persecuted by the Nazis, individuals wearing the Pink Triangle were easily identifiable, making them instant targets by other prisoners and guards in the concentration camps. The Pink Triangle also made it easy to continue the persecution even after the war ended. Many who wore the Pink Triangle were transferred from concentration camps to prisons because it was illegal to be a homosexual.
What is unique about the Pink Triangle, compared to other symbols of identification, segregation, and hate, is that it was reclaimed and turned into a symbol of perseverance, strength, and unity.
Heinze Heger's 1972 book "The Men With The Pink Triangle" brought greater awareness to the origins and use of the Pink Triangle by the Nazis. As a result, a German gay liberation group used the symbol as a memorial to those early victims and a new symbol of protest. After the Stonewall rebellion, our community took what had once been a symbol of hatred and turned it into a symbol of pride. We have also used it as a symbol of protest, as was seen during the early years of AIDS.
While it has been a small minority, it is important to note that some have criticized using a symbol that originated from hate to represent us. In 1993, senior editor Sara Hart of the gay magazine 10 Percent expressed this and received significant backlash.
As unique as it is to have reclaimed the Pink Triangle as our own, it is easy to overlook its historical significance as time goes by. I look at my lack of knowledge and understanding as a young gay man coming out in the early 1980s and how I initially just knew it to be a symbol of our community without proper context.
Yes, the Pink Triangle is now a symbol of pride, but it should also serve as a reminder of how easy it is to have all we have fought for and earned stripped away from us. As we come upon another season of Pride, we need to understand what our community's symbols represent now, but we also need to understand their origins and what they represented before.
Anthony Eaton is a writer who specializes in LGBTQ topics.
Opinion | When did 'moderate' become a dirty word?
Like it or not, most Americans don't identify as 'liberal'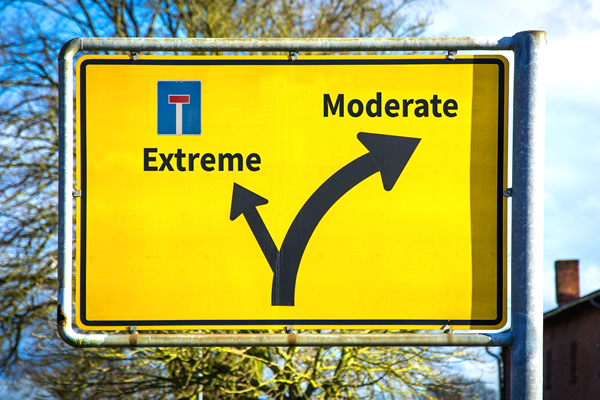 When did the word "moderate" become a dirty word in Democratic politics? One definition of moderate in the Oxford dictionary is "(Of a person, party, or policy) not radical or excessively right- or left-wing." To me that sounds like what was once called a liberal or someone who worked to get things done.
Our nation's founders set up a government requiring compromise to get anything done — three branches of government with a system of checks and balances. Congress has its own system of checks and balances in that to pass laws and a budget there needs to be agreement between the House and Senate. We have found over the preceding two centuries the American people actually believe in that system often electing different parties to control the Senate and House and rarely have we seen situations where both the executive and legislative branches are controlled by the same party, even then the judicial branch acts as a balance to what they can do. In the long run this system has worked. It works best when people are willing to compromise moving forward at a steady pace without veering dramatically to the left or right.
Polling shows most Americans identify as either moderate or conservative, with a smaller share identifying as liberal. Those identifying more liberal identify as Democrats. Why is this important to know? It's important because the future of what both moderates and progressives want will be determined by how those Democrats running for election in 2022 deal with this information.
To see the future we must look at how Democrats are voting in 2021. A column in the Washington Post titled, "Moderate Democrats are winning elections," gave us an idea. It speaks to the winning ideas of progressives yet explains even Democrats who like progressive ideas end up voting for the more moderate candidate. "Virginia has been the single greatest state-level success story for the progressive agenda in America in recent years. And it happened while Ralph Northam, another establishment figure who beat out a more progressive candidate in his primary, has been governor." It goes on to suggest moderates will still win. "Is McAuliffe going to be as aggressive as some of his opponents might have been in going even further in a progressive direction? Probably not. But neither is he going to reverse any of that progress; his actions will be constrained by the context progressives created. That's true at the national level as well, if perhaps not quite to the same extent. But it's not surprising that progressives are disappointed that the politicians they most support, those in the mold of Sens. Bernie Sanders (I-Vt.) and Elizabeth Warren (D-Mass.) are often falling short, especially when they're running in competitive races. When it comes time to cast their ballots, Democratic voters keep deciding that, although they like progressive ideas, it's safer to go with candidates with reputations as moderates."
The Democratic Party must face facts the majority of Americans don't identify with the left-wing of the Democratic Party even if they do support some of their initiatives. They must realize Republicans have been able to use the words of the left to tag the entire Democratic Party as "socialist." Is this nonsense? Of course it is, but is it fact? Yes! It was borne out by the 2020 elections. Many congressional candidates in swing districts and swing states lost having faced a backlash from the word "socialist" and from slogans like "defund the police." They couldn't overcome them. Joe Biden ran as a moderate. He reiterated often he was neither a socialist nor did he believe in defunding the police but he had the benefit of running against Trump and managed to win.
I grew up identifying as liberal. I was for universal healthcare when Hillary Clinton proposed it in 1992. I supported the Equality Act well before I came out when Bella S. Abzug (D-N.Y.) introduced it in 1974. I worked for human and civil rights and for the rights of persons with a disability. Today I am labeled a moderate by the Democratic left but I see myself as a pragmatic liberal supporting many progressive ideas but wanting to make constant progress and realizing it can't be all or nothing.
We live in a difficult time with a Trump party, the old GOP, refusing any compromise. So we need to keep the House and add to the Senate in 2022. We need at least a few more moderate Democratic senators who will give us the chance to abandon the filibuster and open the door to real progress.
Peter Rosenstein is a longtime LGBTQ rights and Democratic Party activist. He writes regularly for the Blade.
Opinion | The importance of marching for Black trans lives
Youth deserve to see their allies help create change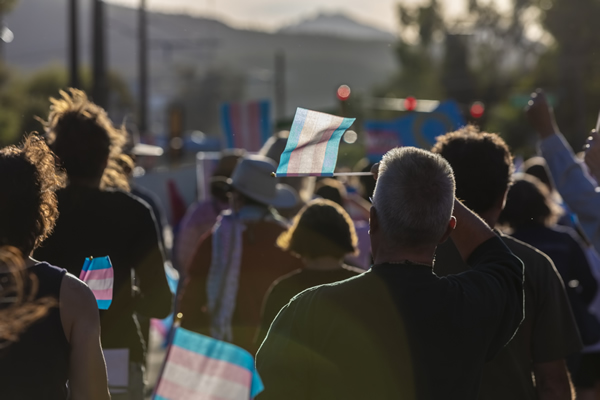 I am a member of the LGBTQ+ community, and an ally to the trans community. Identifying myself as an ally, rather than a member of the trans community is important to note. I could never assume a position of resonance, or complete understanding of the struggle and strife of trans folks.
As the program manager for BSH, I have witnessed countless justifications, and matter-of-fact necessity, for the Black Trans Lives Matter marches. While escorting my clients to meetings with multiple institutions and organizations, I have often witnessed, even after the first correction, serial misgendering. My clients are young adults between ages 18-24. I fear that the resentment that surely multiplies, both internally and externally, with each misgendering experience, is likely to result in depression and anxiety.
To dismiss one's identity is to erase their existence. It is my duty as an ally, and a leader, to confront these scenarios head on, by identifying and educating misguided professionals, while setting a threshold of accountability during subsequent encounters.
Trans youth deserve to know and feel allyship; they deserve to see an ally create change on their behalf. All trans people, including the youth of the community, have the fundamental right to exist and be recognized for who they know themselves to be; visibility matters beyond a community level.
This year we lost one of our trans sisters in a cold city jail cell. Kim Wirtz's life mattered. She was a Black trans woman who had not seen the likes of a courtroom but was sentenced to death, without the allowance of exercising her right to a trial. She was a sister, a daughter, an aunt and a friend.
We march for reform, so that our sisters will never be forced into unsafe housing. We need reform and we need it now! No trans woman deserves to be forced to appear male because she is incarcerated. We march for those who started this work before many of us were born. We march in the legacy of Marsha P. Johnson and Sylvia Rivera. We march for the youth so they can grow up and be free to be themselves without shame.
 I ask that you march alongside us, as we inspire and create positive change, and as we churn the oceans of reform on behalf of our trans brothers and sisters, and subsequently, on behalf of all of us.
Tashi-Kali Acket is program manager for Baltimore Safe Haven.
Claiming our power in the HIV-AIDS epidemic
'It is my experience that our community is heroic'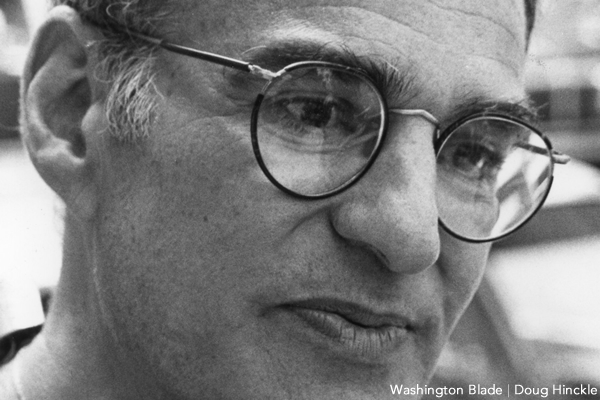 "Unless we fight for our lives, we shall die," wrote Larry Kramer in the New York Native in March 1983. Before Kramer's article "1,112 and Counting," gay people were doing what they could to care for the sick and mourn their dead with quiet dignity.
After the article appeared in gay papers across the country, gay people grew increasingly unwilling to be quiet about the deaths of gay men and the preternatural silence about the epidemic from elected officials.
In San Francisco, the momentum generated by a July 1984 political march spiraled into support for an independent gay AIDS activist group in San Francisco. Gay community leaders tapped Paul Boneberg, then 31 and president of the Stonewall Democratic Club, to head the new group.
Mobilization Against AIDS came into existence in the fall of 1984 with the express goal of organizing street demonstrations, a goal it accomplished by staging monthly protests. Besides its street demos, Mobilization, beginning in 1985, took on the task of organizing the annual AIDS candlelight vigil that the San Francisco People with AIDS Coalition had started in 1983.
As the 1980s wore on, and tens of thousands of gay men died with still no effective treatment for AIDS, Larry Kramer's nerves were shot.
In a March 10, 1987, speech Kramer gave at the New York Lesbian and Gay Community Services Center, today known as the LGBT Center of New York, he laid into the gay community as only Larry Kramer could. "If my speech tonight doesn't scare the shit out of you, we're in real trouble," he told the group.
By then, 32,000 AIDS cases had been reported across the country—nearly a third of them in New York. President Reagan still hadn't spoken about AIDS to frightened Americans.
"If what you're hearing doesn't rouse you to anger, fury, rage, and action, gay men will have no future here on earth," said Kramer. "How long does it take before you get angry and fight back?" The crux of the speech was Kramer's simple question: "Do we want to start a new organization devoted solely to political action?"
The answer was a resounding "Yes!" Two days later, about 300 people again showed up at the center where they formed ACT UP, the AIDS Coalition to Unleash Power. The group's first demonstration—a protest on Wall Street against the exorbitant price of just-approved AZT, the most expensive drug ever to that point—introduced what became the group's distinctive brand of street theater. ACT UP took the camp humor and theatricality of the Gay Liberation Front "zaps" to a whole new level.
As Kramer told me in our interview for "Victory Deferred," "The fact that everybody responded to ACT UP, I think was more just a question of time, and moment, and frustration. It was the right time for it to happen."
As in every catastrophe humans have faced throughout history, there were only two options for gay men when the viral cluster bomb erupted in the community: fight or flight.
"AIDS made us choose," said Paul Boneberg, in our interview in San Francisco for "Stonewall Strong." "Most chose to stay and fight." In his characteristically understated manner, Boneberg added, "It is my experience that our community is heroic."
Larry Kramer put it a little differently in our 1995 interview. We talked in the living room of his Fifth Avenue apartment, the setting for some of gay America's most historic moments, including the world's first AIDS fundraiser in 1981 and, in 1982, the formation of GMHC, the world's first AIDS service organization. Reflecting in particular on ACT UP, Kramer said, "Singlehandedly, we changed the image of gay people from limp-wristed fairies to guerrilla warriors."
John-Manuel Andriote has reported on HIV-AIDS as a journalist since 1986. His most recent book, which he calls a bookend for acclaimed debut novel 'Victory Deferred', is 'Stonewall Strong: Gay Men's Heroic Fight for Resilience, Good Health, and a Strong Community.' The research materials and recorded interviews for Victory Deferred comprise a special collection curated by the Smithsonian's National Museum of American History.