Biden seeks to ramp up money to beat HIV/AIDS in budget request
$267 million increase sought to end domestic epidemic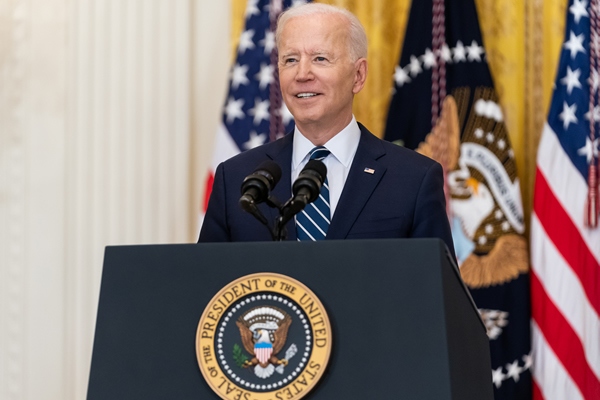 President Biden's formal budget proposal for the U.S. government in the upcoming fiscal year has advocates in the fight against HIV/AIDS cheering over the commitment to increase funds to confront the domestic epidemic, although one group is criticizing the proposal for seeking to flat-fund international programs.
The fiscal year 2022 proposal, unveiled last Friday, would afford an additional $246 million for domestic HIV testing, prevention and treatment programs for the Ending the HIV Epidemic initiative, which seeks to end HIV by 2030, and would also provide a general boost of $46 million to Ryan White HIV/AIDS programs and $20 million for HUD's Housing Opportunities for People with AIDS (HOPWA).
Carl Schmid, executive director of the HIV + Hepatitis Policy Institute, said in a statement Biden is "demonstrating his commitment to ending HIV in the United States" in the budget request to Congress.
"While it falls short of what is needed and the community has requested, if this funding is realized it will continue the momentum already created and make further progress in ending HIV in the U.S. Efforts to end HIV will help eradicate an infectious disease that we have been battling for the last 40 years and help correct racial and health inequities in our nation," Schmid said.
The total $670 million requested by the White House for the Ending the HIV Epidemic initiative breaks down as follows:
Centers for Disease Control & Prevention: $100 million in new money for a total of $275 million;
Ryan White: $85 million in new money for a total of $190 million;
Community Health Centers for PrEP: $50 million in new money for a total of $152 million;
National Institues of Health: $10 million in new money for a total of $26 million;
Indian Health Services: $22 million in new money for a total of $27 million.
Counterinituitively, each of those numbers is actually below what the Trump White House proposed in the previous administration's final budget request, with the exception of the proposed increase in money for Community Health Centers for PrEP and flat-lining for money for Indian Health Services.
The requested increase in funds for the Ending the HIV Epidemic was expected. Biden had signaled he'd seek the additional $267 million in funding in the "skinny budget" issued by the White House in February that preceded the more formal and detailed request to Congress last week.
Biden requests the increase in funds after he campaigned on ending the domestic HIV epidemic by 2025, an ambitious goal many advocates in the fight against HIV/AIDS were skeptical about achieving.
Nick Armstrong, the AIDS Institute's manager of advocacy and government affairs and co-chair of the AIDS Budget & Appropriations Coalition, said in a statement the time to ramp up efforts against HIV has come as the nation emerges from the coronavirus pandemic.
"Public health departments have made herculean efforts to battle COVID over the past year," Armstrong said. "But now it is time to reinvigorate neglected efforts to end the HIV, opioid, and viral hepatitis epidemics. Congress must go above and beyond what the president has proposed to bolster our critical public health infrastructure to protect Americans against infectious disease."
The budget now goes on to Congress, which has authority on whether or not to appropriate funds consistent with the president's request. Congress could either meet, short fund or even exceed in money the request by Biden as part of that process.
Schmid said via email to the Blade he's optimistic about getting an agreement from Congress for an increase in funds to fight HIV/AIDS based on the "strong bipartisan support the proposal has enjoyed in the past.
"We still have work to do with the Congress due to so many demands on the budget but I am fairly confident Congress will support it, they have been anxious to see what the Biden administration does with the program in his budget and we have the answers now," Schmid said. "The Biden-Harris administration firmly supports ending HIV."
Although Biden was lauded for the increase in funds in domestic HIV programs, international programs are a different matter. The White House has essentially flat-funded programs designed to fight the global HIV epidemic, including the President's Emergency Plan for AIDS Relief, or PEPFAR, or the Global Fund to Fight AIDS, Tuberculosis & Malaria.
Matthew Rose, director of U.S. Policy and Advocacy at the New York-based Health GAP, said in a statement Biden's budget proposal "displays a lack of bold leadership motivated to end the HIV pandemic."
"If the U.S. had continued fully funding PEPFAR since 2003 instead of letting funding levels slip into a flat-line for more than a decade, the HIV pandemic would look remarkably different today," Rose said. "This is not a budget to end AIDS – and it could have been. This is not a budget to end the COVID-19 pandemic – and it could have been. The unconscionable lack of political will in recent years has created a world in which people cannot get access to the life-saving services they need."
Health GAP is calling on Congress to approve a budget with at least a $750 million increase for PEPFAR and $2.5 billion in increased funding over the next four years to scale up HIV prevention and treatment and mitigate harms to the HIV response done by the COVID-19 pandemic, the statement says.
Additionally, Health GAP is calling on Biden to name "a highly qualified nominee" to serve as the U.S. Global AIDS Coordinator, the statement says.
Sheila Alexander-Reid to step down as director of D.C. LGBTQ Affairs Office
Veteran community activist to take new job workplace bias consultant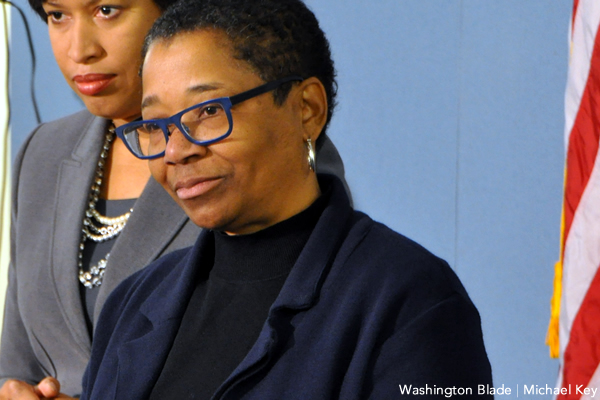 Longtime LGBTQ community advocate Sheila Alexander-Reid, who has served since 2015 as director of Mayor Muriel Bowser's Office of Lesbian, Gay, Bisexual, Transgender, and Questioning Affairs, is stepping down from her city job in mid-July.
Alexander-Reid told the Washington Blade she will take a few weeks of accumulated leave beginning June 15 to recuperate from follow-up knee surgery before officially leaving her current job to take on a new role as a private sector consultant in the area of workplace bias and diversity training.
She said will announce the name of the private sector company she will be joining as a senior vice president when she begins her new job in mid-July.
Among her duties at the Mayor's LGBTQ Affairs Office has been to lead the office's staff in providing LGBTQ related diversity or competency training for D.C. government employees at all city agencies.
According to the office's website, other activities it carries out include connecting LGBTQ residents with city services they may need, advocating on behalf of programs and policies that benefit the lives of LGBTQ residents, providing grants to community-based organizations that serve the LGBTQ community and LGBTQ homeless youth; and host events that "enrich, promote, and bring together" the LGBTQ community in D.C.
"That work is always going to be part of who I am," Alexander-Reid said. "But now I will be expanding on that work to look at racial equity and gender bias as well as LGBTQ bias," she said. "I feel like I will be doing the same work but in a different format."
Prior to starting her job at the mayor's office, Alexander Reid served as Vice President of Strategic Initiatives at the Washington Blade, Director of Strategic Engagement at the Washington City Paper, and Founder and Executive Director of the D.C. based Women in the Life Association. She has also served as host of Inside Out, a local FM LGBTQ radio show.
Alexander-Reid noted that when she began work at the LGBTQ Affairs Office in late January 2015, less than a month after Bowser took office as mayor, the office consisted of two full-time employees, including her, with a budget of $209,000. In the current fiscal year 2021, the office now has four full-time employees and two additional detailed employees, from the Department of Health and Department of Human Services. The mayor is proposing a budget of $561,000 for the office for fiscal year 2022.
"I would be remiss if I didn't say what a pleasure it has been to work for Mayor Bowser," said Alexander-Reid. "I was excited to work for her and I don't regret it for one second. "It's been an amazing journey and I appreciate her having faith in me."
She said she expects an interim director to be named to run the office in mid-July while a search is conducted for a permanent director.
Attack on trans woman in D.C. laundromat captured in video
Police seek help from community in identifying suspects.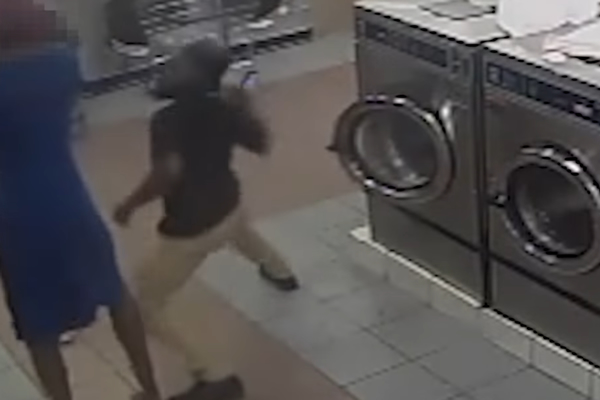 D.C. police on Thursday night released a dramatic video taken from a surveillance camera showing two women and a man repeatedly punching and shoving a transgender woman at a laundromat on Benning Road in Northeast Washington in an incident in which the victim was stabbed in the head.
Police, who have listed the Sunday, June 6, incident as a suspected anti-LGBTQ hate crime, are appealing to the community for help in identifying the three suspects, who are shown in the video attacking the trans woman before escaping in a black SUV while carrying laundry bags.
Detectives from the Metropolitan Police Department's Sixth District obtained the video from a surveillance camera at the Capital Laundry Mat at 1653 Benning Road, N.E., according to a police report and a police statement released Thursday night.
The video shows that the suspects were accompanied by two young children. It shows one of the adult female suspects appearing to be dancing by herself in front of a row of washing machines seconds before the three suspects lunged at the victim and began punching her.
"One of the suspects brandished a knife and stabbed the victim," the police statement says. "The suspects fled the scene in a vehicle. The victim was transported to a local hospital for treatment of non-life-threatening injuries," the statement says.
"Anyone who can identify these individuals, or vehicle, or has knowledge of this incident should take no action but call police at 202-727-9099 or text your tip to the Department's TEXT TIP LINE at 50411," the statement adds. It says the department's Crime Solvers program offers a reward of up to $1,000 to anyone who provides information leading to the arrest and indictment of a person or persons responsible for a crime committed in D.C.
Police spokesperson Alaina Gertz told the Washington Blade that because the investigation is ongoing, police could not immediately disclose whether they know if the victim knew one or more of the attackers before the incident took place or what, if anything, prompted the suspects to attack the victim other than due to her status as a transgender person.
The video released by D.C. police can be accessed here: https://youtu.be/7v8lthvUPcg
North Dakota lawmakers okay regulation banning Conversion Therapy
This rule change will stop the vast majority of mental health providers in North Dakota from subjecting LGBTQ youth to conversion therapy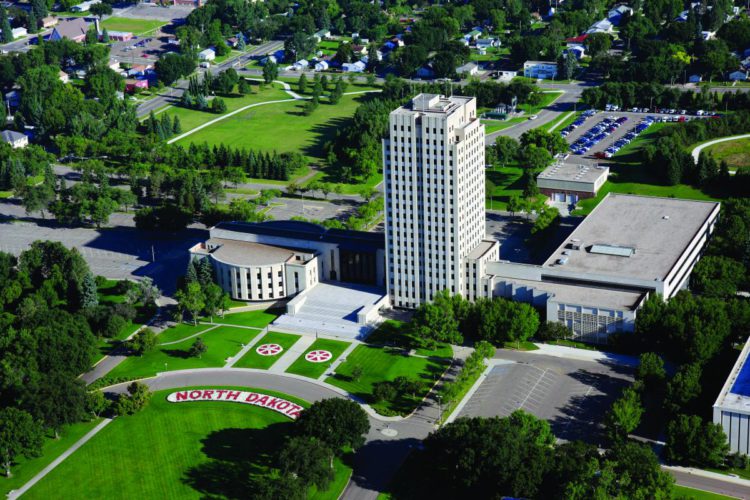 BISMARCK, ND. – The North Dakota House Administrative Rules Committee voted 8-7 on Tuesday, June 8, to authorize the rule proposed by the North Dakota Board of Social Work Examiners, implementing new regulations prohibiting licensed social workers from subjecting LGBTQ youth to the widely discredited practice of conversion therapy.
The North Dakota Board of Social Work Examiners, which oversees licensing for social workers in the state, created the new rule which states that "it is an ethical violation for a social worker licensed by the board to engage in any practices or treatments that attempt to change or repair the sexual orientation or gender identity of lesbian, gay, bisexual, transgender, and questioning individuals."
The West Hollywood based Trevor Project, the world's largest suicide prevention and crisis intervention organization for lesbian, gay, bisexual, transgender, queer & questioning (LGBTQ) young people, had worked with Democratic House Minority Leader Rep. Josh Boschee, the National Association of Social Workers ND Chapter, the North Dakota Human Rights Coalition, and local advocates like Elizabeth Loos to advance these critical protections for LGBTQ youth.
"This rule change will stop the vast majority of mental health providers in North Dakota from subjecting LGBTQ youth to the dangerous and discredited practice of conversion therapy. This practice is not therapy at all— it's abusive and fraudulent," said Troy Stevenson, Senior Advocacy Campaign Manager for The Trevor Project. "There is still more work to be done in North Dakota, but this bold action will help save young lives. The Trevor Project is committed to an every state strategy to protect LGBTQ youth from conversion therapy and North Dakota has proven that progress is possible anywhere."
"Thank you to the North Dakota Board of Social Work Examiners for restricting licensed social workers in North Dakota from being able to practice conversion therapy! LGBT North Dakotans, especially youth, are safer now as you hold licensees responsible to the NASW Code of Ethics," said Minority Leader Boschee.
The proposed ban on therapist-administered conversion therapy in North Dakota was met with opposition by several of the committee's most socially conservative members, the Grand Forks Herald reported.
Rep. Dan Ruby, R-Minot, told the paper that he worries the new prohibition is limiting because it would prevent people seeking "some kind of treatment" from getting help. Bell said the rule is written so clients who are LGBT or questioning their sexual orientation or gender identity are not inhibited from seeking care.
Rep. Bernie Satrom, R-Jamestown, said he's concerned the rule would interfere with religious counseling, adding "there are some cases where people want to change."
"There are licensed counselors that are also Christians, and basically my concern in all of this is that we're telling the Christian counselors 'you can be a licensed counselor, but you can't practice your Christianity,'" Satrom said.
Satrom and West Fargo Republican Rep. Kim Koppelman said approving the social workers' ban on conversion therapy is outside of the committee's scope and ought to be scrutinized by the full Legislature.
Boschee, the North Dakota Legislature's only openly gay member, told the Grand Forks Herald that he was disappointed in some of his colleagues for standing behind the "harmful" practice of conversion therapy and trying to muddy the conversation over what is a simple self-imposed rule for social workers. The Fargo Democrat said he was ultimately pleased that seven lawmakers joined him in upholding the proposed ban.
Research:
According to The Trevor Project's 2021 National Survey on LGBTQ Youth Mental Health, 13% of LGBTQ youth reported being subjected to conversion therapy, with 83% reporting it occurred when they were under age 18. LGBTQ youth who were subjected to conversion therapy reported more than twice the rate of attempting suicide in the past year compared to those who were not.
According to a peer-reviewed study by The Trevor Project published in the American Journal of Public Health, LGBTQ youth who underwent conversion therapy were more than twice as likely to report having attempted suicide and more than 2.5 times as likely to report multiple suicide attempts in the past year.