How D.C. is celebrating Pride this month
Mix of in-person and virtual events to replace traditional parade and festival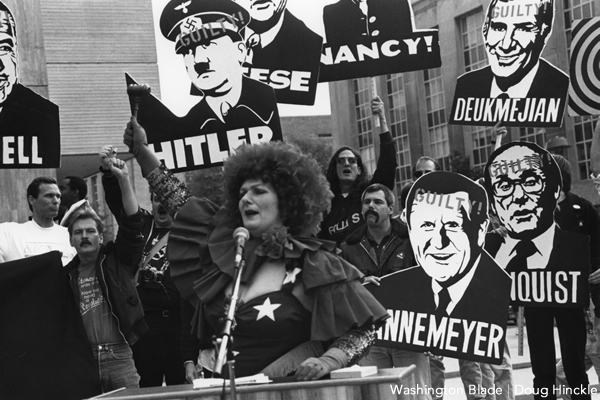 One of the main events set for D.C.'s 2021 LGBTQ Pride month will be a caravan of cars decorated with colorful Pride signs and displays to be led by an official Pridemobile trolley that will travel throughout the city on June 12, according to D.C.'s Capital Pride Alliance.
In a statement on its website, Capital Pride Alliance says the parade of vehicles, called the Colorful Pridemobile Parade, will drive past houses and businesses in different parts of the city that will also be decorated with Pride-themed displays as part of the group's month-long Paint the Town Colorful With Pride project.
The parade and the decorated buildings, the locations of which are displayed on a map on the Capital Pride website, are among at least 14 or more Pride events scheduled for June in D.C., some of which are in-person while others are virtual. Six of the events, including the parade and Paint the Town Colorful With Pride, are official Capital Pride Alliance events.
The Washington Blade, which, in partnership with Dupont Underground, is hosting an exhibition celebrating the tradition of drag performances in D.C. and other places highlighting the history and influence of drag. The exhibition, which includes photos and video footage and a drag brunch as well as drag performances, will take place June 4 through June 27 each Friday, Saturday, and Sunday.
The official opening of the drag exhibition will take place Friday, June 4 at 4 p.m.
Capital Price Alliance Executive Director Ryan Bos said D.C. Mayor Muriel Bowser's May 10 announcement that the city will be lifting all restrictions on large events such as parades and street festivals came too late for Capital Pride to put together a large Pride parade and street festival for June. He said Capital Pride is considering whether a parade and festival could be held in October.
This year marks the second year in a row in which the D.C. Pride Parade and festival had to be cancelled due to the COVID epidemic. The two events in past years have attracted more than 250,000 participants.
Bos and other Pride organizers say they were hopeful that the spirit and enthusiasm of Pride will be captured and carried out through this month's events, especially the Pridemobile Parade and Paint the Town Colorful building displays.
"This unique mobile parade will feature the official Pridemobile trolly, followed by a colorful array of automobiles decorated by registered organizations and businesses, all on display for enthusiastic onlookers to enjoy," a statement on the Capital Pride website says.
"The Pridemobile Parade route will be shared with the general public prior to the event and will pass through some of the city's most lively areas for optimum visibility, including Dupont and Logan Circles, and iconic landmarks such as the Capitol Building," the statement says.
The statement adds that Capital Pride Alliance has been urging members of the local LGBTQ community and its allies to be creative in displaying Pride decorations on their homes and businesses.
"Whether you're a resident, business, or organization, we invite you to decorate your most public-facing spaces, such as building fronts, patios, balconies, and yards, to show your Pride!" the statement says. "Make it as colorful as you can!"
Capital Pride has called on community members and businesses to try to have their homes or other buildings decorated by June 1, but the decorations need to be completed by June 12, the day of the Pridemobile Parade, the Capital Pride website says. Capital Pride is inviting the public to visit the decorated homes and businesses any time during the month of June.
Capital Pride is charging a fee of $100 to enter a vehicle in the parade. The group says the proceeds from the fee will be used to support local LGBTQ organizations.
Bos said D.C. police will not be escorting the parade and organizers expect it will end up becoming "several mini caravans" when participating vehicles have to stop at traffic lights and become separated from the participating vehicles ahead of them.
Following is a list of the June Pride events announced by the Capital Pride Alliance and other organizations. Further details of official Capital Pride events can be found at capitalpride.org/celebration.
 
June 1
Paint the Town Colorful. The official start of the month-long display of Pride themed decorations on houses, yards, and businesses throughout the city. The location of the displays submitted to Capital Pride so far is on the Capital Pride website.
 
Pride Talks: We are Colorful. A YouTube live discussion among LGBTQ leaders reflecting their "personal LGBTQ+ journey of Pride" and what makes the LGBTQ community colorful. Speakers will include Alexis Blackmon, director of public affairs for Casa Ruby; Reggie Greer, White House senior adviser on LGBTQ+ Affairs; Tiffany Royster, Capital Pride Alliance Parade chair and performing artist; and Mary Paradise, past board member of Capital Pride Alliance.
 
June 4 – June 27
Washington Blade Pride Month Celebration of Drag. A month-long exhibition at the Dupont Underground, the former trolley car station located under Dupont Circle, that showcases a mix of photographs and video footage honoring the roots of drag in America and D.C.'s drag scene. The exhibition as well as drag performances  and a Sunday brunch will take place each Friday, Saturday, and Sunday during the month of June. Details available at washingtonblade.com/royals.
June 6
Queen City Kings Drag presents Flame: Rising from the Ashes of COVID
A virtual event featuring 16 drag performers, including drag kings, scheduled to begin at 9 p.m. It's organized by Queen City Kings Drag, an LGBTQ drag performance group and can be accessed via the group's website.
 
June 11
The Capital Pride Honors. An in-person event to be held at the Compass Coffee Factory in D.C.'s Ivy City neighborhood at 1401 Okie St., N.E., in which the Capital Pride Alliance will present its annual honors recognizing "outstanding individuals, leaders, and activists" in the D.C. area who have furthered the causes of the LGBTQ+ community.
 
June 12
Drag Family Story Time. A virtual Pride event organized by the D.C. Public Library featuring local drag performers Domingo, Arma Dura, and Katie Magician who will read children's stories to "celebrate Pride as a family," a statement on the library's website says. It is scheduled to be broadcast on the public library system's YouTube channel at 11 a.m.
 
Washington Blade Describe-a-thon. A virtual D.C. Public Library Pride event from 10 a.m.-12 p.m. to discuss the library's ongoing project of digitizing all past issues of the Washington Blade to its digital collections.
 
Colorful Pridemobile Parade. The Capital Pride Alliance's caravan of Pride decorated cars led by its Pridemobile trolley will travel across D.C. to pass by homes and businesses also decorated with Pride displays. The starting time and route of the parade were to be posted the week of June 6 on the Capital Pride website.
 
June 13
Taste of Pride Brunch. Capital Pride Alliance has organized "an exclusive group of beloved local restaurants that have made a commitment to support Pride and local LGBTQ+ charities" to host special Pride month brunches. Special food items, Pride drink specials, and entertainment will be offered at some of the venues, the locations and names of which Capital Pride will publish on its website.
 
June 14
Rainbow Warriors: A Century of LGBTQ+ Womxn Activists. A virtual event the details of which were expected to be posted on the Capital Pride website.
June 15
Still We Gather! Center Faith embraces this year's Capital Pride Theme, "Still We!" A Zoom interfaith service set to begin at 7 p.m. organized by local LGBTQ and LGBTQ supportive faith groups, including Metropolitan Community Church of D.C., Faith Temple, Bet Mishpachah, Unity Fellowship D.C., Westminster Presbyterian Church, and All Souls Unitarian Church.
June 17
Chamber Connect – MOXY DC-Play on Pride. A professional networking meeting with a focus on LGBTQ Pride themes to be held 6:30-8:30 p.m. at the Moxy Washington, D.C. Hotel at 1011 K St., N.W.
 
June 24
Teen Pride Lounge. A virtual gathering of LGBTQ teens, including some from Prince George's County, Md., on YouTube and Discord will feature a discussion with LGBTQ+ authors Leah Johnson and Tom Ryan as well as special community guests. Johnson and Ryan have published works of interest to young people.
 
June 30
Still We Lead – A Community and Professional Development Experience. A virtual seminar organized by Capital Pride Alliance on the topic, "A Forgotten Generation." The session will discuss ways in which LGBTQ people and their allies can "support and foster an intersectional and social justice movement."
D.C. area LGBTQ bars, eateries receive $100K COVID-19 relief grant
Pitchers, League of Her Own received NGLCC, Grubhub funds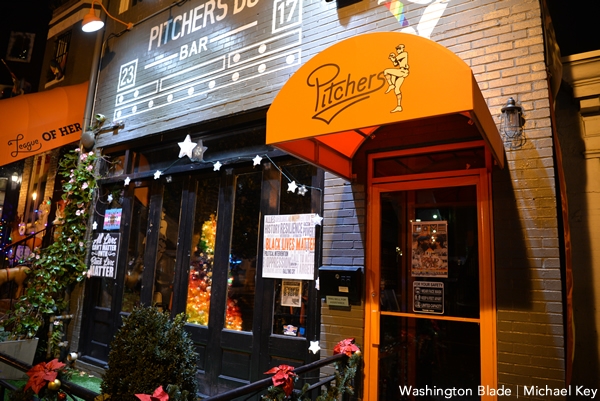 The D.C. LGBTQ sports bar Pitchers and League of Her Own, its adjoining lesbian bar, are among the nation's first LGBTQ bars that serve food as well as alcoholic beverages to receive a $100,000 COVID-19 relief grant under a $2 million Community Impact Grant Program.
The program, aimed at supporting LGBTQ-owned and LGBTQ-allied small businesses struggling from the pandemic, was launched in September as a joint project of the National LGBT Chamber of Commerce, which goes by the initials NGLCC, and the global online food delivery company Grubhub.
In a Tuesday announcement, NGLCC and Grubhub said Pitchers and League of Her Own, which operate as one business in adjoining buildings in D.C.'s Adams Morgan neighborhood, are among the first three recipients of $100,000 grants under the Community Impact Grant Program. The other two recipients are FOODE + Mercantile of Fredericksburg, Va., and Café Gabriela of Oakland, Calif.
"Following this initial round of recipients, more grants will be issued in late 2021 and early 2022," the announcement by the two groups says. In an earlier announcement, the groups said the application period for the grants program took place from September through Oct. 12, and the grants would range in amounts from $5,000 to $100,000.
"The impact of COVID-19 has been debilitating for countless restaurant and bar owners, including the many LGBTQ+-owned restaurants across the country who have persisted through lockdowns, operational changes and labor supply shortages," said NGLCC Co-Founder and President Justin Nelson. "We're grateful to have partnered with Grubhub to offer real lifelines to support businesses throughout the nation," Nelson said.
"Building community in a fun and safe place has been our mission since the very beginning," said David Perruzza, the owner of Pitchers and League of Her Own. "We're relieved and thankful for these funds, and are looking forward to more stable days ahead," Perruzza said.
"As a trans masculine and queer immigrant person of color, I've worked hard and put all my love and energy into building a beautiful and welcoming space in Café Gabriela," said owner Penny Baldado. "I've remained resilient through COVID, and this grant is the injection of funds that we need to continue along our journey to full recovery," Baldado said.
The statement announcing the first three grant recipient says funds for the $2 million grant program were generated by Grubhub's "Donate the Change" program of which NGLCC became a partner in June. Grubhub says the program asks customers receiving food delivered by Grubhub "to round out their order and donate the difference" to the charitable fund.
"COVID has turned the restaurant industry on its head the last 18 months, and at Grubhub, we've been working hard every day to support our restaurant partners across the country," said Amy Healy, Grubhub's vice president of government relations. "As the world starts to return to a new normal, we're proud to partner with the NGLCC and provide these grants to LGBTQ+-owned and LGBTQ+ ally-owned restaurants across the country that are pillars of their communities."
Va. businessman apologizes for burning of rainbow flag poster
'Shocked and horrified': Ashburn incident caught on video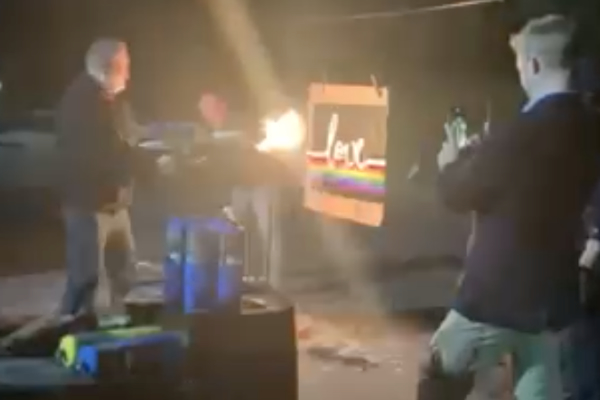 The owner of a Virginia technology company that hosted a private Veterans Day party on the grounds of an Ashburn, Va., brewery in which a company employee used a flame-throwing device to ignite a rainbow flag poster said the selection of the poster was a mistake and he and his company have no ill will toward the LGBTQ community.
The Washington Blade learned about the poster burning from a customer of the Old Ox Brewery in Ashburn, where the incident took place on its outdoor grounds. The customer made a video of the incident with his cell phone and sent a copy of the video to the Blade.
The video, which includes an audio recording, shows a man using a hand-held flame-throwing device to ignite the rainbow poster, which was hanging from a cable and appeared to be mounted on cardboard or a thin sheet of wood. Bystanders can be heard laughing and cheering as the poster is set on fire.
The poster consisted of a variation of the LGBTQ Pride rainbow flag that included the word "love" configured from an upper white stripe on the rainbow symbol.
The customer who took the video, who has asked not to be identified, thought the decision to set the poster on fire was a sign of disrespect if not hatred toward a longstanding symbol of LGBTQ equality and pride.
Chris Burns, Old Ox Brewery's president, shared that view, telling the Blade he and his staff were "shocked and horrified" when they learned later that a rainbow flag poster had been burned on the brewery's grounds. Burns said Old Ox supports the LGBTQ community and participated in LGBTQ Pride month earlier this year.
He said the company that held the private party paid a fee to hold the event on the brewery's grounds, but the brewery did not know a rainbow poster would be burned.
"I'm mortified that our event was interpreted in this way," said Nate Reynolds, the founder and partner of Hypershift Technologies LLC, the Falls Church, Va.-based technology company that organized the Nov. 11 party at Old Ox Brewery. "I can assure you that ZERO ill-will or offense was meant," Reynolds told the Blade in a Nov. 24 email.
"We held a small private party for a few clients, which included a demonstration of Elon Musk's Boring Company 'Not a Flamethrower,'" he said in his message. He was referring to one of billionaire businessman Elon Musk's companies that specializes in boring through the ground to create tunnels for cars, trains, and other purposes.
"After so many being isolated during COVID, we wanted to have an event that was lighthearted and to some small effect, silly," Reynolds said in his message to the Blade.
According to Reynolds, in thinking about what should be used for "fodder" for the flame-thrower, he went to a Five Below discount store and purchased items such as stuffed animals and posters, including a "Space Jam" movie poster as well as what he thought was a poster of the British rock group The Beatles.
"When I pulled the Beatles poster out of the tube it was instead the 'Love' poster," he said, referring to the rainbow flag poster the Blade asked him about in an earlier email.
"All I focused on was the 'Love' wording and not the rainbow and did not draw the conclusion that the poster was an icon that represents the LGBTQ community," Reynolds said. "It was my own ignorance of not connecting the symbolism of the poster. If I had realized it was a symbol of the LGBTQ community, I would not have used it," he said.
"I feel terrible, and I want to emphasize that I am solely responsible for this mistake – not the Old Ox Brewery," he wrote in his message. "Nobody at Old Ox had anything to do with this activity."
Reynolds added, "Hate has no place in my heart, and I sincerely apologize for any offense that could have been drawn from what I now realize was poor judgement on my part. I simply didn't correlate this poster with the LGBTQ pride symbol."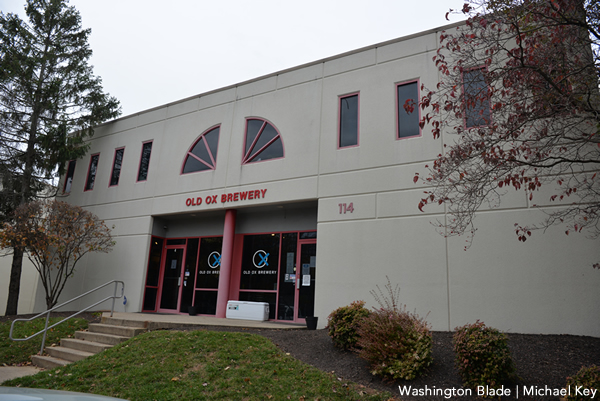 Before Reynolds issued his statement of apology, Burns, the Old Ox Brewery co-owner, told the Blade in an email he was "saddened and upset" over the rainbow poster burning on the grounds of his brewery.
"We do not wish to benefit from this event," he said in his email message. "Therefore, Old Ox is donating 100% of the revenue generated from the private event to GLSEN."
GLSEN is a national LGBTQ advocacy group that focuses on education and support for LGBTQ youth. Burns said Old Ox Brewery also donated proceeds from a Pride month event it organized earlier this year to GLSEN.
LGBTQ activists and organizations contacted by the Blade said they were unfamiliar with the variation of the rainbow flag with the word "love" that was the subject of the poster burning incident. The poster is available for sale at Five Below stores in the D.C. metropolitan area for $5.
Small print writings on the poster show it is produced by Trends International LLC, which describes itself on its website as "the leading publisher and manufacturer of licensed posters, calendars, stickers and social stationery products." The Blade couldn't immediately determine who designed the poster.
The video of the poster burning incident can be viewed here:
Fairfax schools returns LGBTQ-themed books in high school libraries
Review found 'no pedophilia' in texts as critics claimed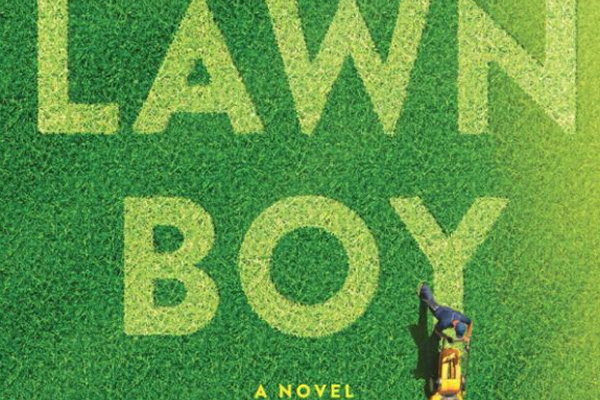 The Fairfax County Public Schools announced on Tuesday that following a detailed review by two committees appointed by school officials it has returned two LGBTQ themed books to its high school libraries that had been temporarily withdrawn after being challenged by critics who claimed they included sexually explicit content inappropriate for students.
The two books, "Lawn Boy," a novel by author Jonathan Evison, and "Gender Queer: A Memoir," which is described as an illustrated autobiography by non-binary author Maia Kobabe, each contain descriptions of sexual acts.
But supporters of the books have argued that they have won praise by literary critics and, while describing intimate relationships, they tell stories that do not fall into the category of pornography.
Fairfax County Public Schools, the name used for the county's public school system, on Tuesday said in a statement that a thorough review of the books by two committees consisting of educators, school officials, parents and some students found that neither book contained content that could be considered to depict pedophilia as claimed by some parents and others opposing the two books.
School officials announced they had temporarily withdrawn the two books from school libraries following a Sept. 23 meeting of the Fairfax County School Board where strong objections to the two books were raised by parents.
"Two books that were subject to formal challenge have been deemed appropriate for high school readers following a two-month review process and will be reinstated to Fairfax County Public Schools (FCPS) libraries," Tuesday's statement by the school system says.
"The decision reaffirms FCPS's ongoing commitment to provide diverse reading materials that reflect our student population, allowing every child an opportunity to see themselves reflected in literary characters," the statement continues. "Both reviews concluded that the books were valuable in their potential to reach marginalized youth who may struggle to find relatable literary characters that reflect their personal journey," the statement says.
The statement says the final decision to reinstate the books was made by Noel Klimenko, the Fairfax County Public Schools' assistant superintendent for its Instructional Services Department.
The two books have received favorable reviews in various literary publications. Both have received the American Library Association's Alex Award, an annual award that recognizes the year's 10 books written for adults that the association says have a special appeal to young adults ages 12 through 18.
"The robust committee process took place over several weeks and considered whether the books flouted regulations by being obscene or harmful to juveniles as defined by the Code of Virginia," the school system statement says. "The members also considered the work in line with an excerpt from the FCPS Student Rights and Responsibilities Handbook pertaining to possessing obscene visual imagery as defined in the Code of Virginia," the statement says.
"After careful consideration, neither books were deemed to have fallen foul of these regulations," it concludes.
The decision by Fairfax school officials to reinstate the two books came about six weeks after more than 425 LGBTQ students and allies from over 30 Fairfax County public high schools sent a letter to the school board and the school system's superintendent urging them to reinstate the two books.
The Pride Liberation Project, a coalition of LGBTQ and allied students in Fairfax County, organized the joint letter.
"Student representatives from over 30 schools, including nearly every high school in Fairfax County Public Schools, have signed this letter, and many of us are students of color, low-income, gender expansive and not out to our families and communities," the letter states.
"We are writing to ask you to reject calls to remove Maia Kobabe's 'Gender Queer' and Jonathan Evison's 'Lawn Boy' from Fairfax County Public Schools libraries," the letter says.
It points out that "hundreds of books in our schools already depict heterosexual relationships and physical intimacy," and says singling out LGBTQ themed books with similar stories of intimacy for rejection is unfair.