Self-proclaimed 'Christian' entrepreneur offers filter to stop LGBTQ cult
New company claims it protects kids from LGBTQ Cult: "Christian tech startup responds to Pride Month helps parents block LGBTQ+ propaganda"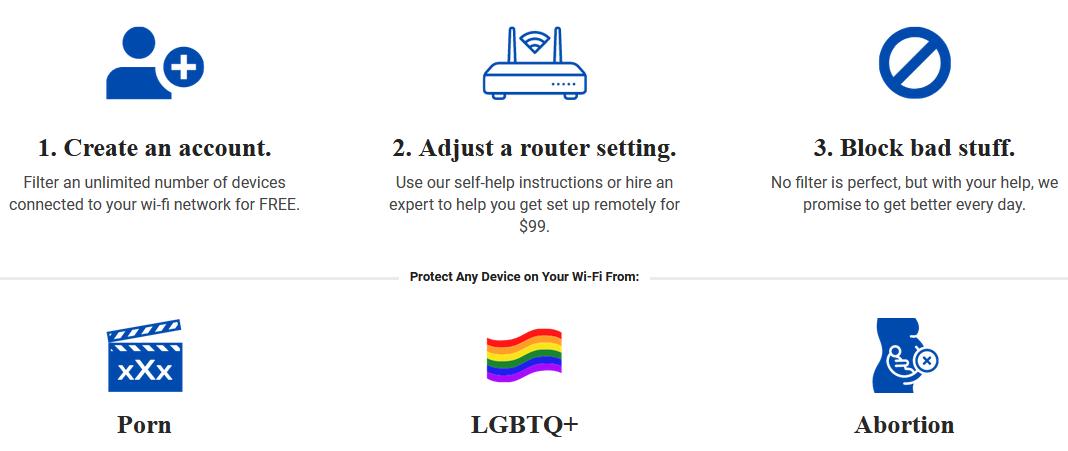 WOODSTOCK, GA. – A self-proclaimed Christian entrepreneur announced in a press release that he had launched an internet filtering service designed to protect children from indoctrination into what he says is a "dangerous LGBTQ cult."
Michael Lee Mason, the founder of FreeFiltering, based in a small hamlet northeast of Marietta, Georgia, introduced his product on June 1st, attacking LGBTQ Pride month writing; "While the world celebrates Pride for the entire month of June, we mourn the fact that our nation has embraced the sin of pride as a virtue. We applaud the parents who are putting in the enormous effort necessary to properly form their kids' consciences in a culture that has become so hostile to holiness."
"Christian parents are rightfully concerned about the way their kids are being systematically exposed to false ideas about human sexuality at school. Then, those ideas are all-too-easily reinforced with unfettered internet access at home. A couple clicks can spiral into catastrophic physical and spiritual harm," Mason said.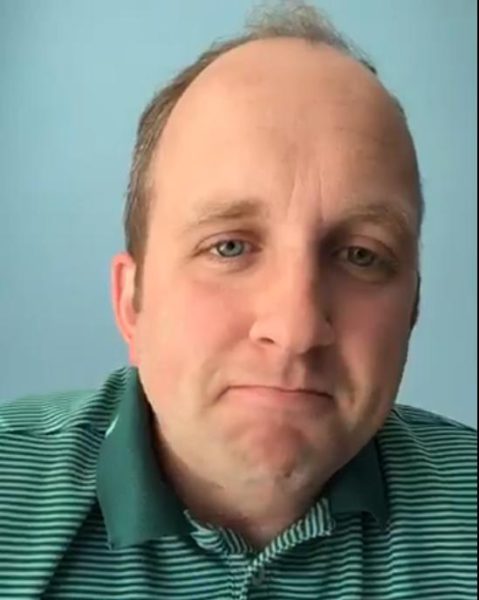 Mason ended stating, "[…] we anticipate being censored by the major digital ad platforms because of our commitment to historic Christian values," says Mason. The company hopes that generous donors will step forward to help underwrite the tremendous ongoing expense of providing their services to Christian families across the country. Mason says the company will not survive."
Photograph of Michael Lee Mason via Facebook
Colton Underwood, Greyson Chance+ more Amazon Live Pride Festival!
Greyson Chance and former Bachelor star, Colton Underwood, will be streaming live to discuss how they show their Pride, answer fan questions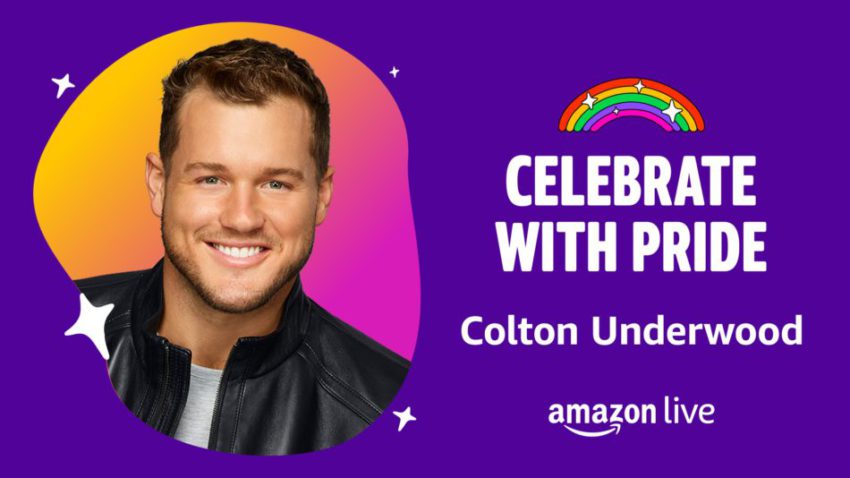 SEATTLE, WA. – Happy Pride Month! Amazon Live is hosting its first-ever Pride Festival this Thursday (6/10) and Friday (6/11) from 3-6pm ET. Your favorite celebrities and influencers, including recording artist, Greyson Chance and former Bachelor star, Colton Underwood, will be streaming live to discuss how they show their Pride, answer fan questions, and share their top Pride picks across fashion, beauty, books, movies, and TV.
Customers can watch HERE via desktop, mobile, or through the Amazon Live Shopping app on Fire TV. Customers can interact directly with the celebrities and influencers via live chat, and easily shop the products and brands discussed through a carousel that updates in real-time.
The scheduled events are as follows:
DAY ONE (6/10):
3PM ET: Greyson Chance will perform from his upcoming EP Trophies, releasing on June 25, and share his curated selection of Pride merch.
4PM ET: Jo Duree will stream a "get ready with me," inviting viewers to do their makeup alongside her as she shows top tips and tricks.
5PM ET: Pride House LA is throwing the ULTIMATE pride variety show! Featuring top products, you will be fully entertained with special guest performances and amazing talent!
DAY TWO (6/11):
3PM ET: Colton Underwood will discuss his life, answer viewer questions, and share the products that help him show off his pride.
4PM ET: Jake Warden will demo a Pride makeup look.
5PM ET: Olga Von Light will discuss her coming out story, and share some favorite Pride related merchandise and why the products are meaningful to her.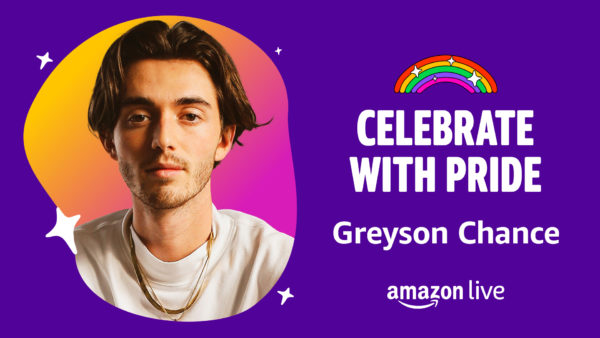 We'd love to have you join! Check out this blog post for more information about how Amazon is celebrating Pride Month.
'Can't Cancel Pride' kick-offs celebration with star-studded livestream
The second annual event will raise much-needed funds for LGBTQ+ communities most impacted by COVID-19.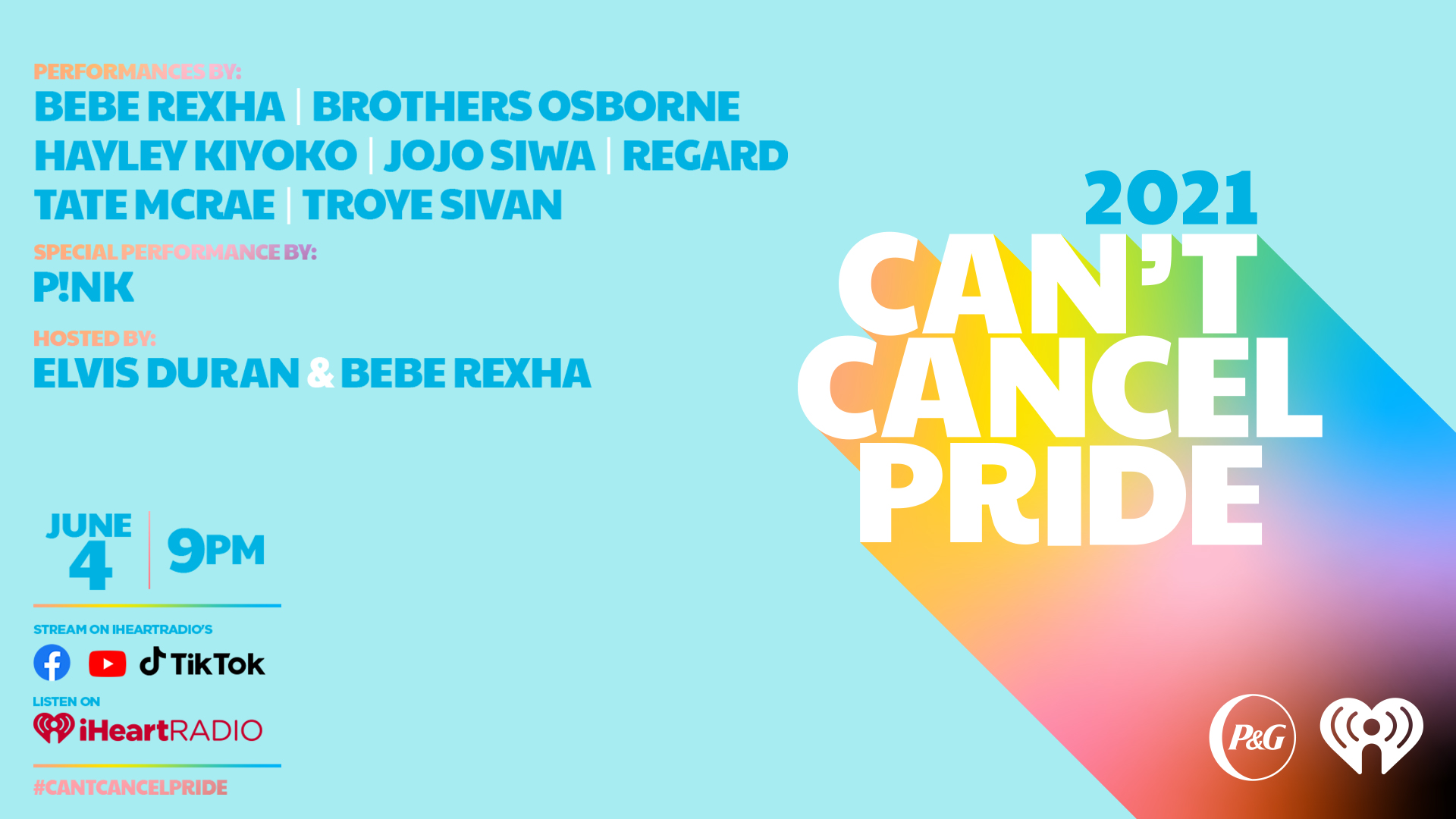 For the second year in a row, iHeartMedia is stepping up with a star-studded virtual celebration designed to keep the spirit of Pride alive and well during the still-ongoing restrictions of the Covid pandemic – and to raise some much-needed funds for the LGBTQ+ community.
"Can't Cancel Pride," presented by iHeart and Procter & Gamble, is a virtual relief benefit for the LGBTQ+ community, featuring performances and appearances from the most influential voices in the community as well as the biggest names in culture and entertainment. It's the second installment for the livestreamed event, following a successful 2020 presentation which raised over $4 million to benefit the LGBTQ+ communities most impacted by COVID-19. This year's event has a goal to raise even more in 2021, as the pandemic continues to have a damaging effect on the fundraising efforts that LGBTQ+ organizations rely on to survive.
The lineup of talent involved is truly stellar. Among the names scheduled to appear are Bebe Rexha, Brothers Osborne, Busy Phillips, Demi Lovato, Gus Kenworthy, Hayley Kiyoko, Jennifer Hudson, JoJo Siwa, Lil Nas X, Marshmello, MJ Rodriguez, Nina West, P!NK, Ricky Martin, Regard, Troye Sivan, Tate McRae, and many more. Diamond-selling singer-songwriter Rexha will also join iHeartMedia on-air personality Elvis Duran as host, as well as performing her new single "Sacrifice."
The "Can't Cancel Pride" livestream is just the beginning of iHeart's Pride month. The event will kick off a month-long celebration throughout June, with iHeartMedia radio stations airing spots to encourage listeners to watch the event on demand, share their special Pride moments on social media using the hashtag #CantCancelPride, and support the participating nonprofits by visiting cantcancelpride.com or texting "RAINBOW" to 56512.
"As the country is returning back to normal and we are slowly starting to gather again, LGBTQ+ communities around the world are still feeling the devastating effects of COVID-19," says iHeartMedia's Chief Marketing Officer, Gayle Troberman. "We look forward to once again celebrating the incredible voices and allies of the LGBTQ+ community with an amazing night of music that will honor Pride and the communities' fight for equal rights, all while benefiting six remarkable nonprofits that make an everyday positive impact."
Marc Pritchard, Chief Brand Officer for P&G, says, "'Can't Cancel Pride' is about creating visibility for the LGBTQ+ community and showing them they are not alone. The impact of the COVID-19 pandemic remains heightened for LGBTQ+ people, who continue to face issues driven by persistent bias, intolerance and inequality. We want to use our voice to help bring much needed resources, support, acts of good, and love to this remarkable and resilient community."  
Last year's month-long celebration provided critical resources for its six nonprofit partners, including:
Helping CenterLink provide microgrants to 190+ LGBTQ+ community centers and organizations.
Supporting The Trevor Project's lifeline, chat, and text crisis services, which served more than 14,000 crisis contacts from LGBTQ+ young people in June 2020 alone.
Aideing SAGE in forging connections and reducing isolation for LGBT elders during the pandemic.
Contributing to the National Black Justice Coalition's federal public policy work and Youth And Young Adult Action Council.
Distributing proceeds to benefit LGBTQ+ individuals around the world through OutRight Action International's COVID-19 Global LGBTIQ Emergency Fund.
Supported GLAAD's Spirit Day, the world's largest LGBTQ+ anti-bullying campaign.
P&G is joined in supporting "Can't Cancel Pride" by several other brand sponsors, including Allē by Allergan Aesthetics, Dawn, General Motors, The Art of Shaving and GilletteLabs, Bounty, Charmin, Jared, Puffs, Downy, Tide, OLAY, and Tito's Handmade Vodka.
The one-hour benefit special produced by iHeartMedia and P&G will stream on June 4, at 9 p.m., on iHeartRadio'sTikTok, YouTube, Facebook, Instagram TV pages, iHeartRadio's PrideRadio.com and Revry, as well as broadcasting on iHeartMedia radio stations nationwide and on the iHeartRadio App. The event will be available on demand via iHeartRadio's TikTok, YouTube, Facebook, Instagram TV pages, iHeartRadio's PrideRadio.com and Revry throughout Pride Month until Wednesday, June 30.
For those among you who are vaxxed and ready to enjoy an in-person kick-off to Pride Month, June 4 is also the first night of OUTLOUD: Raising Voices, a three-day live concert event series at Los Angeles Memorial Coliseum. A global Pride celebration that will be also be streamed (for free) around the world, the event will join forces with Pride Live's Stonewall Day to present a stellar line-up of performers curated by none other than Adam Lambert on behalf of the Feel Something Foundation. Sofi Tukker headlines on June 4, with Hayley Kiyoko topping the bill on June 5, and Lambert himself leading the pack for closing night on June 6. Additional acts performing during the weekend will include Daya, Tygapaw, Ryan Cassata, Madeline the Person, Mykki Blanco, Madame Gandhi, Malia Civetz, Vincint (feat. Parson James, Queen Herby and Ty Sutherland), Sam Sparro, Angel Bonilla, and many others. For details and tickets to the live event, visit the OUTLOUD website.
Ring out Pride Month with a virtual bang, from 'Pose,' Revry, and more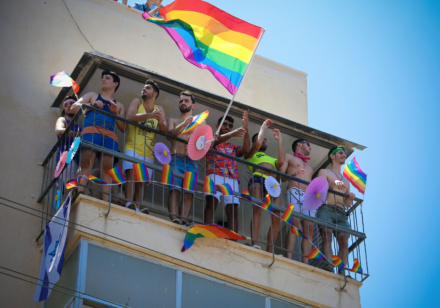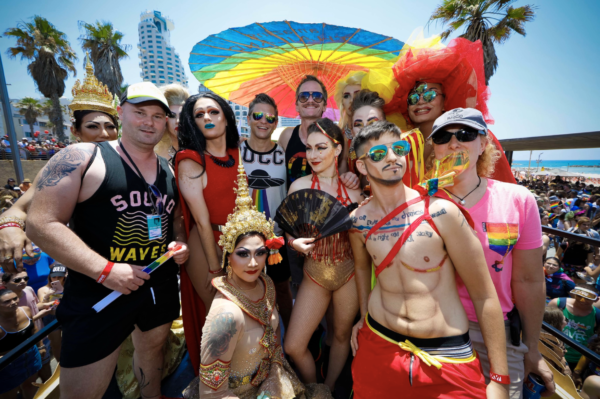 Let's face it: Pride Month without the ability to celebrate in our traditional ways doesn't feel very much like Pride.

For many of us, the festivals, concerts, parades and parties, where we gather with our friends to proudly proclaim our queerness to the world, are an annual rite of passage; being cheated of it by the ongoing Covid-19 pandemic is an undeniable disappointment.
Even so, Pride is more than just a party (even if it's a really fabulous one), and while the usual festivities may be cancelled, the spirit behind them is not. The LGBTQ+ community has risen to the challenge of 2020 with inventive ways to re-channel the Pride Experience for the physically-distanced needs of our time, and although a virtual event can never deliver quite the same visceral thrills as an in-person celebration, it's worth noting that this year's proliferation of internet and broadcast events has made Pride accessible to millions of people who might otherwise never have had the opportunity to participate, or to hear the messages of hope and acceptance that queer people in oppressive social environments around the world need to be able to hear.
Chances are good you've already experienced one or more of these livestreamed or broadcasted extravaganzas, but if you are still looking to get your Pride on before the month slips away next week, there are still some big ones coming your way.
One of the biggest is sure to be "Live, Work, Pose-A-Thon!" As a part of Pride month, Disney Television Studios and FX are presenting a commercial-free one-hour virtual event, showcasing the cast and producers of "Pose" to raise awareness for GLSEN, Hetrick-Martin Institute, and Transgender Legal Defense & Education Fund, three notable organizations that work to support LGBTQ+ education, social change for sexual and gender minority people of color, and transgender equality through legal services and policy efforts.
The special will be emceed by Emmy, Grammy, and Tony-award winning actor and activist Billy Porter along with co-star Mj Rodriguez, and unites the voices behind the critically-acclaimed drama series "Pose." Featured will be music and anecdotes from Porter, Rodriguez, Angel Bismark Curiel, Sandra Bernhard, Dyllón Burnside, Steven Canals, Dominique Jackson, Jeremy McClain, Janet Mock, Indya Moore, Our Lady J, Jason Rodriguez, Angelica Ross, Hailie Sahar, Ryan Jamaal Swain, Charlayne Woodard, and Patti LuPone. "Pose" supervising producer Tanase Popa serves as producer of the special.
"I'm so proud of our cast and producers for coming together to present an uplifting hour of song and stories," said co-creator, executive producer, writer, and director Steven Canals. "In the spirit of 'Pose,' our goal is to celebrate joy, love and, of course, pride, from our family to yours."
Executive producer, writer, and director Janet Mock added, "Since we've been unable to shoot the show we love, we jumped at the chance to reunite our 'Pose' family and partner with the studio and network to raise spirits and awareness about the plight of LGBTQ+ people of color during such a turbulent time. This Pride month special is a commemoration of our forebears' efforts, a memorial for trans lives lost, and a celebration of the life-saving work of LGBTQ+ organizations."
"Pose-a-Thon!" will air Friday, June 26 at 10:00 p.m. ET/PT on FX and Freeform. Viewers can also tune-in same day starting at 7:00 p.m. PT at www.poseathon.com.
If you're someone who likes to make Pride an excuse for world travel, it goes without saying that this is not a good year for that – but you can at least grab a taste. Tel Aviv Pride takes place every year in June, with a surge of gay-friendly events taking place across the city and a Pride Parade that has become the largest one among all in the Middle East. In light of the Corona pandemic, that parade has been cancelled (or at least postponed), along with the rest of the four largest pride parades in Israel – Haifa, Jerusalem, Be'er Sheva and Tel Aviv-Yafo – but that doesn't mean the whole celebration is shut down.
According to Ron Huldai, Mayor of Tel Aviv-Yafo, "Even if we cannot hold the traditional pride parade this year, we will mark pride month with alternative events. Tel Aviv, which has already been acknowledged as the world's most gay-friendly city, will continue to be a lighthouse city – spreading the values of freedom, tolerance and democracy to the world."
Those "alternative events" taking place live in the city will involve over 100 drag queens and queer artists taking over the city's streets in honor of pride month. Throughout the day on June 25, live shows will surprise passersby in central locations around the city, including open spaces, restaurants, local businesses and rooftops.
While it may not be possible for you to experience these pop-up Pride events in person, you can still experience Tel Aviv Pride vicariously through its Pride Month Virtual Tour, which will visit some of the city's queerest landmarks and explore its queer history and culture, engaging with some of the local divas and discussing some of the open questions around LGBTQA life in Tel Aviv.
The tour takes place on Thursday June 25th at 8pm, and you can join it through this Zoom Link.


Finally, for an even more expansive experience of Pride around the world, you can join the festivities for Global Pride 2020, produced by Interpride and available through several streaming partners – including Revry, the first LGBTQ+ virtual cable network, which has teamed up with Littlstar (the livestreaming platform for PlayStation 4, PlayStation VR, and Android TV) to launch the first VR streaming channel for the queer community just in time for this season of Pride. You can join this spectacular worldwide event on June 27th and 28th, when Revry will livestream it for 24 hours on the Revry Now channel (available on the Revry apps) as well as on the Littlstar platform – creating a first-of-its-kind VR Pride Festival experience!
"Littlstar is excited to partner with Revry to redefine how LGBTQ+ audiences view content. Viewers can now interact with each other remotely in virtual reality, or if there is no VR headset available they can live stream it directly to their TV via PlayStation 4 which currently reaches over 100M homes," said Tony Mugavero, CEO & Co-Founder of Littlstar.
"We're thrilled to have Revry as one of our official streaming partners," says Julian Sanjivan, Co-President of Interpride. "Partnering with Revry gives Global Pride 2020 an opportunity to access audiences and community members who may not otherwise be able to participate in the programming, especially where our other platforms are not accessible or allowed. Revry's new live VR Channel on the Littlstar app brings our event live on PlayStations across the globe and universally available to anyone with an internet connection."
More than 500 Pride organizations around the world have submitted more than 1,000 pieces of content for Global Pride which will include messages from former US Vice-President Joe Biden, Speaker of the US House of Representatives Nancy Pelosi, Canadian Prime Minister Justin Trudeau, Irish Prime Minister Leo Varadkar and artists Laverne Cox, Adam Lambert, Kesha and Todrick Hall amongst many more. You can see the full line-up here.
Viewers with a PlayStation VR will be able to watch the stream in a custom virtual world, and viewers without VR headsets can view the stream on billions of mobile device at live.littlstar.com. If you'd rather opt for a "normal" 2D livestream broadcast, you can do it on the Revry Now channel on the Revry network available online (watch.revry.tv) and in all major app stores.