Self-proclaimed 'Christian' entrepreneur offers filter to stop LGBTQ cult
New company claims it protects kids from LGBTQ Cult: "Christian tech startup responds to Pride Month helps parents block LGBTQ+ propaganda"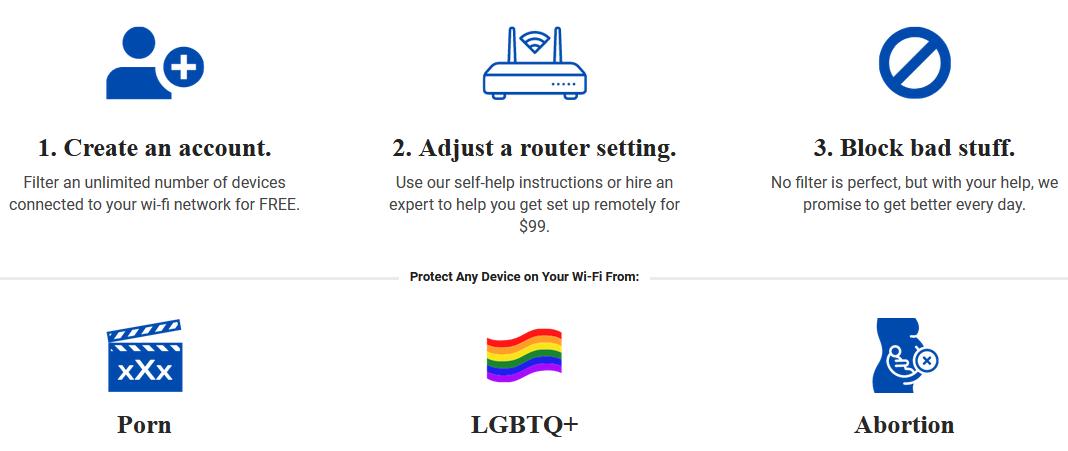 WOODSTOCK, GA. – A self-proclaimed Christian entrepreneur announced in a press release that he had launched an internet filtering service designed to protect children from indoctrination into what he says is a "dangerous LGBTQ cult."
Michael Lee Mason, the founder of FreeFiltering, based in a small hamlet northeast of Marietta, Georgia, introduced his product on June 1st, attacking LGBTQ Pride month writing; "While the world celebrates Pride for the entire month of June, we mourn the fact that our nation has embraced the sin of pride as a virtue. We applaud the parents who are putting in the enormous effort necessary to properly form their kids' consciences in a culture that has become so hostile to holiness."
"Christian parents are rightfully concerned about the way their kids are being systematically exposed to false ideas about human sexuality at school. Then, those ideas are all-too-easily reinforced with unfettered internet access at home. A couple clicks can spiral into catastrophic physical and spiritual harm," Mason said.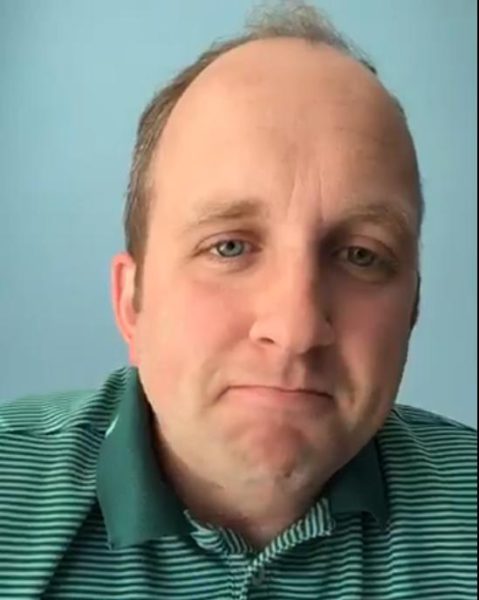 Mason ended stating, "[…] we anticipate being censored by the major digital ad platforms because of our commitment to historic Christian values," says Mason. The company hopes that generous donors will step forward to help underwrite the tremendous ongoing expense of providing their services to Christian families across the country. Mason says the company will not survive."
Photograph of Michael Lee Mason via Facebook
Netflix defends Dave Chappelle and suspends trans employee
LGBTQ Media watch group GLAAD responded saying that anti-LGBTQ content is technically against Netflix policy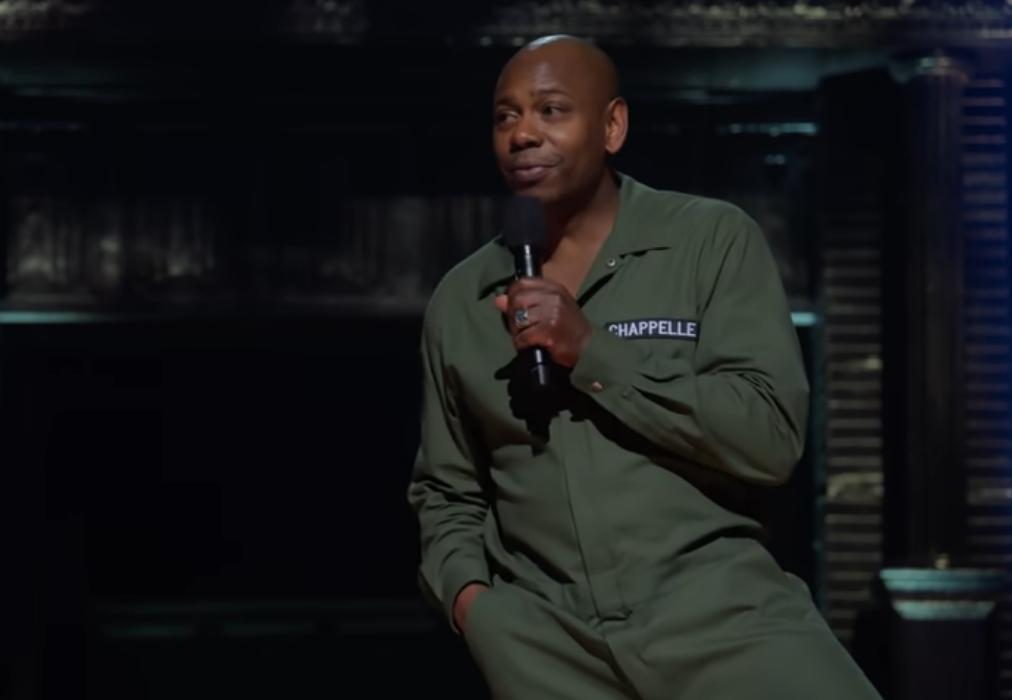 LOS GATOS, Ca. – The outcry by LGBTQ+ advocacy groups and allies since the release last week of the Netflix Dave Chappelle's comedy special The Closer, regarding transphobic and other anti-LGBTQ innuendo and statements by the comedian grew on Monday after the company suspended one of its Trans employees.
Adding more fuel to the ongoing controversy in a memorandum to the company's staff members obtained by entertainment trade news magazine Variety, sent last week by Netflix co-CEO Ted Sarandos, the company executive defended Chappelle.
"Chappelle is one of the most popular stand-up comedians today, and we have a long standing deal with him. His last special "Sticks & Stones," also controversial, is our most watched, stickiest and most award winning stand-up special to date," Sarandos wrote in the memo.
"As with our other talent, we work hard to support their creative freedom — even though this means there will always be content on Netflix some people believe is harmful," he added.
Sarandos in his memo wrote, "Several of you have also asked where we draw the line on hate. We don't allow titles on Netflix that are designed to incite hate or violence, and we don't believe The Closer crosses that line. I recognize, however, that distinguishing between commentary and harm is hard, especially with stand-up comedy which exists to push boundaries. Some people find the art of stand-up to be mean-spirited but our members enjoy it, and it's an important part of our content offering."
LGBTQ Media watch group GLAAD responded to Sarandos' memo saying that anti-LGBTQ content is technically against Netflix policy.
"Netflix has a policy that content 'designed to incite hate or violence' is not allowed on the platform, but we all know that anti-LGBTQ content does exactly that," the statement reads. "While Netflix is home to groundbreaking LGBTQ stories, now is the time for Netflix execs to listen to LGBTQ employees, industry leaders, and audiences and commit to living up to their own standards."
After the special aired, Terra Field, an Out Trans Netflix senior software engineer based in San Francisco, posted a series of tweets that expressed anger over Chappelle's blatant transphobia.
Field in her Twitter thread countered the position laid out by Sarandos, pointing out that Chappelle's promoting the kind of ideology and speech can result in real-world consequences especially death for Trans people.
In her tweets, Field writes, "Yesterday we launched another Chappelle special where he attacks the Trans community, and the very validity of transness – all while trying to pit us against other marginalized groups. You're going to hear a lot of talk about 'offense.' We are not offended."
Field went on to say of Chappelle, "our existence is 'funny' to him – and when we object to his harm, we're 'offended.'" She then listed numerous names of Trans people, specifically highlighting Trans women of color, killed in hate crimes. The thread went viral and as of Monday, the initial tweet had more than 13,000 retweets and 35,000 likes.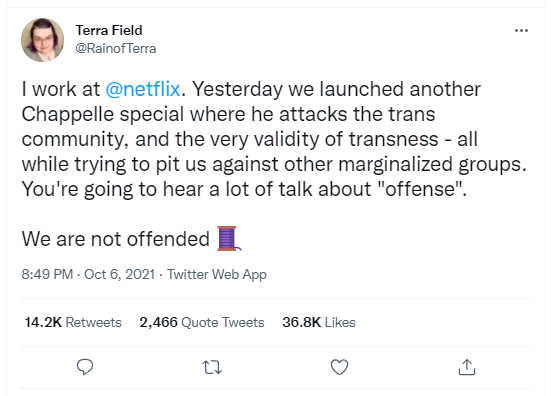 In reporting by both The Verge and Variety on Monday, Field and two other employees were suspended by the company although Netflix denies that Field was suspended due to the twitter thread. A source in the company told Variety that Field, who identifies as queer and Trans, and the other employees were not invited to the virtual gathering last week of the company's executives, the "QBR" — Netflix's quarterly business review, a two-day affair that convenes the top 500 employees at the company.
"It is absolutely untrue to say that we have suspended any employees for tweeting about this show. Our employees are encouraged to disagree openly and we support their right to do so," a Netflix spokesperson told Variety.
Neither Field nor Netflix responded to requests for comment Monday by the Blade.
Colton Underwood, Greyson Chance+ more Amazon Live Pride Festival!
Greyson Chance and former Bachelor star, Colton Underwood, will be streaming live to discuss how they show their Pride, answer fan questions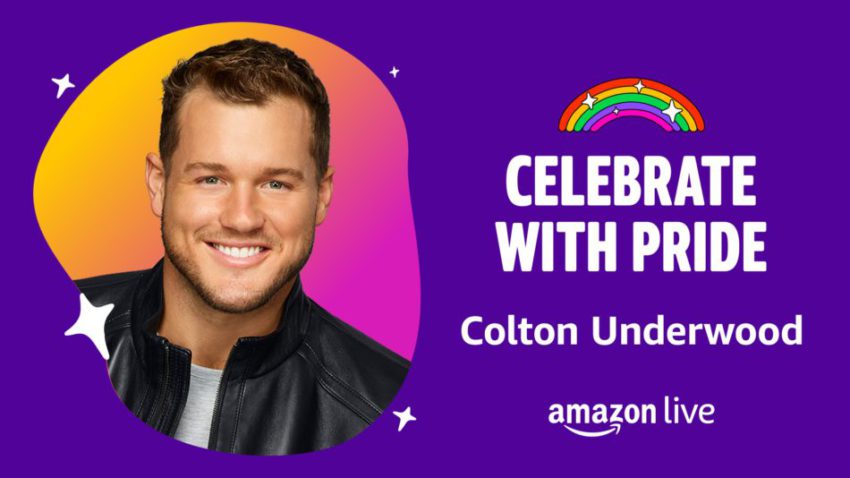 SEATTLE, WA. – Happy Pride Month! Amazon Live is hosting its first-ever Pride Festival this Thursday (6/10) and Friday (6/11) from 3-6pm ET. Your favorite celebrities and influencers, including recording artist, Greyson Chance and former Bachelor star, Colton Underwood, will be streaming live to discuss how they show their Pride, answer fan questions, and share their top Pride picks across fashion, beauty, books, movies, and TV.
Customers can watch HERE via desktop, mobile, or through the Amazon Live Shopping app on Fire TV. Customers can interact directly with the celebrities and influencers via live chat, and easily shop the products and brands discussed through a carousel that updates in real-time.
The scheduled events are as follows:
DAY ONE (6/10):
3PM ET: Greyson Chance will perform from his upcoming EP Trophies, releasing on June 25, and share his curated selection of Pride merch.
4PM ET: Jo Duree will stream a "get ready with me," inviting viewers to do their makeup alongside her as she shows top tips and tricks.
5PM ET: Pride House LA is throwing the ULTIMATE pride variety show! Featuring top products, you will be fully entertained with special guest performances and amazing talent!
DAY TWO (6/11):
3PM ET: Colton Underwood will discuss his life, answer viewer questions, and share the products that help him show off his pride.
4PM ET: Jake Warden will demo a Pride makeup look.
5PM ET: Olga Von Light will discuss her coming out story, and share some favorite Pride related merchandise and why the products are meaningful to her.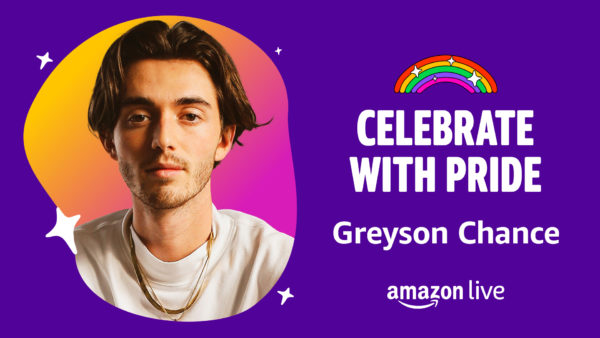 We'd love to have you join! Check out this blog post for more information about how Amazon is celebrating Pride Month.
'Can't Cancel Pride' kick-offs celebration with star-studded livestream
The second annual event will raise much-needed funds for LGBTQ+ communities most impacted by COVID-19.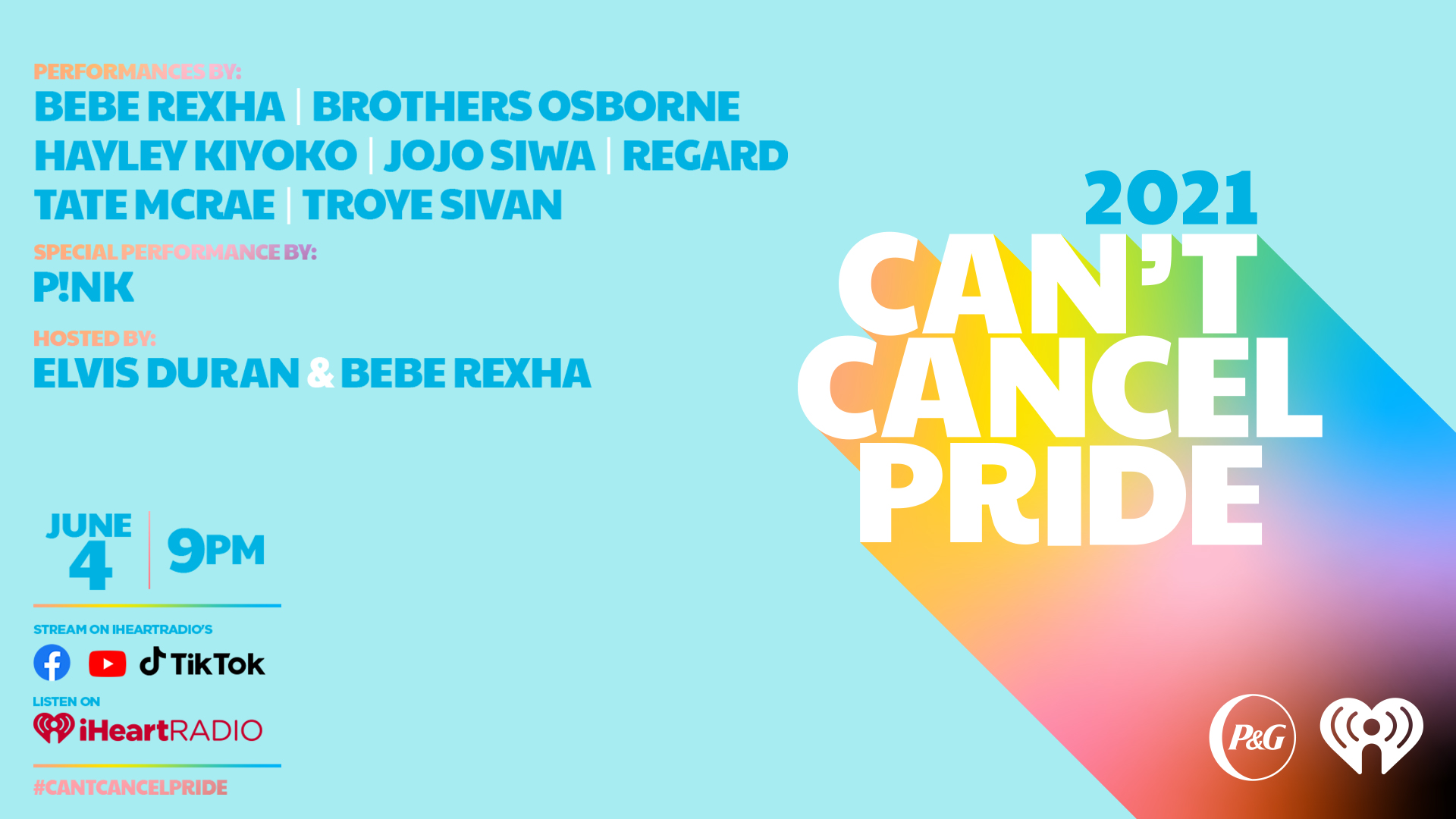 For the second year in a row, iHeartMedia is stepping up with a star-studded virtual celebration designed to keep the spirit of Pride alive and well during the still-ongoing restrictions of the Covid pandemic – and to raise some much-needed funds for the LGBTQ+ community.
"Can't Cancel Pride," presented by iHeart and Procter & Gamble, is a virtual relief benefit for the LGBTQ+ community, featuring performances and appearances from the most influential voices in the community as well as the biggest names in culture and entertainment. It's the second installment for the livestreamed event, following a successful 2020 presentation which raised over $4 million to benefit the LGBTQ+ communities most impacted by COVID-19. This year's event has a goal to raise even more in 2021, as the pandemic continues to have a damaging effect on the fundraising efforts that LGBTQ+ organizations rely on to survive.
The lineup of talent involved is truly stellar. Among the names scheduled to appear are Bebe Rexha, Brothers Osborne, Busy Phillips, Demi Lovato, Gus Kenworthy, Hayley Kiyoko, Jennifer Hudson, JoJo Siwa, Lil Nas X, Marshmello, MJ Rodriguez, Nina West, P!NK, Ricky Martin, Regard, Troye Sivan, Tate McRae, and many more. Diamond-selling singer-songwriter Rexha will also join iHeartMedia on-air personality Elvis Duran as host, as well as performing her new single "Sacrifice."
The "Can't Cancel Pride" livestream is just the beginning of iHeart's Pride month. The event will kick off a month-long celebration throughout June, with iHeartMedia radio stations airing spots to encourage listeners to watch the event on demand, share their special Pride moments on social media using the hashtag #CantCancelPride, and support the participating nonprofits by visiting cantcancelpride.com or texting "RAINBOW" to 56512.
"As the country is returning back to normal and we are slowly starting to gather again, LGBTQ+ communities around the world are still feeling the devastating effects of COVID-19," says iHeartMedia's Chief Marketing Officer, Gayle Troberman. "We look forward to once again celebrating the incredible voices and allies of the LGBTQ+ community with an amazing night of music that will honor Pride and the communities' fight for equal rights, all while benefiting six remarkable nonprofits that make an everyday positive impact."
Marc Pritchard, Chief Brand Officer for P&G, says, "'Can't Cancel Pride' is about creating visibility for the LGBTQ+ community and showing them they are not alone. The impact of the COVID-19 pandemic remains heightened for LGBTQ+ people, who continue to face issues driven by persistent bias, intolerance and inequality. We want to use our voice to help bring much needed resources, support, acts of good, and love to this remarkable and resilient community."  
Last year's month-long celebration provided critical resources for its six nonprofit partners, including:
Helping CenterLink provide microgrants to 190+ LGBTQ+ community centers and organizations.
Supporting The Trevor Project's lifeline, chat, and text crisis services, which served more than 14,000 crisis contacts from LGBTQ+ young people in June 2020 alone.
Aideing SAGE in forging connections and reducing isolation for LGBT elders during the pandemic.
Contributing to the National Black Justice Coalition's federal public policy work and Youth And Young Adult Action Council.
Distributing proceeds to benefit LGBTQ+ individuals around the world through OutRight Action International's COVID-19 Global LGBTIQ Emergency Fund.
Supported GLAAD's Spirit Day, the world's largest LGBTQ+ anti-bullying campaign.
P&G is joined in supporting "Can't Cancel Pride" by several other brand sponsors, including Allē by Allergan Aesthetics, Dawn, General Motors, The Art of Shaving and GilletteLabs, Bounty, Charmin, Jared, Puffs, Downy, Tide, OLAY, and Tito's Handmade Vodka.
The one-hour benefit special produced by iHeartMedia and P&G will stream on June 4, at 9 p.m., on iHeartRadio'sTikTok, YouTube, Facebook, Instagram TV pages, iHeartRadio's PrideRadio.com and Revry, as well as broadcasting on iHeartMedia radio stations nationwide and on the iHeartRadio App. The event will be available on demand via iHeartRadio's TikTok, YouTube, Facebook, Instagram TV pages, iHeartRadio's PrideRadio.com and Revry throughout Pride Month until Wednesday, June 30.
For those among you who are vaxxed and ready to enjoy an in-person kick-off to Pride Month, June 4 is also the first night of OUTLOUD: Raising Voices, a three-day live concert event series at Los Angeles Memorial Coliseum. A global Pride celebration that will be also be streamed (for free) around the world, the event will join forces with Pride Live's Stonewall Day to present a stellar line-up of performers curated by none other than Adam Lambert on behalf of the Feel Something Foundation. Sofi Tukker headlines on June 4, with Hayley Kiyoko topping the bill on June 5, and Lambert himself leading the pack for closing night on June 6. Additional acts performing during the weekend will include Daya, Tygapaw, Ryan Cassata, Madeline the Person, Mykki Blanco, Madame Gandhi, Malia Civetz, Vincint (feat. Parson James, Queen Herby and Ty Sutherland), Sam Sparro, Angel Bonilla, and many others. For details and tickets to the live event, visit the OUTLOUD website.