'Can't Cancel Pride' kick-offs celebration with star-studded livestream
The second annual event will raise much-needed funds for LGBTQ+ communities most impacted by COVID-19.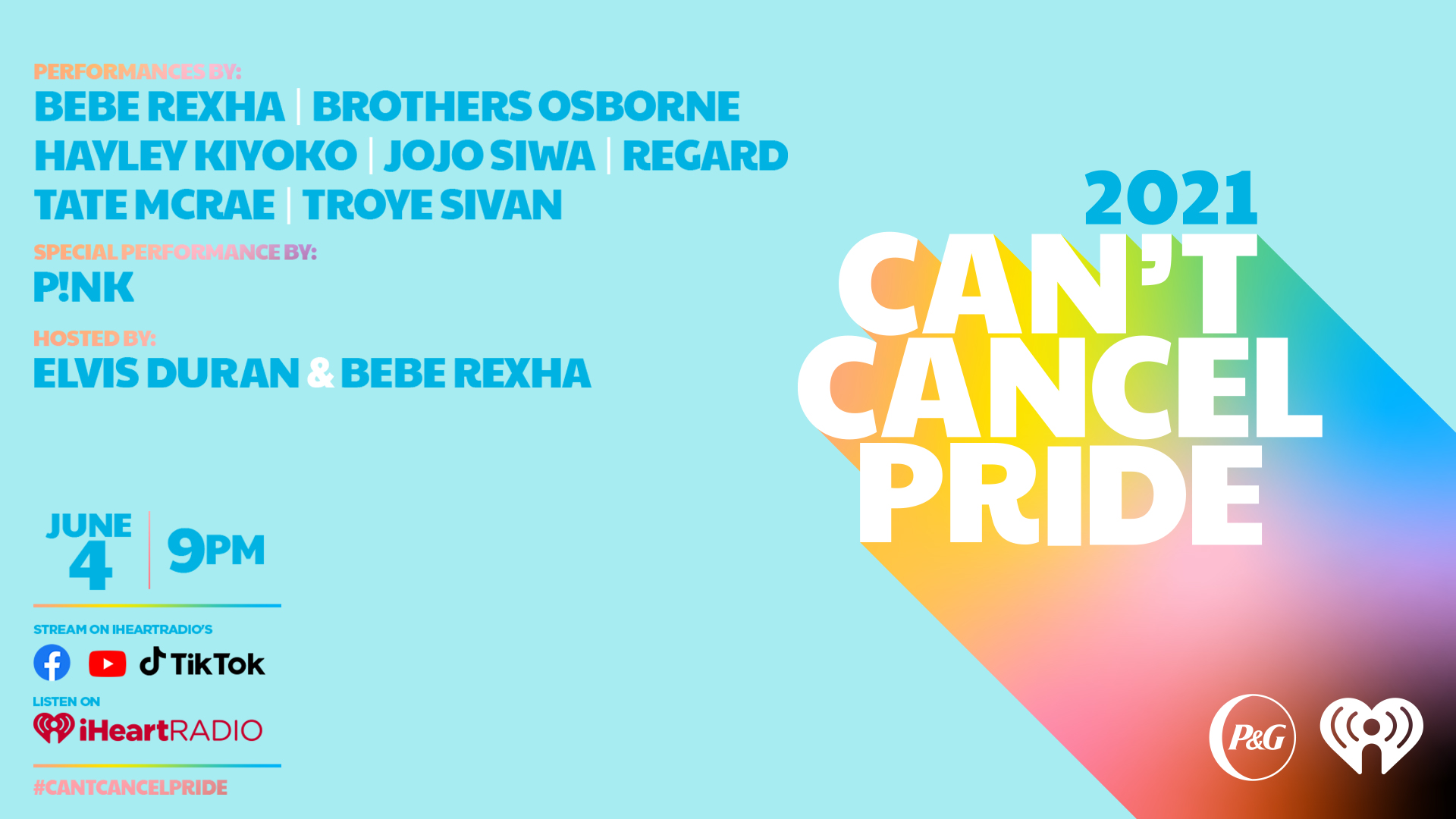 For the second year in a row, iHeartMedia is stepping up with a star-studded virtual celebration designed to keep the spirit of Pride alive and well during the still-ongoing restrictions of the Covid pandemic – and to raise some much-needed funds for the LGBTQ+ community.
"Can't Cancel Pride," presented by iHeart and Procter & Gamble, is a virtual relief benefit for the LGBTQ+ community, featuring performances and appearances from the most influential voices in the community as well as the biggest names in culture and entertainment. It's the second installment for the livestreamed event, following a successful 2020 presentation which raised over $4 million to benefit the LGBTQ+ communities most impacted by COVID-19. This year's event has a goal to raise even more in 2021, as the pandemic continues to have a damaging effect on the fundraising efforts that LGBTQ+ organizations rely on to survive.
The lineup of talent involved is truly stellar. Among the names scheduled to appear are Bebe Rexha, Brothers Osborne, Busy Phillips, Demi Lovato, Gus Kenworthy, Hayley Kiyoko, Jennifer Hudson, JoJo Siwa, Lil Nas X, Marshmello, MJ Rodriguez, Nina West, P!NK, Ricky Martin, Regard, Troye Sivan, Tate McRae, and many more. Diamond-selling singer-songwriter Rexha will also join iHeartMedia on-air personality Elvis Duran as host, as well as performing her new single "Sacrifice."
The "Can't Cancel Pride" livestream is just the beginning of iHeart's Pride month. The event will kick off a month-long celebration throughout June, with iHeartMedia radio stations airing spots to encourage listeners to watch the event on demand, share their special Pride moments on social media using the hashtag #CantCancelPride, and support the participating nonprofits by visiting cantcancelpride.com or texting "RAINBOW" to 56512.
"As the country is returning back to normal and we are slowly starting to gather again, LGBTQ+ communities around the world are still feeling the devastating effects of COVID-19," says iHeartMedia's Chief Marketing Officer, Gayle Troberman. "We look forward to once again celebrating the incredible voices and allies of the LGBTQ+ community with an amazing night of music that will honor Pride and the communities' fight for equal rights, all while benefiting six remarkable nonprofits that make an everyday positive impact."
Marc Pritchard, Chief Brand Officer for P&G, says, "'Can't Cancel Pride' is about creating visibility for the LGBTQ+ community and showing them they are not alone. The impact of the COVID-19 pandemic remains heightened for LGBTQ+ people, who continue to face issues driven by persistent bias, intolerance and inequality. We want to use our voice to help bring much needed resources, support, acts of good, and love to this remarkable and resilient community."  
Last year's month-long celebration provided critical resources for its six nonprofit partners, including:
Helping CenterLink provide microgrants to 190+ LGBTQ+ community centers and organizations.
Supporting The Trevor Project's lifeline, chat, and text crisis services, which served more than 14,000 crisis contacts from LGBTQ+ young people in June 2020 alone.
Aideing SAGE in forging connections and reducing isolation for LGBT elders during the pandemic.
Contributing to the National Black Justice Coalition's federal public policy work and Youth And Young Adult Action Council.
Distributing proceeds to benefit LGBTQ+ individuals around the world through OutRight Action International's COVID-19 Global LGBTIQ Emergency Fund.
Supported GLAAD's Spirit Day, the world's largest LGBTQ+ anti-bullying campaign.
P&G is joined in supporting "Can't Cancel Pride" by several other brand sponsors, including Allē by Allergan Aesthetics, Dawn, General Motors, The Art of Shaving and GilletteLabs, Bounty, Charmin, Jared, Puffs, Downy, Tide, OLAY, and Tito's Handmade Vodka.
The one-hour benefit special produced by iHeartMedia and P&G will stream on June 4, at 9 p.m., on iHeartRadio'sTikTok, YouTube, Facebook, Instagram TV pages, iHeartRadio's PrideRadio.com and Revry, as well as broadcasting on iHeartMedia radio stations nationwide and on the iHeartRadio App. The event will be available on demand via iHeartRadio's TikTok, YouTube, Facebook, Instagram TV pages, iHeartRadio's PrideRadio.com and Revry throughout Pride Month until Wednesday, June 30.
For those among you who are vaxxed and ready to enjoy an in-person kick-off to Pride Month, June 4 is also the first night of OUTLOUD: Raising Voices, a three-day live concert event series at Los Angeles Memorial Coliseum. A global Pride celebration that will be also be streamed (for free) around the world, the event will join forces with Pride Live's Stonewall Day to present a stellar line-up of performers curated by none other than Adam Lambert on behalf of the Feel Something Foundation. Sofi Tukker headlines on June 4, with Hayley Kiyoko topping the bill on June 5, and Lambert himself leading the pack for closing night on June 6. Additional acts performing during the weekend will include Daya, Tygapaw, Ryan Cassata, Madeline the Person, Mykki Blanco, Madame Gandhi, Malia Civetz, Vincint (feat. Parson James, Queen Herby and Ty Sutherland), Sam Sparro, Angel Bonilla, and many others. For details and tickets to the live event, visit the OUTLOUD website.
Forget Santa Claus – Ginger Minj is comin' to town
'Drag Race' alum's Winter Wonderland Tour stops in D.C. Nov. 29 and 30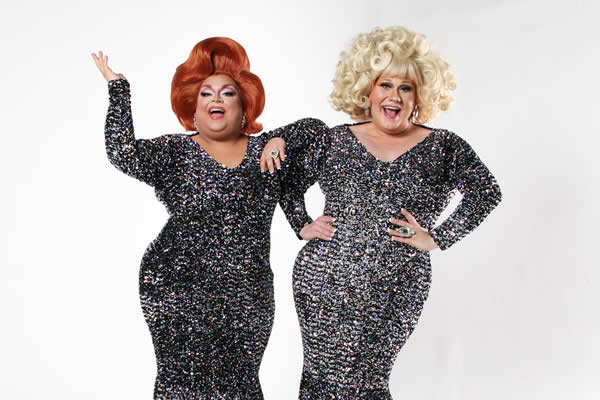 Ginger Minj is a busy little elf.
From her new country album "Double Wide Diva" to sporadic stints in TV and movies to her upcoming book, "Southern Fried Sass" (which reportedly scored her a six-figure deal), the "Drag Race" diva is everywhere these days, including a venue near you. On Nov. 29 and 30, the new queen of Christmas will perform her holiday spectacular Winter Wonderland Tour at Miracle Theatre.
We recently caught up with the multitalented actress/comedian/singer to discuss her continued success, including making friends with Jennifer Aniston while filming Netflix's "Dumplin,'" her take on the latest Dave Chappelle backlash, the best Christmas gift she's ever received, and what exactly makes her the "nicest bitch" this side of the North Pole – but first, let's take a sleigh ride back to the beginning.
BLADE: Tell me a bit about how you got started in drag and the genesis of Ginger Minj.
GINGER MINJ: Like most good show-tune-loving queers, I stumbled into drag through musical theater. I auditioned for a show that required either full-frontal nudity or drag, and I figured I would fare better in a wig and heels than nothing at all. I got the role and really took to it quickly. I felt more free and honest as a performer than I ever had before, and I realized I could make a livable income doing something that I was wholly responsible for creating.
BLADE: How has your appearance on "Drag Race" helped your career, and what are your top takeaways from your time on the show?
GM: It's an international platform that allows us to introduce ourselves to the entire world. It got me a seat at the table with people and places that refused to even open the door for me in the past. I think there was – and maybe still is sometimes – this initial assumption that drag artists are limited in their talents, but we have been able to show the world that we are just as talented and capable as any other entertainer. I don't wear a wig as a gimmick. I wear it as an accessory, and it doesn't mean I shouldn't be taken as seriously as any other actor, singer, etc. "Drag Race" is doing a great job of showing the world that – and I'll forever be grateful.
BLADE: If folks didn't catch you on "Drag Race," they might recognize you from the 2018 Netflix movie "Dumplin'" starring Jennifer Aniston and Dove Cameron. What was your experience like on set, and do you have any other TV/film projects in the works?
GM: "Dumplin'" was the single best experience of my life! Jennifer Aniston brought me coffee every morning, and Kathy Najimy had my trailer moved next to hers so we could listen to Beyoncé and play with makeup. That entire cast and crew treated all of us queens with unbelievable respect. It really gave me a passion for filmmaking and, yes, I'm happy to say there are a few more projects – big screen and small – coming your way soon.
BLADE: What makes you the "nicest bitch you'll ever meet?"
GM: It's like those good ole' southern church ladies who will give you the shirts off their backs but read you to filth for not bringing one of your own. The only thing bigger than my mouth is my heart and the "shady" things I say should never be taken seriously.
BLADE: As a comedian yourself, what are your thoughts on the latest Dave Chappelle/Netflix controversy?
GM: I've always felt like comedy and drag go hand in hand: It's an outrageous way to start a conversation and make people confront their own feelings about anything and everything. That being said, I think there's a way to do that without disparaging and discrediting an entire group of human beings. I think it's shameful that someone with that great of a platform would choose to punch down.
BLADE: Your new single "Walk Tall" is about growing up gay in the South – and it's a very good song. Radio worthy even, but a hard sell, given its content, to a country-music audience. How do you think that changes? Will LGBTQ+ country artists ever enjoy the kind of success their straight counterparts do?
GM: I think so. To be completely honest with you, I've gotten much more support for that album from the country community than I have from the drag world. The message is so universal, and we were very careful to do it in an authentic, simple way. When we stop focusing on our differences and start embracing our similarities, the world can change. I just do the things that make me happy and hope it finds the people who need to hear it.
BLADE: Christmas is just around the corner – do you prefer giving or receiving? What's your most prized Christmas present from the past?
GM: I'm definitely a giver! I drive myself crazy for months researching and planning and looking for the perfect gifts for everyone. It's my way of showing the people I care most about that while I may be busy, I'm listening. I hear them, I see them, and I appreciate them. The best Christmas present I ever got was a cheap plastic pair of ruby slippers from my mama when I was a kid. I still have them. That moment changed my life forever. It's what actually inspired "Walk Tall."
BLADE: Like Santa Claus himself, the Ginger Minj Winter Wonderland Tour 2021 is coming to town. What do you have in store for audiences this holiday season?
GM: What don't we have in store?! There are 20 costume changes, instructional videos gone terribly wrong, singing, dancing, magic tricks, fog machines, comedy, and it even snows over the audience! This is the biggest, prettiest, most ambitious show we have ever put together.
BLADE: Looking forward to 2022, what's in the works? What are a few of your New Year's resolutions?
GM: So many great things — more music, some movies, some TV, a stage production of "La Cage aux Folles" in Chicago, and my book "Southern Fried Sass" will hit the shelves. It's a great time to be the "Glamour Toad," and I am grateful every single day.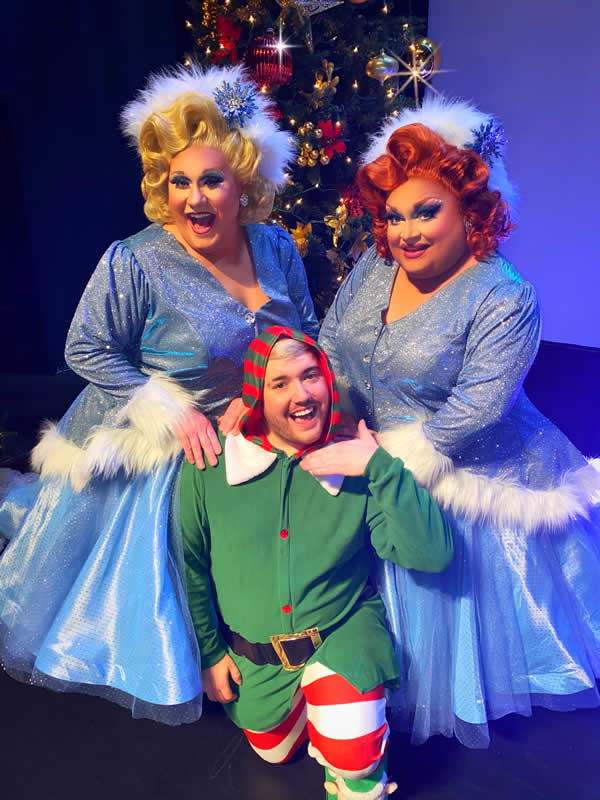 Mikey Rox is an award-winning journalist and LGBT lifestyle expert whose work has been published in more than 100 outlets across the world. Connect with Mikey on Instagram @mikeyroxtravels.
Forget streaming, the holiday classics return to area stages
Bring your proof of vaccination and check out a local production this season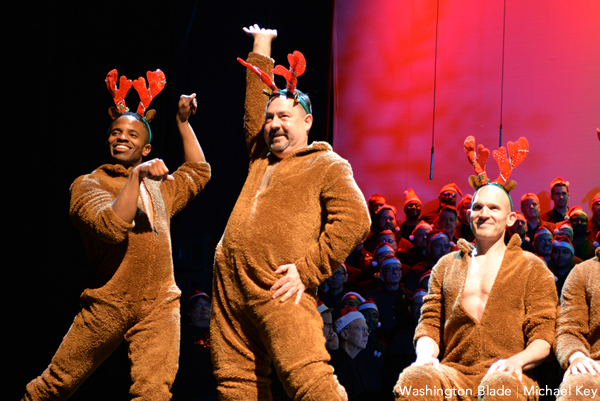 A year ago, the holiday season was streamed. But now, thanks to various protocols including masks and proof of vaccination, DMV theatergoers can come together and experience – live and in-person — both beloved classics and some promising new works. Here's a smattering of what's out there.
At Olney Theatre, Paul Morello is thrilled to bring back "A Christmas Carol 2021" (through Dec. 26), his solo adaptation of Dickens' ghost story. Concerning returning to a live audience, Morello says, "While this is technically a one-person show, it's really about the connection and collaboration with an audience, being in the same room, breathing in unison. I can't do this without an audience and for a story that thrives on redemption, mortality, isolation, the need for community and connection, and the things that matter most, the timing couldn't be better."
Olney also presents "Disney's Beauty and the Beast" through Jan. 2. This musical "tale as old as time" stars out actor Jade Jones as Belle and Evan Ruggiero plays the Beast. olneytheatre.org
For the holidays, Synetic Theater at Crystal City is reworking "Cinderella" (Nov. 27-Dec. 26). Led by an all-female team of creators, this festive take on the classic fairytale is inspired by Afro-Latino music and dance. Directed and adapted by Maria Simpkins who also plays the title role. synetictheater.org
Last year, because of COVID-19, Ford's Theatre presented "A Christmas Carol" as a radio broadcast, but now the fully produced play returns to the venue's historic stage through Dec. 27. A popular Washington tradition for more than 30 years, the thoroughly enjoyable and topnotch take on the Dickens' classic features Craig Wallace reprising the part of Scrooge, the miser who after a night of ghostly visits, rediscovers Christmas joy. fords.org
Another D.C. tradition guaranteed to put audiences in a holiday mood is the Washington Ballet's "Nutcracker," playing at the Warner Theatre through Dec. 26. Set to Tchaikovsky's enchanted score, this charming and superbly executed offering takes place in Georgetown circa 1882 and features a retinue of historic figures along with children, rats, fairies and a mysterious godfather. Choreography is by Septime Webre. washingtonballet.org
The Folger Consort, the superb early music ensemble in residence at the Folger, will be performing seven concerts of "A Medieval Christmas" (Dec. 10-18) at St. Mark's Church on Capitol Hill. A streaming version of the concert will also be available to view on-demand. folger.edu
At Lincoln Theatre, the Gay Men's Chorus of Washington, D.C. presents "The Holiday Show" (Dec. 4, 11, and 12) replete with tap-dancing elves, a dancing Christmas tree, snow, and a lot more. The fun and festive program's song list includes "Let It Snow! Let It Snow! Let It Snow!", "The 12 Rockin' Days of Christmas," and "Boogie Woogie Frosty." Featured performances range from the full Chorus, soloists, all GMCW ensembles, and the GenOUT Youth Chorus. gmcw.org
Arena Stage is marking the season with August Wilson's "Seven Guitars" (through Dec. 26), a drama about a small group of friends who gather following the untimely death of their friend, a blues guitarist on the edge of stardom. Directed by Tazewell Thompson, the production features an exciting cast that includes local actors Dane Figueroa Edidi and Roz White. arenastage.org
Creative Cauldron is serving up some holiday magic with "The Christmas Angel" (Dec. 9-19). Based on a little-known 1910 novel by Abbey Farwell Brown, it's the story of a lonely and bitter spinster who returns to happiness through a box of old toys. The commissioned new holiday musical is a collaboration of longtime musical collaborators and married couple Matt Conner and Stephen Gregory Smith (lyrics and book). creativecauldron.org
In keeping with the Yuletide spirit, the National Theatre presents two feel-good national tour musicals. First, it's "How the Grinch Stole Christmas!" (through Dec. 5), a musical take on Dr. Seuss' classic holiday tale featuring the hit songs "You're A Mean One, Mr. Grinch" and "Welcome Christmas."
Next up is "Tootsie" (Dec. 7-12), the hit musical based on the 1982 gender-bending film starring Dustin Hoffman as an out-of-work actor who disguises himself as a woman to land a role on a popular soap opera. The show boasts a Tony-winning book by Robert Horn and a score by Tony winner David Yazbek (The Band's Visit). thenationaldc.com
Keegan Theatre presents its annual holiday offering, "An Irish Carol" (Dec. 10-31). Set in a modern Dublin pub, the funny yet poignant original work (a nod to Dickens) tracks the changes in the life of a rich but miserable publican over the course of one Christmas Eve. keegantheatre.org
At Theater J, it's the Kinsey Sicks' "Oy Vey in a Manger" (Dec. 17-25). Blending drag, four-part harmony, and political humor, the "dragapella beautyshop quartet" brings its own hilariously irreverent view on the holidays. theaterj.org
And through Jan. 2, Signature Theatre continues to brighten the season with its production of Jonathan Larson's "Rent" directed by the company's out artistic director Matthew Gardiner and featuring out actor David Merino as Angel, a preternaturally energetic drag queen and percussionist. sigtheare.org
The Music Center at Strathmore, also in Bethesda, is presenting a wide range of musical holiday offerings including "Manheim Steamroller Christmas" (Dec. 3 and 4), a multimedia holiday tradition; Sarah Brightman in "A Christmas Symphony" (Dec. 6 and 7); "A Celtic Christmas with Séan Heely Celtic Band" (Dec. 11); Washington Bach Consort's "Bach's Epic Christmas Oratorio" (Dec. 11); the beloved "The Washington Chorus: A Candlelight Christmas" (Dec. 16 and 17); and last but not least "The Hip Hop Nutcracker" (Dec. 20), Tchaikovsky's classic reimagined with MC Kurtis Blow ("White Lines"). strathmore.org
And finally, something strictly for the kids: Imagination Stage presents "Corduroy" (Dec. 11-Jan. 24). Based on the beloved children's books by Don Freeman, it's the heartwarming story of a girl and her perfectly imperfect Teddy Bear. Best for ages 3-9. imaginationstage.org
Disco Funk Brunch at Crazy Aunt Helen's
Tara Hoot and DJ Phil Reese perform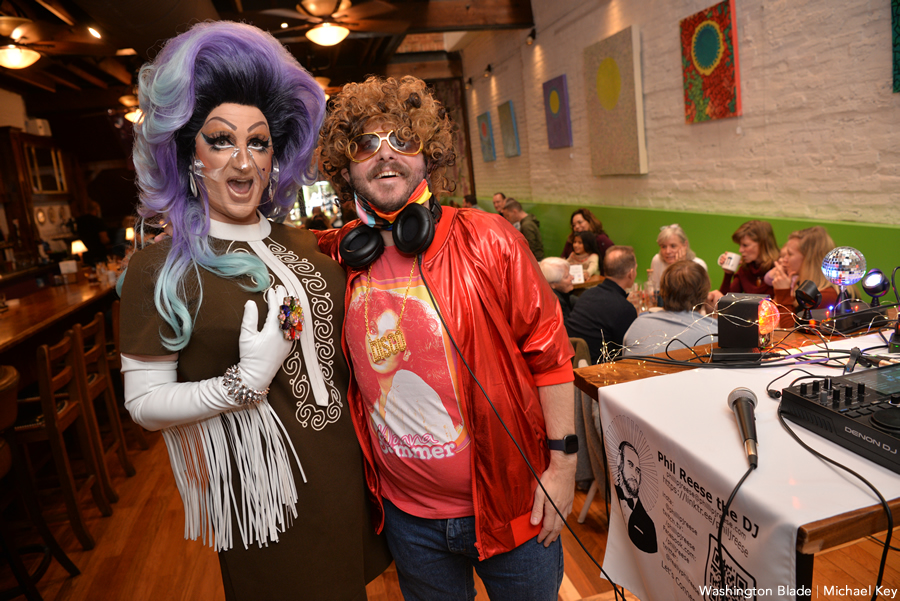 Drag queen Tara Hoot and DJ Phil Reese perform at the biweekly Disco Funk Brunch at the LGBT-owned Crazy Aunt Helen's on Sunday. For future showtimes, go to crazyaunthelens.com. (Blade photo by Michael Key)