Opinion | Pride offers LGBTQ youth opportunities for community
Whether out or not, everyone benefits from annual celebrations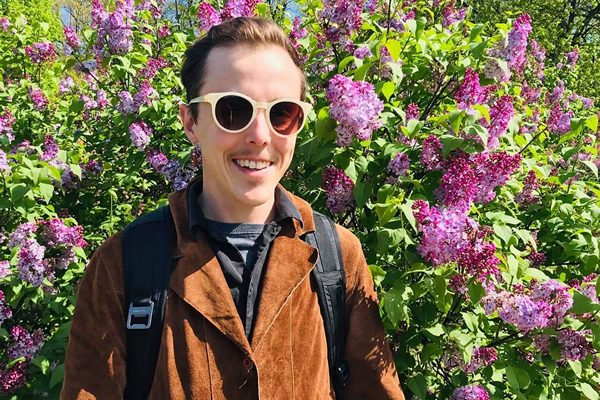 For teenagers, many of whom are not out, Pride month can mean everything. Whether it is a parade where they can watch from the sidelines or the solidarity expressed in rainbow flags posted around their towns, some LGBTQ teens get quiet comfort in knowing the celebration simply exists.
A spring survey by the Urban Media Health Project, a D.C.-based non-profit that teaches high school students from under-resourced communities to report on health issues, asked young people how they show their pride.
"I'm not out to my parents due to safety concerns, so I try to show my pride by including the colors of my flag into what I wear (purple, blue and pink), and by supporting my friends who are out as well as those who aren't," one teen responded anonymously.
This year Pride is more important than ever because teens have been more alone than ever.
Aileen Delgado, 17, is an ally who lives in Miami and said she has seen friends struggling. "Quarantine might have restricted them to staying in abusive/homophobic households with nowhere else to go," she said. "Pride means continuing to support those friends."
For Arin Jayes, a 30-year-old non-binary trans man living in Baltimore, Pride has always been important.
"But if COVID-19 has taught me anything, it is that time is not guaranteed, and we must consider what makes life worth living and embrace it," he said in an email. "Every time Pride month rolls around I recommit to my true self, but this year it feels all the more important."
Capital Pride Alliance is hosting events all month intended to spread pride throughout D.C. This year, to stay safe, they organized a "Colorful Pridemobile Parade," a caravan that travelled throughout the city instead of a localized parade centered around Dupont Circle. They asked residents in diverse neighborhoods to decorate their yards and homes with colors, flags, and symbols of pride for the June 12 event.
Still to come is a virtual gathering for teens on June 24. Capital Pride is teaming up with Prince George's County Memorial Library System to host a Teen Pride Lounge from 5-7 p.m. Up to 200 people can join in for free by registering via the Capital Pride website.
Importance of Pride to youth
Dave Daswell, 30, of Silver Spring, attended many Pride events as a young person, and recommends others do, too.
"It is a big thing," said Daswell, who is a concierge at a D.C.-area hotel. "You'll be surprised who you meet. You meet really good, important people who maybe could become a mentor for you, or maybe to help you grow in different areas. So networking is good, especially at Pride, because people come from all types of lives and backgrounds."
Radiah Jamil, a rising high school senior at Brooklyn Latin School, has attended Pride events in New York City, and found them to be eye-opening for people like her who are outside the LGBTQ community.
"I've seen huge and vibrant Pride parades in-person where I live in NYC, and it has expanded the amount of LGBTQ representation I've had exposure to," she said. "In the media and at school I think I was hardly exposed to LGBTQ obstacles or even people identifying as LGBTQ, so from the Pride month gatherings I've been able to visualize LGBTQ issues along with how much of the population supports or is LGBTQ outside of my limited circle of people."
For young people, the fight continues. A small group of high school students in a Prince George's County, Md. Gay Straight Alliance were able to meet virtually twice a week throughout the pandemic.
Even though they could not be together in person, the group bonded through their struggles, sitting in their bedrooms, on computer screens. One 11th-grade student who identifies as gay but is not out to his mother, told her it was a meeting of the Chinese Honor Society. Another 10th grader who identifies as bisexual shared her feelings about being rejected by her mother because of her religion. Another talked about his father's toxic masculinity that destroyed their relationship.
LGBTQ youth can derive similar support from Pride events. Those who are out get positive reinforcement; those who are not out can still participate because Pride is for everyone.
Pride events offered an opportunity for 19-year-old Eden Ungar, of Louisville, Ky., to celebrate with her family and friends. Her first Pride, she attended with friends. The next year, when she was out, she told her family and they participated with her.
"Pride means being able to live uninhibitedly and as fully myself," said Ungar "This is so important to me because I've been afraid to do that at times in the past."

Adrian Gibbons is a 2021 graduate of Boston University, where he was a film major. A trans male, Gibbons is an intern with the Urban Health Media Project. Mary Stapp teaches journalism in D.C- area high schools and is the D.C. state director of the Journalism Education Association. This article is part of our 2021 Youth Pride issue in partnership with the Urban Health Media Project.
Opinion | U.S. senators: It's time to act against anti-LGBTQ discrimination
Draw your inspiration from past bipartisan consensus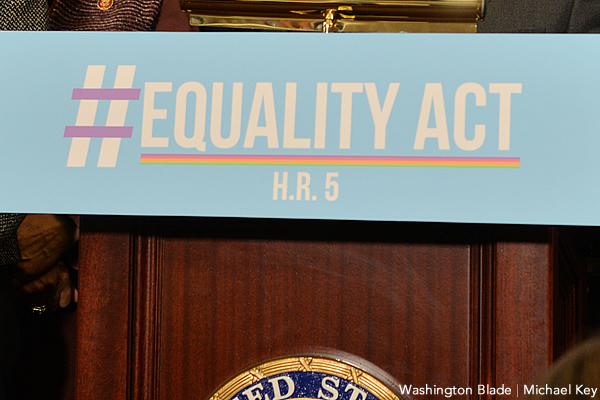 Georgia has had the eyes of the nation on it for some time now. It's just over five years since people across Georgia braced themselves as lawmakers sent sweeping anti-LGBTQ legislation to the desk of then-Gov. Nathan Deal. The LGBTQ community feared for the potential harms that the broad "license to discriminate" bill could bring. Business leaders feared billions of dollars being drained from the state's economy as major players from Hollywood, the business sector, and even the NFL threatened to pull investments.
But after thousands of calls, meetings, and letters, Gov. Deal, a Republican and devout Evangelical Christian, ultimately did the right thing. He vetoed the bill, saying, "We do not have a belief in my way of looking at religion that says we have to discriminate against anybody."
At the time Gov. Deal's veto was heralded as a radical move for a Republican leader. But the truth is that Republican lawmakers faced with bills targeting LGBTQ people frequently take action against these measures. We saw it last month in Arkansas as Gov. Asa Hutchinson vetoed a draconian anti-transgender healthcare bill. Earlier this year, Utah Gov. Spencer Cox teared up while condemning an anti-trans bill, saying, "These kids are just trying to stay alive." Prominent Republican leaders in South Dakota, Texas, South Carolina, and Arizona have vetoed or moved to block anti-LGBTQ bills. Stalwart Republican senators from Alabama and Iowa have passionately supported open military service for transgender people.
There are plenty of examples of Republicans supporting LGBTQ people, but they've often been lost in the headlines stoking the so-called left-versus-right "culture wars."
In my home state of Georgia, Gov. Deal's action inspired further evolution on LGBTQ issues. In the five legislative sessions since Gov. Deal's veto, Georgia's legislature has not passed a single anti-LGBTQ bill. Republicans and Democrats alike have defended LGBTQ Georgians from discriminatory measures. And so many Georgians across the political spectrum – within families, friend groups, and workforces – have had conversations about what dignity for LGBTQ people looks like.
Now it's time for the members of the United States Senate to build on that consensus by taking the most important and critical step yet for LGBTQ Americans. It's time for senators on both sides of the aisle to come together and enact equality legislation that would establish concrete, enduring nondiscrimination protections for all LGBTQ people in areas like housing and public spaces, including restaurants, stores, and hospitals. LGBTQ people in too many states – 29 nationwide – remain vulnerable because of a lack of explicit nondiscrimination laws at the state and federal levels.
Polling consistently shows that a wide majority of Americans of both political parties strongly supports protecting LGBTQ people from discrimination. More than eight in 10 Americans support LGBTQ-inclusive nondiscrimination laws, including 62% of Republicans. We cannot let the loudest voices of a fringe minority hold our country back from delivering the promise of liberty, security, and equality for all people, no matter where they live.
Because really, we are so close to passing federal LGBTQ protections – closer than ever before. Nearly 50 years after its first introduction in Congress, the Equality Act passed with bipartisan support in the House, and received its first-ever Senate hearing. Republican senators in the Senate Judiciary Committee voiced empathy for the harms that discrimination has caused LGBTQ people. They also expressed a willingness to finding a path to protect us. And there is more than one bill proposed to address the inequity that LGBTQ people are subjected to. The Senate judiciary committee opened a door to the long overdue conversation.
Now it's on us to hold that door open and guide all of our senators through. Democratic senators must reach out to their Republican colleagues and address concerns. Republicans must draw on the many recent examples of conservative leaders working to protect LGBTQ people.
We can't afford another 50 years of federal inaction on our protections. We can't afford for the two parties to keep butting heads in a bitter stalemate. For the first time in history, we have a real opportunity to secure protections for LGBTQ Americans.
We must seize this opportunity, seek common ground and find a solution that works for everyone. It's essential that right, left, and center come together, reach consensus, and do the right thing. At last.
Jeff Graham is executive director of Georgia Equality. Reach him at [email protected].
Opinion | Why LGBTQ people should fear new Texas abortion law
Slippery slope measure turns private citizens into enforcers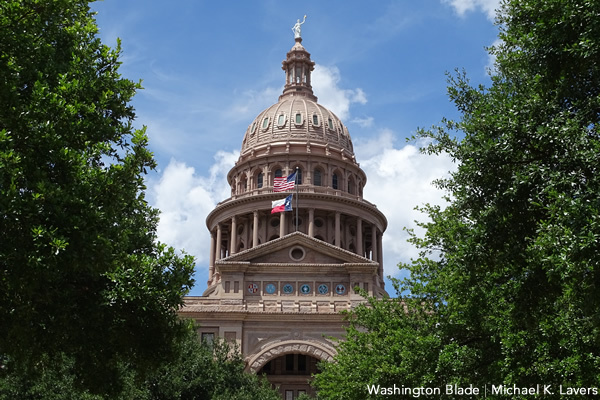 I worry about everything from climate change to violence against transgender people to racism to reproductive freedom for women. But, until recently, I didn't have to worry that a "$10,000 bounty" could be collected from me if I helped a woman to have an abortion.
Yet, this is now a terrifying concern for abortion providers, advocates of women's reproductive rights and those who value civil liberties. Especially, for people in Texas.
If you value the right to privacy and are LGBTQ or a queer ally, you should be terrified.
Here's why everyone with a sense of decency should feel the hair standing up on the back of their necks: It's no secret, that the Supreme Court, more conservative since the court of the 1930s, is likely eyeing the chance to overthrow or gut Roe V. Wade.
In May, the Supreme Court said that, in its next term (beginning in October 2021), it would consider an abortion case involving a Mississippi law that would prohibit most abortions after 15 weeks of pregnancy (about two months earlier than permitted by Roe v. Wade).
The Court's decision to consider this case gives hope to anti-abortion activists seeking the overthrow of Roe v. Wade.
States with Republican-controlled legislatures, aware of the make-up of the Supreme Court (with its conservative 6 to 3 majority), have acted quickly to severely weaken abortion rights. This has been especially true this year.
"More abortion restrictions — 90 — have already been enacted in 2021 than in any year since the Roe v. Wade decision was handed down in 1973," according to a Guttmacher Institute report.
On May 19, Gov. Greg Abbott of Texas signed a draconian abortion bill into law. This measure, known as a "heartbeat law," bans abortion after six weeks of pregnancy.
Many women, at the six-week point, have no idea that they're pregnant.
This is bad enough. Other states, including Ohio, Georgia, Louisiana, Missouri, Alabama, Kentucky and South Carolina have passed "heartbeat" laws banning abortion (when a fetal heartbeat can be detected).
But the legislation signed into law this spring by Gov. Abbott is even more insidious.
The legislation, scheduled to take effect in September 2021, gives private citizens the right to sue doctors and abortion clinic employees.
It doesn't stop there. The new law permits a private citizen (from a pastor to an Uber driver to a friend, family member or perfect stranger) to sue anyone who performs or helps anyone to get an abortion. Even private citizens not living in Texas could sue people performing or helping someone to get an abortion.
Each private citizen could potentially be awarded $10,000 for every illegal abortion.
The law doesn't allow for abortion in the case of rape or incest. Though it would permit abortions in rare medical instances. Thankfully, on July 13, a coalition of abortion rights and civil liberties advocates, including abortion clinics, doctors, clergy, filed a federal lawsuit to challenge this new law.
Six-week abortion bans passed by other states have been successfully challenged because abortion rights advocates sued government officials.
But Texas's new law prohibits state officials from enforcing it. It's set up to be enforced by private citizens.
"We had to devise a unique strategy to fight this subversive law," Nancy Northup, president and chief executive of the Center for Reproductive Rights, said in a statement. "We will pursue every legal avenue we can to block this pernicious law."
This new law sets up a dangerous slippery slope for LGBTQ folk.
If a private citizen is allowed to sue anyone assisting a woman having an abortion, what, for example, would prevent anyone (from a minister to a friend to a cab driver) who helps a queer couple to adopt a child? Or suing anyone helping a transgender person to get health care.
Let's do all we can to support the effort to block this dangerous law.
Kathi Wolfe, a writer and a poet, is a regular contributor to the Blade.
Opinion | LGBTQ victories are largely legal, not legislative
Leading lobbying groups ineffective as we face hostile Supreme Court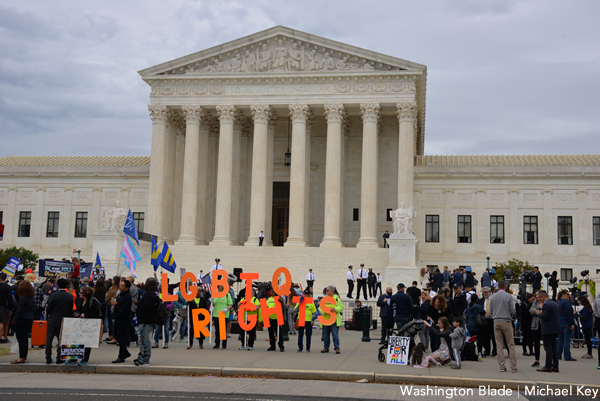 The recent conclusion of last month's Pride month celebrations marked an annual milestone in both the history and advancements of rights for the LGBTQ community. The progress for LGBTQ rights over the last two decades has been groundbreaking – oftentimes described as an exemplary movement obtaining rights for a marginalized community. It was less than 20 years ago the United States Supreme Court struck down the country's first real gay rights test in Lawrence v. Texas, decriminalizing "homosexual conduct" among consenting adults.
Even in the most recent years, we all recognize how major achievements like marriage equality to the protection of gay adoption – to the recent action ensuring a fully inclusive military with transgender service – have benefited the community. But with new attacks arising daily in state capitals around the nation, like transgender sports becoming the new "bathroom bill," LGBTQ future generations are counting on the leading LGBTQ rights and legal organizations to secure more equality.
Almost unanimously, these groundbreaking rights – while being achieved at almost lightning speed (although not fast enough for the millions of LGBTQ Americans whose lives have been, and still being impacted) – have been won in American courtrooms, not the halls of Congress.
While the first federal LGBTQ rights bill was introduced in Congress in 1975 by former Rep. Bella Abzug (D-N.Y.) making it illegal to discriminate on the basis of sexual orientation, it was simply referred to the Judiciary Committee and died. Forty-six years later barring discrimination on the basis of sexual orientation or gender identity, part of today's Equality Act, has still not been passed into law by the LGBTQ lobbying organizations – and faces a similar fate this year in the U.S. Senate.
The Equality Act, the chief legislative target for Washington, D.C.'s LGBTQ lobbying organizations is dead in Congress despite the ripest political environment with a Democratic House, Senate and White House. The Senate's filibuster and Sen. Mitch McConnell (R-Ky.) are major structural problems for the legislation, but there is not even serious discussion or demands from the LGBTQ lobbying community to insist on passage through filibuster reform.
Must we automatically presume the LGBTQ community is so low a priority we are essentially beholden to prejudice of the minority in the Senate? When, therefore, can we ever expect any action? If not now, then when will gay lobbying succeed?
As an LGBTQ researcher at the University of Sydney in preparation for a new academic piece, I wanted to find out how groundbreaking LGBTQ rights could be won in courtrooms while lingering in Congress for half a century. The central question this research tried to answer was, "what factors contribute to LGBTQ lobbyist and advocate perceptions of movement success by LGBTQ organizations?" The answer became pretty clear when surveying the top LGBTQ lobbying and government affairs professionals, the ones with the most intimate, front-line view of congressional outreach.
Overwhelmingly, the research concludes the leading mainstream legal organizations have been primarily responsible for the community's progress – not the LGBTQ organization's lobbying efforts. The Human Rights Campaign (HRC), the wealthiest LGBTQ organization with a $48 million a year budget based in Washington, D.C. and founded 41 years ago, was ranked 10th most effective out of 17 organizations ranked. Since 2018, HRC has fallen six additional positions since the original research was published. In contrast, Lambda Legal, the LGBTQ community's foremost legal rights organization, followed by the legal powerhouse, the ACLU, have moved ahead of them ranking as the most effective LGBTQ organizations.
The research clearly demonstrates the ineffectiveness of the LGBTQ lobby, which has largely focused on gaining access to power structures instead of winning legislative victories. Fundraising models of these organizations, built largely around monetizing their access to power, has left little evidence of their effectiveness and in turn, has strengthened systems of oppression against an overwhelming number of LGBTQ people of color, transgender individuals and lower-income members of the community. The "access to power" model of LGBTQ lobbying has essentially commercialized gayness (white, cisgender, English-speaking, middle and upper class gayness) as a consumable product that most often benefits those in power. It's a "scratch my back, and I'll scratch yours" system of lobbying that shuts the door on the most marginalized LGBTQ people – those most in need of legislative victories to protect their lives.
Today, regardless of all of the progress in LGBTQ legal victories over the last two decades, the community is in the most dangerous place it has been in 25 years. LGBTQ lobbying does not work, and LGBTQ legal avenues have catastrophically changed. The 6-3 Supreme Court is poised to undermine Roe, which some say undermines Lawrence, which undermines Obergefell (the groundbreaking 2015 marriage equality decision). A house of very successful, but delicate legal cards, may begin to fall. The LGBTQ community is holding its collective breath against an anti-LGBTQ Supreme Court majority, and the spotlight is now shining brightly on the LGBTQ lobby and their ability to produce legislative success.
Unfortunately, the organizations responsible for shaping the community's relationship with states and the federal government are largely seen as ineffective and oftentimes harmful to progress. This ineffectiveness leaves the LGBTQ community in a dangerous and perilous moment in the movement's history.
To be successful, a radical transformation of the movement's lobbying must happen immediately by shifting to a much more state-based movement, where anti-LGBTQ opponents are already attacking the identity and existence of transgender people with the introduction of more than 100 bills aimed to curb the rights of transgender people nationwide. Secondly, the danger to the lives of LGBTQ people from these legislative harms must be amplified and ready to be fought against. And lastly, a new model of investment is required that prioritizes the lives of transgender individuals and people of color and embraces an intersectional approach to lobbying.
The LGBTQ movement is about to face darker days ahead. Leaders in Washington's premier gay rights groups, including their lobbyists, must figure out how to protect our children, protect the poor, and lift up the marginalized or face disastrous consequences in the next few years in legislative bodies from city halls to the U.S. Capitol. Otherwise our hopes to tackle issues like transgender sports and equality will rest solely on the LGBTQ legal apparatus.
Christopher Pepin-Neff, Ph.D., a senior lecturer in Public Policy in the Department of Government and International Relations at the University of Sydney, is the author of 'LGBTQ Lobbying in the United States.'