Catching up with 'Rainbow Milk' author Paul Mendez
Widely praised novel began as memoir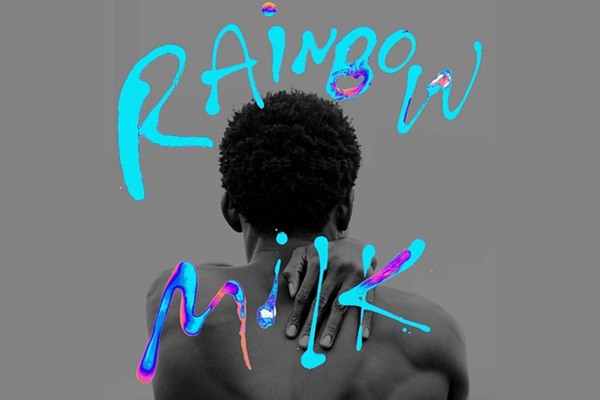 In 2004, Black, gay writer Paul Mendez, then 22, was in London, studying acting. To pay for the acting classes, he was a sex worker.
Today, Mendez, now 39, is one of the hottest authors on the literary scene. His debut novel "Rainbow Milk," published in the United Kingdom last year and released this month in the United States, has received wide praise.
The BBC, the Observer and other U.K. outlets put "Rainbow Milk" on their best books of 2020 lists.
Recently, Mendez spoke with the Blade on FaceTime about a range of topics.
Mendez grew up in a working class family as a Jehovah's Witness in Dudley, a town in an industrial region called the Black Country in the West Midlands, a county in central England.
His grandparents came to the U.K. from Jamaica as part of the Windrush generation.
The term "Windrush generation" refers to people from Caribbean countries who emigrated to the U.K. between 1948 and 1971. They were encouraged to come to the United Kingdom because of labor shortages after World War II. Yet, they encountered racism and hostility to immigration when they arrived in the U.K.
Because of his sexual orientation, Mendez was "disfellowshipped" by his Jehovah's Witness family and church.
Now, Mendez lives in London with his partner Alan Hollinghurst. Hollinghurst, a novelist, was born in Stroud in Gloucestershire, England in 1954. He was awarded the Man Booker Prize for his novel "The Line of Beauty."
"Rainbow Milk" begins in the 1950s. Norman and Claudette, middle-class newlyweds in Jamaica emigrate to England. They're part of the Windrush generation. They hope their future will be better in the U.K.  But, on arriving there, they encounter racism and have trouble finding suitable work. When Norman starts to lose his eyesight, the family's survival is at risk. Norman narrates this part of the novel in the first person. 
The rest of "Rainbow Milk" takes place 50 years later. Here, we meet the protagonist of the novel: Jesse McCarthy, a young Black, gay British man. Jesse is Norman's grandson.
Jesse's mother is Black and his stepfather is white. He's never known his father who left the family when he was a baby. He and his working-class family, who are Jehovah's Witnesses, live in the industrial region of the Black Country.
Nineteen-year-old Jesse is bright and a devout Jehovah's Witness. He is considered to be a potential leader by members of the church. But Jesse begins to think he might be queer. He knows he needs to keep this a secret.
His attempt at secrecy fails. Jesse is disfellowshipped by Jehovah's Witnesses after a church member outs him.
In 2002, Jesse escapes to London to create a life for himself as a queer, Black working-class man. Jesse becomes a sex worker to stay afloat and explores his sexuality. He reckons with race, class, sexuality, and spirituality in his search for self-discovery, freedom and the stability of a chosen family.
"You've lost your center of gravity," a friend says to Jesse, "so to survive, you'll need to take steps to create another."
In "Rainbow Milk," Jesse evolves from a young man (not yet out of his teens) trying to navigate life in a strange city into an adult who's a writer in a stable queer relationship.
There are some similarities between Jesse and Mendez. Both are Black, queer and were disfellowshipped by the Jehovah's Witnesses. They're British with a Jamaican heritage, they both moved to London and became sex workers as well as writers.
"Rainbow Milk" is both "autobiographical and fictional," Mendez said. Yet, though it has elements of autobiography, "It's a work of fiction," he said. "I've created unique scenes that I didn't go through personally, but I went through, maybe, something similar, with other people."
He created characters "with interiors," Mendez added. One difference: Jesse moved to London at a different age and year (at 19 in 2002) than when Mendez moved to London (at age 22 in 2004).
Mendez researched what London was like then and created characters who didn't share his story.
Jesse, for instance, has a white father. Mendez's dad is Black and married to his mother.
"It became interesting for me to examine what it's like to be raised as a Black person without any sense of [Black] heritage," Mendez said.
It's hard to answer the question of whether a novel is autobiographical, Mendez said. Hollinghurst, for instance, went to boarding school, studied at Oxford, became an editor at a literary journal and then a novelist.
"That's the kind of world, he writes about," Mendez said, "but they're not him."
People should be able to tell the difference between a memoir and a work of fiction, he added.
"Rainbow Milk" began as a memoir but his publisher challenged Mendez. "She recognized that I wasn't going all the way," Mendez said, "I was protecting people. I was reticent when it came to discussing some of the most difficult moments that I'd been through."
The novel began to flow when he switched to fiction and began writing in the third person. "I wasn't reopening old wounds," Mendez said.
Mendez has been a performing member of two theater companies and worked as a voice actor, appearing on audio books by Andrea Levy, Paul Theroux and Ben Okri. He narrates the audio version of "Rainbow Milk." Mendez has contributed to "Esquire," "Vogue" and other publications. He is studying for an M.A. in Black British Literature at Goldsmiths, University of London.
Because he's so busy, Mendez is taking a year off from his studies. He's thinking about his second novel and working with a production company to adapt "Rainbow Milk" into a TV series.
Adapting "Rainbow Milk" for TV has been different for Mendez from working on "Rainbow Milk" first as a memoir, then as a novel.
"In picking apart 'Rainbow Milk' to construct 10 episodes," Mendez said, "you do see where the narrative thread could have been worked out a little bit better."
"It will be wonderful to see a visual Jesse," Mendez added.
"Rainbow Milk" came out in the U.K. soon after George Floyd was murdered. In the aftermath of Floyd's death, voices like his and other Black writers in the U.K. have been more sought after, Mendez said.
"It's felt at times that I'm the name on everyone's lips," Mendez said. "We need a Black person. Let's call Paul Mendez. We've heard of him."
"I think only five books by five Black British men have been published over the last five years," Mendez said.
There is hope that this will change. Mendez is a member of the Black Writers Guild, which was formed last June. "We've come together to hold the mainstream publishing industry to account," he said.
The Guild wrote an open letter to the "big five" publishers in the U.K. calling upon the overwhelming white publishing industry to become more inclusive.
"They all vowed to work closely with me to help effect change," Mendez said, "it's what are we going to do in the long term to systematically include Black voices in the publishing industry?"
Books are the way to change people's lives, he added.
Bisexual journey 'Greedy' is a book to share
A tale of universal experiences – rejection, love, vulnerability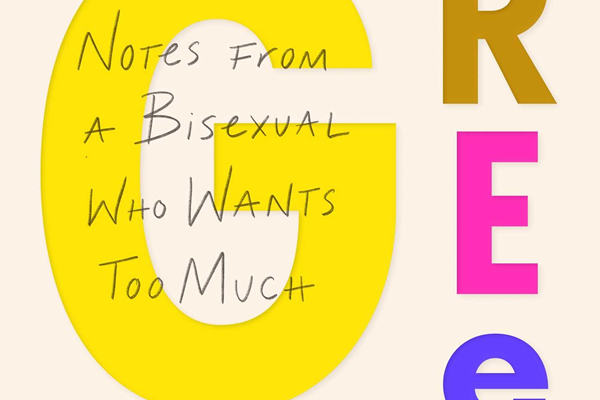 'Greedy: Notes from a Bisexual Who Wants Too Much'
By Jen Winston
c.2021, Atria $18/336 pages
Share, and share alike.
That may, in retrospect, be the most ridiculous thing you've ever heard. You're not asking for the stars and the moon; you just want what you want and why pass it around? As in the new book "Greedy" by Jen Winston, who'd ever think that getting what you deserved to have was wrong?
Back in the "aughts," when Jen Winston was rocking her AIM handle and pretending to be boy-crazy, she had no word for liking boys and girls – though she knew she did. Had she questioned anyone, she would have been told that it was a phase, an experiment, or a matter of confusion but she never asked. She instinctively knew that doing the "gay stuff" was hard.
As she grew up and learned the word for what she felt, the idea of being with a woman became more appealing but not quite comfortable. Yes, Winston quietly told herself she was bisexual, but bisexuality "never felt queer enough." Besides, dating straight men was like the equivalent of "comfort food," though it never worked and was really not much fun.
Various roommates through the years indulged in her search for love, though, by crowdsourcing answers to questions posed by online dates. They also looked the other way as Winston learned that self-pleasure could be ugly, and she didn't want to be "U-G-L-Y." She tried threesomes but they were loaded with potential rejection; she tried chatrooms but they were scary. She learned that "we" is a painful word when you're not part of it.
Bisexuality comes with a lot of frustrating myths and bisexual people, says Winston, are sometimes not included in the LGBTQ community. Bi people aren't especially promiscuous – they're not trying to steal your partner from you – and they're not all just white or female. They are well aware that dating sucks, fairy tales are hard to believe in, and that there are lots of different ways to be gay.
You want it all: You want hearts and romance but you also want down and dirty. You want to be heard, but you don't want to talk about it. You want to be enough but not so much that it's weird. And you want it with laughs, though that's not the main thing about this book.
While its cover indicates lightheartedness and author Jen Winston seems perfectly happy to tell funny, tongue-in-cheek tales about herself, "Greedy" sports a serious vein that almost feels like a shout. Winston writes of universal experiences – rejection, falling in love, vulnerability, and wanting so much to be adored – and she makes light of them in a way that clearly isn't meant to be all that humorous. We can chuckle, yes, but she also lets us pretend that we don't care about those hurts – even though, like Winston, we all know that we do.
Be aware that there are chapters here that are very graphic and are not appropriate for just anyone. If Winston's journey is your journey, too, though, "Greedy" is something to share.
Oscar Wilde comes alive in new book
His 'defiant individualism' made him 'more approachable, more exciting'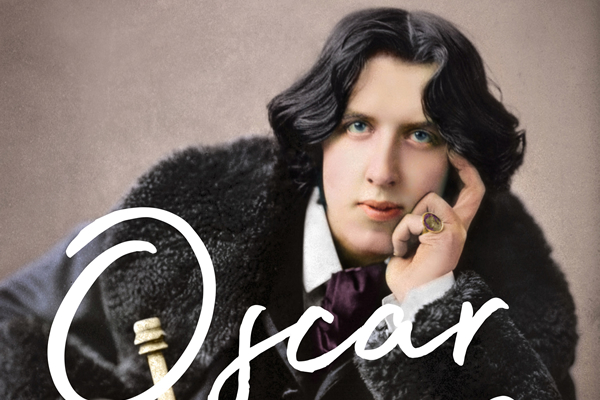 Oscar Wilde: A Life
By Matthew Sturgis
c. 2021, Alfred A. Knopf
$40/838 pages
The life of playwright and queer icon Oscar Wilde was wittier and more tragic than most any dramatist could imagine.
To capture Wilde's life and spirit in a bio is a daunting task. Wilde, himself, may not have been up to it. Yet, in "Oscar Wilde: A Life," Matthew Sturgis, an historian, makes Wilde's story come alive.
Maybe you don't know that Wilde, born in Dublin, lived from 1854 to 1900; that, early on, he wanted to obtain "success, fame or even notoriety;" or that, while lecturing in America, he was kissed by Walt Whitman.
Even so, you've likely heard of Wilde. In LGBTQ+ history, Wilde, who spent two years in prison for "acts of gross indecency with other male persons" is a hero for not denying his sexuality.
If you've been to the theater, to a dinner party or to a Starbucks, you've likely encountered Wilde's wit. "Only dull people are brilliant at breakfast," Wilde's line from "An Ideal Husband," is emblazoned on one of my fave T-shirts.
"Oscar Wilde is part of our world," Sturgis writes.
One day, Sturgis went to the library at Columbia University to look at one of Wilde's letters. On his way to Columbia, he encountered quotes from Wilde everywhere he looked.
"I passed a chalkboard outside an Irish bar scrawled with the legend 'Work is the curse of the Drinking Classes,'" Sturgis writes. "Opposite me on the uptown subway sat a girl whose mobile phone case carried the slogan 'To live is the rarest thing in the world.'"
It's hard to think of an author, other than Shakespeare, Mark Twain or Charles Dickens, who is more omnipresent in the culture. "The Importance of Being Earnest," "An Ideal Husband" and Wilde's other plays are still performed and he's been a character on stage and screen, Sturgis writes.
Before Allen Ginsberg or Andy Warhol, there was Wilde. Before Gatsby, Wilde invented himself.
In the 1880s, Wilde, because he'd become famous for being famous, went on a lecture tour of America. Louisa May Alcott and Ulysses S. Grant hung out with him. He drank whiskey with miners. Crowds came to hear him talk about art and to bask in his celebrity and eccentricity. Wilde was friends with the actresses Ellen Terry and Lily Langtree, and it was rumored that he'd walked about London with a lily in his hand.Yet, despite his hobnobbing with celebs, Wilde isn't a lightweight cultural figure.
"Wilde's defiant individualism, his refusal to accept the limiting constraints of society, his sexual heresies, his political radicalism, his commitment to style," Sturgis writes, "all conspire to make him ever more approachable, more exciting, and more relevant."
"Oscar Wilde: A Life" is the first major bio of Wilde since Richard Ellmann's 1987 biography.
Ellmann, a literary critic, focused a great deal on Wilde's work. Ellmann's book illuminates his literary output. Wilde's work ranged from the novel "The Picture of Dorian Gray" to fairy tales which, Wilde said, he wrote "partly for children, and partly for those who have kept the childlike faculties of wonder and joy."
Sturgis, who had access to newly discovered transcripts and testimony from Wilde's trials along with letters and early notebooks of Wilde's, sheds light on Wilde's life.
It's well-known that Wilde was sent to prison for two years, and that he died a few years later in Paris in poverty.
But Sturgis makes it vividly clear what a cad Wilde's lover Lord Alfred (Bosie) Douglas was. Sturgis makes you feel how awful it was for Wilde to be in prison where he was isolated, his hair was cropped and the food was gross. It's heartbreaking to read how his wife Constance prohibited Wilde from seeing their two sons and changed the family name to Holland.
It's easy to forget that until his trials and imprisonment, Wilde led a rich, colorful, productive life. With Sturgis as guide, we're with Wilde as he hangs out at Oxford, meets Andre Gide in Paris, chats with Sarah Bernhardt and lusts after rent boys.
For a Wilde ride, check out "Oscar Wilde: A Life."
'Allies' helps young readers to show up
Straight talk with a light touch and accepting you will screw up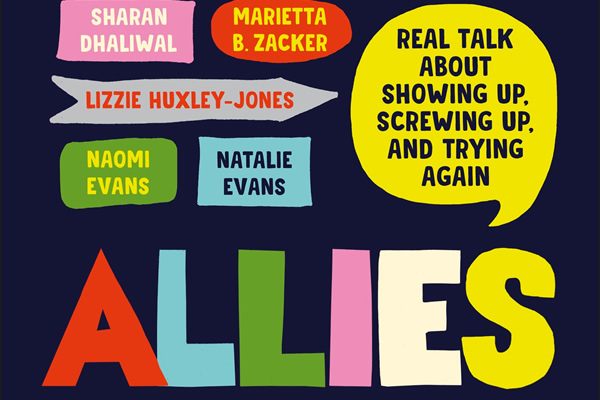 'Allies: Real Talk about Showing Up, Screwing Up, and Trying Again'
Edited by Shakirah Bourne & Dana Alison Levy
c.2021, $16.99/ 240 pages
You'd do anything for your friends.
You help them in school when they need it, or with a loan in a pinch. Your home is their home, and vice versa. You might share clothes with your friends, seats, secrets and for sure, support but what about people you don't know that well? In the new book "Allies" by various authors, you start upright and on your feet.
School has started and some kids – kids of color, queer kids, different kids – are struggling. You want to help but you don't know how to even begin. So now what?
The first thing to know about being an ally is in the first chapter of this book: You will screw up sometimes. It's not fun, it's comfortable, and you can't just dump your guilt back on whoever you're trying to support. Instead, learn from it, and get used to it.
But wait. Can't you help?
"It's complicated," says Dana Alison Levy, the first author.
You can loudly be an ally, but when it's not your time to speak, then hush. Allies remember that pronouns are important things (see above: you'll screw up) and when someone reveals their preferred name, an ally makes sure it's used. Allies know that the letters "LGBTQIA" don't stop at "G." When they see someone with a disability, they don't rush in and act like superheroes. They ask first if they can help, and they never see a disabled person as a "tool" to get extra privileges. Likewise, they don't finish sentences for a stutterer and it should go without saying that allies are never bullies. Nope, they reach for understanding, and if they don't understand, they can be schooled.
Being an ally doesn't stop at sexuality or disability, though. You can be an ally for women by standing up to misogyny. You can stand up by seeing color and acknowledging it. You can stand up and admit that there are things you'll never experience.
And sometimes, being an ally is knowing when it's time to walk away.
When it comes to being a better friend to those who need one, you always want to do what's right – but sometimes, right is wrong and arrrrgh! It seems like maybe you need something of an ally to be an ally, and this book can help.
With straight talk but a light touch, "Allies" helps young readers dispense with the awkwardness of not knowing how to act, through reassuring stories meant to show that merely just showing up is a great start. The chapters aren't long – some are told with artwork – and they're as diverse as the writers themselves. They're not preachy, either: Each is told by an appreciative person who's received much-needed support and others whose eyes were opened, giving readers the upbeat, forward-looking, I-can-do-this feeling they might get in the eager moments before a march or a rally.
That makes "Allies" a great first step for any progressive-thinking 12-to-18-year-old who needs a good launch-point. Find this book, read it, and share it with your friends.