Two new books celebrate Old Hollywood glory
'Elizabeth and Monty: The Untold Story of Their Intimate Friendship'
By Charles Casillo
c.2021, Kensington
$27.00/389 pages
'The Twelve Lives of Alfred Hitchcock'
By Edward White
c.2021, W. W. Norton & Company
$28.95/379 pages
If you're queer, especially if you're of a certain age, old Hollywood is embedded in your DNA.
For those of us besotted by classic movies — there can never be too many books about Tinseltown.
Two new books — "Elizabeth and Monty" by Charles Casillo and "The Twelve Lives of Alfred Hitchcock" by Edward White — will satisfy your old Hollywood jones.
"Elizabeth and Monty" is the riveting story of the intimate friendship of Elizabeth Taylor and Montgomery Clift.
Few people are loved more by the LGBTQ community than Elizabeth Taylor. Who will ever forget Taylor as Martha in "Who's Afraid of Virginia Woolf" or as Maggie in "Cat on a Hot Tin Roof?"
Taylor raised millions for AIDS research long before any celeb or politico even said the word "AIDS." People with AIDS weren't objects of charity to Taylor. She had many queer friends and hung out at gay bars.
Montgomery Clift, who lived from 1920 to 1966, was a talented actor. Because of the time in which he lived, he had to be closeted about his sexuality. Because of the homophobia in the society and Hollywood then, the support of friends was crucial to Clift and other LGBTQ people of that era.
For much of his life, Clift had health problems that caused him pain. Partly as a result of pain, he had issues with drinking and drug addiction. His behavior could be erratic and uncouth. (He had a penchant for eating food off of other people's plates.)
Despite Clift's troubles, you become transfixed by his brooding intensity – whether you're watching him in "The Heiress," "From Here to Eternity" or "Red River."
If you have a heartbeat, you'll feel the chemistry between Clift and Taylor when they're on screen together in "A Place in the Sun."
Though Clift was queer and Taylor was hetero, they were the closest of friends.
From the prologue onward, Casillo draws you into their friendship. The book opens on the evening when Clift, driving home from a party, was in a terrible car accident. He'd crashed into a telephone pole.
Taylor went to Clift who was lying bleeding on the road. "Realizing he was choking on his teeth," Casillo adds, "she instinctively stuck her fingers down his throat and pulled out two broken teeth, clearing the passageway."
Taylor stuck by Clift when many of his friends distanced themselves from him.
Taylor insisted that Clift be cast in "Reflections in a Golden Eye." She put up her own salary as insurance for Clift when no one would insure him (because of his health and substance abuse issues).
It's clear from "Elizabeth and Monty" that Clift was as important to Taylor as she was to him. Their relationship wasn't sexual, writes Casillo, author of "Marilyn Monroe: The Private Life of a Public Icon" and "Outlaw The Lives and Careers of John Rechy." Yet, there was an emotional intensity – a romantic quality – in their friendship.
Clift nurtured Taylor. He coached Taylor, who he called Bessie Mae, on her acting. He thought Taylor was beautiful, yet understood what it was like for Taylor when people only saw her for her beauty.
"Monty, Elizabeth likes me, but she loves you," Richard Burton is reported to have said to Clift.
There are good biographies of Taylor – such as William Mann's "How To Be A Movie Star: Elizabeth Taylor in Hollywood" and of Clift – most notably Patricia Bosworth's "Montgomery Clift: A Biography."
Even so, "Elizabeth and Monty" sheds new light on the intense friendship of two queer icons. Check it out. It will imbue you with renewed love and respect not only for Taylor and Clift but for your own friends.
Without Alfred Hitchcock, I'd never make it through the pandemic.
The COVID vaccines are wonderful! But, I'd never get out of my sweatpants without the suspense and glam of Hitchcock's movies.
Nothing is more comforting than watching serial killer Uncle Charlie in "Shadow of a Doubt" or, with Grace Kelly, James Stewart and Thelma Ritter, observing the murderer in "Rear Window."
What is more pleasurable than ogling the gorgeous mid-century apartment where a murder has been committed in "Rope?"
Of course, I'm far from alone in loving Hitchcock. Hetero and queer viewers are Hitchcock fans.
Everyone from your straight, straitlaced granny to your bar-hopping queer grandson has had nightmares about the shower scene in "Psycho." Or had a crush on Cary Grant or Eva Marie Saint in "North by Northwest."
From the glam in "Rear Window" to Bruno and Guy in "Strangers on a Train," it's clear that Hitchcock's movies have a queer quotient and a special appeal to LGBTQ viewers.
There are more biographies and studies of Hitchcock's life and work than you could count. Or would want to read.
Yet, "The Twelve Lives of Alfred Hitchcock" by Edward White is a good read.
In elegant, precise writing, White illuminates Hitchcock's life and work by examining 12 aspects of his complex personality. As with all of us, the whole of Hitchcock's self was more than the components of his personality. Any life, despite the most assiduous biographer's investigations, remains somewhat of a mystery.
White explores how "Hitchcock" the phenomenon was invented as well as what made Hitchcock the person tick. He carries out this exploration by writing about Hitchcock as everything from "The Fat Man" to "The Murderer" to "The Dandy" to "The Voyeur" to "The Londoner" to "The Family Man" to "The Man of God."
Hitchcock was a family man who loved his wife, yet, at times, gazed in, to put it mildly an unsavory manner, at some of the actresses such as Tippi Hedren, in his films.
Impeccably dressed in a Victorian-era suite, he plotted films about murder and rape with his wife (and frequent uncredited collaborator) Alma at his side.
For a half century, "Hitchcock's persona was the active ingredient in the most celebrated of his 53 films," White writes, "the way Oscar Wilde's was in his plays, and Andy Warhol's was in his art."
Hitchcock stands alone in the Hollywood canon, White writes, "a director whose mythology eclipses the brilliance of his myriad classic movies."
The span of Hitchcock's career was immense — from the time of silent films to the 3-D era. His work, White, a "Paris Review" contributor, writes, runs the gamut from thrillers to screwball comedy to horror to film noir to social realism.
Read "The Twelve Lives of Alfred Hitchcock." It'll take you inside the mosaic of the fab filmmaker's life and work. Then, break out the popcorn and "Dial M for Murder."
'Playing the Palace' a campy, fun rom-com read
What happens when a prince meets an event planner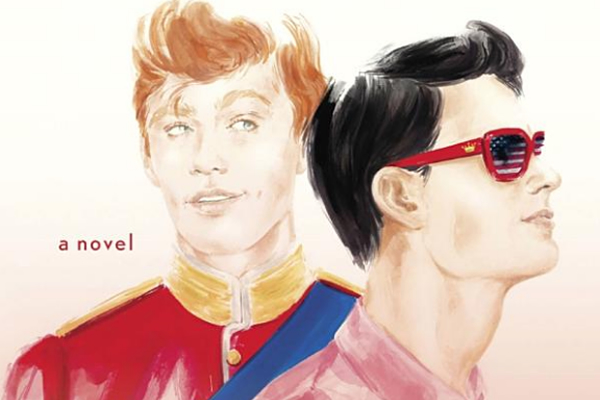 'Playing the Palace'
By Paul Rudnick
c.2021, Berkley
$16/272 pages
If you loathe romance or hate to laugh, then skip this book.  
If you're looking for a rom-com that's as fab and campy as Provincetown or Rehoboth Beach on a summer night, "Playing the Palace" by Paul Rudnick is the book for you.
Reading "Playing the Palace" is like sipping a delicious frozen Daiquiri.
Carter Ogden, the neurotic, good-hearted, Jewish, funny, out, gay narrator of this frothy romance, becomes your BFF and drinking buddy at the opening sentence, "It's still weird, waking up alone."
The plot of the book is simple: Carter, 29, is an associate "event architect" (in plain English – event planner) in New York City. He makes ends meet by living with wacky, supportive roommates.
Carter, a native of Piscataway, N.J., and IHOP aficionado, is feeling dejected as he approaches his 30th birthday. His ex, an actor, has left him. He can't help but wonder if he'll ever find love again.
Until, at work, he meets Edgar, the Prince of Wales. Edgar has come over from the United Kingdom to speak at a charity event for a group that works to provide clean water to countries that need it. And, this being a fictional prince in a rom-com, Edgar is openly gay.
As you've been forewarned, we're not dealing with realism here.
Edgar sees Carter and asks him to give him tips on how he can get his speech across more effectively.
From that moment on, the two – the IHOP-loving event planner and the future King of England — are in a fine romance. (Edgar is an orphan. His parents were killed in a plane crash.)
Their quest for the happily-ever-after involves pancakes, projectile vomiting, social media and a Thanksgiving meet-up of Carter's Jewish aunts and Edgar's grandmother, the Queen of England.
By itself, the story of "Playing the Palace" might seem predictable. What makes it sizzle – why you laugh out loud even as you root for the romance to work out – is its narrative voice.
"Playing the Palace" is a funny, sometimes touching monologue in the voice of Carter.
You'd have to have a heart of stone not to love Carter when he says he "addressed my problems to the framed photo of the late beloved Ruth Bader Ginsburg on the wall of my tiny, partitioned bedroom."
Writing a whole novel as a monologue could fizzle out if other writers tried it.
But, Rudnick a gay novelist, playwright, essayist, screenwriter and humorist, is a master of this form.
His plays, produced on and off-Broadway include "Jeffrey," "I Hate Hamlet," "The Most Fabulous Story Ever Told" and "The New Century." He's won an Obie Award, two Outer Critics Circle Awards and the John Gassner Playwriting Award.
Rudnick's novels include "Social Disease" and "I'll Take It." "Gorgeous" and "It's All Your Fault" are among his YA (young adult) novels.
His screenplays include "Addams Family Values," "In & Out," the screen adaptation of "Jeffrey" and "Sister Act." He wrote the screenplay for "Coastal Elites," the comedic satire that debuted on HBO last year.
Something of a polymath, Rudnick is, according to his bio, "rumored to be quite close" to film critic Libby Gelman-Waxner, whose reviews have appeared in Premiere magazine and Entertainment Weekly.
A frequent contributor to The New Yorker, his essays have appeared in Vanity Fair, The New York Times and Vogue.
As you might expect, the volume is chock full of pop culture references and wit. "I took a shower using my new manly body wash," Carter says, "which is exactly the same as the female version, only with simplified graphics and a steel-gray, squared-off bottle, as if it contains motor oil and testosterone."
It's not surprising that Rudnick told Entertainment Weekly that he's working on a musical of the movie "The Devil Wears Prada."
Reading "Playing the Palace" is like seeing a Broadway musical.
"I was looking into eyes that were so radiantly blue I either wanted to faint or yell 'just stop it,'" Carter says when he first sees Edgar.
"Playing the Palace" is a show-stopper.
Drew Pisarra's 'dangerously funny and queerly inventive brain'
'You're Pretty Gay' shatters expectations and social mores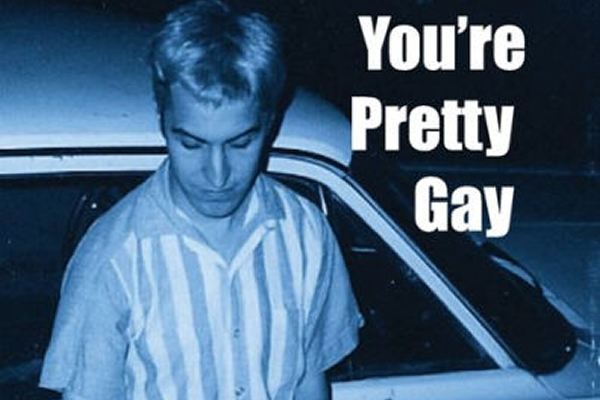 Is there anything more absurd than this, wondered gay poet and writer Drew Pisarra. Pisarra, then, was an assistant to a paralegal at a toothpaste company.
Fiercely protective of the pattern on its toothpaste, they wrote letters to rivals who, they felt, were infringing on their copyright.
Even when their competitors were in countries in the middle of a civil war, "They would write back, 'we can't respond now, we're in a war,'" Pisarra said.
But that didn't soften the heart of the toothpaste company. They'd insist that "this most important matter be dealt with as soon as the war ends," Pisarra said.
If you think that authors don't encounter the absurdity and grit of everyday life or that all writers do is drink coffee (or sip stronger libations) while looking at the sunset, you haven't met Pisarra.
Pisarra, 56, whose new short story collection "You're Pretty Gay" is just out from Chaffinch Press, has worked at everything from ventriloquism to domestic work.
The word "unique" is so hackneyed that it's a cliche to say it's a cliche. But there's no other way to describe "You're Pretty Gay."
This collection "is a prime example of Drew Pisarra's dangerously funny and queerly inventive brain," said Kevin Sampsell, author of "This Is Between Us." "Each story is its own performance, its own shattering of expectations and social mores."
Pisarra, who lives in Manhattan, gives readers a mosaic of wit, surrealism, sex, queerness, memory, mortality and self-discovery.
In "You're Pretty Gay," there are gay bars in New York and New Orleans.
You'll find everything from adolescent bullies fighting over a rare caterpillar to a character taking an AIDS test and, later, meeting up with Mrs. Claus.
"Mrs. Claus I didn't even know you were alive," says the narrator of "Arctic Chill." "I didn't even know you were real. I haven't received a gift from you or your husband in ten years."
Another of Pisarra's tales revolves around a trip to hell. "I love traveling," says the narrator of "The Hat from Hell, "I got this hat when I was in Hell back in 1992."
In "Granny," siblings gather after their mother's death. "All anyone could remember of her was that chair, how she sat in it for the last 40 years," Pisarra writes, "immobile as 'Jeopardy' and the 'Wheel of Fortune' glared at her night after night."
Pisarra's characters yearn to find love, sex, and who they really are.
"In my quest to bed mankind, I tended to avoid perfection's rejection," says the narrator of "Every Man for Myself."
Pisarra, whose first short story collection "Publick Spanking" was published in 1996, was born in Orange, N.J. When he was in the third grade, he moved to Maryland. There, except for living in Oxon Hill for a year, he grew up in Silver Spring.
When Pisarra was growing up, being gay wasn't even remotely on the horizon. "There was such denial in the culture then," Pisarra said.
From early on, he had feelings for men. "I had a crush on a boy in kindergarten," Pisarra said.
He consulted books and a priest, which wasn't helpful. They said he'd grow out of it.
"As a teenager, I recognized that I hadn't outgrown it," Pisarra said.
Pisarra was a college freshman when he came out. "I sobbed the night I came out," he said.
He was out in college, Pisarra said, "but I wasn't getting laid." That changed when he moved to New Orleans after college.
Pisarra graduated from Hofstra University in 1987 with a bachelor's degree in theater.
In college, a professor had the students sit in a circle. Then, the teacher told them how she thought they'd be cast.
"She told me, 'you're a grotesque,'"Pisarra said, "'You won't work until you're in your fifties. Because your face and body don't match.'"
Pisarra was relieved to hear this. His sense of relief was related to being a young gay man in the late 1980s.
"I wasn't interested in being closeted," Pisarra said, "I wrote. I wanted to perform. I wasn't interested in conforming."
Since then, Pisarra has been creating – performing and writing his own material. Some of the stories in "You're Pretty Gay" were originally created for the stage.
"I don't write that often," Pisarra said, "I started writing the stories in 'You're Pretty Gay' 20 years ago."
A prodigious reader, Pisarra has always "written to some degree," he said.
Pisarra got turned on to writing poetry when he went to a meeting of a gay and lesbian writers group.
"There were, like, 10 people in this apartment," Pisarra said, "there was a terrible woman sitting next to me."
He would have dropped out of the group, if he hadn't met writer Mare Davis, now his close friend.
"I said to her, 'I never want to see any of these people again except you,'" Pisarra said, "She inspired me to get into poetry."
Davis wrote the introduction to Pisarra's poetry collection "Infinity Standing Up" (Capturing Fire Press).
Released in 2019, the volume of sexy, playful sonnets received glowing reviews from the Washington Post, the Blade and other outlets.
"Devour me! Think me not some crazy nut!," Pisarra writes in one of his sonnets.
With lines like these, he gives Shakespeare a run for his money.
Pisarra has held a variety of jobs – many of which have involved the arts. He has helped homeless people with mental health issues to find housing.
"I ran a writers group for them," Pisarra said, "I encouraged a super-talented woman to send her work out."
The woman and Pisarra submitted their work to the same magazine. "Her work was accepted. Mine wasn't," he said, "I was thrilled!"
In an unusual career twist, Pisarra, who received a literary grant from the Café Royal Cultural Foundation, toured a ventriloquist act entitled "Singularly Grotesque." He created the act after the Portland Institute for Contemporary Art commissioned him to develop a new solo piece.
"I was wandering around the library aisles and I found two (self-help) pamphlets on talking with 'multiple' selves,'" Pisarra said, "and I thought this is ventriloquism in a nutshell."
Pisarra hadn't watched much TV. But that didn't keep him from interviewing with AMC to be its director of digital media.
"I thought why not," Pisarra said, "it would be a chance to see what else is out there in the world."
He worked on the websites for "Mad Men" and "Breaking Bad." "It was a pleasure to be part of the online team for these cultural phenomena!" Pisarra said.
With Molly Gross, Pisarra co-founded Saint Flashlight. In this project, he and Gross find inventive ways to get poetry into public spaces.
One of the project's most innovative efforts has been putting haiku on movie marquees. It's fun to see people, looking up, counting the syllables, Pisarra said. You sweat when you put the letters up on the marquee, he added.
"It's part of the fun! It makes you feel like you're making something matter," Pisarra said.
He doesn't want poetry to be confined to "The New Yorker." "It should push the envelope," Pisarra said, "It's not just for the upper crust."
'The Guncle' never wanted kids but now has two
Novel is as charming as they come with a surprise ending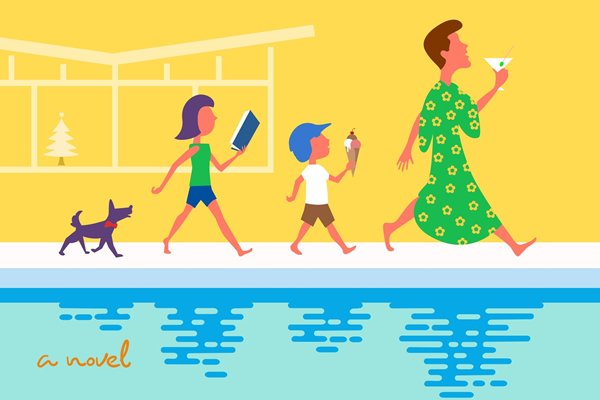 'The Guncle'
By Steven Rowley
c.2021, Putnam
$27/326 pages
The situation you're facing isn't one you wanted.
You had no wish for it; in fact, it's 100 percent the opposite. Not your circus, not your monkeys, as they say. So usually, you'd follow your instincts and run but this time, you surprise yourself by stepping up and taking ownership. Now it is your problem but, as in the new novel, "The Guncle" by Steven Rowley, that's more than OK.
Sara had been his friend first.
Patrick wasn't exactly happy when she married his brother, Greg, but she managed to make it work and he loved her for it. He loved her first, actually, and he never let her forget it.
But now she was gone and Greg had asked the impossible: would Patrick – gay man, former TV star, Palm Springs fixture, no-responsibilities Patrick – take Greg and Sara's kids, nine-year-old Maisie and six-year-old Grant, for the summer so Greg could go to rehab while grieving the death of his wife? Could the kids' GUP (Gay Uncle Patrick) step up?
No. There was no way that Patrick was taking temporary custody of two kids – but then his older sister, Clara, copped an attitude, rolled her eyes, and told him he was "off the hook."
PfftRight.
And so Greg headed to rehab after the funeral and the kids went home with Patrick to Palm Springs. It would be a long 90 days.
Grant was cute but full of questions; Patrick learned to make things up. Maisie was nobody's fool and Patrick learned to hide his passwords. He gave them "Guncle" Rules (gay + uncle = guncle), life lessons, and stories about their mother – but past that, what does a gay man who never wanted kids do when he suddenly has two of them?
He takes them to the museum way too often, that's what. He takes them to five-star restaurants and cringes when they order kid food. He lounges with them in the pool, gets them a dog, lets them put up a Christmas tree in July, hugs them, and throws a party.
And he loves them.
There are four words that best describe "The Guncle": A. Dor. A. Bull.
That's it. This novel is simply as charming as they come and don't be surprised if you can almost hear your favorite actors as any of the characters here. Don't be surprised, either, if you spend your vacation racing to reach the ending you think's coming and you're wrong.
Indeed, author Steven Rowley offers the perfect mix of snorts and sobs here, snarky fun one minute and pathos the next but neither emotion is belabored or forced. That gives readers room to enjoy the tale as it unfolds and grows like an inflating pool toy, and to watch the characters twisting wistfully in irresistible, concentric circles.
Your ticket's in your hand, your suitcase is packed, your destination is close, but you need a book to get you there. If you'd love to immerse yourself inside a sweet novel like "The Guncle," then step right up.