Biden holds reception for LGBTQ leaders: 'Pride is back at the White House'
Anti-trans bills denounced as 'bullying disguised as legislation'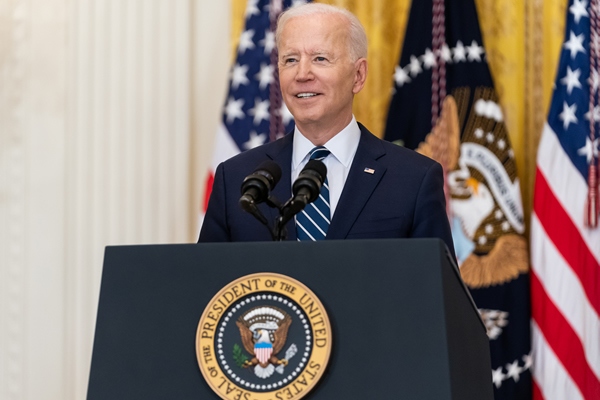 President Biden commemorated Pride Month for first his year in office on Friday with a reception at the White House, detailing the initiatives his administration has made on behalf of the LGBTQ community and declaring "Pride is Back at the White House."
"We're also making progress, but I know we still have a long way to go, a lot of work to do," Biden said. "We must protect the gains we've made and fend off the cruel and unconscionable attacks that we're seeing now to ensure the full promise of dignity and equal protection."
Joining Biden on stage for the reception in the East Room was first lady Jill Biden and Transportation Secretary Pete Buttigieg, who could claim historic status of participating in the event as the first openly gay official to obtain Senate confirmation for a Cabinet-level role.
Buttigieg, paying heed to his spouse, Chasten Buttigieg, who was seated in the audience, said being able to serve in the Biden administration as an openly gay man was important.
"Not that long ago, well within the lifetimes of many people in this room, being outed could be disqualifying from public service, any public service — not just being a Cabinet officer, or a member of the military, but being a bookkeeper or an astronomer," Buttigieg said, making a reference to Frank Kameny's termination from the U.S. government in the 1950s.
A heavy focus of the event was the wave of state laws against transgender youth, including restricting their access to transition-related health care and schools sports. Biden called them "nothing but bullying disguised as legislation."
"These are some of the ugliest, un-American bills I've ever seen, and I've been around a while," Biden said.
Listing the initiatives his administration has undertaken for the LGBTQ community, Biden recalled he signed an executive order on his first day in office against anti-LGBTQ discrimination that have led to non-discrimination measures stemming from various federal agencies.
Two other news items on same day— Biden signing a congressional resolution designating the Pulse Nightclub as a national memorial and the appointment of Jessica Stern as international envoy for LGBTQ human rights, also were part of Biden's remarks.
Biden also renewed his call to pass the Equality Act, legislation he said in the 2020 election would be priority, but has languished in Congress and is all but dead.
Introducing Biden at the event was Ashton Mota, a 16-year-old transgender advocate from Lowell, Mass., and a leader with the GenderCool Project.
Mota, delivering a personal speech about his transition and his advocacy for transgender youths, thanked President Biden for the actions taken by his administration
"Mr. President, thank you for having our back," Mota said.
Notables in attendance, and pointed out by Biden, were Assistant Secretary for Rachel Levine, the first openly transgender presidential appointee to obtain U.S. Senate confirmation; Delaware State Sen. Sarah McBride, the first openly transgender state senator; Virginia State Del. Danica Roem, the first openly transgender elected and seated to a state legislature.
Biden, who signed an executive order reversing President Trump's transgender military ban, also pointed out in the audience Lt. Col. Bree Fram, a high-ranking openly trans service member.
Members of the Congress were are openly LGBTQ were also in attendance for the event, including Sen. Tammy Baldwin (D-Wis.), Rep. Sean Patrick Maloney (D-N.Y.), Rep. Mark Pocan (D-Wis.) and Rep. David Cicilline (D-R.I.), Rep. Sharice Davids (D-Kansas). A notable absence, however, was Sen. Kyrsten Sinema (D-Ariz.), the only out bisexual in Congress.
Ruben Gonzales, executive director of the LGBTQ Victory Institute, was also in attendance at the event and pointed out it included many LGBTQ appointees his organization has supported.
"It's something to celebrate," Gonzalez said. "It's great to see a collection of so many appointees, LGBT leaders in a space together to be welcomed and affirmed by this administration. I think it's a testament to what Biden is creating."
CORRECTION: An earlier version of this article misspelled the name of Ruben Gonzales. The Blade regrets the error.
Target stores across the country receive bomb threats over LGBTQ merchandise
Company removed Pride-themed items to back of stores in Southern states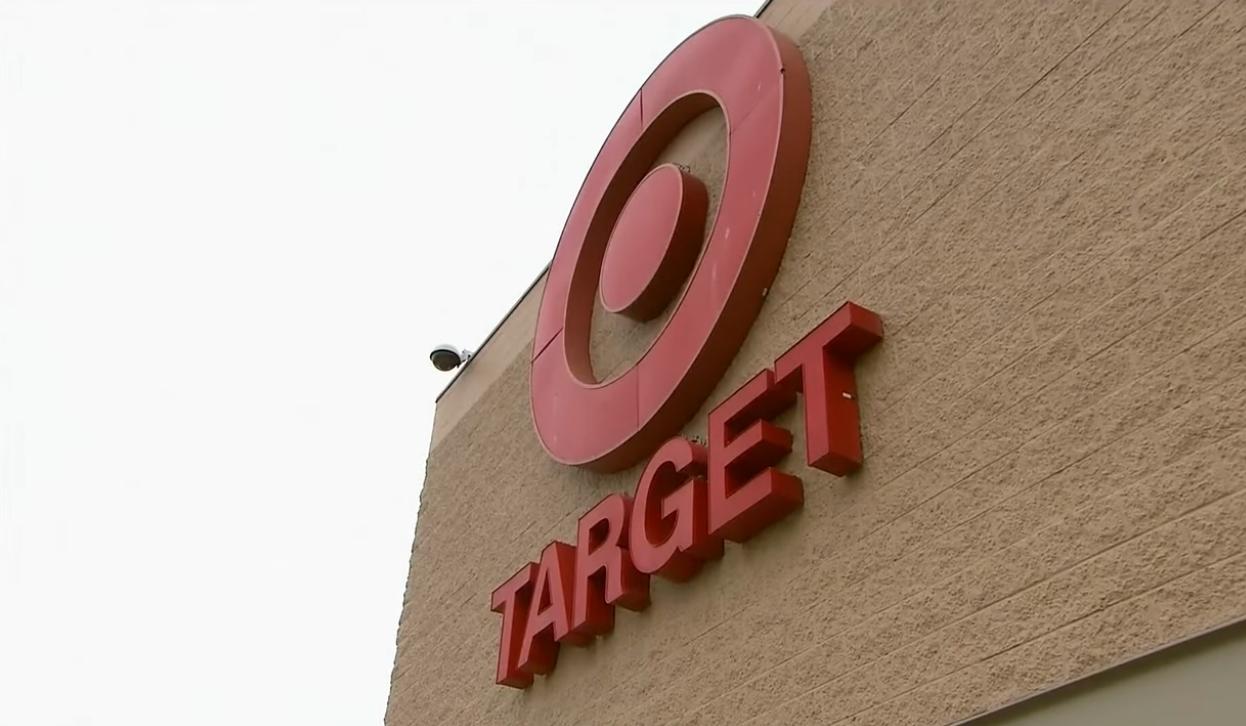 Police departments in Utah, Ohio and Pennsylvania aided by assistance from agents from Federal Bureau of Investigation Field Offices in Ohio and Utah are investigating threats made by email to local media referencing the retail chain Target's LGBTQ merchandise collections celebrating Pride Month.
KUTV CBS 2 Salt Lake City reported that Sgt. John Ottesen with Layton Utah Police said bomb threats were made to Target stores in Layton, Salt Lake City, Taylorsville and Provo. Ottesen confirmed that multiple law enforcement agencies commenced the investigation after the local new stations received the emailed threats.
A Target store in Layton, Utah, was evacuated after police said they were informed of a bomb threat to multiple Utah locations.
The threats specifically mentioned Target's Pride merchandise, were three sentences long, and came from a "bogus email address," according to Ottesen.
WOIO Cleveland 19 News received a bomb threat Friday afternoon against four Target stores in Ohio and a store in Monaca, Pa., purportedly from a person or persons angry over Target Corporation's decision to remove some of the LGBTQ merchandise after a series of threats and physical threats against its retail clerks and staff in several southern states earlier this week.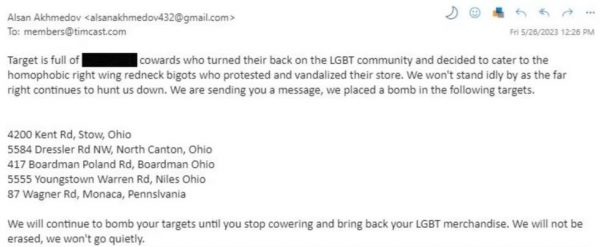 It was not immediately known if the threats were legitimate, though precautions were quickly taken to ensure staff and customer's safety according to officials.
A Target spokesperson who spoke with multiple media outlets said: "The safety of our team members and guests is our top priority. Law enforcement investigated these claims and determined our stores are safe. Our stores are currently open and operating regular hours."
Speaking for the Minneapolis-based retail giant two days ago, spokesperson Kayla Castañeda noted: "Since introducing this year's collection, we've experienced threats impacting our team members' sense of safety and wellbeing while at work. Given these volatile circumstances, we are making adjustments to our plans, including removing items that have been at the center of the most significant confrontational behavior."
Castañeda also released a statement from the company:
"For more than a decade, Target has offered an assortment of products aimed at celebrating Pride Month. Since introducing this year's collection, we've experienced threats impacting our team members' sense of safety and well-being while at work. Given these volatile circumstances, we are making adjustments to our plans, including removing items that have been at the center of the most significant confrontational behavior. Our focus now is on moving forward with our continuing commitment to the LGBTQIA+ community and standing with them as we celebrate Pride Month and throughout the year."
Removal of the merchandise from its online store in addition to the storefronts has prompted harsh criticism of the retailer. California Gov. Gavin Newsom tweeted.
CEO of Target Brian Cornell selling out the LGBTQ+ community to extremists is a real profile in courage.

This isn't just a couple stores in the South. There is a systematic attack on the gay community happening across the country.

Wake up America.

This doesn't stop here.… https://t.co/1vRgukaT0g

— Gavin Newsom (@GavinNewsom) May 24, 2023
Numerous LGBTQ activists and groups have condemned Target for bowing to what is seen as political pressure by a minority of far right extremists:
"Extremist groups and individuals work to divide us and ultimately don't just want rainbow products to disappear, they want us to disappear," Kelley Robinson, president of the Human Rights Campaign, said in a statement. "For the past decade, the LGBTQ+ community has celebrated Pride with Target — it's time that Target stands with us and doubles-down on their commitment to us."
On Friday, Alejandra Caraballo, a clinical instructor at the Harvard Law Cyberlaw Clinic and an LGBTQ activist tweeted her disgust over the decision by Target to effectively abandon company support for the queer product lines and the creators.
Target worked with indie trans and queer designers to make it's pride collection. The moment they get threatened by domestic terrorists, they abandon them without a second thought. Absolutely despicable. pic.twitter.com/TcHzg06Jvt

— Alejandra Caraballo (@Esqueer_) May 27, 2023
Another designer was dropped as well. pic.twitter.com/TXMEusOWj8

— Alejandra Caraballo (@Esqueer_) May 27, 2023
Related:
Atlanta LGBTQ community reacts to Target pulling some Pride merchandise:
Baptist group forces minister to resign from committees because he is married to man
BWA is based in Falls Church, Va.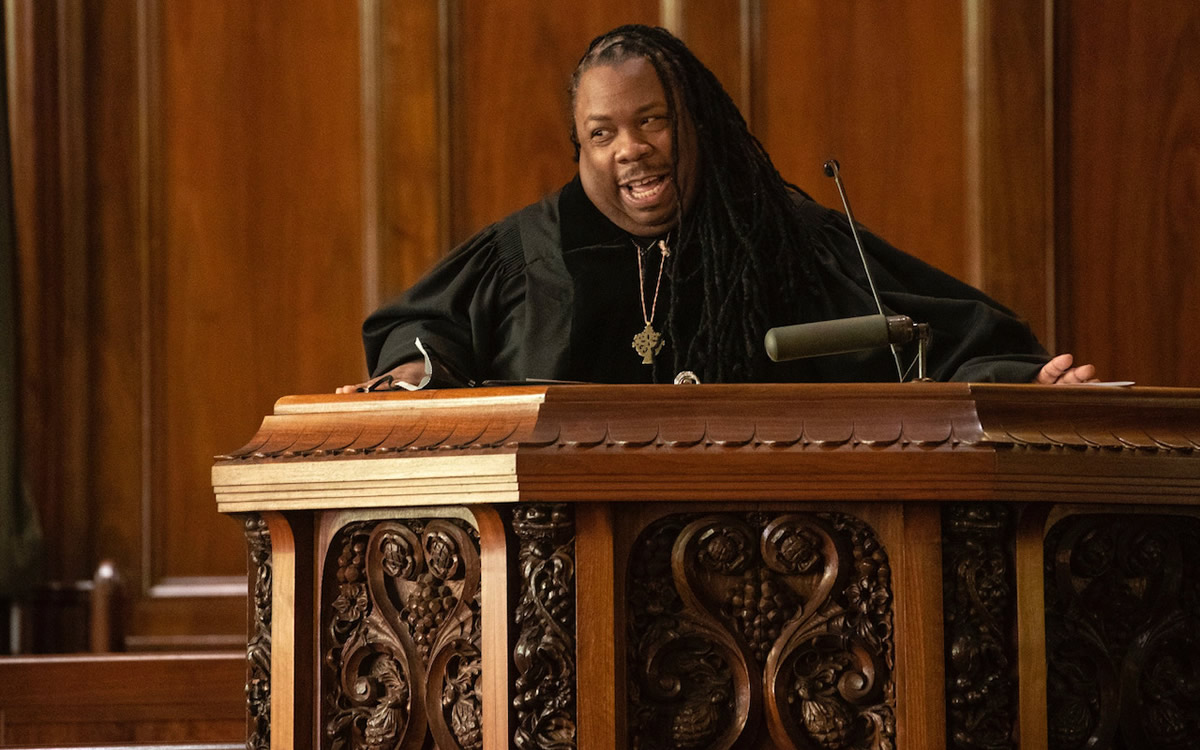 A Virginia-based Baptist group forced an openly gay minister to resign from two of its commissions because he is married to a man.
The Rev. TJ Williams-Hauger is an associate minister for youth and young adults and community outreach at Lake Street Church in Evanston, Ill., a congregation that is affiliated with American Baptist Churches USA. 
He has worked with the Revs. Al Sharpton, Jesse Jackson and Jeremiah Wright, U.S. Sen. Raphael Warnock (D-Ga.), who is the senior pastor of Atlanta's Ebenezer Baptist Church, and has preached at the U.N., among other places.
Williams-Hauger has studied with Warnock and Moss and earned his Master of Divinity at the New York Theological Seminary. Williams-Hauger is also studying to become ordained within American Baptist Churches USA with the support of Judson Memorial Church in New York.
The Rev. Elijah Brown, who is the secretary general of the Baptist World Alliance, which is headquartered in Falls Church, in an April 21 email to Williams-Hauger confirmed his invitation to join the group's Interfaith Relations and Racial Justice Commissions had been rescinded.
"Thank you for your prayerful attitude," wrote Brown. "Following our phone conversation yesterday, this email confirms that the invitation from BWA for you to serve on Commissions is rescinded. Please know that I am praying for you."
Williams-Hauger told the Washington Blade that it "has always been known that I'm married to" his husband.
"Brad and I have been together since 2005 and he has to accompany me to many events with the Sharpton family to events at Trinity United Church of Christ (in Chicago)," said Williams-Hauger. "In fact, when we got married to our wedding, was celebrated by the clergy at Trinity United Church of Christ with Rev. Dr. Otis Moss and Rev. Dr. Jeremiah Wright."
Williams-Hauger told the Blade said Brown nevertheless "decided to get rid of me" when he found out he was married to a man.
Brown, according to Williams-Hauger, "lied to us" when he said the BWA's Executive Committee "made the decision" to rescind the invitations to join the committee.
"He initiated the situation," said Williams-Hauger.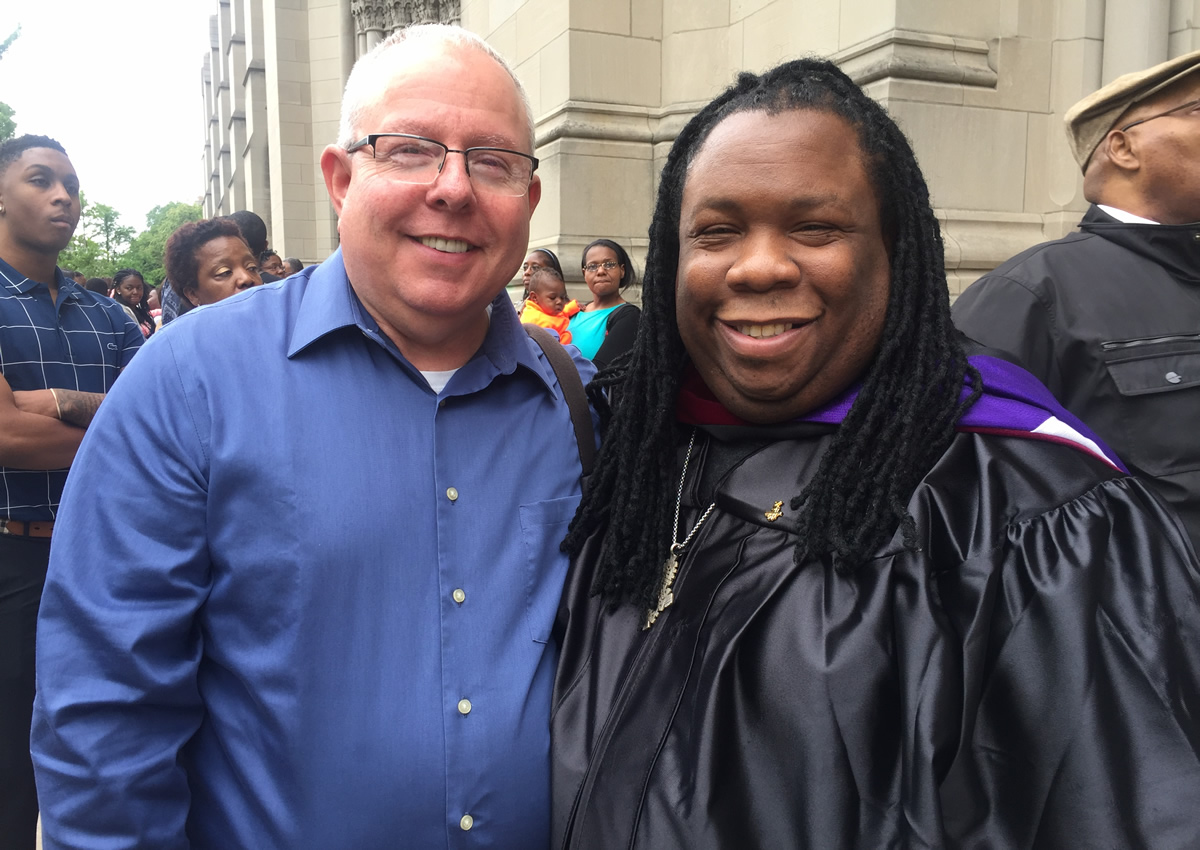 BWA affirms 'Christian marriage and family life'
The BWA's belief statement states it affirms "Christian marriage and family life" and affirms "the dignity of all people, male and female, because they are created in God's image and called to be holy."
"For more than 100 years, the Baptist World Alliance has networked the Baptist family to impact the world for Christ with a commitment to strengthen worship, fellowship and unity; lead in mission and evangelism; respond to people in need through aid, relief and community development; defend religious freedom, human rights and justice; and advance theological reflection and leadership development," states the BWA on its website.
A BWA spokesperson in a May 21 statement to the Blade did not specifically comment on Williams-Hauger's allegations. The comment also did not include a reference to the BWA's position against marriage for same-sex couples.
"As a Christian world communion, the Baptist World Alliance (BWA) represents Baptists in 128 countries and territories with a governing General Council comprised of global representatives," reads the statement. "Drawing upon over 400 years of shared Baptist history and more than 100 years of organizational history, the BWA remains committed to our mission to network the Baptist family to impact the world for Christ. With more than 400 commission members from across the global BWA family, we acknowledge their commitment to serve as volunteers and are not able to comment further on the specifics of any current or previous commission member."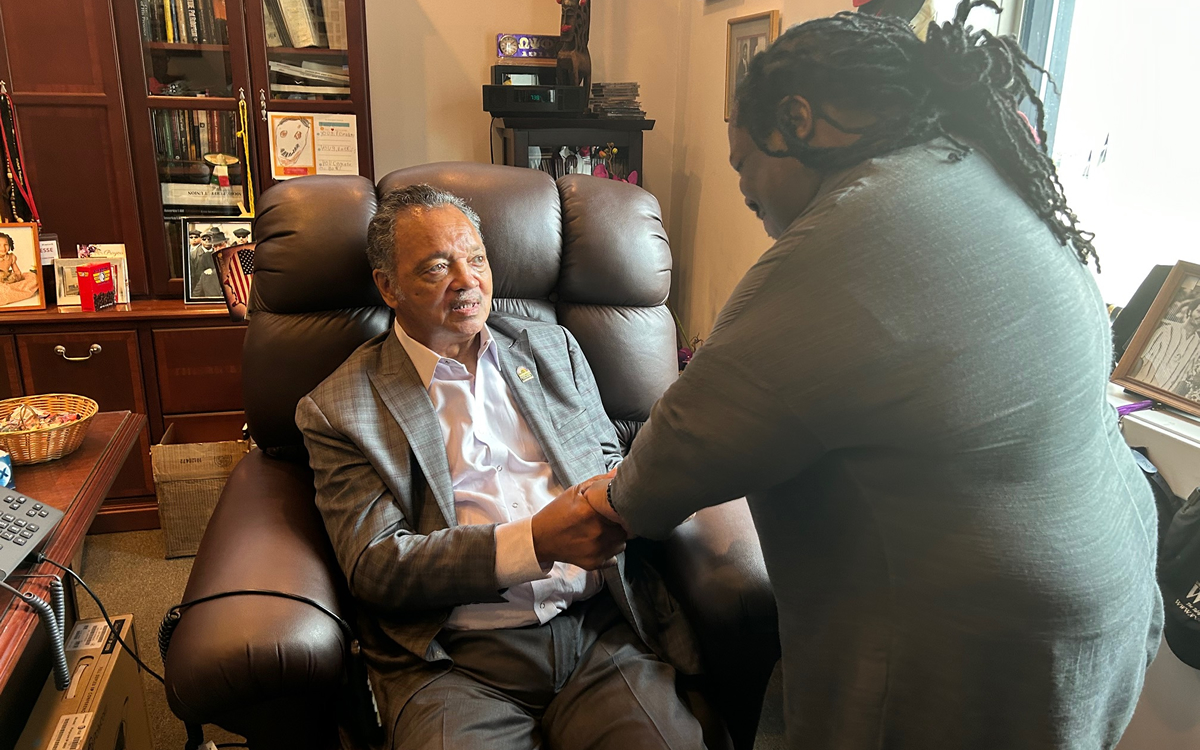 Williams-Hauger on Friday in an emailed statement to the Blade noted the BWA "adopted a resolution stating that same-gendered marriage is incompatible with scripture" and "on April 20 I was asked by Rev. Dr. Elijah Brown to step down from my position on the BWA's Interfaith Relations and Racial Justice Commission; a role I have faithfully served for three years.
"When Elijah Brown rescinded my invitation to serve on the commission it was not just a personal attempt to silence, but rather it is an attempt to silence others like myself, particularly Black queer persons," Williams-Hauger told the Blade. "Further it was an effort to silence our prophetic presence and witness, our God ordained call to serve and advocate for justice and equality all while calling the family of faith to be and do better."
Williams-Hauger said he and other Black LGBTQ people "will not be silenced."
"Standing on the shoulders of the ancestors of James Baldwin, Bayard Rustin and countless others who lived and died and whose spirits give volume to our voices. We call out the hateful theology being practiced by the BWA," said Williams-Hauger. "This hateful theology does not represent the message of Jesus, nor does it even represent the entirety of the Baptist Community. This theology of hate is embodied in by the likes of Ron DeSantis, Tim Scott, Mike Pence and Mike Huckabee to name a few. If Dr. Brown and the BWA wish to go down that path and be another representation of that, hate; we pray for their souls."
Williams-Hauger told the Blade that he and other Black LGBTQ clergy "will continue to serve a God of justice."
"We will build upon the legacy of and work alongside the likes of Rev. Al Sharpton and his children, Rev. Jesse Jackson and his children, Rev. Dr. Raphael Warnock, the good people of Judson Memorial Church NYC, Riverside Church NYC, Lake Street Church, the body of faithful American Baptist Churches, the Alliance of Baptists, and our siblings in the United Church of Christ, the Disciples of Christ, and the body of the some friends among the Association of European Baptist Churches until justice rolls and we get a bit of heaven here on earth."
Bill to ban healthcare for transgender youth defeated in La. Senate
'This is a powerful win for transgender children'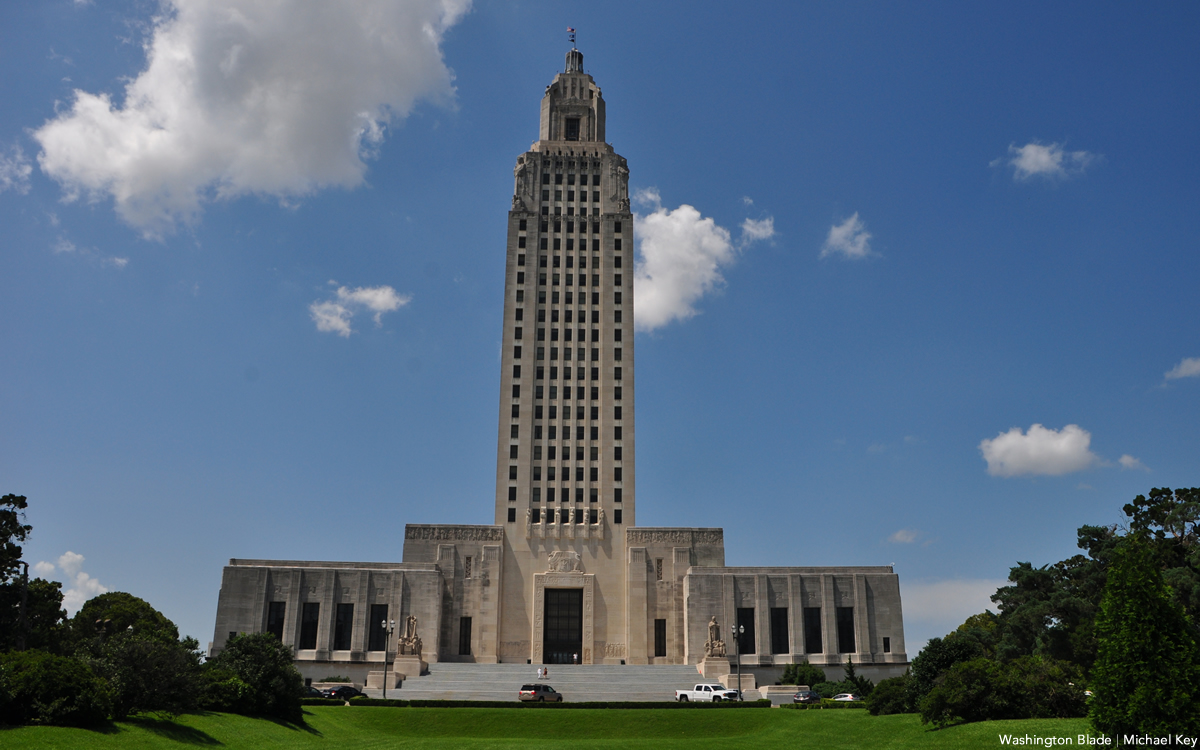 House Bill 648, a bill that would have banned gender-affirming care for transgender children in Louisiana was defeated by the Senate Health and Welfare Committee's vote effectively killing the bill for this legislative session.
"The Senate Health and Welfare Committee has chosen to protect Louisiana's transgender children by rejecting HB 648. This is a powerful win for transgender children and their families. We lift up and celebrate the incredible families, advocates, providers and lawmakers who worked to stop this dangerous bill that targeted transgender children and stripped rights from their parents," a spokesperson for the American Civil Liberties Union of Louisiana said in a statement.
"The fight to protect the rights of transgender children and their families is far from over. But make no mistake, as states across the country pass harmful bills that mirror HB 648, today's committee vote matters, and sends a powerful message that will be heard nationwide."
The committee hearing room was filled to nearly over capacity with trans Louisianians, their supporters and allies. According to WNNO in New Orleans: The committee killed the bill in a narrow 5-4 vote mostly split along party lines after hours of emotional testimony and contentious debate in the packed room. Republican Committee Chair Fred Mills, of Parks, joined Democrats in opposition.
During the at times contentious debate, anti-trans opponents and Republican lawmakers, including state Rep. Michael "Gabe" Firment (R-Pollock), the legislation's author, repeatedly referred to gender-affirming care and surgery for trans minors as a "mutilation" of children's bodies. They also claimed these treatments are "experimental."
Dr. Quentin Van Meter, a pediatric endocrinologist from Atlanta, told the panel, "We are flying an airplane while we build the airplane," while others backing the bill rejected the that banning gender-affirming care would lead to worse mental health conditions for minors.
Opponents pointed out that children's inability to make significant life decisions and because of that, legally minors cannot purchase alcohol or get a tattoo, there's no reason to allow them to transition.
A trans advocate, Dr. Clifton Mixon, a Louisiana psychologist who works with trans youth in the state, rebuked the idea that doctors are mutilating children's genitalia. In his testimony, he also pointed out how rarely these procedures occur in the state: From 2017-2021, there weren't any gender-affirming surgical procedures performed on minors in Louisiana, according to a Louisiana Department of Health study published in 2022.
WNNO noted that state Sen. Jay Luneau (D-Alexandria) said he was concerned that the bill would take away parental rights and called the bill "a solution looking for a problem."
Luneau said he believes every person who testified, including those that are happy with and those who regret their decision to transition. But lawmakers cannot legislate individual's decisions, he said.
Luneau made the motion to defer the bill. The decision came down to Mills, who expressed his trust in science and health care providers before joining Democrats in opposition.
"I guess I've always believed in my heart of hearts that a decision should be made by a patient and a physician," Mills said.