Research into AIDS cure advancing but remains in 'very early days'
HIV treatment and prevention getting 'better and better'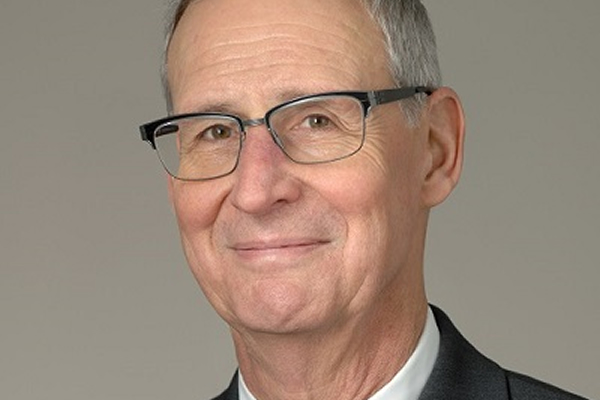 Editor's note: This is part two of our interview with Carl Dieffenbach, director of the Division of AIDS at the National Institute of Allergies and Infectious Diseases. Click here to read part one.
Unlike the coronavirus, the AIDS virus's ability to permanently infect the human body has made it more difficult to develop an AIDS vaccine, and research into a cure for HIV/AIDS is continuing to advance but remains in its "very early days," according to Carl W. Dieffenbach, who has served for the past 25 years as director of the National Institutes of Health's Division of AIDS.
But in an interview with the Washington Blade, Dieffenbach, who holds a doctorate degree in biophysics, said the already highly effective antiretroviral drug treatment for HIV is continuing to advance to a point where the current one pill per day regimen may soon be replaced by a single injection that will make HIV undetectable in the body and untransmitable for six months and possibly a full year.
He said the single injection advance would be applicable for both people who are HIV positive as well as for those who are HIV negative and are taking the current one pill per day prevention medication known as PrEP.
"One of the things I am most happy with is the whole U equals U movement – that undetectable equals untransmitable," Dieffenbach said in referring to the current antiviral medication that makes HIV undetectable in the human body and prevents the virus from being transmitted to another person through sexual relations.
"That really is a rallying cry for people living with HIV that you can become fully suppressed and live knowing that there is no virus in your body as long as you take your pill, and you are free to love," he told the Blade. "And that's a wonderful thing."
Although he didn't say so directly, Dieffenbach made it clear that he and other government and private industry researchers working on an AIDS vaccine and an HIV/AIDS cure know that people with HIV can live a full and productive life as the push for a vaccine and cure continues.
Dieffenbach said a dramatic difference in the genetic makeup between the coronavirus and the AIDS virus is the reason why an AIDS vaccine has yet to be developed after more than 20 years of vaccine research while a COVID-19 vaccine was developed in a little more than a year.
"Once a person becomes HIV positive, that individual is HIV positive for life," he said. "There is no going back. There is no spontaneous cure." By contrast, Dieffenbach points out that with coronavirus, just five percent of those who become infected become seriously ill and are at risk of dying. He said between 35 percent and 40 percent of those infected with coronavirus are asymptomatic and often are unaware that they were infected.
"So, the human immune system by and large does a pretty good job of fighting off the coronavirus," he said. That, among other factors, has made it possible to develop an effective COVID vaccine sooner than an AIDS vaccine, according to Dieffenbach.
Washington Blade: Where do things stand now in the progress of developing a cure for HIV and AIDS?
Carl Dieffenbach: So, let's talk a moment about what we are doing in the space of trying to achieve a cure for HIV. Clearly, this is one of the two major research programs or research goals remaining in HIV – an effective and durable vaccine and then a cure that allows people to not take an antiretroviral [drug] and still live the 'U' equals 'U' [undetectable equals untransmitable] life.
What we want is a cure that really allows people to be free of HIV. And that can be achieved in two ways. You could see the HIV be eliminated or eradicated from the body. You would call that a sterilizing cure. And the other would be more of an immunological or other means of control that would suppress the virus similar to the way the antiretrovirals do, but it's using the natural immunity, the induced immunity that the human body is capable of generating.
Up until recently there hadn't been examples of an individual that had achieved that kind of cure. Just recently there was one reported. The big program we have in cure research is called the Martin Delany Collaboratories for Cure Research. And Marty was one of the lead activists in the very early days of HIV through the '90s. And he really pushed NIH very, very hard to not forget about a cure and to really focus on the best possible anti-virals.
He was just a strong leader and a really wonderful person who just pushed constantly the way you would hope the activist community would continue to try to drive improvements, even when things were going well. So, we felt it was a great way to honor Marty to name the program after him. This program has been around for a little over a decade and it gets more sophisticated and better every cycle.
And the two methods I mentioned – the ability to eliminate the virus completely and establish an immunologic or some other means of control – are major themes of these programs. It's still in the very early days. There are limited clinical trials ongoing, but they're very exploratory. There are maybe hints of things coming in the next couple of years. But it remains in the very early days. In some ways it's similar to where we are with vaccines where we've had a little bit of success but nothing really that we then can say this is the vaccine for the future.
So, these two types of research – a vaccine and cure – remain our top research priorities. And we will continue at this until we have HIV vaccines and the abilities to cure, because we cannot really control and eliminate the epidemic without either of those two strategies.
Blade: Can you talk a little about the human trials that are going on now for a possible HIV cure being conducted by the Rockville-based company American Gene Technologies?
Dieffenbach: That's right. One approach for achieving a cure are these gene-based strategies. There is a company that has a strategy for a gene-based treatment that they have been working on for a number of years. And that has been moving forward. And the proof will be in the pudding when we have a sufficient number of people in a way that are truly evaluated.
There are also strategies that look at ways of using what amounts to scissors, molecular scissors that can go in and chop out the virus. So, there are a number of strategies that people are using or considering for this idea of elimination of the reservoir, including the gene therapy method that we were just discussing.
Blade: The company conducting the gene therapy trials has said the treatment they hope will lead to a cure requires taking blood from someone, altering the genetic makeup of certain cells, and re-infusing the blood back into their body. Is that something that would be practical for treating a large number of people?
Dieffenbach: So, all of these gene therapy strategies are in the very experimental stage. They have to do something called ex-vivo transduction. That's fancy words for saying what you just said. You take cells out of the human body, alter them by adding the new therapeutic and incorporate it into the cell, and re-infuse those cells back into the human body. So, first you start with one cell type like fully differentiated lymphocytes and then you move on.
The ultimate goal will be to get it so you can take a shot, where the shot would go in with the gene therapy and basically go into cells and immunize the cells in such a way that they provide protection from HIV infection as well as elimination of existing copies of HIV. So, we're many steps away from that.
Blade: Some people may be asking why a COVID vaccine has been developed in just over a year since the worldwide COVID outbreak, but an HIV vaccine has not yet been developed after 20 or more years of research. Is there something different with the coronavirus as opposed to the HIV virus that might explain why we haven't had an HIV vaccine at this time?
Dieffenbach: I think this is a really important point. And I want to talk about two different activities. One is the differences between the viruses themselves. With coronavirus, five percent of people who become infected with coronavirus actually get sick and get into a hospital and have near death experiences. Thirty-five to 40 percent of people who get infected with coronavirus are actually never aware that they were infected.
So, the human immune system by and large does a pretty good job of fighting off the coronavirus. But it is incredibly infectious. It is spread by aerosol. With HIV, it is transmitted sexually. It's transmitted through blood and other bodily fluids. Once a person becomes HIV positive, that individual is HIV positive for life. There is no going back. There's no spontaneous cure. We've had 70 million people around the world acquire HIV. By last count, there may be one person in all the years that may have spontaneously cleared their HIV infection. That took 12 years of that person's life.
It is a rarity. So, from that perspective the type of immunity that you need to induce by a vaccine is so fundamentally different for coronavirus and for HIV. So, that's the first step.
The second thing is why were we so successful with the coronavirus vaccine? It wasn't dumb luck. Going back to the earliest SARS outbreak and through MERS and through other respiratory viruses the research team here at NIH has been looking at ways of building the better mouse trap, building a better immunogen. Take a part of the virus and make it the best it could be in terms of presenting or showing itself to the human immune system so that you get an incredibly robust quality response. And that was the work that was done at the VRC, the [NIH] Vaccine Research Center.
So, when that group first published their work on what we call this stabilized spike we offered that technology to all the vaccine manufacturers. And Moderna, Pfizer, and J&J all chose to use this modified version. AstraZeneca and Oxford chose different paths. The Chinese and the Russians chose a different path. And I think the quality of the vaccine and the effectiveness of the vaccine shows in part because of the genetic engineering that we have done to make it the best immunogenetic it can be.
So, it was a two-fold thing. We built a better vaccine to tackle a disease that really natural immunity can work well on. That's one of the reasons why our vaccines – the Moderna, the Pfizer, and the J&J are still quite active against all these variants. It's because their immune response was so robust. So, it was probably six to ten years of work that led us to that exact moment when SARS-CV2 came along that we know what to do with this. We were able to design a vaccine based on all that previous work within a very short period of time and start clinical trials within 60 days of identifying the coronavirus sequence. It wasn't magic. It was hard work.
That's a great story. There are so many unsung heroes in this. And it's a great thing to be part of that we – NIH – could make it so it wasn't just a proprietary thing for us. But we were able to give the world a way of making the best vaccine possible and to allow the companies to pick it up and run with it. So, again, at the end of the day the vaccines that I think we'll come back to rely upon were made with this construct that was developed here through years of research.
Blade: Is there anything I did not ask you that is relevant to the HIV research?
Dieffenbach: Well, just to close the loop, so now that we learned all those lessons from the coronavirus vaccine, we're going back to HIV vaccines and applying some of the rules and technologies and things that we've learned. Now we're going back and looking at that more carefully and trying different things. And thinking about how we can build a better HIV vaccine based on what we know for a coronavirus vaccine.
So, we're trying to complete the cycle. We started with HIV. We developed the platforms, applied it to coronavirus. And now we're trying to close the loop.
Blade: You've been saying that these clinical trials for an AIDS vaccine have been going on for a while. Do you recall when the first AIDS vaccine trial started?
Dieffenbach: The very first trial for an AIDS vaccine was done in the '90s. And it didn't work. It was a single protein. It induced antibodies. But the antibody did not react with the intact viruses. So, it failed. And that was the AIDS vax experience.
Blade: Do you remember when in the '90s that was?
Dieffenbach: The papers were finally published in 2003. So, the studies started in the late 90s and were completed in the early 2000s.
Blade: So, it appears that happened around the time the effective anti-retroviral drugs became available?
Dieffenbach: The highly active anti-retroviral therapy first made its debut in 1995. And that was a combination of AZT, 3TC, and either Crixivan, the protease inhibitor, or a different protease inhibitor from either La Roche or Abbott. And those drugs were quite effective in preventing the virus and helping people. But they all had tremendous side-effects as you will remember. And we then got better and better and better therapies where we are now at one pill once a day.
That is my background in this. I came from the drug side working with the companies back in the early '90s to bring those along. And I grew up in this field and then graduated to director of AIDS and then continued on to therapy and cure and vaccines ever since. I've been director since 2007.
Cornell University study on impact of discrimination on LGBTQ of color
Around 25% of LGBTQ youth have attempted suicide, but the rates are starkly higher for LGBTQ youth of color than their white counterparts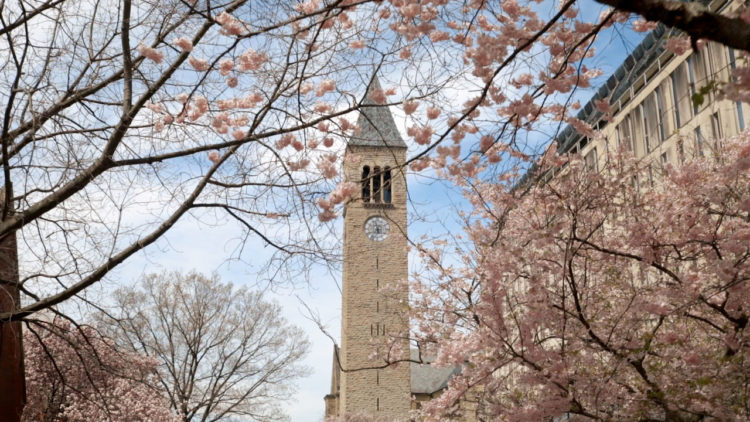 ITHACA, NY. – Cornell University's What We Know Project in conjunction with a coalition of leading LGBTQ rights groups last month published a comprehensive curation of data on studies that chart the intersection of anti-LGBTQ and racial discrimination.
The findings found that discrimination inflicts profoundly greater harm on LGBTQ people of color in a wide range of areas, including grossly disproportionate rates of: experiencing discrimination over the past year, poorer mental and physical health, greater economic insecurity, and attempts to die by suicide.
In addition, LGBTQ people of color are more likely than white LGBTQ people to live in states without protections against discrimination and that state anti-LGBTQ laws harm LGBTQ people.
"This research brief makes clear the tangible harms that discrimination inflicts on LGBTQ people of color, and the urgent need for public policy that reflects what the research tells us about how we can reduce those harms," said Dr. Nathaniel Frank, the study's author.
LGBTQ people are more likely than non-LGBTQ people to be people of color, and Black LGBTQ Americans are disproportionately likely to live in states without protections against discrimination. For example, 42% of LGBT people are people of color compared to 32% of non-LGBT people and the majority of Black LGBT Americans live in the South (51.4%, more than twice the share of any other region), where most states lack anti-discrimination protections.
LGBTQ people of color face higher odds of discrimination than both non-LGBTQ individuals and LGBTQ white people. For example, LGBTQ people of color are more than twice as likely to experience anti-LGBTQ discrimination (slurs or other verbal abuse) when applying for jobs than white LGBTQ individuals (32% vs. 13%). LGBTQ people of color are more than twice as likely as white LGBTQ people to experience anti-LGBTQ discrimination when interacting with the police (24% vs. 11%).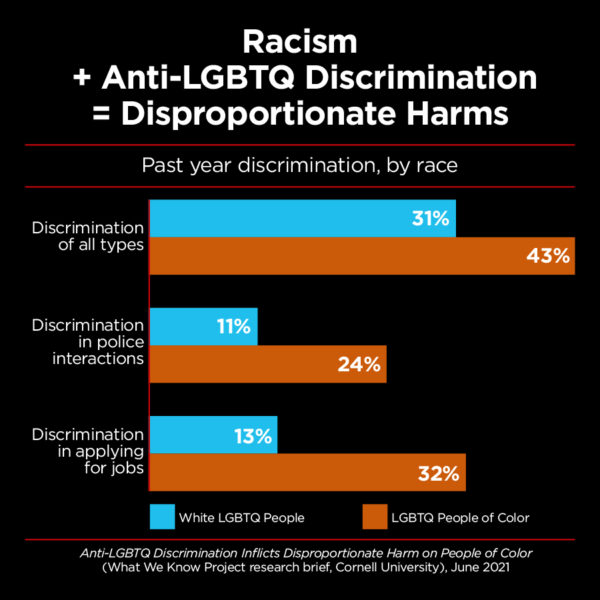 Black LGBT Americans are more likely to experience economic insecurity than Black non-LGBT Americans. For example, the majority of Black LGBT people (56%) live in low-income households (below 200% of the federal poverty level) compared to 49% of Black non-LGBT Americans, and Black LGBT adults are also more likely to experience food insecurity than Black non-LGBT adults (37% compared to 27%).
Hundreds of studies conclude that experiencing anti-LGBTQ discrimination increases the risks of poor mental and physical health, including depression, anxiety, suicidality, PTSD, substance use, and psychological distress.
LGBTQ people of color face disproportionate odds of suicidality, which is linked to discrimination. For example, while 12% of white LGBTQ youth attempted suicide, the rate is 31% for LGBTQ Native/Indigenous youth, 21% for LGBTQ Black youth, and 18% of LGBTQ Latinx youth.
While supportive laws, family, and peers lower the risk of poor health outcomes for LGBTQ people of color, anti-LGBTQ state laws inflict tangible harm on sexual minority populations. For example, states with "denial of service" laws that give license to discriminate against LGBT residents between 2014 and 2016 were linked with a 46% increase in LGBT mental distress. Black LGBTQ youth who reported high levels of support from at least one person, or who had access to an LGBTQ-affirming space, reported attempting suicide at lower rates than those who lacked such support (16% vs. 24%).

Supportive laws, family, and peers lower the risk of poor health outcomes for LGBTQ people of color.
• Suicide attempts by LGBT youth dropped by 7 percent in states that legalized same-sex marriage.22
• The corollary is that anti-LGBTQ state laws inflict tangible harm on sexual minority populations. States with "denial of service" laws that give license to discriminate against LGBT residents were linked with a 46% increase in LGBT mental distress.23
• Black LGBTQ youth who reported high levels of support from at least one person, or who had access to an LGBTQ-affirming space, reported attempting suicide at lower rates than those who lacked such support (16% vs. 24%). Those with high levels of family support had rates of past-year attempted suicide nearly one third as high as those who lacked such support (22% vs. 8%).24
• Protective measures that have been found to help reduce anxiety, depression, and suicidality among LGBTQ youth include: Establishing inclusive practices and anti-discrimination policies; peer, community, and family support, including dedicated school groups; access to affirmative mental health and social services; societal confrontation of attitudes and norms that exacerbate minority stress; and practitioner training and interventions designed to disrupt negative coping responses and build resilience.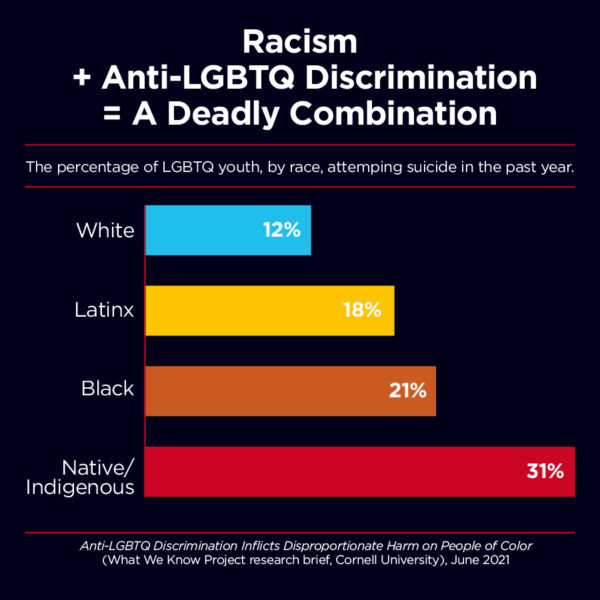 Experiencing discrimination is associated with greater odds of harm to psychological and economic well-being, which is reflected in data on disparities for LGBTQ people of color.
• Hundreds of studies conclude that experiencing anti-LGBTQ discrimination increases the risks of poor mental and physical health, including depression, anxiety, suicidality, PTSD, substance use, and psychological distress.
• LGBT people of color have work-place experiences that are more negative than those of white LGBT employees, reporting that their success and work-life balance are fostered less extensively, they have less transparent evaluations, and they are respected less by supervisors.
• Among LGBTQ people surveyed, 51% of Black respondents say discrimination harms their ability to be hired, compared with 33% of white respondents; 41% say it has an impact on their ability to retain employment, compared with 31% of white respondents; 77% of Black respondents report that discrimination impacts their psychological well-being, a rate nearly 50% higher than the total LGBTQ survey population.
• While racial discrimination on its own is not associated with mental health disorders, the combination of racial discrimination with gender and/or sexual orientation discrimination is significantly associated with increased odds of a past-year mental health disorder.
LGBTQ people of color face disproportionate odds of suicidality, which is linked to discrimination.
• Around 25% of LGBTQ youth of all races have attempted suicide, but the rates are starkly higher for LGBTQ youth of color than their white counterparts: While 12% of white LGBTQ youth have attempted suicide, the rate is 31% for LGBTQ Native/Indigenous youth, 21% for LGBTQ Black youth, and 18% for LGBTQ Latinx youth.
• In a 95%-non-white LGBT sample, those who report experiencing anti-LGBT victimization (such as bullying and harassment) are 2.5 times more likely to report a past-year suicide attempt compared to those who do not report victimization.
• Black LGBTQ youth who experience anti-LGBTQ discrimination face twice the rate of past year suicide attempts compared to youth who do not (27% vs. 12%). Black LGBTQ youth who experience race-based discrimination also face higher odds of attempting suicide than those who do not (20% vs. 14%).
• Black LGB adults are over 40% more likely to have made a serious suicide attempt in their lifetime than white LGB adults.
• Latinx and Native American/Pacific Islander LGBT youth are 50% more likely to attempt suicide than white LGBT youth. Latinx LGBT girls are nearly twice as likely to attempt suicide than white LGBT youth.
• LGBTQ students who experience discrimination "based on multiple social identities" report more use of deliberate self-harm compared to LGBTQ students who experience racial discrimination alone or who do not experience significant discrimination of any kind.
Reflecting on the study's findings, key executives from participating LGBTQ Advocacy groups weighed in:
"These painful figures highlight an indisputable link between discrimination, economic security, mental and physical health. People with multiple stigmatized, marginalized social and political identities, particularly Black LGBTQ+/Same Gender Loving people, bear a disproportionate amount of the weight illustrated by the data in this study. Statutory equality for LGBTQ+ people nationwide is a necessary foundation to remove the gaps in existing civil rights laws if we are to ever live up to our country's founding promises of life, liberty, and the pursuit of happiness for all," said David Johns, Executive Director, National Black Justice Coalition.
The majority of Black LGBTQ people live in the South, with nearly half (44%) of all Black women couples raising children. Even today, most of these states still do not protect LGBTQ people from discrimination and have overtly discriminatory laws on their books. It is no wonder the disparities are so profound and it is a testament to the strength and resilience of our people that they are doing as well as they are. For our community and for our children it's time for federal action!" said Kierra Johnson, Executive Director, National LGBTQ Task Force.
"This important brief only further solidifies what we have known for a very long time—the combination of racism and anti-LGBTQ discrimination has serious and long-lasting effects for the health and well-being of LGBTQ people of color. This research highlights why federal non-discrimination protections are overdue and vital to protecting the most some of the most underrepresented and vulnerable members of our community. Federal anti-discrimination protections are absolutely necessary in protecting and supporting all LGBTQ people, and this is especially true for LGBTQ people of color," said Imani Rupert-Gordon, Executive Director, National Center for Lesbian Rights.
"Study after study shows that nondiscrimination protections improve economic opportunities, public safety, and physical and mental well-being of LGBTQ people. It is well past time for the essential protections available only in some of our states and cities to be extended to all LGBTQ Americans, especially LGBTQ people of color, who are disproportionately burdened by the lack of protections, " said Kasey Suffredini, CEO and National Campaign Director, Freedom for All Americans.
The Gift of Life: Sam's Story
Sam is a passionate organ donation advocate who is determined to give back to the transplantation community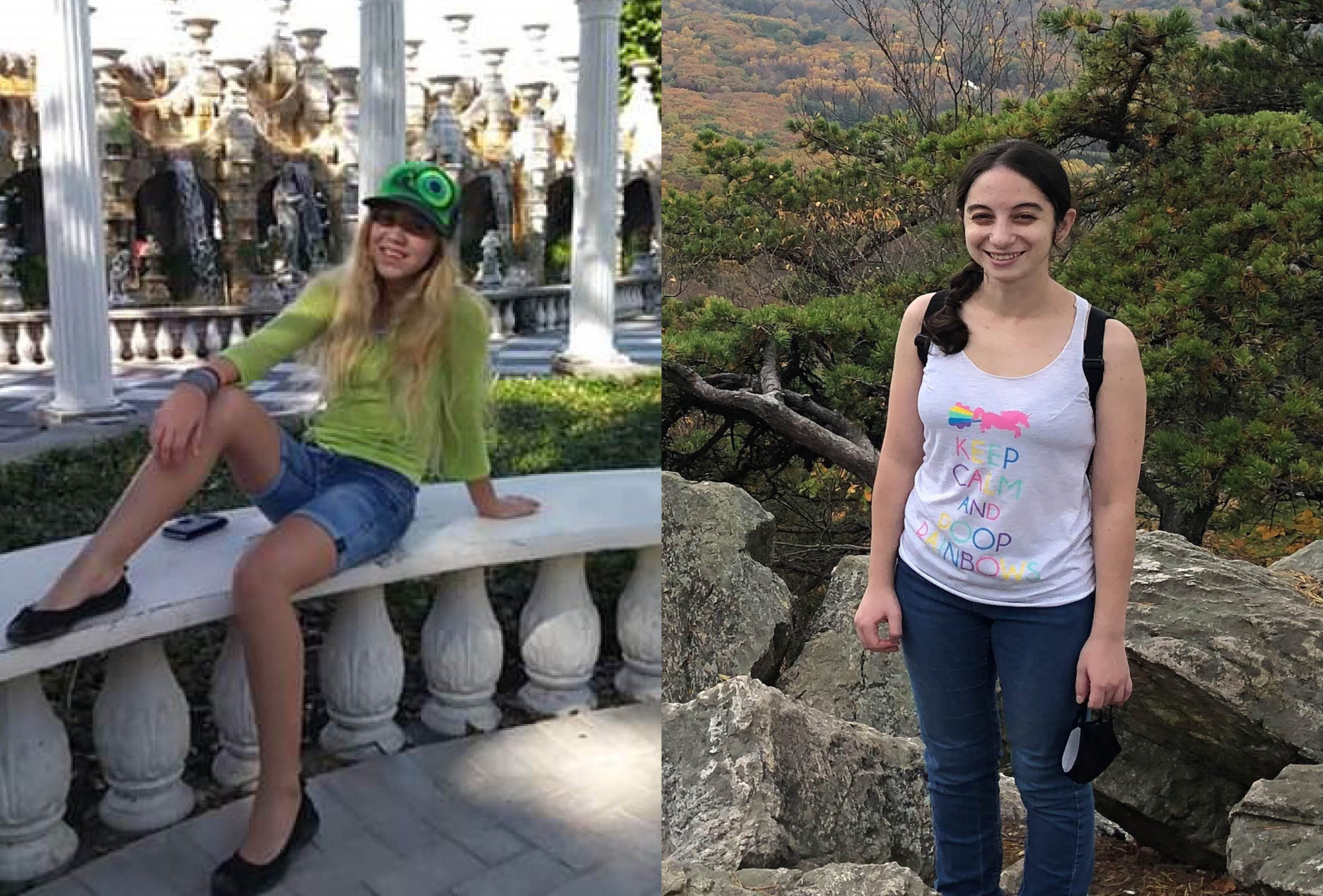 Life for Samantha, or "Sam" as she is affectionately known, was fairly ordinary until 2013. That's when she first started experiencing symptoms such as a low appetite and abdominal distension. Sam tried to not overthink it until her condition worsened. "I was routinely curled up in a ball sobbing due to the intense stabbing feeling in my abdomen." 
One day the pain was so agonizing, Sam went to the Emergency Room and learned that her intestine had somehow rotated 360 degrees. She was rushed into surgery, but unfortunately, the procedure was a Band-Aid and did not resolve her medical woes.
After many hospitalizations, Sam was referred to specialists at MedStar Georgetown Transplant Institute and ultimately was diagnosed with a severe case of intestinal dysmotility, where the intestine doesn't properly move food or waste products. Unable to eat or drink, Sam's only source of nutrition came through an IV.
While the IV kept Sam alive, it was in no way a long-term solution. So, in March 2019, she received a lifesaving bowel transplant from a deceased organ donor. "My life has completely changed. I now eat anything I can get my hands on, and I'm not in pain. I can do anything I want without worrying that my health will inhibit me. People who meet me now have no idea that I was ever sick unless I tell them."
Post-transplant Sam has accomplished several milestones including returning to work, beginning graduate school and eating again. Breakfast, lunch and dinner are mundane parts of the day that are often taken for granted. But not for Sam. One recent memory dear to her heart was celebrating her one-year anniversary with her girlfriend Ali over a meal together, at a restaurant, for the very first time.
Sam continues to make memories that are only possible because of her organ donor who coincidentally was also named Samantha or "Sammie." Sammie, who loved aerial acrobatics and dreamed of being part of the Cirque du Soleil, died unexpectedly at the young age of 15.

According to her mother, Sammie was proud to be pansexual and loved Pride. "I'm so proud of my daughter. Even one life saved by donation is a miracle. Knowing that several people were saved by Sammie makes her loss so much easier to bear. Sammie loved helping people and is still doing that after her death," said Kitty Ellis.
"I am so thankful to Sammie for her amazing gift. I can't put into words how grateful I am that in the midst of terrible pain, her family made the decision to save others' lives. Sammie not only saved my life, but she gave me a life worth living. I will do everything I can to honor her gift."
Sam is a passionate organ donation advocate who is determined to give back to the transplantation community. Her hope is that everyone registers to be an organ donor so that one day all those waiting for a transplant will receive their lifesaving gift in time.
Everyone can register to be an organ donor. To learn more about donation, visit BeADonor.org.
Queer youth found creative approaches to self-care during pandemic
From taking a bath to developing new workout routines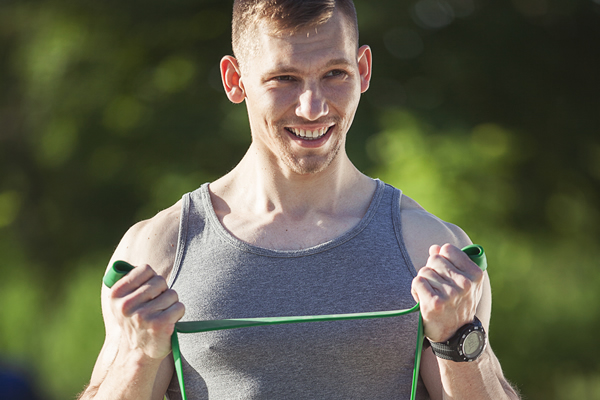 Isolation, whether because of the pandemic, physical or mental health issues, or a combination of those, has affected everyone this year. For LGBTQ youth, already marginalized by society and often lacking support in their own families, it has been especially difficult.
A Trevor Project survey conducted at the end of 2020 found "more than half of transgender and non-binary youth seriously considered suicide."
In July of 2020, a group of Irish doctors and a representative from a student group called for immediate research and dissemination of self-help resources for young people, stating that "youth, whilst less susceptible to severe COVID-19 infection, is more at risk of the negative psychosocial effects of the pandemic."
Urban Health Media Project, a D.C.-based nonprofit that helps train high school students in health journalism, surveyed youth about the mental health impacts of the pandemic in April. They wanted to know how LGBTQ youth had been taking care of themselves and about the importance of Pride as society emerged from isolation.
Pandemic life changed the way most people socialize, forcing people to learn how to cope with their own struggles. The concept of "self-care"— practices and methods for maintaining mental and physical health without the aid of the medical community — has become even more important when COVID-19 forced people into lockdown.
But pandemic-era self-care doesn't look the same for everyone. For some, it's about taking a bath, taking extra care of their physical health, or developing a new workout routine that doesn't require a gym.
For many, therapy offers an opportunity to discuss emotions and get feedback and help from a trained professional. Many young people don't have this option, unfortunately, and COVID has made some reluctant to seek out that type of care.
When therapy or friends are not enough or when they are inaccessible, people have found other ways to release their emotions.
Jada Johnson, a Baltimore writer and social justice advocate who graduated from high school last year, said on the Urban Health Media Project's "Therapy Thursday" Instagram Live on May 6 that she is considering making more frequent appointments with a therapist. When things get too overwhelming for her, Johnson said she often just does "nothing." She detaches until she feels strong enough to keep going.
Hot showers also help, she said.
"Hot water, it just relaxes me," said Johnson. "Like, it just refreshes me, keeps me on the go."
Radiah Jamil, a rising high school senior at Brooklyn Latin School, who is an LGBTQ ally, uses daily journaling and creative writing: "Writing in general is something I love to do and the activity enhances my quality of life so I like to do all types of writing from creative writing to journalism about any issues and topics on my mind."
Young Elder, 19, a rap artist and activist from Baltimore, uses music and poetry to cope with the feelings of depression that she has experienced. "It really helped clear my mind and helped me find a different way to put how I was feeling," she said on UHMP's May 20 Instagram Live. "Music is how I heal, so it's a process. So it's kind of like I'm writing a diary and I'm choosing to share it."
Teens and young adults surveyed by Urban Health Media Project about self-care also mentioned that favorite songs and movies help them to relax.
Dangers of social media
Turning to social media, however, when feeling anxious or depressed can sometimes add to stress. Social media is not nearly as transparent as some may think; a personal feed can often be just a collection of the best moments of a person's life, and can sometimes be exaggerated or even fabricated.
Lexi Shepard, 18, of Kokomo, Ind., attested to the impact of social media on her mental health on a May 13 Instagram livestream: "Social media does impact how you view your own accomplishments because it's very easy to fall into the niche of comparing yourself and what you've achieved to what other people are achieving."
Having just graduated from high school, the college acceptance experience was fresh in her mind. "It's very easy to sit there and compare and say, 'wow, I could have done better and I could have done more,' and have a very negative outlook on it," she said. "I realized that I needed to be proud of my own accomplishments and realize what's best for me. I'm making these decisions for myself, not to please people around me."
Not everyone has that level of perspective and emotional self-awareness, though.
In situations of anxiety or stress, or feeling overwhelmed, the most important thing to do is to acknowledge your emotions and take a moment to yourself, said Calix Vu-Bui, a queer Vietnamese-American licensed therapist for Amwell.
"One of the things I think is so simple is to just tell yourself, or tell someone who's asking something from you in an anxious moment, 'I need a moment,'" Vu-Bui said in a May 13 Instagram Livestream organized by UHMP. "How are you going to regulate anything, [or] be able to think and respond to people if you're not like, 'wait a second, I've gotta breathe.' And then you actually have to do it!"
Vu-Bui uses a metaphor of a balloon to explain the need to vent and release emotions.
"We're full of all these emotions and all these things that happen to us… and so all the things [that were] mentioned, from journaling, music, exercise, all these different ways and outlets that we have to just kind of release some tension from that balloon. We've got to let some of that air out or we are going to pop."
Resources for LGBTQ youth
You are not alone. Numerous resources exist for LGBTQ youth. National organizations that provide a full range of support from information and education to individualized care include:

You can call the Trevor Lifeline 24/7/365: 866-488-7386.
They also offer a round-the-clock online confidential chat and a text messaging withTrevor counselors for youth in need. Their website includes resources such as "Protect your space and well-being on Instagram" and "A Coming Out Handbook."
The National Alliance on Mental Illness also operates a Helpline 800-950-NAMI, or in a crisis text "NAMI" to 741741. They have state affiliates so you can find help wherever you are. You can find your local NAMI by scrolling to the bottom of their "about" page and putting your state into the designated search box. And their "Support and Education" page has information on support groups and even online discussion groups.
The Centers for Disease Control and Prevention has compiled a list of resources for LGBTQ youth, and their educators and school administrators, and their parents and families.
For more localized resources, contact a comprehensive care hospital or a children's hospital in your region.
The Youth Pride Clinic, for example, provides primary and specialty care services to lesbian, gay, bisexual, transgender and questioning/queer (LGBTQ) young adults between the ages of 12-22 throughout the greater Washington, D.C., region. OR CALL 202-476-5744
Adrian Gibbons graduated from Boston University in May 2021 with a film degree. A trans male, he is an intern with the Urban Health Media Project.