Research into AIDS cure advancing but remains in 'very early days'
HIV treatment and prevention getting 'better and better'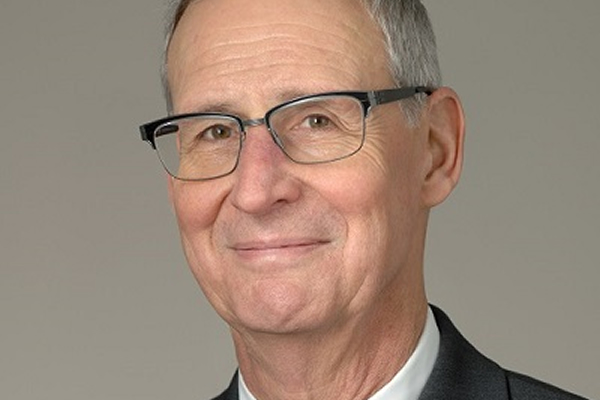 Editor's note: This is part two of our interview with Carl Dieffenbach, director of the Division of AIDS at the National Institute of Allergies and Infectious Diseases. Click here to read part one.
Unlike the coronavirus, the AIDS virus's ability to permanently infect the human body has made it more difficult to develop an AIDS vaccine, and research into a cure for HIV/AIDS is continuing to advance but remains in its "very early days," according to Carl W. Dieffenbach, who has served for the past 25 years as director of the National Institutes of Health's Division of AIDS.
But in an interview with the Washington Blade, Dieffenbach, who holds a doctorate degree in biophysics, said the already highly effective antiretroviral drug treatment for HIV is continuing to advance to a point where the current one pill per day regimen may soon be replaced by a single injection that will make HIV undetectable in the body and untransmitable for six months and possibly a full year.
He said the single injection advance would be applicable for both people who are HIV positive as well as for those who are HIV negative and are taking the current one pill per day prevention medication known as PrEP.
"One of the things I am most happy with is the whole U equals U movement – that undetectable equals untransmitable," Dieffenbach said in referring to the current antiviral medication that makes HIV undetectable in the human body and prevents the virus from being transmitted to another person through sexual relations.
"That really is a rallying cry for people living with HIV that you can become fully suppressed and live knowing that there is no virus in your body as long as you take your pill, and you are free to love," he told the Blade. "And that's a wonderful thing."
Although he didn't say so directly, Dieffenbach made it clear that he and other government and private industry researchers working on an AIDS vaccine and an HIV/AIDS cure know that people with HIV can live a full and productive life as the push for a vaccine and cure continues.
Dieffenbach said a dramatic difference in the genetic makeup between the coronavirus and the AIDS virus is the reason why an AIDS vaccine has yet to be developed after more than 20 years of vaccine research while a COVID-19 vaccine was developed in a little more than a year.
"Once a person becomes HIV positive, that individual is HIV positive for life," he said. "There is no going back. There is no spontaneous cure." By contrast, Dieffenbach points out that with coronavirus, just five percent of those who become infected become seriously ill and are at risk of dying. He said between 35 percent and 40 percent of those infected with coronavirus are asymptomatic and often are unaware that they were infected.
"So, the human immune system by and large does a pretty good job of fighting off the coronavirus," he said. That, among other factors, has made it possible to develop an effective COVID vaccine sooner than an AIDS vaccine, according to Dieffenbach.
Washington Blade: Where do things stand now in the progress of developing a cure for HIV and AIDS?
Carl Dieffenbach: So, let's talk a moment about what we are doing in the space of trying to achieve a cure for HIV. Clearly, this is one of the two major research programs or research goals remaining in HIV – an effective and durable vaccine and then a cure that allows people to not take an antiretroviral [drug] and still live the 'U' equals 'U' [undetectable equals untransmitable] life.
What we want is a cure that really allows people to be free of HIV. And that can be achieved in two ways. You could see the HIV be eliminated or eradicated from the body. You would call that a sterilizing cure. And the other would be more of an immunological or other means of control that would suppress the virus similar to the way the antiretrovirals do, but it's using the natural immunity, the induced immunity that the human body is capable of generating.
Up until recently there hadn't been examples of an individual that had achieved that kind of cure. Just recently there was one reported. The big program we have in cure research is called the Martin Delany Collaboratories for Cure Research. And Marty was one of the lead activists in the very early days of HIV through the '90s. And he really pushed NIH very, very hard to not forget about a cure and to really focus on the best possible anti-virals.
He was just a strong leader and a really wonderful person who just pushed constantly the way you would hope the activist community would continue to try to drive improvements, even when things were going well. So, we felt it was a great way to honor Marty to name the program after him. This program has been around for a little over a decade and it gets more sophisticated and better every cycle.
And the two methods I mentioned – the ability to eliminate the virus completely and establish an immunologic or some other means of control – are major themes of these programs. It's still in the very early days. There are limited clinical trials ongoing, but they're very exploratory. There are maybe hints of things coming in the next couple of years. But it remains in the very early days. In some ways it's similar to where we are with vaccines where we've had a little bit of success but nothing really that we then can say this is the vaccine for the future.
So, these two types of research – a vaccine and cure – remain our top research priorities. And we will continue at this until we have HIV vaccines and the abilities to cure, because we cannot really control and eliminate the epidemic without either of those two strategies.
Blade: Can you talk a little about the human trials that are going on now for a possible HIV cure being conducted by the Rockville-based company American Gene Technologies?
Dieffenbach: That's right. One approach for achieving a cure are these gene-based strategies. There is a company that has a strategy for a gene-based treatment that they have been working on for a number of years. And that has been moving forward. And the proof will be in the pudding when we have a sufficient number of people in a way that are truly evaluated.
There are also strategies that look at ways of using what amounts to scissors, molecular scissors that can go in and chop out the virus. So, there are a number of strategies that people are using or considering for this idea of elimination of the reservoir, including the gene therapy method that we were just discussing.
Blade: The company conducting the gene therapy trials has said the treatment they hope will lead to a cure requires taking blood from someone, altering the genetic makeup of certain cells, and re-infusing the blood back into their body. Is that something that would be practical for treating a large number of people?
Dieffenbach: So, all of these gene therapy strategies are in the very experimental stage. They have to do something called ex-vivo transduction. That's fancy words for saying what you just said. You take cells out of the human body, alter them by adding the new therapeutic and incorporate it into the cell, and re-infuse those cells back into the human body. So, first you start with one cell type like fully differentiated lymphocytes and then you move on.
The ultimate goal will be to get it so you can take a shot, where the shot would go in with the gene therapy and basically go into cells and immunize the cells in such a way that they provide protection from HIV infection as well as elimination of existing copies of HIV. So, we're many steps away from that.
Blade: Some people may be asking why a COVID vaccine has been developed in just over a year since the worldwide COVID outbreak, but an HIV vaccine has not yet been developed after 20 or more years of research. Is there something different with the coronavirus as opposed to the HIV virus that might explain why we haven't had an HIV vaccine at this time?
Dieffenbach: I think this is a really important point. And I want to talk about two different activities. One is the differences between the viruses themselves. With coronavirus, five percent of people who become infected with coronavirus actually get sick and get into a hospital and have near death experiences. Thirty-five to 40 percent of people who get infected with coronavirus are actually never aware that they were infected.
So, the human immune system by and large does a pretty good job of fighting off the coronavirus. But it is incredibly infectious. It is spread by aerosol. With HIV, it is transmitted sexually. It's transmitted through blood and other bodily fluids. Once a person becomes HIV positive, that individual is HIV positive for life. There is no going back. There's no spontaneous cure. We've had 70 million people around the world acquire HIV. By last count, there may be one person in all the years that may have spontaneously cleared their HIV infection. That took 12 years of that person's life.
It is a rarity. So, from that perspective the type of immunity that you need to induce by a vaccine is so fundamentally different for coronavirus and for HIV. So, that's the first step.
The second thing is why were we so successful with the coronavirus vaccine? It wasn't dumb luck. Going back to the earliest SARS outbreak and through MERS and through other respiratory viruses the research team here at NIH has been looking at ways of building the better mouse trap, building a better immunogen. Take a part of the virus and make it the best it could be in terms of presenting or showing itself to the human immune system so that you get an incredibly robust quality response. And that was the work that was done at the VRC, the [NIH] Vaccine Research Center.
So, when that group first published their work on what we call this stabilized spike we offered that technology to all the vaccine manufacturers. And Moderna, Pfizer, and J&J all chose to use this modified version. AstraZeneca and Oxford chose different paths. The Chinese and the Russians chose a different path. And I think the quality of the vaccine and the effectiveness of the vaccine shows in part because of the genetic engineering that we have done to make it the best immunogenetic it can be.
So, it was a two-fold thing. We built a better vaccine to tackle a disease that really natural immunity can work well on. That's one of the reasons why our vaccines – the Moderna, the Pfizer, and the J&J are still quite active against all these variants. It's because their immune response was so robust. So, it was probably six to ten years of work that led us to that exact moment when SARS-CV2 came along that we know what to do with this. We were able to design a vaccine based on all that previous work within a very short period of time and start clinical trials within 60 days of identifying the coronavirus sequence. It wasn't magic. It was hard work.
That's a great story. There are so many unsung heroes in this. And it's a great thing to be part of that we – NIH – could make it so it wasn't just a proprietary thing for us. But we were able to give the world a way of making the best vaccine possible and to allow the companies to pick it up and run with it. So, again, at the end of the day the vaccines that I think we'll come back to rely upon were made with this construct that was developed here through years of research.
Blade: Is there anything I did not ask you that is relevant to the HIV research?
Dieffenbach: Well, just to close the loop, so now that we learned all those lessons from the coronavirus vaccine, we're going back to HIV vaccines and applying some of the rules and technologies and things that we've learned. Now we're going back and looking at that more carefully and trying different things. And thinking about how we can build a better HIV vaccine based on what we know for a coronavirus vaccine.
So, we're trying to complete the cycle. We started with HIV. We developed the platforms, applied it to coronavirus. And now we're trying to close the loop.
Blade: You've been saying that these clinical trials for an AIDS vaccine have been going on for a while. Do you recall when the first AIDS vaccine trial started?
Dieffenbach: The very first trial for an AIDS vaccine was done in the '90s. And it didn't work. It was a single protein. It induced antibodies. But the antibody did not react with the intact viruses. So, it failed. And that was the AIDS vax experience.
Blade: Do you remember when in the '90s that was?
Dieffenbach: The papers were finally published in 2003. So, the studies started in the late 90s and were completed in the early 2000s.
Blade: So, it appears that happened around the time the effective anti-retroviral drugs became available?
Dieffenbach: The highly active anti-retroviral therapy first made its debut in 1995. And that was a combination of AZT, 3TC, and either Crixivan, the protease inhibitor, or a different protease inhibitor from either La Roche or Abbott. And those drugs were quite effective in preventing the virus and helping people. But they all had tremendous side-effects as you will remember. And we then got better and better and better therapies where we are now at one pill once a day.
That is my background in this. I came from the drug side working with the companies back in the early '90s to bring those along. And I grew up in this field and then graduated to director of AIDS and then continued on to therapy and cure and vaccines ever since. I've been director since 2007.
Nonbinary Department of Energy official replaced after felony theft charges
Sam Brinton allegedly stole suitcase at Minneapolis airport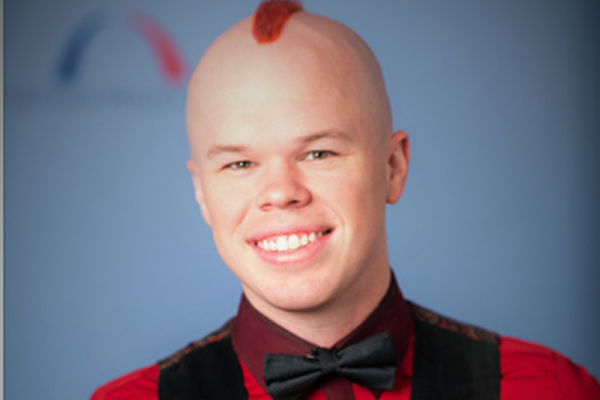 The Department of Energy replaced a nonbinary senior official who had served as the agency's deputy assistant secretary for spent fuel and waste disposition after they were charged with a felony over an incident at Minneapolis-St. Paul International Airport on Sept. 16.
Sam Brinton, whose departure from the Energy Department was confirmed by a spokesperson to the New York Post, did not immediately respond to the Washington Blade's request for comment via Facebook Messenger.
Brinton, who has dual degrees from MIT and years of experience in nuclear waste management and climate change work, is also an LGBTQ activist who made history this year with their appointment as the first openly gender-fluid person to serve in a senior government post.
A 2018 column in the Los Angeles Times argued there was a cultural shift afoot towards greater acceptance of transgender and gender fluid people — using, as an introductory anecdote, Brinton's appearance at the Academy Awards. According to the author, Brinton spoke passionately about their suicide prevention work for the Trevor Project and was embraced by Hollywood icons like Jane Fonda.
They also encountered some hateful backlash from anti-LGBTQ figures on the right, which was renewed on Monday with the news about Brinton's dismissal pursuant to the felony charges filed against them, which conservative-leaning outlets were among the first to report.
Extreme right-wing Congresswoman Marjorie Taylor Greene (R-Ga.) published an offensive tweet yesterday targeting Brinton and their nonbinary identity:
Stealing women's purses and identity.
Classic. https://t.co/yCVhMfLaQX

— Rep. Marjorie Taylor Greene🇺🇸 (@RepMTG) November 28, 2022
According to reporting in the New York Post, during an initial conversation with police, Brinton allegedly denied that they had stolen another passenger's suitcase. Subsequently, Brinton told investigators they accidentally grabbed the wrong bag at the luggage carousel by mistake out of exhaustion.
Court filings indicate that Brinton, upon realizing they had mistakenly taken someone else's bag, emptied its contents into dresser drawers in their hotel room, anxious about the prospect of facing accusations of property theft.
No one would have expected me to attempt suicide
Successful career, busy social life hid reality of depression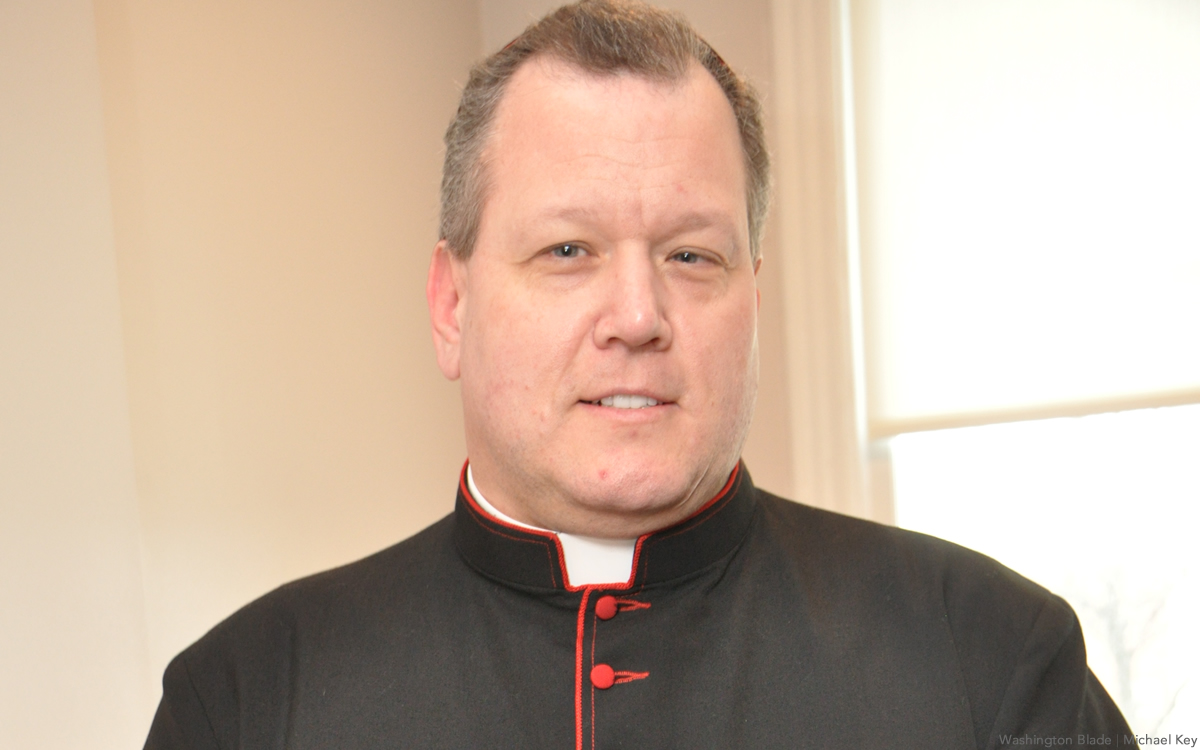 Editor's note: The Blade has covered several suicides in our community in recent months. Sadly, the holidays are a time of increased anxiety, isolation, and depression for many. The following is a first-person account of surviving suicide along with resources and information on where to get help if you are in crisis. There is an abundance of resources addressing the unique needs of the LGBTQ community. If you have a personal story you'd like to share with Blade readers about overcoming suicidal ideation, depression, addiction, or isolation, please email us at [email protected].

In late winter 2015 it would have seemed that I had everything going for me — a successful drag career (hosting at Town Friday and Saturday nights), and an extremely busy priesthood that consumed my time, especially with preparation for the upcoming holidays. My family life contained the usual stressors. I have plenty of friends, acquaintances, and a handful of very close friends, and dare I say a few fans.
Looking from the outside, my life seemed normal (normal for me). No one would have ever expected me to consider suicide. More and more, depression continually rolled over me like a tidal wave and I found myself with no purpose or defense. I had experienced depression before, but never to this magnitude. It became unbearable; a feeling of worthlessness and sheer sadness with anxiety that consumed me. My days were filled with pain and my nights with unrelenting insomnia, one right after the other.
Being a person of faith required that I make peace with my decision and my creator. I believed that a God who so loves me would not want me to suffer under such a crushing weight of depression. The Lord is a God of mercy, and how could a merciful God show anything but mercy? I realized that suicide was my best option, despite the many resources available to me, such as The National Suicide Prevention hotline (1-800-273-8255), the various suicide prevention organizations (The Trevor Project, A.F.S.P., Outreach by the DC Center), and now the newly established 988 number.
I availed myself of none. I reached out to no one. I believed no one would understand my situation. I was embarrassed that I could not handle my own life and therefore concluded that taking my own life would cause little fuss.
So, on Dec. 6, 2015, I Googled "What are the least painful ways to kill yourself?" No. 2 in the search was "shoot yourself in the heart." The page promised it would be quick and painless. So, I devised a plan, the first thing I needed to do was pick a day. I picked Dec. 11, 2015. I made a list of all the other things I needed or wanted to get accomplished before the day. Chores as simple as getting my hair cut and setting out the clothes I wanted to be buried in. I decided on a last meal. A very simple shrimp salad from Cameron's on 16th Street. The writing of 12 individual handwritten letters (which were to serve as my suicide notes). I wrote a special letter to the boys who were going to take care of my everything, my French Bulldog Christian, He would stay with me until the end, and then he would be someone else's love.
If anything, during this period my depression and hopelessness had grown even deeper. It was a bitter cold day on the 11th of December. At 2:55 p.m., I took a 38-caliber revolver, placed it over my heart and pulled the trigger. The loud noise and smell are what I remember first. It was so loud my ears were ringing and the smell of gunpowder filled the area I was standing in (not a pleasant odor). It is nothing like we see in the movies or on television. First and foremost what I found shocking to me was that I did not fall down, but instead I was walking around for 8-10 minutes before the bullet had done enough damage causing me to lie down and eventually pass out.
I thought I must have done it wrong. After all, why was I still upright and moving around? Then the pain started to set in. Oh, the pain! The greatest pain I have ever felt in my life. I would later reflect that it was the pain that caused me to eventually pass out, that is how severe it was. I passed out before the ambulance arrived. I was lucky enough to have a friend call for emergency services. Once I arrived at MedStar I underwent a 21-hour surgery. The bullet missed my heart by three centimeters; further proof that Americans are awful at the metric system. I was put in a medically induced coma for 10 days. I would later have three additional surgeries to correct various issues. The bullet nicked a rib and traveled downward. I spent a month and three weeks in the hospital. The surgeons removed a portion of my liver, and completely removed my gallbladder, spleen, a portion of my lower intestine and appendix. Likewise, they repaired some major damage done to my stomach.
Waking up with my wrists bound and a breathing tube down my throat was horrific (I would rather have died). At first, I was angry that I had not succeeded. I could not believe where I found myself — it was not supposed to be like this! Once the breathing tube was removed my recovery began and, with it, a whole new story. During recovery I had to avail myself of counseling and was diagnosed with severe depression and acute anxiety. I was started on numerous medications and therapy.
Throughout all of this, I was fortunate enough to have many visitors from the community — friends, family, and some folks I had only known from interacting socially at the club. Perhaps one of the more profound lessons I learned through this process is that my death would have caused pain for so may people.
I keep up with my counseling and medications to minimize suicidal thoughts. To someone who is suicidal and it seems like it is the only option out, you are wrong. It requires courage to reach out. Depression is worn inwards and it can weigh a ton at times. But no one has to go through this alone. There are plenty of groups that specialize in helping those who are suicidal especially in OUR LGBT community.
CRISIS RESOURCES
988. The new 988 suicide and crisis lifeline is available 24 hours/day and offers telephone and online chat.
The Trevor Project: 866-488-7386. The Trevor Project is the leading national organization providing crisis intervention and suicide prevention services to LGBTQ young people ages 13-24.
National Suicide Prevention Lifeline: 800-273-8255 (online chat available).The National Suicide Prevention Lifeline is a national network of local crisis centers that provides free and confidential support to people in suicidal crisis 24/7.
Crisis Text Line: Text START to 741-741, a free, 24/7 support for those in crisis.
The Gay, Lesbian, Bisexual and Transgender National Hotline: 888-843-4564. Provides telephone, online private one-to-one chat and email peer-support, as well as information and local resources across the United States.
Trans Lifeline: 877-565-8860. Trans Lifeline is a trans-led organization that connects trans people to the community, support, and resources
The True Colors United, 212-461-4401. The True Colors Fund works to end homelessness among LGBTQ youth.
Self Abuse Finally Ends (S.A.F.E). Addresses individuals coping with non-suicidal self-injury, including locally based information, support and therapy referrals.
U.S. National Domestic Violence Hotline: 800-799-7233. Operating around the clock, seven days a week, confidential and free, the National Domestic Violence Hotline provides lifesaving tools and immediate support to enable victims to find safety and live lives free of abuse.
Rape Abuse and Incest National Network (RAINN): 800-656-HOPE/800-810-7440 (TTY). The nation's largest organization fighting sexual violence, RAINN also carries out programs to prevent sexual violence, help victims and ensure that rapists are brought to justice.
SMYAL, smyal.org. D.C.-based organization advocating for LGBTQ youth.
D.C. Department of Mental Health Access Helpline, 888-7WE-HELP.
Wanda Alston Foundation (202-733-3643) in D.C. provides transitional living and support services to homeless and at-risk LGBTQ youth ages 18-24.
(This list was compiled by PFLAG and Blade staff )
Managing sobriety and stress over the holidays
Have a backup plan when attending parties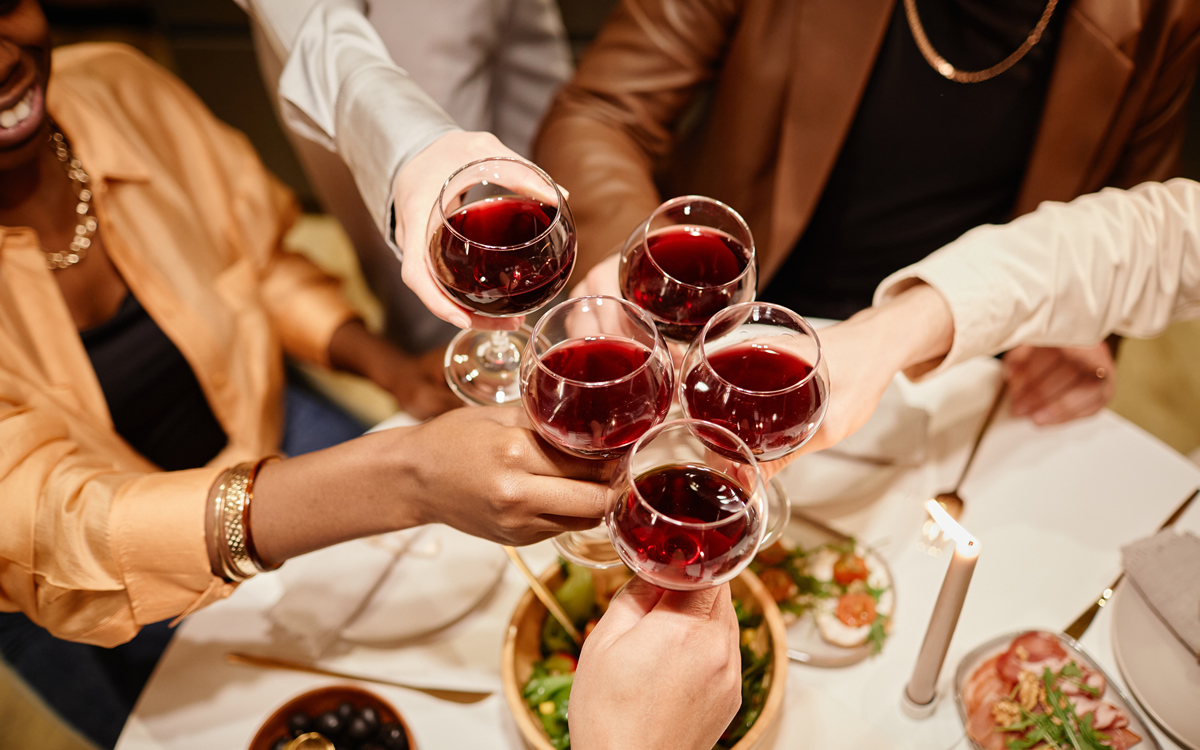 Staying sober over the holidays can be a challenge. It has the potential to be a stressful time of year, especially for members of the LGBTQ community. The holiday season can exacerbate stress, anxiety, and depression, particularly when returning home.
Unfortunately, many of these emotional triggers often cause people to turn to drugs or alcohol as a means of coping. Research has suggested that LGTBQ individuals are three times more likely to experience these mental health conditions.
Avoiding the temptation to drink in excess takes work, but it is not impossible. Whether you are in recovery or not, there are practical ways to manage sobriety and stress over the holidays.
Make sure basic needs are met during the holidays. H.A.L.T. (Hungry, Angry, Lonely, Tired) is an excellent way to remember to meet basic needs. These are often four things that contribute to stress and relapse. Make it a point to eat regularly, exercise, stay connected with other people, and get plenty of sleep.
When attending holiday parties, have a backup plan. If you find yourself in a situation where there is a strong urge to drink or do drugs, have an escape plan. The people around you who know you are working on sobriety or are choosing holiday sobriety will understand. It is OK to leave holiday parties early or turn down invitations. Do not feel obligated to put yourself in risky situations.

Consider non-alcoholic drinks or holiday mocktails. Bring your own beverages to holiday parties or encourage hosts to offer holiday mocktails. "Holiday mocktails are becoming increasingly popular at holiday parties because it removes the risk of drinking and driving and provides options for someone who wants a holiday drink, but without the alcohol," said Marcel Gemme of Addicted.org.
Don't go it alone and have some support. Have a sober friend or family member attend holiday parties with you. Ask for help from family and friends or participate in local support groups. More importantly, give thanks and foster an attitude of gratitude. Write down what you are grateful for and why sobriety is important this holiday season.
Excessive alcohol use is dangerous during the holiday season as more people travel on the roads. Unfortunately, drinking and driving is an all too common occurrence. In 2019, in Washington State, 33.1% of all driving fatalities were alcohol-impaired driving fatalities.
It is essential to be careful over the holiday season and your limits. Whether you are in recovery or want to maintain sobriety over the holidays, be aware of the triggers and the risks.
Finally, remember the true meaning of the holiday season, love, joy, compassion, kindness, and gratitude. Share in new experiences or create new traditions and enjoy the time spent with those close to you. If someone is struggling, reach out and help, there are excellent resources to help people who are battling addiction.
Michael Leach has spent most of his career as a healthcare professional specializing in Substance Use Disorder and addiction recovery. He is a Certified Clinical Medical Assistant, and contributor to the healthcare website Recovery Begins.