Cornell University study on impact of discrimination on LGBTQ of color
Around 25% of LGBTQ youth have attempted suicide, but the rates are starkly higher for LGBTQ youth of color than their white counterparts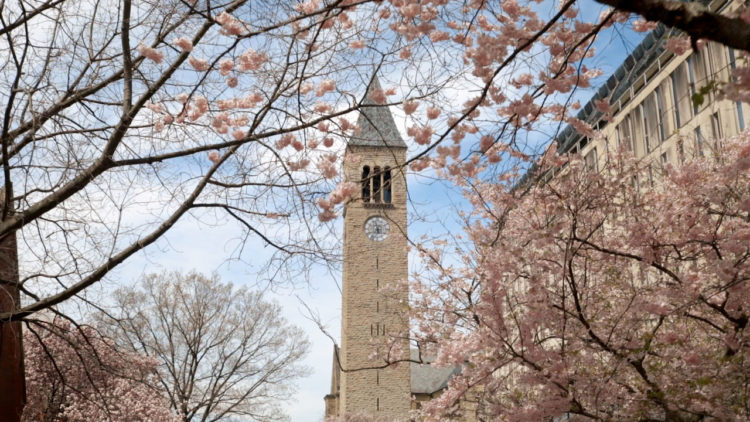 ITHACA, NY. – Cornell University's What We Know Project in conjunction with a coalition of leading LGBTQ rights groups last month published a comprehensive curation of data on studies that chart the intersection of anti-LGBTQ and racial discrimination.
The findings found that discrimination inflicts profoundly greater harm on LGBTQ people of color in a wide range of areas, including grossly disproportionate rates of: experiencing discrimination over the past year, poorer mental and physical health, greater economic insecurity, and attempts to die by suicide.
In addition, LGBTQ people of color are more likely than white LGBTQ people to live in states without protections against discrimination and that state anti-LGBTQ laws harm LGBTQ people.
"This research brief makes clear the tangible harms that discrimination inflicts on LGBTQ people of color, and the urgent need for public policy that reflects what the research tells us about how we can reduce those harms," said Dr. Nathaniel Frank, the study's author.
LGBTQ people are more likely than non-LGBTQ people to be people of color, and Black LGBTQ Americans are disproportionately likely to live in states without protections against discrimination. For example, 42% of LGBT people are people of color compared to 32% of non-LGBT people and the majority of Black LGBT Americans live in the South (51.4%, more than twice the share of any other region), where most states lack anti-discrimination protections.
LGBTQ people of color face higher odds of discrimination than both non-LGBTQ individuals and LGBTQ white people. For example, LGBTQ people of color are more than twice as likely to experience anti-LGBTQ discrimination (slurs or other verbal abuse) when applying for jobs than white LGBTQ individuals (32% vs. 13%). LGBTQ people of color are more than twice as likely as white LGBTQ people to experience anti-LGBTQ discrimination when interacting with the police (24% vs. 11%).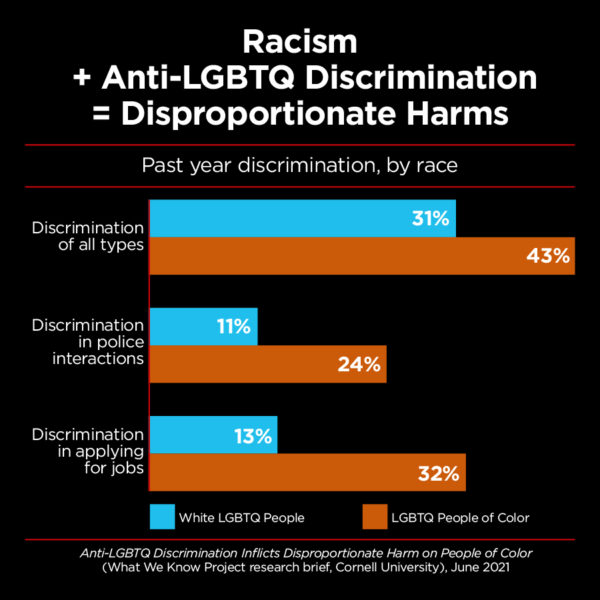 Black LGBT Americans are more likely to experience economic insecurity than Black non-LGBT Americans. For example, the majority of Black LGBT people (56%) live in low-income households (below 200% of the federal poverty level) compared to 49% of Black non-LGBT Americans, and Black LGBT adults are also more likely to experience food insecurity than Black non-LGBT adults (37% compared to 27%).
Hundreds of studies conclude that experiencing anti-LGBTQ discrimination increases the risks of poor mental and physical health, including depression, anxiety, suicidality, PTSD, substance use, and psychological distress.
LGBTQ people of color face disproportionate odds of suicidality, which is linked to discrimination. For example, while 12% of white LGBTQ youth attempted suicide, the rate is 31% for LGBTQ Native/Indigenous youth, 21% for LGBTQ Black youth, and 18% of LGBTQ Latinx youth.
While supportive laws, family, and peers lower the risk of poor health outcomes for LGBTQ people of color, anti-LGBTQ state laws inflict tangible harm on sexual minority populations. For example, states with "denial of service" laws that give license to discriminate against LGBT residents between 2014 and 2016 were linked with a 46% increase in LGBT mental distress. Black LGBTQ youth who reported high levels of support from at least one person, or who had access to an LGBTQ-affirming space, reported attempting suicide at lower rates than those who lacked such support (16% vs. 24%).

Supportive laws, family, and peers lower the risk of poor health outcomes for LGBTQ people of color.
• Suicide attempts by LGBT youth dropped by 7 percent in states that legalized same-sex marriage.22
• The corollary is that anti-LGBTQ state laws inflict tangible harm on sexual minority populations. States with "denial of service" laws that give license to discriminate against LGBT residents were linked with a 46% increase in LGBT mental distress.23
• Black LGBTQ youth who reported high levels of support from at least one person, or who had access to an LGBTQ-affirming space, reported attempting suicide at lower rates than those who lacked such support (16% vs. 24%). Those with high levels of family support had rates of past-year attempted suicide nearly one third as high as those who lacked such support (22% vs. 8%).24
• Protective measures that have been found to help reduce anxiety, depression, and suicidality among LGBTQ youth include: Establishing inclusive practices and anti-discrimination policies; peer, community, and family support, including dedicated school groups; access to affirmative mental health and social services; societal confrontation of attitudes and norms that exacerbate minority stress; and practitioner training and interventions designed to disrupt negative coping responses and build resilience.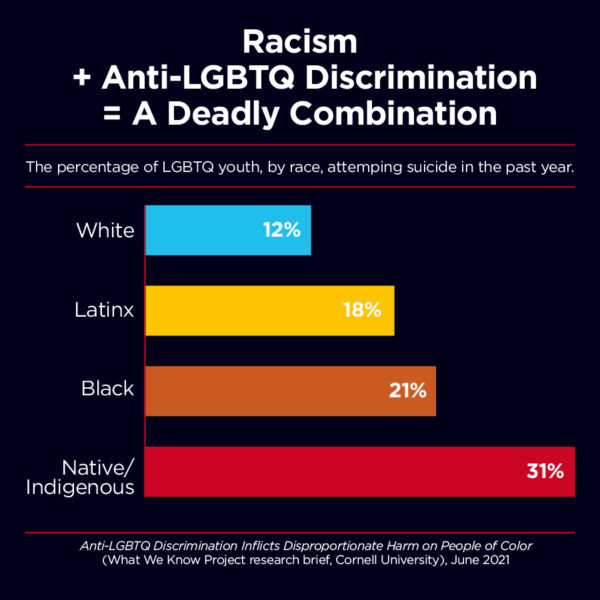 Experiencing discrimination is associated with greater odds of harm to psychological and economic well-being, which is reflected in data on disparities for LGBTQ people of color.
• Hundreds of studies conclude that experiencing anti-LGBTQ discrimination increases the risks of poor mental and physical health, including depression, anxiety, suicidality, PTSD, substance use, and psychological distress.
• LGBT people of color have work-place experiences that are more negative than those of white LGBT employees, reporting that their success and work-life balance are fostered less extensively, they have less transparent evaluations, and they are respected less by supervisors.
• Among LGBTQ people surveyed, 51% of Black respondents say discrimination harms their ability to be hired, compared with 33% of white respondents; 41% say it has an impact on their ability to retain employment, compared with 31% of white respondents; 77% of Black respondents report that discrimination impacts their psychological well-being, a rate nearly 50% higher than the total LGBTQ survey population.
• While racial discrimination on its own is not associated with mental health disorders, the combination of racial discrimination with gender and/or sexual orientation discrimination is significantly associated with increased odds of a past-year mental health disorder.
LGBTQ people of color face disproportionate odds of suicidality, which is linked to discrimination.
• Around 25% of LGBTQ youth of all races have attempted suicide, but the rates are starkly higher for LGBTQ youth of color than their white counterparts: While 12% of white LGBTQ youth have attempted suicide, the rate is 31% for LGBTQ Native/Indigenous youth, 21% for LGBTQ Black youth, and 18% for LGBTQ Latinx youth.
• In a 95%-non-white LGBT sample, those who report experiencing anti-LGBT victimization (such as bullying and harassment) are 2.5 times more likely to report a past-year suicide attempt compared to those who do not report victimization.
• Black LGBTQ youth who experience anti-LGBTQ discrimination face twice the rate of past year suicide attempts compared to youth who do not (27% vs. 12%). Black LGBTQ youth who experience race-based discrimination also face higher odds of attempting suicide than those who do not (20% vs. 14%).
• Black LGB adults are over 40% more likely to have made a serious suicide attempt in their lifetime than white LGB adults.
• Latinx and Native American/Pacific Islander LGBT youth are 50% more likely to attempt suicide than white LGBT youth. Latinx LGBT girls are nearly twice as likely to attempt suicide than white LGBT youth.
• LGBTQ students who experience discrimination "based on multiple social identities" report more use of deliberate self-harm compared to LGBTQ students who experience racial discrimination alone or who do not experience significant discrimination of any kind.
Reflecting on the study's findings, key executives from participating LGBTQ Advocacy groups weighed in:
"These painful figures highlight an indisputable link between discrimination, economic security, mental and physical health. People with multiple stigmatized, marginalized social and political identities, particularly Black LGBTQ+/Same Gender Loving people, bear a disproportionate amount of the weight illustrated by the data in this study. Statutory equality for LGBTQ+ people nationwide is a necessary foundation to remove the gaps in existing civil rights laws if we are to ever live up to our country's founding promises of life, liberty, and the pursuit of happiness for all," said David Johns, Executive Director, National Black Justice Coalition.
The majority of Black LGBTQ people live in the South, with nearly half (44%) of all Black women couples raising children. Even today, most of these states still do not protect LGBTQ people from discrimination and have overtly discriminatory laws on their books. It is no wonder the disparities are so profound and it is a testament to the strength and resilience of our people that they are doing as well as they are. For our community and for our children it's time for federal action!" said Kierra Johnson, Executive Director, National LGBTQ Task Force.
"This important brief only further solidifies what we have known for a very long time—the combination of racism and anti-LGBTQ discrimination has serious and long-lasting effects for the health and well-being of LGBTQ people of color. This research highlights why federal non-discrimination protections are overdue and vital to protecting the most some of the most underrepresented and vulnerable members of our community. Federal anti-discrimination protections are absolutely necessary in protecting and supporting all LGBTQ people, and this is especially true for LGBTQ people of color," said Imani Rupert-Gordon, Executive Director, National Center for Lesbian Rights.
"Study after study shows that nondiscrimination protections improve economic opportunities, public safety, and physical and mental well-being of LGBTQ people. It is well past time for the essential protections available only in some of our states and cities to be extended to all LGBTQ Americans, especially LGBTQ people of color, who are disproportionately burdened by the lack of protections, " said Kasey Suffredini, CEO and National Campaign Director, Freedom for All Americans.
Nonbinary Department of Energy official replaced after felony theft charges
Sam Brinton allegedly stole suitcase at Minneapolis airport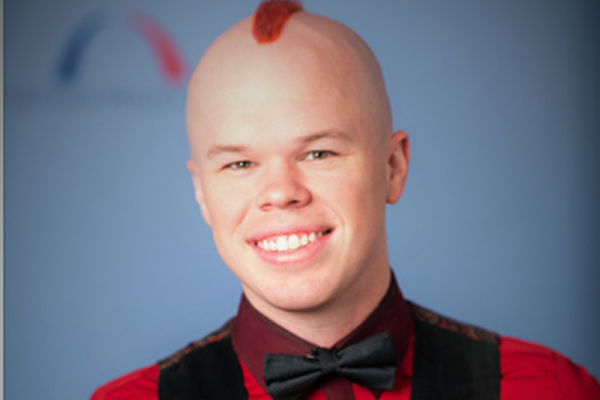 The Department of Energy replaced a nonbinary senior official who had served as the agency's deputy assistant secretary for spent fuel and waste disposition after they were charged with a felony over an incident at Minneapolis-St. Paul International Airport on Sept. 16.
Sam Brinton, whose departure from the Energy Department was confirmed by a spokesperson to the New York Post, did not immediately respond to the Washington Blade's request for comment via Facebook Messenger.
Brinton, who has dual degrees from MIT and years of experience in nuclear waste management and climate change work, is also an LGBTQ activist who made history this year with their appointment as the first openly gender-fluid person to serve in a senior government post.
A 2018 column in the Los Angeles Times argued there was a cultural shift afoot towards greater acceptance of transgender and gender fluid people — using, as an introductory anecdote, Brinton's appearance at the Academy Awards. According to the author, Brinton spoke passionately about their suicide prevention work for the Trevor Project and was embraced by Hollywood icons like Jane Fonda.
They also encountered some hateful backlash from anti-LGBTQ figures on the right, which was renewed on Monday with the news about Brinton's dismissal pursuant to the felony charges filed against them, which conservative-leaning outlets were among the first to report.
Extreme right-wing Congresswoman Marjorie Taylor Greene (R-Ga.) published an offensive tweet yesterday targeting Brinton and their nonbinary identity:
Stealing women's purses and identity.
Classic. https://t.co/yCVhMfLaQX

— Rep. Marjorie Taylor Greene🇺🇸 (@RepMTG) November 28, 2022
According to reporting in the New York Post, during an initial conversation with police, Brinton allegedly denied that they had stolen another passenger's suitcase. Subsequently, Brinton told investigators they accidentally grabbed the wrong bag at the luggage carousel by mistake out of exhaustion.
Court filings indicate that Brinton, upon realizing they had mistakenly taken someone else's bag, emptied its contents into dresser drawers in their hotel room, anxious about the prospect of facing accusations of property theft.
No one would have expected me to attempt suicide
Successful career, busy social life hid reality of depression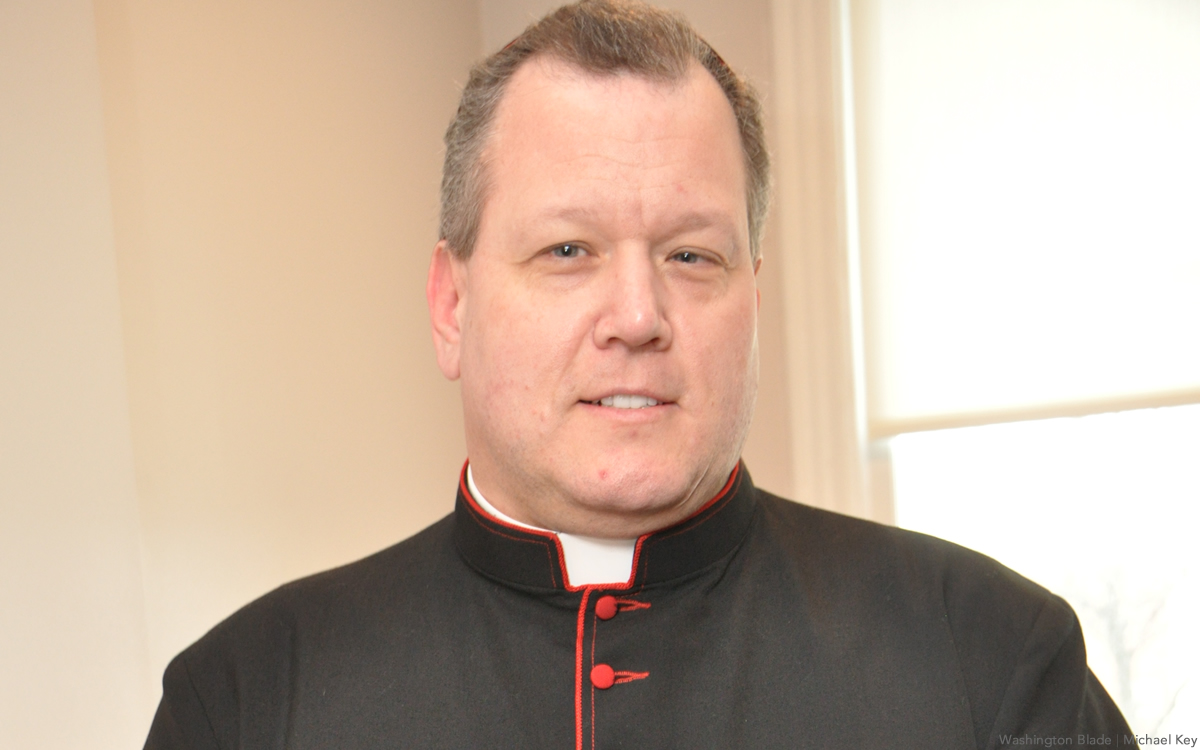 Editor's note: The Blade has covered several suicides in our community in recent months. Sadly, the holidays are a time of increased anxiety, isolation, and depression for many. The following is a first-person account of surviving suicide along with resources and information on where to get help if you are in crisis. There is an abundance of resources addressing the unique needs of the LGBTQ community. If you have a personal story you'd like to share with Blade readers about overcoming suicidal ideation, depression, addiction, or isolation, please email us at [email protected].

In late winter 2015 it would have seemed that I had everything going for me — a successful drag career (hosting at Town Friday and Saturday nights), and an extremely busy priesthood that consumed my time, especially with preparation for the upcoming holidays. My family life contained the usual stressors. I have plenty of friends, acquaintances, and a handful of very close friends, and dare I say a few fans.
Looking from the outside, my life seemed normal (normal for me). No one would have ever expected me to consider suicide. More and more, depression continually rolled over me like a tidal wave and I found myself with no purpose or defense. I had experienced depression before, but never to this magnitude. It became unbearable; a feeling of worthlessness and sheer sadness with anxiety that consumed me. My days were filled with pain and my nights with unrelenting insomnia, one right after the other.
Being a person of faith required that I make peace with my decision and my creator. I believed that a God who so loves me would not want me to suffer under such a crushing weight of depression. The Lord is a God of mercy, and how could a merciful God show anything but mercy? I realized that suicide was my best option, despite the many resources available to me, such as The National Suicide Prevention hotline (1-800-273-8255), the various suicide prevention organizations (The Trevor Project, A.F.S.P., Outreach by the DC Center), and now the newly established 988 number.
I availed myself of none. I reached out to no one. I believed no one would understand my situation. I was embarrassed that I could not handle my own life and therefore concluded that taking my own life would cause little fuss.
So, on Dec. 6, 2015, I Googled "What are the least painful ways to kill yourself?" No. 2 in the search was "shoot yourself in the heart." The page promised it would be quick and painless. So, I devised a plan, the first thing I needed to do was pick a day. I picked Dec. 11, 2015. I made a list of all the other things I needed or wanted to get accomplished before the day. Chores as simple as getting my hair cut and setting out the clothes I wanted to be buried in. I decided on a last meal. A very simple shrimp salad from Cameron's on 16th Street. The writing of 12 individual handwritten letters (which were to serve as my suicide notes). I wrote a special letter to the boys who were going to take care of my everything, my French Bulldog Christian, He would stay with me until the end, and then he would be someone else's love.
If anything, during this period my depression and hopelessness had grown even deeper. It was a bitter cold day on the 11th of December. At 2:55 p.m., I took a 38-caliber revolver, placed it over my heart and pulled the trigger. The loud noise and smell are what I remember first. It was so loud my ears were ringing and the smell of gunpowder filled the area I was standing in (not a pleasant odor). It is nothing like we see in the movies or on television. First and foremost what I found shocking to me was that I did not fall down, but instead I was walking around for 8-10 minutes before the bullet had done enough damage causing me to lie down and eventually pass out.
I thought I must have done it wrong. After all, why was I still upright and moving around? Then the pain started to set in. Oh, the pain! The greatest pain I have ever felt in my life. I would later reflect that it was the pain that caused me to eventually pass out, that is how severe it was. I passed out before the ambulance arrived. I was lucky enough to have a friend call for emergency services. Once I arrived at MedStar I underwent a 21-hour surgery. The bullet missed my heart by three centimeters; further proof that Americans are awful at the metric system. I was put in a medically induced coma for 10 days. I would later have three additional surgeries to correct various issues. The bullet nicked a rib and traveled downward. I spent a month and three weeks in the hospital. The surgeons removed a portion of my liver, and completely removed my gallbladder, spleen, a portion of my lower intestine and appendix. Likewise, they repaired some major damage done to my stomach.
Waking up with my wrists bound and a breathing tube down my throat was horrific (I would rather have died). At first, I was angry that I had not succeeded. I could not believe where I found myself — it was not supposed to be like this! Once the breathing tube was removed my recovery began and, with it, a whole new story. During recovery I had to avail myself of counseling and was diagnosed with severe depression and acute anxiety. I was started on numerous medications and therapy.
Throughout all of this, I was fortunate enough to have many visitors from the community — friends, family, and some folks I had only known from interacting socially at the club. Perhaps one of the more profound lessons I learned through this process is that my death would have caused pain for so may people.
I keep up with my counseling and medications to minimize suicidal thoughts. To someone who is suicidal and it seems like it is the only option out, you are wrong. It requires courage to reach out. Depression is worn inwards and it can weigh a ton at times. But no one has to go through this alone. There are plenty of groups that specialize in helping those who are suicidal especially in OUR LGBT community.
CRISIS RESOURCES
988. The new 988 suicide and crisis lifeline is available 24 hours/day and offers telephone and online chat.
The Trevor Project: 866-488-7386. The Trevor Project is the leading national organization providing crisis intervention and suicide prevention services to LGBTQ young people ages 13-24.
National Suicide Prevention Lifeline: 800-273-8255 (online chat available).The National Suicide Prevention Lifeline is a national network of local crisis centers that provides free and confidential support to people in suicidal crisis 24/7.
Crisis Text Line: Text START to 741-741, a free, 24/7 support for those in crisis.
The Gay, Lesbian, Bisexual and Transgender National Hotline: 888-843-4564. Provides telephone, online private one-to-one chat and email peer-support, as well as information and local resources across the United States.
Trans Lifeline: 877-565-8860. Trans Lifeline is a trans-led organization that connects trans people to the community, support, and resources
The True Colors United, 212-461-4401. The True Colors Fund works to end homelessness among LGBTQ youth.
Self Abuse Finally Ends (S.A.F.E). Addresses individuals coping with non-suicidal self-injury, including locally based information, support and therapy referrals.
U.S. National Domestic Violence Hotline: 800-799-7233. Operating around the clock, seven days a week, confidential and free, the National Domestic Violence Hotline provides lifesaving tools and immediate support to enable victims to find safety and live lives free of abuse.
Rape Abuse and Incest National Network (RAINN): 800-656-HOPE/800-810-7440 (TTY). The nation's largest organization fighting sexual violence, RAINN also carries out programs to prevent sexual violence, help victims and ensure that rapists are brought to justice.
SMYAL, smyal.org. D.C.-based organization advocating for LGBTQ youth.
D.C. Department of Mental Health Access Helpline, 888-7WE-HELP.
Wanda Alston Foundation (202-733-3643) in D.C. provides transitional living and support services to homeless and at-risk LGBTQ youth ages 18-24.
(This list was compiled by PFLAG and Blade staff )
Managing sobriety and stress over the holidays
Have a backup plan when attending parties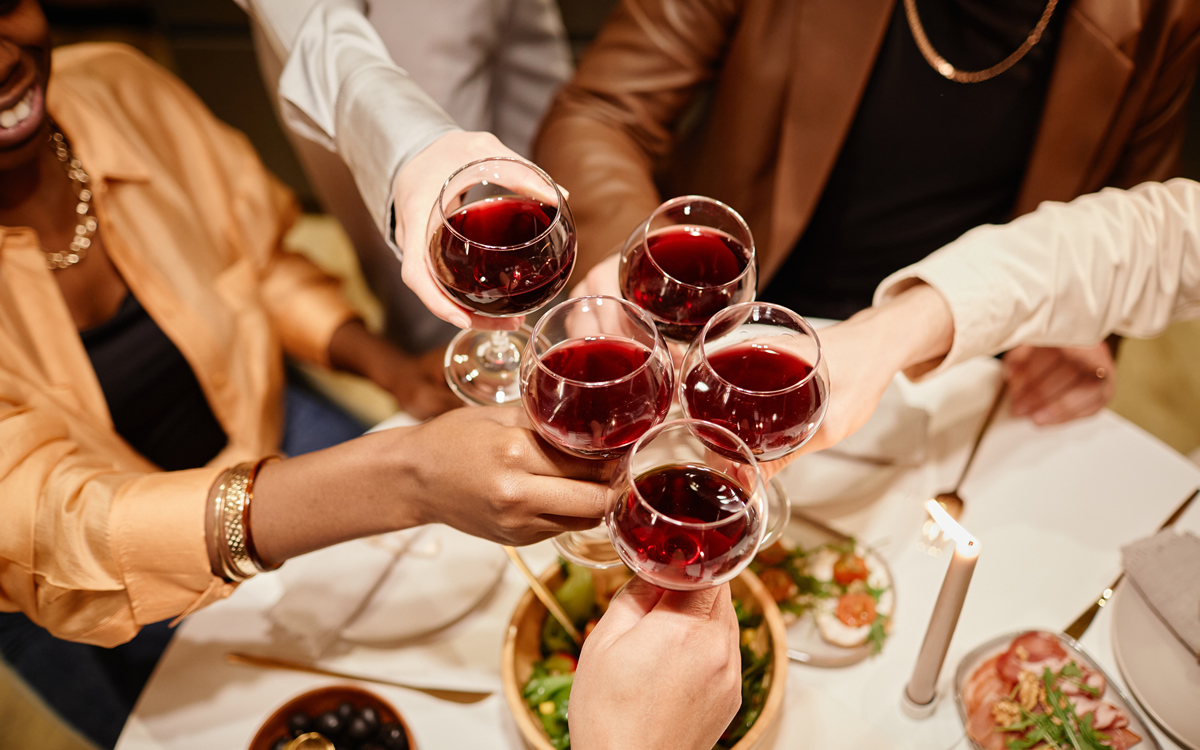 Staying sober over the holidays can be a challenge. It has the potential to be a stressful time of year, especially for members of the LGBTQ community. The holiday season can exacerbate stress, anxiety, and depression, particularly when returning home.
Unfortunately, many of these emotional triggers often cause people to turn to drugs or alcohol as a means of coping. Research has suggested that LGTBQ individuals are three times more likely to experience these mental health conditions.
Avoiding the temptation to drink in excess takes work, but it is not impossible. Whether you are in recovery or not, there are practical ways to manage sobriety and stress over the holidays.
Make sure basic needs are met during the holidays. H.A.L.T. (Hungry, Angry, Lonely, Tired) is an excellent way to remember to meet basic needs. These are often four things that contribute to stress and relapse. Make it a point to eat regularly, exercise, stay connected with other people, and get plenty of sleep.
When attending holiday parties, have a backup plan. If you find yourself in a situation where there is a strong urge to drink or do drugs, have an escape plan. The people around you who know you are working on sobriety or are choosing holiday sobriety will understand. It is OK to leave holiday parties early or turn down invitations. Do not feel obligated to put yourself in risky situations.

Consider non-alcoholic drinks or holiday mocktails. Bring your own beverages to holiday parties or encourage hosts to offer holiday mocktails. "Holiday mocktails are becoming increasingly popular at holiday parties because it removes the risk of drinking and driving and provides options for someone who wants a holiday drink, but without the alcohol," said Marcel Gemme of Addicted.org.
Don't go it alone and have some support. Have a sober friend or family member attend holiday parties with you. Ask for help from family and friends or participate in local support groups. More importantly, give thanks and foster an attitude of gratitude. Write down what you are grateful for and why sobriety is important this holiday season.
Excessive alcohol use is dangerous during the holiday season as more people travel on the roads. Unfortunately, drinking and driving is an all too common occurrence. In 2019, in Washington State, 33.1% of all driving fatalities were alcohol-impaired driving fatalities.
It is essential to be careful over the holiday season and your limits. Whether you are in recovery or want to maintain sobriety over the holidays, be aware of the triggers and the risks.
Finally, remember the true meaning of the holiday season, love, joy, compassion, kindness, and gratitude. Share in new experiences or create new traditions and enjoy the time spent with those close to you. If someone is struggling, reach out and help, there are excellent resources to help people who are battling addiction.
Michael Leach has spent most of his career as a healthcare professional specializing in Substance Use Disorder and addiction recovery. He is a Certified Clinical Medical Assistant, and contributor to the healthcare website Recovery Begins.