"How much has changed," Secretary Pete Buttigieg on 'The Late Show'
Secretary Pete Buttigieg talks about the message he wants to send as America's first out gay cabinet member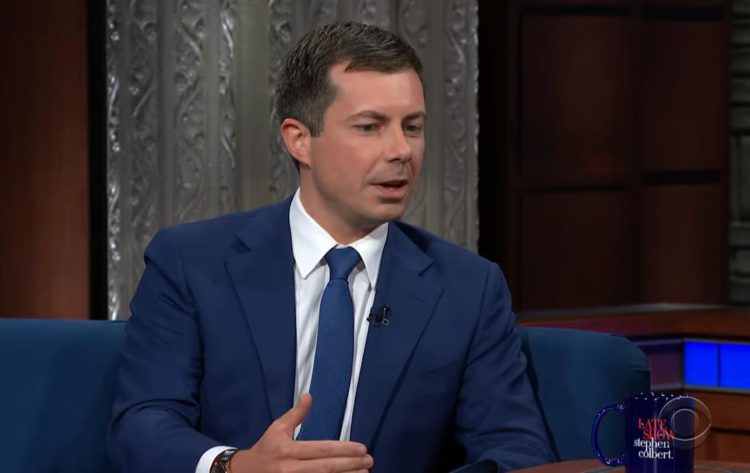 Amy Schneider becomes first woman $1M Jeopardy! winner
Schneider, 42, commenced her winning streak in November hitting the million mark during her 28th game this past Friday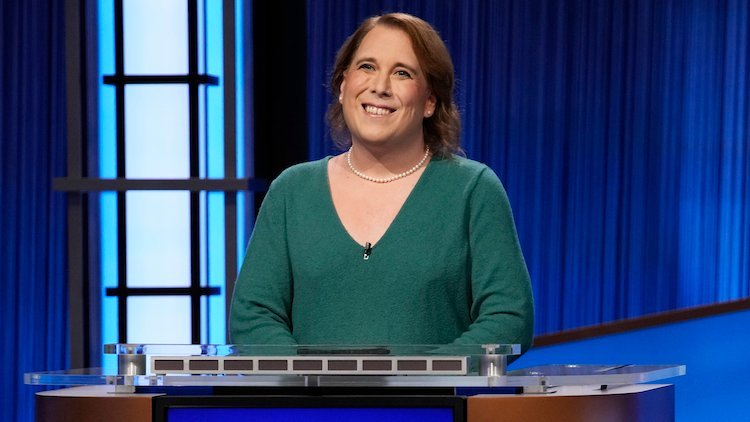 Amy Schneider, the Transwoman software engineering manager from Oakland, became the first woman and fourth $1 million Jeopardy! winner since the game show first aired on March 30, 1964.
Schneider, 42, commenced her winning streak in November hitting the million mark during her 28th game this past Friday. "It's not a sum of money I ever anticipated would be associated with my name," Schneider said. "To be good at Jeopardy!," Schneider added; "you just have to live a life where you're learning stuff all the time."
The New York Times reported that the other three $1 million Jeopardy! winners, Ken Jennings who went on to compete in a record 74-game run, won in 2004 after his 30th game. In 2019 the distinction was also won by James Holzhauern and this past Fall, 2021 by Matt Amodio.
GLAAD's director of transgender representation, Nick Adams, in an emailed statement said; "Amy Schneider's incredible run on Jeopardy! allows families all over the country to get to know her as someone who is great at word puzzles, has in-depth knowledge on a range of topics, and who also happens to be a transgender woman. Amy is using her history-making appearances and new platform to raise awareness of transgender issues and share a bit of her personal story too."
After her early successes last November, Schneider told Newsweek that she had been trying to get on the show for over a decade.
"I'm not sure quite how long [ago I first applied], but I remember trying out when I still lived in Ohio, and I've lived in Oakland since 2009, so it has to have been at least that amount of time," she said.
Schneider also explained how her transition in 2017 might have helped her finally get a spot on the show.
"The reality is that for the first few years of that, when I was trying out, I was, as far as any of us knew, a standard white guy," she told the magazine. "And there's just more competition for those slots on Jeopardy! They're making a TV show, they don't want everybody to look the same, and I looked a lot like many of the other contestants, and I think that definitely made it a little tougher for me at that time. I would have got on eventually — I was never gonna stop trying!"
In the post-Alex Trebek era, multiple trans contestants have appeared on the show, including Kate Freeman, who became the first out trans champion in "Jeopardy!" history last December.
Schneider, who became the first trans contestant to qualify for the Tournament of Champions in November, was robbed at gunpoint over the New Year's weekend in her home city of Oakland.
"Hi all! So, first off: I'm fine. But I got robbed yesterday, lost my ID, credit cards, and phone," she said. "I then couldn't really sleep last night, and have been dragging myself around all day trying to replace everything," she wrote in a tweet about the incident.
Hi all! So, first off: I'm fine. But I got robbed yesterday, lost my ID, credit cards, and phone. I then couldn't really sleep last night, and have been dragging myself around all day trying to replace everything.

— Amy Schneider (@Jeopardamy) January 4, 2022
According to the Associated Press, Oakland police said they are investigating the armed robbery that occurred on Sunday afternoon. No arrests have been made.
The robbery took place just days after Schneider won her 21st consecutive game, surpassing Julia Collins as the most winning woman in the show's history.
In an email statement to NBC News, a "Jeopardy!" spokesperson said, "We were deeply saddened to hear about this incident, and we reached out to Amy privately to offer our help in any capacity."
Schneider, an engineering manager from Oakland, has been an inspiration to many during her historic run on the show.
"Seeing trans people anywhere in society that you haven't seen them before is so valuable for the kids right now that are seeing it," she told ABC affiliate KGO-TV in November, adding: "I'm so grateful that I am giving some nerdy little trans kid somewhere the realization that this is something they could do, too."
Musicians Jim & Sasha Allen on the 'Perfect' timing to tell their story
Jim & Sasha Allen, a father/son duo who made history on "The Voice" as Sasha became the first openly Trans person to compete on the show.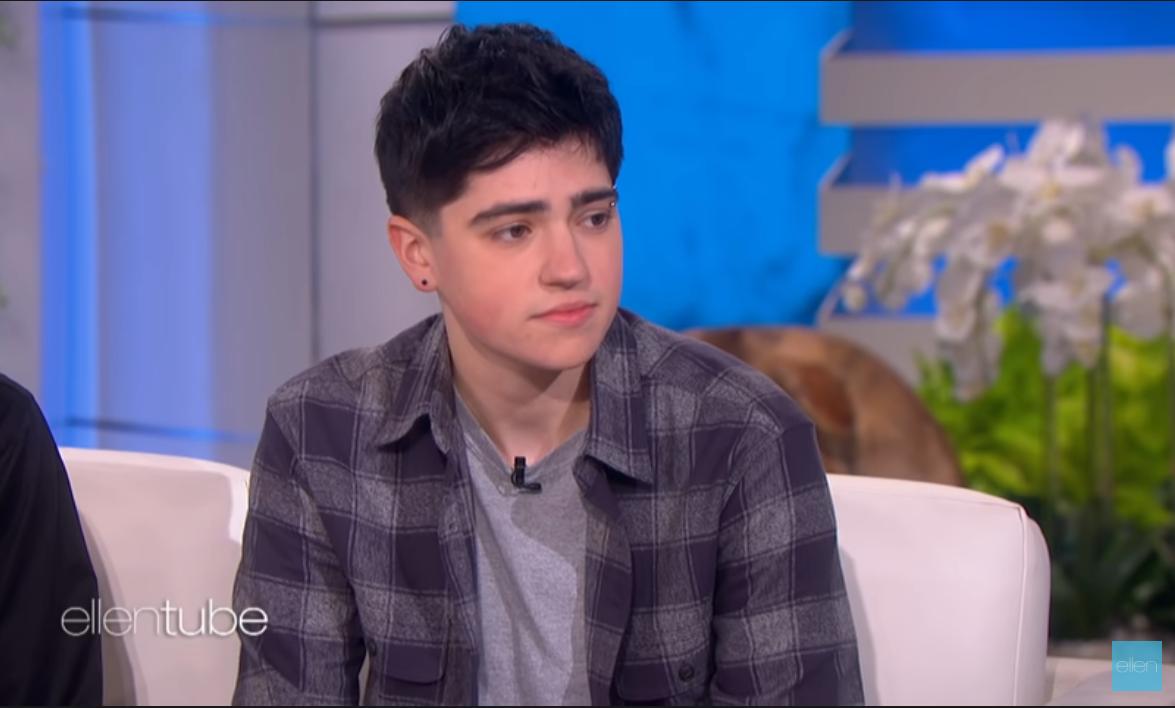 Ellen welcomed musicians Jim & Sasha Allen, a father/son duo who made history on "The Voice" as Sasha became the first openly Trans person to compete on the show. Sasha talked about how he hopes his story can help others going through a similar situation, and Jim shared his important role as the parent, and how now was the perfect time for Sasha to tell his story.
Smithers gets a boyfriend on episode of 'The Simpsons'
"And what I think I was really excited about, with this episode, we get to see of how gay people date, how they meet, what it's like"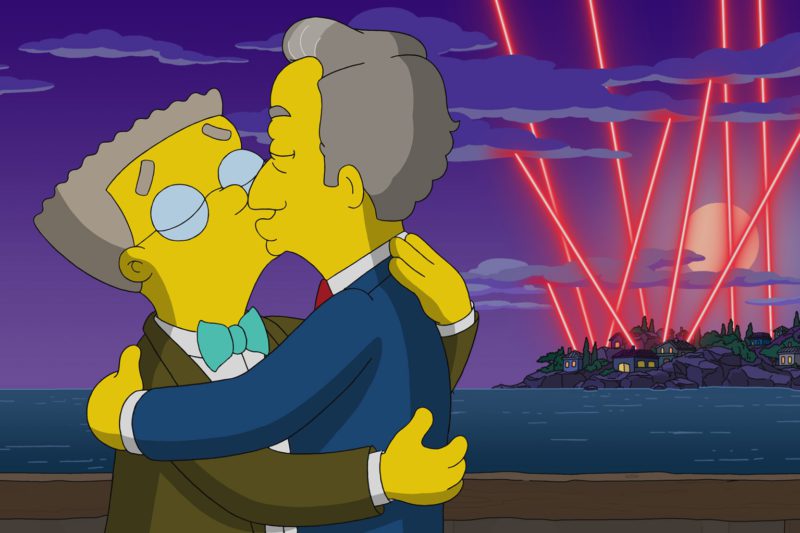 HOLLYWOOD – Rob LaZebnik, 59, one of the creative writers and co-executive producer of the longest running cartoon comedy in American television history, 'The Simpsons,' teamed up with his son Johnny, 27, also a television creative writer to produce an episode that gives the character of Waylon Smithers a boyfriend.
The episode set to air on Sunday, November 21 the start of the Thanksgiving holiday week is titled 'Portrait Of A Lackey On Fire.' The synopsis for the episode reads: "Smithers finds true love with a famous fashion designer, but will his new relationship destroy Springfield?"
The long-suffering assistant to the show's Über wealthy and twisted maniacal character of Montgomery Burns, falls in love with fashion designer Michael De Graaf, voiced by four time Tony award and six time Emmy award nominated Out actor Victor Garber. Smithers is voiced by Emmy award winner Harry Shearer.
The 2016 season episode of 'Tom Collins', had Smithers come out as gay after years of speculation. For the elder LaZebnik, who wrote that episode, his inspiration was his son Johnny who is gay. For the writing duo, this up coming episode brings the storyline full circle as they explore a gay relationship.
i can finally come out of the closet as a d'ohmosexual. watch a very gay episode of @TheSimpsons on november 21, written by me and my dad 😭😭😭 pic.twitter.com/RqlMcetIUv

— Johnny LaZebnik (@jlazebnik) October 30, 2021
In an interview with the New York Post published Thursday, the elder LaZebnik told the paper; "To be able to work with Johnny on this was, like, such a dream and to be able to see how truly funny and talented he is was just, you know, super fun and rewarding."
His son noted, "I know my dad is a comedy writer. I grew up with him — obviously, I know he's a funny guy," Johnny, 27, told The Post. "But actually getting to sit down and write jokes with him was so much fun. And there were some moments where I was like, 'Dad, that's disgusting — we can't put that on television,' which I didn't expect to be saying because I'm usually the disgusting one."
"We now have this piece of content that we put into the world together that is a combined brainpower of the two of us."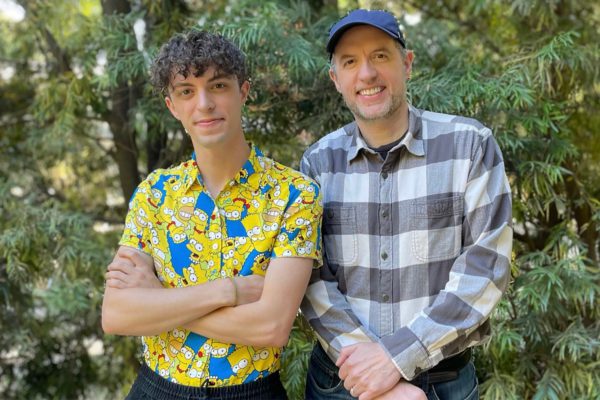 The younger LaZebnik also told the Post; "So often, gay romances are a subplot or alluded to or shown in some kind of montage or as a punchline.
"And what I think I was really excited about, with this episode, we get to see – without spoiling too much – the beginning, middle and who knows how it ends of a gay relationship, of really getting into the nitty-gritty of how gay people date, how they meet, what it's like."
He added: "That was really special to me to get to highlight characters who are not punchlines, who are fully formed."