Rehoboth's Clear Space Theatre regroups after commissioners reject new buildings
Opponents say officials failed to submit 'code compliant' application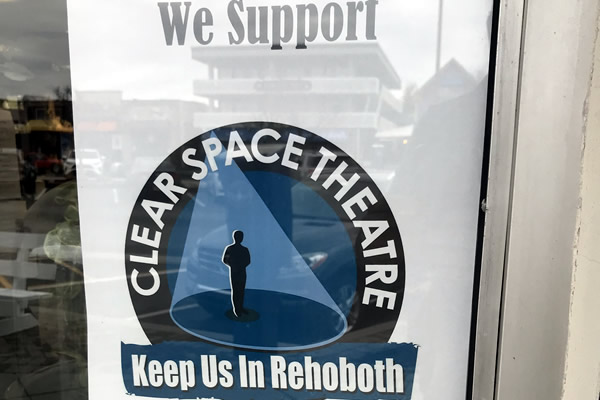 The Rehoboth Beach Board of Commissioners voted for the second time in eight months on June 30 to overturn a decision by the beach resort city's Planning Commission to approve plans by the Clear Space Theatre Company to build a larger theater and adjacent rehearsal theater in a new location.
Supporters of the theater project, including many of Rehoboth's LGBTQ residents and summer visitors, expressed outrage over the Board of Commissioners 4 to 3 vote to reject the Planning Commission's approval and deny the Clear Space application to build its proposed new theaters on Rehoboth Avenue, which serves as the city's main commercial boulevard.
The four commissioners voting to overturn the theater's approval were Rehoboth Mayor Stan Mills, gay Commissioner Patrick Gossett, and fellow Commissioners Susan Gay and Jay Lagree. The three who voted against overturning the approval were gay Commissioner Edward Chrzanowski, lesbian Commissioner Pat Coluzzi, and Commissioner Richard Byrne.
The controversial vote to overturn the theater project approval came in response to an official appeal against the Planning Commission's Feb. 26 approval of the project filed by 63 Rehoboth homeowners or renters, including D.C. gay attorney Harvey Shulman, who owns one of the homes near where the new theater buildings were to be built.
Shulman said at least 15 percent of those who signed on as appellants are gay. He and other opponents have said the two proposed theater buildings — a 14,949-square-foot main theater and a 9,950-square-foot rehearsal theater — are unsuitable in the three lots on Rehoboth Avenue where they were proposed to be built. Opponents say the two theater buildings would abut a residential neighborhood that would suffer undue noise, traffic congestion, and parking problems caused by the theaters.
Clear Space submitted the two-theater building proposal after the Board of Commissioners refused to approve an exception to the zoning code requested by Clear Space for an earlier plan for one larger 25,599-square-foot theater building. City officials noted the zoning code required any building larger than 15,000 square feet to provide 100 or more indoor or onsite parking spaces, which Clear Space said it did not have the financial resources to fulfill.
In a development that angered the opponents, Clear Space submitted a new plan for the two smaller buildings, which under the zoning code does not require Clear Space to provide any parking spaces for the project.
Clear Space has said its site plan would address noise and parking issues and it complies with the city's zoning code. Others supporting the theater have argued that anyone who chose to buy a home adjacent to a busy commercial street like Rehoboth Avenue should expect to deal with some noise and parking issues, which for years residents of the popular beach resort town have managed to deal with.
The commissioners who voted to overturn the Planning Commission's approval of the project cited as their main concern the contention by Shulman and the other appellants that the Planning Commission approved the project without ever having received or seen a code-complaint application, including a code-compliant set of drawings or plans for the project. The appellants said the Planning Commission allegedly only had in its possession an earlier application that was not in compliance with the city's zoning code.
Wesley Paulson, executive director of Clear Space Theatre Company, and Commissioner Chrzanowski each told the Washington Blade that the Planning Commission was informed by the city's building inspector that the Clear Space application and building site plans fully complied with all city codes.
The two pointed out that the building inspector, in consultation with the Planning Commission, set several conditions based on an earlier Clear Space application that had a minor code violation related to ceiling heights in one or more stair wells that should be corrected. Paulson and Chrzanowski pointed out that those changes were made.
Chrzanowski said he and his fellow commissioners who voted against overturning the project's approval strongly disagree with the rationale by Mills, who serves as mayor, and the other three commissioners that the Planning Commission acted in an "arbitrary and capricious" manner in its decision to approve the theater's application.
"It is my opinion that they were not acting any way in that fashion," Chrzanowski said of the Planning Commission. "The fact of the matter is these appellants, they don't care whether or not a drop ceiling in a stairwell needed to be reduced by six inches or not," he said.
"They just oppose the project because they don't want it in their back yard," he told the Blade. "It has nothing to do with a process or a code. They just don't want it in town, and it's unfortunate."
Shulman disputes that claim, saying existing Rehoboth law requires that the Planning Commission could not legally approve an application that never came before it and never became available to the public for review.
"This is not a question of whether you like the theater or you don't like the theater," he said. "There is a process that has to be followed. And the public has a right to have input. And that didn't happen here."
Among the Clear Space supporters who have criticized the Board of Commissioners who voted against the theater is longtime D.C. LGBTQ rights advocate Peter Rosenstein, who has a residence just outside the Rehoboth city boundary. Among other things, Rosenstein dismisses Shulman's claim that a significant number of gay residents wanted the Board of Commissioners to overturn the theater's approval.
"He's got 20 gays that don't support it and there are 3,000 that support it," said Rosenstein. "They can find any excuse they want," Rosenstein said in response to claims that the Planning Commission never received the theater's final, revised application.
"The Planning Commission didn't make any mistake," he said. "The theater was code compliant. They met every condition the Planning Commission wanted. Technicality or not, they were going to find an excuse to turn it down."
Paulson, the Clear Space executive director, said he remains hopeful that Clear Space will be allowed to resubmit its final, fully code complaint application to the Planning Commission for another quick and legally mandated approval without having to start the application process over again from scratch.
Supporters say starting over could take six months or more to obtain another round of approval from multiple city agencies and inspectors, a process that would add to Clear Space's financial burden. They note that the application process has already taken three years since Clear Space first proposed to move from its current location in a rented former church on Baltimore Avenue near the city's boardwalk.
Paulson said another option under consideration is to take the matter to court in a lawsuit to challenge the legality of the Board of Commissioners action. But he said he would prefer not to take that action if another option becomes available.
Paulson points to Board of Commissioners member Susan Gay, who voted to overturn the Planning Commission's approval of the project but who stated in an interview on a Rehoboth radio show the day following the Board of Commissioners' vote that she didn't believe the theater would have to begin a new application process.
"So, Susan, do they have to go back and start this process all over like a six-month plan again," Radio Rehoboth talk show host Jeff Balk asked Gay in an early morning interview on July 1.
"No," Gay replied. "So, part of Plan B is they can submit code compliant plans today," she said. "I understand they do exist. If that's the case, submit them. And at that point, I would hope the Planning Commission would expeditiously review it in compliance with the site plan review and it would result in a unanimous approval," Gay said in the radio interview.
But both Chrzanowski, who wanted the city to approve the theater's application, and Shulman, one of the lead opponents, each said that under existing Rehoboth law, a project like this must start the application process over again from scratch if it has been rejected twice by the Board of Commissioners.
"When you reject a decision by the Planning Commission for a second time, it's dead," Chrzanowski told the Blade. "You need to start from scratch," he said. "There may be an administrative thing the city could do to help move it along faster, but that certainly is not Commissioner Gay's decision," he said. "So, she very much misspoke when she made those statements."
Shulman told the Blade that if Clear Space chooses to start the application process over again, he believes the opponents of the project would be open to favorably consider the new application.
"If they come back with a new application, everyone will see whether it is code compliant," he said. "I believe and the opponents have always said this – we will sit down with Donna West, who is the chair of the [Clear Space Theatre Company] board, and try to reach some agreement on what a code compliant application would be, so there is no opposition or, so the opposition is minimized."
McAuliffe: Youngkin 'most homophobic' candidate in Va. history
Former governor spoke with Blade on Oct. 21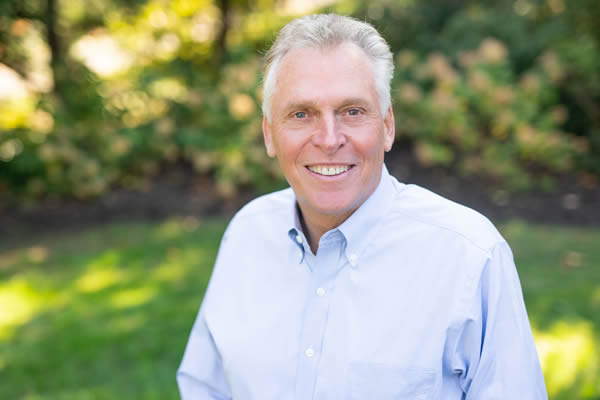 Terry McAuliffe described Republican Glenn Youngkin as the "most homophobic" and most "anti-choice candidate" in Virginia history during an Oct. 21 telephone interview with the Washington Blade.
"I'm running against the most homophobic, anti-choice candidate in Virginia history," said McAuliffe. "I ran against Ken Cuccinelli. That's saying something."
McAuliffe, a former chair of the Democratic National Committee, in 2013 defeated Cuccinelli, Virginia's then-attorney general who vehemently opposed LGBTQ rights, in that year's gubernatorial race. Youngkin, the former co-CEO of the Carlyle Group, a private equity firm, is running against McAuliffe in the race to succeed current Gov. Ralph Northam.
State Del. Hala Ayala (D-Prince William County) is running for lieutenant governor, while Attorney General Mark Herring is seeking re-election. They are running against Republicans Winsome Sears and Jason Miyares respectively.
The entire Virginia House of Delegates is also on the ballot on Nov. 2. The outcome of those races will determine whether Democrats maintain control of the chamber.
Youngkin remains opposed to marriage equality
The Associated Press a day after McAuliffe spoke with the Blade published an interview with Youngkin in which he reiterated his opposition to marriage equality, but stressed it is "legally acceptable" in Virginia and he would "support that" as governor.
The anti-LGBTQ Family Research Council, which the Southern Poverty Law Center has categorized as an extremist group, earlier this month endorsed Youngkin. The Human Rights Campaign and Equality Virginia's political action committee are among the groups that have backed McAuliffe.
Youngkin earlier this year said he does not support allowing transgender children to play on sports teams that are consistent with their gender identity. Youngkin has also expressed support for Tanner Cross, a gym teacher at a Leesburg elementary school who was suspended in June after he spoke against the Virginia Department of Education guidelines that are designed to protect trans and non-binary students.
HRC in 2019 named the Carlyle Group as a "Best Place to Work for LGBTQ Equality" in its annual Corporate Equality Index. McAuliffe scoffed at this recognition.
"They should have checked with their co-CEO who's against marriage equality," he told the Blade. "That would have been the first place I would have gone to ask."
'I've always been out front fighting to protect everybody'
McAuliffe's first executive order as governor after he took office in 2014 banned discrimination against LGBTQ state employees. He also vetoed several anti-LGBTQ religious freedom bills, created Virginia's LGBTQ tourism board and became the state's first governor to declare June Pride month.
McAuliffe noted to the Blade that he is also the first governor of a southern state to officiate a same-sex wedding. The lesbian couple whom he married has recently appeared in one of his campaign ads.
"I spent four years vetoing every single legislation Republicans brought forth and came across my desk that would have discriminated against the LGBTQ community," said McAuliffe. "I've always been out front fighting to protect everybody."
McAuliffe noted that CoStar, a D.C.-based commercial real estate company, moved more than 1,000 jobs to Richmond from Charlotte after then-North Carolina Gov. Pat McCrory signed House Bill 2, which banned trans people from using public restrooms consistent with their gender identity and prohibited municipalities from enacting LGBTQ-inclusive nondiscrimination measures. McAuliffe described HB 2 to the Blade as the "anti-gay bill."
"There's real consequences … to discriminatory actions and I will not tolerate any of it," he said.
McAuliffe last month said during his first debate against Youngkin that local school boards "should be making their own decisions" with regards to the implementation of the Virginia Department of Education guidelines for trans and non-binary students. McAuliffe during his second debate against Youngkin stressed "locals" should provide input on the policy, but added "the state will always issue guidance."
McAuliffe told the Blade he has "been so offended about how many folks have tried to really demonize our children here in this state." McAuliffe referenced children with "self-identity issues" during the interview, but he did not specifically cite those who identify as trans or non-binary.
"We've got to help our children … we got to help our children who are desperately in need today," he said. "And we got to show them that we'll be there for them, as I say, no matter how they identify or who they love."
Youngkin on Saturday during a campaign event in Henrico County said he would ban the teaching of critical race theory in Virginia schools. McAuliffe criticized his opponent on this issue when he spoke with the Blade.
"Critical race theory is not taught in Virginia, nor has it ever been taught," said McAuliffe. "These are dog whistles that are used, and especially in the CRT, it's a racist dog whistle and it just fits into this whole pattern of using our children as political pawns and I hate it."
Youngkin 'would drive businesses out of' Va.
McAuliffe has continued to portray Youngkin as an extremist on other issues that range from abortion and vaccine mandates as polls suggest the race between the two has grown tight. McAuliffe also continues to highlight former President Trump's support of Youngkin.
McAuliffe told the Blade that Youngkin is "100 percent against abortion" and said his opponent would "bring those Texas-style type abortion" laws to Virginia.
The law, which bans almost all abortions in Texas and allows private citizens to sue doctors and anyone else who helps a woman obtain one, took effect last month. The U.S. Supreme Court on Nov. 1 will hear oral arguments in a case that challenges the law.
"We always knew that the Supreme Court would be a backstop on women's rights issues: Roe v. Wade. That is gone. It's over," said McAuliffe. "Donald Trump's Supreme Court is going to overrule the basic tenants of Roe v. Wade."
McAuliffe added the Supreme Court "is going to allow these states to roll back women's reproductive rights, so that's no longer a talking point."
"This is reality," said McAuliffe. "Every woman in Virginia needs to understand it."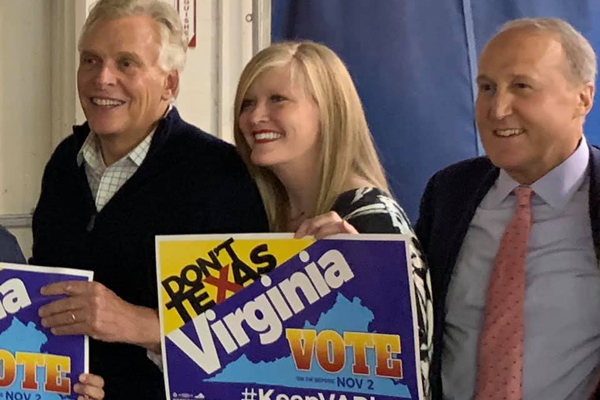 Youngkin, for his part, has said he would not have signed the Texas law.
Trump on Oct. 13 described Youngkin as a "great gentleman" when he called into the "Take Back Virginia Rally" in Henrico County that John Fredericks, host of "Outside the Beltway with John Fredericks" who co-chaired the former president's 2016 campaign in Virginia, organized.
Participants recited the Pledge of Allegiance to an American flag that was present at the U.S. Capitol insurrection. Youngkin in a statement his campaign released said he "had no role" in the event and said it was "weird and wrong to pledge allegiance to a flag connected to January 6."
"As I have said many times before, the violence that occurred on January 6 was sickening and wrong," he said.
McAuliffe told the Blade that Youngkin would make Virginia "a dangerous place to live and work."
"His governorship, if he were to be elected, would roll back individual liberties," said McAuliffe. "He doesn't support gay marriage, he is for eliminating abortion here in the commonwealth of Virginia and he will drive businesses out of our state and finally it is dangerous for people."
Whitman-Walker's 35th annual Walk & 5K to End HIV held virtually
Participants picked their own routes throughout D.C. metro area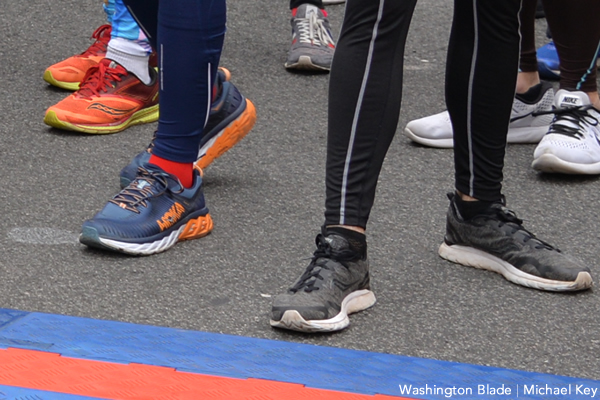 Whitman-Walker Health, D.C.'s LGBTQ supportive health center, hosted its 35th annual Walk and 5 K Run to End HIV on Saturday, Oct. 23, in a format in which participants chose their own route to walk and run throughout the D.C. metro area.
The event, which serves as Whitman-Walker's largest single fundraiser of the year, took place in what organizers called a virtual format for the second year in a row due to the COVID-19 pandemic, even though many participants walked or ran either by themselves or in small groups.
"Participants can sign up to run or walk a 5k route in Washington, D.C. and pass by local Whitman-Walker locations in Northwest and Southeast DC, or they can choose to walk or run a 5k route in their city!" Whitman-Walker said in a statement promoting the event.
In recent years prior to the start of the COVID pandemic, Whitman-Walker's Walk & 5 K Run to End HIV began and ended at Freedom Plaza in downtown D.C., with as many as 1,000 or more participants running or walking together along a route that included Pennsylvania Avenue, N.W., at Freedom Plaza, and parts of the National Mall.
"We decided to host the Walk virtually again this year, enabling folks to show their support for the 35th annual Walk & 5K to End HIV from near and far," said Whitman-Walker spokesperson Jewel Addy. "Participants get to decide their level of COVID safety, and that was especially important again this year," she said.
Whitman-Walker Health CEO Naseema Shafi said it was significant that the 35th anniversary of what started out in 1987 as the first annual AIDS Walk Washington took place this year on the 40th anniversary of HIV/AIDS.
"The 40th anniversary of HIV and the 35th anniversary of this event allow us to reflect on the barriers to care folks faced during the AIDS epidemic and continue to face during COVID," Shafi said in a statement. "The current pandemic illustrates that we still have work to do in creating safer, affirming spaces for everyone in the community," she said. "Our staff works to remove those barriers to care for patients and clients every day."
Addy told the Blade on Monday there were about "800+" registrants for this year's event so far from individual participants who ran or walked or simply sent in contributions in support of Whitman-Walker's work, which includes caring for over 20,000 patients.
"We are currently at $444,000 raised, with donations still coming in and fundraising going until Dec. 31," Addy said. "With that, we're confident we'll meet or exceed our goal of $450K by year's end."
In a statement prior to the start of the Oct. 23 event, Whitman-Walker said its fundraising goal for the event was $450,000.
In messages promoting the event, Whitman-Walker said supporters could "register, walk, run, and donate to this year's walk," through Dec. 31, 2021, at www.walktoendHIV.org.
The locations participants passed by in their walk or run on Oct. 23 included Whitman-Walker's Liz Taylor facility at 14th and R streets, N.W., its headquarters, and medical care building at 1525 14th St., N.W., its Max Robinson Pharmacy at 2303 Martin Luther King Jr. Ave., S.E.: and its St. Elizabeth's Campus location at 1100 Alabama Ave., S.E.
"Complete the race wherever and whenever you would like," Whitman-Walter stated in reminding participants that the event's fundraising effort will continue through Dec. 31. "You can walk, run, use a treadmill, or participate in another race."   
Among those expressing strong support for Whitman-Walker on the occasion of its 35th annual walk and run to end HIV was Dr. Anthony Fauci, director of the National Institute of Allergies and Infectious Diseases, who released a video praising Whitman-Walker for its work in fighting the AIDS epidemic since the start of the epidemic.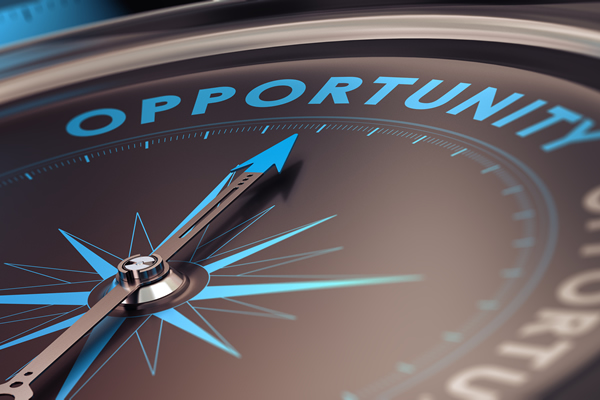 The Comings & Goings column is about sharing the professional successes of our community. We want to recognize those landing new jobs, new clients for their business, joining boards of organizations and other achievements. Please share your successes with us at: [email protected]. 
The Comings & Goings column also invites LGBTQ+ college students to share their successes with us. If you have been elected to a student government position, gotten an exciting internship, or are graduating and beginning your career with a great job, let us know so we can share your success.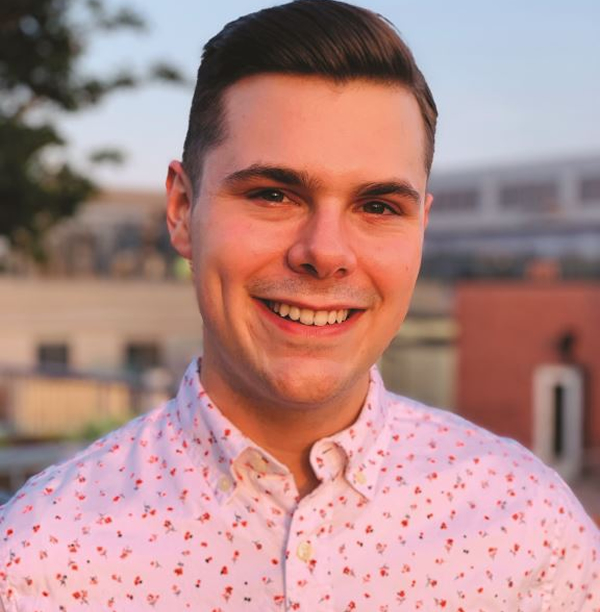 Congratulations to Steven McCarty on being named president of the Kiwanis Club of Washington, D.C. He said, "I'm honored to be installed as the president of the Kiwanis Club of Washington, D.C. and to be able to shepherd our programs and volunteers to impact youth where they are needed most. Our club's new partnership with SMYAL has already turned a portion of their Youth Center in Southeast D.C. into the first Clinical Services Department in the District that offers free and affirming mental healthcare to LGBTQ Youth. As an openly gay man, I'm proud to further our club's mission with radical empathy and inclusion." McCarty has also recently been awarded Kiwanis' highest honor, the George Hixson award.
McCarty is a Technical Program Specialist at stac labs in D.C. He is also founder and campaign manager at Abolish Racism 2020. He worked as a Senior Customer Success Manager, Crowdskout. He was a workplace equality intern at Human Rights Campaign and a summer fellow at Michigan State AFL-CIO, in Lansing, Mich.
McCarty earned his bachelor's in Political Science and Communications Studies at the University of Michigan in Ann Arbor.
Congratulations also to Shin Inouye on his appointment as Executive Vice President of Communications, The Leadership Conference on Civil Rights and Human Rights, The Leadership Conference Education Fund.
Wade Henderson, interim president and CEO of The Leadership Conference and The Education Fund said, "We are thrilled Shin Inouye will be taking on even greater responsibilities on our senior leadership team. His incredible talent and commitment to this organization and our work are truly outstanding, and his strategic leadership will no doubt continue moving us forward in the fight to protect and advance civil and human rights."
Inouye has held a number of positions with the organization including Managing Director of Communications. Inouye also held a number of high-level positions in the Obama administration, including Press Secretary and Acting Senior Adviser for Intergovernmental and External Affairs, Department of Homeland Security, U.S. Citizenship and Immigration Services; Adviser for Intergovernmental and External Affairs, Executive Office of the President; White House Office of Communications: Director of Specialty Media; and served as an authorized spokesperson for the Obama Inaugural Committee, with a focus on specialty media outlets, including LGBTQ, AAPI, Native American, Youth/College, Faith, and Jewish press. Prior to that Inouye was Communications Director in the Office of Congressman Jerrold Nadler (N.Y.) and has also worked for the ACLU and as a summer intern with the American Chamber of Commerce in Japan.
Inouye received a number of honors including being named One of 25 "LGBTI next generation leaders to watch" by Out in National Security and the Atlantic Council; and One of "40 Asian American Pacific Islander National Security & Foreign Policy Next Generation Leaders" by New America and the Diversity in National Security Network.