Tucker Carlson praises anti-LGBTQ Hungary prime minister
Fox News host interviewed Viktor Orbán in Budapest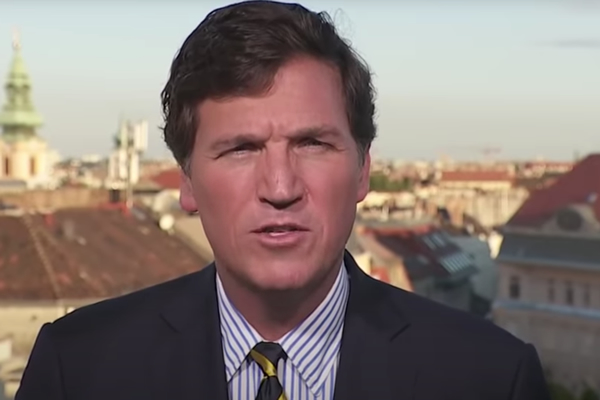 Fox News' Tucker Carlson this week defended anti-LGBTQ Hungarian Prime Minister Viktor Orbán while in his country.
Carlson on Thursday at the opening of his show described Orbán as "an elected leader who publicly identifies as a Western-style conservative."
"He thinks families are more important than banks. He believes countries need borders. For saying these things out loud Orbán has been vilified," said Carlson from Budapest, the Hungarian capital, before his program aired his interview with Orbán. "Left-wing NGOs have denounced him as a fascist, a destroyer of democracy."
Carlson referred to transgender athletes and critics of President Biden's policies as he introduced his interview with Orbán. The Hungarian prime minister, for his part, defended his record.
"What is going on here is building up a society, which is very successful: Economically, politically, culturally and even in demography we have some success, family policy," said Orbán. "So, what you can see here could be described as a success story, but the fundamentals of the success are totally different than it is envisioned and run and created by many other Western countries."
"The Western liberals cannot accept that inside the Western civilization there's a conservative national alternative, which is more successful at everyday life and the level of it than the liberal ones," he added. "That's the reason why they criticize us. They are fighting for themselves, not against us. But we are an example that somebody, or a country which is based on traditional values, on national identity, based on a tradition of Christianity, could be successful or sometimes even more successful than a leftist liberal government."
Orbán told Carlson that "many Christian families and conservative families think that Western Europe is not secure enough, the future is not stable, the public security is not provided and the ideological direction of the countries, or the basic values of the countries built on, is changing not to their taste or to their intention."
"They are looking for other places," said Orbán, noting people from Western European countries are moving to Hungary.
Orbán did not specifically discuss his efforts to curtail LGBTQ rights in Hungary, but he did describe former President Trump as "a great friend of Hungary."
"He was very much supportive to us, not just personally, but politically as well," said Orbán.
Orbán also defended his government's efforts to prevent migrants from traveling through Hungary in 2015.
"This is not a human right to come here; no way because it's our land," he said. "It's our nation. It's a community. Families. History. Tradition. Language."
Brussels sues Hungary over anti-LGBTQ law
The European Commission last month announced it would take legal action against Hungary after a law that bans the promotion of homosexuality and sex-reassignment surgery to minors took effect. Orbán, who leads Hungary's Fidesz party, has said he wants to hold a referendum on it.
Hungarian lawmakers in late 2020 amended the country's constitution to define family as "based on marriage and the parent-child relation" with "the mother is a woman, the father a man" and effectively banned same-sex couples from adopting children. The Hungarian Parliament earlier in the year approved a bill that bans trans and intersex people from legally changing their gender.
"I'm treated like the black sheep of the European Union," Orbán told Carlson.
Carlson repeatedly told Orbán that Biden has described him as a "totalitarian thug," while noting the comment suggests "why wouldn't the Biden State Department work to prevent you (Orbán) from being elected" in Hungary's 2022 presidential election. Orbán, for his part, said he is prepared for "international interference."
"That will happen … we are prepared for that," said Orbán. "Obviously the international left will do everything that they can do and probably more to change the government here in Hungary."
The BBC reported Carlson while in Hungary attended a festival the Matthias Corvinus Collegium, a conservative foundation with close ties to Orbán.
A Media Matters for America spokesperson on Friday pointed out to the Washington Blade that Carlson, among other things, has recently mocked Assistant Health Secretary Rachel Levine, who is the first openly trans person the U.S. Senate has confirmed. GLAAD has also documented Carlson's other anti-LGBTQ comments that include his description of trans children as "grotesque" and bragging about him and a friend beating up a gay man when they were in high school.
A Fox News spokesperson has not responded to the Blade's request for comment.
The network over the years has sponsored several NLGJA: The Association of LGBTQ Journalists events, including its conventions and annual New York City fundraiser that former Fox News anchor Shepard Smith has attended. NLGJA did not respond to the Blade's request for comment for this story.
LGBTQ lawmakers in Latin America pledge to end conversion therapy in region
Agreement signed at Global Equality Caucus meeting in Argentina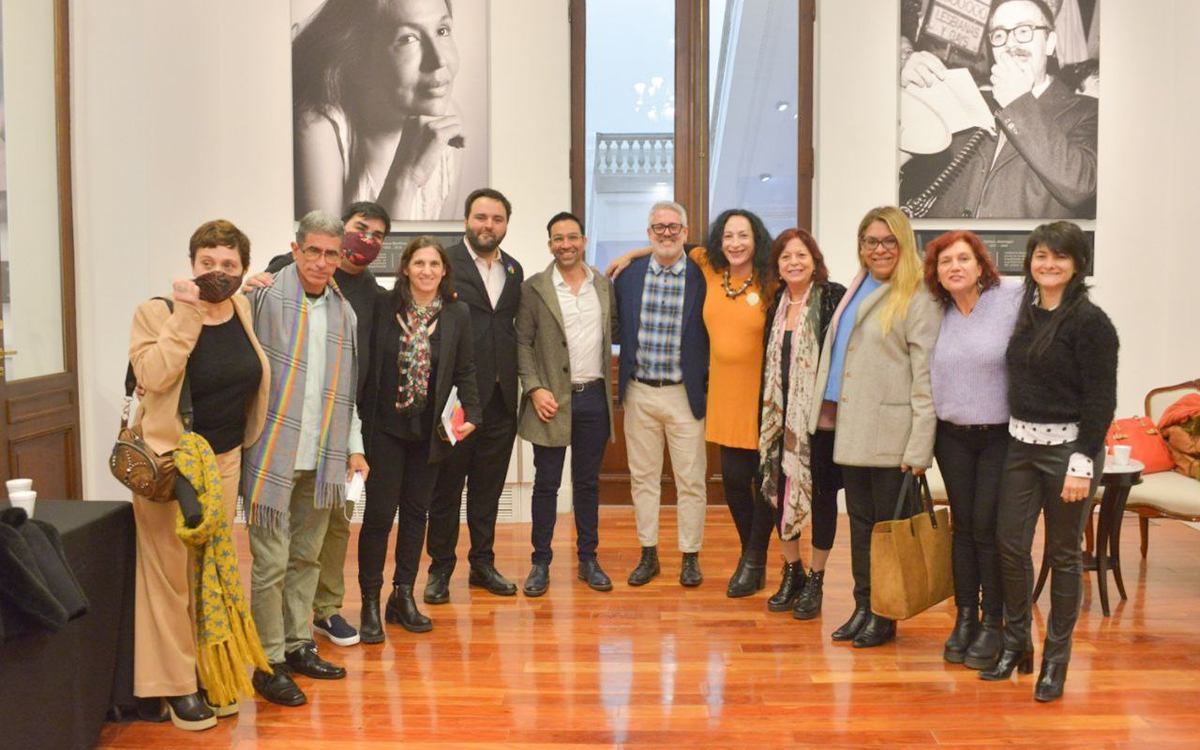 BUENOS AIRES, Argentina — Openly LGBTQ lawmakers from across Latin America who gathered in Argentina's capital last week agreed to work together to ban so-called conversion therapy in the region.
The second meeting of the Global Equality Caucus' Latin America chapter took place in Buenos Aires. Those who attended agreed the effort to ban conversion therapy in the region would begin in countries where openly LGBTQ people have been elected to public office and where allies can be identified.
"Efforts to correct sexual orientation and gender identity (ECOSIG), also misnamed 'conversion therapies,' lack scientific support and are based on prejudices contrary to the human dignity of all people," reads the document signed at the end of the meeting. "The practice of ECOSIG has been widely spread and institutionalized in our region, outside the law, which represents a threat to all LGBTI+ people and, especially, to the youngest members of the LGBTI+ community."
Erick Iván Ortiz, who oversees the Global Equality Caucus' work in Latin America, told the Washington Blade that "this is a pact that we also signed in Mexico and implies the commitment of legislators to advance laws and public policies that allow us to eradicate once and for all, these misnamed conversion therapies".
According to the Global Equality Caucus representative, the meeting served "to demonstrate that congresses, national governments and local governments can and should work together to advance the rights of LGBTI people and how Argentina and Mexico are good examples and good practices." Ortiz also stressed that from now on they will be able to face any threat from anti-LGBTQ groups in Latin America, "who seek to roll back, paralyze progress or simply deny our rights.
"What we need is a coordinated response from those of us who are and will remain in the struggle to advance the rights of LGBTI people," said Ortiz.
The first part of the launch of the Global Equality Caucus' Latin America chapter took place in Mexico City on April 1-2. The second meeting took place in Argentina from May 16-17.
Mercosur Parliamentarian María Luisa Storani, Argentine National Assemblyman Maximiliano Ferraro, Argentine National Sen. Guadalupe Tagliaferri, Peruvian Congresswoman Susel Paredes and Guatemalan Congressman Aldo Dávila, among others, attended the Buenos Aires meeting.
"The meeting met the expectations we had of having the opportunity to show the good practices and legislative and public policy experiences that Argentina has," Ortiz stressed. "This is particularly important because they are experiences that come from the global south that are already, in the case of the gender identity law, a decade old and that have left significant changes in the realities of many LGBTI people."
The Global Equality Caucus pointed out launch's objectives are to share experiences and create a peer-to-peer learning process. The group at the same time also wants to form and strengthen networks among LGBTQ lawmakers and allies throughout Latin America and to build a working agenda on LGBTQ rights issues in the region.
Dávila, who is the first openly gay man and first person with HIV elected to the Guatemalan Congress, spoke with the Blade at the end of the meeting.
"It was fantastic," he said. "We were able to identify the gaps that have been there forever and the need to get more members of the community into elected office, it's key. We need to work more together to push for changes in favor of LGBTQ people."
For him, the most important agreement "is the creation of law initiatives together."
"In that sense, we agreed to launch law initiatives that are closely related," said Dávila. "For example, we will fight to ban the misnamed conversion therapies and we will do it jointly in June. That will be an important step if we do it all together in the region, I think we will send a great message of union."
Mexico City Assemblyman Temístocles Villanueva, who participated in the first Global Equality Caucus meeting in his country, had a similar opinion.
Villanueva explained to the Blade that "it was an event for the construction of the public, political and legislative agenda in the field of human rights of people of sexual diversity, having given priority to the search for bridges for cooperation, joining national and international actors."
"We have focused on the need to share and transmit the Latin American experience for the struggle, recognition and defense of LGBTTTI+ rights through international platforms such as the caucus, connecting local work with regional and transnational cooperation networks for the defense of central causes," added Villanueva.
Ortiz said "the next step is the construction of a consensus agenda, based on the inputs gathered in Mexico and Argentina, which will allow us to build a shared agenda that we can promote in a coordinated and articulated manner with the different members of the network."
GLAAD president attends World Economic Forum
Annual event takes place in Swiss resort town of Davos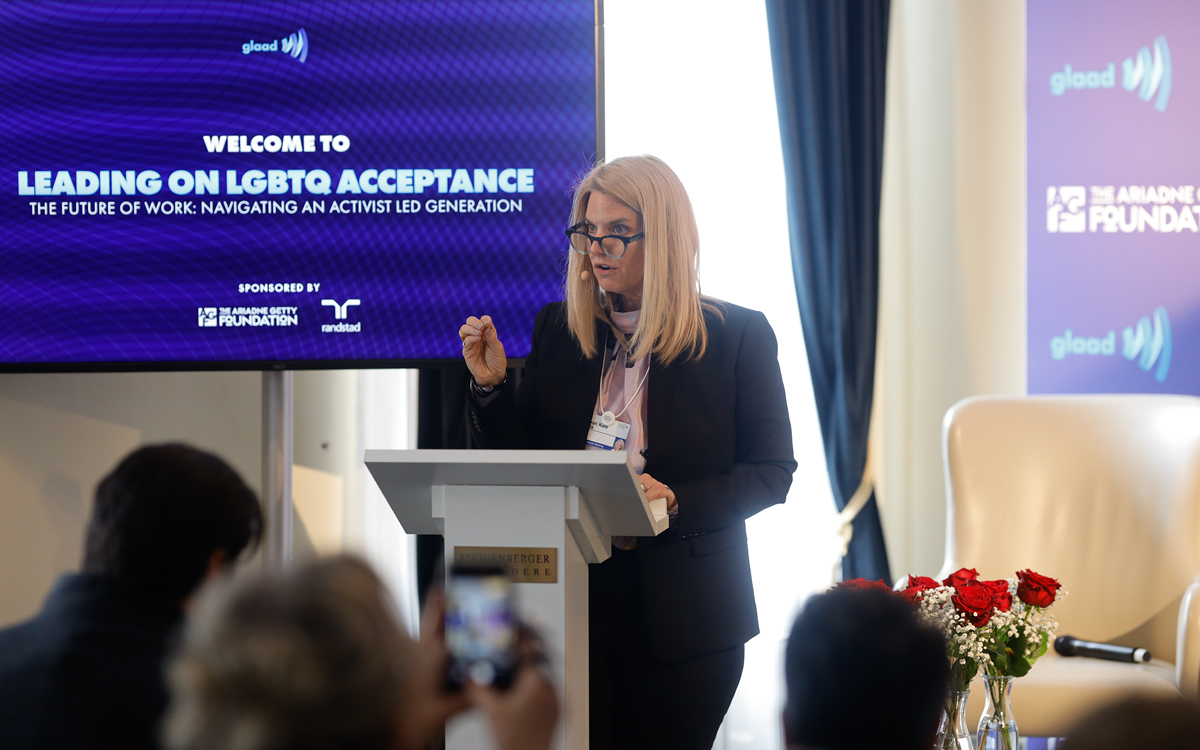 GLAAD President Sarah Kate Ellis participated in the World Economic Forum that took place this week in the Swiss resort town of Davos.
A press release notes GLAAD and the Ariadne Getty Foundation on Wednesday hosted a panel "on the intersection of LGBTQ people and corporates today" that CNN Business Editor-at-Large Richard Quest, who anchors the network's "Quest Means Business" program, moderated.
Ellis spoke alongside BSR CEO Aron Cramer, Intel Corporation Executive Vice President Christy Pambianchi, Mastercard Executive Vice President of Sustainability Shamina Singh and Randstad CEO Sander Van't Noordende. Axios Chief Technology Correspondent Ina Fried and Commonwealth Fusion Systems Head of Operations Joy Dunn also held a "fireside chat" that took place during the event.
Ellis participated in a number of other panels while in Davos.
"LGBTQ people have been disproportionately impacted by the pandemic and recent systemic changes around the world, but we can also be disproportionately helpful in the recovery," she said in the press release. "Corporate accountability cannot begin and end with employee benefits and hiring practices — it extends to how a corporation spends its dollars, philanthropic and political. It extends to how a corporation takes public stands against anti-LGBTQ legislation and in favor of pro-LGBTQ legislation, because this legislation impacts LGBTQ employees and consumers."
Senegal advocacy group demands better treatment of LGBTQ prisoners
Homosexuality remains criminalized in West African country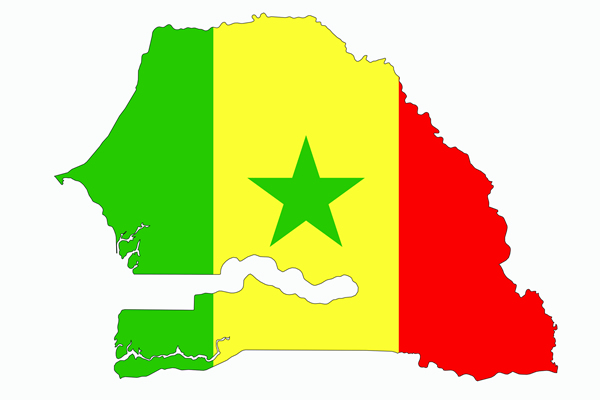 The founder of a Senegalese advocacy group has criticized the treatment of LGBTQ people in the country's prisons.
Souleymane Diouf, founder of Collectif Free du Sénégal, says prisoners suffer physical and sexual abuse, especially from other inmates. Diouf notes prison wardens are often reluctant to respond due to current laws that criminalize same sex relations.
"There is a considerable difference in treatment between homosexual and heterosexual prisoners. This difference is due to the behavior of prison officers, but also to the attitude of other inmates. The overcrowding of the prisons has furthermore worsened the situation and the attitudes of rejection towards 2SLGBTQIA+ persons," said Diouf. "The difference in treatment occurs at all stages of the deprivation of physical liberty."
Diouf said LGBTQ detainees are often beaten at police stations, such as in Dakar's Mermoz district in October 2020 during a wave of arrests.
"One of the young people arrested during this police raid had complained of having been tortured in prison and had received very bad treatment," said Diouf. "He complained of having a stomach ache following a kick he received, but had not been taken care of, neither at the hospital nor at the infirmary of the prison where he was held."
Diouf said the man died shortly after his release.
"The exact nature of the death is not known," said Diouf. "Nevertheless, one cannot help but wonder or draw parallels with his conditions of incarceration.
Diouf also said LGBTQ people are not placed in solitary confinement cells.
"This situation, as well as the recurrent overcrowding of prisoners within the prisons, increases the risk of sexual violence," said Diouf.
Diouf noted lesbian women are held at Dakar's Cap Manuel Prison, but less information is known about their treatment.
"They are subjected to verbal abuse but seem to be spared physical abuse," said Diouf. "However, their conditions of detention are far from obvious, due to the dilapidated state of the prisons."
Diouf noted Senegalese civil society organizations that advocate for these prisoners are often ineffective because of the hostility they may face if the community and law enforcement agencies discover they are LGBTQ lobbyists.
"The Senegalese State is totally uninvolved in the security of 2SLGBTQIA+ persons," said Diouf. "Complaints are rarely filed, when an 2SLGBTQIA+ person reports to the authorities a danger or an imminent threat to their life little is done for the victim. Also calls for hatred and murder targeting the 2SLGBTQIA+ community go largely unpunished in the country."
"The government is more concerned about the upcoming elections than the 2SLGBTQIA+ community," added Diouf. "As for the civil society, it remains inert and the last two years have been characterized by a clear increase in hostility towards 2SLGBTQIA+ people."
Diouf also painted a grim picture for the country's LGBTQ community, citing there are more stringent measures in the making that are meant to further suppress those who identify as LGBTQ.
Same-sex relations in Senegal are prohibited under the country's 1965 penal code that criminalizes so-called unnatural acts with between 1-5 years in prison and a fine that can range from $170-$2,580.
Both men and women are criminalized under this law.
A group of Senegalese lawmakers last December announced plans to introduce a bill that would double the length of jail terms for those convicted of same-sex activities to between five and 10 years. One lawmaker, Amadou Ba, stated that voting against the "bill criminalizing homosexuality will be equivalent to its legalization."
Anti-LGBTQ groups last May burned the Pride flag during a rally and demanded a new, more repressive anti-LGBTQ law to be passed. They also called for the criminalization of homosexuality to be an issue at the next presidential election in 2024.
"Today, we should be able to fight for the visibility of all the points of view that are expressed regarding the 2SLGBTQIA+ communities," said Diouf. "However, we are far from it."
Daniel Itai is the Washington Blade's Africa Correspondent.