Meet Rev. Bos, first out lesbian Evangelical Lutheran bishop
'My spirituality and sexuality are intertwined'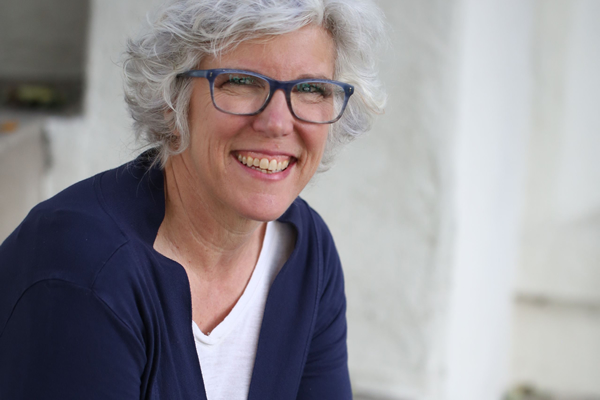 When the Rev. Brenda Bos was growing up as a good Christian girl in Chino in San Bernardino County, Calif., no one talked about being gay.
When after college Bos realized she is a lesbian, she was closeted about it with her family.
"After I began to see that I was lesbian, I decided my first partner would be this woman," Bos said in a telephone interview with the Blade. "But I figured I couldn't talk to God about it. It didn't feel so much as a sin as that God wouldn't want to hear about it."
On June 5, Bos, 56, was elected to serve a six-year term as bishop of the Southwest California Synod of the Evangelical Lutheran Church in America (ELCA). The ELCA is a mainstream, mainline, Protestant denomination.
Bos will take office as bishop on Sept. 1. Her installation will take place on Sept. 12. She will be the first openly lesbian bishop in the ELCA.
Some people know early on – as a college student or even as a teenager – that they want to go into the ministry.
This wasn't so with Bos.
"My family were Dutch immigrants," Bos said, "they bought a dairy farm."
When she was a teen, Bos was a theater geek. She did a lot of community theater and thought about going into acting.
"But people told me that acting was too frivolous," Bos said, "they thought I'd never be successful if I tried to have a career as an actor."
So Bos pursued what she calls an "adjacent profession" – broadcasting. She received a bachelor's degree in broadcasting from Pepperdine University in 1986.
Bos started out in broadcasting as an intern at MTM. She was there after the glory days of "The Mary Tyler Moore Show" and "Rhoda." But the studio was still producing "Hill Street Blues" and other respected shows.
Bos went on to work for 18 years in production on some of the most beloved shows on TV, including "The George Lopez Show," "Mad About You" and "The Golden Girls."
Bos knows that Blanche, Rose, Sophia and Dorothy (and the actors who played them) on "The Golden Girls" are gods to many queer folk.
Bos was a writer's assistant on the sixth season of the "The Golden Girls." "Every actor was at the height of their power," she said. "They knew who their characters were and how to emphasize the fabulous in each of them."
The studio audience would go nuts, Bos said, "there was so much joy. It was magnificent to see what comedy could be at its height."
While Bos engaged in her TV career, she was exploring her sexuality.
Her relationship with her first partner, a woman, lasted a year. "The pressure of being a closeted lesbian was too much," Bos said.
She met a man and became attracted to him. "I thought I wasn't gay," Bos said.
Seven years later, the woman who'd been her first partner came back into her life. She and Bos were together for 12 years.
It was difficult for her family when Bos came out to them. "They worried that if they accepted me, God would judge them," Bos said, "it took them a decade to accept that if God loves me, God loves them."
Bos is grateful that her family did the hard work that needed to be done so that they could come to terms with her sexuality.
Though Bos was back with her first partner, she couldn't imagine being a lesbian and being connected to the church. "I let church life lie," she said.
But Bos had always enjoyed thinking about God. She liked to talk about God in a way that made God accessible. Bos thought she might have a gift for not being judgmental or dogmatic.
Bos volunteered at a church and the people there liked her. But it went badly when she came out to the pastor.
"They said 'you're gifted, but we can't use you in leadership, there's no place for you,'" Bos said. It was devastating to her.
Though the people at that church didn't see that Bos had a gift for talking about God, others did.
One day, Brenda was at work on a TV show when a woman on the crew named Jenna collapsed and died. She'd been training for a marathon and had an unexpected heart defect.
Many people asked Bos — though she wasn't a minister — to conduct the memorial service for Jenna.
Somehow, she knew she was the right person for that job at that moment. "I talked about how much God loved Jenna, and how she was in heaven," Bos said, "people talked about their own faith as well as Jenna's."
People told Bos that she was in the wrong line of work and that she should be a pastor.
"I'm an atheist," someone at the service said to Bos, "but this was such a sacred thing."
Bos started to feel that being in TV production was too much of a rat race – that she wanted to try to enter the ministry.
In 2007, she was rejected by a seminary because she came out in her application.
After that rejection, "in a drunken stupor – my partner was out of town," Bos said, "I Googled churches that were LGBTQ-welcoming."
She saw that the ELCA was listed as a welcoming denomination.
Bos was accepted by the Claremont School of Theology in 2009. In that same year, the ELCA began ordaining openly LGBTQ pastors.
She earned a master's of divinity degree from Claremont in 2011. In 2013, Bos received a Certificate of Advanced Theological Studies from Pacific Lutheran Theological Seminary.
While in seminary, Bos was a bridge pastor to a congregation at Faith Lutheran Church in Canoga Park, Calif., and a student pastor at a church in Danville, Calif. She was the first of eight vicars (interns) at St. Paul's in Santa Monica, Calif.
From 2014-2019, Bos was pastor of Christ Lutheran Church in San Clemente, Calif. She was ordained in 2014 at her home congregation, St. Matthew's Lutheran Church in North Hollywood, a LGBTQ welcoming church.
Since 2019, Bos has served as the assistant to the bishop for rostered leadership in the Southwest California Synod. In this position, she's been providing support to clergy who are on leave, become disabled or in spiritual crisis.
Bos lives with her wife Janis, a licensed clinical social worker. They have an adult son and two dogs named Santos and Knight.
"My spirituality and sexuality are intertwined," Bos said, "it's what makes me the whole person that I am."
She doesn't believe that God has any gender. "I can understand how back in the day, we assigned God the pronoun 'he'," Bos said.
But, as our understanding of what it means to be non-binary grows, Bos said, our imagination about God expands. "It might make some uncomfortable," she said, "but to me it makes sense to think of God as 'they.'"
God has a sense of humor, Bos said. After all, "God's best ideas are laughter, sex, and food," she added.
Melissa Etheridge shares Q&A in advance of April 26 Tysons tour stop
Rock pioneer finds inspiration in the past — from revisiting old demos to reconnecting with celeb pals like Ellen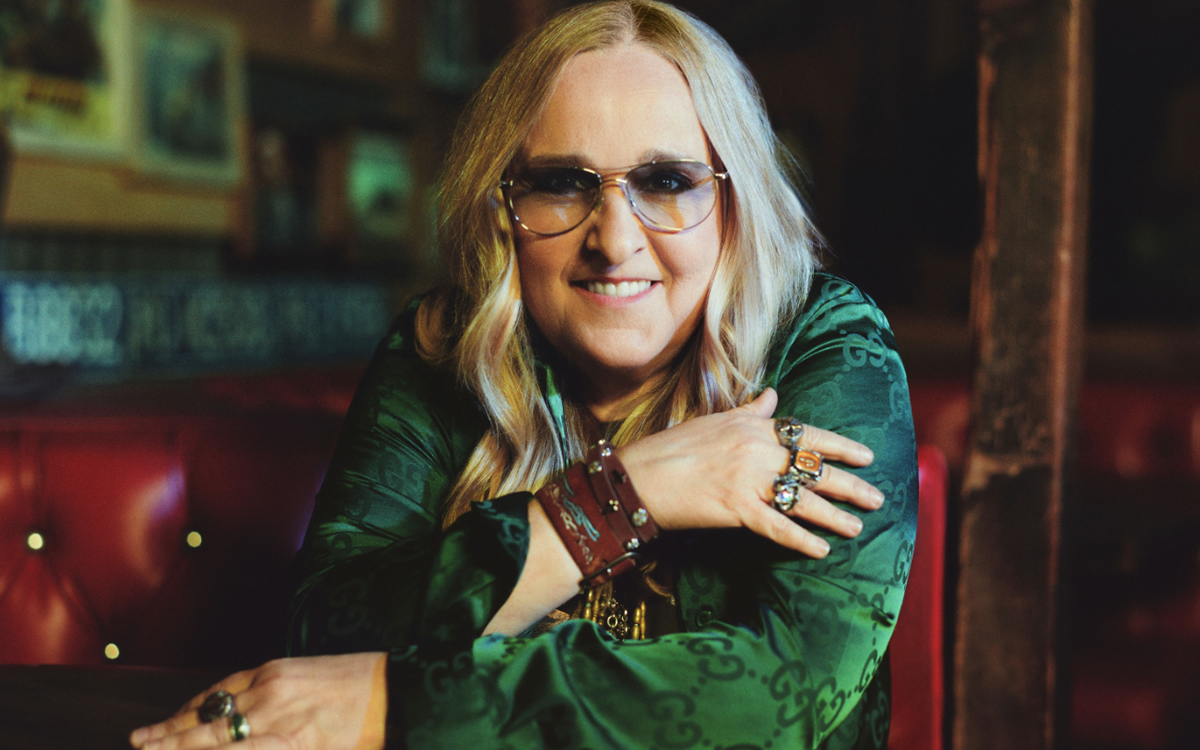 Melissa Etheridge
'One Way Out Tour'
Tuesday, April 26
Capital One Hall
7750 Capital One Tower Rd.
Tysons, VA
7:30 p.m.
Tickets: $55
ticketmaster.com
capitalonehall.com
melissaetheridge.com
We caught up with rock legend Melissa Etheridge on April 8 by phone from Snoqualmie, Wash. — it's about 26 miles east of Seattle —where she was playing the Snoqualmie Casino on her "One Way Out Tour," which plays our region on Tuesday, April 26.
It's named after her latest album, released last fall, which found Etheridge, who's been out since '93, revisiting demos from early in her career.
Her comments have been slightly edited for length.
WASHINGTON BLADE: "One Way Out" sounds like such a cool project. Was it all re-recorded stuff of old songs or were some of those vintage takes on the record as well?
MELISSA ETHERIDGE: The last two songs, the live songs, were from where? From 2002? OK, but the other songs were newly recorded.
BLADE: And how many of them did you remember?
ETHERIDGE: You know, when I found them again, they all came back very clearly. And I was like, "Oh, this is — why did I throw that away? That's weird." And I really enjoyed, you know, hearing them, they were just old demos. I'd never done full-blown recordings. So I thought, "This is great, I want to do these songs."
BLADE: We have a relatively new venue you're going to be playing, Capital One Hall. I've only been there once. You excited?
ETHERIDGE: Yeah, it's always fun. I love the D.C.-area crowd. It's just really, really nice.
BLADE: And how do you decide where you'll be? Or do you have any say in it?
ETHERIDGE: Well, it's not necessarily me. I do have a say in it, in what I want the whole tour to look like. But it is really up to William Morris, my agent, to find the right venue that understands what we need and the kind of atmosphere we're looking for that and the amount of people and, you know, that sort of thing.
BLADE: Tell me about Etheridge TV. I just wonder, when we were in that acute phase of the pandemic, wasn't it even remotely tempting to you to just take a break?
ETHERIDGE: No, because since I was 12 years old, I sang all the time for people, like five days a week and it's just been what I do. And so when it was like, I was looking at a massive, cavernous amount of time that I was going to be home, I still needed a way to pay the bills, so we put our heads together — I've got one of the greatest television minds with me, you know, my wife (TV producer Linda Wallem), so I had the space and I had the equipment, and I was like, "Let's do it." And it was really fun to learn new things. It was fun to learn about computers and sound and streaming and lights and cameras and all these things that I didn't know. … I feel a little smarter.
BLADE: When did you start back on the road?
ETHERIDGE: We went out last fall. We went out September, October, right around there. And you know, it was a little different, Now things are things are loosening up … but some places still require masks. But people are starting to get back out and it feels good. It's not the overwhelming thing that it was a few months ago.
BLADE: And what was it like being on 'Ellen' again for her final season?
ETHERIDGE: Oh, I love her. She's such an old friend. You know, I say that about myself, too. (chuckles) But, you know, she's just a relationship in my life that I have treasured. We've watched each other grow and the changes we've made and the successes and what we've gone through and I love that she had me on and just it was just a really — she's a dear friend. And she showed an old photo there, and we both said, "Oh, that was before we were so busy."
BLADE: Do you talk to her often?
ETHERIDGE: I would say we see each other socially once or twice a year. It just seemed like once we started having children, all my friends from my 20s and 30s when we were not as busy — it just gets harder to stay in touch and life got crazy.
BLADE: So when you were hanging out back in the day with Ellen and Rosie and everybody, how was it that Brad Pitt was in that group too?
ETHERIDGE: Well, my girlfriend (Julie Cypher) had been married to Lou Diamond Phillips and we were all very good friends with Dermot Mulroney and Catherine Keener and Catherine Keener did a movie with Brad, like a movie nobody saw, like Johnny Dangerously or something (1991's "Johnny Suede"), some really weird movie. So I met Brad before he was terribly famous. He was a part of that group. There was a whole group of all of us that just hung out, and we were all totally different. We were just like young, hungry Hollywood and we'd talk about, "Oh, I had this audition," or "I went and did this," and we were just all trying to make it in that town. So we'd get together and have fun.
BLADE: I was so terribly sorry to hear about Beckett (Etheridge's son, who died in 2020 at age 21 after struggling with opioid addiction). How are you and the rest of the family, especially (Beckett's twin) Bailey, dealing with it now?
ETHERIDGE: There are many, many families like us that deal with a loss like that. It just blows a family sideways. But we have a deep love and connection, all of us. We all knew he had a problem and it's a problem that starts way before he actually passes, so it was not a surprise. So now we're just living with the missing aspect. You try not to think about what could have been and you try to think about him in a happier place and that he's out of pain, so that helps us.
BLADE: Had he and Bailey been as close in recent years?
ETHERIDGE: They were very close, but in the last couple of years as he made worse and worse choices, we couldn't support that, so they were less close, but of course in her heart, it was her brother, he was very dear to her.
BLADE: Did you watch the Grammys? Was there anybody you were particularly rooting for?
ETHERIDGE: I watched bits and pieces of it. I had a show that night, so I didn't get to see the main thing, but I have seen pieces and I just love the crazy diversity and you know, the TikTok people winning stuff, it's like, "Wow, this is so not the Grammys I remember from the '80s," but that was what, 30 years ago? So it's all good.
BLADE: You were such a perennial favorite back in the day in the best rock female category. Were you pissed when they eliminated it?
ETHERIDGE: It's sad because I felt like the criteria they were using to judge what is female rock, they just really dropped the ball. I still think there are some amazing musicians that could be considered, you know, rock, but it feels like we're having a hard time even defining what rock and roll is now anyway. There's a whole bunch of strong women out there playing, rocking, you know, playing guitar, being excellent musicians and songwriters. If you can't call it best rock female, OK, call it something else.
BLADE: I remember so vividly when you were on the Grammys in 2005, in the midst of chemo, when you sang "Piece of My Heart." I remember you saying you were wondering how people would react to seeing you bald. Having been through that, any thoughts on the Will/Jada Oscars situation since her baldness, too, was due to a medical condition?
ETHERIDGE: You know, it's funny, I did feel a little remembrance of (thinking), "I just hope people don't make fun of me." That was kind of the first thing because to go out there bald, that was so different for me as an artist whose hair had kind of defined her. I was thinking, "How am I gonna rock without my hair?" I thought people might make fun of me, but I got over that. I just thought, "Well, if somebody makes fun of me, that just makes them look bad." So I just walked through it. And you know, it's hard to draw the line between what's funny and what's painful and how to look at something. I feel for all parties involved.
BLADE: When you go on these cruises, do fans give you some space or do they swarm around the minute you walk out? Is it even enjoyable for you?
ETHERIDGE: Yeah, it is. You know, we did our last one, now we're doing Etheridge Island, we now have a destination in Mexico, outside of Cancun, it's just this island that we're going to that is really fantastic. But I do I make myself available, I don't run away. When I have to be somewhere, I have a great company we work with called Sixthman that knows how to get me from point A to point B without being bogged down. But I do my make myself available. Everyone gets a picture with me. It's my work, but I love it. I try to make myself available but also have some time just for myself too.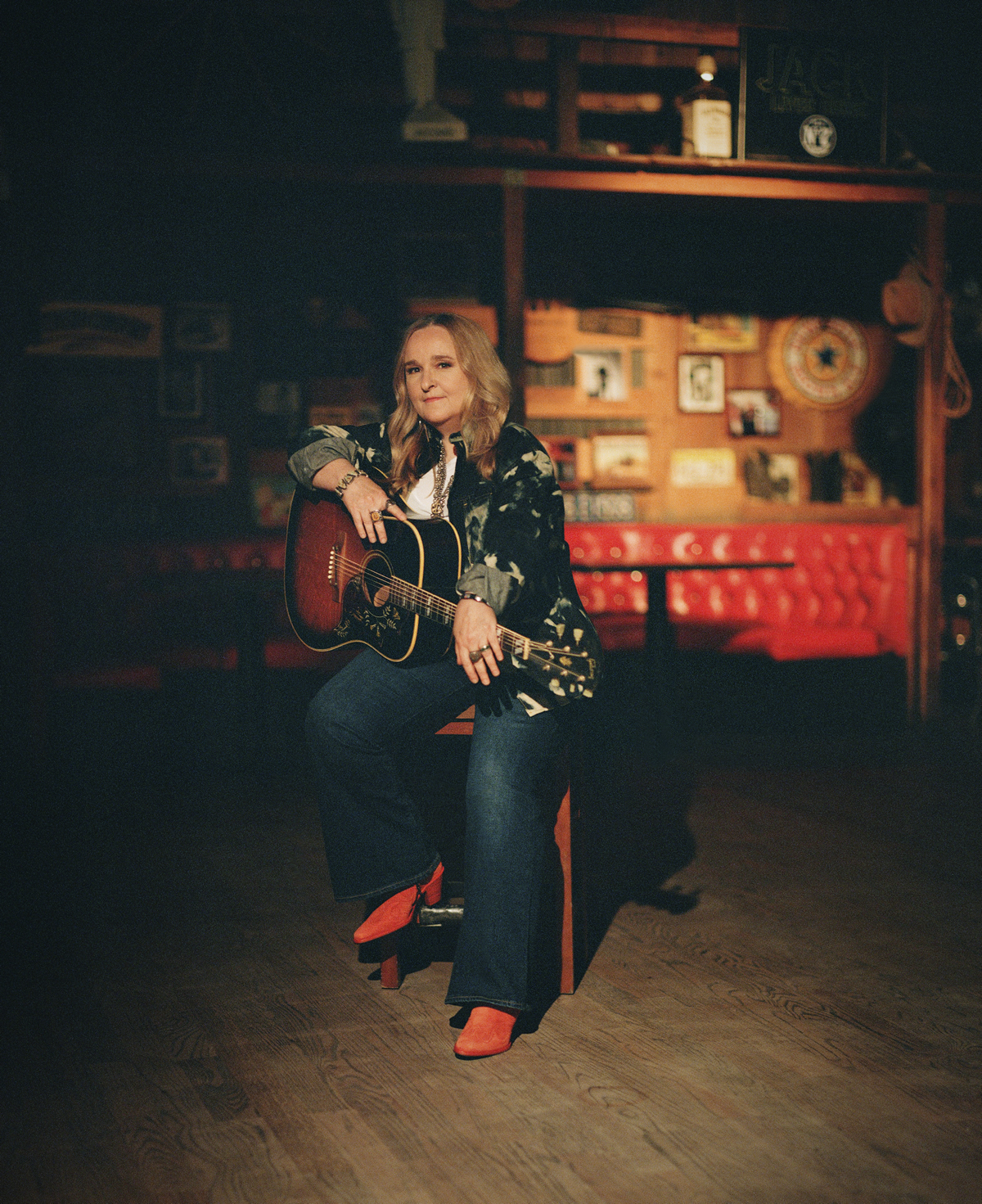 BLADE: You Tweeted a few nights ago about having a tight curfew of just 90 minutes at a casino but then it worked out and you got to do a full set. Why are the curfews so tight at casinos?
ETHERIDGE: Why do you think? They want people at the tables. Like for tonight, we we settled on 100 minutes. They're giving me 10 extra minutes. I don't like it, but in some areas, the only really good venue is a casino, so if you want to reach your folks there, you kind of have to meet them half way.
BLADE: Yeah, but it seems like in concert halls, the curfews can sometimes be really tight too. Even Madonna got her lights shut off a couple years ago. Of course, she's notoriously late, but why are they so strict with these things nowadays?
ETHERIDGE: There are all different situations — concert halls often have union crews that will absolutely shut you down if you go one second over. There are also sound curfews, noise curfews, mostly with outdoor venues, but sometimes indoor as well. They have an agreement with the neighborhood. So you have people in the neighborhood standing by with their phones ready to pounce the minute it goes over one minute, they're gonna call the police. As a performer, you just realize, "OK, it's not just about me." When I don't have a curfew, I usually land at about two hours and some change. That seems comfortable to everyone. Any longer and I think I'm wearing my audience out. When I'm at a place with a shorter show, I just do my best.
BLADE: I know you're a big Chiefs fan. Did you watch that game back in January all the way to the end?
ETHERIDGE: Well, at the end of it, I was on the floor. My wife was like, "Honey, honey, there's still 13 seconds," and I was moaning and sort of getting my feet on the floor and, you know, laying down and throwing a fit. And she's like, "No, there's still 13 seconds." I dragged myself back to the television. And I couldn't believe it. I was like, "Wait a minute. Did we just win?" You know, just really crazy, really crazy stuff. … When you're a fan like that, it's a ride you can't fully explain.
BLADE: Are you in a cordial or good place with your exes? Does it get easier when the kids are starting to grow up?
ETHERIDGE: Oh, yeah. Oh, yeah. And you realize that it's best for the kids if you can really get along and that any sort of conflict that can't get resolved, that gets emotional, does no good for anyone. And absolutely, I have, I've gotten better at that as the years have gone by.
BLADE: Do you have the slightest inkling yet what the next studio album might be like?
ETHERIDGE: Well, I've got some interesting projects that I'm not ready to talk about just yet. But they have to do with my life story. There's a lot of digging up of my past and really telling the story. So I imagine the next series of music you'll get from me is going to be very focused on my journey.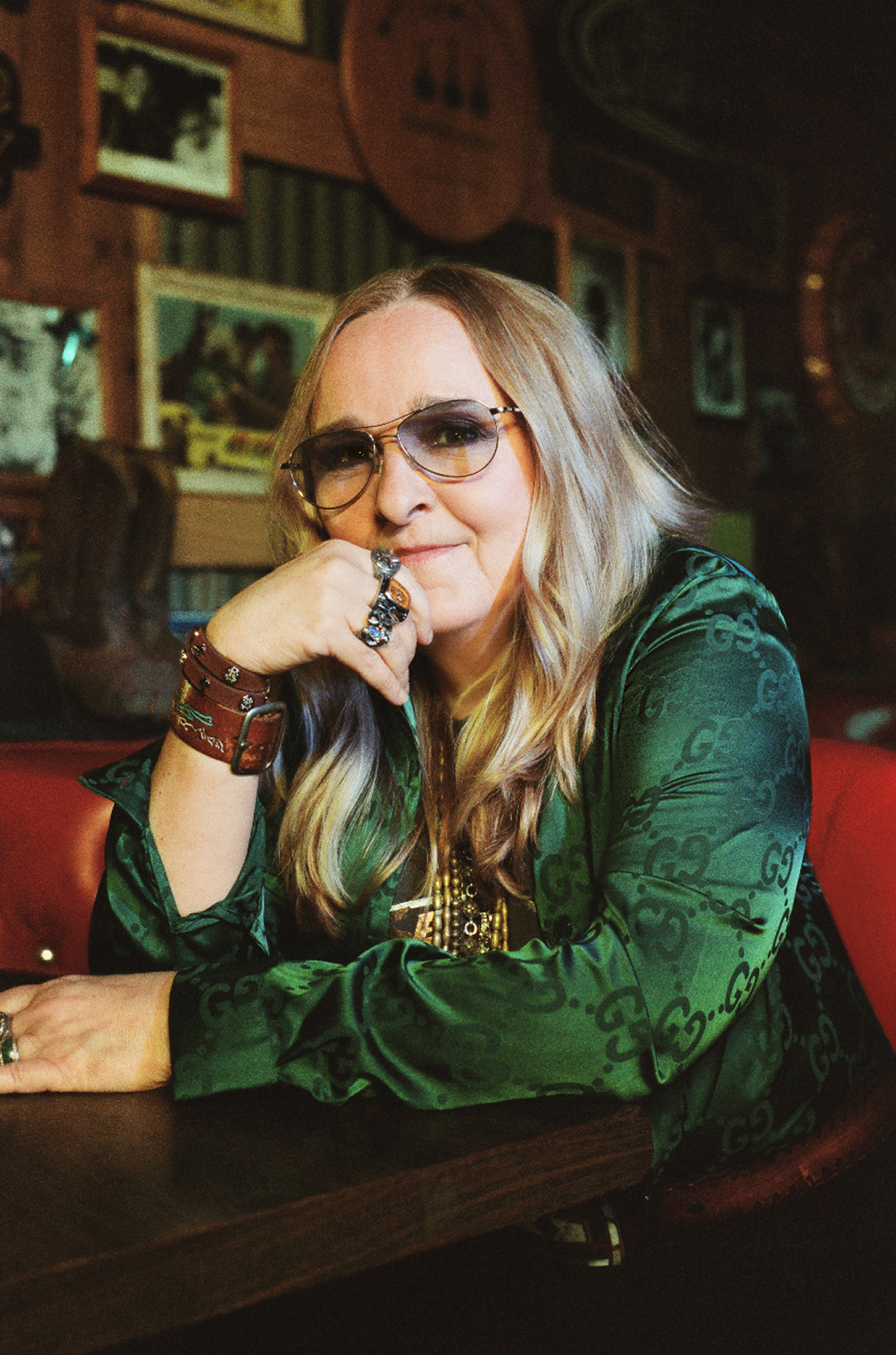 New Cranes sommelier brings spirit to wine and sake program
Stewart-Woodruff curates eclectic list for Michelin-starred restaurant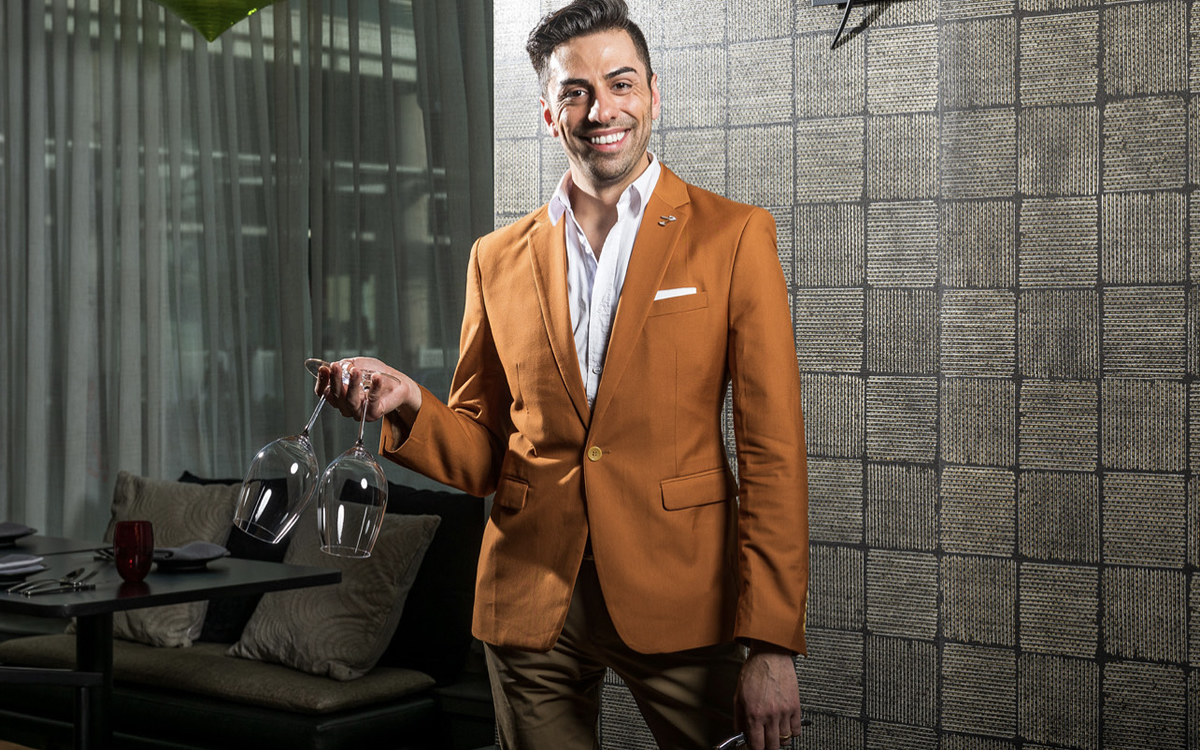 Outfitted in a blue damask dinner jacket with satin lapels and an energetic smile, Eric Stewart-Woodruff carves an impressive figure when chatting about his favorite vintages. Stewart-Woodruff, who's gay, is the new sommelier at Michelin-starred Cranes in Penn Quarter.
Stewart-Woodruff curates an eclectic wine – and sake – program focusing on pairings with celebrated Chef Pepe Moncayo's innovative, global flavors. Cranes, which explores intersections of Spanish and Japanese cuisine, opened just before the pandemic, and received a coveted Michelin star in 2021.
Stewart-Woodruff did not start off in the wine industry. In fact, he does not have any formal training in wine. Instead, after a career as a professional photographer, he pivoted to the restaurant industry, where he developed his love of wine. While working for a distributor, he connected with D.C.'s own District Winery. This opportunity allowed him to express his truest self, as a lead tour guide, wine ambassador and sommelier. He credits his identity and personality as his reason for thriving.
"I bring my whole self to work," he says, "offering a level of humanity and approachability."
After the pandemic temporarily shuttered District Winery, Stewart-Woodruff found himself interviewing at Cranes, enamored with Moncayo's "creative vision," he says – and was sold. He began in late summer of 2021.
Through his work in hospitality, Stewart-Woodruff notes that the industry can be hetero-male dominated. He has been able to break through by not holding back on his identity.
"I tend to play with expectations of what a sommelier may look or act like," he says. "I move away from what one may stereotypically look like, but still present like one."
For him, that means talking about wine and wine education "as if it were gossip," he says. "I like to view wine like we are at brunch. Wine has personality, it's performative, and it has stereotypes." He is seeking to break molds of specific likes and dislikes, exploring the depth that wine has to offer, in the context of the Spanish-Japanese Cranes menu. In fact, he says, Moncayo is supportive of his innovative, certification-less angle. "I become more relatable," he says.
He also presents original events. He paired with local guest sommelier Andrew Stover (also a gay man) on Tuesday, March 29 for a springtime showcase of specialty rosé wines paired with Moncayo's dishes. The duo poured tastes of specialty, small-batch wines from Brazil, Italy, Spain, Uruguay, and Maryland.
Leaning into the innovative spirit, the wine-by-glass list is not split by color. Instead, it is divided into evocative categories. For example, both a chardonnay and a pinot noir fall into the "Elegant, round, and mellow" category.
As a Spanish-Japanese restaurant, Cranes not only possesses an extensive wine cellar, but has consistently expanded its sake program. Sakes by the glass are split into the same exact categories. The very same "Elegant, round, and mellow" list includes Ginjo Nama Genshu and junmai daiginjo.
Stewart-Woodruff explains that wine and sake should be attended to similarly. "Sake is something you can think about like a beer in terms of production but treat like a wine," he says. Sake is a fermented polished-rice beverage, dating back more than two millennia in Japan.
"Sake has aromatics, texture, body, and finish." He takes pride in discussing customers' palate preferences, and turning them onto a specific sake, for their qualities of earthiness, acidity, or others.
"Many people don't experience sake outside of college or bars. Now, I can be a sommelier for sake, and for the marriage of Eastern and Western cuisine and beverage." He expresses excitement at being innovative in his sake beverage pairings, occupying a niche space. When discussing both wine and sake, he aims to bring an artistic flair and tour-guide enthusiasm to the table.
Woodruff credits his identity and background for his success. He aims to bring a level of humanity and approachability to what has been a formal, stuffy area. He has high ambitions to portray sake as sophisticated as wine in the customer's mind, "but it pairs well with Moncayo's conceptually ambitious menu," he says.
"Wine and sake are as eclectic as humanity. I want people to accept experiencing wine like the world has accepted me."
Legalization trend continues as Nat'l Cannabis Festival kicks off
D.C.'s 420 Week runs April 16-24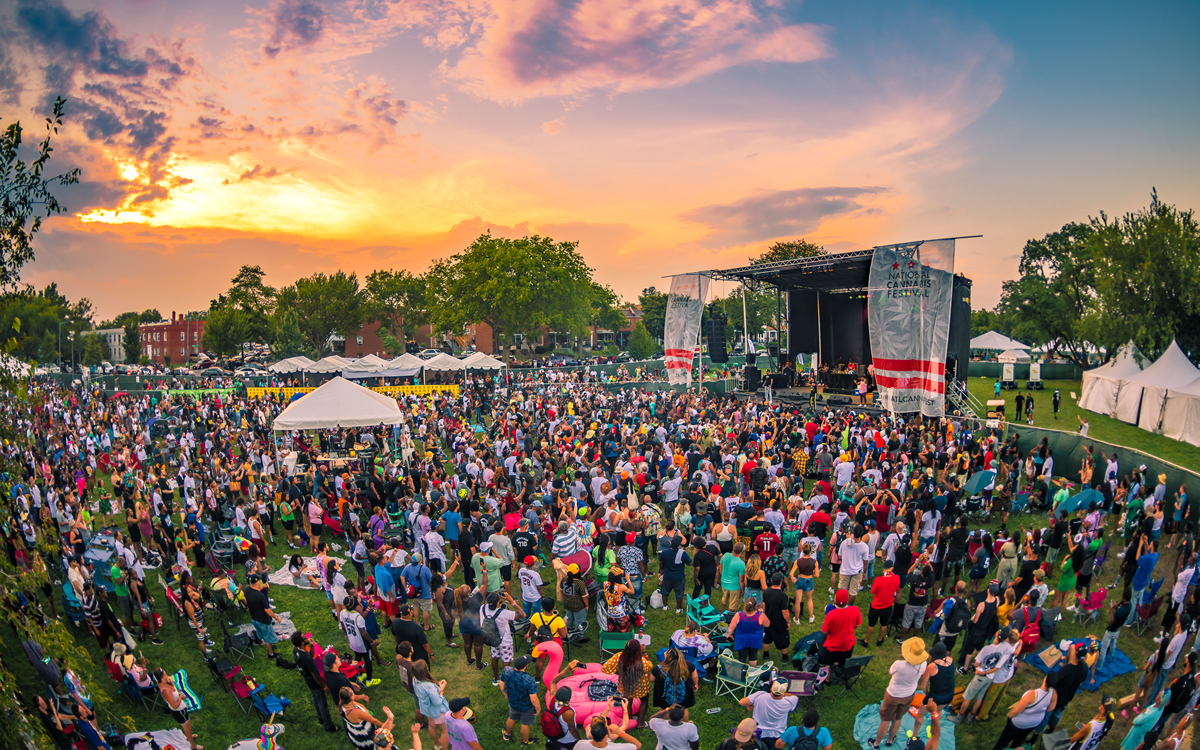 The sixth annual National Cannabis Festival kicks off in D.C. on April 16 as the nation continues to see advances in legalizing cannabis, particularly for medical uses.
Just this week, Republican Gov. Glenn Youngkin signed HB 933 and SB 671, to provide numerous operational improvements to the state's medical cannabis program, including eliminating the requirement that patients register with the Board of Pharmacy after receiving their written certification from a registered practitioner. 
"These legislative improvements will bring great relief to the thousands of Virginians waiting to access the medical cannabis program," said JM Pedini, NORML's Development Director and the Executive Director of Virginia NORML. "We hear from dozens of Virginians each week who are struggling with the registration process and frustrated by the 60-day wait to receive their approval from the Board of Pharmacy," Pedini added.
There are more than 47,000 program registrants, with an estimated 8,000 applicants still awaiting approval. 
The new laws will take effect July 1. Until that time, patients will still be required to register with the Board of Pharmacy in order to shop at one of the state's ten operational dispensaries. After July 1, patients who would like to receive a physical card will still have the option to request one by registering with the Board of Pharmacy.
The changes in Virginia law reflect growing support nationwide for reforming marijuana laws. Most Americans favor the enactment of a broad array of legal reforms specific to marijuana policy, according to new nationwide polling data provided by YouGov.com.
Specifically, six-in-10 Americans say that "marijuana should be made legal in the United States." Majorities of Democrats (72 percent) and independents (60 percent) back legalization, while most Republicans (46 percent) do not.
Last week, members of the United States House of Representatives voted 220 to 204 in favor of The MORE Act, which removes marijuana from the federal Controlled Substances Act thereby allowing states to legalize cannabis markets free from federal interference. Most Democrats (217) voted for the bill while all but three Republicans voted against it.
A majority of Americans also support amending federal law so that banks and other financial institutions can explicitly partner with state-licensed marijuana businesses. Support for the policy change is strongest among Democrats (66 percent) and weakest among Republicans (38 percent).
Under existing federal law, financial institutions are discouraged from partnering with state-licensed cannabis businesses. According to the most recent financial information provided by the US Treasury Department, only about ten percent of all banks and only about four percent of all credit unions provide services to licensed cannabis-related businesses.
House members have voted on six separate occasions to pass federal legislation (The SAFE Banking Act) to reform this policy, but Senators have never taken any action to advance it in the Upper Chamber. Most recently, House members voted in February to include SAFE Banking provisions in HR 4521: the America COMPETES Act. Senators failed to include similar language in their version of the bill. (Courtesy NORML)
420 Week arrives in D.C.
D.C. is gearing up for a blazing 420 Week, featuring several days of exciting panels, art and community-building events and parties culminating in the National Cannabis Festival on April 23, featuring Wiz Khalifa, Lettuce, Ghostface Killah, Backyard Band, DuPont Brass, Shamans of Sound, Cramer, and more. 
This year, the sixth annual National Cannabis Festival, which celebrates progress on cannabis legalization, is expanding to a full weekend of epic cannabis-related events, including the National Cannabis Policy Summit April 22 at the Ronald Reagan Building and International Trade Center and the National Cannabis Championship, presented by Gentleman Toker and slated for April 24 at Echostage with Slick Rick. The weekend is the capstone of 420 Week, hosted by the National Cannabis Festival organizers in partnership with the Eaton Hotel and DC Brau. The week kicks off on Saturday, April 16, with movie screenings, evening parties, a beer launch and more. Read on for the week's highlights, courtesy of Festival organizers:
 
420 Week
Saturday, April 16 – Sunday, April 24
Eaton Hotel + DC Brau
From the Hemp and Hops Panel and launch of NCF Legalize It! Lager at DC Brau (3178-B Bladensburg Rd. NE) on April 16 to the 4/20 Kickback Party featuring Khalifa Kush and panel with artists discussing cannabis's role in their practice at the Eaton Hotel (1201 K St, NW), 420 Week promises something for everyone with an interest in cannabis culture. Take a tour with Luckie Chucky tours, participate in a "Plantwave Soundbath" and more. Nearly all events are free; RSVP required. Visit nationalcannabisfestival.com for details. 
 
National Cannabis Policy Summit
Friday, April 22, 10 a.m.-4 p.m.
Ronald Reagan Building and International Trade Center
1300 Pennsylvania Avenue NW
Join a who's who of activists, industry pioneers, government leaders, journalists and more for an electric and illuminating day looking at the era's most pressing cannabis policy challenges and opportunities. U.S. Senate candidate and Civil Rights activist Gary Chambers; Grover Norquist, president of Americans for Tax Reform; Portland Cannabis Program Manager Dasheeda Dawson; Aamra Ahmad, senior policy counsel for the American Civil Liberties Union and many others will be on hand to discuss environmental impacts of cannabis cultivation, banking legislation, decriminalization and more. Afterward, stay for a reception sponsored by Weedmaps. All events are free; registration is strongly recommended. Visit nationalcannabisfestival.com/ncf-policy-summit for details. 
      
National Cannabis Festival
Saturday, April 23, 12 p.m.
RFK Festival Grounds
2400 East Capitol St., NE, Lot 8
 The highlight of 420 Week events is the East Coast's largest ticketed cannabis gathering, which returns to Washington's RFK Campus with performances from Wiz Khalifa Lettuce, Ghostface Killah and many others. Also on tap: a wide range of exhibitors, five pavilions on topics from wellness to agriculture to education, and a brand-new culinary pavilion featuring top chefs from Maydan, Maketto, Moon Rabbit, as well as the Munchies Zone, with 75 of the region's most popular food trucks including Peruvian Brothers, Jerk at Nite, Reba's Funnel Cakes and more. (Note: No THC infused foods are permitted to be sold or sampled at NCF; festival-goers must be 21 and up.) Tickets range from $75-$375 for one or two-day admission to the festival and National Cannabis Championship. Visit nationalcannabisfestival.com/tickets. 
 
National Cannabis Championship Presented by Gentleman Toker
Sunday, April 24, 12 p.m.
2135 Queens Chapel Rd., NE
Slick Rick and DJ Footwerk are giving festival-goers a sendoff to remember on the final day of 420 Week and the festival weekend, at the National Cannabis Championship at Echostage, new this year. Presented by Gentleman Toker, this awards show and bash celebrates the incredible cannabis cultivation taking place in the Washington area and across the Mid-Atlantic. Expect exhibitors, comedy, munchies, drinks and a chance to chill with some of the biggest names and brands in cannabis cultivation. Tickets are $55. Visit nationalcannabisfestival.com/tickets.