Dozens of LGBTQ Afghans seek assistance from Immigration Equality
Taliban regained control of country on Aug. 15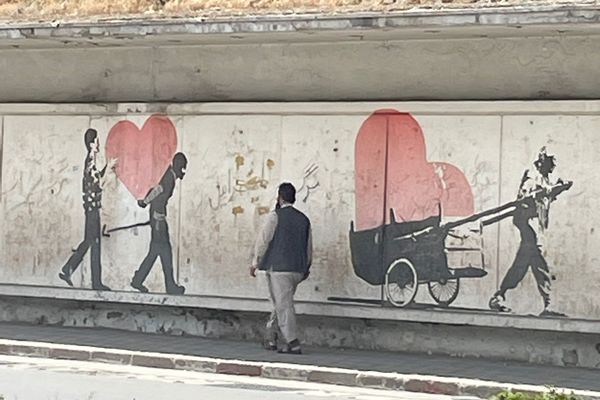 Immigration Equality last week said 80 LGBTQ Afghans have requested assistance from the group.
Aaron Morris, executive director of the New York-based group, in a press release noted "our attorneys spoke directly with 50 queer people before the U.S. government left the nation" on Aug. 30.
"We did everything in our power to get as many people out as possible," said Morris.
The Taliban entered Kabul, the Afghan capital, on Aug. 15 and toppled then-President Ashraf Ghani's government.
The U.S. evacuated more than 123,000 people — including upwards of 6,000 American citizens — from Afghanistan since the Taliban regained control of the country until American military operations ended on Aug. 30.
A Taliban judge in July said the group would once again execute people if it were to return to power in Afghanistan.
Dr. Ahmad Qais Munhazim, an assistant professor of global studies at Thomas Jefferson University in Philadelphia who is originally from Afghanistan, in an op-ed the Washington Blade published last month wrote the Taliban when they controlled the country from 1996-2001 hanged men in soccer fields who had been accused of having same-sex relationships. One LGBTQ Afghan who commented under a Facebook post said the Taliban "will kill us one by one, so I have no choice but to escape."
More than 60 members of Congress have urged the U.S. to evacuate LGBTQ Afghans from their country.
Canada thus far is the only country that has specifically said it would offer refuge to LGBTQ Afghans. Immigration Equality, the Toronto-based Rainbow Railroad and ILGA Asia are among the groups that continue to try to assist LGBTQ people who remain in Afghanistan.
"Since the Taliban took control of Afghanistan two weeks ago, the reality for Afghan LGBTQ people has become a living nightmare," said Morris. "The punishment for being gay in Afghanistan again includes public stoning, being crushed by a wall, and other violent horrors. All of the LGBTQ Afghans we have spoken to are begging for someone to save their lives. They are terrified, and they are desperate."
"Immigration Equality won't stand for the abhorrent treatment of our Afghan LGBTQ brothers, sisters and non-binary siblings," added Morris.
"Now that airplanes are no longer taking off, there are still scores of people who need urgent evacuations. And there is still time to save lives," said Morris. "We must all work together to find safe passage for those in our community who need to leave. Evacuating LGBTQ and other vulnerable populations is a long-term undertaking, and we intend to do our part to get them to safety. We implore the people of America not to forget LGBTQ Afghans. Let us welcome them as refugees and expedite their safe arrival in this country."
Biden highlights LGBTQ rights in UN General Assembly speech
President noted crackdowns in Chechnya, Cameroon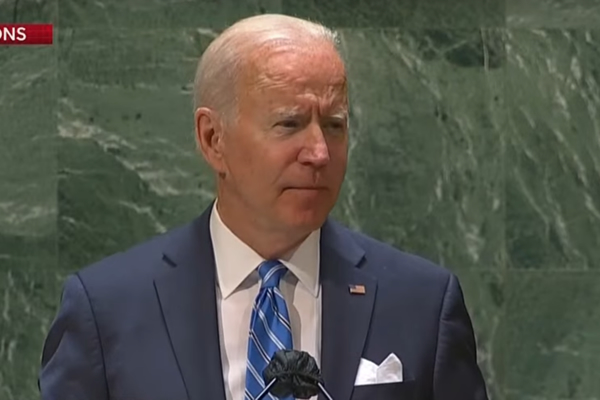 President Biden on Tuesday in his speech to the U.N. General Assembly spoke in support of LGBTQ rights around the world.
"We all must defend the rights of LGBTQI individuals," he said.
Biden in his speech specifically cited anti-LGBTQ crackdowns in Chechnya and Cameroon. He spoke after Brazilian President Jair Bolsonaro, who is a vocal opponent of LGBTQ rights, addressed the General Assembly.
The White House earlier this year released a memorandum that committed the U.S. to promoting LGBTQ rights abroad.
The Washington Blade will update this story.
Bolsonaro: Brazil has president who believes in 'family principles'
Brazilian president opened U.N. General Assembly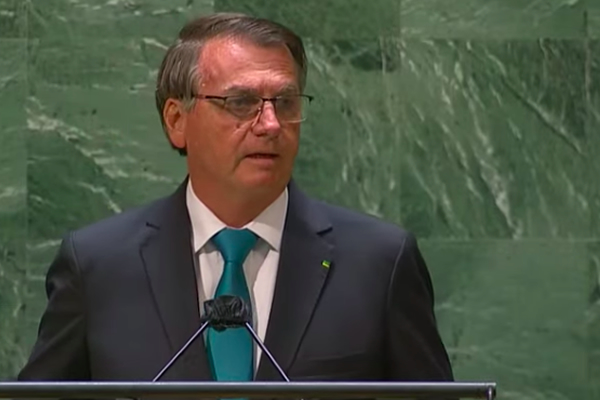 Brazilian President Jair Bolsonaro on Tuesday told the U.N. General Assembly he believes in "family principles."
"We believe the traditional nuclear family is the foundation of civilization," said Bolsonaro.
The Washington Blade will update this story.
Trudeau's party wins Canada election
Prime minister champions LGBTQ rights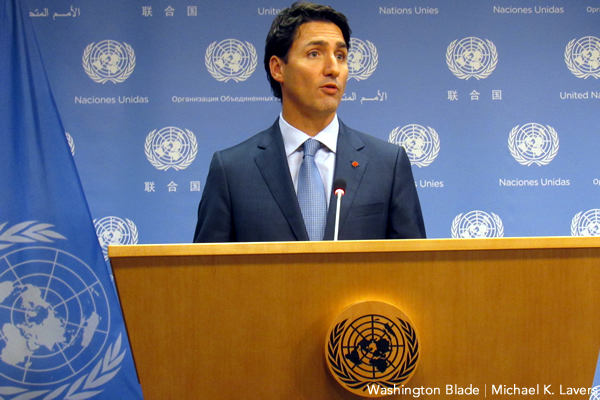 Canadian Prime Minister Justin Trudeau's Liberal Party won the country's election that took place on Monday.
The Canadian Broadcasting Corporation reported Trudeau's party won 157 seats in the House of Commons, but failed to secure the 170 seats necessary to have a majority government. Erin O'Toole of the Conservative Party was Trudeau's main challenger.
"You are sending us back to work with a clear mandate to get Canada through this pandemic into the brighter days ahead," Trudeau told supporters on Montreal after the election. "My friends that's exactly what we are ready to do."
"Millions of Canadians have chosen a progressive plan," he added.
Trudeau has been prime minister since 2015.
He won re-election in 2019, even though a picture of him in blackface emerged a few weeks before the vote. His party lost its majority in Parliament.
Trudeau last month called a snap election in the hopes his party could once again have a majority government.
The prime minister in 2017 formally apologized to those who suffered persecution and discrimination under Canada's anti-LGBTQ laws and policies and announced the Canadian government would settle a class-action lawsuit filed by those who were forced to leave the military and civil service because of their sexual orientation.
A law that added gender identity to Canada's nondiscrimination and hate crimes also law took effect in 2017. Trudeau supports a bill that would ban so-called conversion therapy in the country.
Canada in 2018 joined the Global Equality Fund, a public-private partnership the U.S. launched in order to promote LGBTQ rights around the world. Canada has also said it would offer refuge to LGBTQ Afghans who are fleeing their country after the Taliban regained control of it in August.