Combating LGBTQ stigma in Africa
Activists share their experiences with the Blade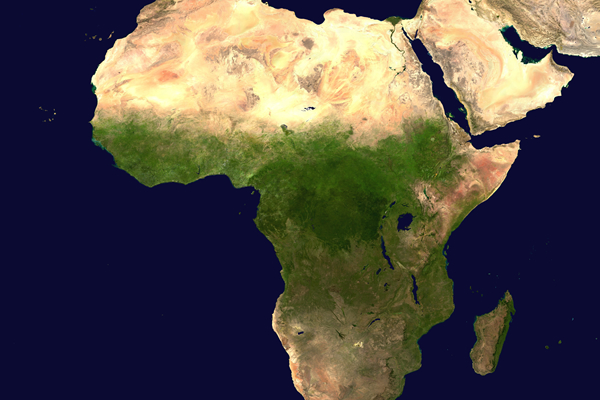 It is not based on hearsay that most African countries are against the lesbian, gay, bisexual, transgender, queer and intersex among others (LGBTQI+) community primarily because of the cultural beliefs that have been bestowed on them for centuries.
One would ask by whom? Who bestowed these cultural beliefs? Well to be honest that is a question that still has many experts scratching their heads. Some have sighted it is the missionaries who were on an escapade in Africa, preaching and teaching the Gospel of what was right and what was wrong.
Nevertheless, it doesn't seem to answer the question of stigma wholeheartedly as back in the days, and unfortunately even now, in some African sects if someone gives birth to a person with Albinism or twins stigma automatically follows and at times even death, which is something the missionaries were not in support of but that is another topic for another day that also needs urgent attention today it will be about the LGBTQI+ community.
They are very few countries on the African continent that condone the existence of the LGBTQI+ community, such as South Africa, Mozambique and Angola, among others. However, regardless of it being legalized in those African countries, members of the LGBTQI+ community still continue to receive disparaging comments from the societies they reside in including from family and friends.
In many African communities if you are found to be a member of the LGBTQI+ community, punitive measures are taken which include indoctrination, exorcism and at times even death. To help in understanding why these opprobrious norms are still practiced in Africa I engaged with two LGBTQI+ activists from South Africa, Bruce Walker from Pretoria Pride and Ruth Maseko from Triangle Project and Umndeni.
"We are still staying in a society that takes us as sin or sinners that is why we are always tortured and killed and most of the time before we are killed we are raped because men believe they can make us women by raping us they don't believe that a woman can love another woman that's why they always make our lives very difficult," said Ruth. "As for how we can combat this stigma as a continent? Africa needs more awareness, people need to be educated and taught that there is nothing wrong about same gender love, a man can love a man and a woman can love a woman and in terms of parents who later on find out that their child is gay or a lesbian we need to have parents support groups because some parents end up in shock when they get to figure out that their child is gay or a lesbian so parents need to be sat down with and be educated too."
In addition, Bruce shared the same sentiment citing various governments throughout the continent need to do more to prevent the stigma that is currently perpetrated towards members of the LGBTQI+ community,
"There are no consequences if someone kills a member of the LGBTQI+ community nothing seems to happen, it is like okay fine it is just a gay person the police seem not to do much about it so we need to raise awareness and educate people that a gay child is just like a straight child there is nothing wrong," said Bruce. "Us as an organization we try to highlight the injustices against the LGBTQI+ community regardless, we need to stand together as the LGBTQI+ community because if we don't do that people will continue with these prejudicial acts."
Nevertheless, communities across the continent are slowly acknowledging the existence of the LGBTQI+ community as more and more people are now coming out of the closet even local celebrities, sports personnel and other influential people are coming out which is kind of having a positive impact on the manner in which members of the LGBTQI+ community are now being perceived but as Ruth and Bruce clearly alluded more still needs to be done to educate and inform people about the matter for the continent to do away with the stigma.
Canadian Senate approves bill to ban conversion therapy
Measure will become law once it receives royal assent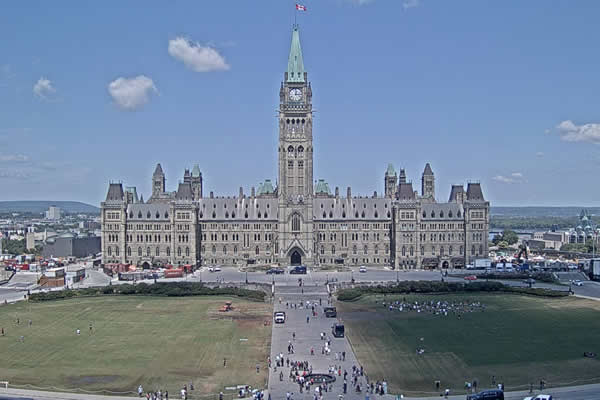 The Canadian Senate on Tuesday approved a bill that would ban so-called conversion therapy in the country.
Attorney General David Lametti and Women and Gender Equality and Youth Minister Marci Ien last week introduced the measure that would amend Canada's Criminal Code to ban the widely discredited practice. The Canadian House of Commons on Dec. 1 unanimously approved the bill.
"Our government's legislation to ban conversion therapy in Canada is one step closer to becoming law," tweeted Prime Minister Justin Trudeau on Tuesday. "To everyone who has made this possible, thank you. Let's keep building a country where everyone is free to be who they are and love who they love."
Lametti in his own tweet noted the bill will become law once it receives royal assent.
Update: Our government's legislation to ban conversion therapy in Canada is one step closer to becoming law. To everyone who has made this possible, thank you. Let's keep building a country where everyone is free to be who they are and love who they love. https://t.co/3s7GY0StmH

— Justin Trudeau (@JustinTrudeau) December 7, 2021
Canada would join Malta and a handful of countries that ban conversion therapy once the law takes effect.
Chile marriage equality bill receives final approval
South American country legalized civil unions in 2015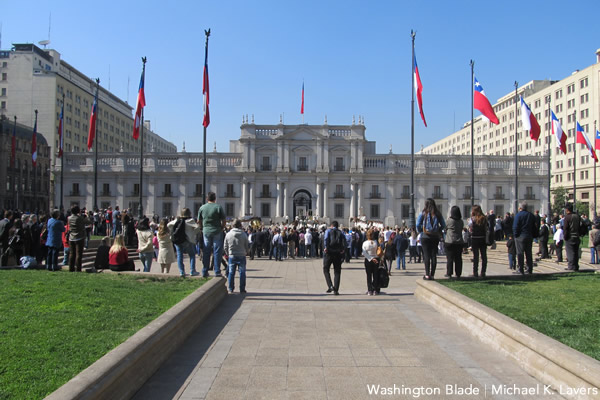 A bill that will extend marriage rights to same-sex couples in Chile received final approval on Tuesday.
The Chilean Senate and the Chilean House of Representatives approved the marriage equality bill that passed in the lower house of the country's Congress on Nov. 23. That vote took place two days after the first round of the country's presidential election took place.
A final vote on the bill was expected to have taken place last week, but senators unexpectedly opposed it.
A commission with members of both houses of the Chilean congress approved the bill on Monday.
Boris Johnson's LGBTQ rights advisor visits D.C.
Nick Herbert praises efforts to evacuate LGBTQ Afghans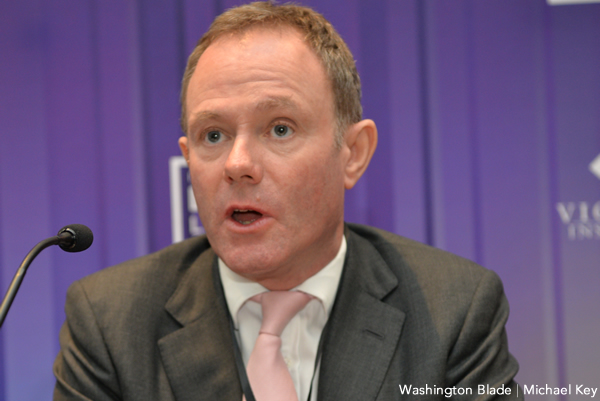 British Prime Minister Boris Johnson's advisor on LGBTQ issues last week applauded his government's efforts to help facilitate the successful evacuation of LGBTQ Afghans from the country.
"I'm very proud of the tremendous work that's been done by the U.K. government," Nick Herbert, a member of the British House of Lords, told the Washington Blade on Dec. 1 during an interview in D.C. "The U.K. has shown global leadership here."
A group of 29 LGBTQ Afghans who Stonewall, Rainbow Railroad and Micro Rainbow evacuated from Afghanistan with the help of the British government arrived in the U.K. on Oct. 29. Herbert on Nov. 6 announced a second group of LGBTQ Afghans had reached the country.
"It took … a strong effort with different parts of government working together and the determination that this was really important and that people's safety was at risk and also that we have a moral obligation to the communities affected," said Herbert.
The Taliban entered Kabul, the Afghan capital, on Aug. 15 and regained control of the country.
A Taliban judge has said the group would once again execute people if it were to return to power in Afghanistan. Rainbow Railroad and Taylor Hirschberg, a researcher at the Columbia Mailman School of Public Health who is also a Hearst Foundation scholar, and others have been working to help evacuate LGBTQ Afghans from the country.
Advocacy groups continue to urge the Biden administration to do more to help LGBTQ Afghans who remain in Afghanistan.
Herbert noted the British government has committed to grant asylum to 10,000 Afghans under the country's "Operation Warm Welcome" that seeks "to ensure the Afghans who stood side by side with us in conflict, their families and those at highest risk who have been evacuated, are supported as they now rebuild their lives in the U.K." Herbert stressed this program will "prioritize" LGBTQ people and other at-risk groups in Afghanistan.
"This shows the power of working together and governments working in partnership with NGOs to achieve something," he told the Blade. "I fully recognize there were lots of citizens who remained in Afghanistan, and so nevertheless, I think it was very heartening to see that those Afghan citizens who are most at risk were brought to the center."
Herbert said he expects more LGBTQ Afghans will be "brought to safety," but he declined to provide a specific number.
Johnson raised LGBTQ rights crackdown with Hungarian prime minister
Herbert spoke with the Blade before he participated in the Victory Institute's International LGBTQ Leaders Conference that took place in-person at the JW Marriott in D.C. from Dec. 2-4.
Johnson in May appointed Herbert as his LGBTQ rights advisor.
Herbert is the first person who officially advises a British prime minister on LGBTQ issues. The former House of Commons member also co-founded the Global Equality Caucus, a group of LGBTQ elected officials around the world who work to fight discrimination based on sexual orientation and gender identity.
Herbert throughout the interview noted his government continues to champion LGBTQ rights.
The British government on World AIDS Day pledged more than £23 million ($30.5 million) in additional funding to efforts that seek to "achieve zero new HIV infections, AIDS and HIV related deaths in England" by 2030. The British government also announced it would move to allow people with HIV/AIDS to serve in the country's armed forces.
"It's a legacy discriminatory policy that has no basis in sound science any longer," said Herbert, referring to the policy against people with HIV/AIDS in the British military. "It's entirely safe for people to serve, and we think they should be free to do so."
A public comment period on a bill that would ban so-called conversion therapy in England and Wales is underway. Herbert also expressed concern over the increasing backlash over efforts to expand rights to transgender people in the U.K.
"I'm troubled by the debate," he said. "I recognize that … this is a that a complicated issue where you have an assertion of conflicting rights. But I don't think it's acceptable to see some of the sort of angry exchanges of language that has been seen over the course of the last few months."
"It's very damaging," added Herbert.
Herbert noted to the Blade that Johnson rose Hungary's anti-LGBTQ crackdown with Hungarian Prime Minister Viktor Orbán when the two men met in May in London. Herbert also highlighted the British government in June will host a global LGBTQ rights conference that will coincide with London Pride's 50th anniversary.
"The prime minister, by the way, has always been very ready to raise these issues, both when foreign secretary and now as prime minister, which is why I think he wants to hold this conference on the agenda," said Herbert.
"We have to stand together with other countries to express our concern about what is happening," he added. "We also must take a strong stance against culture wars, and I think governments joining in culture wars results in harm to citizens."
U.K. has 'historic responsibility' for anti-LGBTQ laws in former colonies
Consensual same-sex sexual relations remain criminalized in dozens of countries around the world, and many of them are former British colonies.
Then-Prime Minister Theresa May in 2018 said she "deeply" regrets colonial-era criminalization laws the U.K. introduced. Herbert spoke with the Blade two days after the Botswana Court of Appeals upheld a 2019 ruling that decriminalized consensual same-sex sexual relations in the country.
"We want to work with our partners in encouraging countries to try to change those laws," Herbert told the Blade.
He stressed the British government has "to guard against any idea that we're being so neocolonial," while adding the U.K. has a "historic responsibility for these laws and their legacy."
"The position we approach (with) this is one of respect where we, along with other countries, are encouraging decriminalization," said Herbert. "We want to work with countries that will work with us to support them in that journey. We have to recognize that all countries have been on a journey."
Herbert noted to the Blade that homosexuality was criminalized in the U.K. when he was born.
"We need to remember that other countries are different points of the journey, but it doesn't all happen at once. And they have to make their own decisions on this and we have to encourage them to support them to do so," he said. "I don't think that this is a case of Britain lecturing, certainly not a case of dictating. It's a question of encouraging."
Herbert also questioned the use of sanctions against countries that enact anti-LGBTQ laws.
The British government late last year sanctioned three Chechen officials who are responsible for the anti-LGBTQ crackdown in the semi-autonomous Russian republic that continues. Herbert described these sanctions as "justified," but said the British government has "to be careful of blunt instruments that may backfire."
"There can be different ways to make our feelings known and to encourage countries to do the right thing," he said.