'Mind your own uterus'
Hundreds of thousands join Women's March across the country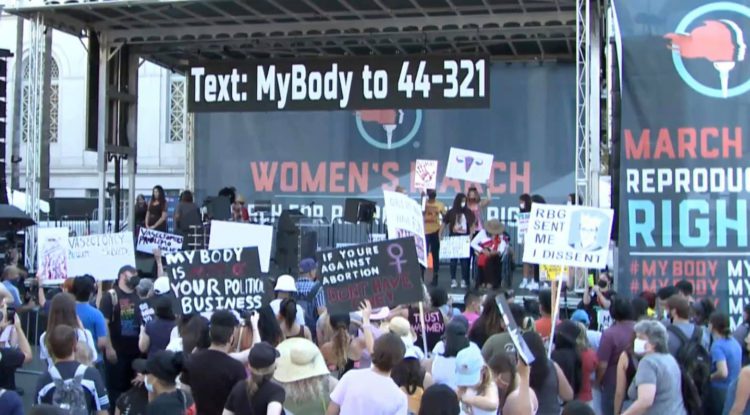 From D.C. to New York and then across the country to the City of Angels hundreds of thousands participated in more than 600 marches nationwide in the first Women's March of Joe Biden's presidency on Saturday.
The marches were organized with particular focus this year on women's reproductive rights which are under siege in Republican-majority legislatures, which are passing laws meant to circumvent or present court challenges to overturn the landmark 1973 U.S. Supreme Court decision Roe v. Wade.
Conservative lawmakers and judges have put it that decision in jeopardy including Texas' new abortion law and a Mississippi challenge which is due to be heard this fall term of the U.S. Supreme Court which began Monday.
"I think we've grown incredibly fast in five years," said Emiliana Guereca, president of Women's March Foundation. "What started as, really an anti-Trump movement, has turned into a really strong feminist movement for women, pro-choice. So we're proud of the 500 sister marches that are stepping up into leadership to organize with us."
Speaking to the 20,000 plus attendees on Saturday in downtown Los Angeles, Rick Zbur, the executive director of Equality California told the crowd;
"Anti-abortion and anti-LGBTQ+ extremists are fighting every day to overturn Roe v. Wade. And as you've heard from so many speakers before me, Roe hasn't faced such a serious threat in the five decades since it was decided.
But I'm here to tell you that the LGBTQ+ community—young and old, women and men and non-binary folks—are bringing our collective strength, resilience and power to this fight.
Because the fight for reproductive justice is a fight for LGBTQ+ justice, and the fight for LGBTQ+ justice is a fight for reproductive justice!
LGBTQ+ people need abortion care. LGBTQ+ people need contraception. LGBTQ+ people need STI testing and HIV prevention."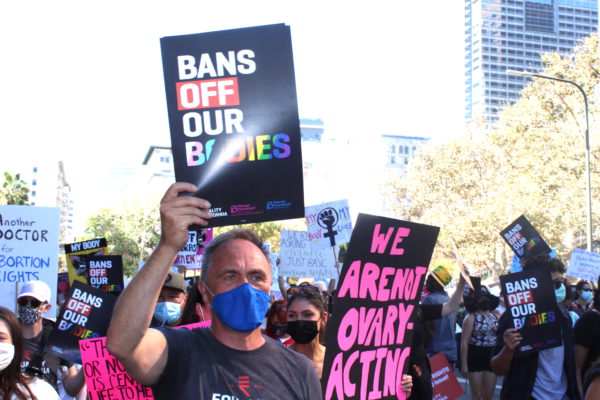 Across the country the National LGBTQ Task Force had a visible present at marches and rallies in D.C., New York, Miami and other cities and states.
In New York, Democratic Gov. Kathy Hochul spoke at rallies in Seneca Falls and then the state's capital city of Albany.
"I'm sick and tired of having to fight over abortion rights," she said. "It's settled law in the nation and you are not taking that right away from us, not now not ever."
In her speech at Freedom Plaza near the White House and in view of the U.S. Capitol at the other end of Pennsylvania Avenue, Alexis McGill Johnson, the national president of Planned Parenthood told the crowd stories of women forced to drive hours across state lines—sometimes multiple state lines—to end pregnancies in the weeks since the Texas law went into effect.
"The moment is dark … but that is why we are here," she told the crowd. "With the upcoming Supreme Court term- no matter where you are, this fight is at your doorstep right now," she said.
RELATED: BNC interview with National LGBTQ Task Force Executive Director Kierra Johnson
Dianne Feinstein dies at 90
Calif. Democrat elected to U.S. Senate in 1992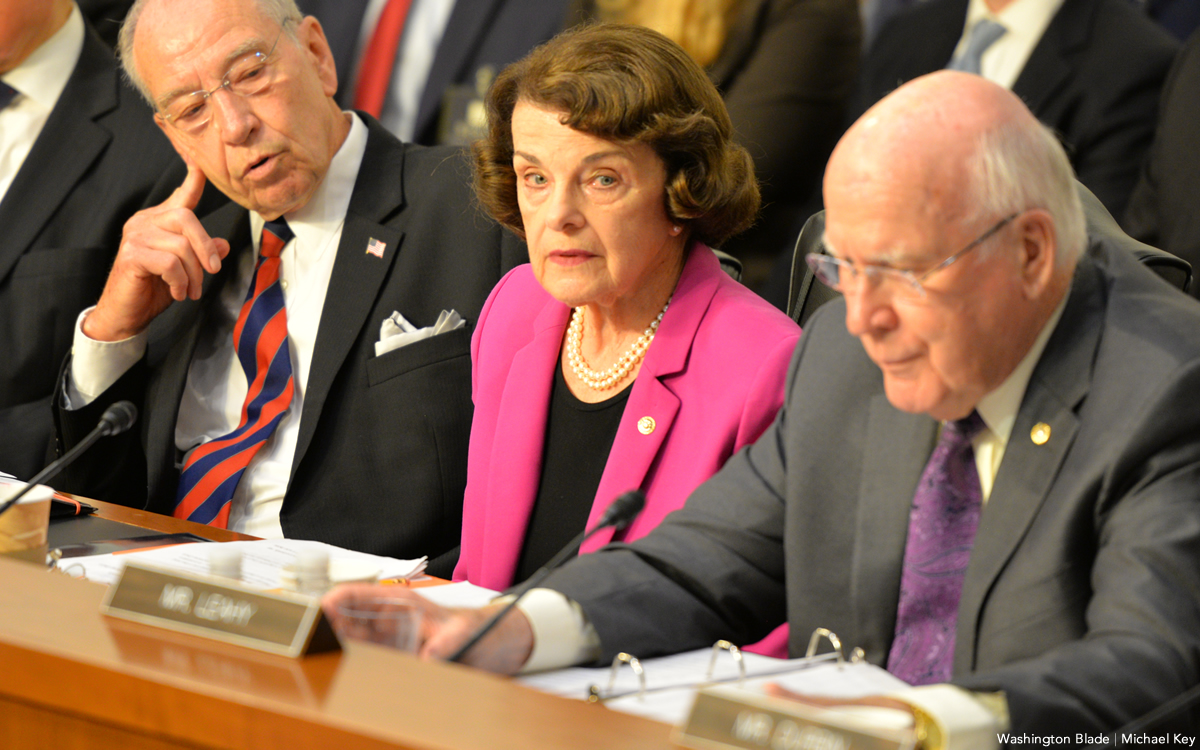 U.S. Sen. Dianne Feinstein (D-Calif.) on Friday died at the age of 90.
The California Democrat was elected to the U.S. Senate in 1992.
Feinstein in 1978 became San Francisco's mayor after the assassination of Mayor George Moscone and openly gay Supervisor Harvey Milk.
The Washington Blade will update this story.
House passes Boebert's amendment targeting LGBTQ workers at USDA
Democrats call measure 'blatantly homophobic'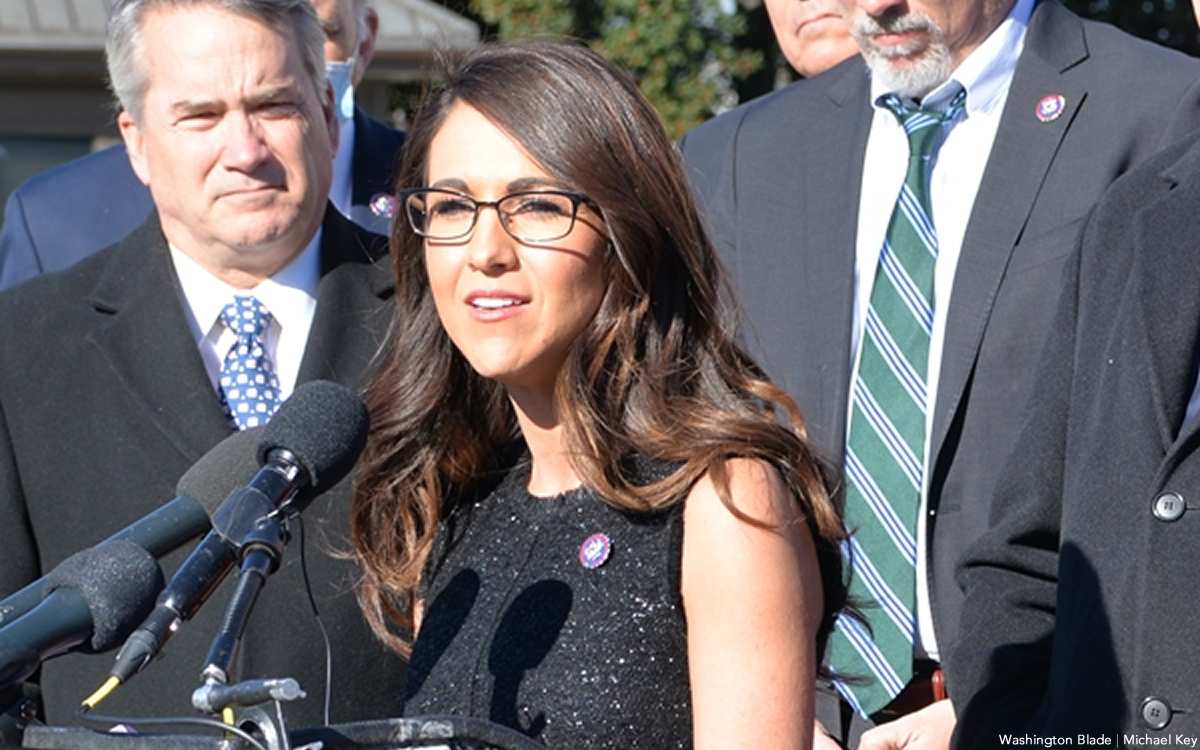 House Republicans on Wednesday pushed through a proposal by U.S. Rep. Lauren Boebert (R-Colo.) that would prohibit the U.S. Department of Agriculture from using federally appropriated funds for materials supporting the agency's LGBTQ employees.
Passing by just three votes in the face of unified opposition from Democrats, along with one GOP member, U.S. Rep. Brian Fitzpatrick (Pa.), the measure will never be signed into law amid Democratic control of the Senate and White House.
For weeks, Boebert and her ideological allies in the lower chamber have dashed hopes of forestalling a government shutdown by insisting on ladening must-pass spending bills with far-right demands, often targeting the LGBTQ community and initiatives promoting diversity, equity, and inclusion.
Even so, the aim and scope of the Colorado congresswoman's amendment to the agriculture appropriations bill was striking.
Among the 17 types of "courses, books, or study guides" circumscribed in the measure are those concerning "approaching LGBT issues in the workplace," "understanding and supporting LGBTQ+ employees," "becoming an ally to all," "conversations with LGBTQ+ leaders on the power of identity," and "creating an inclusive work community" for transgender employees.
Democratic Congressional Campaign Committee Spokesperson Viet Shelton condemned House Republicans' passage of the amendment in a statement shared with the Washington Blade:
"In a clear indication that so-called moderate Republicans are now completely controlled by their extreme fringes, they are now passing such blatantly homophobic legislation that mandates federal employees be discriminated against in the workplace," he said. "Their focus on these hateful policies while ignoring middle class families struggling with rising costs is why they will lose their majority in Congress next year."
Candidates pledge support for anti-trans policies at second GOP presidential debate
Seven Republican hopefuls took the stage Wednesday night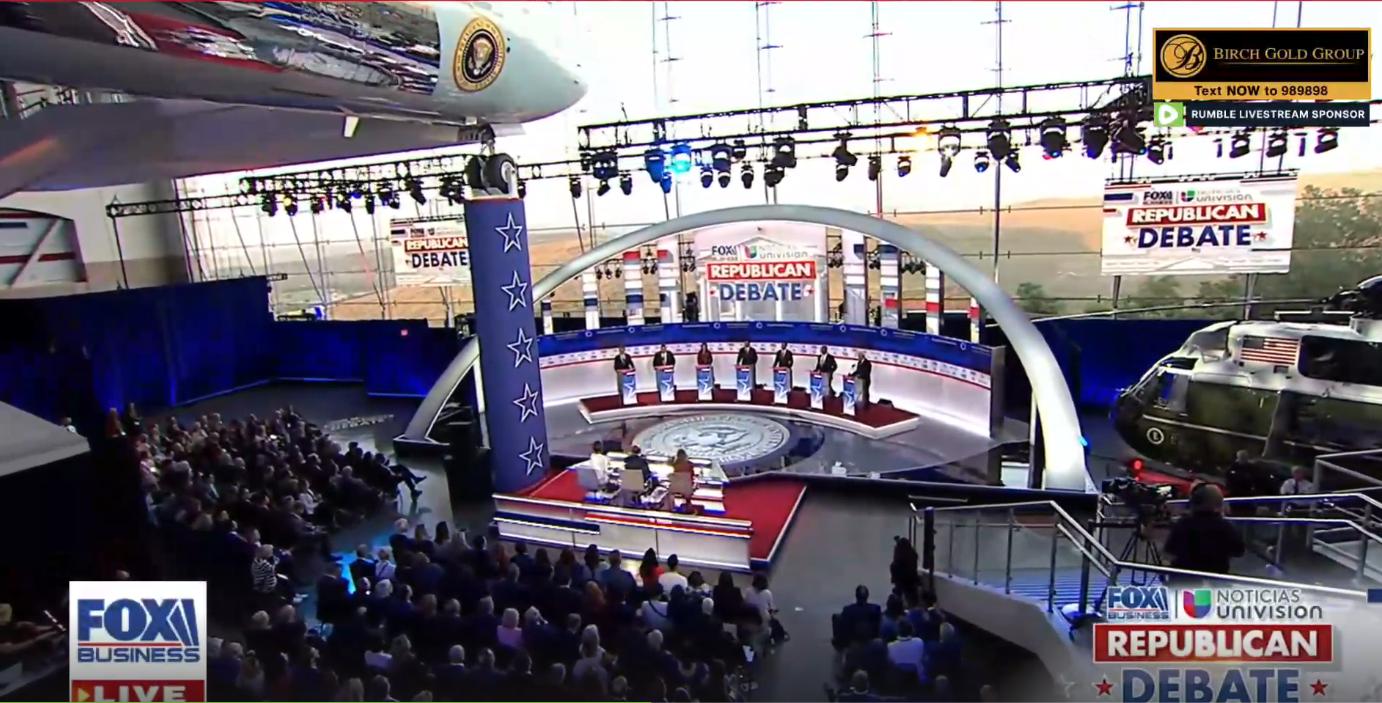 During the second Republican presidential debate Wednesday night, entrepreneur Vivek Ramaswamy and former Vice President Mike Pence pledged their support for a national ban on gender-affirming healthcare for minors along with policies requiring schools to forcibly "out" trans students to their parents, while Florida Gov. Ron DeSantis defended the anti-LGBTQ policies in his state.
They were joined on stage at the Ronald Reagan Presidential Library's Air Force One Pavilion by former South Carolina governor and U.N. Ambassador Nikki Haley, U.S. Sen. Tim Scott (S.C.), former New Jersey Gov. Chris Christie, and North Dakota Gov. Doug Burgum.
Former President Donald Trump, the party's frontrunner, was again a no-show, declining to participate, instead campaigning in Michigan meeting with striking UAW autoworkers and other labor leaders.
Responding to debate moderator and Fox News host Dana Perino's question about Christie's promise to protect "parental rights" by passage of a federal law, Ramaswamy proclaimed that "transgenderism," especially in kids, is "a mental health disorder."
After Perino redirected him back to her question, Ramaswamy said when school officials are aware of cases in which a student may be socially transitioning, they must be obliged to inform parents.
"The very people who say that this increases the risk of suicide by are also the ones saying that parents don't have the right to know about that increased risk of suicide," he said, adding, "To affirm a kid's confusion — that is not compassion, that is cruelty."
The former biotech executive then promised a federal ban on healthcare interventions for trans youth, relaying an anecdote about meeting two women on the campaign trail who, he says, now regretted the gender affirming surgical procedures they had undergone.
Ramaswamy said the women are now in their 20s but did not specify how old they were when the surgeries — double mastectomies and, in one case, a hysterectomy — were performed.
Genital surgeries are almost never performed on patients younger than 18, per the clinical practice guidelines on the treatment of gender dysphoria in minors, which are supported and considered medically necessary by every mainstream scientific and medical body with relevant clinical knowledge.
"The fact that we allow that to happen in this country is barbaric," Ramaswamy said, "so I will ban genital mutilation or chemical castration under the age of 18."
Perino asked Pence how he would protect the LGBTQ community as president, noting the rise and escalation of violent attacks documented by the U.S. Department of Homeland Security and research showing LGBTQ people are nine times likelier to be victims of violent hate crimes.
The former vice president's description of plans and policies on this front was brief and not terribly detailed. "I'll stand up for the safety and the civil liberties of every American from every background," he said before pivoting to affirm his support for rules requiring schools to effectively "out" transgender and gender nonconforming kids to their parents.
"Linn-Marr Community Schools in Iowa had a policy," Pence said, in which "you had you had to have a permission slip from your parents to get a Tylenol, but you could get a gender transition plan without notifying your parents."
"That's crazy," he said. "We're going to stand up for the rights of parents."
He concluded his answer with a pledge that "we're going to pass a federal ban on transgender chemical or surgery anywhere in the country," adding, "We've got to protect our kids from this radical gender ideology agenda."
Some of DeSantis' remarks also touched on the notion that progressive ideas about gender identity are being pushed on American youth in schools.
The governor defended education policies in his state that have been widely criticized as anti-LGBTQ and racist, proclaiming that "Our country's education system is in decline because it's focused on indoctrination, denying parents rights," but "Florida represents the revival of American education."