Beth Robinson becomes first female LGBTQ+ appeals judge
"LGBTQ representation in the courts is critical because judges that more accurately reflect the diversity of our nation"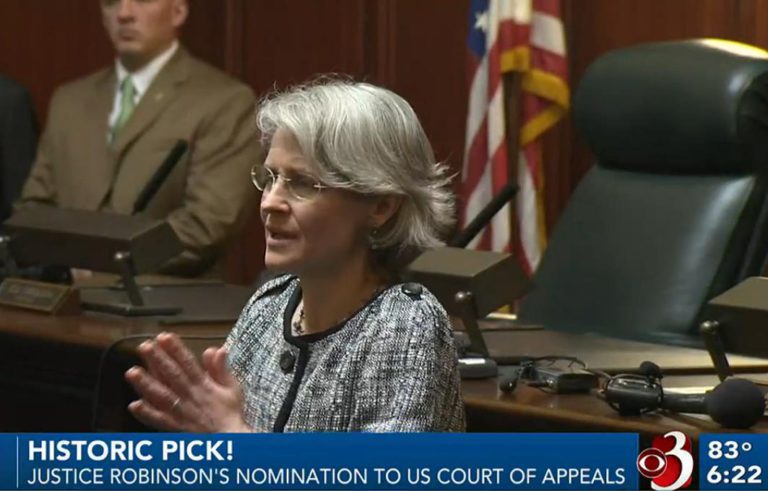 WASHINGTON – The Senate voted 51-45 Monday to confirm Beth Robinson to sit on the U.S. Court of Appeals for the Second Circuit. Robinson, who was previously an associate judge on the Vermont Supreme Court, is the first openly lesbian woman to serve on an U.S. Court of Appeals.
Robinson, who had received her J.D. from the University of Chicago Law School in 1989 and her B.A. from Dartmouth College in 1986, served as an Associate Justice on the Vermont Supreme Court since 2011.
Prior to her appointment, Justice Robinson served as counsel to Vermont Governor Peter Shumlin from 2010 to 2011. From 1993 to 2010, Justice Robinson was a civil litigator in private practice at Langrock Sperry & Wool where she focused on civil litigation including employment law, workers' compensation, contract disputes, and family law. She also represented LGBTQ+ individuals in civil and civil rights cases, including leading the freedom to marry movement in Vermont.
From 1990 to 1991, Justice Robinson was an associate at Skadden, Arps, Slate, Meagher & Flom in Washington, D.C., focusing on white-collar criminal defense. Justice Robinson served as a law clerk for Judge David B. Sentelle on the U.S. Court of Appeals for the District of Columbia from 1989 to 1990.
"Judge Robinson's extraordinary professional expertise makes her well qualified for this important position and her confirmation as the first openly lesbian judge to a federal appeals court seat is cause for celebration for our community," Sharon McGowan, Chief Strategy Officer and Legal Director for Lambda Legal said in an emailed statement.
"LGBT representation in the courts is critical because judges that more accurately reflect the diversity of our nation give legitimacy to these important institutions, which have such a profound impact on the lives of so many. Judge Robinson's lived and professional experiences will be assets in her work to fulfill our nation's promise of justice," McGowan said.
"We expect that Judge Robinson's historic nomination and confirmation will not be the only 'first' during the Biden Administration for the LGBTQ community, who are woefully underrepresented in the federal judiciary. There are 870 federal judgeships, but only 12—now 13—are held by openly gay or lesbian judges. Four federal circuits do not have a single openly LGBT judge. And we are still awaiting our first openly bisexual or transgender judicial nominee. The delivery of justice will be stronger when these diverse perspectives are brought into the fold," McGowan added.
Vermont U.S. Senator Bernie Sanders tweeted his congratulations on the confirmation:
I want to congratulate Vermont Supreme Court Justice Beth Robinson for her momentous confirmation today to the Second Circuit Court of Appeals. Thank you for your continued service. I know you will make Vermont proud and will be an excellent addition to the federal bench. https://t.co/iJKDxHmEkL

— Bernie Sanders (@SenSanders) November 1, 2021