Beth Robinson becomes first female LGBTQ+ appeals judge
"LGBTQ representation in the courts is critical because judges that more accurately reflect the diversity of our nation"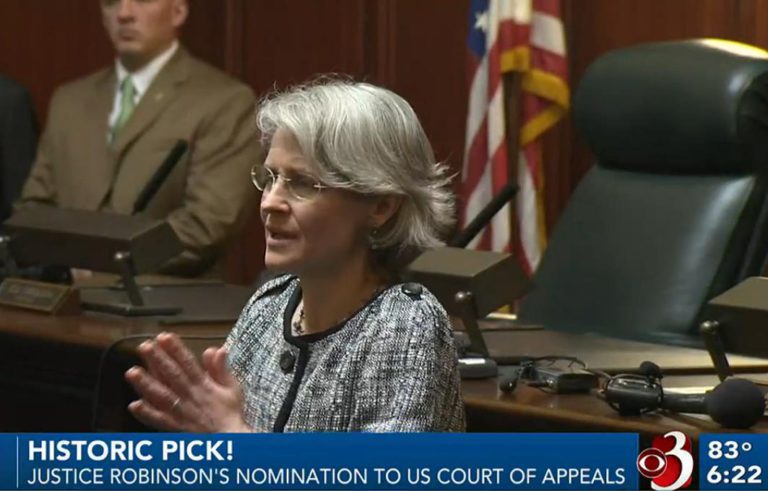 WASHINGTON – The Senate voted 51-45 Monday to confirm Beth Robinson to sit on the U.S. Court of Appeals for the Second Circuit. Robinson, who was previously an associate judge on the Vermont Supreme Court, is the first openly lesbian woman to serve on an U.S. Court of Appeals.
Robinson, who had received her J.D. from the University of Chicago Law School in 1989 and her B.A. from Dartmouth College in 1986, served as an Associate Justice on the Vermont Supreme Court since 2011.
Prior to her appointment, Justice Robinson served as counsel to Vermont Governor Peter Shumlin from 2010 to 2011. From 1993 to 2010, Justice Robinson was a civil litigator in private practice at Langrock Sperry & Wool where she focused on civil litigation including employment law, workers' compensation, contract disputes, and family law. She also represented LGBTQ+ individuals in civil and civil rights cases, including leading the freedom to marry movement in Vermont.
From 1990 to 1991, Justice Robinson was an associate at Skadden, Arps, Slate, Meagher & Flom in Washington, D.C., focusing on white-collar criminal defense. Justice Robinson served as a law clerk for Judge David B. Sentelle on the U.S. Court of Appeals for the District of Columbia from 1989 to 1990.
"Judge Robinson's extraordinary professional expertise makes her well qualified for this important position and her confirmation as the first openly lesbian judge to a federal appeals court seat is cause for celebration for our community," Sharon McGowan, Chief Strategy Officer and Legal Director for Lambda Legal said in an emailed statement.
"LGBT representation in the courts is critical because judges that more accurately reflect the diversity of our nation give legitimacy to these important institutions, which have such a profound impact on the lives of so many. Judge Robinson's lived and professional experiences will be assets in her work to fulfill our nation's promise of justice," McGowan said.
"We expect that Judge Robinson's historic nomination and confirmation will not be the only 'first' during the Biden Administration for the LGBTQ community, who are woefully underrepresented in the federal judiciary. There are 870 federal judgeships, but only 12—now 13—are held by openly gay or lesbian judges. Four federal circuits do not have a single openly LGBT judge. And we are still awaiting our first openly bisexual or transgender judicial nominee. The delivery of justice will be stronger when these diverse perspectives are brought into the fold," McGowan added.
Vermont U.S. Senator Bernie Sanders tweeted his congratulations on the confirmation:
I want to congratulate Vermont Supreme Court Justice Beth Robinson for her momentous confirmation today to the Second Circuit Court of Appeals. Thank you for your continued service. I know you will make Vermont proud and will be an excellent addition to the federal bench. https://t.co/iJKDxHmEkL

— Bernie Sanders (@SenSanders) November 1, 2021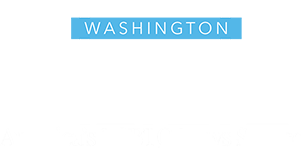 Former Victory Fund president among N.Y. 18th Congressional District candidates
Aisha Mills' fundraising numbers lag behind other Democrats.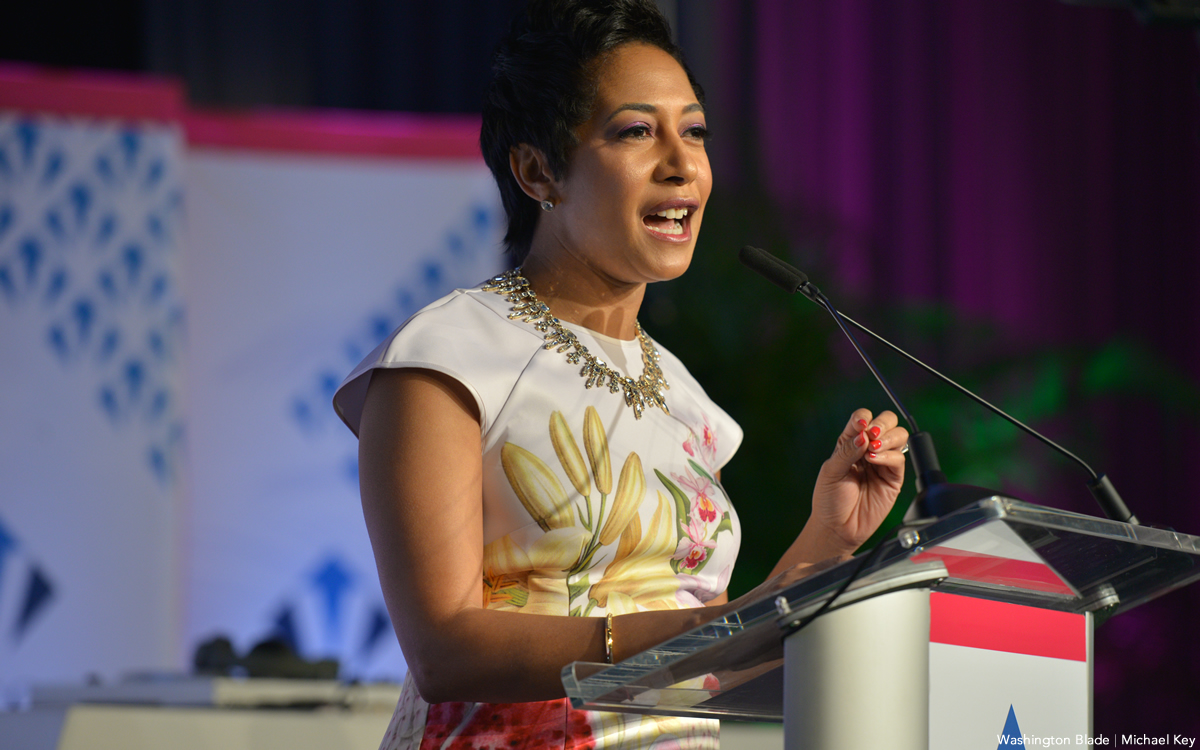 New York's 18th Congressional District is widely seen as one of a handful of seats that will determine which party secures control of the U.S. House of Representatives in the midterm elections.
The district has established itself in recent years as reliably Democratic, having been held for the last decade by Democratic Congressional Campaign Committee Chair Sean Patrick Maloney.
Following a challenge to the state's redistricting process in 2020, however, maps that had been drawn by the New York State Legislature were ruled unconstitutional by state courts that determined they were the result of partisan gerrymandering.
The process eventually caused Maloney, who is openly gay, to instead announce his election bid for the state's 17th Congressional District in which he now resides.
"While the process to draw these maps without the legislature is against the will of voters, if the newly-announced maps are finalized, I will run in New York's 17th Congressional District," Maloney tweeted. "NY-17 includes my home and many of the Hudson Valley communities I currently represent."
The congressman further justified his transition in a follow-up tweet in which he noted that he was the only current House member to live in the new 17th Congressional District.
Maloney's established presence in the district had allowed him to maintain steady leads over several election cycles, routinely besting Republican challengers by more than 10 percentage points in each election since 2016.
With Maloney's departure, however, the race that the Cook Political Report rates as a R +1 is now seen as a tossup that will help determine whether Democrats can maintain their congressional majority.
With Maloney's seat now vacant of an incumbent, multiple Democratic challengers have stepped up in hopes of taking his place in Congress. They include former LGBTQ Victory Fund President Aisha Mills.
Mills, the former executive director of the Congressional Black Caucus PAC, would be the first Black lesbian member of Congress if elected.
"We launched this campaign a short month ago when it became clear that this seat would be open due to redistricting," Mills wrote on Facebook after announcing her run in July. "We are excited to hit the campaign trail to bring our progressive messaging directly to the voters of the 18th Congressional District."
Mills will face off against Moses Mugulusi, digital designer Michael Berean and Ulster County Executive Pat Ryan in her bid for her party's nomination. The winner of the Democratic primary will go on to face Republican state Assemblyman Colin Schmitt in the November general election.
Past polls conducted in the district suggested Maloney's ability to hold on to his seat. It is unclear, however, how Mills and the new wave of Democratic candidates in the district may fair in their primary or in the general election later this year.
Campaign finance data also suggests that Mills faces an uphill battle in both the primary as well in a potential matchup against Schmitt.
Schmitt's campaign boasted $601,065 on hand compared to Mills' $11,979 as of June 30, according to the Federal Election Commission. Ryan had similarly amassed $575,501 by the end of June, although much of his messaging focus thus far has been targeted at the special election for New York's 19th Congressional District for which he is also running.
Despite the uncertain political landscape of the district, Mills has maintained public optimism that she will be able to prevail in keeping the seat in Democratic hands and making history along the way.
"I will fight for working families and organize with local leaders on issues that matter to all of us within Orange, Dutchess, and Ulster Counties," Mills tweeted. "I know that if we work together, we can elect the first Black gay woman to Congress."
The Washington Blade has reached out to Mills for comment about her campaign.
Jones, Nadler call for accelerated monkeypox vaccine distribution
More than a million doses remain in Danish warehouse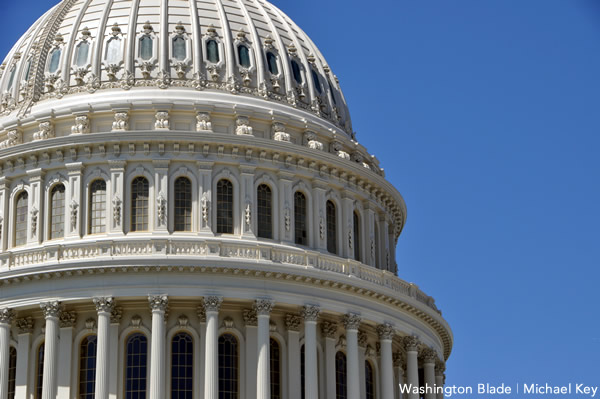 U.S. Reps. Mondaire Jones (D-N.Y.) and Jerrold Nadler (D-N.Y.) wrote a letter Thursday to President Joe Biden urging his administration to make additional efforts to speed the monkeypox vaccination rollout.
There are currently 2,323 reported cases of monkeypox in the U.S., and it is preventable using the smallpox vaccine, cases have been on the rise globally since May.
Jones and Nadler criticized the "regulatory logjam" in the U.S.'s vaccine distribution — while waiting for and FDA facility inspection, 1.1 million ready-to-deliver doses of U.S.-owned vaccine are currently sitting in a warehouse in Denmark.
In addition to freeing up already prepared vaccines, Jones and Nadler called upon the Biden administration to rapidly manufacture more doses, since "experts have argued that millions more doses beyond what the administration has already pledged are necessary to sufficiently meet demand."
They also urged the administration to declare monkeypox a public health emergency, which would unlock additional resources to help the federal government obtain and distribute vaccines around the country. Increased vaccine supply would also help alleviate equity concerns in the government's monkeypox response, since vaccine appointments and outreach have been sometimes inaccessible to marginalized communities who need them.
"Moving swiftly to get these additional doses out to the public and expanding vaccine production capacity are also critical to ensuring an equitable public health response," Jones and Nadler wrote. "We are already seeing how limited vaccine supplies are being distributed in overwhelmingly urban, whiter, and wealthier neighborhoods to the detriment of those who tend to have limited access to health care, especially people of color."
Finally, Jones and Nadler called on the administration to appoint an interagency coordinator to manage the administration's monkeypox response — and to take point on public messaging reducing anti-LGBTQ stigma about the disease.
Although recent monkeypox outbreaks have largely affected gay and bisexual men and transgender people, the virus holds serious health risks for pregnant women and pregnant people — a population that could be under-tested if monkeypox is falsely construed as a "gay disease."
"As the administration works to respond to this monkeypox outbreak, a coordinated campaign of public awareness and messaging to combat any stigmatization and ensure accurate messaging for all populations must be a core part of our efforts," Jones and Nadler wrote. "An effective response to swiftly curb this outbreak would demonstrate the administration's commitment to the health and safety of the LGBTQ+ community."
Proud to co-lead this letter with @RepMondaire urging the Biden Administration to declare the monkeypox outbreak a public health emergency and use every tool at the federal government's disposal to quickly distribute vaccines. https://t.co/otS5Lt9AIB

— Rep. Nadler (@RepJerryNadler) July 21, 2022
Bills introduced to codify same-sex marriage
Repeal of Roe has increased urgency to secure privacy rights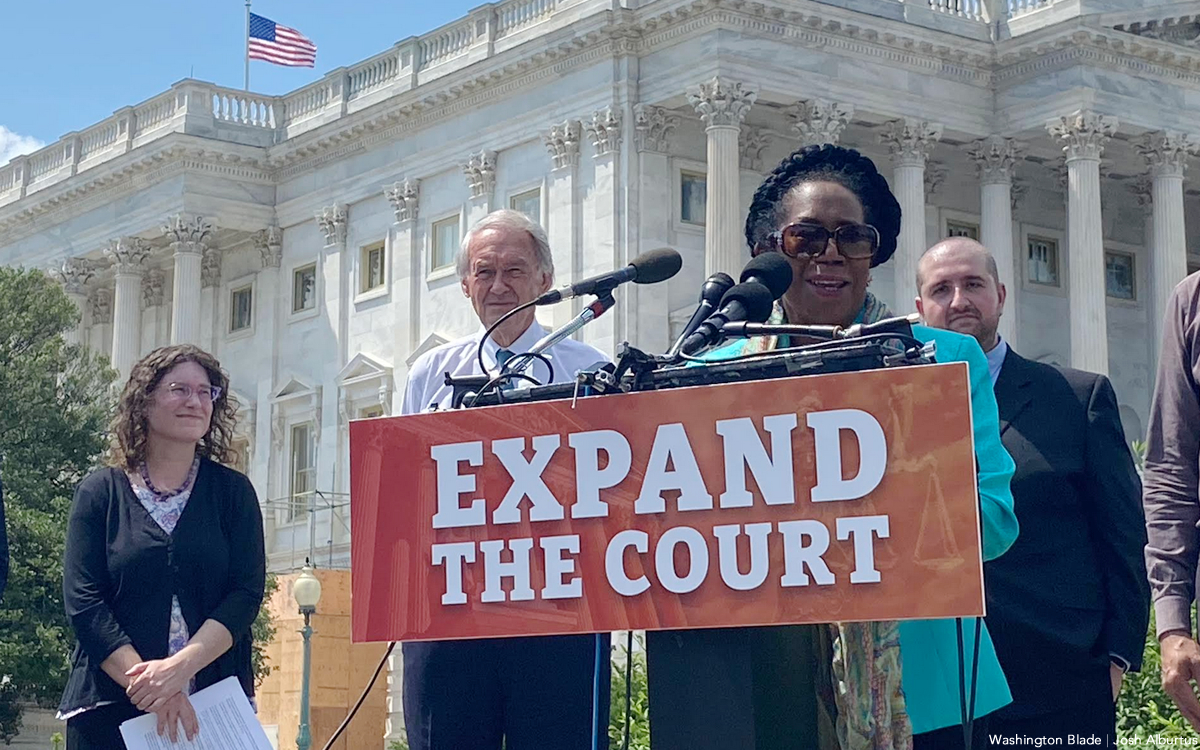 In the wake of the Supreme Court's decision that rescinded the nationwide right to abortion, members of Congress are now moving on multiple tracks to protect other privacy-related rights they now perceive as under threat.
U.S. Rep. Jerrold Nadler (D-N.Y.), who chairs the House Judiciary Committee, on Monday introduced legislation alongside bipartisan co-sponsors that would codify marriage equality in federal law, repeal the Defense of Marriage Act and establish recognition protections for out-of-state marriages.
In a statement released following the introduction of the bill — titled the Respect for Marriage Act — Nadler connected what he felt as the necessity of such legislation to the Supreme Court's opinion released in Dobbs v. Jackson Women's Health Organization.
"Three weeks ago, a conservative majority on the Supreme Court not only repealed Roe v. Wade and walked back 50 years of precedent, it signaled that other rights, like the right to same-sex marriage, are next on the chopping block," Nadler said. "As this court may take aim at other fundamental rights, we cannot sit idly by as the hard-earned gains of the Equality movement are systematically eroded."
U.S. Sens. Tammy Baldwin (D-Wis.), Diane Feinstein (D-Calif.) and Susan Collins (R-Maine) introduced a companion bill in the U.S. Senate. The two measures join similar pieces of privacy-related legislation like the Women's Health Protection Act, which the U.S. House of Representatives passed in an effort to codify nationwide abortion rights.
The Respect for Marriage Act's introduction came on the same day members of Congress renewed their efforts to modify the structure of the Supreme Court altogether.
The Judiciary Act of 2021 seeks to increase the number of seats on the court to balance its judicial ideology.
In a press conference on Capitol Hill on Monday, Democratic lawmakers joined the heads of multiple national advocacy groups in calling on Congress to expand the court from nine seats to 13.
"We just cannot sit back as a captive court captures our rights," U.S. Sen. Ed Markey (D-Mass.) said. "Expanding the court is constitutional, it has been done before, we can do it now. And the reason we support this approach is that it is constitutional, it is immediate, and it does the job of dealing with the crisis of today."
While lawmakers at the press conference expressed support for the codification legislation, they believe expanding the court will be more likely to stand up to potential challenges.
"You should not forget, though, that anything that the legislature passes, the Supreme Court is the final arbiter as to whether or not it is constitutional or not," U.S. Rep. Hank Johnson (D-Ga.) said. "And so, that gives you some idea of this second track that you're talking about. Yes, we can pass legislation, but that legislation would be challenged across the street and this right-wing, Republican, extremist Supreme Court which has been captured by money interests — the future is not bright with the current arrangement so that's why we need to pass the Judiciary Act of 2021."
With regard to codification legislation, however, U.S. Rep. Sheila Jackson Lee (D-Texas) told the Washington Blade at the press conference that she is certain of Congress' ability to secure its passage.
"I suspect that there will be a strong support for all of these legislative initiatives," Lee said. "And I will suspect that in the Senate, it is a different atmosphere now, and because we have to be dual track — one, dealing with the reversal of the Supreme Court decisions. And what do the American people look to? They look to their legislative body — particularly Congress — to represent the majority of their views."
Democratic leadership in Congress has endorsed various legislation working to codify such rights as same-sex marriage and nationwide abortion access. Many have been hesitant, however, to get behind efforts to expand the number of justices on the Supreme Court — a stance shared President Joe Biden.
But approaching a midterm election with prospects of a Republican-controlled Congress — coupled with low overall approval ratings for the president — Democrats have framed their efforts as both urgent and mandated by the people.
"I think there is a movement, a momentum, a push by the American people to do justice and to do it justly and they're asking us to do our jobs and that's what we're doing," Lee said.