Cumming's new book filled with showbiz tales
But 'Baggage' is no vapid, Tinsel Town celeb concoction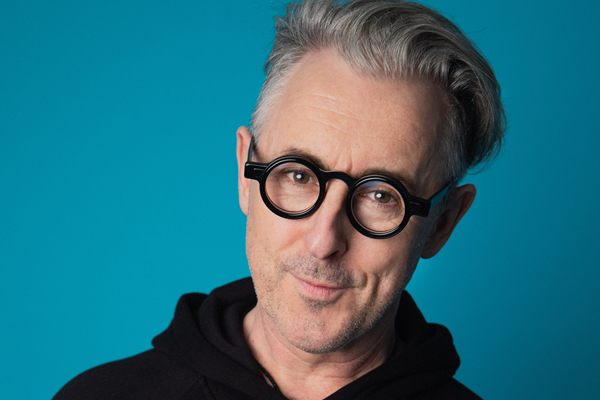 It was the night of the Tony Awards. Actor, singer, writer, and activist Alan Cumming had just received a Tony for his performance as the emcee in the 1998 revival of "Cabaret." He was in the press room, giving soundbites to the media.
In the middle of one interview, "A hand appeared on my left shoulder, a tall body joined it to my right," Cumming, who was born and grew up in rural Scotland, writes in his new memoir "Baggage: Tales From a Fully Packed Life."
For a second, Cumming thought he was being mugged. But, the stranger hugging him was Sean Connery, a fellow Scot, known for playing James Bond. Connery had won a Tony as a producer of the play "Art." Connery, looking into the cameras, said of Cumming, "This is my new son."
He took Ecstasy that night at the Tonys, Cumming reveals in "Baggage." The drug for him was, "my self-prescribed anti-anxiety medication," Cumming writes, "And it worked."
For most of us, winning a Tony for an acclaimed revival of "Cabaret" would be merely a fantasy. For Cumming, winning the prestigious award is just one of many accomplishments.
Walt Whitman said he contained multitudes. Cumming, 56, who is bisexual and married to the illustrator Grant Shaffer, is Whitman on octane.
Cumming is a polymath. He has appeared in numerous films, plays and TV shows. He's written two children's books; a novel; a book of photographs and stories; and the memoir "Not My Father's Son."
His film roles range from the James Bond movie "GoldenEye" to "Eyes Wide Shut" to the "Spy Kids" trilogy. Cumming has won the Olivier, BAFTA and Emmy for his stage and screen work. On the London stage, Cumming has performed in "Hamlet," "Bent" and other plays.
He has appeared in the "Threepenny Opera" and "Design for Living" on Broadway. Cumming created and appeared in his one-man adaptation of "Macbeth."
On TV, he is known for playing Eli Gold on "The Good Wife" and Dylan Reinhart on "Instinct," the first broadcast television drama to have a lead gay character. Recently, Cumming played Mayor Aloysius Menlove on the Apple TV+ show "Schmigadoon!"
All of this would exhaust most of us. But Cumming has energy to spare. He hosts the podcast "Alan Cumming's Shelves" and is the amateur barman at Club Cumming in New York City.
Cumming is known for his LGBTQ rights advocacy. He has worked for marriage equality in Scotland and with the Human Rights Campaign and other LGBTQ organizations.
In 2009, Cumming was appointed an OBE in the Queen's Birthday Honors List. In "Baggage," Cumming writes that he received this honor because of his work for LGBT rights.Cumming's first memoir "Not My Father's Son" is the story of his harrowing childhood. Growing up, Cumming endured physical and psychological abuse and violence from his father. In the memoir, Cumming grapples with secrecy and shame and with the post traumatic stress brought on by his father's sadistic treatment of him. "There is never shame in being open and honest," he writes.
"Baggage" tells many entertaining showbiz stories. Who wouldn't want to hear the tales of a writer whose friends include Liza (as in Liza with a Z)?
Yet, "Baggage" isn't a vapid, Tinsel Town celeb concoction. In "Baggage," Cumming examines his relationships to his family, significant others and himself. It begins with his divorce from the actress Hilary Lyon and ends with his marriage to Shaffer.
Cumming, who has dual United Kingdom/United States citizenship, talked with the Blade by phone about a range of topics from "Baggage" to politics to getting Helen Mirren on board with crocs.
Cumming was pleased by the positive response to "Not My Father's Son." He was happy that readers felt his words helped them to confront people who had abused them and to "reckon" with their shame.
But, Cumming worried that people might think he'd "triumphed" over the despair caused by his father's abuse. That he'd never encounter this trauma again.
"I wrote 'Baggage,'" Cumming said, "to overcome this idea of triumph."
"You don't actually recover," he added, "you manage it. You always have to manage it."
Cumming is witty and exudes hopefulness. But, he's worried about what the future might bring for LGBTQ and women's rights. The election of Joe Biden as president "was a real reprieve," Cumming said, "but the way we're headed, things could go the other way any second."
We need to be vigilant, Cumming said. "Women's rights – with what's happening with abortion in Texas – are in real danger," he said.
But life isn't all worries for Cumming.
There is his work. In 2022, he'll continue performing "Och and Oy! A Considered Cabaret" with NPR's Ari Shapiro. He's making the film "Rare Objects" with Katie Holmes.
And there are his friends. "Liza is lovely," Cumming said of his friend Liza Minnelli. One day, Cumming was rehearsing with Minnelli. Along with Joel Grey, Bebe Neuwirth, Chita Rivera and other celebs, they were going to put on a salute to the songwriting team Kander and Ebb.
They were going to perform Minnelli's signature song "New York, New York." "It looked so easy," Cumming said, "But I couldn't get Liza's dance moves. First, Liza tried to help me."
But, without success. "Then Chita came over to help me," Cumming said, "it was overwhelming having two legends trying to teach me."
After these attempts failed, Minnelli said to him, "Oh, darling, just make it your own!"
There was the time when Cumming made Helen Mirren see the light on Crocs. He was in Hawaii filming "The Tempest" with Mirren. "We were in the desert. I'd wear my Crocs," he said, "she said my Crocs were ugly."
"I said, 'Helen, that's fair enough. But when I say things are ugly, I use my inside voice,'" Cumming added.
A few weeks later, Cumming saw Mirren. She was wearing Crocs. "She said she'd been wearing flip-flops and they made her feet sore. Now she loved Crocs."
"I told her 'you were a hater, now you're a lover," Cumming added, "It's a beautiful thing."
Cumming is currently on a book tour in the U.K. The tour stops in Miami on Nov. 20; Chicago on Nov. 21 and several other U.S. cities through spring 2022. For more info on Cumming's new book, visit alancumming.com.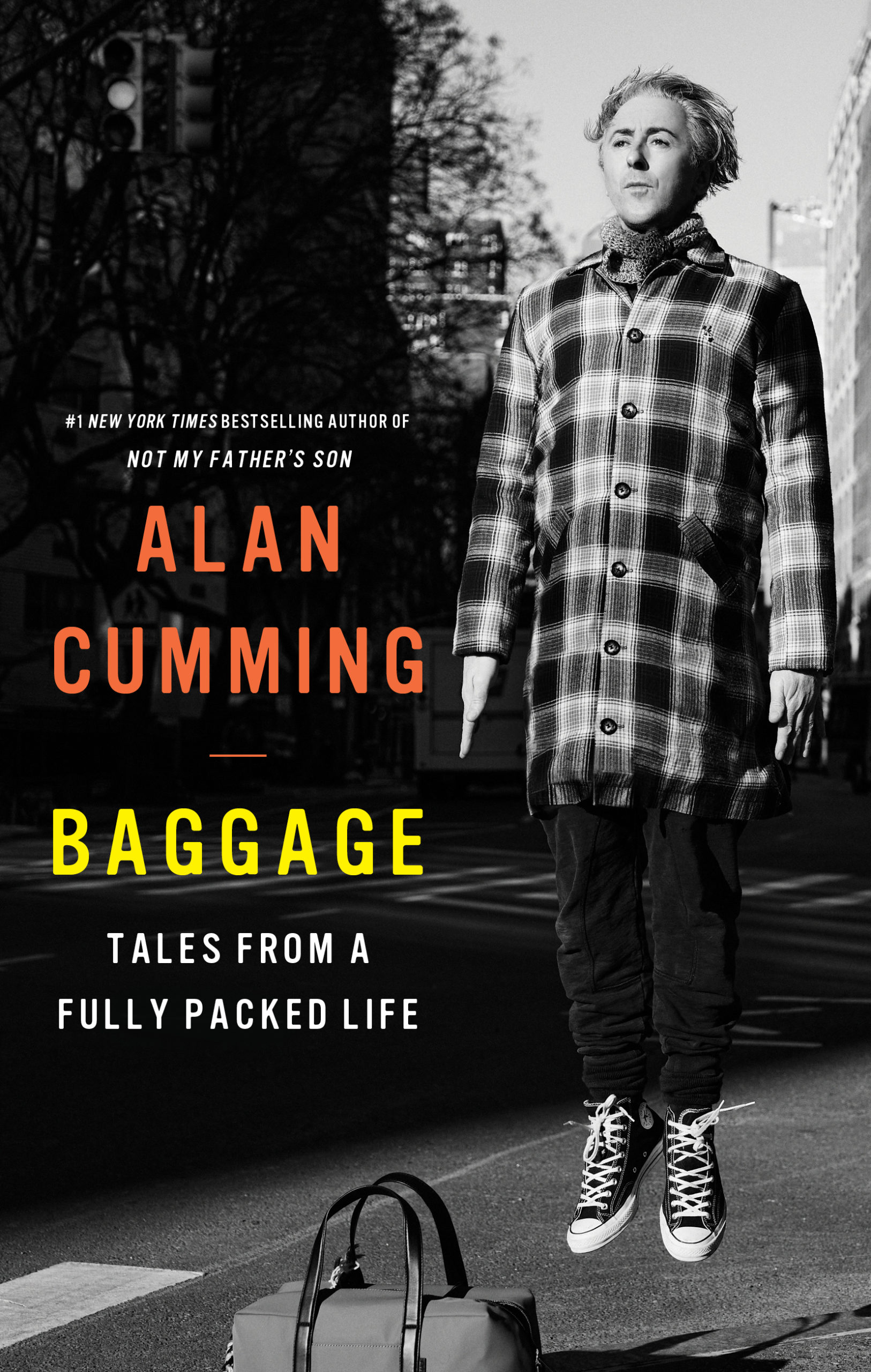 'Fiona and Jane' an enticing look at lifelong friendship
Two women bicker, fall distant – then meet again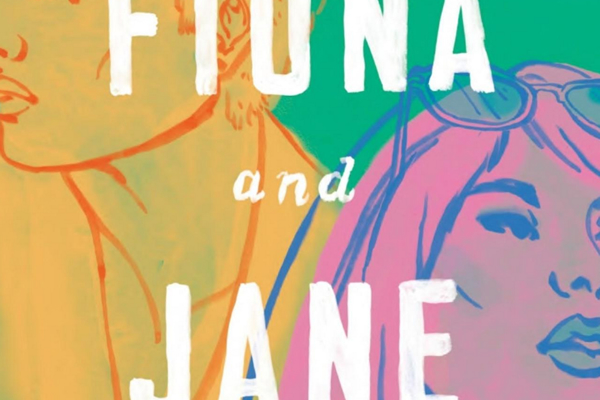 'Fiona and Jane'
By Jean Chen Ho
c. 2022, Viking
$26/275 pages
"Fiona and Jane," a new short story collection by Jean Chen Ho is an enticing New Year's present. The captivating volume features secrets, family conflict, queerness, astute cultural observations, and above all, friendship.
We long to fall in love. So we lose our hearts to our lovers and go to pieces when our relationships break up.
Yet, especially, if we're women and/or queer, we want a best friend as much, maybe more, than we do a lover.
Fiona and Jane, Asian Americans, grew up in Los Angeles. They've been best friends since they met in LA in second grade. Jane's family emigrated to Los Angeles from Taiwan. Fiona, with her mother, came to LA from Taiwan when she was a young child.
In "Fiona and Jane," Ho's debut collection, the two friends over 30 years grow from second-graders to 30-somethings. Ho's linked stories draw us into Fiona and Jane's friendship as they become, at different times, incredibly close, then distant (both geographically and emotionally) from each other.
Ho, 41, has more writing chops than you can imagine. She is a doctoral candidate in creative writing and literature at the University of Southern California where she is a Dornsife Fellow in fiction. Ho has an MFA from the University of Nevada, Las Vegas. Her writing has been published in The Georgia Review, GQ, Harper's Bazaar, McSweeney's, and other publications.
Ho was born in Taiwan, grew up in Southern California and lives in Los Angeles. But, "none of the things that happen to Fiona and Jane are autobiographical," she said on the podcast "All of It with Alison Stewart," "I didn't mine my particular life experiences and put them in the book out of respect to my oldest and dearest friends."
Fiona is hetero, smart and attractive. As a teen, she earns enough money to buy a secondhand car (named Shamu, Ho writes, "after the Sea World killer whale because of the corroding white patches all over the black paint.").
While Fiona's mother isn't religious, Jane's Mom is devoutly Christian. Jane is bisexual. When she and Fiona are teens, they kiss "to practice" – what kissing's like. Though she doesn't tell her Mom, Jane, when a teenager, has a romantic relationship with her female piano teacher.
When she's young, Jane often does what Fiona does. Because Jane's tall, she's often thought of as "Fiona's bodyguard." As she grows older, Jane begins to rely more on herself.
Fiona is eager to leave LA. She goes to college, then moves to New York City with her first boyfriend. She enters law school, then drops out.
Jane stays in Los Angeles. She opts to take a gap year between high school and college. The gap year morphs into a couple of years. Jane has relationships with women as well as with Julian, a vet who has PTSD.
Though Fiona and Jane are quite different from one another, they keep circling back to each other. Despite their differences, they have one thing in common: they both have lost their fathers.
In one of the collection's most moving stories, "The Night Market," Jane speaks of her visit before she graduated high school to Taiwan where she has come to see her Dad. Her Dad has gone from LA to Taiwan for a temporary job. Jane learns that he's going to stay in Taiwan because he's fallen in love with a man there. Her Dad asks her to keep this a secret. But, in her pain at his revelation, she outs him. Jane blames herself for his suicide.
Fiona discovers as a child that she's never known her father. Her mother raises her on her own.
Over the years, Fiona and Jane bicker, fall distant – then meet again. As teens, they help each other get fake IDs so they can drink. As adults, they help each other through moving apartments, love affairs and mourning.
"Sixteen years since my father died, and I was still alive," Jane thinks, "I got up, every morning. I lived, day by day. I had my best friend, Fiona Lin."
Check out "Fiona and Jane." Then, text your best friend.
Seeking love and community in Nicaragua
'High-Risk Homosexual' explores author's youth, coming out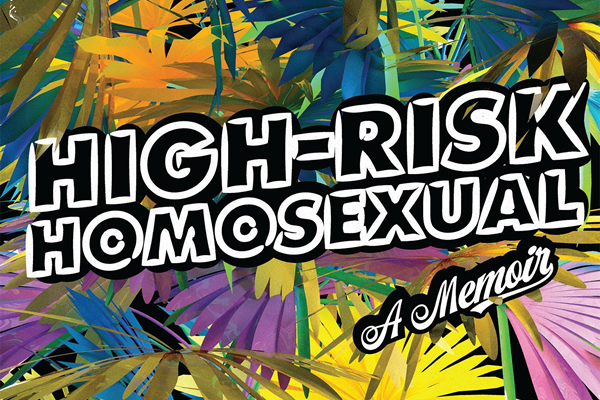 'High-Risk Homosexual: A Memoir'
By Edgar Gomez
c.2022, Soft Skull Press
$16.95/304 pages
Here. Try this.
It fits you, but the color isn't flattering. It's too long, too short, too tight, too loose. That's not your style, so try something else until you find the thing that looks like you. The perfect thing is out there. As in the new book "High-Risk Homosexual" by Edgar Gomez, when something's right, it's right.
He was 13 when he figured out that he was a problem to be solved.
Edgar Gomez' mother had left him in her native Nicaragua with his tíos, just for a while because she had to return to Florida to work. He wasn't there without her for long, but it took years for him to understand that his time with his uncles was meant to make him more masculine.
In retrospect, he says, nobody wanted him to be a man more than he did. He wanted to be liked by other kids and so he told lies in school to make himself stand out. He wanted his mother to see his love of pretty things and say that it was OK. He wanted his brother to acknowledge that Gomez was gay, and to tell him that he loved him.
Instead, after his brother left for college, Gomez got his first boyfriend, a boy he came out to but who couldn't come out to himself. He was called names in school. He came out to his mother, who freaked out about it. He befriended a drag queen, but "Princess" used him.
Things he wanted: a real boyfriend. Love. A ban on the stereotype of a macho Latinx man.
Things he still had, while in college: his mother and older brother. A tormentor-turned-mentor. A part-time job. His weirdness. His virginity.
Things he wanted to lose, while in college: his room at his mother's house. His virginity, but that wouldn't happen until later, during a painful one-afternoon-stand with a hot man who said he had a girlfriend. That hurt, both physically and emotionally but like so many things at so many times, Gomez tried not to think about it.
If he never considered what he didn't have, he says, "I wouldn't miss it."
In a way, you could say that "High-Risk Homosexual" is a book in search of a point. It's really quite random and told (mostly) linearly, but not quite. It has its peaks, but also low valleys. And you won't care about any of this, because you'll be enjoying every bit of it.
Yeah, this memoir is good: author Edgar Gomez's literary wandering makes it feel much like an honest conversation with readers. There are wince-worthy moments that allow empathy here, and experiences that are unique but oddly ubiquitous, that leave space for a sense of sympatico. There are passages that are so wistfully uncomfortable that you might squirm, or start "snort-laughing," or want to stop a moment and just think.
And there's room for that, too, so take your time. "High-Risk Homosexual" is an affable book with just enough seriousness to make it worth a try.
A lesbian Baby Boomer's relatable story
'Audacity of a Kiss' a warm, familiar biography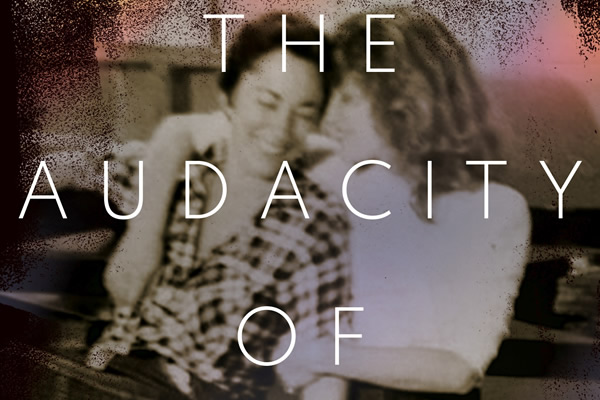 'The Audacity of a Kiss: A Memoir'
By Leslie Cohen
c.2021, Rutgers University Press
$24.95/235 pages
Don't move.
Stay entirely still, don't even breathe. You're about to become a symbol of something that's bigger than you are, something you'll be proud of for the rest of your days. Don't flinch, scratch, or sneeze, just don't do anything. Don't. Move. Unless it's to turn the pages of "The Audacity of a Kiss" by Leslie Cohen.
Behind every statue is a story, and the one behind those representing four people in Christopher Park in New York's Greenwich Village is no different. But to explain how this monument came about means also telling a long love story and a tale about a nightclub.
Leslie Cohen's mother was her very best friend, although there were misunderstandings in the relationship. Seven-year-old Leslie couldn't see why she received pink girly things for her birthday. In later years, she couldn't understand why her mother deferred to Leslie's father and endured his abuse.
The one thing Cohen did understand was that once puberty hit, the boys in her neighborhood were no longer pals to roughhouse with. She was supposed to want to date them and it didn't entirely make sense, but Cohen went along with it even after she left home for college. She went out with boys and lost her virginity to one, but meeting Beth was the most remarkable thing about higher learning. She was sure she was in love with Beth, but Beth was obsessed with a boy and so Cohen moved on.
She moved on to other men and then women, at a time when women loving women was unthinkable, and the Summer of Love. Cohen embraced her lesbianism, fell in and out of love, and went into a partnership with three other women to open New York's first lesbian club, where lesbians and straight feminists were welcome to dance and drink.
To be sure, it was a heady time. Cohen worked nonstop, gained confidence and learned to run a bar business. She was busy, but happy.
And then Beth came back into her life.
Let's face it: author Leslie Cohen's life story is basically like that of a lot of lesbians born at the beginning of the Baby Boom. A solid childhood, confusion, self-awareness, entrepreneurship all make a somewhat familiar story set apart by one abundant thing: warmth.
Indeed, "The Audacity of a Kiss" is an easy tale. It's comfortable, like a crackling fireplace and a glass of wine on a cushy sofa.There are accomplishments here, told so that you really share the pride in them. Readers are shown the struggle that Cohen had, too, but experiences are well-framed by explanations of the times in which they occurred, with nothing overly dramatic – just the unabashed truth, and more warmth. Opening this book, in a way, then, is like accepting an invitation to own the recliner for an evening, and you won't want anything else.
Younger lesbians will get a lot from this book, but anyone who's been there will relish it. Get "The Audacity of a Kiss," then sit down and don't move.