Proud to be a Fury
New film a touching tribute to the history of women's rugby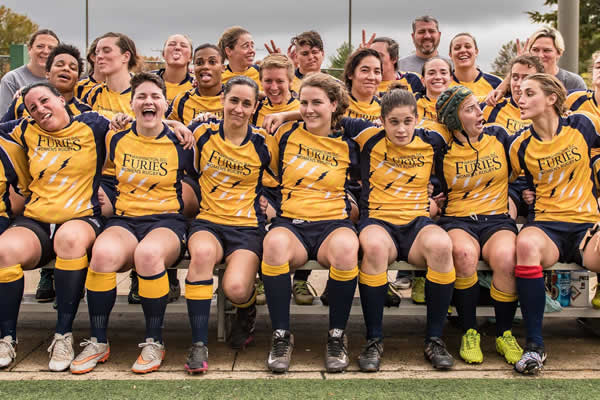 The last time that the Blade checked in with DC Furies player Liz Linstrom, she mentioned that she would always contribute to the club even if injuries sidelined her ability to play.
That statement proved to be prophetic as Linstrom experienced her third ACL tear while in the beginnings of filming a documentary about the Furies.
Linstrom had created a short documentary on women's rugby and femininity as an undergraduate student at William & Mary and the itch was still there to produce more creative work.
Even though she was working three jobs and playing with the Furies, she felt she had enough work flexibility to pitch a documentary to the club in the fall of 2019.
The original idea was a past, present, and future look at women's rugby in the United States through the lens of the players.
Established in 1978, the Furies quickly developed into a highly competitive club, and they are currently competing in the Mid-Atlantic Rugby Union and the Capital Geographic Union, with both Division 1 and Division 3 teams.
In March of 2020, the Furies were ramping up to host their 40th annual Ruggerfest tournament, one of the largest all-women's rugby tournaments in the United States with brackets including high school, college, social, and competitive clubs.
Then the unexpected happened.
"COVID hit, the tournament was cancelled, and filming of the documentary came to an abrupt stop," says Linstrom. "The story shifted to the resilience of women and club sports in a way that professional and semi-professional sports teams can't relate."
The resulting film, "Furious," is a touching tribute to the history of women's rugby, women's rights, the Furies, tradition, family, and maneuvering through COVID.
Four gay women are central figures in the film with one being married and another nonbinary. The players share what women's rugby was like in the 1970s.
"The beginnings of women's rugby in the United States coincided with Title IX in 1972. As a sport in its early beginnings, teams couldn't afford to push people away. If you wanted to hit someone, you were on the team," Linstrom says. "By the 1990s, the women's rugby community was advocating for LGBTQ rights and the Furies had Candace Gingrich as a long-time player. Eighty percent of the team were lesbians."
Other aspects of women's rugby that are brought to light are the camaraderie, commitment, sense of family, and the queer elements of the community.
One Fury player breaks her nose 20 minutes into a match, shoves a tampon up her nose, and goes back in as a blood substitution. Another player breaks her wrist and carpools five hours the next day to North Carolina to support her team during a game.
Toward the end of the film, Linstrom addresses the impact of COVID on a club team such as the Furies. Some are concerned about coming back to play and wonder whether the excitement will still be there. Others think about trying to replace the players who are leaving the D.C. area.
"Nothing will keep us from getting together. We are not pro athletes, but the highest levels of women's rugby in the United States is still club teams," says Linstrom. "The legacy of the club is very important to all of us. Every time we step onto the pitch, we are standing on the shoulders of the players who came before us. They are our founding bricks."
"Furious" premiered online in September for family, friends, and Furies players with viewership in 15 states. Linstrom funded the project as producer and director along with a grant from Arlington Cultural Affairs. The film will now be submitted to festivals to reach a larger audience.
Linstrom has moved on from her three part-time jobs and is now working full-time as a video editor at a production studio in Alexandria along with coaching rugby at American University.
The Furies were able to play sevens rugby over the summer and had the first game of their fall fifteens season on Sept. 25.
Out NFL star Carl Nassib is dating former Olympian Soren Dahl
The National Football League's first out gay player confirmed his relationship with Olympic swimmer Søren Dahl on Instagram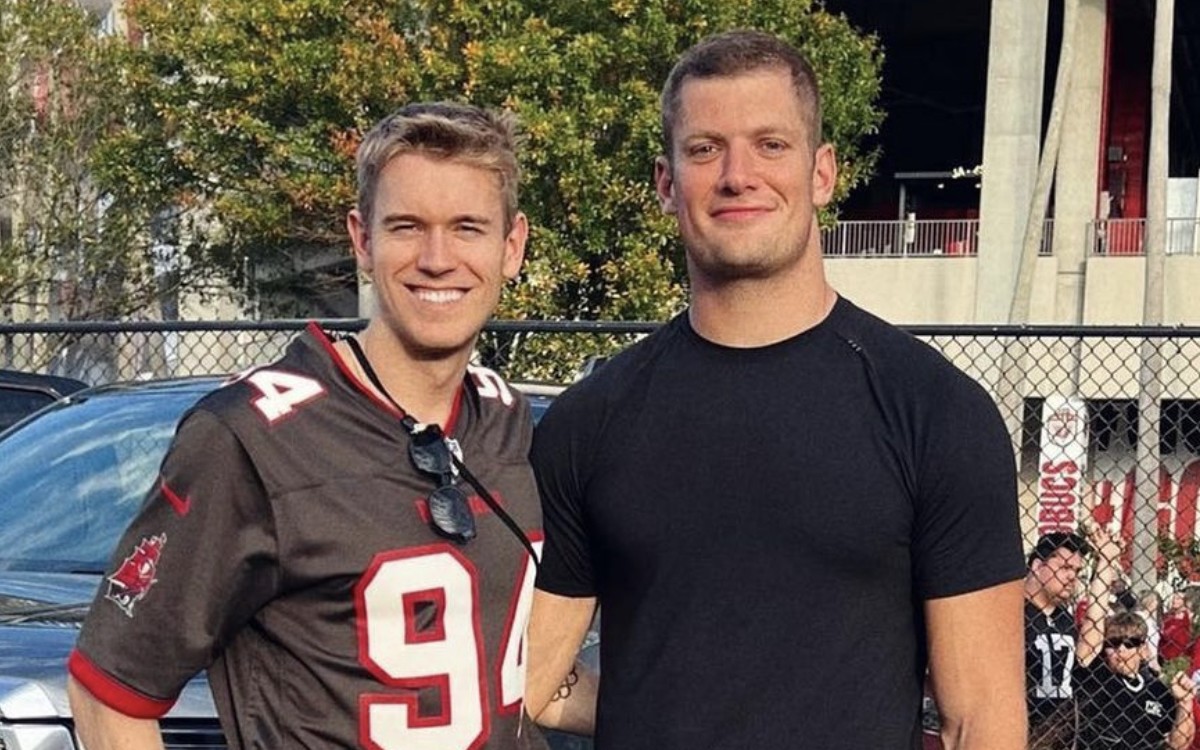 After months of internet speculation and Instagram snaps, it's official: Carl Nassib and Søren Dahl are a couple. Last weekend, the NFL player posted an Instagram story featuring a photograph of himself with his arm around the Danish swimmer.
Dahl, who competed in the 2016 Summer Games in Rio, is seen wearing a Buccaneers jersey with Nassib's number 94, and the linebacker has his arm around Dahl's waist.
Although there have been a series of snapshots since last summer featuring Nassib and Dahl together on the beach, in a club, and at the gym, this is the first one in which Nassib wrote something to clarify they are dating: "Kicking off 2023 with my man and a trip to the playoffs," he captioned the photo. Until now, Nassib has been extremely private about his personal life.
Queerty noted Dahl also posted a few pictures on Instagram on Jan. 2, including that same photo, with the caption, "Always Big Boy Season." From the background and location, it appears this was taken outside Raymond James Stadium in Tampa, Fla., home of the Bucs.
This will be the second playoff season for Nassib, the first active NFL player to come out as gay. He made the playoffs with the Las Vegas Raiders last year, and this year he's with Tom Brady and the Bucs. Their postseason game date and opponent will be announced in just days, but first they'll take on the Atlanta Falcons this Sunday, already having clinched the No. 4 seed and the NFC South title.
Dahl swam for Denmark in the 4×200-meter freestyle relay in 2016's Olympic Games. Prior to that, he competed for North Carolina State and was a two-time NCAA champion swimmer, winning titles in the 4×100 free and 4×200 free relays. Sometime around 2018, he moved to Fort Worth, Texas, to pursue his master's degree in Strategic Communication at Texas Christian University. After graduating in 2020, Dahl moved to New York City.
In 2021, he shared the story with followers of his TikTok account of how a former swimming coach called him the "F-word" and told him he'd "never become a good swimmer" if he were to come out as gay. The video then shows Dahl sporting a big smile and photos from his time swimming at the Olympics.
Although they dedicated themselves to different sports and were born in different countries, Nassib and Dahl are the same age, 29, celebrating birthdays just months apart.
Ever since coming out, Nassib has stepped up to help LGBTQ+ youth by raising money for The Trevor Project, for two years now: He's matched all donations to the organization up to $100,000. The group operates a crisis lifeline and provides resources to young people struggling with coming out, and also supports important research into the lack of affirming situations across race, identity and age groups.
Brittney Griner plans to play in upcoming WNBA season
Phoenix Mercury center returned to U.S. on Dec. 9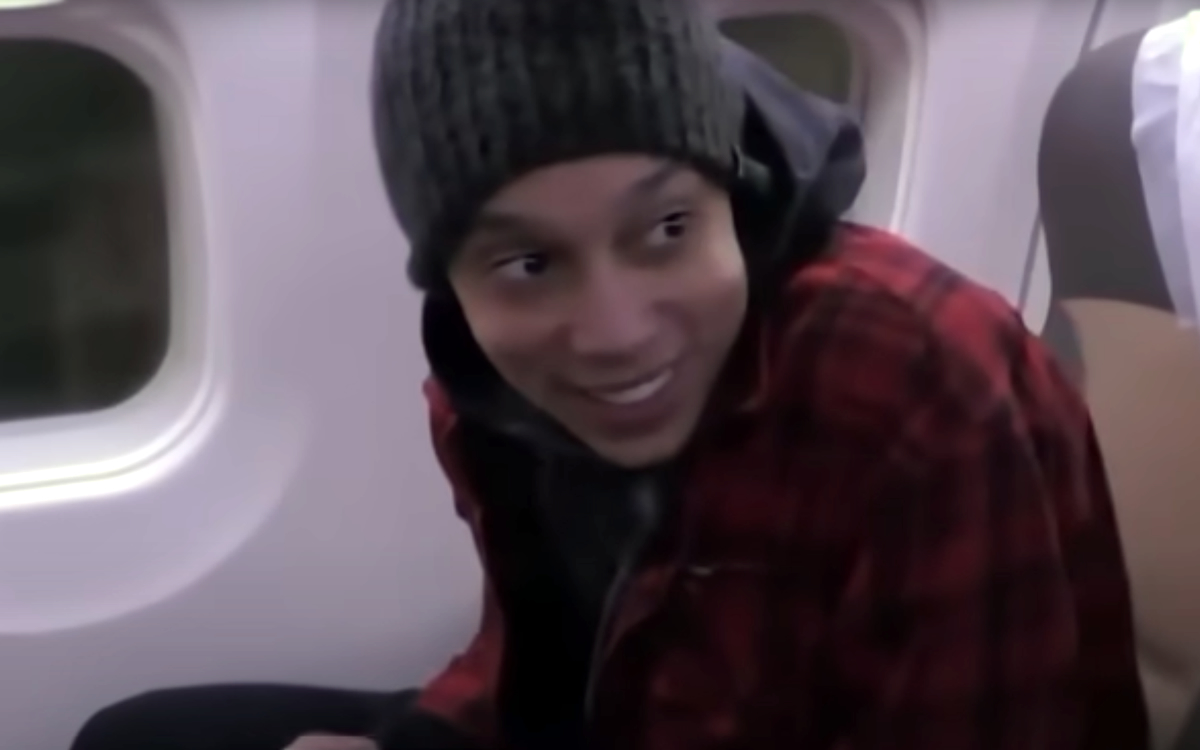 WNBA star Brittney Griner in her first public comments since she returned to the U.S. said she will play in the league's upcoming season.
"I intend to play basketball for the WNBA's Phoenix Mercury this season, and in doing so, I look forward to being able to say 'thank you' to those of you who advocated, wrote and posted for me in person soon," said Griner in a post on her Instagram page.
Russian customs officials in February detained Griner at Moscow's Sheremetyevo Airport after they found vape canisters with cannabis oil in her luggage. A court later convicted her of importation of illegal drugs and sentenced her to a 9-year prison sentence in a penal colony.
President Joe Biden on Dec. 8 announced Russia had released Griner in exchange for Viktor Bout, a Russian arms dealer who is serving a 25-year prison sentence in the U.S. Griner returned to the U.S. the following day.
Griner's Instagram post contains pictures of her arriving at Kelly Air Force Base in San Antonio and hugging her wife, Cherelle Griner.
"It feels so good to be home," said Brittney Griner. "The last 10 months have been a battle at every turn. I dug deep to keep my faith and it was the love from so many of you that helped keep me going. From the bottom of my heart, thank you to everyone for your help."
"I am grateful to each person who advocated for me, especially my wife, Cherelle Griner, my family, Lindsay Kagawa Colas and Casey Wasserman and my whole team at Wasserman, Vince Kozar and the Phoenix Mercury, the players of the WNBA and my entire WNBA family, Terri Jackson and the WNBPA staff, my Russian legal team Maria Blagovolina and Alex Boykov, the leaders, activists, and grassroots organizations, Gov. Richardson and Mickey Bergman of the Richardson Center, the Bring Our Families Home Campaign, Roger Carstens and the SPEHA team, and of course, a special thank you to President Biden, Vice President Harris, Secretary Blinken and the entire Biden-Harris administration," she added. "President Biden, you brought me home and I know you are committed to bringing Paul Whelan and all Americans home too. I will use my platform to do whatever I can to help you. I also encourage everyone that played a part in bringing me home to continue their efforts to bring all Americans home. Every family deserves to be whole."
Brittney Griner in her post also wrote that as she begins to "transition home to enjoy the holidays with my family, I want to acknowledge and thank the entire PISA staff and medical team at the San Antonio Fort Sam Houston Base."
"I appreciate the time and care to make sure I was okay and equipped with the tools for this new journey," she said.
Gay brother of journalist who died at World Cup requests help
Grant Wahl suddenly passed away on Friday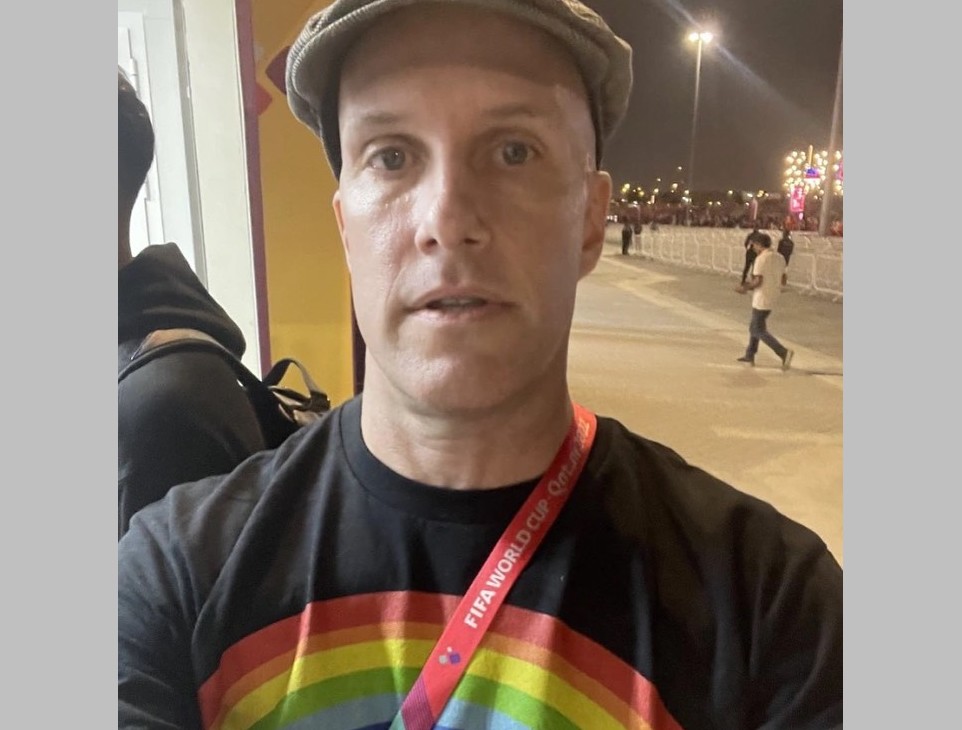 Journalists around the world are mourning the sudden death of their colleague, Grant Wahl, while covering the World Cup on Friday. Wahl, known for his sports coverage on behalf of CBS News, NBC News, Sports Illustrated and on Substack, was 48, and a cause of death has not been announced.
Wahl was covering his 13th World Cup, and reports say he fell ill in the press box at Lusail Iconic Stadium during extra time of the World Cup match between Argentina and the Netherlands on Friday and could not be revived.
On Monday, he wrote that "My body finally broke down on me" and he visited a medical clinic in Qatar.
"Three weeks of little sleep, high stress and lots of work can do that to you," Wahl wrote. "What had been a cold over the last 10 days turned into something more severe on the night of the USA-Netherlands game, and I could feel my upper chest take on a new level of pressure and discomfort."
According to Wahl's post, he tested negative for COVID-19. "I went into the medical clinic at the main media center today, and they said I probably have bronchitis. They gave me a course of antibiotics and some heavy-duty cough syrup, and I'm already feeling a bit better just a few hours later. But still: No bueno," wrote Wahl.
Wahl's brother, who is gay, posted a video message on Instagram, announcing he believes there was foul play and asking for help.
"I do not believe my brother just died," said Eric Wahl of Seattle. "My brother was healthy. He told me received death threats."
Eric Wahl broke down in tears in his video, revealing that his brother wore the rainbow shirt as a sign of support for him and all LGBTQ people.
CNN reported Wahl was treated in the stadium "for about 20-25 minutes" before he was moved to the hospital, Keir Radnedge, a columnist at World Soccer Magazine, told CNN Saturday.
"This was towards the end of extra time in the match. Suddenly, colleagues up to my left started shouting for medical assistance. Obviously, someone had collapsed. Because the chairs are freestanding, people were able to move the chairs, so it's possible to create a little bit of space around him," Radnedge said.
He added that the medical team were there "pretty quickly and were able to, as best they could, give treatment."
Grant Wahl made headlines on Nov. 21, when he was denied entry into the U.S. men's national team's World Cup opener against Wales because the shirt he was wearing featured a rainbow surrounding a soccer ball and was detained for nearly 30 minutes.
Same-sex relations are against the law in Qatar, and the Washington Post reported soccer fans wearing rainbows were refused entry or asked to hide the Pride symbol.
U.S. Soccer put out a statement of condolences. Wahl's widow tweeted that she was "in complete shock."
I am so thankful for the support of my husband @GrantWahl's soccer family & of so many friends who've reached out tonight.

I'm in complete shock. https://t.co/OB3IzOxGlE

— Céline Gounder, MD, ScM, FIDSA 🇺🇦 (@celinegounder) December 10, 2022
State Department spokesperson Ned Price tweeted that the U.S. government is in contact with Qatari officials regarding Wahl's death.
We were deeply saddened to learn of the death of Grant Wahl and send our condolences to his family, with whom we have been in close communication. We are engaged with senior Qatari officials to see to it that his family's wishes are fulfilled as expeditiously as possible.

— Ned Price (@StateDeptSpox) December 10, 2022