Black transgender youth protest treatment at Baltimore jail
BMORE BLXCK hosted Saturday rally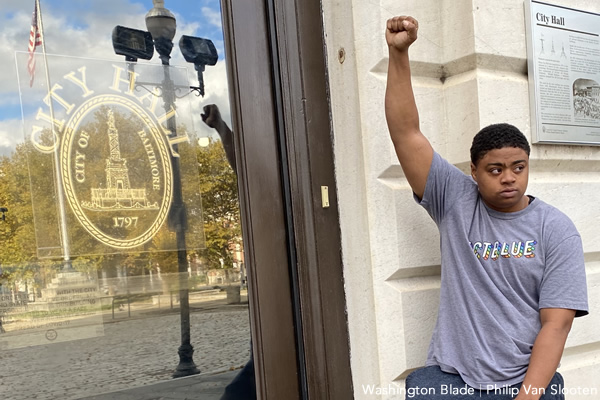 Maryland LGBTQ rights groups, most of them led by Black transgender youth, rallied in front of Baltimore City Hall on Saturday to protest trans inmates' complaints of harassment and violence at a state-run correctional facility in Baltimore.

BMORE BLXCK, a Black LGBTQ organization, hosted the event, which was co-organized by FreeState Justice and supported by members of Baltimore Safe Haven. The groups rallied in response to trans detainees' complaints about harassment and unsafe housing assignments in the Baltimore Central Booking and Intake Center.

"We are here today because we need Baltimore officials to listen to us and hear the fact that we're dying," said BMORE BLXCK Co-founder and Executive Director Legacy Forte, who identifies as Black trans woman.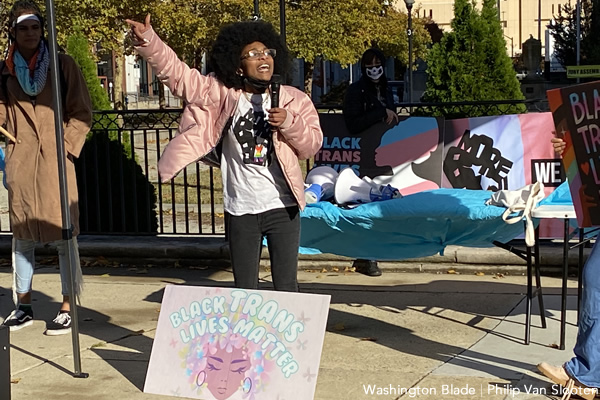 Activists at Saturday's rally also chanted the name of Kim Wirtz, a 43-year-old trans woman who died after being found unconscious in the Baltimore facility in February.

The Human Rights Campaign says 2021 has been the deadliest year for the trans community since it began tracking in 2013. The National Center for Transgender Equality also found prisons are particularly dangerous for trans women, who often aren't housed according to their gender identity.

"When a trans individual is detained, they need to be put into the facility that they identify as," Forte said. "If a trans woman is incarcerated, she needs to be placed into the woman's facility for her safety."

Maryland Department of Public Safety and Correctional Services spokesperson Mark Vernarelli told the Baltimore Sun in October after Kazzy Davis, an 18-year-old trans person, complained about the Baltimore intake facility, that the agency "takes very seriously the preservation of each detainee and inmate's dignity" and safety. Former inmates with recent experiences at the facility, however, told the Washington Blade that serious problems persist.

Nicole Wells, a trans woman who identifies as both white and Latina, is a case manager with Baltimore Safe Haven.
She described the harassment and misgendering she faced while held at the facility. Despite having an identification with her current name and gender marker, Wells was housed in a male unit, an experience that she still finds traumatic.
"It was terrible," Wells said. "The staff misgendered me and placed me with the males. They did not put me in protective custody and I was assaulted by one of the inmates."

Others spoke of similar experiences, including Devine Bey, a Black trans woman who was housed in the male unit, and Josiah Damore, a Black trans man who was housed in the women's unit. Both reported that staff misgendered them, as well as difficulties receiving their hormone treatments and other forms of abuse.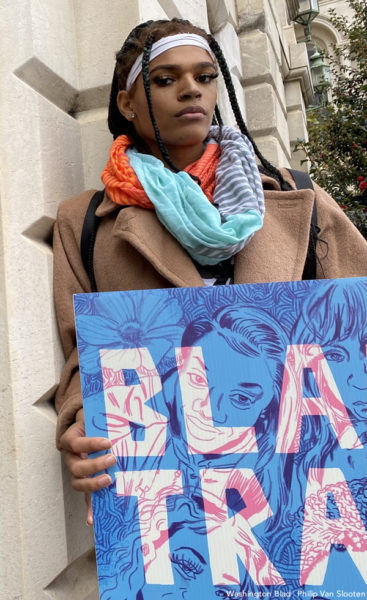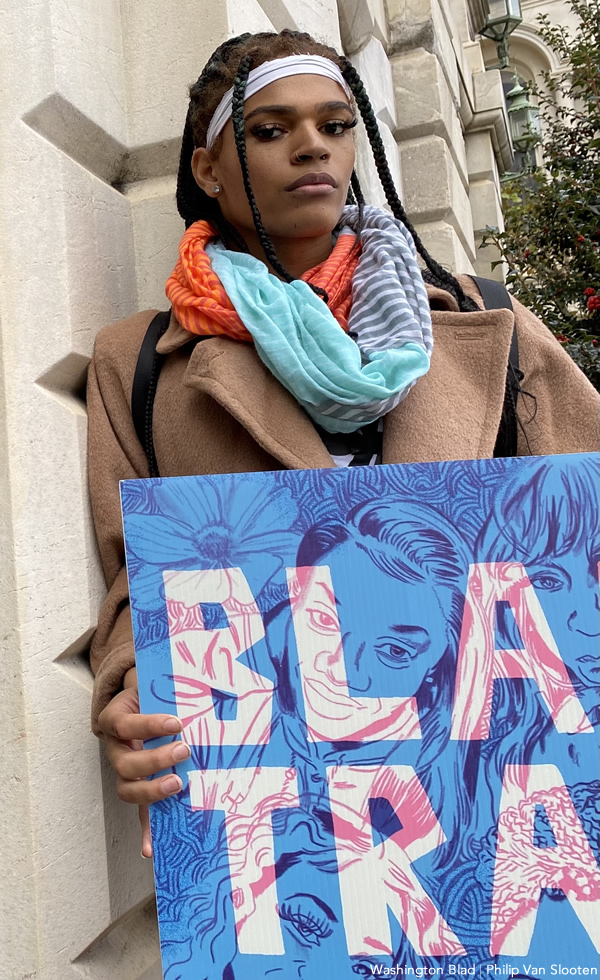 The Blade reached out to the Maryland Department of Public Safety and Correctional Services for comment, but did not receive a response prior to publication.

It's Medical Evaluations Manual states correctional facilities will provide medical services, including hormones, for trans detainees. The manual details the medical intake process itself, which includes a review of documents as well as a physical examination of the inmate.

The manual also notes trans women being at "greater risk of sexual violence by other male inmates if they are not placed in protective custody," but surgical transitioning is used as a basis for gender-affirming housing assignments.
"Incomplete surgical gender reassignment require that the patient be classified according to his or her birth sex for purposes of prison housing, regardless of how long they have lived their life as a member of the opposite gender," the medical intake policy states.
"These patients are usually offered protective custody," it adds, but former inmates who spoke with the Blade said this is not always the case despite their safety concerns.

Unfortunately, these incidents in Baltimore are not isolated.
The 2015 U.S. Transgender Survey found trans people were 10 times as likely to be sexually assaulted by their fellow inmates and five times as likely to be sexually assaulted by staff compared to other inmates. Trans prisoners also reported other challenges including denial of medical care and lengthy stays in solitary confinement.

National Center for Transgender Equality Executive Director Rodrigo Heng-Lehtinen told the Blade that U.S. correctional facilities are dangerous for anyone but being trans makes individuals "particularly vulnerable to attack."

"Just like with policing, the jail and prison system needs sweeping reforms before trans people can be safe," Heng-Lehtinen said. "At a minimum they need to be housed how they identify. Often they are placed in a facility based on a strip search in a disrespectful attempt to determine gender and place the person in a facility based on anatomical judgements."

FreeState Justice Executive Director Jeremy LaMaster told the Blade his organization became involved with complaints surrounding the Baltimore booking center after Baltimore Safe Haven came to them with concerns about the facility.

He said FreeState Justice is looking into the complaints, but is also working with legislators to address a much needed policy update.

"We're looking into adding a reporting requirement and a timeline for reporting incidents, so families are aware of what is going on," he said. "We're also looking at the creation of some type of liaison position or community advisory board to ensure there is conversation about the unique needs of people who are trans or in the LGBTQ community while incarcerated."

State Sen. Clarence Lam (D-Baltimore County), who chairs the Maryland Senate's Joint Committee on Fair Practices and State Personnel Oversight, told the Blade he was not aware of issues at the state-run facility, but felt there should be "proper oversight and safeguards in place to make sure the safety and rights of all individuals at the facility are protected and appropriate procedures are followed."

He added the Maryland Division of Corrections first needs an opportunity to address the issue and ensure they are properly following the policies they have in place for trans detainees before the state gets involved.

Sgt. Kevin Bailey, the LGBTQ Liaison for the Baltimore Police Department, said although he couldn't speak about how a state-run facility, which is managed separate from the city, operates, he did say there are benefits to having help from the community navigate these stressful interactions.

Speaking from his experience in the Baltimore Police Department, he said community and bias training can help each side understand the history and biases underlying and straining interactions.

"So, as a police department we deal with legal documents," he explained. "So sometimes having an interaction with a person who is transgender, their legal documents may not line up with who they are as a person. Understanding that helps officers understand the person they are dealing with is not being deceitful. When they give you their name, use that name, and understand their struggle."

He said while police officers still have to use a person's legal name in the report, they can use the name the person gives them verbally when interacting with them. This can help the officer understand the community better and deescalate a situation.

While he felt the same training could be useful in correctional facilities, or in any organization that interacts with the LGBTQ community, Heng-Lehtinen pointed out this has to be the first step, not the last.

"The best policy would be for when someone is being booked," he said. "And that policy should not be an assignment based on genitalia, it should be based on where the person would be the most safe."
Va. businessman apologizes for burning of rainbow flag poster
'Shocked and horrified': Ashburn incident caught on video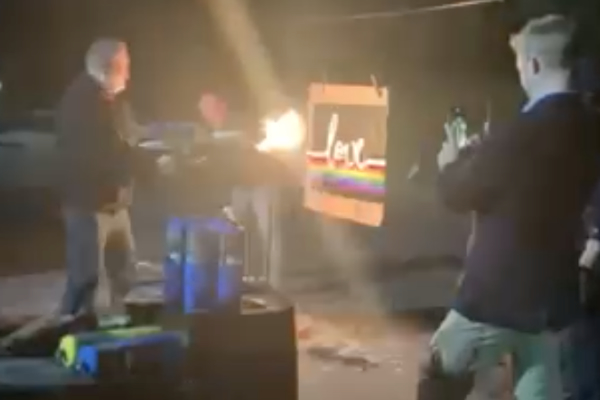 The owner of a Virginia technology company that hosted a private Veterans Day party on the grounds of an Ashburn, Va., brewery in which a company employee used a flame-throwing device to ignite a rainbow flag poster said the selection of the poster was a mistake and he and his company have no ill will toward the LGBTQ community.
The Washington Blade learned about the poster burning from a customer of the Old Ox Brewery in Ashburn, where the incident took place on its outdoor grounds. The customer made a video of the incident with his cell phone and sent a copy of the video to the Blade.
The video, which includes an audio recording, shows a man using a hand-held flame-throwing device to ignite the rainbow poster, which was hanging from a cable and appeared to be mounted on cardboard or a thin sheet of wood. Bystanders can be heard laughing and cheering as the poster is set on fire.
The poster consisted of a variation of the LGBTQ Pride rainbow flag that included the word "love" configured from an upper white stripe on the rainbow symbol.
The customer who took the video, who has asked not to be identified, thought the decision to set the poster on fire was a sign of disrespect if not hatred toward a longstanding symbol of LGBTQ equality and pride.
Chris Burns, Old Ox Brewery's president, shared that view, telling the Blade he and his staff were "shocked and horrified" when they learned later that a rainbow flag poster had been burned on the brewery's grounds. Burns said Old Ox supports the LGBTQ community and participated in LGBTQ Pride month earlier this year.
He said the company that held the private party paid a fee to hold the event on the brewery's grounds, but the brewery did not know a rainbow poster would be burned.
"I'm mortified that our event was interpreted in this way," said Nate Reynolds, the founder and partner of Hypershift Technologies LLC, the Falls Church, Va.-based technology company that organized the Nov. 11 party at Old Ox Brewery. "I can assure you that ZERO ill-will or offense was meant," Reynolds told the Blade in a Nov. 24 email.
"We held a small private party for a few clients, which included a demonstration of Elon Musk's Boring Company 'Not a Flamethrower,'" he said in his message. He was referring to one of billionaire businessman Elon Musk's companies that specializes in boring through the ground to create tunnels for cars, trains, and other purposes.
"After so many being isolated during COVID, we wanted to have an event that was lighthearted and to some small effect, silly," Reynolds said in his message to the Blade.
According to Reynolds, in thinking about what should be used for "fodder" for the flame-thrower, he went to a Five Below discount store and purchased items such as stuffed animals and posters, including a "Space Jam" movie poster as well as what he thought was a poster of the British rock group The Beatles.
"When I pulled the Beatles poster out of the tube it was instead the 'Love' poster," he said, referring to the rainbow flag poster the Blade asked him about in an earlier email.
"All I focused on was the 'Love' wording and not the rainbow and did not draw the conclusion that the poster was an icon that represents the LGBTQ community," Reynolds said. "It was my own ignorance of not connecting the symbolism of the poster. If I had realized it was a symbol of the LGBTQ community, I would not have used it," he said.
"I feel terrible, and I want to emphasize that I am solely responsible for this mistake – not the Old Ox Brewery," he wrote in his message. "Nobody at Old Ox had anything to do with this activity."
Reynolds added, "Hate has no place in my heart, and I sincerely apologize for any offense that could have been drawn from what I now realize was poor judgement on my part. I simply didn't correlate this poster with the LGBTQ pride symbol."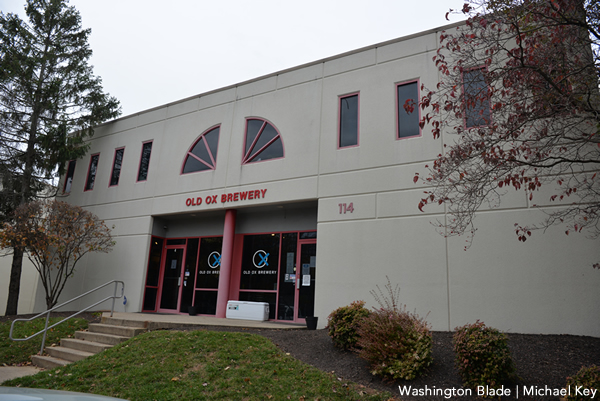 Before Reynolds issued his statement of apology, Burns, the Old Ox Brewery co-owner, told the Blade in an email he was "saddened and upset" over the rainbow poster burning on the grounds of his brewery.
"We do not wish to benefit from this event," he said in his email message. "Therefore, Old Ox is donating 100% of the revenue generated from the private event to GLSEN."
GLSEN is a national LGBTQ advocacy group that focuses on education and support for LGBTQ youth. Burns said Old Ox Brewery also donated proceeds from a Pride month event it organized earlier this year to GLSEN.
LGBTQ activists and organizations contacted by the Blade said they were unfamiliar with the variation of the rainbow flag with the word "love" that was the subject of the poster burning incident. The poster is available for sale at Five Below stores in the D.C. metropolitan area for $5.
Small print writings on the poster show it is produced by Trends International LLC, which describes itself on its website as "the leading publisher and manufacturer of licensed posters, calendars, stickers and social stationery products." The Blade couldn't immediately determine who designed the poster.
The video of the poster burning incident can be viewed here:
Fairfax schools returns LGBTQ-themed books in high school libraries
Review found 'no pedophilia' in texts as critics claimed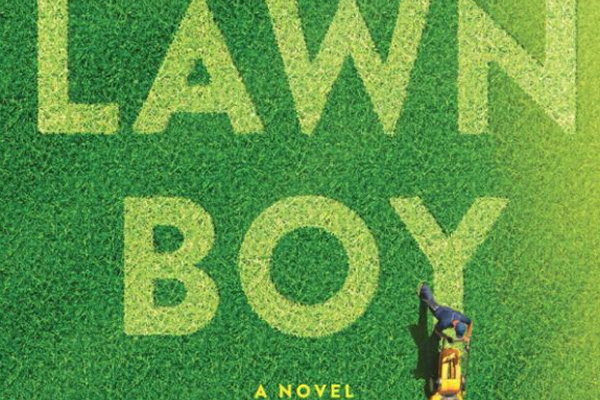 The Fairfax County Public Schools announced on Tuesday that following a detailed review by two committees appointed by school officials it has returned two LGBTQ themed books to its high school libraries that had been temporarily withdrawn after being challenged by critics who claimed they included sexually explicit content inappropriate for students.
The two books, "Lawn Boy," a novel by author Jonathan Evison, and "Gender Queer: A Memoir," which is described as an illustrated autobiography by non-binary author Maia Kobabe, each contain descriptions of sexual acts.
But supporters of the books have argued that they have won praise by literary critics and, while describing intimate relationships, they tell stories that do not fall into the category of pornography.
Fairfax County Public Schools, the name used for the county's public school system, on Tuesday said in a statement that a thorough review of the books by two committees consisting of educators, school officials, parents and some students found that neither book contained content that could be considered to depict pedophilia as claimed by some parents and others opposing the two books.
School officials announced they had temporarily withdrawn the two books from school libraries following a Sept. 23 meeting of the Fairfax County School Board where strong objections to the two books were raised by parents.
"Two books that were subject to formal challenge have been deemed appropriate for high school readers following a two-month review process and will be reinstated to Fairfax County Public Schools (FCPS) libraries," Tuesday's statement by the school system says.
"The decision reaffirms FCPS's ongoing commitment to provide diverse reading materials that reflect our student population, allowing every child an opportunity to see themselves reflected in literary characters," the statement continues. "Both reviews concluded that the books were valuable in their potential to reach marginalized youth who may struggle to find relatable literary characters that reflect their personal journey," the statement says.
The statement says the final decision to reinstate the books was made by Noel Klimenko, the Fairfax County Public Schools' assistant superintendent for its Instructional Services Department.
The two books have received favorable reviews in various literary publications. Both have received the American Library Association's Alex Award, an annual award that recognizes the year's 10 books written for adults that the association says have a special appeal to young adults ages 12 through 18.
"The robust committee process took place over several weeks and considered whether the books flouted regulations by being obscene or harmful to juveniles as defined by the Code of Virginia," the school system statement says. "The members also considered the work in line with an excerpt from the FCPS Student Rights and Responsibilities Handbook pertaining to possessing obscene visual imagery as defined in the Code of Virginia," the statement says.
"After careful consideration, neither books were deemed to have fallen foul of these regulations," it concludes.
The decision by Fairfax school officials to reinstate the two books came about six weeks after more than 425 LGBTQ students and allies from over 30 Fairfax County public high schools sent a letter to the school board and the school system's superintendent urging them to reinstate the two books.
The Pride Liberation Project, a coalition of LGBTQ and allied students in Fairfax County, organized the joint letter.
"Student representatives from over 30 schools, including nearly every high school in Fairfax County Public Schools, have signed this letter, and many of us are students of color, low-income, gender expansive and not out to our families and communities," the letter states.
"We are writing to ask you to reject calls to remove Maia Kobabe's 'Gender Queer' and Jonathan Evison's 'Lawn Boy' from Fairfax County Public Schools libraries," the letter says.
It points out that "hundreds of books in our schools already depict heterosexual relationships and physical intimacy," and says singling out LGBTQ themed books with similar stories of intimacy for rejection is unfair.
Transgender Zimbabwean woman in Md. wins asylum case
Mattie Tux Horton lives in Rockville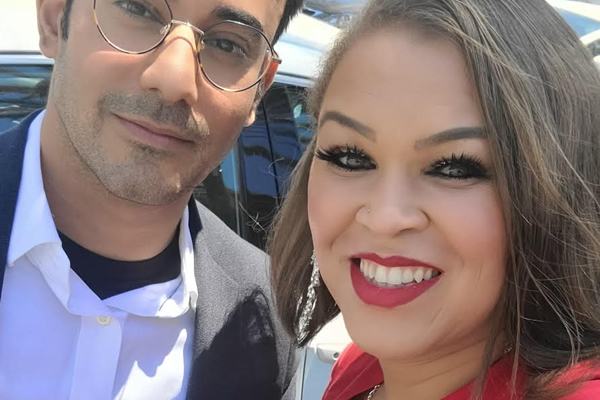 A transgender woman from Zimbabwe who lives in Rockville won her asylum case in late October after living in the U.S. for the past five years.
Mattie Tux Horton was represented by Ankush Dhupar from the Los Angeles law firm Paul Hastings LLP.
"I feel at ease," said Horton. "Although a lot is going on in the [United States], it's [significantly] different compared to where I'm coming from."
Horton said that she now considers the U.S. to be her home.
Although she has been living in Maryland for a while now, receiving asylum stripped away the anxiety associated with returning to Zimbabwe had the U.S. Citizenship and Immigration Services agency denied her request.
With protection from the U.S. government, Horton gets to live in a safe environment and without the vile treatment she encountered in Zimbabwe because of her transness.
In her hometown of Bulawayo, Horton faced constant public humiliation and was once fired from her job as a graphic artist because of her dress presentation, according to an interview she did with Medium.
She was attacked by a violent group of men in 2014, and was outed later that year following a holiday trip to South Africa, according to the interview.
This incident garnered media attention and The Sunday News, a Zimbabwean newspaper, published an article in which it misgendered Horton throughout the entire piece.
This prompted Horton to apply for a U.S. visa so she could attend an LGBTQ leadership conference in D.C. and remove herself from the cacophony in her town.
The Sunday News later ran a story about Horton's departure in which they misgendered her again and referred to her as a "transgender man" and "alleged gay."
Horton arrived in D.C. in December 2016 and began her asylum process there.
While visiting a friend in Los Angeles, she connected with the city's Human Rights First chapter that referred her to Dhupar, who represented her pro bono.
Dhupar is a labor and employment law attorney at Paul Hastings LLC and he volunteered to work on Horton's case as part of his firm's partnership with Human Rights First to do pro bono LGBTQ advocacy work.
Horton's asylum was his first ever immigration case.
While the legal underpinnings of immigration were new to him, Dhupar did not struggle to situate his modus operandi because of how compelling Horton's case was.
"I always referred to the facts of the case because the law is geared towards helping situations like [Horton's] where someone fears for their life in their home country," said Dhupar.
Dhupar also added that Horton's case was a prime example of why the asylum process exists.
Horton submitted a psychological evaluation in February 2021 that would expedite her asylum case and grant her an interview notice sooner than usual.
At that point she had lived in the U.S. for more than four years, but she still had to wait a couple more months before she was called for an interview. This caused Horton to feel trepid about whether her case was strong enough.
"I went through depression and had psychological breakdowns," said Horton. "I have friends who were called in for an interview months after moving here and didn't have to wait five years [like I did]."
This hurdle, however, gave Horton and Dhupar adequate time to build an indisputable case. The two built a personal relationship that kept them vigilant despite the abounding uncertainty.
"She was a perfect advocate for herself and took the initiative to make sure the case did not fall on the backburner," said Dhupar.
Now that she has won her case, Horton is taking time to relish on her recent success.
"I'm going to take a breather," she said.
She also plans to secure full-time employment in 2022 and build a makeup brand. Horton currently works part time as a steering committee member — a role she says is fulfilling — at the Black LGBTQIA+ Migrant Project- Transgender Law Center.
There, she links Black trans and gender nonconforming individuals to education, employment, legal and healthcare resources.