Department of Education investigating BYU LGBTQ+ discipline policy
"They've wronged marginalized communities at BYU and they need to be held accountable for it" ~ former gay student at BYU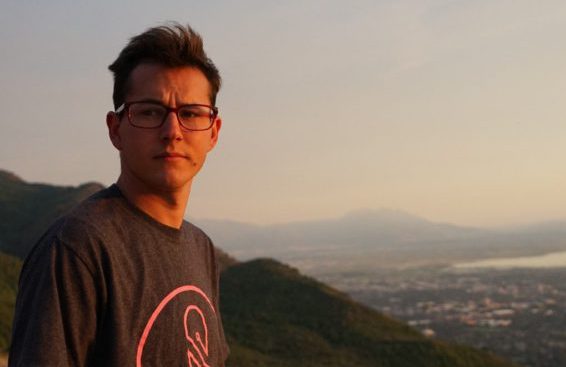 PROVO, Ut. – The U.S. Department of Education has opened an investigation into policies at Brigham Young University (BYU) that discipline LGBTQ students, aiming to determine whether or not the private religious school, owned by the Church of Jesus Christ of Latter-day Saints (LDS), is violating their civil rights.
The Education Department is investigating a complaint that came after BYU removed rules banning "homosexual activity" from its honor code in 2020, only to clarify weeks later that same-sex partnerships were still prohibited.
The probe, which opened in October of last year, will focus on Title IX, a law prohibiting universities from discriminating against students and others based on gender.
Last year, President Joe Biden signed an executive order mandating every federal agency, including the Education Department, clarify that civil rights laws protect LGBTQ people from discrimination. However, religious schools have Title IX exemptions, making federal scrutiny rare.
"It's really significant that investigators are stepping in now," Michael Austin, a BYU alumnus and vice president at the University of Evansville, told the Salt Lake Tribune. "It means there's some reason to think the university has gone beyond the religious exemptions it has and is discriminating even beyond those."
The investigation, headed by the Office of Civil Rights within the department, seems to be about whether faith-based exemptions apply even if the behavior is not directly related to education or expressly written in the honor code. BYU also bans alcohol, beards and piercings, among other things.
BYU did not respond to the Blade's request for comment. But a spokesperson told the Associated Press that the school does not anticipate any further action because "BYU is exempt from application of Title IX rules that conflict with the religious tenets" of the LDS.
Though the LDS has softened some of its rules around LGBTQ issues, the church remains opposed to same-sex marriage and sex outside of marriage.
In a November 2021 letter to the Education Department, Kevin Worthen, president of BYU, argued that religious exemptions do apply to the school. The letter adds that all BYU students, faculty, administrators and staff "'voluntarily commit to conduct their lives in accordance with the principles of the gospel of Jesus Christ.'"
The Department of Education responded to the letter, affirming that the university has some religious exemptions, but the department had to investigate if the complaint falls under those exemptions.
An Education Department spokesperson confirmed the investigation to the Blade but declined further comment.
Queer students at BYU celebrated the school's removal of the anti-LGBTQ language in the honor code. Yet, the university announced weeks later that there was "some miscommunication" as to what the changes meant, clarifying that "the principles of the Honor Code remain the same."
Bradley Talbot, a former gay student at BYU, was on campus during the apparent reversal, saying it "instilled a lot of fear and a lot of students."
"There are still a lot of feelings of betrayal and apprehension around it," he told the Blade.
At BYU, students who hold hands or kiss someone of the same sex can face punishment, including expulsion. LGBTQ+ students face harsher discipline than heterosexual couples at the school.
Talbot said he knew of "quite a few people" who lost their degrees and were kicked out during his time at BYU because of the gay dating ban. "People were turned in by roommates. Some people were turned in by their own parents," he added.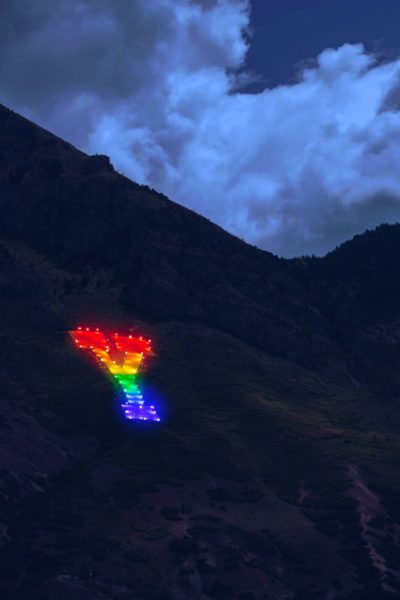 The university's clarification frustrated LGBTQ students, according to Talbot. In response, he organized a demonstration in March of 2021, lighting the "Y" that sits above BYU's campus – one of the school's oldest traditions – in rainbow Pride colors on the one year anniversary of the university's letter sent to students that clarified the LGBTQ dating policy.
"We did it to reclaim that traumatic day and spin in a positive light of support, love and unity to create more visibility and awareness," said Talbot. "And also to take a stand that we weren't going to put up with just being tossed around by BYU. We deserve to be a part of the BYU community and a part of the LGBTQ community."
The school has since updated its policies, banning protests and other demonstrations on Y Mountain, where Talbot staged his demonstration, in December of last year.
"Demonstrations should be consistent with BYU's faith-based mission, intellectual environment and requirements described in the policy," a statement added.
Still, Talbot, who is now graduated, has hope that the Education Department's investigation will "finally change" things at BYU. "This has been something that's been going on for decades," he said. "They've wronged marginalized communities at BYU and they need to be held accountable for it."
Report details U.S. efforts to promote LGBTQ rights abroad
White House policy memo issued in 2021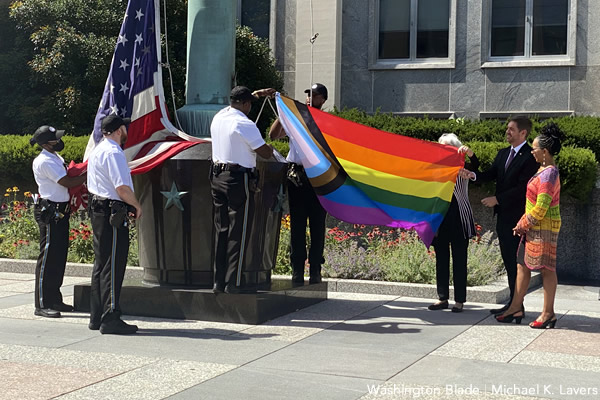 The State Department on Thursday released a report on the implementation of President Biden's memo that committed the U.S. to the promotion of LGBTQ rights abroad.
The report notes last June's appointment of Jessica Stern as the special U.S. envoy for the promotion of LGBTQ rights abroad and the issuance of passports with "X" gender markers that began on April 11.
Stern on Thursday told reporters during a conference call the State Department has created the Global LGBTQI+ Inclusive Democracy and Empowerment Initiative "that seeks to ensure democracies are inclusive of LGBTQI+ persons, representative of their communities and families and responsive to their needs and concerns." Stern also noted roughly 60 percent of Peace Corp posts have implemented "specific LGBTQI+ equity practices within their operations."
Stern highlighted the U.S. supported the inclusion of sexual orientation and gender identity in a resolution in support of "democratization and enhancing periodic and genuine elections" the U.N. General Assembly adopted last November. Stern also noted the U.S. Agency for International Development again tracks how its foreign assistance programs promote LGBTQ rights.
Chantale Wong, the U.S. director of the Asian Development Bank who is the first openly lesbian American ambassador, on Wednesday told the Washington Blade during an exclusive interview that she expects the U.S. government will endorse a proposed LGBTQ-specific safeguard for the ADB. Stern on Thursday noted the Department of Homeland Security has issued guidance to recognize informal same-sex marriages for the purposes of obtaining refugee or asylee status, even if they are not officially recognized by officials in countries of origin."
The report also highlights how the Commerce, Defense, Justice, Labor, Treasury and Health and Human Services have implemented the memo that Biden issued in February 2021.
"This memorandum makes clear that promoting and protecting the human rights of LGBTQI+ persons is a U.S. foreign policy priority," said Stern. "The report outlines how U.S. government agencies engaged abroad are working to become LGBTQI+ inclusive. It shows that many individual actions across the U.S. government taken as a whole create institutional change and improves the daily lives of LGBTQI+ persons."
Secretary of State Antony Blinken in a statement echoed Stern.
"It remains vitally important that we address the violence and discrimination faced by LGBTQI+ persons while acknowledging the effects of the intersections of race and ethnicity, gender, disability, religion and national origin, to name a few," said Blinken.
"As the report demonstrates, the U.S. government advances these priorities by supporting efforts to end the criminalization of LGBTQI+ status and conduct, seeking to protect vulnerable LGBTQI+ refugees and asylum seekers, providing foreign assistance to protect the human rights of LGBTQI+ persons and advancing non-discrimination protections, responding to human rights abuses of LGBTQI+ persons abroad, building coalitions of like-minded nations, and engaging international organizations in the fight against LGBTQI+ discrimination," added Blinken. "Our collective efforts drive toward the goal of ending violence and discrimination on the basis of sexual orientation, gender identity or expression, and sex characteristics. Equality and equity build stronger societies for all."
USAID Administrator Samantha Power on Thursday said the memo "was a call to action based on a simple premise: That all human beings should be treated with respect and dignity and should be able to live without fear, no matter who they are or whom they love."
"Over the past year, as today's report demonstrates, USAID has made important progress toward achieving these ambitions through a commitment to LGBTQI+ inclusive development in our policies and programs that reach millions of people around the world," said Power.
The full report can be read here.
LGBTQ immigrant groups welcome decision to terminate Title 42
So-called Remain in Mexico policy remains in place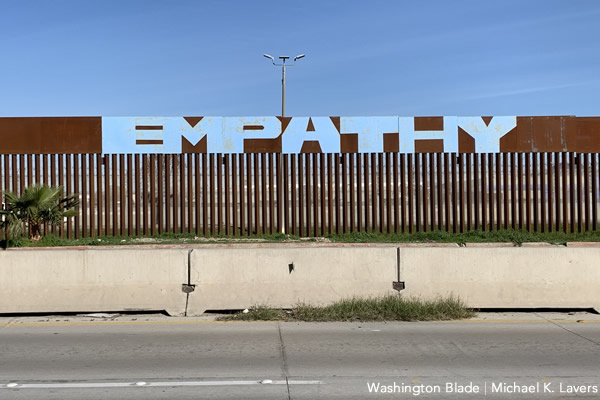 LGBTQ immigrant rights groups have welcomed the Biden administration's decision to terminate a Centers for Disease Control and Prevention rule that closed the Southern border to most asylum seekers and migrants because of the pandemic.
"It's about time," Immigration Equality Executive Director Aaron Morris told the Washington Blade on Monday during a telephone interview. "This was a policy that was difficult to justify during the worst parts of the pandemic."
The CDC in March 2020 implemented Title 42 in response to the pandemic.
Morris described Title 42 as "the brainchild of Stephen Miller long before COVID-19 even existed" and a "sort of obscure public health law to exclude people from coming to the United States." Homeland Security Alejandro Mayorkas on Friday formally announced Title 42 will end on May 23.
"Ending the use of Title 42, a racist and harmful policy that was enacted by Trump is a right step for many asylum seekers, especially Black LGBTQIA+ asylum seekers that have been denied entry at the U.S.-Mexico border," Oluchi Omeoga, co-director of the Black LGBTQIA+ Migrant Project, told the Blade on Monday in a statement.
ORAM (Organization of Refuge, Asylum and Migration) Executive Director Steve Roth echoed Omeoga and Morris.
"ORAM is thrilled to see the long-overdue overturning of Title 42, a policy that put asylum seekers in harm's way in border towns and prevented them from seeking safety in the United States," Roth told the Blade. "We hope the removal of this policy will speed up the processing of asylum seekers — particularly members of the LGBTIQ community and other vulnerable groups."
Texas Congresswoman Veronica Escobar, who represents the border city of El Paso, also welcomed the end of Title 42.
"The use of Title 42, introduced by the Trump administration, effectively eliminated access to legal asylum in our country," said the Texas Democrat in a statement on March 31, the day before Mayorkas made his announcement. "I have been calling for an end to Title 42 since it began and I am hopeful that the Biden administration will soon rescind it."
U.S. Sens. Alex Padilla (D-Calif.) is among the other lawmakers who have also praised the end of Title 42. U.S. Sens. Kyrsten Sinema (D-Ariz.) and John Cornyn (R-Texas) and others have expressed concerns.
"We are concerned that DHS has not adequately prepared and developed a plan to ensure the safety of migrants, officers and our communities post-Title 42," said Sinema and Cornyn in a letter they sent to Mayorkas on March 31. "To date, we have not seen sufficient steps to avoid a humanitarian and security crisis. Consistent coordination and communication with state and local governments along the border, including small communities, is one necessary element in a successful strategy to secure the border, protect border communities and ensure migrants are treated fairly and humanely."
The Republican attorneys general of Arizona, Louisiana and Missouri on Sunday filed a federal lawsuit to block Title 42's termination.
'Remain in Mexico' policy remains in place
The Biden administration has sought to end the Migrant Protection Protocols program that forces asylum seekers to pursue their cases in Mexico, but Morris and others with whom the Blade spoke noted MPP remains in place.
"Ending Title 42 is a step in the right direction, yet at the border we are still concerned about the negative impact MPP reinstatement has upon immigrants who are still returned to Mexico to wait for their hearings," said Abdiel Echevarría-Cabán, a South Texas-based immigration attorney who is also a human rights law and policy expert.
The State Department currently advises Americans not to "travel to" or to "reconsider travel" to the Mexican states of Tamaulipas, Coahuila, Chihuahua, Sonora and Baja California — which all border the U.S. — because of "crime and kidnapping."
Blanca Navarrete is the director of Derechos Humanos Integrales en Acción (DHIA), a group that runs Casa D'Colores, a safe house for LGBTQ asylum seekers and migrants in Ciudad Juárez, which is across the Rio Grande from El Paso.
Navarette on Monday told the Blade during a telephone interview that Ciudad Juárez and other Mexican border cities remain dangerous for migrants who are at increased risk to be kidnapped, robbed, raped and trafficked. Jerlín, a transgender man who fled Honduras earlier this year, told the Blade in February before he received a humanitarian visa to enter the U.S. that he was afraid to stay in Piedras Negras, a Mexican border city that is across the Rio Grande from Eagle Pass, Texas, because "drug cartels will kidnap you."
"The end of Title 42 does not mean the border is going to be open," said Navarette.
"Title 42 is only the bottom of the egregious and plenty harmful policy that happens within our broken immigration system," stressed Omeoga. "BLMP envisions a world where no one is forced to give up their homeland, where all Black LGBTQIA+ people are free and liberated, a world where all Black people and our loved ones have housing, bodily autonomy, health and the ability to move and travel freely and with dignity, free of criminalization, anti-Black racism, misogyny and all forms of transphobia and homophobia."
Deborah, a national organizer for the Black LGBTQIA+ Migrant Project, in a statement to the Blade described the termination of Title 42 as "the right decision," but added "for many people who have been turned away from the border to face an uncertain fate, it was too little too late."
"The administration can restore the right to seek asylum without reactionary removals, detention, ankle monitors and other forms of surveillance and criminalization," said Deborah. "The Biden administration has to understand that we don't need a $527 million ICE (U.S. Immigration and Customs Enforcement) surveillance program. We need safe, equitable paths for migration." 
Escobar in her statement also reiterated her calls to reform the U.S. immigration system.
"Addressing immigration exclusively at our nation's borders represents a failure of vision and policy," she said. "Outdated policies and processes harm migrants and asylum-seekers, waste millions of dollars annually, misuse law enforcement personnel and do not make us more 'secure.' Now is the time to reform an outdated and inhumane system, and I urge the administration and Congress to implement changes I have championed."
"Our country can and must do better," added Escobar.
Passports with 'X' gender marker to become available on April 11
Secretary of State Antony Blinken made announcement Thursday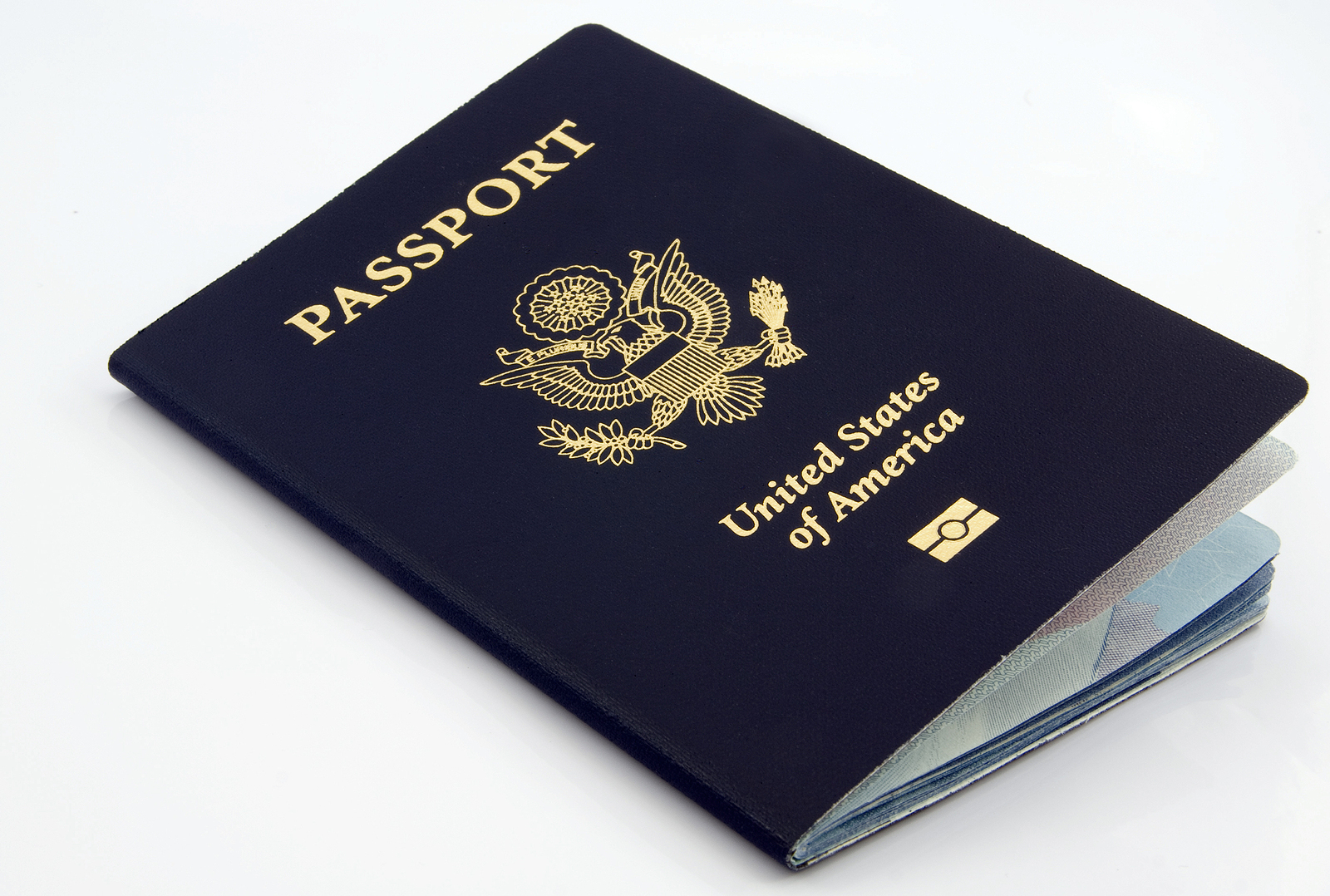 Secretary of State Antony Blinken on Thursday announced passports with an "X" gender marker will be available on April 11.
Blinken last June announced the State Department will allow passport applicants to "self-select their gender as 'M' or 'F'"
Dana Zzyym, an intersex U.S. Navy veteran who identifies as non-binary, in 2015 filed a federal lawsuit against the State Department after it denied their application for a passport with an "X" gender marker. Zzyym last October received the first gender-neutral American passport.
"The Department of State has reached another milestone in our work to better serve all U.S. citizens, regardless of their gender identity," said Blinken on Thursday in a statement. "In June, I announced that U.S. passport applicants could self-select their gender and were no longer required to submit any medical documentation, even if their selected gender differed from their other citizenship or identity documents."
"Starting on April 11, U.S. citizens will be able to select an 'X' as their gender marker on their U.S. passport application, and the option will become available for other forms of documentation next year," he added.