Dispatch from Honduras
U.S. seeking former president's extradition on drug charges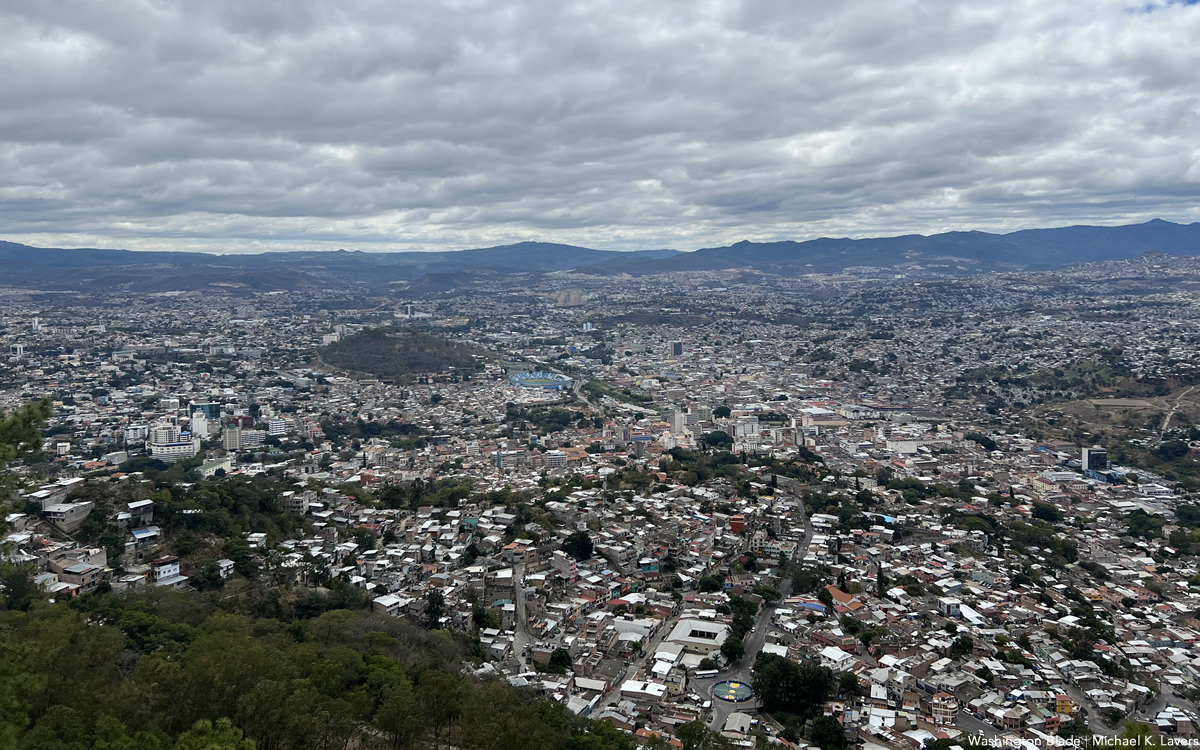 I was once again on assignment for the Washington Blade in Honduras from Feb. 6-11. I interviewed Víctor Grajeda, the first openly gay man elected to the Honduran Congress, and met Indyra Mendoza, founder of Cattrachas, a lesbian human rights group, at her office in Tegucigalpa, the country's capital and largest city. I visited Dunia Orellana and Amílcar Cárcamo of Reportar sin Miedo, the Blade's media partner in Honduras. I also had more than my share of "granitas de café," or "iced coffees," while in the country.
Honduras is one of the most violent and corrupt countries in the Americas.
The situation on the ground last July when I was on assignment in San Pedro Sula, the country's second largest city, and in the cities of Tela and La Ceiba on Honduras' Caribbean coast, was tense.
The trip took place against the backdrop of growing concerns over what would happen if the results of the presidential election that was scheduled to take place less than five months later were disputed. A pandemic-related curfew that was in place also added to this sense of uneasiness.
The situation on the ground on this most recent trip to Honduras felt slightly different.
President Xiomara Castro, a member of the leftist Free Party whose husband, former President Manuel Zelaya was removed from office in a 2009 coup, took office on Jan. 27.
Castro defeated Nasry Asfura, a member of now former President Juan Orlando Hernández's National Party who is Tegucigalpa's former mayor, in the presidential election's first round that took place last Nov. 28. Vice President Kamala Harris and U.S. Agency for International Development Administrator Samantha Power are among the foreign dignitaries who attended Castro's inauguration that took place at Honduras' national stadium in Tegucigalpa. Grajeda and our Reportar sin Miedo colleagues were also on hand to witness the moment when Honduras' first female president took office.
"I was there for this historic moment," said Erick Martínez, a long-time activist who ran for Congress in 2017, during an interview in San Pedro Sula on Feb. 8. "I was crying in this full stadium; crying with pride; with joy; with sadness for the people who were not there."
Martínez specifically mentioned Walter Tróchez and Erick Martínez Ávila, two Honduran LGBTQ activists who were murdered in December 2009 and May 2012 respectively. The Inter-American Court of Human Rights in a landmark ruling it issued last June said the Honduran state was responsible for the murder of Vicky Hernández, a transgender activist who was killed in San Pedro Sula hours after the 2009 coup.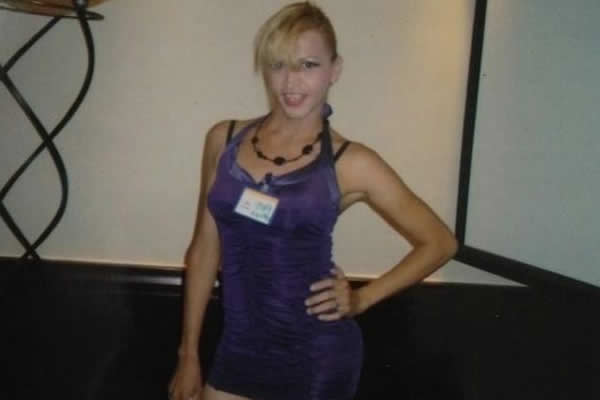 Juan Orlando Hernández was president of Congress from January 2010 to June 2013. He became the country's head of state in 2014.
The Supreme Electoral Tribunal declared Hernández the winner of the 2017 presidential election, despite widespread irregularities and criticism that his decision to run for a second term violated the Honduran constitution. The disputed election results sparked widespread protests across the country that left dozens of people dead.
Juan Orlando Hernández did not attend Castro's inauguration.
I was driving to interview Grajeda in San Pedro Sula when I read a press release from Secretary of State Antony Blinken that announced the U.S. had sanctioned Juan Orlando Hernández for corruption.
Honduran authorities on Feb. 15 arrested Juan Orlando Hernández at his Tegucigalpa home after the U.S. asked for his extradition on drug and weapons charges. Federal prosecutors allege Juan Orlando Hernández used drug trafficking to fund his political campaigns.
Juan Orlando Hernández's brother, former Congressman Juan Antonio "Tony" Hernández, is serving a life sentence in the U.S. after a federal jury convicted him of trafficking tons of cocaine into the country. I was driving from San Pedro Sula to Tegucigalpa on Feb. 8 when I heard on the radio that a federal judge in New York had sentenced Geovanny Fuentes Ramírez, a drug trafficker who allegedly bribed Juan Orlando Hernández and other Honduran government officials, to life in prison.
Honduras was certainly a "narco state" when Juan Orlando Hernández was president.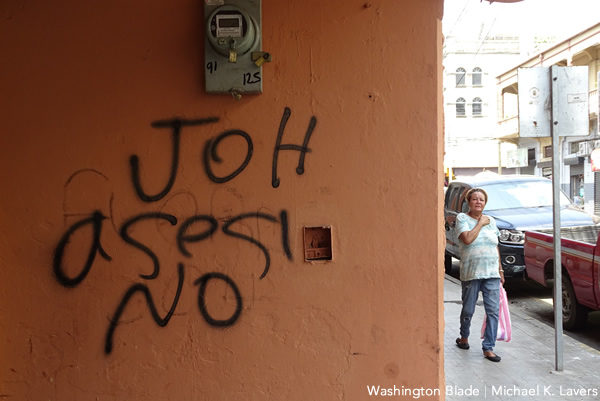 Castro, for her part, has publicly supported marriage equality and backs legal recognition of trans Hondurans and what Grajeda described as "safe spaces" for LGBTQ people.
Six gay men and a trans man have been reported killed in Honduras since Castro took office. Police continue to face criticism over the investigation into the Jan. 11 murder of Thalía Rodríguez, a prominent trans activist who was shot in front of her Tegucigalpa home. Jerlín, a trans man who I interviewed last July in La Ceiba, fled the country weeks before Castro took office and plans to ask for asylum in the U.S.
None of the sources with whom I spoke in Honduras are naive to the many challenges that Castro and her government face. They are also waiting to see whether the new government in Tegucigalpa will have a tangible impact on the lives of LGBTQ Hondurans who continue to face rampant violence and discrimination.
We shall see.
India prepares for marriage equality ruling
Supreme Court hearing to take place on April 18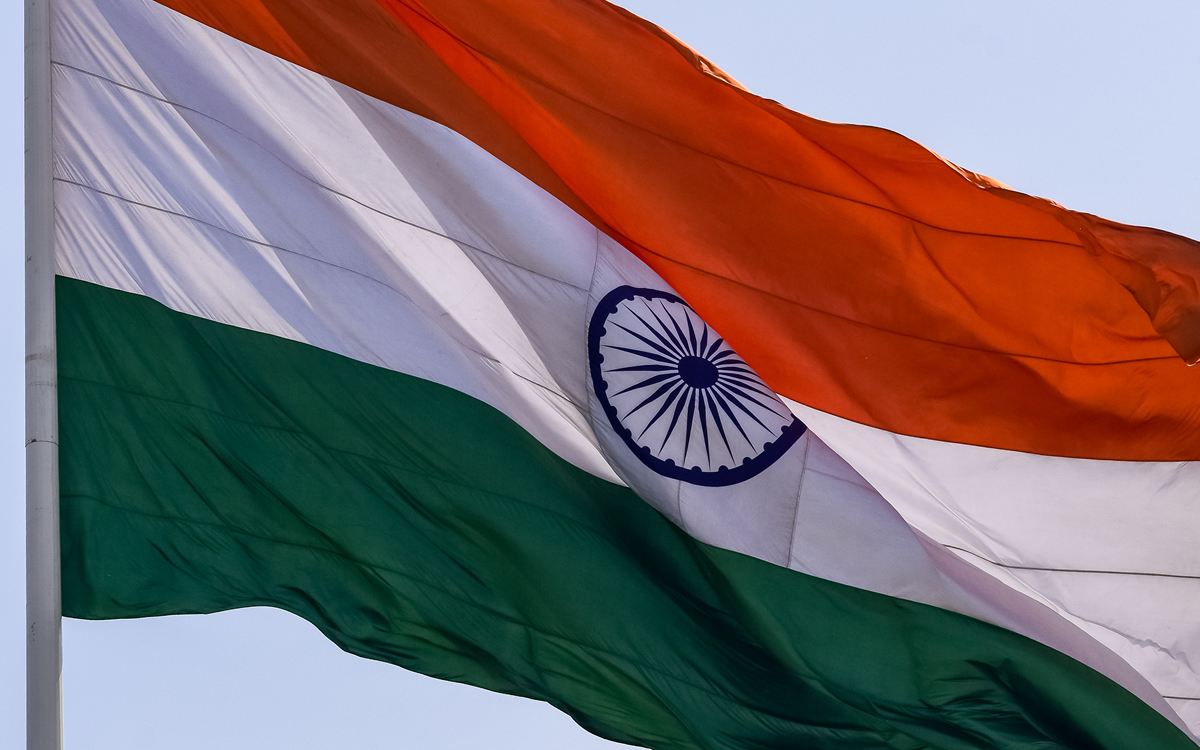 The world's largest democracy is at the crossroad of monumental change.
India's more than 2.5 million LGBTQ and intersex people are looking at the country's Supreme Court with great hopes because it will hold another hearing on marriage equality on April 18.
The five justices on March 13 heard the issue.
The Supreme Court last Dec. 14 asked the Indian government to respond to two petitions seeking a transfer of marriage equality petitions before the Delhi High Court to itself. The government on March 12 filed a response to the Supreme Court.
The government opposed legal recognition of same-sex marriage and told the highest court that same-sex couples living together as partners and having a sexual relationship with the same sex individual, which is now decriminalized, is not comparable with Indian family unit — a husband, a wife and a child born out of the union. The government also told the Supreme Court that same-sex marriage is not compatible with the Indian ethos and morality.
According to the response filed by the government in the high court, the institution of marriage is crucial in India. It provides a sense of safety, security and companionship for the members of society. It plays a crucial role in the rearing of children and impacts their upbringing. While objecting to same-sex marriage in India, the federal government said that marriage between a biological male and female fall under personal law or laws — the Hindu Marriage Act of 1955, the Christian Marriage Act of 1872, the Parsi Marriage and Divorce Act of 1936, the Special Marriage Act of 1954 and the Foreign Marriage Act of 1969.
The April 18 hearing will be live telecast on the Supreme Court's website and YouTube.
"The Indian Constitution gives equal rights to everybody. You cannot differentiate based on the gender of the people. Whether it's the transgender rights bill or abrogation of section 377, everyone has recognized the presence of the LGBTQ community," said Vijay Nair of Udaan Trust, an organization based in Mumbai. "How can you discriminate just based on male or female? The constitution does not discriminate based on gender, but the people running the constitution are now doing that, which is very unethical."
Nair, while talking with the Washington Blade, said that he has faith in the Supreme Court as the court will give the verdict based on justice prevailing for anyone in the society, whether it is positive or negative or neutral, the court will deliver justice and will treat everyone equally.
Law and Justice Minister Kiran Rijiju, while appearing on India Today Conclave, a news TV program that invites experts, politicians and think tanks to discuss different issues in the country, on March 18 said Parliament must debate same-sex marriage and draft a law because it has representatives from across the country. Rijiju suggested that the Supreme Court could later change the status if it finds the decision against the spirit of the constitution.
Nair, while reacting to Rijiju's statement, told the Blade that it is always good to take people on board because it should be a consultative process.
"People should not be unaware of things and it is always good to have people's consultation," said Nair. "We are okay with the process."
Sadam Hanjabam, founder of Ya_all, an LGBTQ and intersex rights organization based in Manipur, told the Blade the government still looks at the family from the angle of male and female.
"If we look into the judgment of section 377, where it was said that homosexuals were criminal. But again, the judgment conflicts this time when saying two people who love each other must be a man and a woman. The government needs to reconsider the fact from the point of human beings rather than just gender," said Hanjabam. "It is a very long route going through the Parliament as tried earlier. Many of the members of Parliament are unaware of this issue. So even if it is discussed or brought up in the Parliament, it is a new issue to them, and it is not an important issue to them. So, the best way is to go to the Supreme Court because it was the Supreme Court who removed section 377."
The Supreme Court in 2018 struck down Section 377, a colonial-era law that criminalized homosexuality in India.
While there is a wide discussion going on in the country on same-sex marriage, a group of former judges on March 24 publicly opposed marriage equality.
"We respectfully urge the conscious members of the society including those who are pursuing the issue of same-sex marriage In Supreme Court to refrain from doing so in the best interest of Indian society and culture," reads the statement. "The marriage, as well as the family system in India, is sui generis. In our humble opinion, legalizing same-sex marriage will strike at the very root of the family system and thus will have a devastating impact on society at large."
Ankush Kumar is a freelance reporter who has covered many stories for Washington and Los Angeles Blades from Iran, India and Singapore. He recently reported for the Daily Beast. He can be reached at [email protected] He is on Twitter at @mohitkopinion. 
LGBTQ ally Humza Yousaf becomes Scotland's next first minister
Nicola Sturgeon resigned in February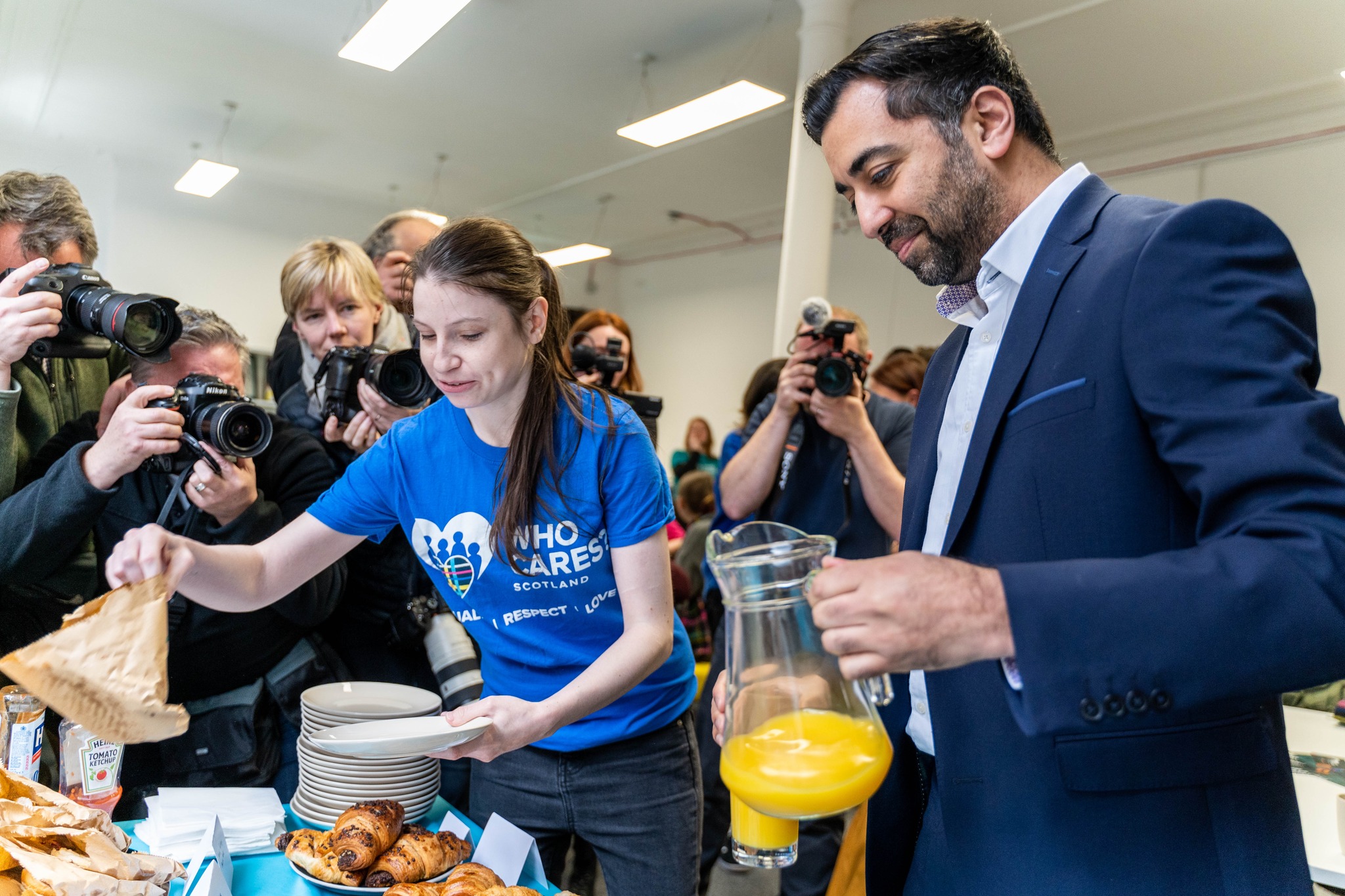 Humza Yousaf, in a tumultuous election race for leadership of the Scottish National Party pitted against socially conservative rivals Kate Forbes and Ash Regan, was elected Monday as SNP leader. He becomes the first Muslim to lead a major U.K. political party and the first Muslim to lead a European democracy.
In a vote in the Scottish Parliament (Holyrood) on Tuesday, Yousaf was confirmed as Scotland's next first minister, replacing Nicola Sturgeon. Sturgeon had resigned as the SNP leader and Scotland's first minister last month, setting off a close contest within the party to succeed her.
Her decision was tied to two key political challenges: The future of the independence campaign and changes to Scotland's gender recognition laws. In January Sturgeon castigated the conservative government of U.K. Prime Minister Rishi Sunak for blocking the Gender Recognition Reform (Scotland) Bill from being signed into law by King Charles III.
The Gender Recognition Reform bill introduced by the Scottish government in Holyrood last spring was passed in a final 86-39 vote days before this past Christmas. The sweeping reform bill modifies the Gender Recognition Act, signed into law in 2004, by allowing transgender Scots to gain legal recognition without the need for a medical diagnosis.
The measure further stipulates that age limit for legal recognition is lowered to 16.
The Guardian noted the most pressing question is how a change of leadership affects the Scottish government's plans to contest the U.K.'s decision to block the bill, which it did using section 35 of the Scotland Act 1998, described by sources as "the nuclear option." Scottish ministers have three months from the date the section 35 order was laid — Jan. 16 — to contest it.
PinkNewsUK reported that Yousaf had received a tidal wave of support and well wishes after his victory was announced. SNP MP John Nicolson said that Yousaf led a "positive and bold campaign."
"Humza knows that young voters love our party's vision of a liberal, progressive, egalitarian independent Scotland," Nicolson said. "His campaign promised a progressive agenda of fair taxation, defending LGBT+ rights from Westminster attack, and support for the vulnerable at home and abroad."
Speaking to PinkNews, Nicolson added: "I think young people want a Scotland which is socially progressive and liberal. And for young people, independence isn't about a face, but it's about the kind of country that they imagine independent Scotland could be — a progressive country — and Humza very deliberately tapped into that in the course of the election campaign and made it very clear what his views were and championed that."
During the campaign Yousaf had promised voters, "If elected Scottish National Party (SNP) leader and Scotland's next first minister, I'll build on our track record of promoting and protecting the rights of LGBTQ+ people by: (1) banning conversion practices and (2) embedding LGBTQ+ rights in an independent Scotland's constitution."
Lots of 🏳️‍🌈 🏳️‍⚧️ LGBT+ people are breathing a collective sigh of relief with @HumzaYousaf on track to be Scotland's sixth First Minister. The fact we came 𝘀𝗼 𝘃𝗲𝗿𝘆 close to the alternative ought not to be forgotten. We all need to be involved in writing Scotland's next chapter.

— Rob McDowall AMRSPH FRSA (@robmcd85) March 27, 2023
Scotland chose to reject transphobia and anti abortion religious fundamentalism. 👏❤️🏴󠁧󠁢󠁳󠁣󠁴󠁿🏳️‍🌈 https://t.co/tPW8QHwIYj

— Esme (@discount_Ripley) March 27, 2023
A political commentator and SNP source told the Washington Blade on Monday they are "happy with the result and motivated by what is to come. Humza has secured the continuation of a progressive agenda. I think he will be more popular as he becomes more well-known."
Netanyahu postpones efforts to reform Israel's judiciary
LGBTQ, intersex rights groups part of nationwide protest movement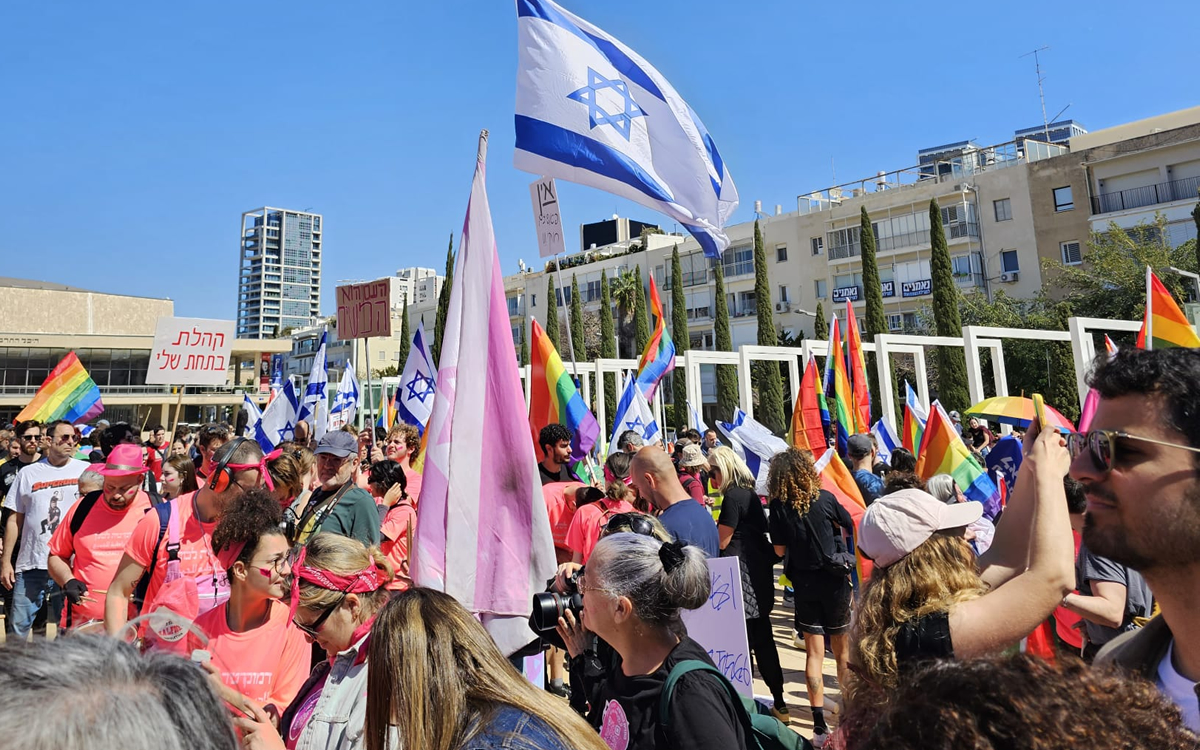 Israeli Prime Minister Benjamin Netanyahu on Monday announced he has postponed efforts to reform the country's judicial system.
The announcement, which Netanyahu made during a prime-time speech, came after a nationwide strike paralyzed the country. 
Netanyahu on Saturday fired Defense Minister Yoav Gallant after he publicly criticized the proposed reforms. Asaf Zamir, the Israeli consul general in New York, resigned in protest.
Elad Strohmayer, the openly gay spokesperson for the Israeli Embassy in D.C., on Monday in a tweet acknowledged the embassy will be closed "today until further notice and no consular services will be provided." The embassy has since reopened.
"Today (3/27), the Histadrut, Israel's largest labor union, instructed all government employees to go on strike, including Israel's diplomatic missions around the world," tweeted Strohmayer.
Today (3/27), the Histadrut, Israel's largest labor union, instructed all government employees to go on strike, including Israel's diplomatic missions around the world. The Embassy of Israel will be closed today until further notice and no consular services will be provided.

— Elad Strohmayer (@EladStr) March 27, 2023
The Associated Press notes the proposed reforms would "increase" the coalition government's "control over judicial appointments and diminish the (Israeli) Supreme Court's ability to strike down laws" the Knesset approves. 
Netanyahu's coalition government took office in December.
Critics of the proposed reforms, among other things, have noted Netanyahu is pushing for the proposed reforms in order to avoid his conviction on fraud and corruption charges for which he is currently on trial.  
WDG, the Washington Blade's media partner in Israel, has reported LGBTQ and intersex people and advocacy groups have joined the protest movement against what has been described as an attempted "coup d'état" since it began in January. Aguda Chair Hila Peer during a demonstration that took place in Tel Aviv earlier this month said the current "government has a clear agenda and the LGBTQ community is one of the first in line."
"This is not legal reform, it is a gun that is being held to the head of the LGBTQ community. They are destroying the only body that protects human rights, so that later they can enact whatever they want against us," said Peer. "This government has brought up the worst haters of freedom, of equality and of the LGBTQ community, It gave them power over our families, over our rights. We faced crazier, meaner, more violent and broke every closet they ever dared to try build for us."