Trinidad and Tobago's first transgender senator sworn in
Jowelle De Souza owns beauty salon, champions animal rights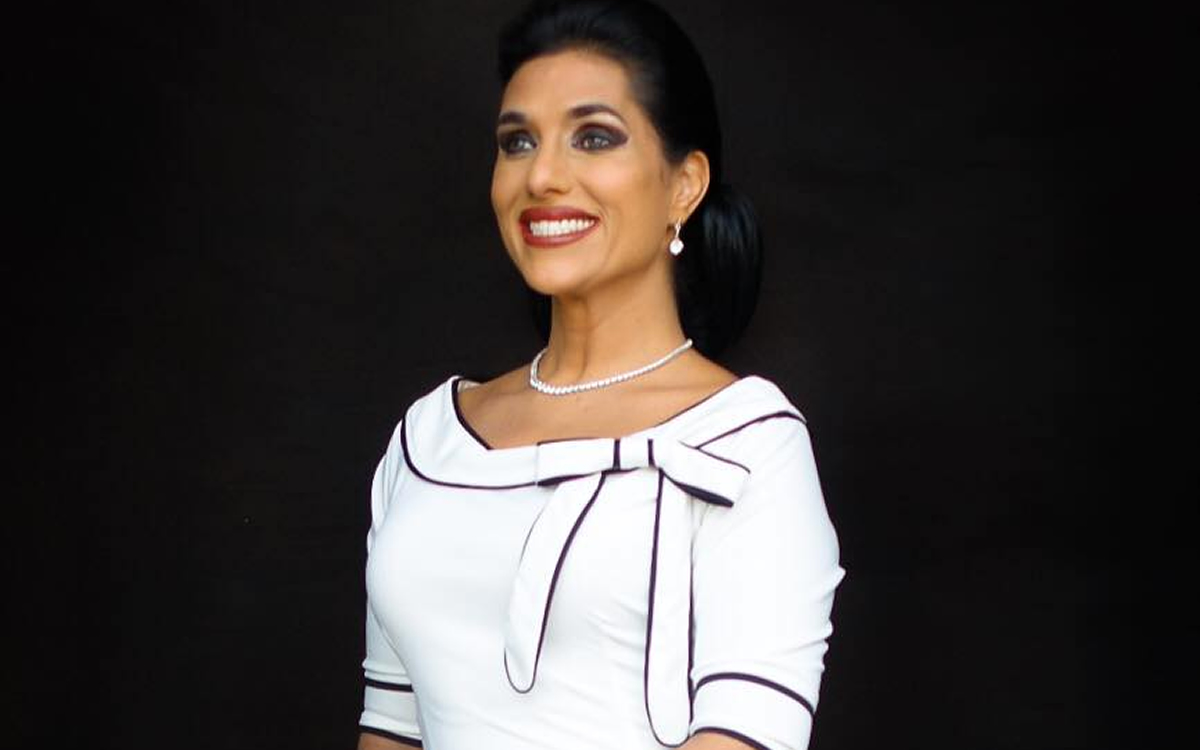 An activist in Trinidad and Tobago on Feb. 15 became the country's first openly transgender senator.
Local media reports note Jowelle De Souza is filling-in for the ailing Sen. Jayanti Lutchmedial, a member the United National Congress, a center-left opposition party.
"Always happy to serve my country," said De Souza in an Instagram post.
De Souza, who is also an animal rights activist, owns a beauty salon in San Fernando, the country's second largest city.
De Souza in 1993 became the first person to undergo sex-reassignment surgery in Trinidad and Tobago.
Maykel González Vivero of Tremenda Nota, the Washington Blade's media partner in Cuba who reported from Trinidad and Tobago in 2017 for the Institute for War and Peace Reporting, noted De Souza in 1997 became the first trans person to file a lawsuit against the country's government.
De Souza alleged the police officers who arrested her during a protest violated her constitutional rights when they harassed her because of her gender identity. De Souza settled her lawsuit out of court.
De Souza unsuccessfully ran for Parliament in 2015.
Trinidad and Tobago's nondiscrimination laws do not include gender identity and sexual orientation. A High Court judge in 2018 struck down the country's colonial-era sodomy statute.
Congolese rebel group displaces transgender people
Refugee camp residents consider trans women sorcerers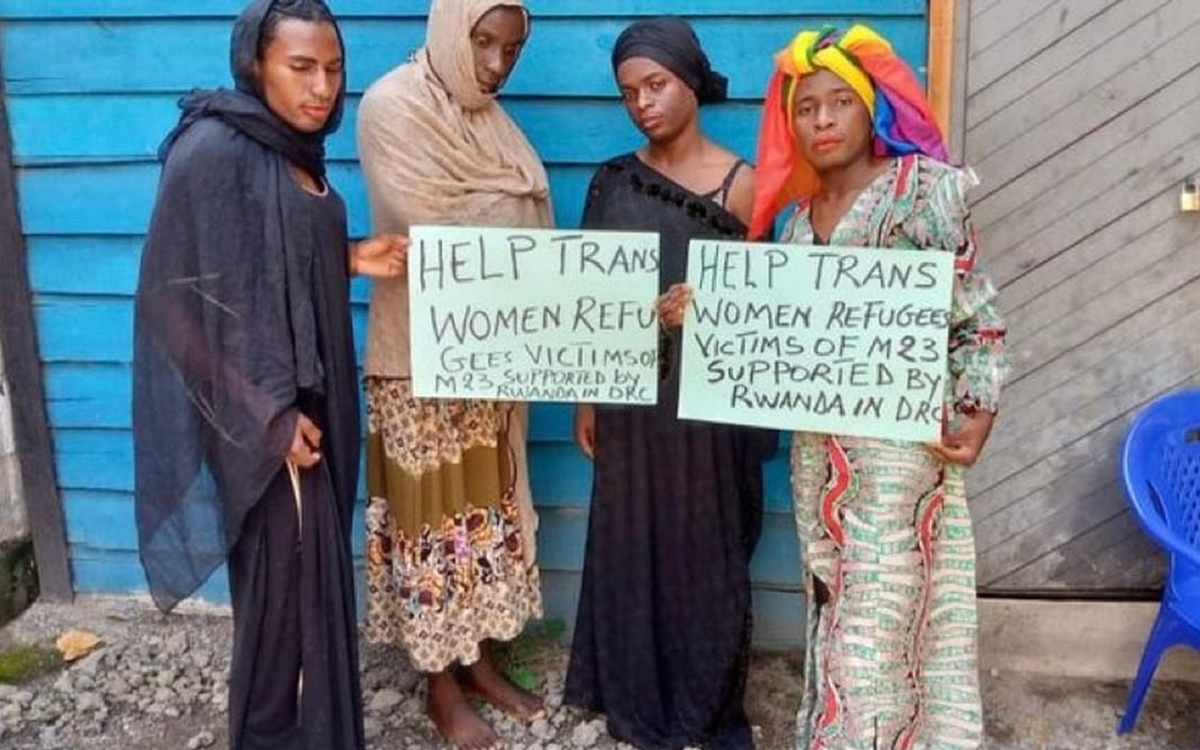 M23 rebels in Congo's North Kivu province have displaced a number of transgender people and left them even more vulnerable to persecution.
M23 rebels last November approached Goma, the province's capital city, and forced around 180,000 people to leave their homes. Jérémie Safari, coordinator of Rainbow Sunrise Mapambazuko, a Congolese LGBTQ and intersex rights group, told the Washington Blade that residents of the Kibumba camp where displaced people have settled have refused to assist trans people and have accused them of being sorcerers.
"Trans people went (through) war like everyone else," said Safari. "In the Kibumba camp where the displaced have settled, the local community there has refused trans people access, accusing them of being sorcerers, bad luck charms and of being the origin of the war following their evil practice." 
Safari said other displaced people who did not want trans women in the camp have attacked them. Safari said these trans women currently sleep in the street in Kibumba without food.
Safari, in addition, said the government has done little to help these displaced trans people, even though consensual same-sex sexual relations are not criminalized in the country.
"The displaced people received help but not the trans people since they do not live in the camp and also the government is still extremely hostile towards LGBTIQA+ organizations in the DRC (Democratic Republic of the Congo). No LGBTQA+ organization can be legally recognized by the Congolese State," said Safari.
Safari said Rainbow Sunrise Mapambazuko currently needs funds to provide housing, food and medicine to the displaced trans people.
"If we could have $7,000 (U.S. dollars) firstly for their survival, since we are afraid of their life and their health which is in danger, that would be of immense help," said Safari.
The M23 since last May has demonstrated increased firepower and defensive capabilities that have enabled the group to overrun U.N.-backed Congolese troops and hold territory.
The U.N. says the fighting between Congolese troops and M23 rebels has forced nearly 200,000 people to flee their homes.
Human Rights Watch has called upon the U.N., the African Union and governments to publicly denounce M23 abuses found to have been committed by other combatants, maintaining sanctions against senior M23 commanders and expanding them to those newly found responsible for serious abuses and senior officials from across the region complicit in them. Human Rights Watch also said any political settlement should not include amnesty for those responsible for human rights abuses and prevent responsible M23 commanders to integrate into the Congolese armed forces. 
"The government's failure to hold M23 commanders accountable for war crimes committed years ago is enabling them and their new recruits to commit abuses today. Civilians in eastern Congo should not have to endure new atrocities by the M23," said Thomas Fessy, a senior DRC researcher at Human Rights Watch.
M23 sprung from elements within the Congolese army in 2012.
The rebel group claims it is defending the rights of Congolese Tutsi and originally comprised of soldiers who participated in a mutiny from the Congolese army in April-May 2012. They claimed their mutiny was to protest the Congolese government's failure to fully implement the March 23, 2009, peace agreement — M23 derives from this date — that had integrated them into the Congolese army.
The Congolese army and the U.N. Force Intervention Brigade defeated M23 in November 2013, and its members fled to Rwanda and Uganda. The group re-emerged in November 2021.
Daniel Itai is the Washington Blade's Africa Correspondent.
Ukrainian ambassador to U.S. highlights support of LGBTQ, intersex rights
Oksana Markarova spoke at servicemembers photo exhibit in D.C.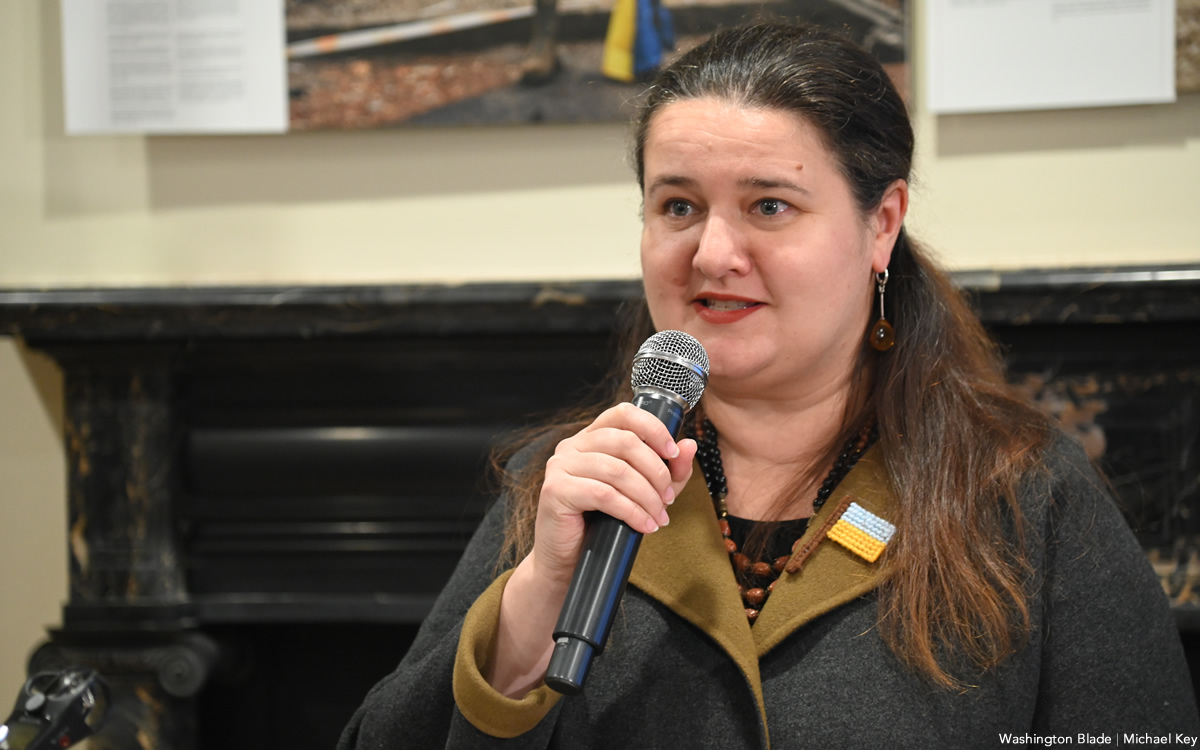 Ukrainian Ambassador to the U.S. Oksana Markarova on Jan. 26 spoke in support of LGBTQ and intersex rights during an event that highlighted her country's LGBTQ servicemembers.
"(The) LGBTQ+ community is an inseparable community of us, whether it's here or in Ukraine," said Markarova. "The faster we can stop any discrimination, the faster we will win, not only in the battlefield in Ukraine, but we also will win globally."
Markarova spoke during a photo exhibit at Ukraine House that showcased LGBTQ and intersex Ukrainian servicemembers.
QUA – LGBTQ Ukrainians in America, the Ukrainian Union of the LGBT Military and KyivPride organized the exhibit that features photographs from Alim Yakubov, a Crimean Tartar who moved to Kyiv, the Ukrainian capital, after Russia annexed the peninsula in 2014.
KyivPride Executive Director Lenny Emson, QUA – LGBTQ Ukrainians in America President Bogdan Globa and U.S. Agency for International Development Senior LGBTQI+ Coordinator Jay Gilliam are among those who spoke alongside Markarova.
Viktor Pylipenko, an openly gay Ukrainian servicemember who founded the Ukrainian Union of the LGBT Military, spoke via a video from the frontlines of Russia's war against his country. A Russian missile attack forced him to end his remarks and seek shelter.
"I want to thank all of them for their service to country," said Markarova. "It's unbelievable and (the) ultimate sacrifice to be there in harm's way."
Markarova also described Globa as "a leader for all Ukrainians here" and said she is "really thankful for all the activities that we do together, and everything that you do." Globa later told the Washington Blade that Markarova is the first Ukrainian ambassador to speak at an LGBTQ-specific event in the U.S.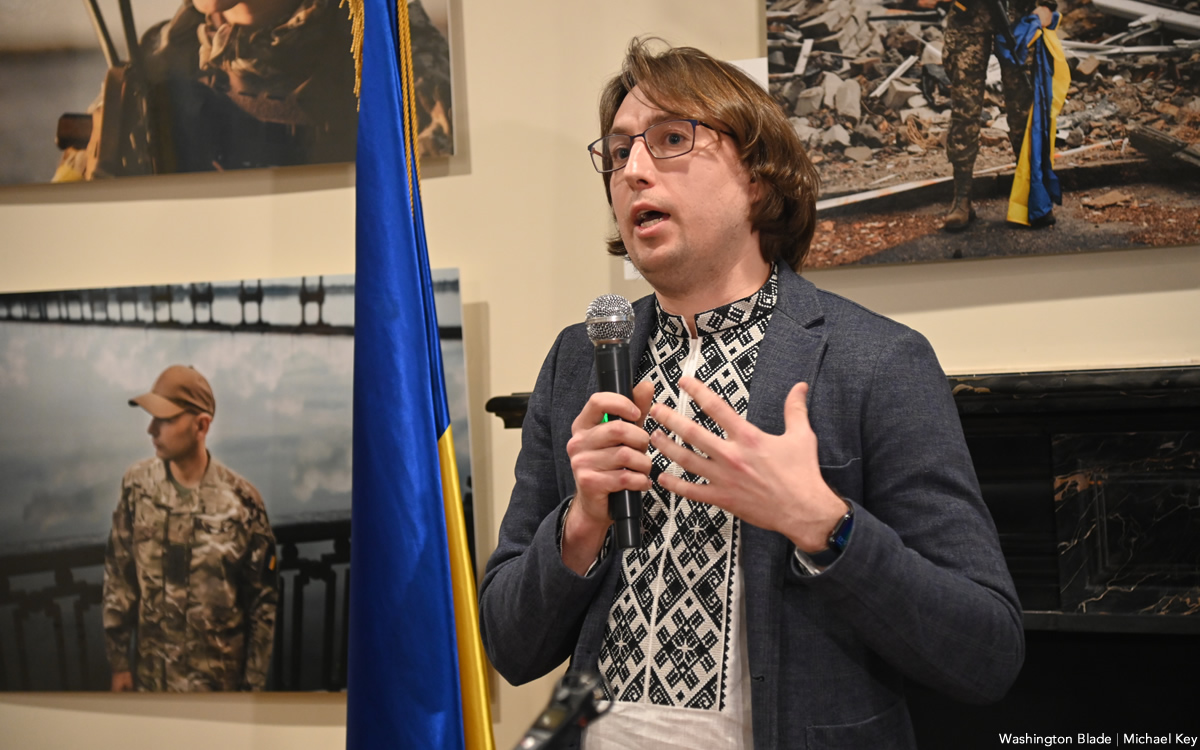 President Volodymyr Zelenskyy in 2021 pledged Ukraine would continue to fight discrimination based on sexual orientation and gender identity after he met with President Joe Biden at the White House.
Russia on Feb. 24, 2022, launched its war against Ukraine.
Zelenskyy last summer said he supports a civil partnership law for same-sex couples.
Ukrainian lawmakers last Dec. 15 unanimously approved a media regulation bill that bans hate speech and incitement based on sexual orientation and gender identity. Zelenskyy less than a week later traveled to D.C.
Zelenskyy, a former actor and comedian, earlier this month made a broad reference to LGBTQ and intersex rights in a virtual Golden Globes appearance.
Markarova praised Emson and Kyiv Pride and other Ukrainian LGBTQ and intersex rights groups that include Gender Z and Insight.
"Thank you for everything you do in Kyiv, and thank you for everything that you do in order to fight the discrimination that still is somewhere in Ukraine," said Markarova, speaking directly to Emson. "Not everything is perfect yet, but you know, I think we are moving in the right direction. And we together will not only fight the external enemy, but also will see equality."
"It's a constant fight," added Markarova. "It's a fight that makes us better. It's a fight that makes us freer, and it's a fight that ultimately will give us the opportunity to live in the country where everyone again, regardless of their nationality, religion, color of their skin or sexuality, can live where they want to live."
Markarova also noted Russia "brutally crossed the border and attacked us in 2014 and again attacked us now." She added her country is "also fighting for something bigger."
"We are fighting for our right to live how we want to live. We are fighting for our democracy. We're fighting for the right to choose who we want to choose and whether it has to do with the government or whether it has to do with who we love and how we believe and this is very important," said Markarova. "This is what differentiates Ukraine from Russia that attacks us; that we are free, we are democratic and we want to live like we want to live. That's why we will never give up or surrender again."
LGBTQ Holocaust victims remembered on International Holocaust Memorial Day
Up to 15,000 gay men sent to concentration camps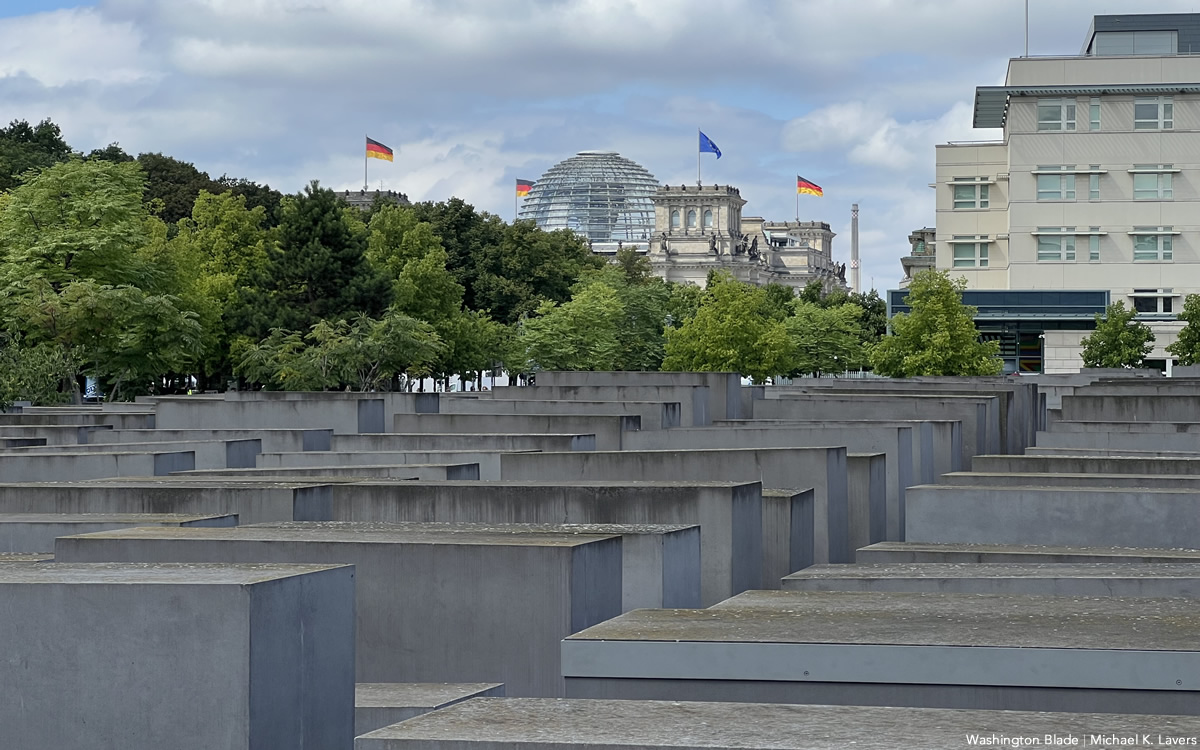 Ordinary People is the theme for International Holocaust Memorial Day 2023 as around the globe the day is set aside for everyone to remember the millions of people murdered in the Holocaust under Nazi persecution.
The Nazis targeted anyone they believed threatened their ideal of a "pure Aryan race," including Roma and Sinti people, disabled people, LGBTQ people, political opponents and others.
In a statement released by the U.S. Embassy in Lithuania, whose ambassador, Robert S. Gilchrist, is openly gay, a coalition consisting of other nation's diplomatic missions to the Baltic nation, including Israel, Germany, the Netherlands, Japan and the European Commission noted:
"As we mark International Holocaust Remembrance Day, we commemorate the Holocaust of six million Jews, men, women and children, including more than 200,000 Jews murdered in Lithuania. We remember other communities who were also murdered: Roma, disabled persons, LGBTQI+ persons, Slavs and others. We do not forget that the Nazis committed these heinous crimes with the support of local collaborators throughout Europe. And we remember the heroism of countless people who, at great personal risk, stepped in to save thousands of Jews."
Amy Gutmann, the U.S. ambassador to Germany, tweeted: "Today we remember the horrors of the Holocaust and the six million Jews, and millions of Roma, Sinti, Slavs, persons with disabilities, LGBTQ+ individuals and political dissidents murdered by the Nazis and their collaborators." Gutmann added: "As my father, a German Jew forced to flee Germany in 1934 said, "Everything we do — and everything we don't do — makes a difference."
Today we remember the horrors of the Holocaust and the six million Jews, and millions of Roma, Sinti, Slavs, persons with disabilities, LGBTQ+ individuals, and political dissidents murdered by the Nazis and their collaborators. pic.twitter.com/wfjBnCeoUB

— Ambassador Amy Gutmann (@USAmbGermany) January 27, 2023
PinkNewsUK journalist Patrick Kelleher wrote:
"It is thought that up to 50,000 gay men received severe prison sentences under Nazi rule. According to the Holocaust Memorial Day Trust, most were sent to police prisons, but between 10,000-15,000 were sent to concentration camps.
Life for queer people in Weimar Germany was a very different picture to what it would become under the Nazis.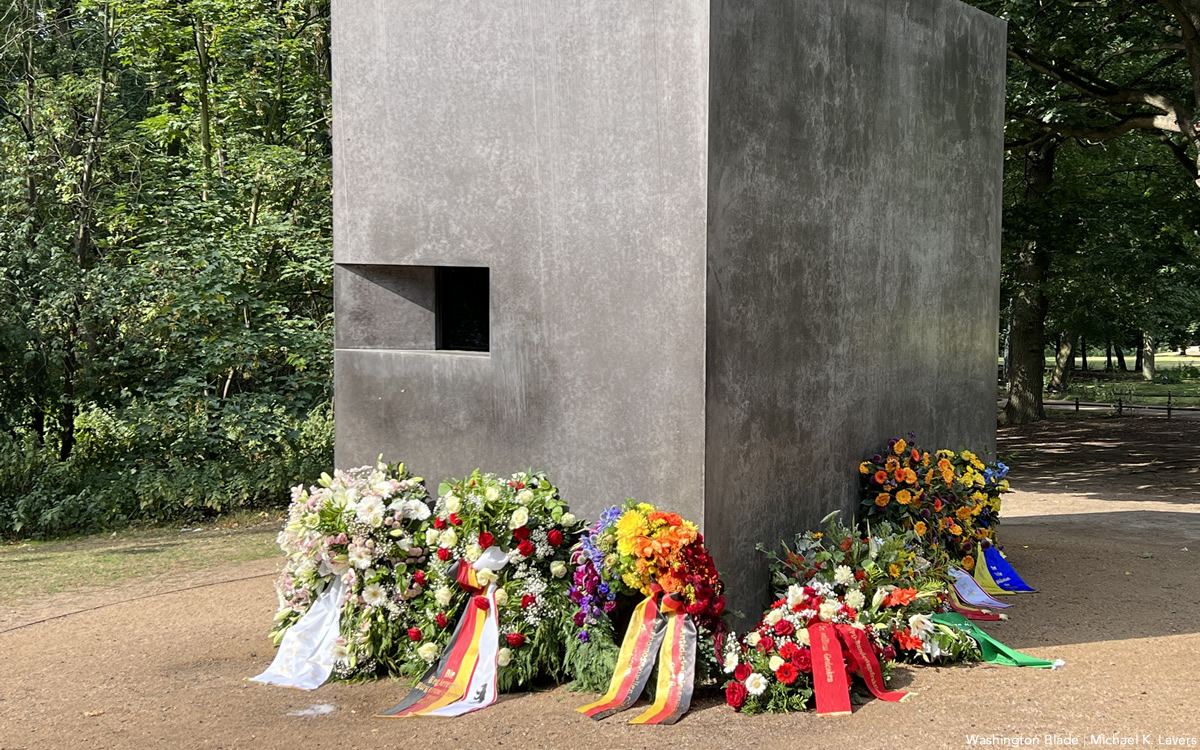 There were gay bars, there was a functioning queer scene — there was even an institute for sexual research, a concept that would be impossible to imagine in most European cities of the day.
When the Nazis came to power in 1933, everything changed. In the years that followed, millions of Jews, alongside other minority groups, were rounded up, tortured and murdered in concentration camps, up until 1945."
David Pressman, the U.S. ambassador to Hungary who arrived in that country with his husband and their two children last fall, also remembered the Holocaust in a tweet:
January 27, 2023