Mexico issues first non-binary birth certificate
Guanajuato Civil Registry issued document to activist on Feb. 11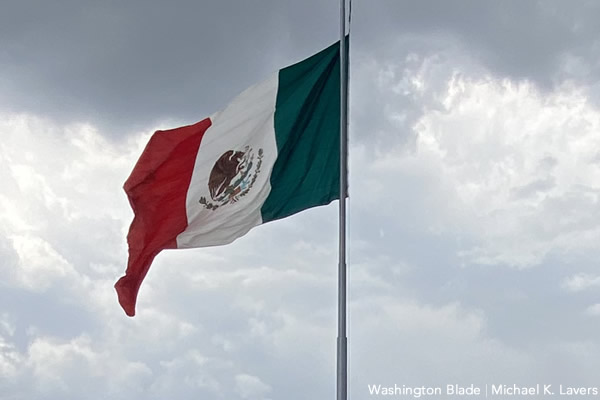 An LGBTQ activist in Mexico has received the country's first birth certificate with a non-binary gender marker.
Fausto Martínez last September petitioned Mexico's National Electoral Institute to list their gender as "NB" on their official documents.
Martínez and Amicus, an advocacy group that is based in the state of Guanajuato, sought legal recourse, known as an "amparo" in the Mexican judicial system, after the National Electoral Institute denied the request. A judge ruled in favor of Martínez last month, and the Guanajuato Civil Registry on Feb. 11 issued them a birth certificate with a non-binary gender marker.
"I have always said what is not named does not exist," said Martínez in a tweet after they received their new birth certificate. "The fact of the matter is the Mexican state recognizes that we non-binary people exist and with that we are subject to rights and obligations."
Amicus Director Juan Pablo Delgado on Monday told the Washington Blade the issuance of Martínez's amended birth certificate is a victory for non-binary Mexicans.
"When looking for the root causes of discrimination and violence against LGBTQ+ people, we find that there are at least three imposed social norms where prejudice and stigmatization begin: Heteronormativity, cisnormativity and the gender binary," said Delgado. "The former two have been continuously challenged since the first same-gender couples and trans women and men were initially recognized by law in the country. However, this is the first time where the gender binary loses a legal battle as there's no previous record of the issuance of an official identification in favor of a non-binary person."
Mexico's Foreign Affairs Ministry last month announced transgender people who were born in Mexico can receive an amended birth certificate at any of the country's consulates.
Amicus represented two trans Mexicans who brought legal action after consulates in the U.S. denied their request for birth certificates that correspond with their gender identity. Victory Institute International Programs Manager Mateo de la Torre on Jan. 19 received an amended birth certificate at the Mexican Consulate in D.C. after the new policy took effect.
"This birth certificate comes after a decade of living in my truth as a transgender man and after years of advocating for my right to be recognized as such," De La Torre told the Blade after he received his new birth certificate. "In Mexico and abroad, many trans people face discrimination, violence and endless bureaucratic hurdles in their fight for legal recognition, and after all this time I am most grateful for the ability to vote in my country's elections."
Indigenous transgender woman in Chile champions her communities
Claudia Ancapán Quilape fought six years for legal recognition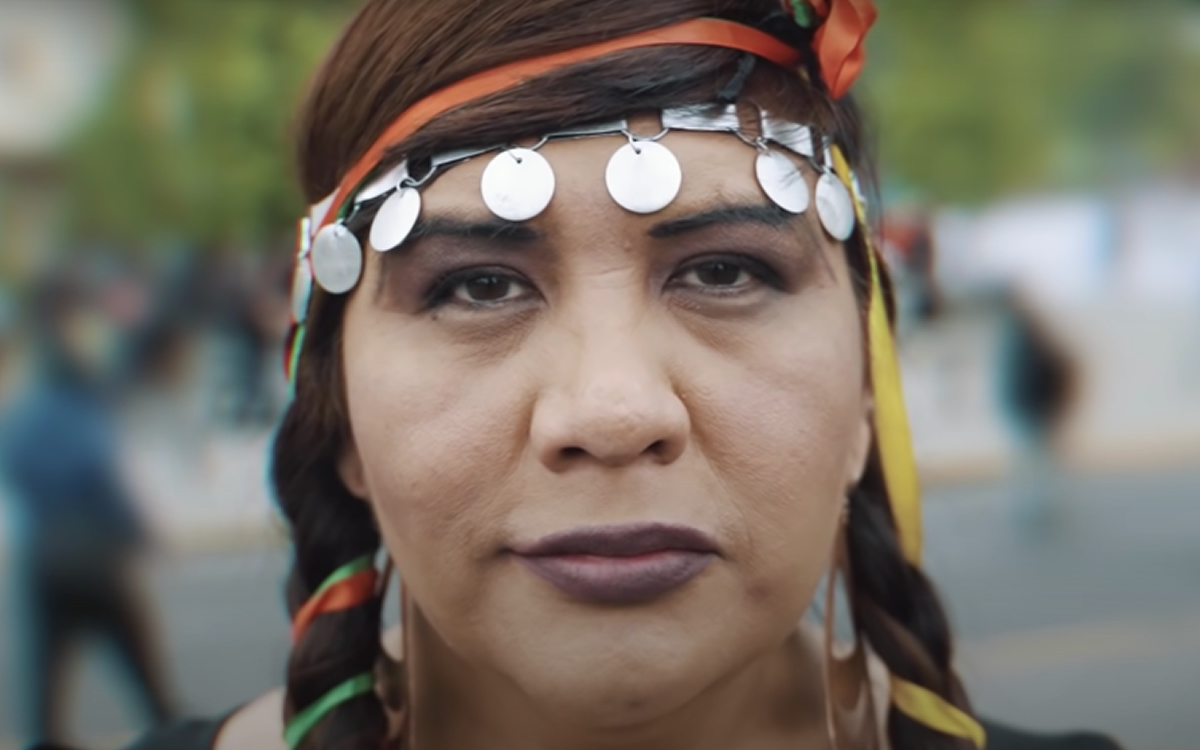 Being a transgender woman in South America is not easy when her average life expectancy in the continent is 35 years. It is even more difficult for those who are of indigenous descent.
Claudia Ancapán Quilape, an indigenous trans woman with a Huilliche father and a Mapuche mother, has turned her fate around.
Ancapán is 46-years-old and lives in Recoleta in the Chilean capital of Santiago. She is a midwife who works in a private clinic and recently earned a master's degree in health. Ancapán is working on another master's degree in gender and will soon begin a doctorate in public policy. 
She is also a spokesperson for Salud Trans para Chile, a trans rights group, and participates in Santiago's "LGBTQA+ Roundtable."
Ancapán for six years fought to have her identity legally recognized, long before Chile passed its Gender Identity Law. She won that battle on May 20, 2014, and Ancapán later lobbied lawmakers to approve the statute.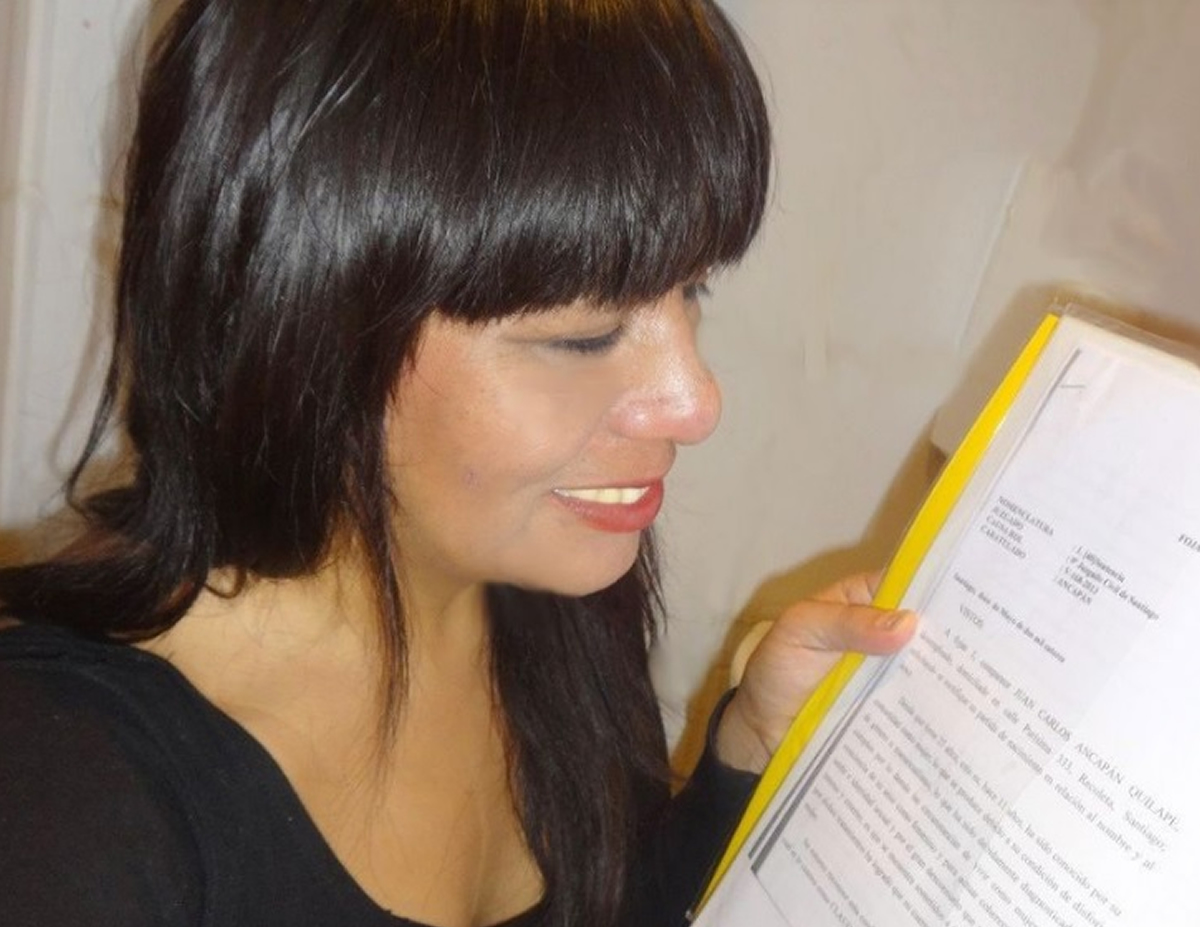 The road on which Ancapán traveled in order to become a woman has been difficult.
"I am a person who has had to struggle with being a woman, trans and indigenous," she told the Washington Blade.
In addition to the discrimination she suffered, a group of neo-Nazis in 2005 attacked her in Valdivia, a city in southern Chile where she was studying. The attack, which could have cost her her life, motivated her to become a queer rights activist.
Ancapán told the Blade her family's indigenous culture allowed her to be herself in private since she was a child. Outside of her home, however, she had to pretend to be a man.
"My family allowed me to develop myself and that changed my life," she told the Blade. "I was always a woman to my father, mother and siblings because my parents were not prejudiced against it. However, they protected me from society and I acted like a man once I walked out the door of my house because people outside our culture would not understand."
Most indigenous groups in South America did not view LGBTQ people negatively before European colonization. They included them in their respective communities and respected them.
European colonizers exterminated many of them and buried their culture.
"Christopher Columbus arrived on his ship with religious cultural impositions that were imposed and everything was turned into sin," Ancapán told the Blade. "If you review the history of our native peoples in Chile, they stand out because they had no conflict with homosexuality or gender identity."
Since ancestral times there were "machis" called "weyes," who had an important social and spiritual role within a Mapuche community. They were known for their ambiguous gender roles that could vary from feminine to masculine. "Weyes" could also incorporate feminine elements that had a sacred connotation and were allowed to have same-sex relations with younger men.
The "machi weyes" until the 18th century had a lot of authority and influence because they were recognized as a person with "two souls."
"Pre-Columbian cultures saw the integrality of the human being linked to nature, so sexuality was an integral part of a whole (person)," explained Ancapán. "So it was not so sinful to fall in love or love a person of the same sex or for a person to present themselves with an identity different from the one they should have biologically."
"That makes me respect my indigenous background," she emphasized. "That's why I am so proud of who I am and of my native belonging."
According to Elisa Loncón, the former president of Chile's Constitutional Constitution and a leading expert in Mapudungun, the Mapuche people's native language, the Mapuche always recognized LGBTQ and intersex people through their language. Gay men were categorized as "weyes" and lesbian women were known as "alka zomos." "Zomo wenxu" meant "woman man," while "wenxu zomo" translated to "man woman."
There is currently no indigenous LGBTQ or intersex organization in Chile, but Ancapán noted there are queer people who are indigenous.
"I know Diaguita people. I am also aware that there are trans Easter Islanders. I have Mapuche friends who are trans. And lately I made a friendship with an indigenous person who lives with two spirits," she said.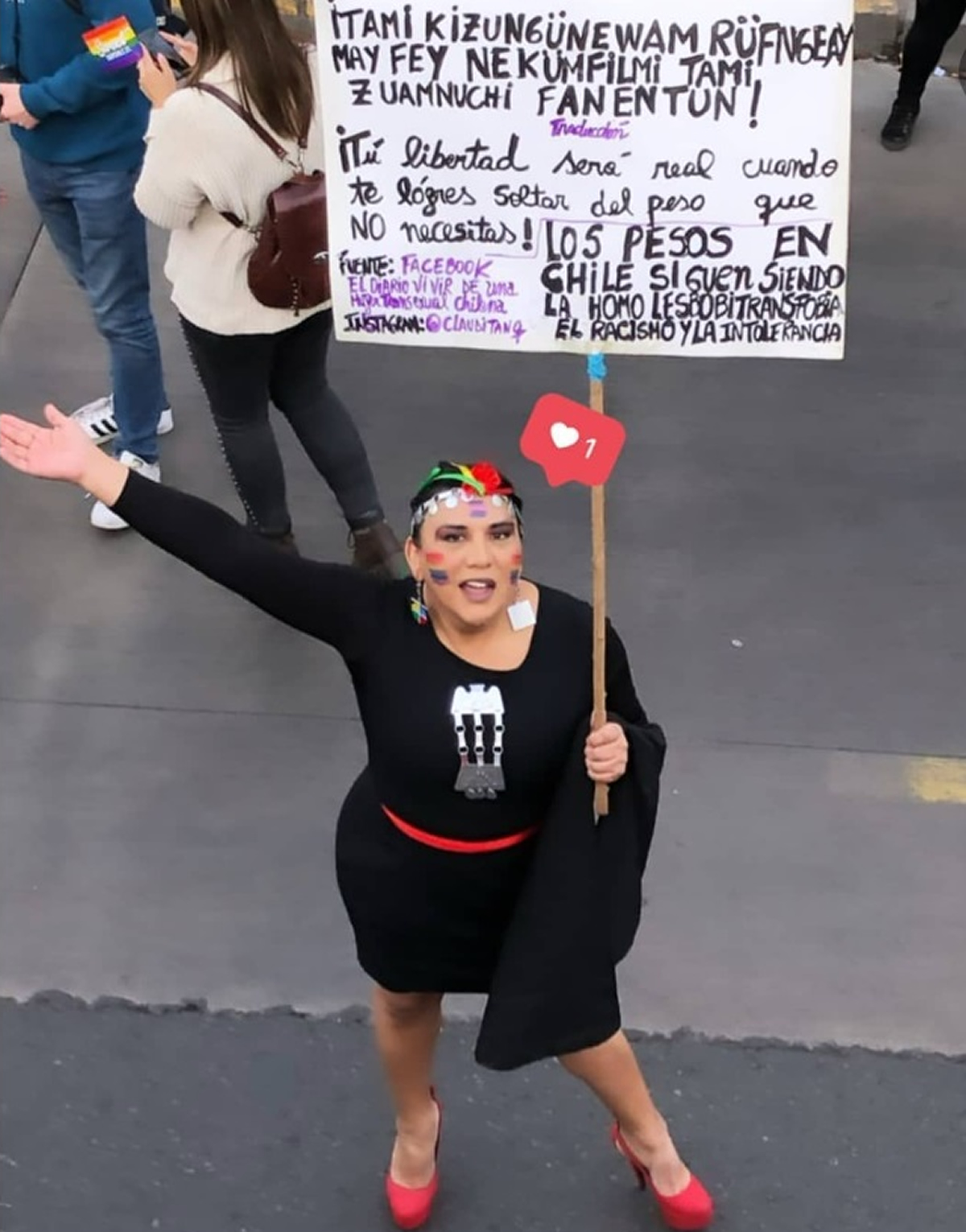 Ancapán said two-spirit is "a category of gender identity that is not well known in Chile, but it is linked to native people."
"In fact, they have always been there, but very little is known about it. This is related to the native peoples of pre-Columbian America, where they saw identity and gender as a way of life where they saw identity and the expression of sexuality as distinct," she explained to the Blade.
Many people who claim to be two-spirit say they feel neither male nor female, escaping from the traditional gender binary.
"These manifestations are also in the indigenous peoples of Canada and Mexico," said Ancapán. "They are known more in the north of North America. Two-spirit is basically spiritually associated, where two identities, two spirits, coexist in you. And that speaks of breaking down the binary system."
"So these manifestations come from the integral vision of different sexuality and from the acceptance that existed in some cultures about sexual and gender dissidence," she further stressed.
"I believe in nature and the power of the elements," added Ancapán. "I am very close to my culture that talks about the connection with the spiritual of nature and the respect for nature. And from that point of view it linked me to my original people, to my native peoples."
Japanese prime minister fires aide over anti-LGBTQ comments
Masayoshi Arai comments 'inconsistent with the policy of the Cabinet'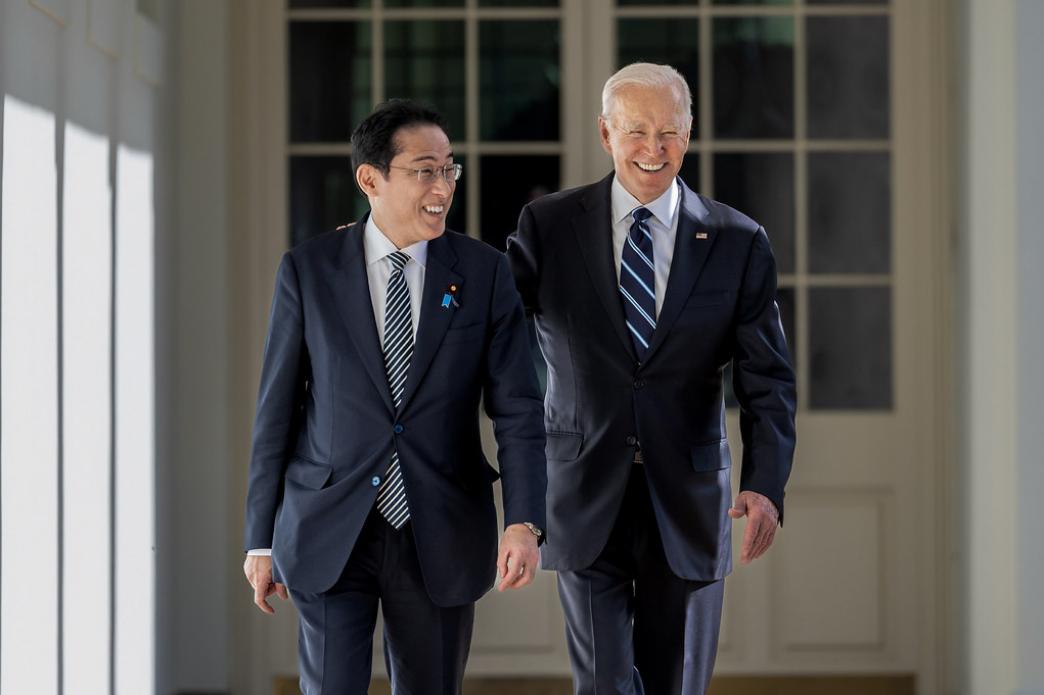 Masayoshi Arai, who until Saturday served as executive secretary to Japanese Prime Minister Fumio Kishida, was fired after he made anti-LGBTQ comments to reporters late Friday afternoon local time.
Arai told reporters in a gaggle at the prime minister's office he would "not want to live next door" to an LGBTQ couple and that he does "not even want to look at them."
He also said during an off-the-record conversation with reporters that if same-sex marriage is introduced in Japan, it would "change the way society is" and "quite a few people would abandon this country."
At a press conference Saturday, a clearly agitated Kishida told reporters Arai's remarks were "completely inconsistent with the policy of the Cabinet," the prime minister adding, "We have been respecting diversity and realizing an inclusive society."
Kishida acknowledged that he had fired Arai upon learning of the comments calling them "inexcusable."
Constitutional Democratic Party of Japan Secretary General Tetsuro Fukuyama, a member of the Japanese House of Councilors, the upper house of the National Diet [Parliament] of Japan, took to Twitter writing:
"It's an outrageous remark, even off the record. It would be a big problem if all the secretaries of the prime minister's official residence had such a sense of human rights. 'We respect human rights and values, but if same-sex marriage is recognized, some people will abandon the country.' Do you understand the meaning of respect? It deserves immediate dismissal."
An openly gay member of the House of Councilors, Taiga Ishikawa, said the situation was "beyond one's patience" on Twitter and noted that Arai had also said that all of Kishida's executive secretaries are against same-sex marriage.
The lawmaker, also a member of the Constitutional Democratic Party of Japan, called for the entire team of secretaries to be dismissed and said he would pursue the matter in Parliament.
Japanese media outlet Kyodo News reported that Japan has not legally recognized same-sex marriage as many members of the conservative Liberal Democratic Party, led by Kishida, have opposed the concept, emphasizing the country's traditional values such as the role of women in giving birth and raising children.
The 150-day ordinary Diet session began on Jan. 23. The latest gaffes about LGBTQ people will likely prompt left-leaning opposition bloc lawmakers to grill Kishida over his views on family affairs in Japan, political experts said.
Late last year, LGBTQ issues in Japan drew fresh attention as Liberal Democratic Party lawmaker Mio Sugita, the then parliamentary vice minister for internal affairs and communications, was pressured to retract past remarks against sexual minority couples.
Pope, Canterbury archbishop, Presbyterian leader denounce criminalization laws
Religious officials made comments after leaving South Sudan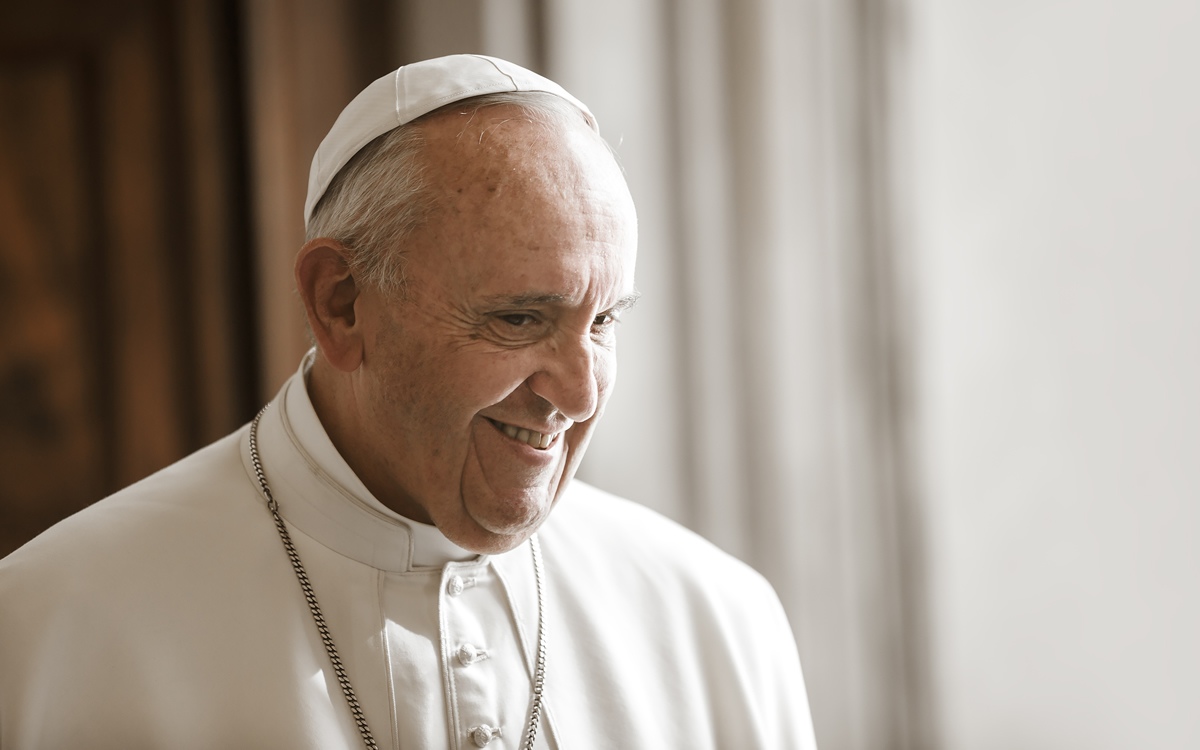 Pope Francis, Archbishop of Canterbury Justin Welby and the world's top Presbyterian minister on Sunday publicly denounced laws that criminalize LGBTQ and intersex people and said their respective churches should welcome them.
The Associated Press noted Francis told reporters during a press conference onboard his plane after it departed from South Sudan that "criminalizing people with homosexual tendencies is an injustice." Welby and the Rt. Rev. Iain Greenshields, the Presbyterian moderator of the Church of Scotland, were standing alongside the pontiff.
"There is nowhere in my reading of the four Gospels where I see Jesus turning anyone away," said Greenshields, according to the AP. "There is nowhere in the four Gospels where I see anything other than Jesus expressing love to whomever he meets."
"And as Christians, that is the only expression that we can possibly give to any human being, in any circumstance," added Greenshields.
Francis during an exclusive interview with the AP on Jan. 24 described criminalization laws as "unjust" and said "being homosexual is not a crime."
The pontiff acknowledged some Catholic bishops support criminalization laws and other statutes that discriminate against LGBTQ and intersex people. Francis told the AP that cultural backgrounds contribute to these attitudes, and added "bishops in particular need to undergo a process of change to recognize the dignity of everyone."
Francis spoke to the AP ahead of his trip to Congo and South Sudan, which is among the nearly 70 countries in which consensual same-sex sexual relations remain criminalized.
The pontiff — who was a vocal opponent of the marriage equality bill in his native Argentina before then-President Cristina Fernández de Kirchner signed it into law in 2010 — now supports civil unions for same-sex couples.
The AP notes the Church of Scotland allows same-sex marriages. The Church of England allows clergy to bless same-sex civil marriages, but LGBTQ couples cannot marry in its churches.
The Vatican's tone towards LGBTQ and intersex issues has softened since Francis assumed the papacy in 2013, but the church continues to consider homosexuality a sin. The Vatican also opposes marriage for same-sex couples and blessings of them.