Grindr's first series is as shallow as you'd expect
Instantly forgettable, just like a typical hook-up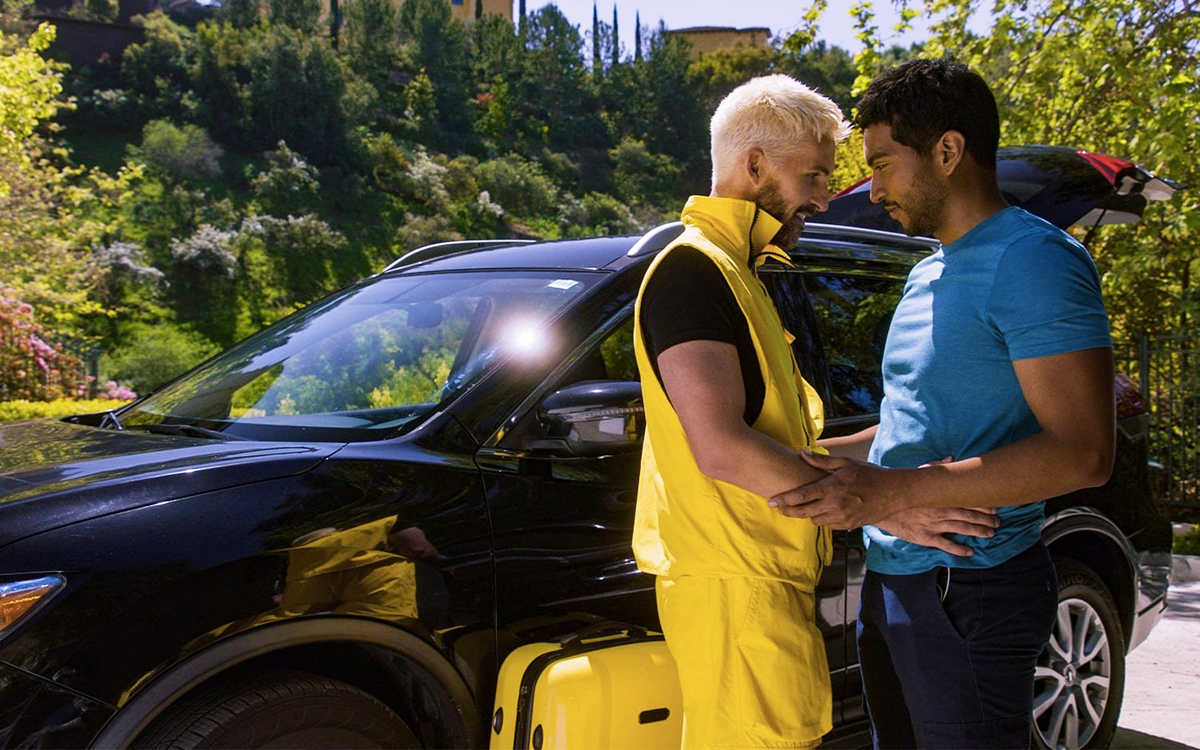 When Grindr announced it was dropping its first-ever original series on April Fools' Day, many people assumed it was a joke.
That's perfectly forgivable; even without the seasonal timing, most people would never expect the notorious "dating" app to jump into the streaming entertainment market. It just seems, well, absurd. But whether or not Grindr chose the release date as a bit of self-deprecating fun, "Bridesman" – a limited comedy series consisting of six 7-10 minute webisodes and focusing on the misadventures of a gay scenester as his female BFF prepares for her wedding – is not a joke. It really exists.
Unfortunately.
The series, created by John Onieal and co-written by Onieal and Frank Spiro, debuted on Grindr for its first weekend, but is now available to stream on the app's YouTube channel. It stars Jimmy Fowlie as Terry, described in the official synopsis as an "awful gay," who is asked by his best friend Judith (Sydnee Washington) to fulfill bridesmaid duties at her upcoming nuptials. Terry, aside from his disdain for marriage as a heteronormative construct, feels betrayed that the person who once claimed to be his "forever partner" has chosen to commit herself to another man, and to make matters worse, he feels an "electric" sexual connection with Wyatt (David Mudge), her literally myopic groom-to-be. Rather than see his BFF lost to the horrors of a traditional marriage, he resolves to save her from that fate by doing his best to tank the wedding – especially since it also means sticking it to the control-obsessed Muriel (Shannon DeVido), chosen over him to be Judith's Maid-of-Honor and therefore an object of his particular disdain.
What follows is (again, according to the official synopsis) "an irreverent, fast-paced satire of modern wedding culture and the 'old fashioned trend' of monogamy," in which Terry goes on a slash-and-burn campaign to ruin his best friend's big day, doing his best to sabotage everything from the sexy bridal boudoir photo shoot to the bachelorette party, and steamrolling his way through a tangled web that involves detectives, a secret agent, a relationship counselor moonlighting as a stripper, and a demon from hell. Along the way, though, he still finds time to hook up with a sexy Uber driver (Calvin Seabrooks) whenever he feels like going for a ride.
It seems like a lot to pack into a story that, in total, runs just shy of an hour, but the show's self-description of "fast-paced" is accurate, and director Julian Buchan never allows things to drag. Indeed, the story moves so fast it doesn't even give all its jokes time to land – an approach that works well with a script that throws them out like a pitching machine on a batting range – and trusts its audience to keep up.
That's probably not a miscalculation, either; the target demographic here has become well-accustomed to absorbing a lot of information in a short space of time, thanks to the rise of YouTube, TikTok, and all the other digital sources of entertainment for those with a short attention span. Furthermore, since the characters on the screen belong definitively to that same generation, they have no problem sticking to a rapid pace, and they plow ahead with confidence as if they're in a race with the cameras to get to the end of the show first.
In fact, it's the cast – an admirably diverse and inclusive one, thankfully – that makes it all come together, and which provides us with most of the show's entertainment value. They embrace their exaggerated characters – most of whom are vapid, narcissistic, aggressively pretentious, or some toxic combination of the three – with glee and abandon, committing completely to the absurdities the story necessitates them to enact. It's infectious, and it almost allows "Bridesman" to live up to its aspirations of satire.
As to that, the show sets its sights not just on "modern wedding culture," as it declares in its synopsis, but on the broader target of modern culture in general, with its emphasis on the shallow and ephemeral and its obsession with self. It aims for a similar tone, perhaps, as "The Other Two" (the runaway comedic hit that began life on Comedy Central before being picked up by HBO for its second season), a show that deftly skewers the self-serving, attention-seeking mentality that drives our pop culture as it barrels through its never-ending cycle of "new, now, next" distractions. Its two lead characters – the older sister and gay brother of a teen YouTube star who are trying to levy their proximity to him into fame and fortune for themselves – are flat out horrible people, or at least behave like them, as are most of the characters that surround them, and watching them fail repeatedly in their efforts to manipulate their way into the fickle spotlight of "the moment" is just part of the fun provided by the series' merciless send-up of the trends, tropes, and twaddle that surround so much of what we see on our plethora of screens today.
The characters in "Bridesman," for the most part, are horrible people, too, though in some cases they might just be regular people caught up in a horrible mindset. Most horrible of all, of course, is Terry, who essentially embodies everything that gay youth culture loves to hate about itself; vain, judgmental, driven by libido, and completely unconcerned with anyone's feelings but his own, he lives to create drama yet seems to love nothing better than to stand aside from it and roll his eyes in withering disapproval. Portrayed with dead-on accuracy by Fowlie (who is, coincidentally, probably best known to viewers for a recurring role as a super-gay influencer on "The Other Two"), he embodies the kind of jaded queer socialite whose posturing and self-promotion only prove just how "basic" he really is.
Yet the reason we are really amused by "The Other Two" and other shows that successfully lampoon the foibles and pretensions of our own society is not just because they put them on display. We laugh because we recognize something of ourselves in the people we see on the screen; because the horribleness is contrasted with the human, or at least tempered by good intentions; because there's a flicker of something genuine underneath all the pretense reminding us that, no matter how far we allow ourselves to be carried away by our own ego, there is always a thread we can follow back to reality. Without that factor, the comedy can easily become hollow, even cruel, and amounts to ridiculing something just for the sake of ridiculing it.
"Bridesman" has no such tempering influence. Though its satire is savage and even smart, there's little self-awareness to suggest that it has any purpose except to become the "next big thing" and enjoy its five minutes in pop culture's center ring. Like the people who inhabit it, it might be fun to hang around with for a while, but in the end its lack of substance makes it instantly forgettable.
You know, just like a typical Grindr hook-up.
'And Just Like That' ditches preachiness to become addictive TV
Second season wraps Aug. 24 with Samantha Jones cameo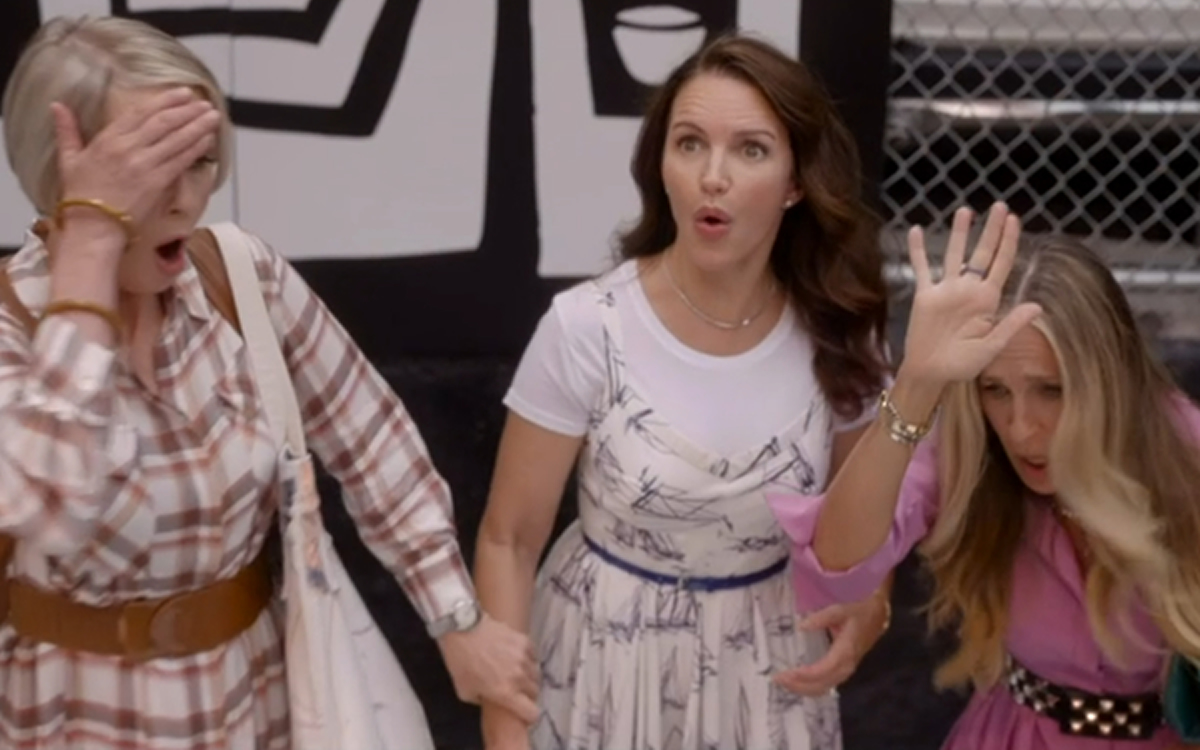 "Do you know where your children are?" New York TV station WNYW asks the parents in its audience every night.
This isn't a worry for Charlotte York Goldenblatt (Kristin Davis) or Lisa Todd Wexley (Nicole Ari Parker) two of the main characters featured on season two of "And Just Like That," (AJLT), the "Sex and the City" reboot, airing weekly on Max through Aug. 24. Their children (from elementary school kids to teens) are safely ensconced at a posh summer camp. While their off-spring are away, Charlotte, who back in the day ran an art gallery, is having sex so good it's like fireworks on the Fourth of July with her husband Harry (Evan Handler), a highly successful divorce lawyer.
Lisa, a distinguished documentarian filmmaker, and her husband Herbert (Christopher Jackson), a wealthy investment banker who's thinking about running for New York City comptroller, devote themselves to their work. And to enjoying the rare treat of having a drink at a swanky bar by themselves (sans children).
Meanwhile, corporate (turned human rights) lawyer Miranda Hobbes (Cynthia Nixon) knows all too well where her son Brady (Niall Cunningham) is. He's living with Steve (David Eigenberg), his dad, in their Brooklyn townhouse. Miranda's relationship with Che Diaz (Sara Ramirez), a nonbinary, bisexual, Mexican, Irish comedian who's making a TV sitcom pilot with Tony Danza (playing himself), has brought Miranda, Steve and Brady into therapy.
Carrie Bradshaw, writer, (Sarah Jessica Parker), Seema Patel, a hot real estate agent, (Sarita Choudhury) and Dr. Nya Wallace (Karen Pittman), a Columbia Law School professor, are so busy grieving, having exit-out-of-grief sex and mourning stolen Birken bags that they wouldn't have time for children. Nya is divorcing her musician husband Andre Rashad (LeRoy McClain) after many years of marriage because he wants kids and she doesn't.
Yes! It's summer in the city, "And Just Like That," the fab ladies are back! With less sizzle than in "Sex and the City," but still fun watch. No matter how hard the writers try, no amount of additional characters could make up for the absence of Samantha Jones, the utterly fabulous PR maven, who was an integral part of "Sex and the City." Even the highly talented Samantha Irby, a bisexual producer and writer of AJLT, couldn't create a character as captivating as Samantha, who is slated to make a cameo in the final episode.
But the sophomore season of "And Just Like That" has its share of style and juice. How can you resist a series that, in the seven episodes that have aired to date, has given us a (fictional) Met gala and a "cum slut?"
The first season of AJLT spent much time trying to make "Sex and the City" (SATC) more diverse.
It succeeded in many ways. Che, Seema, Lisa and Nya, the new featured characters of color, have intriguing stories. They have good chemistry with the original SATC characters. Yet, it sometimes felt heavy-handed and joyless.
The current season of the show, mostly, dispenses with the exposition and preachiness of season 1. In this season, sex and glam fashion are back in the city.
The episode of "AJLT," when Charlotte becomes Harry's Kegel coach to help him with his "dust balls" when he can't ejaculate and Carrie talks of "Casper, the friendly cum," is nearly as good as SATC's "funky spunk" episode.
The women on AJLT are fab. But one of the most enjoyable characters is Anthony Marantino (Mario Cantone), who runs the Hot Fellas bakery. In one hilarious scene, he turns to his BFF Charlotte when he desperately needs to find a Hot Fella to appear with him on Drew Barrymore's talk show. This being AJLT, Charlotte instantly finds a hot Italian poet who more than fits the bill. Dressed in his Hot Fellas uniform, the poet's "package" is so great, that looking at him makes Barrymore sweat.
In another scene, Lisa, wearing a dress (designed by Valentino) with a huge train that won't fit into a cab, has to walk 10 blocks to the Met Gala. "It's not crazy," she says to Herbert, who's holding her train, "It's Valentino."
"And Just Like That" isn't prestige TV. It's more important: it's addictive entertainment.
LGBTQ critics announce winners of Dorian TV Awards
Wanda Sykes, Jennifer Coolidge among honorees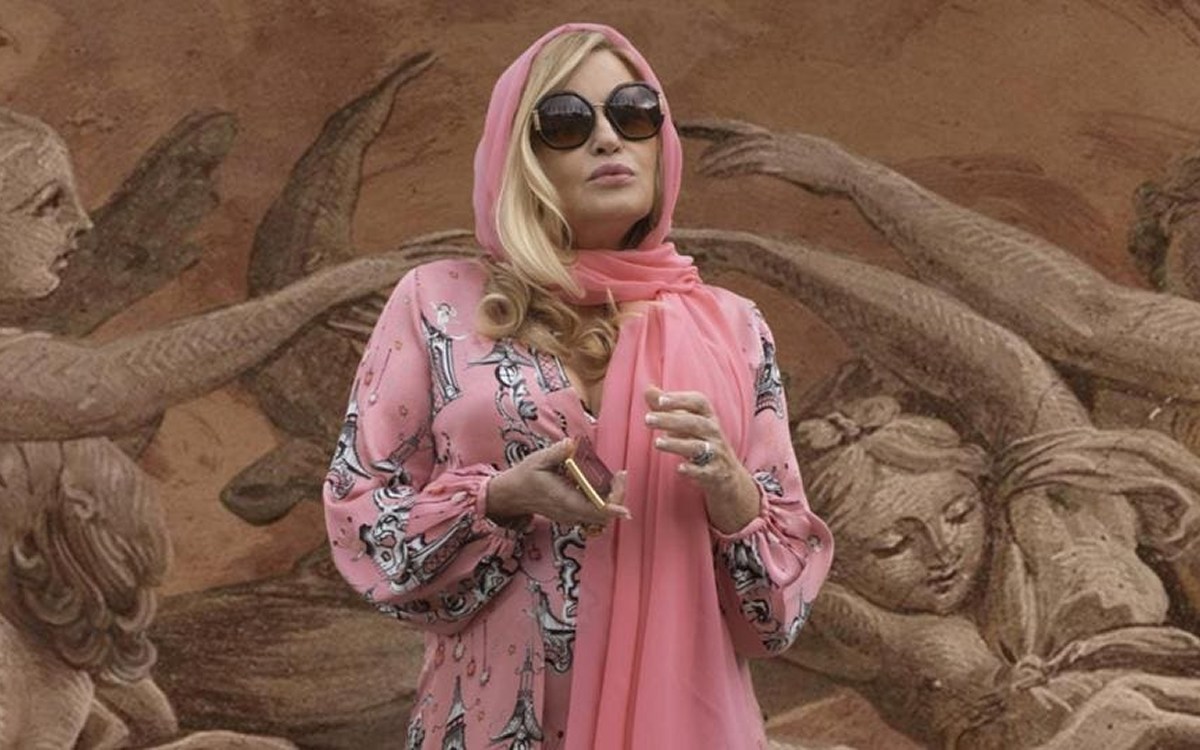 They don't get as much fanfare as the Emmys, but the Dorian TV Awards – presented annually by GALECA: The Society of LGBTQ Entertainment Critics – have been offering an important queer perspective on the best in the year's television for a decade and a half, and they've just picked their latest round of champions.
On June 26, GALECA announced a slate of winners for the 15th Annual Dorian TV Awards that represented an even mix of high-profile hits and under-the-radar gems. HBO's final season of "Succession" was a winner, taking the prize for Best Drama while series star Sarah Snook won Best Drama Performance. ABC's "Abbott Elementary," star Quinta Brunson's widely praised mockumentary following a clique of idealistic Philadelphia school teachers, took Best Comedy Series.
Less in line with mainstream Hollywood priorities, perhaps, many other awards went to an assortment of under-seen standouts. Amazon Freevee's audacious prank show "Jury Duty" was named Best Reality Show, with Max's absurdly snarky showbiz satire (and sadly, now-cancelled) "The Other Two" winning as Best LGBTQ TV Show and HBO comedies "Somebody, Somewhere" and "Los Espookys" taking Best Unsung TV Show and Best Non-English Language Show, respectively. Director Andrew Ahn's cinematic "Fire Island," Hulu's smart queer spin on Jane Austen's "Pride and Prejudice" penned by star Joel Kim Booster, scored as Best TV Movie or Miniseries.
GALECA voters seemed to favor dry-but-witty women in most of the performance categories; Bridget Everett of "Somebody, Somewhere" was awarded Best Comedy Lead, Jennifer Coolidge for Best Supporting Drama performance for her instantly iconic return trip to "The White Lotus," and Ayo Edebiri of FX on Hulu's restaurant comedy "The Bear" for Best Supporting Comedy performance. The trend extended to the award for Best TV Musical Performance, which went to Ariana DeBose for her well-intentioned but controversial rap tribute to Angela Bassett and other nominees at the BAFTA Film Awards last March.
Other noteworthy wins: Satirist Ziwe Fumudoh's (also recently cancelled) Showtime series "ZIWE," a mix of commentary, sketch and topical interviews, received the Dorian for Best Current Affairs Show – its third win in the category; HBO Max's female superhero series "Harley Quinn" was named Best Animated Program.
Horror was also a running theme, with Shudder's documentary "Queer for Fear: The History of Queer Horror" (from TV mastermind Bryan Fuller) taking the Dorians for both Best TV Documentary and Best LGBTQ Documentary, and HBO's apocalyptic limited series "The Last of Us" impressing GALECA voters as the year's Most Visually Striking TV Show.
Season Two of Apple TV+'s musical spoof "Schmigadoon!" was named as Campiest TV Show, an award unique to the Dorians, though that might go without saying.
In other honors, the GALECA membership gave Coolidge another win by naming her as TV Icon of the Year, an award whose past recipients include Christine Baranski and Cassandra Peterson (a.k.a Elvira). Elliot Page, whose superhero character Viktor Hargreeves came out as trans in the most recent installment of Netflix's "The Umbrella Academy," was named as the year's LGBTQIA+ TV Trailblazer, an award given to entertainment figures who create "art that inspires empathy, truth and equity." He joins the ranks of former winners Michaela Jaé Rodriguez and Jerrod Carmichael.
The Wilde Wit Award, designated by GALECA for "a performer, writer or commentator whose observations both challenge and amuse," went to Wanda Sykes, the venerable comedian whose year has included memorable roles in "The Other Two," Hulu's "History of the World: Part II," and Netflix's "The Upshaws," as well as voicing a charater in HBO Max's "Velma." After all those, she triumphed with a Netflix stand-up special – "Wanda Sykes: I'm an Entertainer," featuring her takedowns of everyone from Kyrsten Sinema to MAGA conservatives afraid of Critical Race Theory.
It's worth noting that out of the 18 programming categories, HBO (and Max) won nine, with Hulu (including FX on Hulu) and Shudder each grabbing two – a clear victory for streaming platforms over traditional network TV.
For those unfamiliar with the Dorians, in addition to its TV awards GALECA (originally founded in 2009) also honor the best in film and – starting this year – Broadway and Off-Broadway Theatre. They bring recognition to excellence in these three fields at separate times of the year, chosen from mainstream and queer+ content alike by a voting body of over 480 active critics and journalists. Via the Dorians, the group endeavors "to remind bullies, bigots and society's currently beleaguered LGBTQ communities that the world has long appreciated the Q+ eye on everything entertainment—not only on hair and clothes." The organization also advocates for better pay, access and respect for its members, especially those in its most underrepresented segments, and sponsors the Crimson Honors, a public college criticism contest for women or nonbinary students in the QTBIPOC rainbow that awards scholarship funds provided by film and TV review aggregate Rotten Tomatoes.
Entertainment and media fans can find out more and support the members and causes of GALECA by following @dorianawards on Twitter, Facebook and Instagram – and of course, by visiting GALECA.org.
'Casa Susanna' reveals 1950s underground safe haven for trans women
PBS doc tells story of LGBTQ history that has long been invisible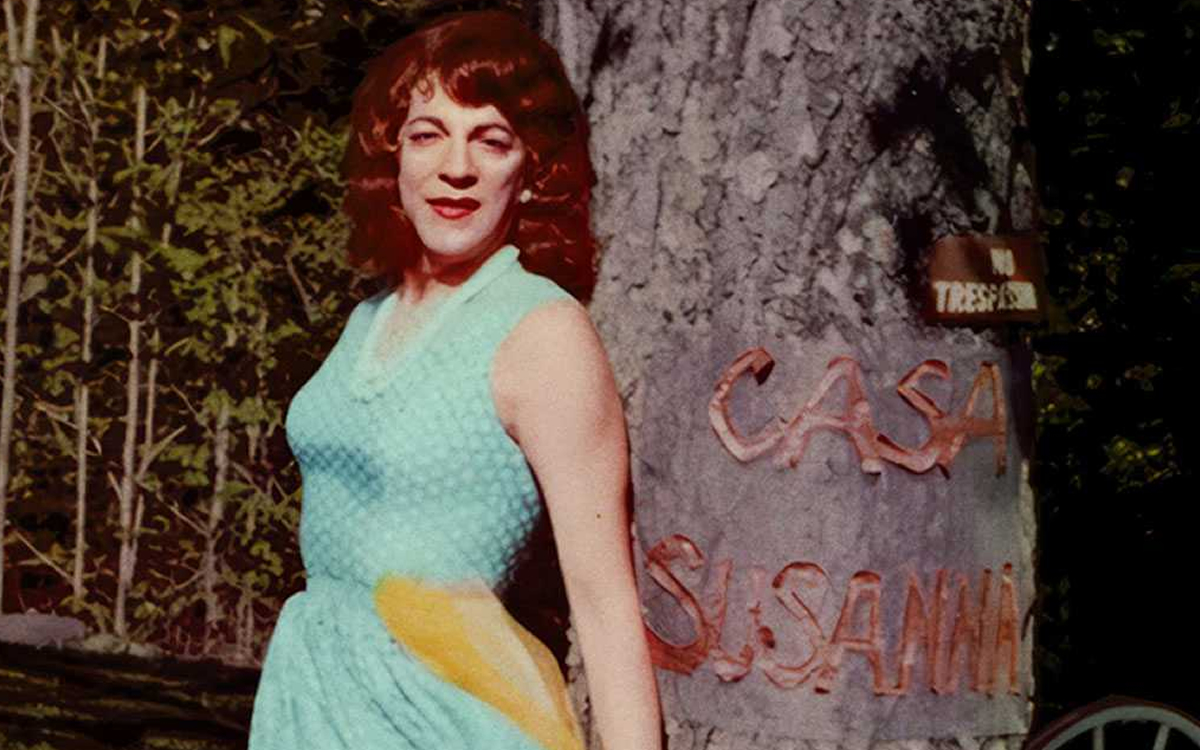 In the 1950s and 1960s, you could lose your job, scorned by your neighbors, arrested and/or institutionalized, if you were openly trans or cross-dressed in public.
Yet, during this draconian – anti-queer time, an underground network of transgender women and cross-dressing men found a safe haven in a modest house in the Catskills in New York. For a few days, they could live in this house, known as Casa Susanna. There, they could fulfill their dreams and discover their true selves. In a rare reprieve from hiding, they could meet other people like themselves; and live and dress as women.
"Casa Susanna," an engrossing, moving documentary, which aired on June 27 on PBS's "American Experience," offers a revealing look into this underground network. The doc, directed by filmmaker Sebastian Lifshitz ("Wild Side," "Little Girl), and executive produced by Cameo George, tells the story of a chapter of LGBTQ history that has long been invisible. "Casa Susanna" will stream on PBS platforms, including pbs.org and the PBS App, through July 26.
The documentary uses a trove of color photos of the people who sought refuge at Casa Susanna, archival footage and personal remembrances to tell its story.
The photos of life at Casa Susanna were found by collectors Michael Hurst and Robert Swope at a New York flea market. In 2005, Hurst and Swope published the photos in a book titled "Casa Susanna."
Queer icon Harvey Fierstein wrote a play "Casa Valentina" that was inspired by Casa Susanna. The play was performed on Broadway in 2014.
In the documentary, we learn about what queer life was like at Casa Susanna from four people who were there in mid-century.
This isn't a fast-paced, action-packed doc. But, it's far from a "teachable moment. Watching "Casa Susanna" is like seeing photos of long-lost relatives.
The 137-minute doc's slow pace is captivating. "Casa Susanna," now, is just a few empty buildings. But in its heyday, it pulsed with queers.
In other places in the Catskills, hetero Borscht belt comedians entertained. At Casa Susanna, trans women and cross-dressing men performed. Not always as showbiz stars. Often, they dressed as who they wanted to be: ordinary women such as housewives.
The most moving story is that of nonagenarian Katherine Cummings. At the film's beginning, Cummings, a trans woman, visits the old Casa Susanna buildings. Though, all that's visible are the facades of empty buildings, she recognizes the theater where trans women and cross-dressing men performed decades earlier. Cummings was born in Scotland in 1935, and raised in Australia. Born as a man, she moved to Toronto. From there, she went to Casa Susanna to meet people like herself. While she lived as a man, she was named John. As John, she married and had three children. Cummings died in 2022. The documentary is dedicated to her.
"People used to love to be here," Cummings says, "They had total freedom. A total chance to be themselves."
Another elder, Diana Merry-Shapiro, a trans woman born in 1939, tells an engaging story. She was born in an Iowa farm town and later lived in California and New York. During her life as a man, Merry-Shapiro, then named David, married a woman and was a cross-dresser. After the marriage ended in divorce, she had gender affirmation surgery. She then married a man. After that marriage broke up, she was a computer programmer at Xerox. She married Carol, a woman, in the 1990s. The couple live in New York.
Another of the documentary's storytellers, Betsy Wollheim, born in 1952, cisgender and president of Daw Books, is, at times, refreshingly angry. Donald Wollheim, the science fiction writer, was her father. A cross-dresser, he along with his wife (Betsy's mother), went to Casa Susanna. This was kept secret until Betsy's mother was dying. Betsy reveals that her father sometimes was abusive toward her. She believes this may have been because he had to be closeted about his cross-dressing.
The fourth storyteller, Gregory Bagarozy, a cisgender, hetero man, is personally connected to Casa Susanna. The (now-deceased) Marie Tonell, who co-owned Café Susanna with her spouse (the late) Tito Arriagada, was Bagarozy's grandmother. Arriagada, first a cross-dresser, later lived as a trans woman named Susanna Valenti.
If you're sensitive to language, be warned. Often, the people who tell their stories in "Casa Susanna" use terms that were said in the 1950s and 1960s. Words like "transvestite" and "transexual," which aren't used today, are used.
Though some of the storytellers in the doc, later, were in same-sex relationships, in mid-century, Casa Susanna didn't welcome gay people. This is part of the extreme homophobia of the time of the Lavender Scare, Bagaroxy says.
"Casa Susanna" is a fascinating window into hidden queer history.