Boris Johnson's LGBTQ rights advisor criticizes advocacy groups over conference cancellation
Nick Herbert acknowledges episode damaged UK 'global reputation'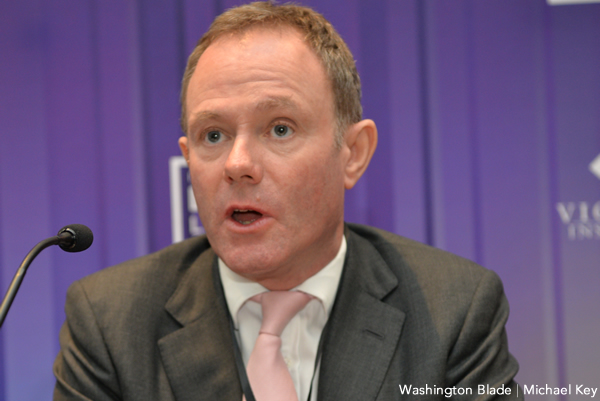 British Prime Minister Boris Johnson's advisor on LGBTQ issues on Sunday issued a lengthy statement in response to the boycott of the government's Safe to Be Me Conference that prompted its cancellation.
Nick Herbert, a member of the British House of Lords, in his statement described the conference's cancellation as "damaging to the government and to the U.K.'s global reputation." Herbert added it is "also an act of self-harm by the LGBT lobby."
The conference was to have taken place in London from June 29-July 1.
The British government cancelled it last week after more than 100 British LGBTQ rights groups announced they would boycott it in response to Johnson's decision to exclude transgender people from a conversion therapy ban. LGBT Business Champion Iain Anderson on Tuesday resigned over the issue.
Here is Herbert's entire statement.
The Safe To Be Me equality conference was to be a global first, bringing governments, businesses, parliamentarians, faith leaders and activists together to discuss how to advance LGBT rights across the world. Our focus was on ending violence, advancing decriminalization in the 71 jurisdictions where homosexual conduct is still a crime, ensuring access to HIV/AIDS treatments, and building the economic case for inclusion.
We had remarkable speakers lined up and exciting plans for a new public-private fund to support LGBT groups in countries where they need our help. There was enthusiasm from governments and organizations planning to attend, often indicating they would bring new announcements or commitments to progress LGBT rights. We aimed to drive real action globally, and one major government had already indicated that they would hold a successor event to take agreed initiatives forward.
The conference's cancellation is damaging to the government and to the U.K.'s global reputation. But it is also an act of self-harm by the LGBT lobby. Having orchestrated the boycott which brought the event down, Stonewall now claims to be "truly sad that the government does not feel in a position to run the UK's first global LGBT+ conference," adding that this shows a lack of concern for equal rights. Crocodile tears will be of little consolation to brave human rights defenders in countries where the right to wave a rainbow flag without being arrested is a distant dream.   
LGBT groups were understandably dismayed, as was I, when a promised conversion therapy ban was suddenly dropped and then only partially reinstated just hours later. The bill will no longer extend to trans people, reflecting concern that more time is needed to ensure that legitimate therapies to help young people with gender dysphoria are not inadvertently criminalized. I believe such concerns can be allayed. Helping people come to terms with who they are is not the same as setting out to take them in one direction or the other — that is not therapy, it is ideology, and it can do irreparable harm.  
It is quite possible that Parliament will decide to include trans people in the new law, as many other countries have done, for instance in Canada, where Conservative MPs unanimously supported the fast-tracking of a ban. But we must address the concerns and make the case for change, deploying the evidence and reassuring parliamentarians that a ban which include trans people is a safe and justifiable course to take.
Some of those who have raised their voices in Parliament about trans rights are reactionaries who opposed reforms such as equal marriage. But others are not. They are decent, middle-of-the-road politicians who supported gay rights but have genuine concerns that gender ideology may have gone too far, and that women's rights and children must be protected.
Opinion research tells us that the public is sympathetic to trans people, and wishes to be kind, but has concerns about certain issues such as the safety of women in single sex spaces and especially the fairness of trans women competing in elite women's sports. Our laws already allow for sensible balances to be struck to meet these concerns: Exemptions to the Equality Act allow single sex spaces to be protected, trans women prisoners to be placed in special wings, and sports bodies to set rules which may exclude trans competitors. Calm explanation of the facts and discussion on the right boundaries of these compromises is needed.
But social media, the rise of identity politics and the bitter polarization of every issue does not lend itself to rational discussion. When the prime minister expresses concerns, in reasonable terms, about issues such as fairness in sport, he is not being "transphobic", as Stonewall immediately branded him. Nor is he alone, and growing disquiet across the political spectrum cannot sensibly be swept aside.
In the days when it was winning, the LGBT lobby made a compelling case for change, engaging successive governments and briefing parliamentarians. Now it is organizing boycotts and shouty protests. A fortnight ago in Manchester, a protester held up a trans flag with the words "some women have penises." It is hard to imagine a surer way to lose a public argument. For days afterwards, politicians struggled to say whether they agreed, or could define what a woman is. A sensitive, complex debate is being reduced to ugly, dehumanizing talk about body parts.
Some may tell the government that this is a political opportunity for a wedge issue, but this would be deeply unwise. It is one thing to make an issue of statue-toppling and historical revisionism, another to appear to be attacking minorities and vulnerable people. It is also a misreading of public opinion. People want to hear solutions: they don't see these issues through an ideological lens.
We must not allow a descent into a political mire which is dominated by extremes and which suffocates the reasonable middle ground. Across the Atlantic, this debate has become toxic, with hideous and persecutory anti-trans laws being passed by state legislatures. That is not who we are. We have to find a way to take the heat out of this debate.
I believe we now need a Royal Commission to examine these issues dispassionately. Its members would have to be truly neutral for such an inquiry to work: It could be led by a senior judge. It would need to be set up with cross-party support and without predetermination of its direction or outcome. Weighing the evidence on contested areas such as sport, safe spaces for women, and gender identity services for children and young people — building on the work of the independent Cass review — would be a better way to detoxify the debate, protect trans people from being caught in the political crossfire, and find the common ground we need.
No one will win from a culture war on these issues, and those most harmed will be trans people who already feel stigmatized, people who are different yet just like us, human beings who deserve greater kindness than today's politics will permit.
Rishi Sunak named new British prime minister
LGBTQ activists have mixed views towards new government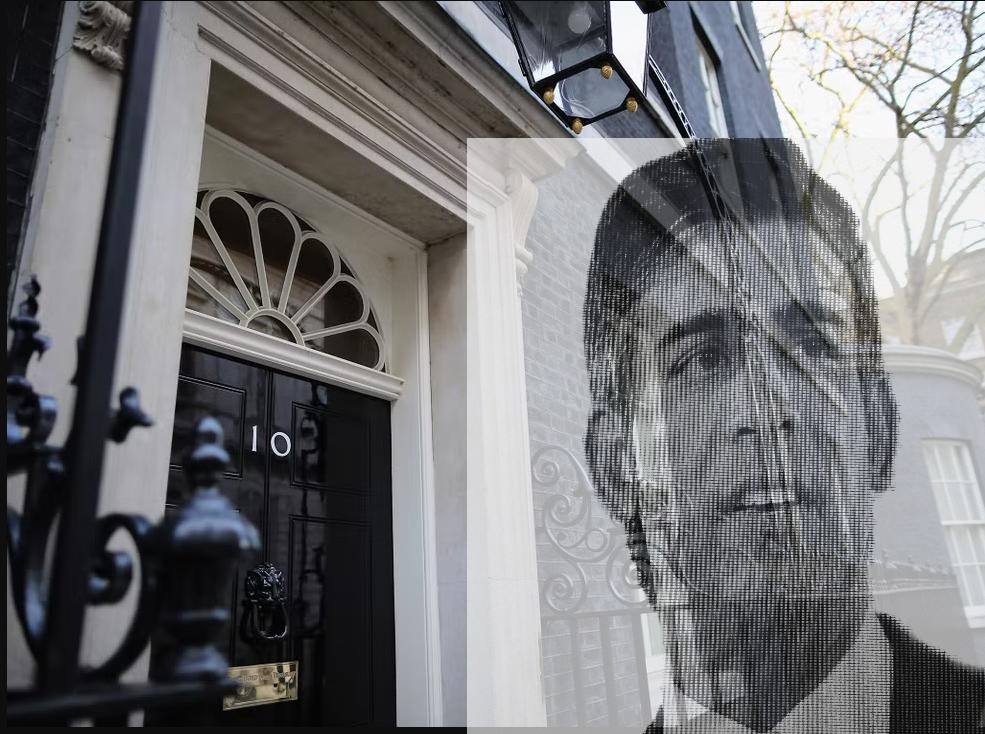 Following the resignation of Liz Truss, her 44 days in office — the shortest tenure of any British prime minister in history last Thursday — the Conservative Party met Monday and named has Rishi Sunak as the new Tory party leader.
Sunak's rise to head of the party came after after the only other candidate, Penny Mordaunt, dropped out of the race. Former Prime Minister Boris Johnson had hinted at a potential challenge to return but abruptly announced Sunday that he was not in the running to get his old job back.
October 24, 2022
The 42-year-old Sunak is one of the wealthiest people in Britain, his wealth exceeds the fortune of the British monarchy itself. The Washington Post noted that the former banker, and his wife, Indian tech heiress Akshata Murty, have an estimated fortune of about 730 million pounds ($827 million), according to the "Sunday Times" Rich List. On the 2022 list, the monarch was estimated to have about 370 million pounds ($419 million) by comparison.
Leading British LGBTQ daily publication PinkNewsUK notes that for Britain's LGBTQ community there are divisions over Sunak's taking over. Jayne Ozanne, the former government LGBTQ advisor and anti-conversion therapy campaigner, was among those to congratulate Sunak PinkNewsUK reported.
Ozanne told PinkNews: "In congratulating Mr. Sunak on his appointment as prime minister, I would urge him to prioritize the needs of those who are feeling the most vulnerable and scared at this time of extreme uncertainty. This includes members of the LGBT+ community, many of whom live in constant fear given the toxic nature of the debate over trans rights, exemplified by soaring hate crime statistics."
"He has an opportunity to address these concerns directly by giving a clear commitment to a full ban on 'conversion therapy' and abolishing the barbaric Rwanda asylum policy. Moreover, I hope he will look to reset the clock in relation to the Tory party's disastrous relationship with the LGBT+ community over the past few years."
Others in the British LGBTQ community were less enthusiastic the news site reported.
Longtime human rights and LGBTQ rights activist Peter Tatchell told PinkNewsUK:
"Rishi offered nothing to the LGBT+ community during his leadership campaign," he said. "I am not hopeful about any progress on banning conversion therapy or reform of the Gender Recognition Act under his premiership."
Tatchell called for an immediate election, adding: "Rishi has no mandate for anything. He was not elected by the British people. He was selected by a tiny group of just over 100 Tory MPs.
"There has to be a general election to ensure that our prime minister and his policies have a public mandate.
"Changing prime minister and government policies twice without an election is not democratic."
British Prime Minister Liz Truss resigns
Activist says LGBTQ community will remember her for 'silence and inaction'
The famous black door with the brass number 10 opened and the petite blond-haired woman emerged striding to the podium to address the British people Thursday morning, announcing her resignation as Britain's prime minister.
With her announcement, Liz Truss became the shortest serving prime minster in the country's recorded history at only 44 days, compared with England's longest serving prime minister, Robert Walpole, First Earl of Orford, who is generally regarded as the de facto first prime minister of Great Britain, whose term ran 20 years and 314 days, (1721–1742.)
Her abrupt departure marks the second rebellion against the policies of a prime minister in four months by the ruling Tory (Conservative) Party. The BBC noted that Truss said her successor would be elected by next week.
Tory MPs revolted against Truss after a series of U-turns on her economic plan sapped her of authority. In her brief speech the prime minister said the Conservative Party had elected her on a mandate to cut taxes and boost economic growth.
But given the rebellion, she acknowledged, "I recognize that I cannot deliver the mandate on which I was elected by the Conservative Party."
Truss said she would remain in post until a successor formally takes over as the Tory party leader and is appointed prime minister by King Charles III.
Truss was also pilloried by Britain's LGBTQ community, one activist telling Pink News UK that the prime minister would be remembered by the LGBTQ community for her "silence and inaction."
"Liz Truss will be remembered for her many failures, indeed for many in the LGBT+ community she will be known for her silence and inaction on critical matters that have impacted our safety and allowed perpetrators of hate to act with impunity," Jayne Ozanne, an LGBTQ activist who previously sat on the government's LGBT Advisory Panel, said.
"Following the 'summer of hate,' where the trans community saw their rights become a toxic political football, she did nothing to address soaring hate crime figures or progress the urgent need for a ban on conversion practices. We now need a prime minister who takes our concerns as highlighted in the 2018 LGBT+ Survey seriously and who has the humility to listen, take advice and admit when they have made mistakes," Ozanne added.
Cleo Madeleine, communications officer at Gendered Intelligence, a transgender rights group, told PinkNews UK that the next prime minister must learn from Truss' failures.
"Liz Truss has not left a positive legacy for the office of prime minister. Her leadership campaign was marked by anti-trans rhetoric as she competed for the attention of the Tory right.
"She appointed ministers with dubious records on LGBT+ rights. Her equalities minister, Nadhim Zahawi, criticized teaching about trans people in schools. Health Minister Therese Coffey was a staunch opponent of equal marriage and consistently voted against improvements in LGBT+ rights."
The White House released a statement from President Joe Biden reflecting on the news that Truss had stepped down.
"The United States and the United Kingdom are strong allies and enduring friends — and that fact will never change. I thank Prime Minister Liz Truss for her partnership on a range of issues including holding Russia accountable for its war against Ukraine. We will continue our close cooperation with the U.K. government as we work together to meet the global challenges our nations face," Biden said.
Queen Elizabeth II laid to rest
Longest serving British monarch died on Sept. 8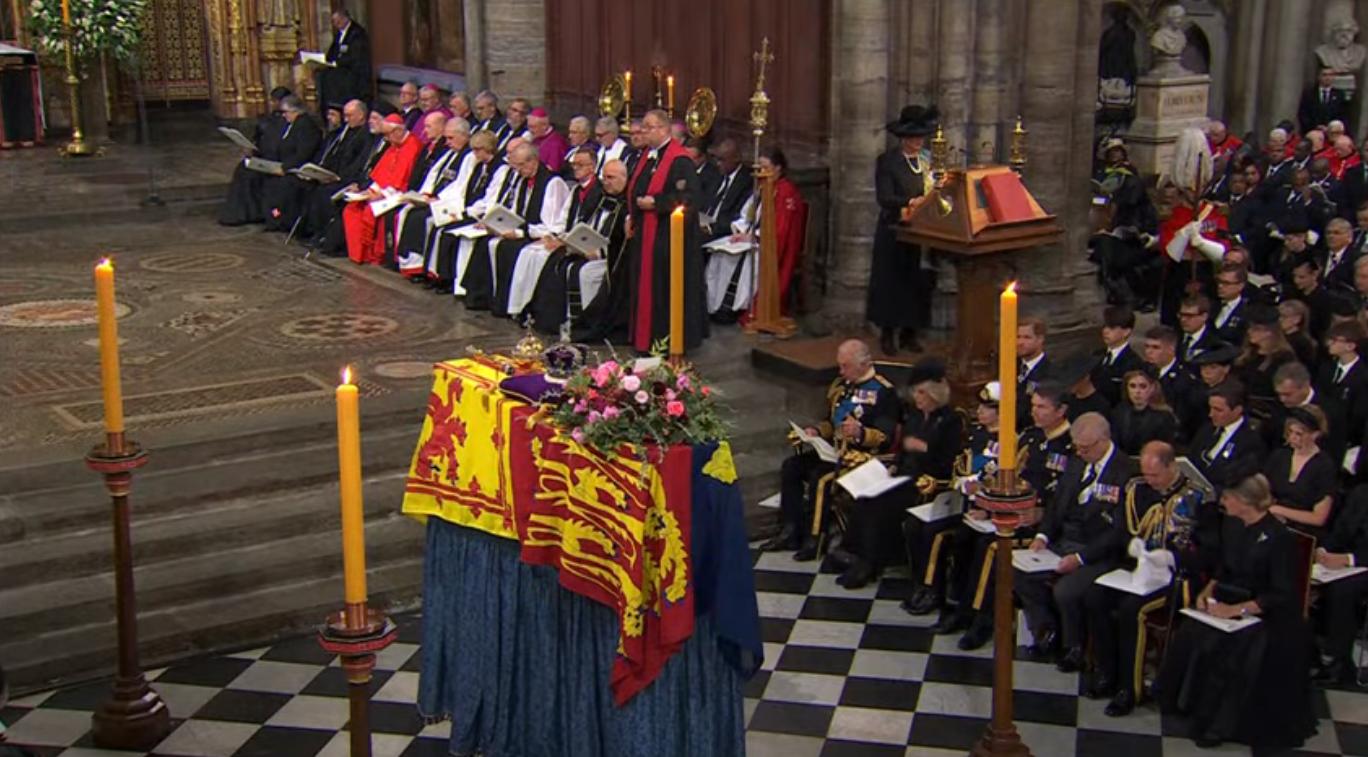 World leaders joined the British royal family and 2,000 other dignitaries for the hourlong state funeral service of Queen Elizabeth II at Westminster Abbey Monday.
King Charles III, accompanied by Queen Consort Camilla, the Prince William with his wife Kate and their children, Prince George and Princess Charlotte, the king's siblings, Princess Anne, Princes Andrew and Edward, the king's younger son, Harry, their wives and the extended royal family escorted the coffin into the services and later attended the private interment at the royal vault at St. George's Chapel in Windsor Castle where the deceased monarch will rest alongside her husband, Prince Philip.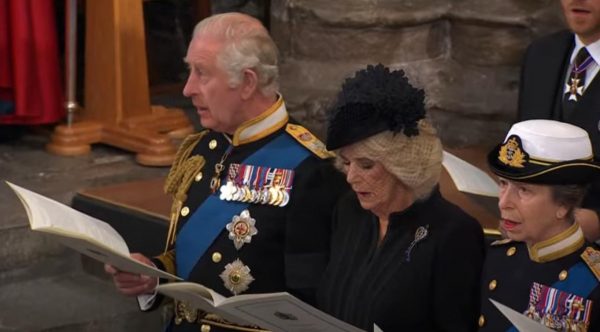 The state funeral was attended by numerous heads of state including the new British Prime Minister Liz Truss, U.S. President Joe Biden and First Lady Jill Biden, French President Emmanuel Macron and European Commission President Ursula von der Leyen.
Leaders of most Commonwealth countries attended, with New Zealand Prime Minister Jacinda Ardern and Australian Prime Minister Anthony Albanese making the nearly 24-hour journey from the other side of the globe.
In addition to political and other dignitaries including other European royals attended along with Japanese Emperor Naruhito and Empress Masako. Japanese news outlet Asahi Shimbun reported, citing Imperial Household Agency officials, that a Japanese emperor has only attended the funeral of a foreign head of state or royal family member on one previous occasion, when then-Emperor Akihito attended the funeral of Belgian King Baudouin in 1993.
Spain's King Felipe VI and his wife Queen Letizia were among the European royals who attended. Former Spanish King Juan Carlos I and former Queen Sofia were be present. The former king is the great-great-grandson of Queen Victoria and a distant cousin of Elizabeth.
Reuters reported that Jordan's King Abdullah II, who remembered the queen as an "iconic leader" and "beacon of wisdom and principled leadership," also attended.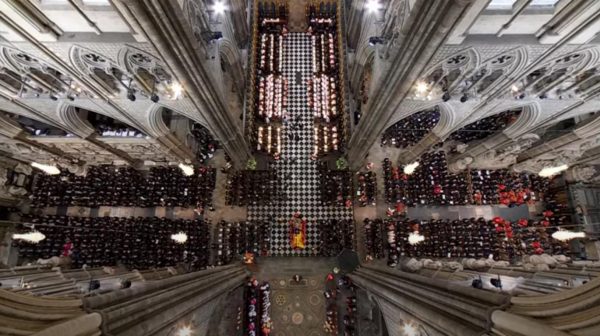 Elizabeth oversaw a significant change in the role of the monarch and the U.K.'s place on the world stage in the 70 years she was on the throne. Reuters noted that the 40th sovereign in a line that traces its lineage back to 1066, Elizabeth came to the throne in 1952 and became Britain's first post-imperial monarch.
She oversaw her nation trying to carve out a new place in the world, and she was instrumental in the emergence of the Commonwealth of Nations, now a grouping comprising 56 countries.
She guided her government over the administrations of 15 prime ministers starting with Winston Churchill and ending with her asking Truss to form a government as prime minister only a couple of days before her death at Balmoral Castle, her summer home in the Scottish highlands.
Queen's legacy on LGBTQ issues was complicated
In 1952, when she took the throne after the death of her father, King George VI, same-sex sexual relations were criminalized in U.K. The same laws were also brought to the Commonwealth countries that it colonized.
By the time she died, the landscape for LGBTQ rights looked dramatically different — at least in the U.K. — in part because she approved of many pro-LGBTQ measures, such as same-sex marriage. That support has led some to argue that she was a "quiet" supporter of LGBTQ rights, but to others she was just doing her job.
Elizabeth, among other things, pardoned Alan Turing, an acclaimed World War II codebreaker and computer scientist who died by suicide two years after his 1952 conviction for "gross indecency."
Elizabeth gave royal assent to the Sexual Offenses Act of 1967, which decriminalized consensual same-sex sexual relations among men in England and Wales who are at least 21.
Elizabeth gave royal assent to the marriage equality law that took effect in England and Wales in 2014. Elizabeth has also urged the U.K. to ban so-called conversion therapy.
Additional reporting by Michael K. Lavers, Reuters and AFP
Queen Elizabeth II's Funeral at London's Westminster Abbey – LIVE (previously recorded):