British government cancels global LGBTQ rights conference
Boycott announced after prime minister backed trans-exclusive conversion therapy ban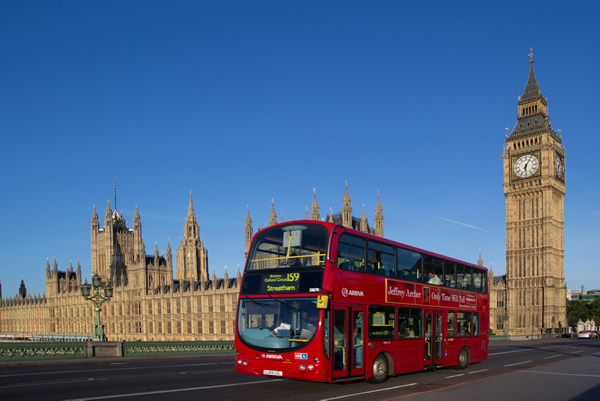 The Washington Blade has confirmed the British government has cancelled a global LGBTQ rights conference it was to have hosted this summer.
The Safe to Be Me Conference was to have taken place in London from June 29-July 1. Toby Usnik, the head of communications for the British Consulate General in New York, on Tuesday confirmed the conference has been cancelled.
The conference's cancellation comes a day after Stonewall and dozens of other British LGBTQ rights groups announced they would not attend in response to Prime Minister Boris Johnson's decision to exclude transgender people from a conversion therapy ban. LGBT Business Champion Iain Anderson, whose appointment Women and Equalities Minister Liz Truss announced last September, on Tuesday resigned.
"It is disappointing to see partners withdraw from an international conference focused on the fundamental human rights issues facing LGBT+ people around the world, and as a result it will not be possible to proceed with the Safe To Be Me Conference," said a British government spokesperson on Wednesday in a statement.
"We remain committed to strengthening LGBT+ rights and freedoms and will continue to support human rights defenders globally and to influence and support countries on the path to decriminalization," added the spokesperson. "The U.K. will continue to engage extensively with our international partners, and we will continue to use our position on the world stage to push for global change for LGBT+ people."
Will King Charles III address LGBTQ rights?
Homosexuality remains criminalized in dozens of Commonwealth countries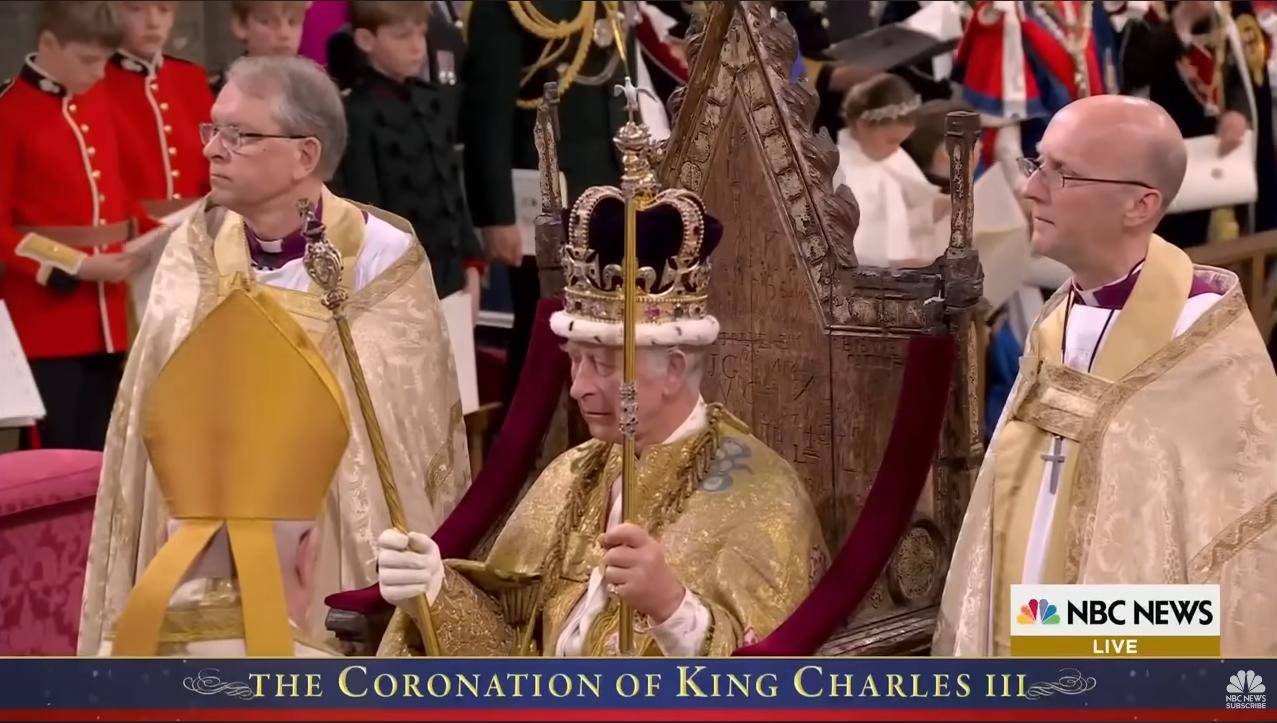 In a solemn ceremony dating back to the Dec. 25, 1066, when William the Conqueror was crowned at Westminster Abbey in London, and 70 years after his mother was crowned monarch on June 2, 1953, Charles III was anointed king by the Archbishop of Canterbury.
The king's coronation included investiture of his wife Camilla as queen consort. The ceremony is principally a religious recognition as the Archbishop of Canterbury, surrounded by the high ranking principals of other religious orders placed St. Edward's Crown upon Charles' head after first giving him the other two symbols of the monarchy, the Orb, which represents the world under Christ, and the Sovereign's Ring, symbolizing the marriage of a monarch to his people. Charles wore the Coronation Glove and held the Scepter with Cross, a symbol of earthly power, in his right hand.
Watch: King Charles III is crowned as British monarch:
Following the king's coronation, his wife was crowned as Queen Camilla.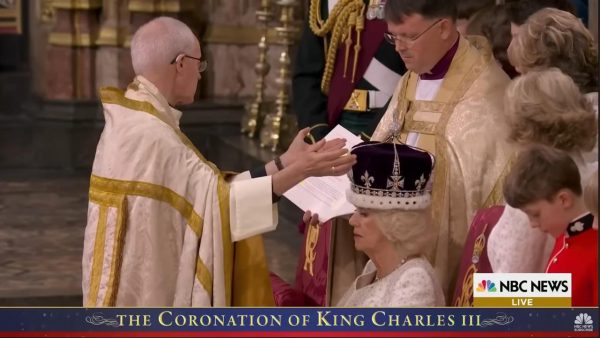 Coronation Day began with the King's Procession in which the king and Queen Consort Camilla traveled from Buckingham Palace to the Great West Door of Westminster Abbey in the Gold State Coach, which has been used at every coronation since William IV's in 1831.
Leaving Buckingham Palace, accompanied by the Sovereign's Escort of the Household Cavalry, the route took the royals past a guard of honor, comprising about 160 members of the three armed services. The 1.42 mile route was also flanked by 1,000 members of the military from the Army, Royal Navy and Royal Air Force.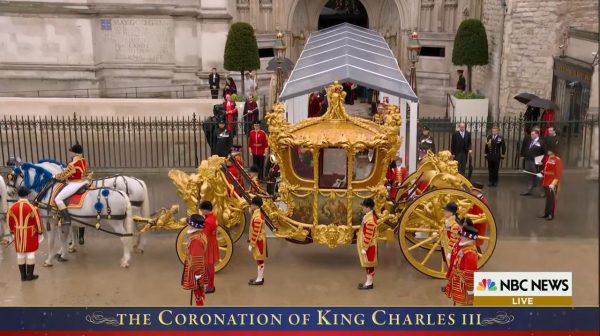 King Charles III's procession back to Buckingham Palace:
Upon return to the palace under cloudy grey rainy skies the king and the royal family gathered on the balcony to greet the thousands of well-wishers gathered along the Mall. Of note, only members of the working royals were on the balcony with Prince Harry and the king's brother, Prince Andrew, noticeably absent.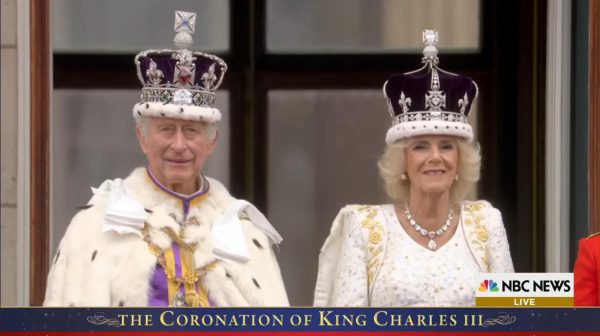 Dignitaries from around the world including world leaders had gathered for the coronation. The U.S. delegation was led by first lady Jill Biden, and in a tweet the president noted: "Congratulations to King Charles III and Queen Camilla on their coronation. The enduring friendship between the U.S. and the U.K. is a source of strength for both our peoples. I am proud the first lady is representing the United States for this historic occasion."
Congratulations to King Charles III and Queen Camilla on their Coronation. The enduring friendship between the U.S. and the U.K. is a source of strength for both our peoples.

I am proud the First Lady is representing the United States for this historic occasion.

— President Biden (@POTUS) May 6, 2023
Of interest to the LGBTQ community will be the new king's stance on the issues that impact the LGBTQ community. PinkNewsUK reported that Queen Elizabeth's 70-year reign saw transformative changes in the U.K., including major laws that advanced LGBTQ rights including the partial decriminalization of homosexuality in 1967 and the Marriage (Same Sex Couples) Act in 2014.
However, the late queen avoided commenting publicly on LGBTQ rights. She kept herself out of social and political issues, and it seems that LGBTQ rights, even in the 21st century, were considered just that.
LGBTQ rights advocates in the U.K. and in the Commonwealth of Nations that the king will now head are waiting to see if the he will more vocal about LGBTQ rights. PinkNewsUK noted that Charles has largely followed in Queen Elizabeth's footsteps, and there is no record of him speaking on LGBTQ rights.
For the U.K.'s transgender community, especially in Scotland, which passed an updated Gender Recognition Law only to have it blocked by the conservative government of Prime Minister Rishi Sunak, barring it being signed into law by the king in the process known as "royal assent," the king remaining silent has become problematic according to LGBTQ rights advocates and organizations.
Elton John has previously vouched for Charles, expressing his confidence that the king would use his influence to decriminalize homosexuality in all Commonwealth states.
Same-sex relations remain illegal in many countries once colonized by Britain — many of which now form the Commonwealth.
"Things don't happen over night. You can't change a culture and people's way of thinking over night. But you can certainly step in the water and have a good go. If you don't step in the water, nothing's ever going to get done," John said in 2018, the Gay Times reported.
"I think Prince Charles, when he is made head of the Commonwealth, will do those kind of things."
Homophobia is one of the many lingering legacies of the British Empire which carried over into the Commonwealth of Nations headed first by Elizabeth and now by her eldest son.
Emma Eastwood, head of strategic communications for Human Dignity Trust, an organization that works with local activists to overturn laws criminalizing LGBTQ people around the world told PinkNewsUK in a May 2 interview:
"Around the world LGBT people are outlawed by legislation criminalizing same-sex sexual activity and through so-called 'cross dressing' laws and public order offences, which disproportionately affect trans people," said Eastwood.
"Many of these laws remain virtually unchanged since they were first introduced in 19th century. The British Empire first tested modern forms of criminalization in its colonies, in India and Australia for example, before introducing them in the U.K. itself," she explained.
Throughout Elizabeth's reign, as the British Empire gradually fell away and was replaced by the Commonwealth, many of those former British colonies — now independent countries, have begun working to recant anti-LGBTQ laws.
While some, such as the example of India where same-sex marriage is now being argued before the country's high court, and in Uganda where a draconian law was passed to essentially imprison LGBTQ people and in neighboring Kenya expel LGBTQ- refugees, there have also been advances. Recently the premier of Australia's Victoria state castigated anti-LGBTQ groups and in New Zealand lawmakers recently banned so-called conversion therapy and recognized self-identity for trans New Zealanders.
"LGBTQ+ rights across the Commonwealth are changing rapidly, though unevenly," Eastwood says.
"While a number of countries have recently decriminalised homosexuality, others, such as Uganda, have introduced legislation to enhance existing laws," she noted.
Eastwood stressed that it is "hugely important that people of all ages in the U.K. are cognizant of colonialism and its after-effects," and that the government owns up to the nation's past.
Eastwood pointed out that former Prime Minister Theresa May acknowledged Britain's role in anti-LGBTQ laws around the world in 2018, calling it "an important and pivotal moment in addressing responsibility and paving the way for increased support for the global LGBT movement."
"Given this legacy, the U.K. has an important role in supporting LGBT people around the world," she adds.
The question now is as Charles takes the throne and the reins of both the monarchy and the Commonwealth will the king remain silent, or speak out.
Additional reporting from PinkNewsUK.
LGBTQ ally Humza Yousaf becomes Scotland's next first minister
Nicola Sturgeon resigned in February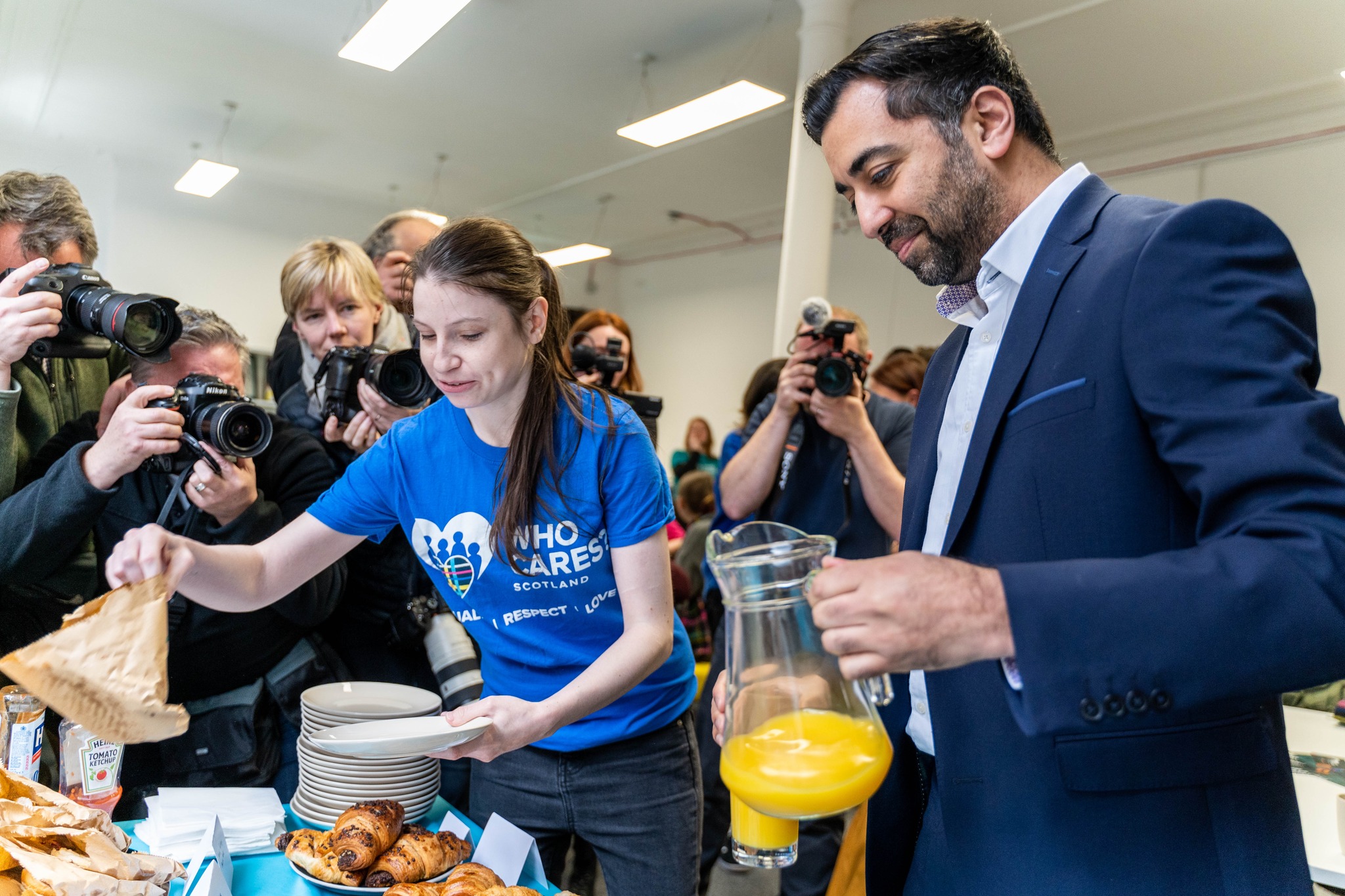 Humza Yousaf, in a tumultuous election race for leadership of the Scottish National Party pitted against socially conservative rivals Kate Forbes and Ash Regan, was elected Monday as SNP leader. He becomes the first Muslim to lead a major U.K. political party and the first Muslim to lead a European democracy.
In a vote in the Scottish Parliament (Holyrood) on Tuesday, Yousaf was confirmed as Scotland's next first minister, replacing Nicola Sturgeon. Sturgeon had resigned as the SNP leader and Scotland's first minister last month, setting off a close contest within the party to succeed her.
Her decision was tied to two key political challenges: The future of the independence campaign and changes to Scotland's gender recognition laws. In January Sturgeon castigated the conservative government of U.K. Prime Minister Rishi Sunak for blocking the Gender Recognition Reform (Scotland) Bill from being signed into law by King Charles III.
The Gender Recognition Reform bill introduced by the Scottish government in Holyrood last spring was passed in a final 86-39 vote days before this past Christmas. The sweeping reform bill modifies the Gender Recognition Act, signed into law in 2004, by allowing transgender Scots to gain legal recognition without the need for a medical diagnosis.
The measure further stipulates that age limit for legal recognition is lowered to 16.
The Guardian noted the most pressing question is how a change of leadership affects the Scottish government's plans to contest the U.K.'s decision to block the bill, which it did using section 35 of the Scotland Act 1998, described by sources as "the nuclear option." Scottish ministers have three months from the date the section 35 order was laid — Jan. 16 — to contest it.
PinkNewsUK reported that Yousaf had received a tidal wave of support and well wishes after his victory was announced. SNP MP John Nicolson said that Yousaf led a "positive and bold campaign."
"Humza knows that young voters love our party's vision of a liberal, progressive, egalitarian independent Scotland," Nicolson said. "His campaign promised a progressive agenda of fair taxation, defending LGBT+ rights from Westminster attack, and support for the vulnerable at home and abroad."
Speaking to PinkNews, Nicolson added: "I think young people want a Scotland which is socially progressive and liberal. And for young people, independence isn't about a face, but it's about the kind of country that they imagine independent Scotland could be — a progressive country — and Humza very deliberately tapped into that in the course of the election campaign and made it very clear what his views were and championed that."
During the campaign Yousaf had promised voters, "If elected Scottish National Party (SNP) leader and Scotland's next first minister, I'll build on our track record of promoting and protecting the rights of LGBTQ+ people by: (1) banning conversion practices and (2) embedding LGBTQ+ rights in an independent Scotland's constitution."
Lots of 🏳️‍🌈 🏳️‍⚧️ LGBT+ people are breathing a collective sigh of relief with @HumzaYousaf on track to be Scotland's sixth First Minister. The fact we came 𝘀𝗼 𝘃𝗲𝗿𝘆 close to the alternative ought not to be forgotten. We all need to be involved in writing Scotland's next chapter.

— Rob McDowall AMRSPH FRSA (@robmcd85) March 27, 2023
Scotland chose to reject transphobia and anti abortion religious fundamentalism. 👏❤️🏴󠁧󠁢󠁳󠁣󠁴󠁿🏳️‍🌈 https://t.co/tPW8QHwIYj

— Esme (@discount_Ripley) March 27, 2023
A political commentator and SNP source told the Washington Blade on Monday they are "happy with the result and motivated by what is to come. Humza has secured the continuation of a progressive agenda. I think he will be more popular as he becomes more well-known."
Transgender girl's murder sparks outrage across UK
Two teenagers have been arrested in connection with Brianna Ghey's death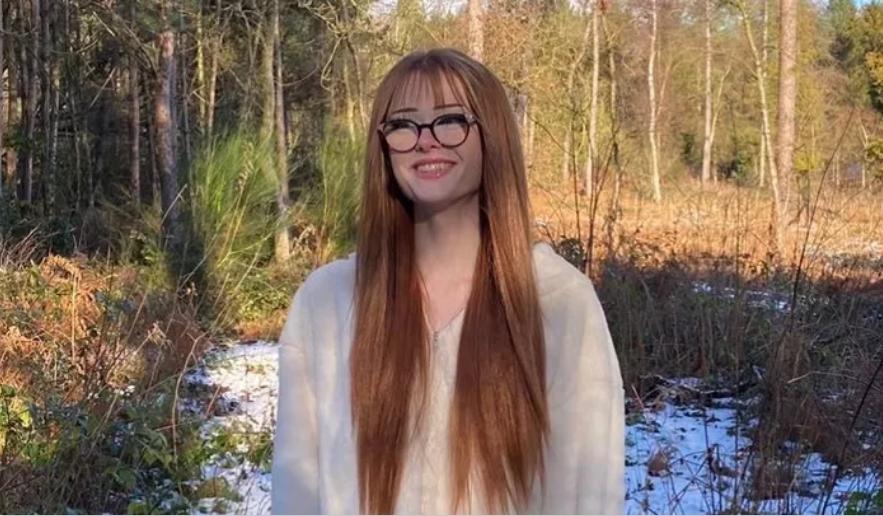 The body of 16-year-old Brianna Ghey was discovered this past Saturday afternoon in the Linear Park in Culcheth, a small community located between the port city of Liverpool and metropolitan Manchester. She had been repeatedly stabbed and was pronounced dead at the scene by police and paramedics who responded.
Ghey, who lived in Birchwood, Cheshire, and was a junior at Birchwood Community High School had been bullied for her transgender identity, according to comments left on social media posts by friends and fellow students.
Her friends alleged she had been bullied and gang beaten at Birchwood Community High School for several years over the "simple reason of being trans." In another post one claimed that school administrators, staff and faculty was aware of the bullying "refused to intervene." 
Cheshire Constabulary Detective Chief Supt. Mike Evans told British media outlets: "At this time, there is no evidence to suggest that the circumstances surrounding Brianna's death are hate related," adding "Patrols have been stepped up in the local area and officers will remain in the Culcheth area to provide reassurance and address any concerns that residents may have."
On Monday Evans said that police believe the death of Ghey was "targeted" and that two teenagers, a 15-year-old boy and girl, both local residents, have since been arrested on suspicion of murder and are currently in custody.
Evans told reporters that a full investigation into the death are underway and that his officers are "doing all that we can to establish the exact circumstances of what has happened."
"At this time, there is no evidence to suggest that the circumstances surrounding Brianna's death are hate-related," he stated.
As news coverage of the 16-year-old's death spread, several British press outlets misgendered and deadnamed her, which drew the ire and criticism of LGBTQ advocacy groups including the Trans Safety Network which posted on Twitter: "We are appalled to note that @thetimes have now updated their article on the killing of Brianna Ghey to remove all references to her being a girl and to add her deadname."
We are appalled to note that @thetimes have now updated their article on the killing of Brianna Ghey to remove all references to her being a girl and to add her deadname.

Previous version:https://t.co/FYWQ4SMDyi

Current version:https://t.co/g4TNG8p7f3

— Trans Safety Network (@trans_safety) February 13, 2023
Ash Sarkar, a a senior editor at London-based Novara Media and a leading feminist progressive voice in U.K. politics, tweeted her anger at the misgendering:
A 16 year old girl has been murdered, taken from her friends and family when her life was only just beginning. I cannot fathom the callousness involved in making the editorial decision to violate her dignity in death.

Disgusting from @thetimes. https://t.co/NHB55kaaQK

— Ash Sarkar (@AyoCaesar) February 13, 2023
As a result of the outcry, the Times did revise its coverage, although other outlets including the BBC News and Sky News failed to mention that Ghey was trans in their initial reporting.
A Trans Safety Network spokesperson told Britain's leading LGBTQ media outlet PinkNewsUK:
"Whatever the specific circumstances leading to Brianna Ghey's death, we are currently living through a period of unprecedented moral repugnance towards trans people, largely channelled through a compliant media which shows less and less respect for trans peoples' lives and humanity.
"We have seen how even in death, the press has chosen to compound this harm by publicly disrespecting Brianna's identity until public outcry forced them to reconsider.
"It shouldn't take a public show of grief to value the lives of trans children, and her life should have been valued enough to not have been taken in the first place," the spokesperson added.
The local MP, Charlotte Nichols, told PinkNewsUK that the local community is "reeling from the news" of Ghey's death.
"Brianna's family have been very clear in their statement who Brianna was: 'a much-loved daughter, granddaughter and baby sister'. That should be the starting point for any coverage, and how we all talk about her," Nichols told PinkNewsUK.
"Brianna was trans, and at this point it is not clear whether that was relevant to the circumstances surrounding her death, but there is absolutely no need whatsoever for anyone to publish her deadname when identifying her as trans in media coverage."
"The least we can all do for Brianna is remember her for who she was, and not who she wasn't, out of respect not only for Brianna but for her grieving family and friends," she added.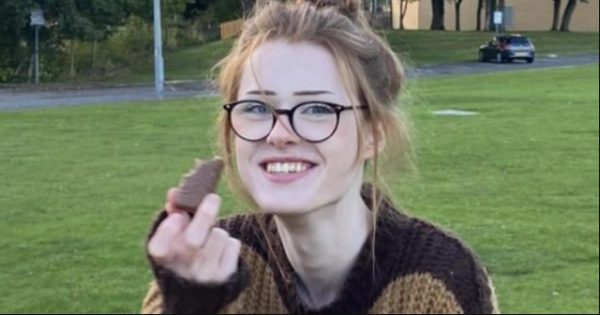 "Brianna was a much loved daughter, granddaughter and baby sister. She was a larger than life character who would leave a lasting impression on all that met her. Brianna was beautiful, witty and hilarious. Brianna was strong, fearless and one of a kind," her parents said in a statement released over the weekend.
"The loss of her young life has left a massive hole in our family, and we know that the teachers and her friends who were involved in her life will feel the same.
"We would like to thank everyone for their kind words and support during this extremely difficult time. We would like to thank the police for their support, and witnesses for helping with the investigation."
A GoFundMe fund to assist the family has already raised £73,083 ($88841.16).
A verified fundraiser has been set up in memory of 16-year-old Brianna Ghey, after she was stabbed to deathhttps://t.co/Tju22qtZmy

— GoFundMeUK (@GoFundMeUK) February 13, 2023