Kansas House fails to override Gov.'s veto of anti-Trans youth sports bill
The bill- subject of significant debate over two sessions, had 81 votes in favor, falling short of 84 required 2/3 majority vote to override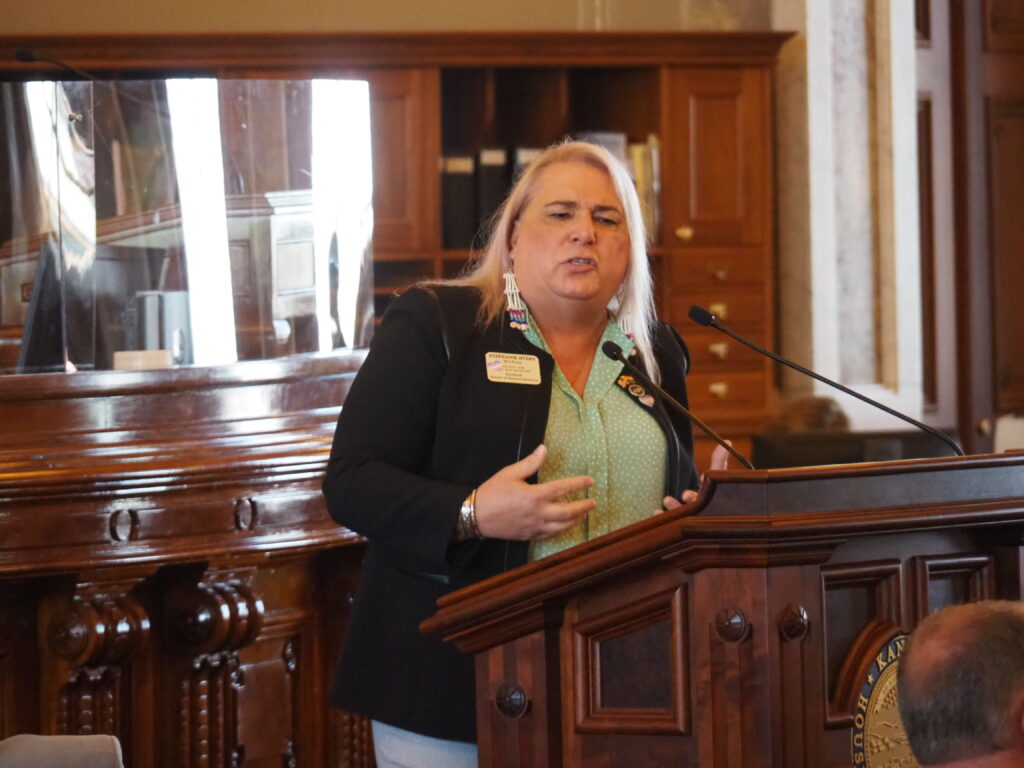 By Noah Taborda | TOPEKA — An effort to ban transgender athletes from women's sports failed Thursday after the House fell short on an attempt to override Gov. Laura Kelly's veto of the bill.
The bill, a subject of significant debate the past two sessions, garnered 81 votes in favor, falling short of the 84 required a two-thirds majority vote to overturn the veto. On Tuesday, the Senate voted 28-10 to override Kelly's veto of Senate Bill 160.
The House can reconsider the vote Thursday or the next day the body meets.
Republicans argue the bill is the best way to ensure fairness. They said transgender athletes in women's sports have an unfair advantage compared with those assigned the female gender at birth. Opponents of the measure, predominantly Democrats, say the bill is hateful and political.
But as legislators returned for veto session, the debate about transgender identities shifted to new extremes. Rep. Stephanie Byers, a Wichita Democrat and the first transgender Kansas legislator, said the override vote was a decision between accepting and rejecting transgender Kansans' identities.
"Wrestle with your consciences, decide how you want to vote with this. Decide how you want to commit to the fact that trans women are not really women, trans girls are not really girls, or you're going to say that trans girls are girls, trans women are women," Byers said. "This is not a lifestyle. This is my existence."
Rep. Barbara Wasinger, a Hays Republican, said identifying as transgender is a mental health issue.
"I feel greatly and deeply for these young people and all people that are confused," Wasinger said during Republican caucus before the debate.
Rep. Brandon Woodard, a Lenexa Democrat and one of four LGBTQ legislators, countered transgender children just want to be seen as human.
"If you disapprove of who I am or who a young trans person is, take that up with our creator," he said.
At the high school level, there is just one transgender girl participating in any school activity in Kansas, according to LGBTQ advocates.
House Speaker Ron Ryckman said earlier this week he did not have the votes to overturn the measure this week, but he reversed course Thursday, attempting to override the veto. Eighty-five Republican House members were present, and 84 votes were needed for an override.
During the first debate on the bill earlier this month, several legislators were absent or chose not to vote. The measure originally passed 74 to 39.
Earlier this week, an email sent by Rep Chery Helmer, a Mulvane Republican, to a transgender college graduate student sparked controversy over comments that she did not feel comfortable sharing a bathroom with Byers, who she described as a "huge transgender female." Helmer also spread false claims that many school-age girls have been sexually assaulted in bathrooms by transgender people.
Opponents of the bill have pointed to this email as an example of the underlying fear and hatred of LGBTQ Kansans driving this bill. Legislation in Kansas matches bills pushed by conservative lobbying groups across the country.
Rep. Owen Donohoe, a Shawnee Republican, said it was the duty of government to uphold the "rules of nature," which he said led him to consider things like same-sex marriage and transgender athletes to be inherently wrong.
Rep. Chuck Schmidt, a Wichita Democrat, said he did not understand what it was like to be transgender, and after listening to the debate, it was clear most legislators do not either. He said high rates of suicide and suicide ideation among transgender people and how this bill could exacerbate those were of greater concern to him than anything else.
"I speak as a coach for many years, and I know the value of activities, and I know how important it is to allow kids to be counted as a part of something bigger than themselves," Schmidt said.
"This is not just some boy deciding I can do better in girls' sports. This is someone who decides this is who I am, and this decision doesn't come easy."
********************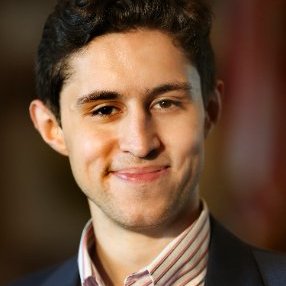 Noah Taborda started his journalism career in public radio at KBIA in Columbia, Missouri, covering local government and producing an episode of the podcast Show Me The State while earning his bachelor's degree in radio broadcasting at the University of Missouri School of Journalism. Noah then made a short move to Kansas City, Missouri, to work at KCUR as an intern on the talk show Central Standard and then in the newsroom, reporting on daily news and feature stories.
********************
The preceding article was previously published by the Kansas Reflector and is republished by permission.
Kan. governor vetoes four anti-trans bills, GOP likely to override
'Stripping away rights' would hurt the state's ability to attract businesses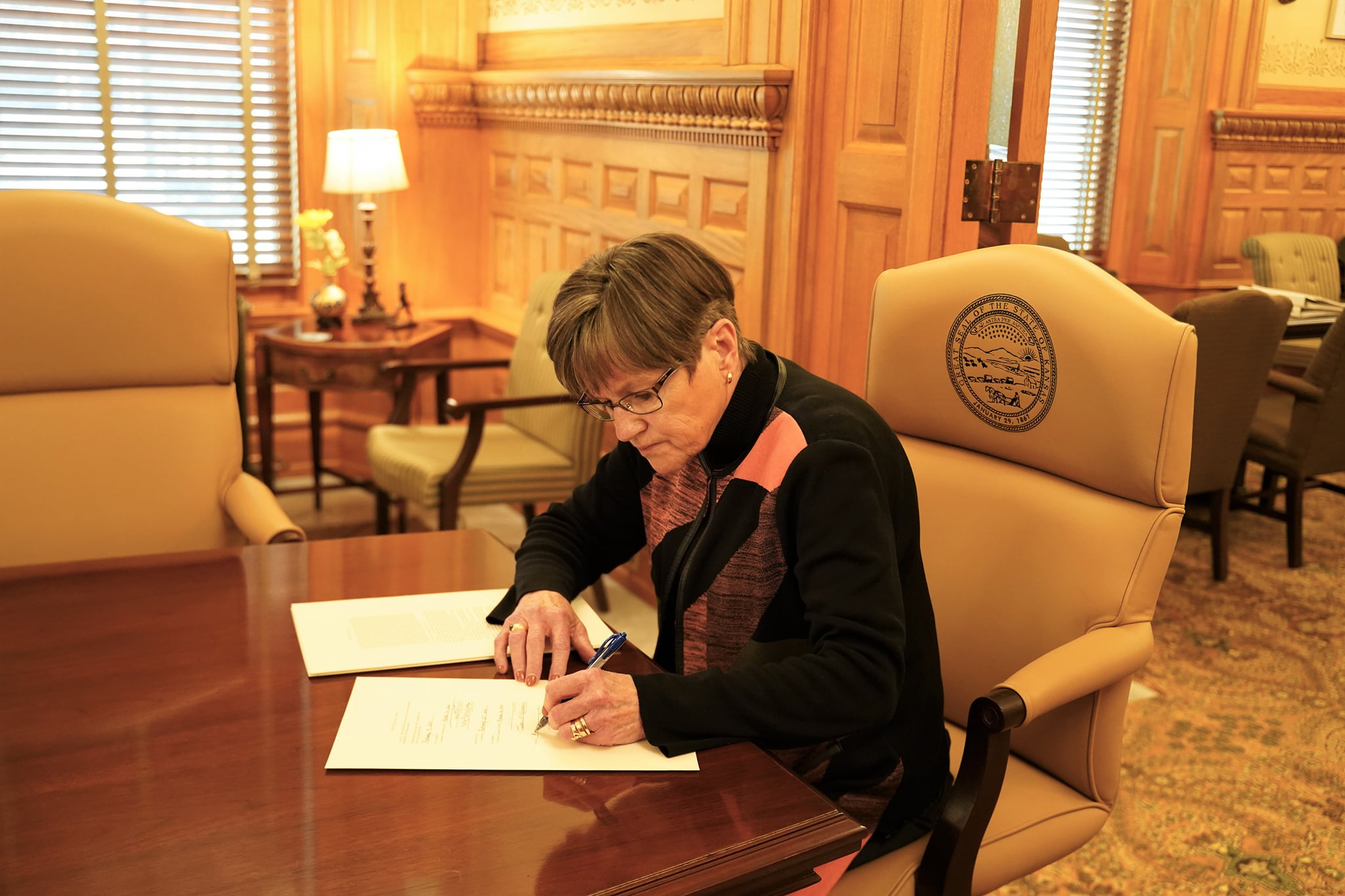 This past Thursday, Democratic Kansas Gov. Laura Kelly vetoed a sweeping set of anti-transgender bills, including a ban on gender-affirming health care for trans minors.
KMBC reported the governor said in statement on the four vetoes that measures "stripping away rights" would hurt the state's ability to attract businesses. The vetoes also were in keeping with her promises to block any measure she views as discriminating against LGBTQ people.
"Companies have made it clear that they are not interested in doing business with states that discriminate against workers and their families," Kelly said. "I'm focused on the economy. Anyone care to join me?"
In addition to the ban gender-affirming health care, bills were passed by state lawmakers that would have prevented trans Kansans from using restrooms and other public facilities that meshed with their gender identities; another measure would place limits on the Kansas Department of Corrections, restricting where trans offenders are housed in state prisons and county jails; then a measure placing restrictions on rooming arrangements for trans youth on overnight school trips.
The state legislature has Republican supermajorities in both chambers and conservative leadership has made it clear rolling back trans rights is a priority. Votes to override the governor are expected as soon as this week.
The bills on bathrooms, jails and overnight school trips passed earlier this month with the two-thirds majorities needed to override a veto, KMBC reported, but the measure on gender-affirming care did not, falling 12 House votes short of a supermajority.
"I am not going to go back to those days of hiding in the closet," Justin Brace, executive director of Transgender Kansas, said during a recent trans rights rally outside the State House. "We are in a fight for our lives, literally."
Taking aim at the governor's veto of the measure to ban on gender-affirming health care for trans minors, Kansas Senate President Ty Masterson said in a statement:
"By any reasonable standard, governing from the middle of the road should include ensuring vulnerable children do not become victims of woke culture run amok."
The progressive Movement Advancement Project think tank noted that as of April 21, 15 states have bans on at least some forms of medical care, and many more states are actively pursuing similar bans. As a result, nearly one in five (20 percent) trans youth currently live in states where they are banned from receiving best-practice medical care, in addition to trans adults living in Missouri.

"These bills are part of a much broader, coordinated effort to prevent transgender people from being our authentic selves," said Logan Casey, senior policy researcher at MAP and an author of the report. "Across the country, anti-transgender extremists and politicians are putting the lives and well-being of transgender people at risk by attempting to outlaw access to best practice medical care not only for youth, but for all transgender people."
Prior to 2021, no states banned medical care for trans youth. Treatments for children and teens have been available in the U.S. for more than a decade and are endorsed by major medical associations.
Medical experts along with LGBTQ advocacy and legal groups point out that the health care targeted by anti-trans extremists is medically necessary care that is prescribed by experienced doctors who utilize best practices that are endorsed by all major medical groups, including the American Academy of Pediatrics and the American Medical Association
The Kansas measure would have required the state's medical board to revoke the license of any doctor discovered to have provided such care, and allowed people who received such care as children to sue health care providers later.
Republican state Rep. Susan Humphreys of Wichita said during a debate on the gender-affirming care bill: "They're parents who are saying, 'My child showed no signs of gender dysphoria until they got to be in middle school, and then they started using social media.'"
According to the Associated Press, Humphreys and her Republican counterparts across the U.S. argue many of their constituents reject the cultural shift toward accepting that people's gender identities can differ from the sex assigned them a birth; don't want cisgendered women sharing bathrooms and locker rooms with trans women; and question gender-affirming care such as puberty-blocking drugs, hormone therapies and surgeries.
Editor's Note: The new MAP report, LGBTQ Policy Spotlight: Bans on Medical Care for Transgender People, provides the most comprehensive look to date at the sweeping attempts to ban and restrict medical care for not only transgender youth — but also trans adults.
Kansas Republicans override governor's veto of anti-transgender athletes bill
'I'm sorry that they distracted themselves with this really awful bill'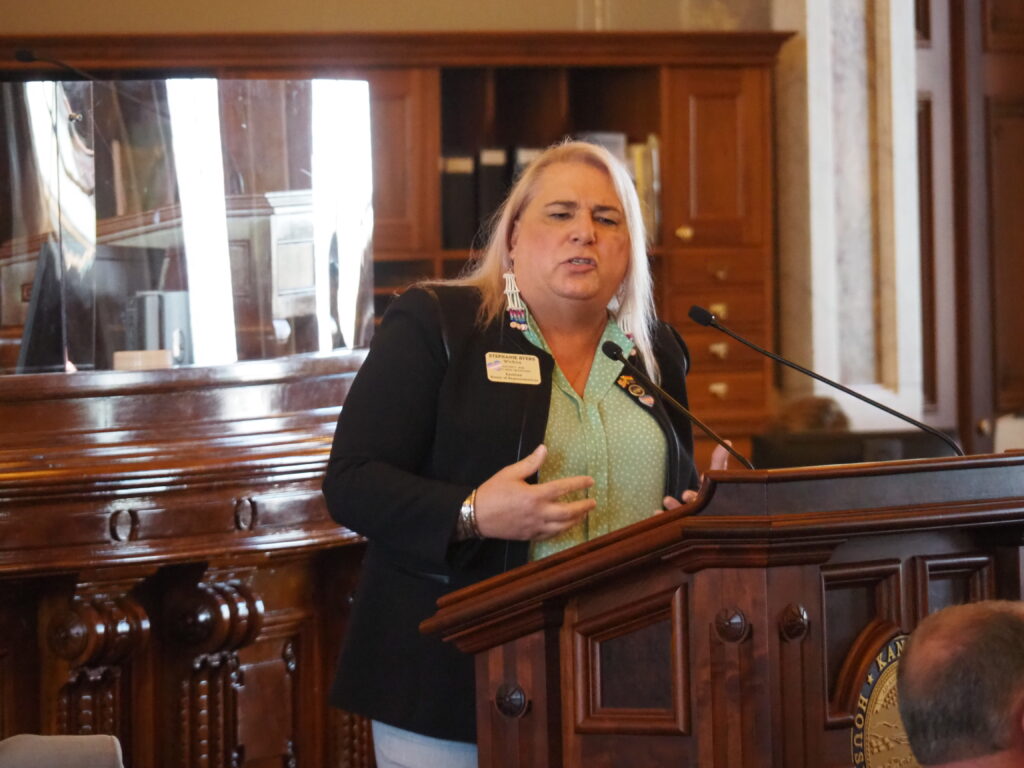 The Republican majority Kansas Legislature was able to override Democratic Gov. Laura Kelly's veto of a bill banning transgender girls and women from girls and women's sports at public schools and colleges.
The state Senate with a 28-12 vote on April 5 passed through Senate Bill 160 known as the Fairness in Women's Sports Act. The House of Representatives had previously voted 84-40. Both reached the two-thirds majority needed for an override. Last year an effort to ban trans athletes from women's sports failed after the House fell short on an attempt to override Kelly's veto.
"The Fairness in Women's Sports act protects the rights of female athletes in the state by requiring that female student athletic teams only include members who are biologically female," House Speaker Dan Hawkins said in a statement after overriding the veto. "House Republicans are united in our commitment to defending the intention of Title IX."
In an interview with KCUR, the governor said, "It breaks my heart. I'm sorry that they distracted themselves with this really awful bill."
The override by Republicans caps a 3-year battle to try to enact the ban.
Kelly has vetoed similar legislation in the last two years. Kansas News Service reporters Dylan Lysen, Blaise Mesa, Samantha Horton reported that the newly enacted law will not lead to a widespread change in Kansas.
Jeremy Holaday, a spokesperson for the Kansas State High School Activities Association, said of the 106,000 students participating in the organization's sports and activities, only three are trans girls.
Two of those trans girls are set to graduate this spring. That means only one of the students currently participating in Kansas high school activities will be impacted when the law goes into effect in July.
KSHSAA uses a policy that allows schools to consider each case of trans youth participating in gender-specific activities on an individual basis. The student's school ultimately makes the decision.
"We believe it has worked for our member schools," Holaday said. "If the state legislature gives us new direction, then we will adjust accordingly."
Democratic state Rep. Jerry Stogsdill of Wichita warned the bill may lead to businesses and sporting events — like the NCAA's national tournaments — shunning the state.
"We have put targets on the backs of some of our most vulnerable citizens," Stogsdill said. "As a proud Kansan, I'm ashamed."
The bill is one of several measures the Republican-dominated Kansas Legislature is pursuing that limits trans rights.
Lawmakers also approved a bill known as the Women's Bill of Rights that bars trans women from bathrooms, shelters and other spaces designated for women. Kelly is expected to veto that bill too.
In an editorial by the Kansas City Star's Editorial Board on April 6, the newspaper took lawmakers to task denouncing the veto override:
"When talking about the laws that govern our rights, we're talking about power. Pure and simple. Kansas Republicans have decided out of thin and undetectable air that transgender young people need to be targeted. With their consolidated power in the Legislature, they've decided to stand on the necks of a tiny, especially vulnerable minority of children."
Continuing on, the Star's Editorial Board wrote:
"This was pressing even though the legislation will affect three high school student-athletes in the state, according according to the Kansas State High School Sports and Activities Association.
If there were only three students enrolled in a school, the board would shut that school down.
If there were only three students enrolled in a class, the school would shut that class down. No matter how you look at it, three people in a population of almost 3 million can't possibly be worth the Legislature making it into the concern of the century.
Now, in all fairness, it's not only Kansas that feels that need to put trans students in its crosshairs. Just so far in 2023, GOP lawmakers are putting anti-trans bills in play in almost every state in the nation.
What does it say about Kansas wanting to be on that leading edge of that trend? And what is it about trans students wanting to play ball that's so horrifying and threatening?
The Star then noted:
"The ugly truth is that politicians set their sights on kids who take up few to no resources in the school system. Members of the Kansas GOP can pat themselves on the back and high-five one another other for battling a nonexistent crisis that should be dealt with by schools and athletic leagues, not the government. They can pick on and bully trans students — and make no mistake, that's exactly what this is."