Norton challengers urge LGBTQ voters to consider new leadership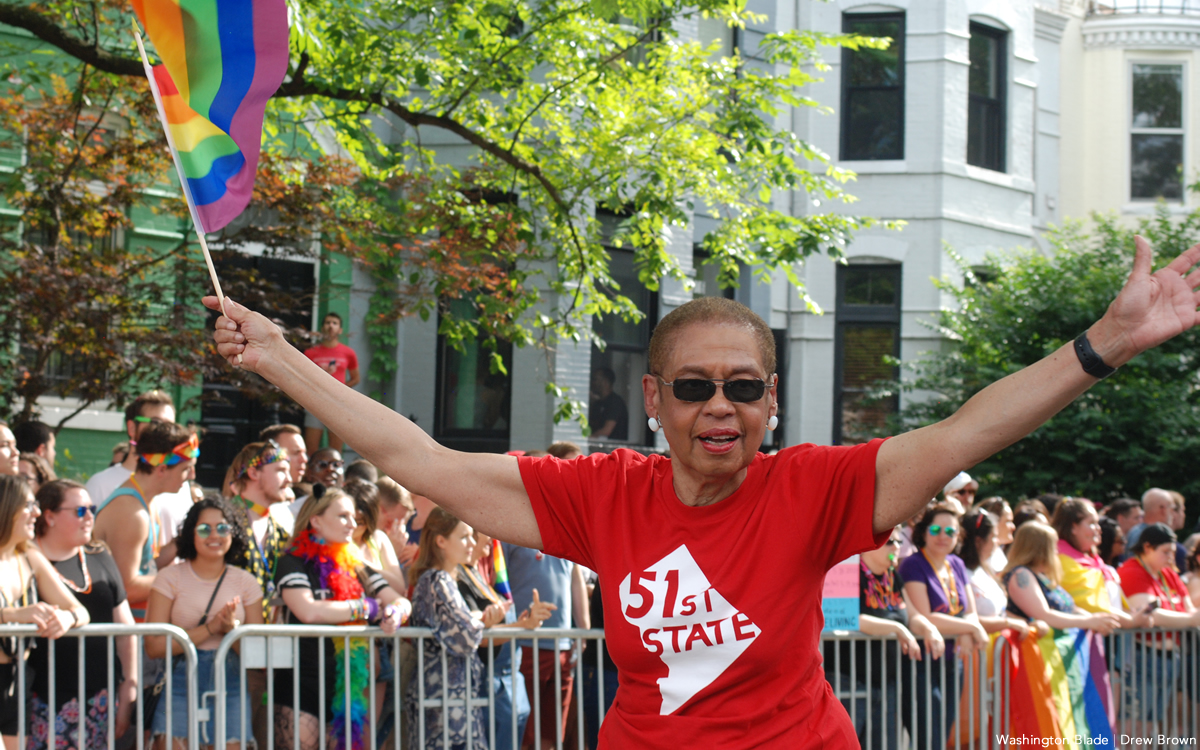 The two candidates running against D.C. Congressional Del. Eleanor Holmes Norton in the city's June 21 Democratic primary urged LGBTQ voters to vote for them on grounds that they will provide new leadership and innovative ideas as the city's non-voting delegate to the U.S. House of Representatives.
Rev. Wendy Hamilton, a longtime community activist and former official with the NAACP, and Kelly Mikel Williams, a former D.C. Council staff official and longtime advocate for the homeless, presented their views on a wide range of issues, including support for the LGBTQ community, during an April 28 virtual candidates' forum organized by the Capital Stonewall Democrats.
Norton, a longtime outspoken supporter for LGBTQ rights, did not attend the forum. Jacqueline Pelt, her campaign spokesperson, said Norton informed the group that a scheduling conflict prevented her from attending.
The event was the second in a series of five LGBTQ candidate forums scheduled to take place from April 25 to May 11 organized by Capital Stonewall Democrats, the city's largest local LGBTQ political group formerly known as the Gertrude Stein Democratic Club. The group's next forum is scheduled for May 2, when candidates for D.C. Mayor and D.C. Attorney General were expected to participate.
In addition to hosting candidates for the D.C. Congressional Delegate race, the Thursday night, April 28, forum included the two candidates running in the primary for the position of U.S. Representative, known as the so-called D.C. "shadow" representative to the U.S. House – incumbent Rep. Oye Owolewa and challenger Linda L. Gray.
The position has no congressional powers or voting privileges and was created to serve as a non-paid lobbying post for D.C. statehood. Both Oye and Gray said they have been supportive of LGBTQ equality for many years. They said they will push hard for the passage of the Equality Act, the LGBTQ nondiscrimination bill that has passed in the House and remains stalled in the U.S. Senate.
During the April 28 forum for Congressional Delegate, neither candidate Hamilton or Williams nor the LGBTQ Democratic group's moderators at the event, trans Democratic activist and ANC commissioner Monika Nemeth and the LGBTQ event organizer who identifies as Krylios, mentioned Norton by name.
Most political observers consider Norton, a beloved figure in D.C. politics, to be the strong favorite to win re-election to her 17th term in office in both the primary and the November general election.
Hamilton and Williams offered no criticism of Norton and instead, in response to questions asked by Nemeth and Krylios, presented proposals on both local and national issues they said would improve the lives of all D.C. residents.
Among her various career positions, which included working on Capitol Hill and serving as an adjunct professor of communications at Baltimore County Community College, Hamilton served as a part-time pastor at the Open Door Metropolitan Community Church in Germantown, Md., which is one of the nationwide churches affiliated with the LGBTQ Universal Fellowship of Metropolitan Community Churches. Hamilton said her service at the MCC church strengthened her role as a committed LGBTQ ally.
Williams told the forum he has helped LGBTQ people along with other population groups in need of housing, substance abuse services, and education and job training to gain access to various city programs in his role as constituent services director for former at-large D.C. Councilmember Vincent Orange.
A video recording of the April 28 virtual Capital Stonewall Democrats forum can be accessed here.
A Washington Blade transcript of the closing statements by Hamilton and Williams can be read below:
Kelly Mikel Williams
Thank you so much. I really appreciate it. And I enjoyed the conversation and the questions. And so, thank you for moderating and I thank the Capital Stonewall Democrats. As I mentioned in my opening statement, the disparities in our communities socially, economically, and politically will continue to divide us if we are not willing to address them. And what I would like to do as your representative is to address those issues from a holistic perspective, from a specific perspective, and from an economic perspective, a legislative perspective, and from a social perspective.
So, as I said earlier, the same issues that I dealt with as an individual – homeless, unemployment are the same issues intimately that I'm familiar with that I'm going to address as your elected leader. We have a real opportunity to ignite change in our city. And the question for us is when. When do we want it? And if not now, when are we going to get it and can we afford to wait that long to achieve it.
I'm a fresh voice with different ideas to try to address those issues. And my heart and passion to usher in a new generation of thinking is what I want to do. The primary issues that I'm addressing — homelessness, jobs, public safety — are issues that I've lived with and dealt with. And they always say that if you want someone to be able to satisfy an issue that you have, find someone who has actually lived and experienced it.
And what I'm going to do is bring together my personal and my professional experiences and merge those together. And I'm confident that when I do that, I can be the change that you want to see, and I can be the change that the District needs. So, I want to thank the Stonewall Democrats and say to you, we can't keep doing the same things over and over again, expecting different results. We have to have the courage, and it's time to have the courage to change course. And I'm asking you to change course on June 21 this year, Tuesday, June 21, and elect me as your next representative, Kelly Mikel Williams. And I'll be the change and you'll have the courage and we'll do this together going into the next year. Thank you very much.
Rev. Wendy Hamilton
Thank you all so much. We have covered a lot of ground tonight discussing the issues that are pertinent to Capital Stonewall Democrats and D.C. and just to our country as a whole, because D.C. is a microcosm of America. What goes on in D.C. impacts the rest of the country. So, I know we barely scratched the surface. We might not have all the answers today. But my hope is to continue these discussions as your new delegate, as we work together to figure out the best way forward for D.C.
We need to end the wrongful and dangerous workplace discrimination of our LGBTQ colleagues in the workplace. I would support the LGBTQ community in passing the Equality Act, HR 5. I mentioned earlier that 40 percent of LGBTQ youth have seriously considered suicide over the past year. And over 40 percent of homeless youth in D.C. are LGBTQ+. These numbers are rising, and we need to establish robust mental health and shelter systems responsive to LGBTQ+ and GMV youth and their needs.
My inspiration for running for this role comes from my faith in God, as I mentioned earlier, my experience as a servant leader, and my deep love for D.C. Over these past 15 months on the campaign trail, that decision has only been reinforced by the thousands of conversations I've had with residents all over the city who want to see us thrive and succeed together.
I'm not a politician, and that's a good thing I believe. I'm just running. I'm a regular, everyday woman. I'm not just running to represent you, I am you. So, I'm asking for your vote on June 21 for D.C. Delegate. Capital Stonewall Democrats, I believe it's time, time for a new voice and vision and new possibilities. I'm ready. We're ready. All I need is your vote. I believe we can do this because it's time. Thank you.
D.C. house with rainbow Pride flag set on fire
Investigators seeking help from public in search for suspect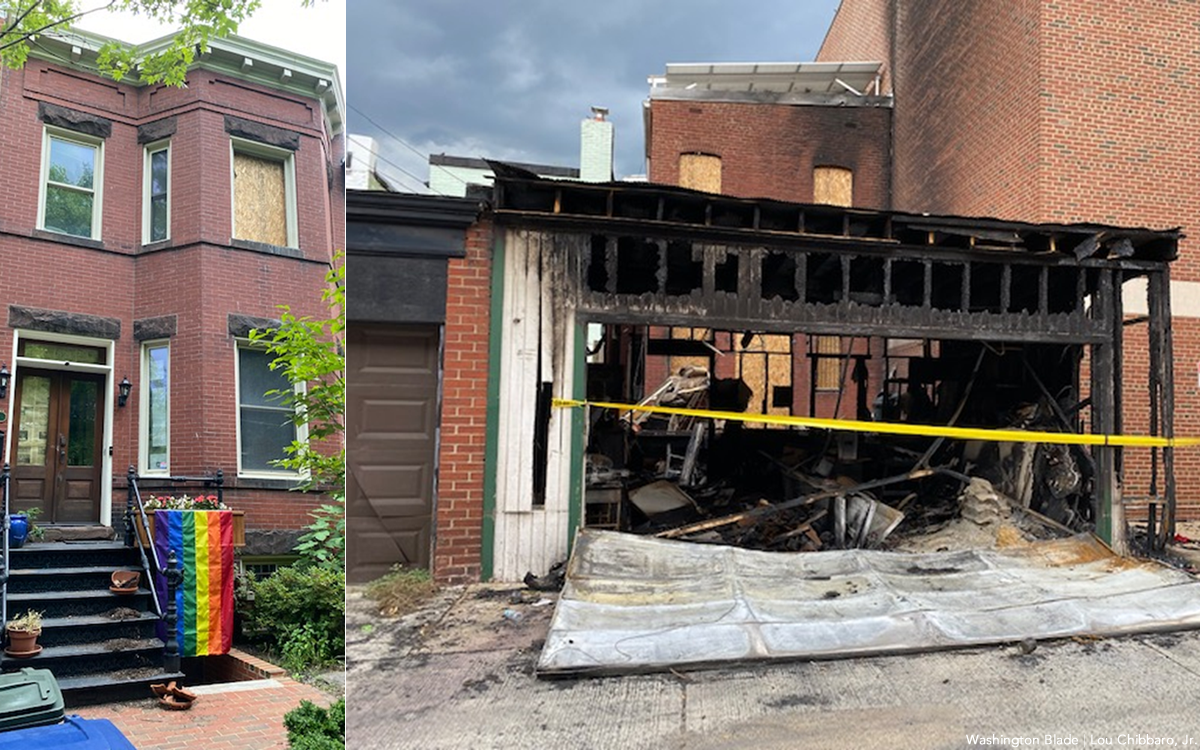 The D.C. Fire and Emergency Medical Services Department has classified as arson a June 19 fire at a two-story row house on the 1800 block of 8th Street, N.W. in the city's Shaw neighborhood that had an LGBTQ rainbow Pride flag prominently displayed on the front of the house.
A Fire & EMS Department spokesperson said the fire was ignited in a detached wooden garage in the rear of the house accessible only through an alley, and fire investigators have yet to identify a suspect or a motive for what evidence shows was an intentionally set fire.
Although the front of the brick rowhouse where the Pride flag was displayed was not damaged, the fire in the garage spread to the rear of the house, destroying a wooden outdoor deck, and caused extensive damage to the kitchen, bathroom, and second floor bedroom. Fire investigators have sealed the house, requiring its three occupants to find a temporary residence as the investigation continues.
One of the three occupants of the house, who was the only one at home when the fire started at about 2 a.m., escaped without injury, according to sources who know the occupants.
"The Pride flag on the front of the house was present at the time of the fire," Jennifer Donelan, director of communications for the Fire & EMS Department, told the Washington Blade. "We do not have any information, at this time, that suggests the arson was related to the presence of the flag, however we are still working on the case," she said.
"We are aggressively working to identify a suspect and a motive," Donelan said. "Until such time, we won't be able to make a determination as to whether or not this was a hate crime."
She said the Fire & EMS Department is seeking help from the public in its effort to identify one or more suspects responsible for the fire. Anyone with information that could be helpful to the investigation is asked to call fire investigators at 202-673-2776.
The fire at the D.C. house with the Pride flag took place less than a week after Baltimore police said a house in that city's Waverly neighborhood on which "Pride décor" was displayed was set on fire on June 15, causing extensive damage to the house and nearby houses.
Baltimore police and fire department officials said a Pride flag on a house across the street from the house set on fire was also ablaze when firefighters arrived on the scene. Two men were hospitalized in critical condition and a woman was listed in serious condition because of the fire ignited in the house.
Baltimore Mayor Brandon Scott released a statement saying fire department officials had yet to determine a motive for the fire.
"At this point, we cannot confirm that this was a hate crime," Scott said. "However, my agencies will bring every appropriate resource to bear to get to the bottom of this tragic event," he said. "I continue to stand in solidarity with our LGBTQ+ community."
D.C. officials vow to fight any GOP effort to ban abortion in nation's capital
Without statehood, District vulnerable to congressional interference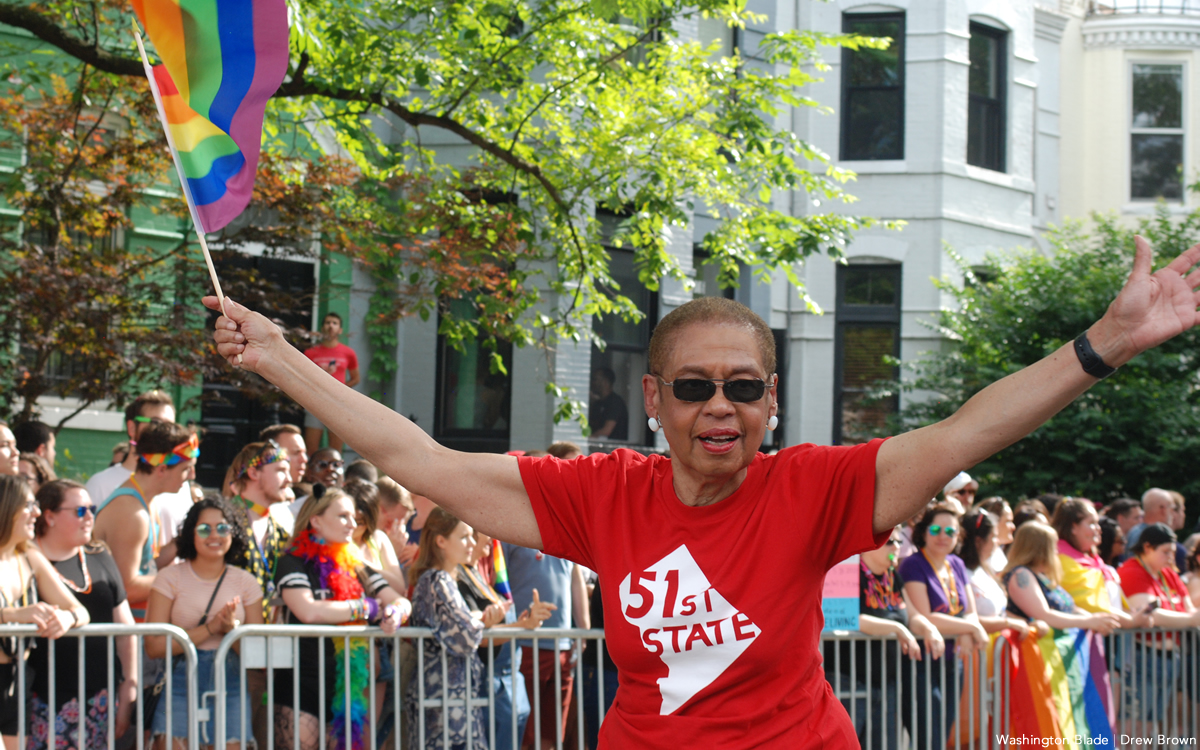 D.C. Mayor Muriel Bowser, D.C. Congressional Del. Eleanor Holmes Norton, and six members of the D.C. Council said they were united in fighting an attempt by Congress to ban abortions in the nation's capital following the Supreme Court's decision to overturn Roe v. Wade.
At a press conference on the day the Supreme Court handed down its controversial decision, the D.C. officials pointed out that unlike any of the states, D.C. is vulnerable to the authority Congress has over the city under its limited Home Rule Charter, including the authority by Congress to pass a law to ban abortions in the city.
The press conference was held at the headquarters in Northeast D.C. of Planned Parenthood of Metropolitan Washington, D.C., whose leaders said they would continue to provide abortion services in the District at the present time.
At this time, "Nothing has changed in Washington, D.C.," Bowser said at the press conference. "Abortion remains legal, and women and girls we know, however, are worried," the mayor said. "We are worried because we know we are vulnerable as a jurisdiction because of our lack of statehood."
Norton told news media representatives and others attending the press conference that she expects at least some congressional Republicans to introduce legislation to ban abortions in D.C. now that the Supreme Court has given them the authority to do that.
"We are subservient still to the House and Senate," she said. "I'm calling on the Congress to immediately codify the right to an abortion in federal law," Norton said. "That is the very least the District needs to save this city from what will surely be an attempt by Republicans in Congress to move first on the District of Columbia to make sure that abortions are not available for women in our city."
Norton added, "We always have more work cut out for us than other jurisdictions. But I assure you I am up to the task. There is a lot to fight for here, and I'm ready for that fight."
Norton and Bowser also pointed out that Congress over a decade ago added a permanent provision to D.C.'s annual budget that prohibits the city from using any of its funds to pay for abortions either directly or through the funding of private organizations like Planned Parenthood that provide abortion related services.
With the prospect that Republicans might regain control of the House or Senate or both in the November congressional elections, D.C. officials said they were especially concerned about an attempt to ban or greatly restrict abortions in the city.
D.C. Council Chair Phil Mendelson said he was hopeful that such an attempt would be blocked by a Democratic-led filibuster in the Senate as well as by a presidential veto if President Biden or another Democrat continues to occupy the White House.
Bowser, Mendelson, and D.C. Councilmember Mary Cheh (D-Ward 3) also pointed out that the legal reasoning used by the justices to overturn Roe v. Wade, especially the rationale given by Justice Clarence Thomas, could be used in future cases to overturn previous court rulings establishing a constitutional right to same-sex marriage and the right to intimate sexual acts between same-sex couples.
"We are about to enter into decades of darkness with this court that we have," Cheh said at the press conference. "And don't be fooled. We're told, OK, it's just abortion," she said. "Don't you believe it. The very reasoning of the case – and I spend a lot of time teaching constitutional law – means that many other liberties will be in jeopardy."
LGBTQ rights advocates have pointed to the concurring opinion handed down by Justice Thomas on the day the court overturned Roe v. Wade that specifically calls on the high court to "reconsider" the 2003 ruling of Lawrence v. Texas, which overturned state laws banning sodomy between consenting adults, both gay and straight. Thomas's concurring opinion also called for reconsidering the high court's 2015 Obergefell ruling, which legalized same-sex marriage nationwide.
Others speaking at the June 24 press conference included Laura Meyers, president of Planned Parenthood of the D.C. area, and D.C. Council members Elissa Silverman (I-At-Large), Christina Henderson (I-At-Large), and Brooke Pinto (D-Ward 2).
One of two gay candidates wins primary for D.C. Council
Bowser triumphs in Democratic race for third term as mayor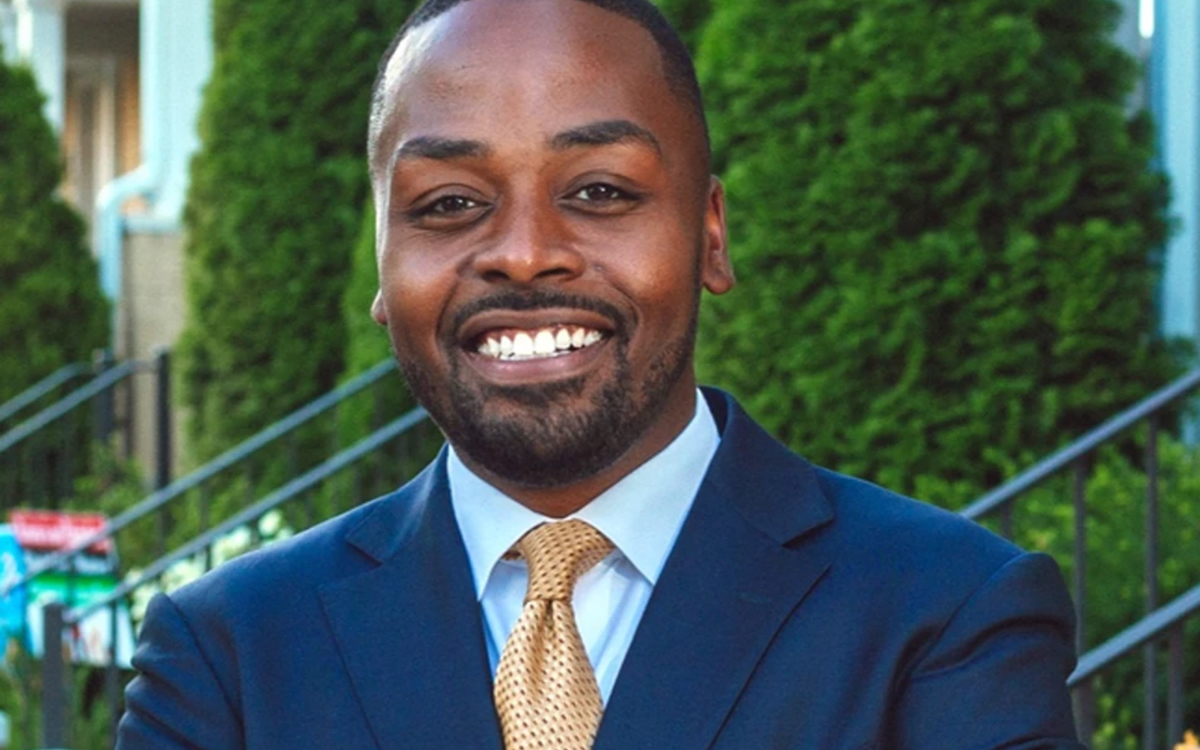 Gay D.C. Board of Education member Zachary Parker emerged as the clear winner in a seven-candidate race for the Ward 5 D.C. Council seat in Tuesday's Democratic primary, placing him in a strong position to win the November general election and become the first openly gay member of the Council since 2015.
With nearly all of the votes counted shortly before midnight, Parker had 41.65 percent of the vote, with his closest rival, Faith Gibson Hubbard, receiving 23.41 percent. Former at-large and Ward 5 Councilmember Vincent Orange had 16.66 percent of the vote in his unsuccessful bid to return to the Council.
While Parker and his supporters celebrated his primary victory, gay former D.C. police officer Salah Czapary lost his bid for the Ward 1 D.C. Council seat to incumbent Councilmember Brianne Nadeau by a margin of 47.39 percent to 32.09 percent. A third candidate in the Ward 1 race, Sabel Harris, had 20.25 percent of the vote.
Parker had an advantage over Czapary, according to political observers, because he was running for an open seat after incumbent Ward 5 Councilmember Kenyan McDuffie ran unsuccessfully for Attorney General rather than re-election to the Council. Incumbents, such as Nadeau in Ward 1, are considered to have a better chance of winning re-election.
But some political observers, based on reports of a private poll showing Czapary running close if not slightly ahead of Nadeau, thought Czapary had a good shot at unseating Nadeau. That prompted what Czapary's supporters said was an onslaught of negative campaign attacks against Czapary. The attacks were based in part on a Washington City Paper story disclosing his campaign chairperson was a registered Republican and was associated with a conservative think tank that supports Donald Trump.
Czapary said he immediately secured the resignation of his campaign chair, saying he did not know he was a registered Republican. He also pointed out that as a gay Arab American he was a longtime Democratic Party supporter even though, as Nadeau supporters pointed out, he was an independent and did not become a registered Democrat until earlier this year.
The political attacks against Czapary continued, with large signs accusing him of having "Republican campaign leadership" being posted on light poles in Ward 1 as well as outside the nearby Number 9 gay bar in Ward 2, which Ward 1 residents are known to patronize.
"I'm sure negative campaigning has an effect," Czapary told the Washington Blade at his election night gathering at the Duplex Diner in Adams Morgan, which drew more than 100 supporters.
"But we made a very essential effort to focus on the issues that voters want to talk about," he said. "And you know, the election is over, and bygones are bygones. And I look forward to working with Councilmember Nadeau on some of the issues that resonated with voters that voted for me."
With Nadeau and all the other candidates running in the June 21 Democratic primary – including Mayor Muriel Bowser and her three Democratic rivals — expressing support for LGBTQ issues or having long records of support — LGBTQ voters are believed to have based their vote on other issues such as public safety and affordable housing among other issues.
As of just before midnight on election day, Bowser had 49.86 percent of the vote, with rival mayoral candidates D.C. Councilmember Robert White (D-At-Large) receiving 38.51 percent and Councilmember Trayon White (D-Ward 8) receiving 9.8 percent. The fourth candidate in the mayoral race, James Butler, had 1.47 percent of the vote. The Associated Press earlier in the evening projected Bowser as the winner.
D.C. Council Chair Phil Mendelson (D-At-Large) had 54.82 percent of the vote compared to challenger Erin Palmer, who had 44.72 percent. In the four-candidate At-Large D.C. Council race, incumbent Anita Bonds was ahead with 38.33 percent of the vote, with rival Democrats Lisa Gore with 26.96 percent, Nate Fleming 26.45 percent, and Dexter Williams with 7.54 percent.
In the hotly contested Ward 3 D.C. Council race, in which nine candidates were on the ballot, Matthew Frumin was ahead with 38 percent of the vote. Eric Goulet was in second place with 31.01 percent. The remaining candidates, including three who dropped out and threw their support to Frumin after it was too late to have their names removed from the ballot, received less than 7 percent of the vote.
D.C. Congressional Delegate Eleanor Holmes Norton (D) was the clear winner in her bid for re-election, with 86.55 percent of the vote. Her two opponents in the primary, Wendy Hamilton and Kelly Mikel Williams received 6.15 percent and 6.36 percent, respectively.
In the race for D.C. Attorney General, attorney Brian Schwalb was ahead with 45.21 percent of the vote, with rival attorneys Bruce Spiva and Ryan Jones receiving 35.65 percent and 18.32 percent of the vote, respectively.
In the race for U.S. Representative, which is known as D.C.'s shadow representative to the U.S. House of Representatives, with no voting powers, incumbent Oye Owolewa was trailing challenger Linda Gray by a vote of 49.78 percent to 48.64 percent. Owolewa was the only Democratic incumbent on the primary ballot who was not substantially ahead of their opponent.
In a development that surprised some observers, the Capital Stonewall Democrats, the city's largest local LGBTQ political group, endorsed Robert White over Bowser and backed challenger Erin Palmer over Council Chair Phil Mendelson. The group also endorsed Nadeau over gay challenger Czapary. In the Ward 5 race, Capital Stonewall Democrats endorsed Parker.
With the overwhelming majority of the city's voters being registered Democrats, winners in the D.C. Democratic primary almost always win in the November general election. In the D.C. Republican primary on Tuesday, GOP candidates ran unopposed for the office of congressional delegate, mayor, Council chair, at-large Council member, and Council member for Wards 3 and 5.
Most political observers say that with Republicans having little or no chance of winning, Democrats running against each other in the primaries tend to divide along the lines of moderate Democrat versus progressive-left Democrat.
In Tuesday's primary, Bowser, Mendelson, Bonds, and Czapary were considered representatives of the party's moderates. Their opponents, including Ward 1 incumbent Nadeau, are considered representatives of the party's progressive-left faction. Parker is also considered part of the progressive-left faction.
Parker won election in 2018 as the Ward 5 representative on the D.C. Board of Education. His fellow board members last year elected him as president of the board. He drew media attention earlier this year when he came out publicly as gay in a video message he posted on his Twitter page.
"I am very proud and confident in who I am and who I've been," he said in his video message. "Many already know – my family, my friends, many community leaders," he continued. "But I recognize that many may not know, and this may come as a surprise. So, I thought it was important for me to share my full self," he said.
Lesbian activists Sheila Alexander-Reid and Courtney Snowden, who each held high-level positions in the Bowser administration in the recent past, were among the large number of LGBTQ activists who turned out for Bowser's election night party at the Franklin Hall restaurant and nightclub. Alexander-Reid served as director of the Mayor's Office of LGBTQ Affairs and Snowden served as Deputy Mayor for Greater Economic Opportunity, the highest-level position an LGBTQ person has held in the D.C. mayor's office.
Both told the Washington Blade they believe Bowser will continue her commitment to addressing the needs and concerns of all factions of the LGBTQ community, including those who did not vote for her on Tuesday.
"I think we need to come together and work with her," said Alexander-Reid in referring to LGBTQ voters who supported Robert White. "And if they have some issues and concerns, bring them to her attention," she said. "I can tell you firsthand when you bring issues to her attention, she takes care of it, and she addresses it."
Snowden said the diversity reflected in the several hundred people attending the mayor's election night event symbolized her ability to bring people together to solve problems.
"I am so happy to see the mayor get exactly what she deserves, four more years to make good on her promises she made to our city, to the LGBTQ community, for the District's long-time residents, to African Americans, and to everyone," Snowden said. "She is doing incredible work and the city has resoundingly said that she gets to do this for four more years to bring prosperity for all in every single ward of our city."